These coconut chocolate chip cookies bake to a gently golden brown. They're crispy on the outside, chewy and moist on the inside. The coconut flakes give them a bit of tooth, and there's generously rich chocolate flavor from the coarsely chopped dark chocolate bar. Before going into the oven, each unbaked cookie is topped with a sizable shard of the chocolate, which then melts into deep, dramatic pools.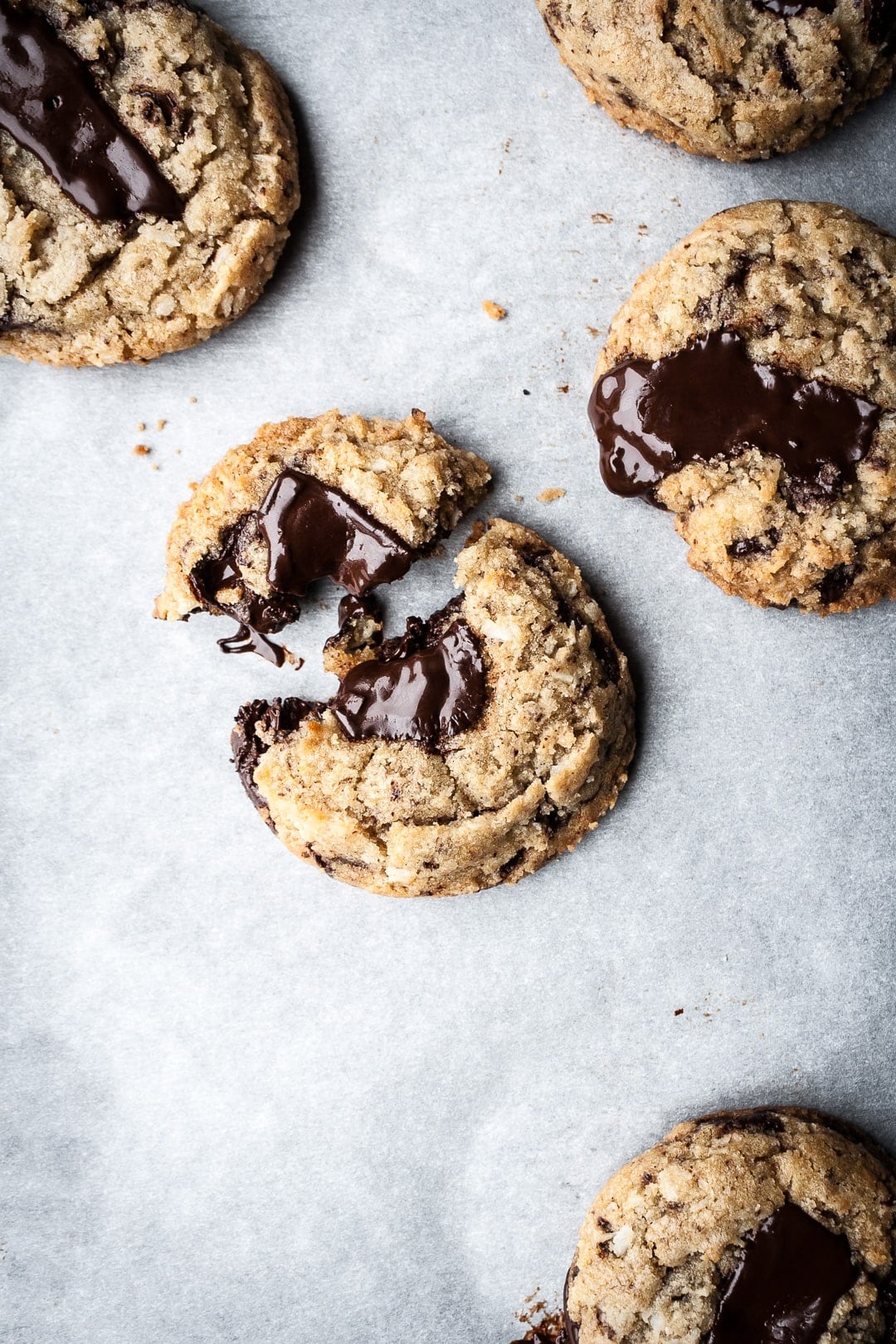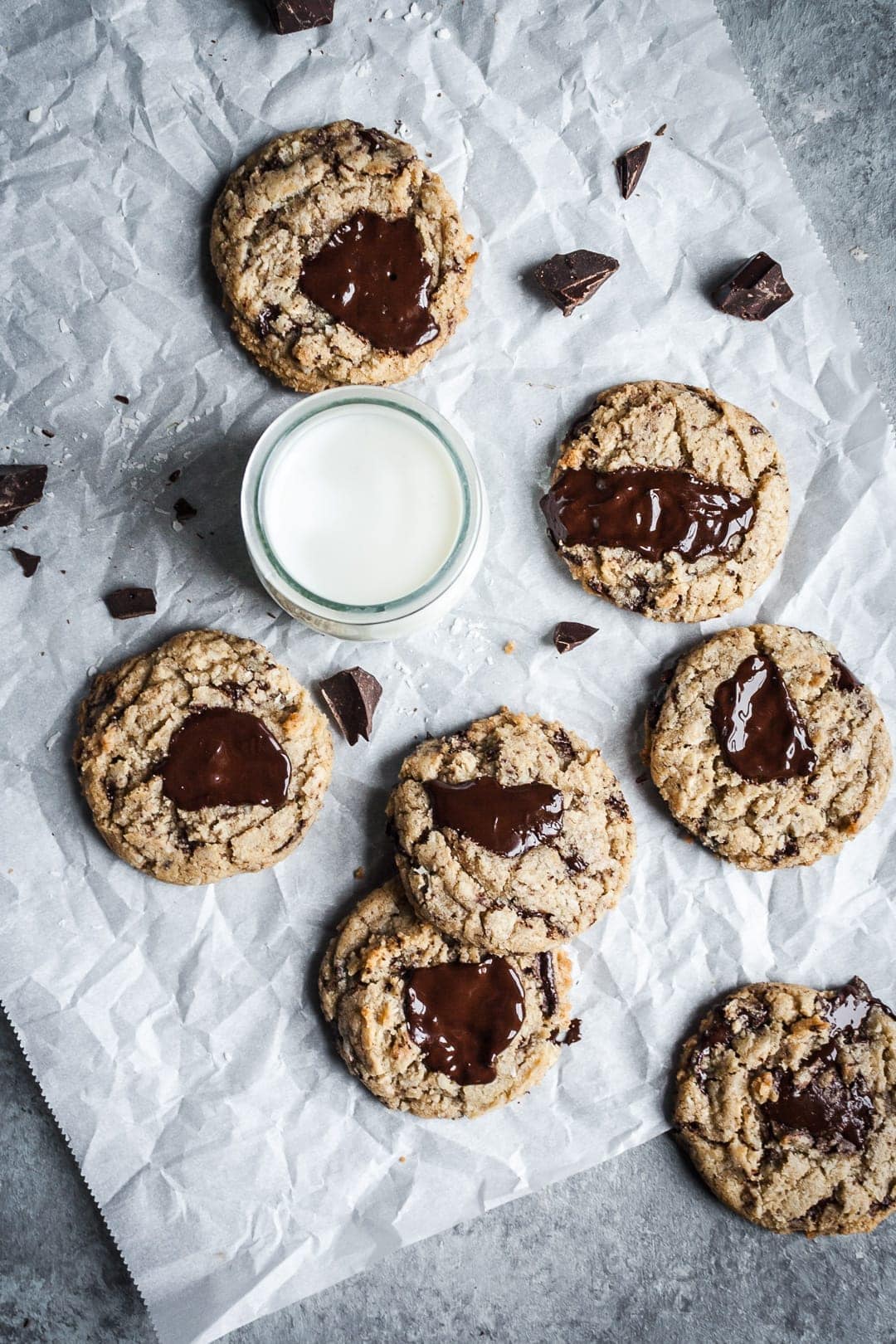 These are my grandma's coconut chocolate chip cookies. I made them last week, and then had a dream about her. She looked just like she used to: small and spry, with her long grey hair held up with a mass of bobby pins, wearing her cheetah print robe, a tissue tucked up her sleeve, smiling. I think she'd be glad I'm making her cookies.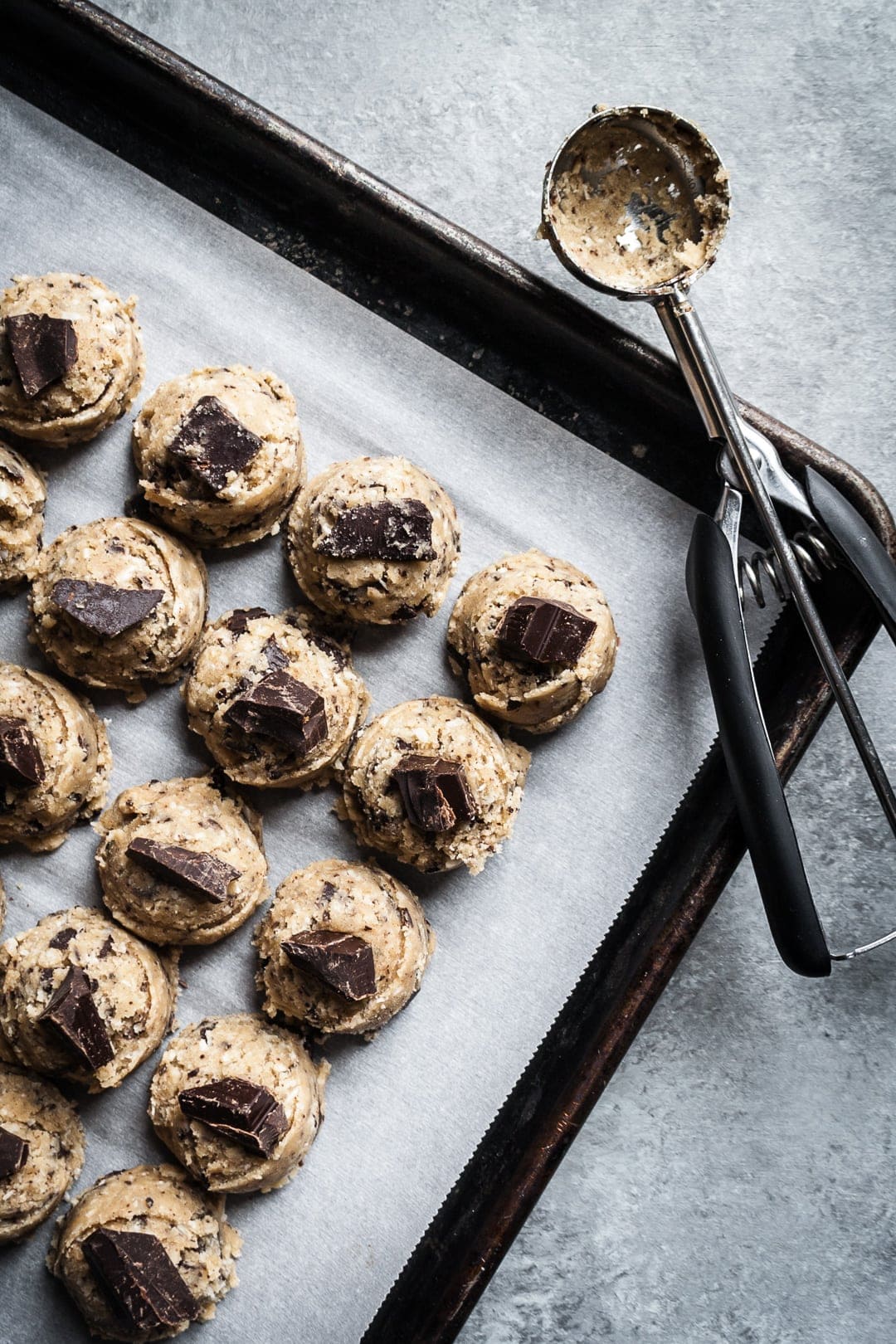 My Grandma's recipes
My mom recently gave me a little red ring binder of recipes that my grandma had collected over the years. My grandma had written some of them in her meticulous cursive, while others she had tapped out on the typewriter. There are some recipes that are impossibly dated (curried tomato sherbert...?!), but there are others, like these, that are timeless. I did update this one a little bit. The original recipe called for measuring out the dough in half-teaspoonfuls. The original yield was for 50 cookies. Can you imagine?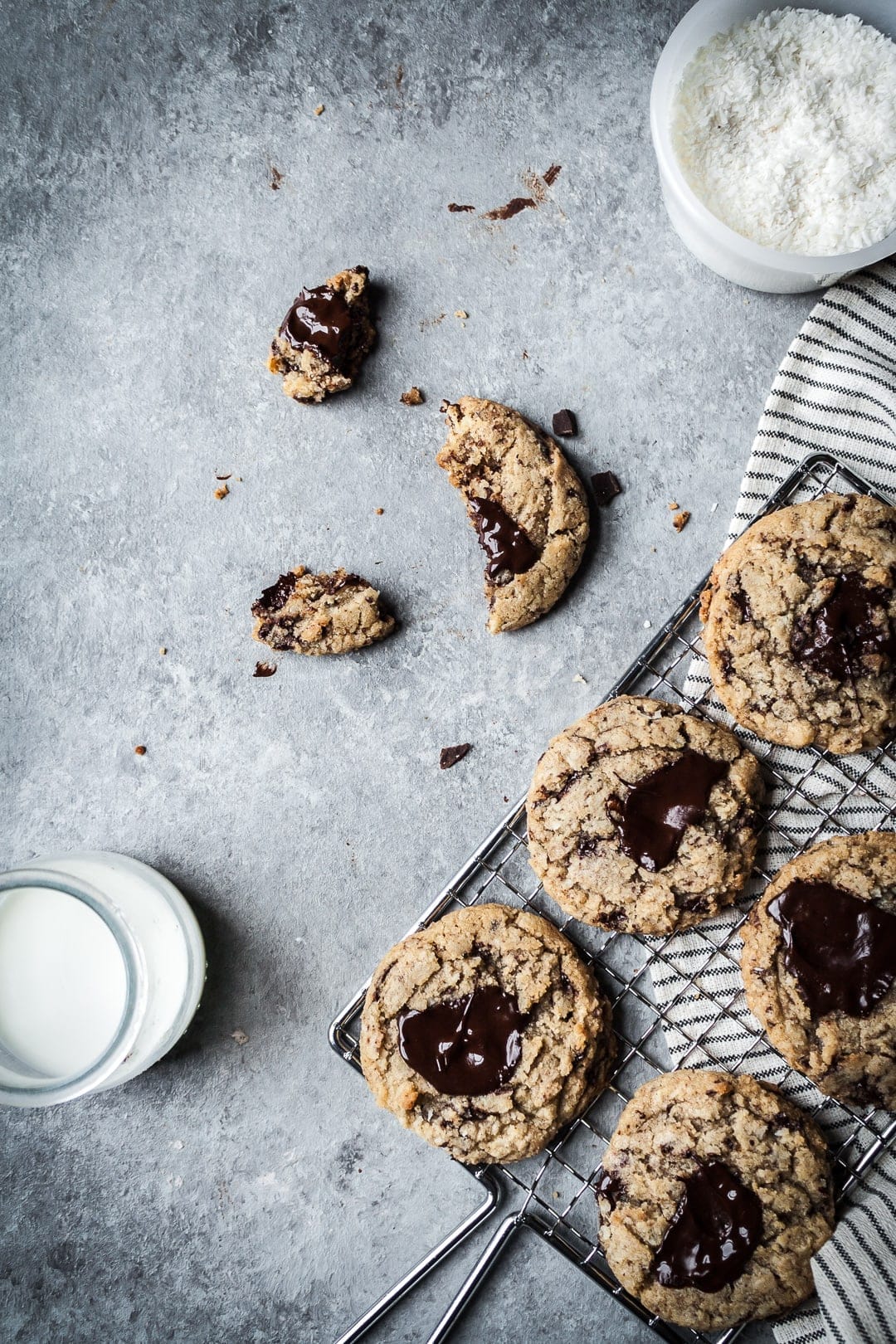 When I carefully opened the worn red binder, this was at the very front of the book. I smiled to see the many filled pages peeking out of the sections labeled "cake and candy", "desserts", "breads and pastries", and "jams and jellies", while the areas for things such as salads and main dishes remain unfilled.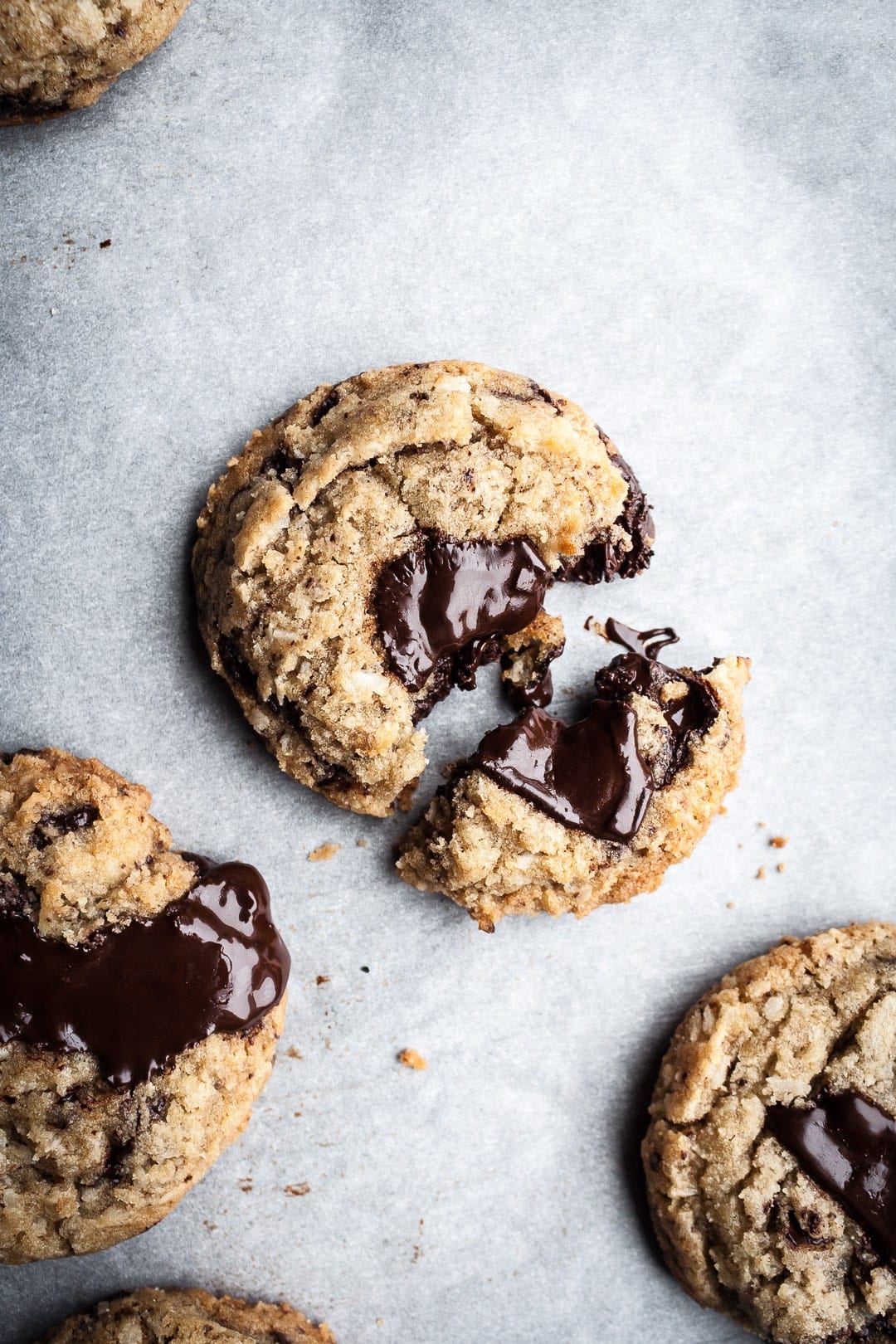 An Incredible Baker
My grandma was not the most wonderful cook. My mom and aunt share stories of eating dry, over-boiled meat growing up, and mom tells me she discovered garlic for the first time when she went away to college. However, my Gama was the consummate hostess and an incredible baker and candy maker. When we'd visit in the summer, we'd run through the automated sprinklers in the yard near the garden and then share a picnic dinner on the patio. The table was always perfectly set. Her cloud-like white angel food cake with fresh strawberries was the culmination of a perfect summer evening.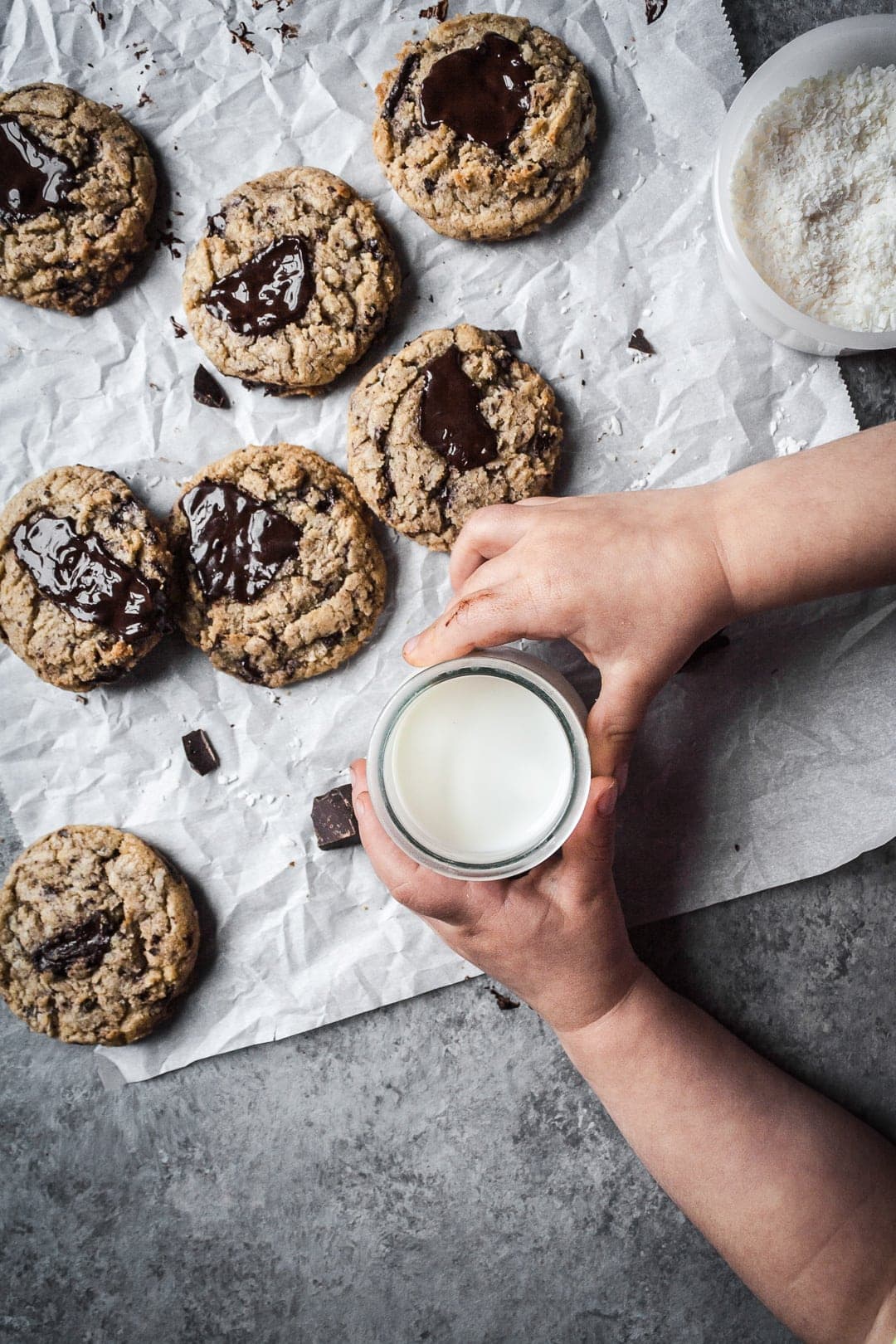 At Christmas time, she would have a three tiered brass and wood serving platter on the corner of the counter. She kept it well stocked with her her homemade fudge, almond roca, peanut brittle, divinity, cookies, and a few satsuma oranges for good measure. It was my favorite place in the kitchen.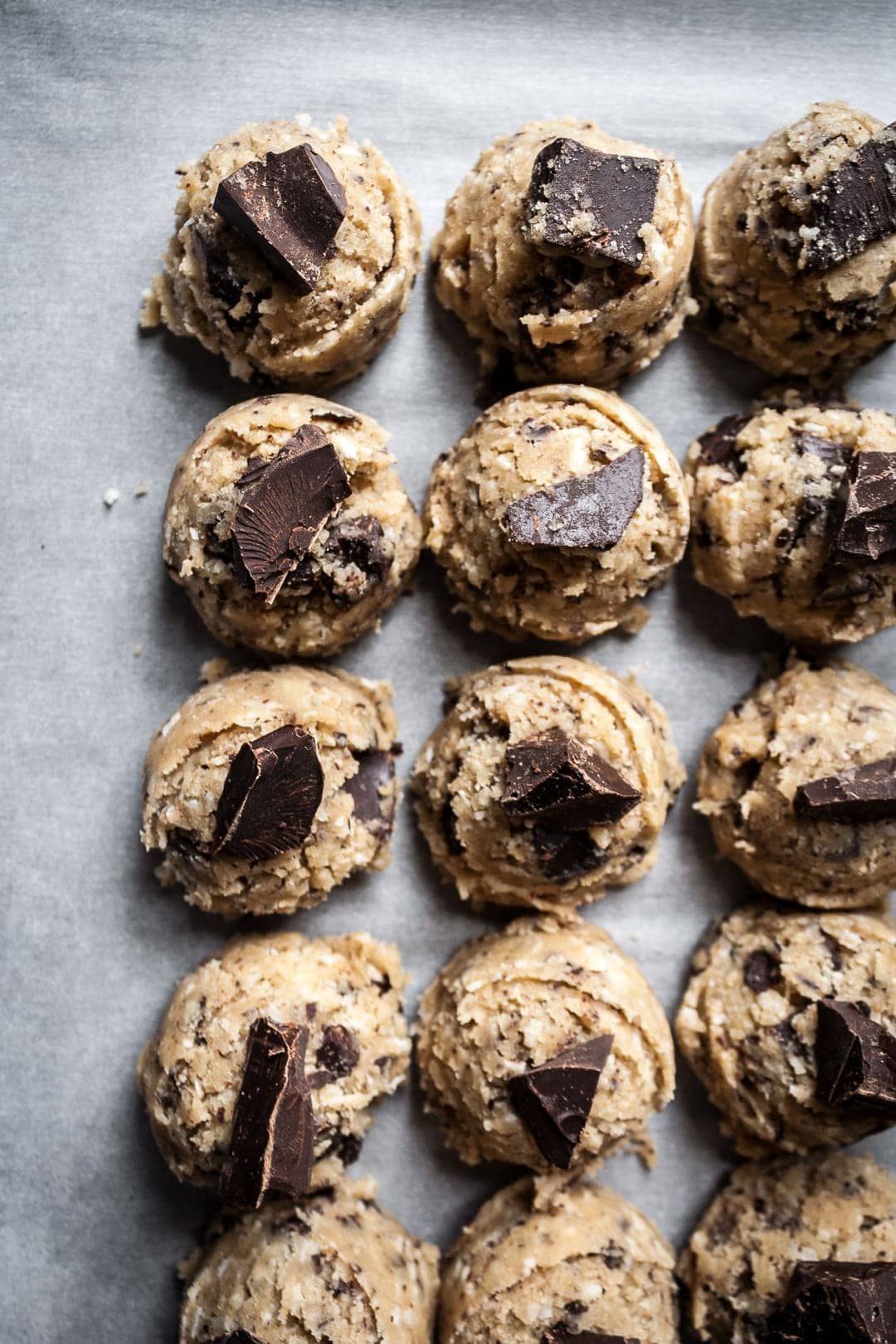 Sometimes I chide myself for not spending enough time or focus on meal planning for my family. I'll often come home after work and find myself in front of the fridge, mumbling under my breath about what I can throw together for an easy dinner. And when we've eaten our meals and lean back in our chairs to relax, the girls ask for dessert. I laugh as I list off the four different homemade options we have on the counter. I guess it runs in the family.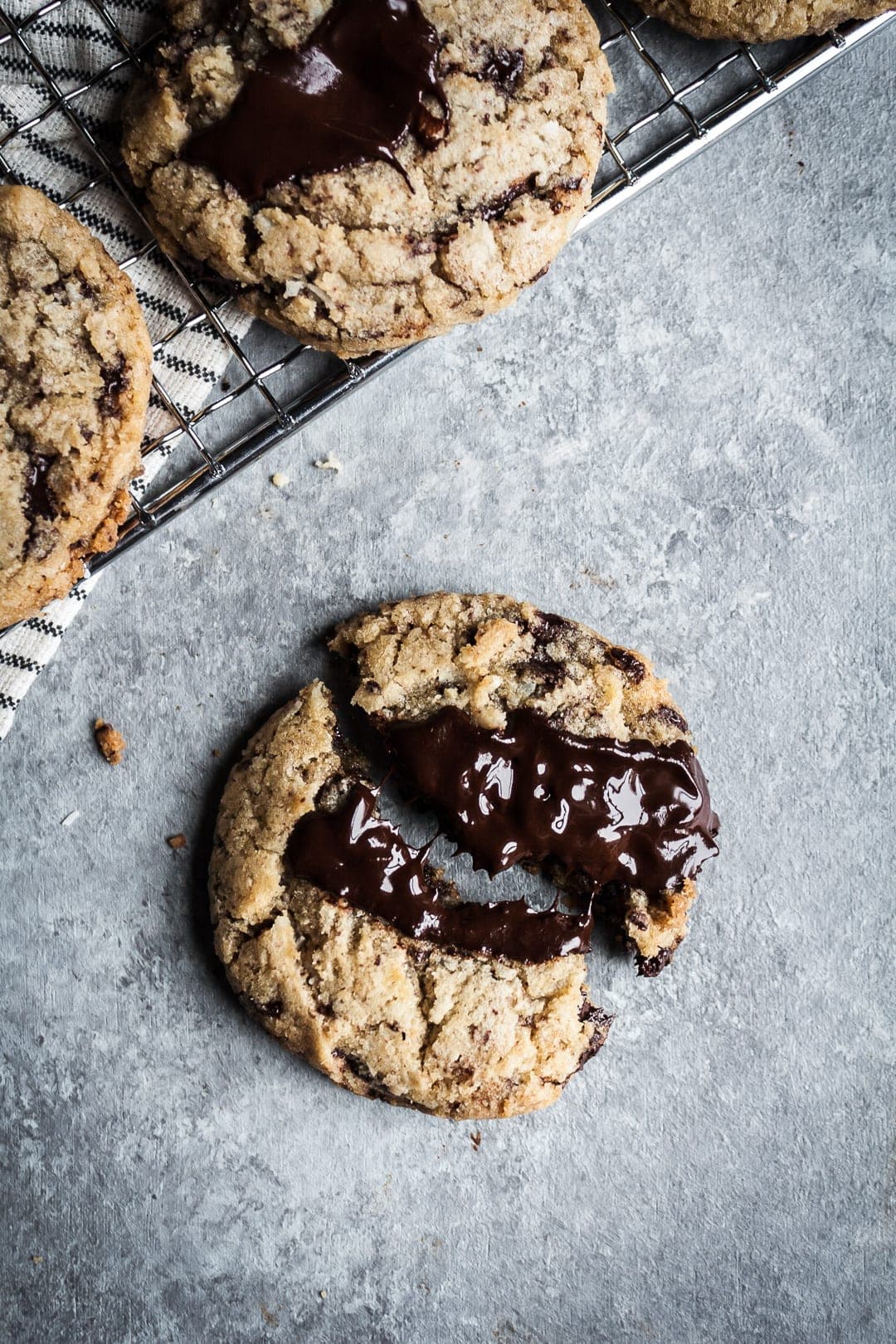 Recipe Notes
COOKIE CONSISTENCY - I tend to prefer chocolate chip cookies that are slightly underdone. No dry, cake-like cookies for me, please. I've baked these for a standard amount of time here, but if you prefer a gooier cookie, consider reducing the baking time by a minute or two.
CHOCOLATE POOLS - In order to achieve the runny pools of dark chocolate like you see in these cookies, you will need to use bar chocolate, chopped into rough chunks. Most chocolate chips are made with chocolate that has a lower percentage of cocoa butter; the lower amount of fat reduces spread and helps maintain the shape of the chip. If you prefer not to use bar chocolate for the whole recipe, you can always use chocolate chips for the dough and then top each of the unbaked cookies with a chocolate chunk cut from a bar. This should provide the pooled chocolate look.
COOKIE SCOOP - Growing up, we always used two spoons to form the cookie dough: one to scoop, and the other to push the dough off the spoon onto the pan. Now I use a cookie scoop. It portions out the precise amount of dough and helps achieve uniform cookies in terms of both size and shape. Mine is a 1 ½ Tablespoon scoop - a size 40 - and that is what this recipe calls for. If you use a different size, you will most likely have to adjust the baking size accordingly. This is the scoop I use.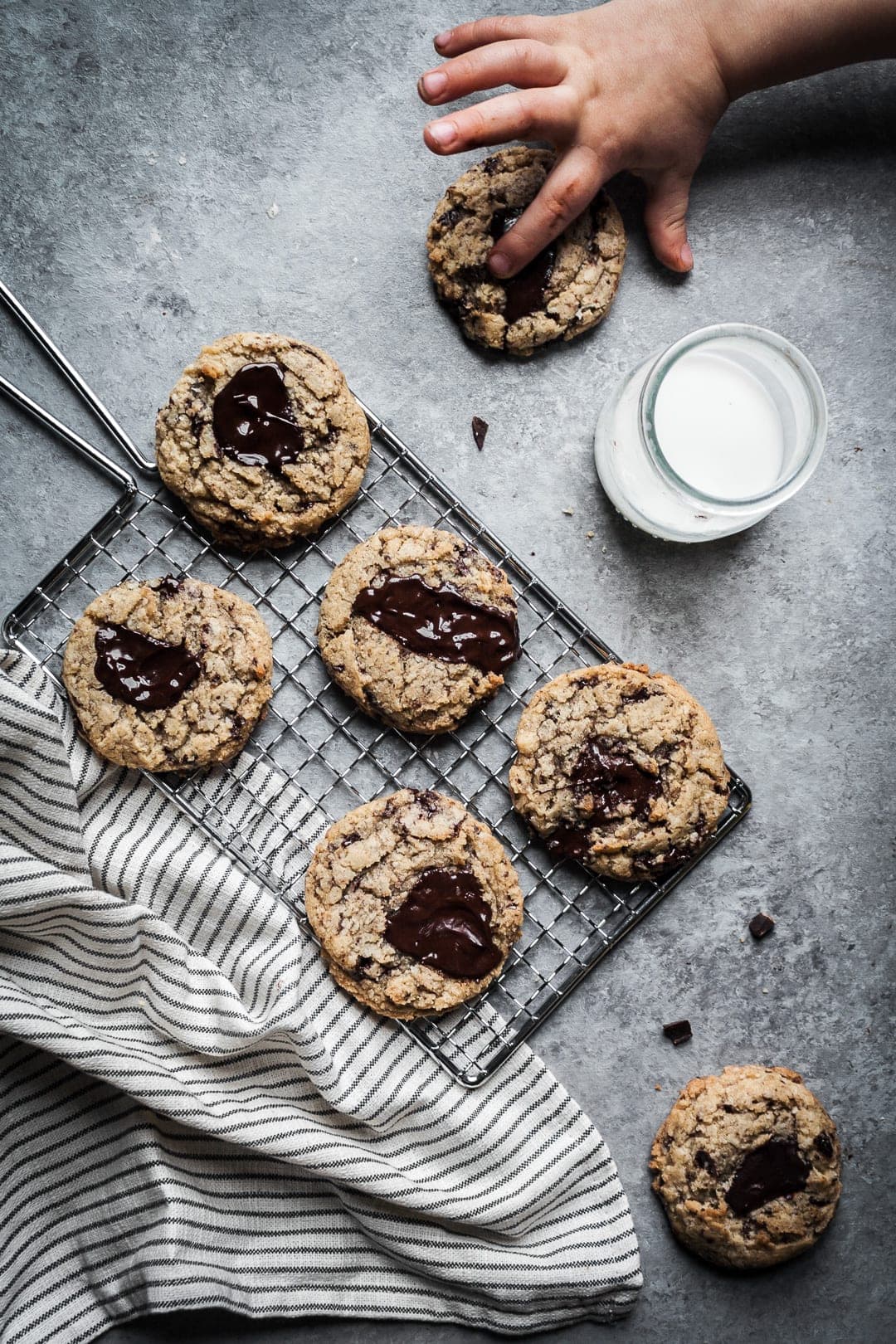 📖 Recipe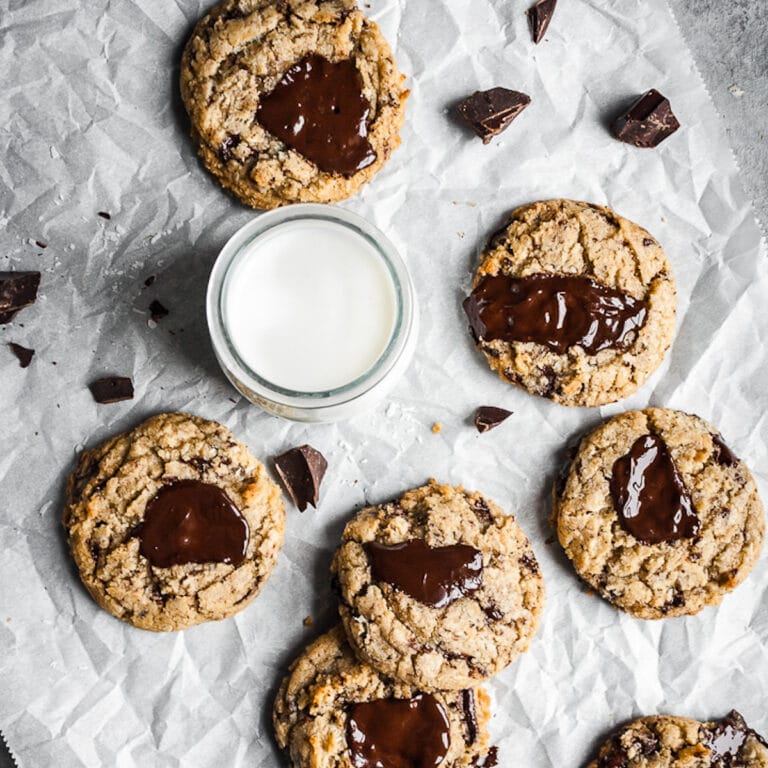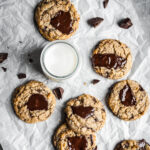 Coconut Chocolate Chip Cookies
Print Recipe
Pin Recipe
These coconut chocolate chip cookies are crispy on the outside, chewy and moist on the inside. The coconut flakes give them a bit of tooth, and there's generously rich chocolate flavor from the coarsely chopped dark chocolate bar.

INGREDIENTS
½

cup (113g; 4oz)

unsalted butter

½

cup (100g)

brown sugar

½

cup (100g)

granulated sugar

1

egg

1 ½

cups (180g)

all-purpose flour

½

tsp

salt

½

teaspoon

baking soda

6

oz (174g)

dark chocolate, roughly chopped into chunks - I used 72% cacao

½

cup (46g)

unsweetened shredded coconut
INSTRUCTIONS
Preheat oven to 360 F - position oven rack in center.

In a medium bowl, combine flour, salt and baking soda. Whisk to combine all ingredients.

In the bowl of a stand mixer, cream together the butter, brown sugar and white sugar. Add egg and mix until fully incorporated. Scrape down bowl of mixer as needed.

Add flour mixture to the butter and combine until just mixed. Remove mixer from stand. Add chocolate chunks and coconut, and use a spatula to blend them into the dough.

Using a 1 ½ tablespoon cookie scoop, portion 8 cookies at a time onto a parchment lined baking sheet. Bake one sheet at a time on the center rack for 10-12 minutes, until just lightly golden and set in the middle.

Remove and place on a rack to cool.

Repeat with remaining dough, making sure to always use a fully cooled cookie sheet.
The Floured Table
Recipe Author: Kathleen Culver
https://www.theflouredtable.com/coconut-chocolate-chip-cookies/
Made this recipe? Please leave a comment and a star review! ★★★★★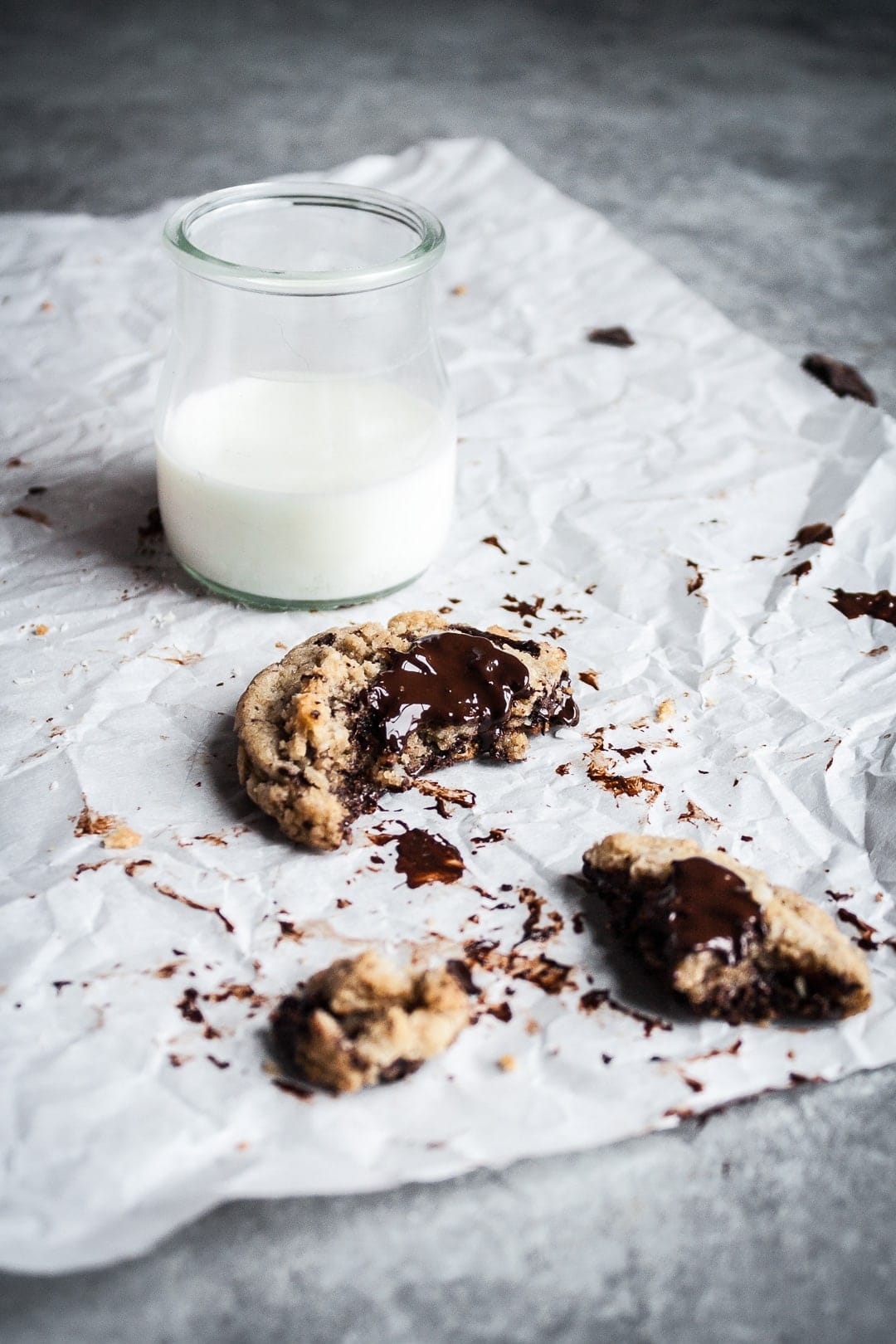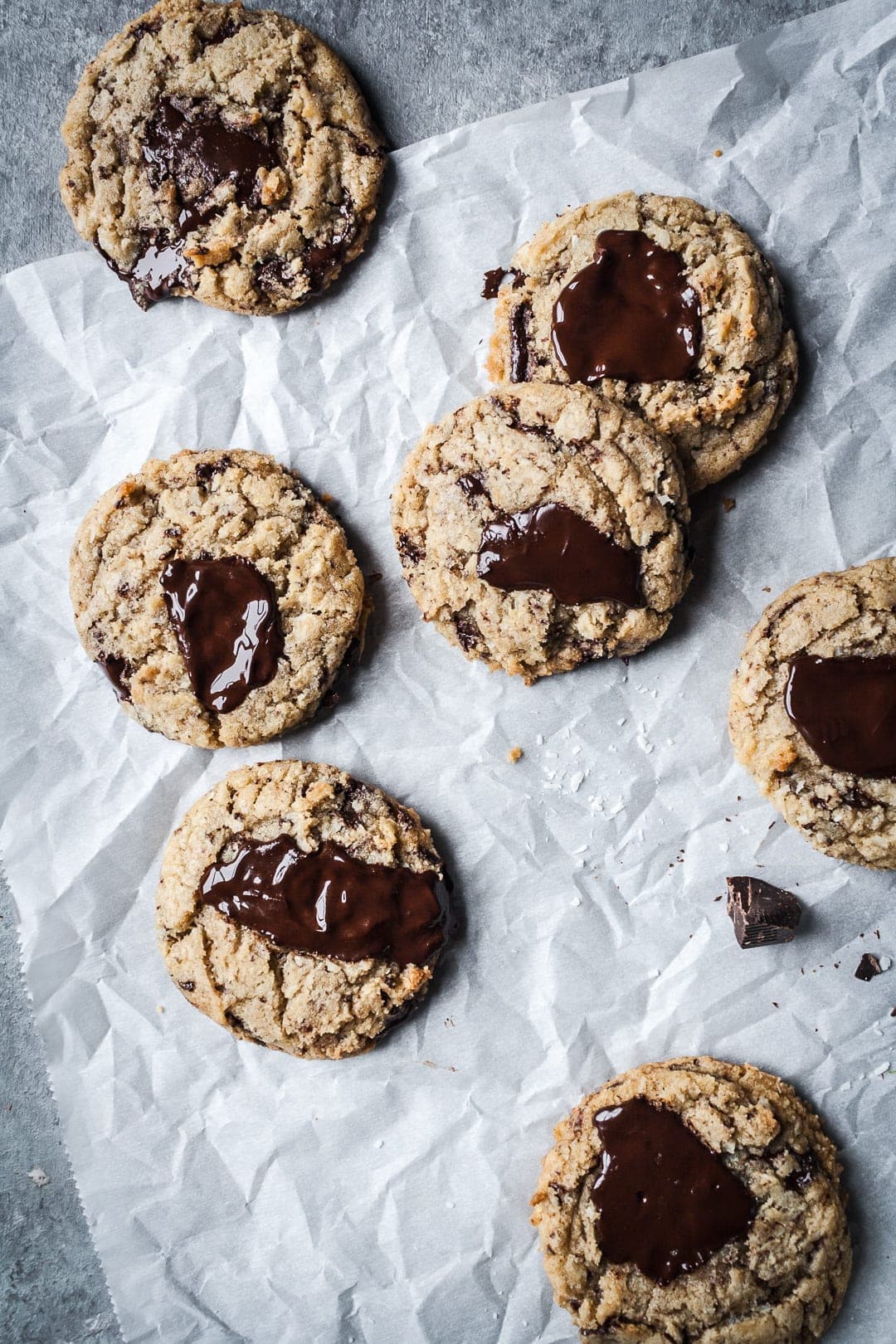 If you liked these coconut chocolate chip cookies, you might also like these recipes!