These no bake carrot cake bars have a spiced graham cracker crust, creamy filling, and decadently smooth white chocolate topping. They'd make a delicious Easter dessert and are an easy no bake recipe for a spring treat. Make these anytime you're in the mood for the flavors of traditional carrot cake but don't feel like turning on the oven!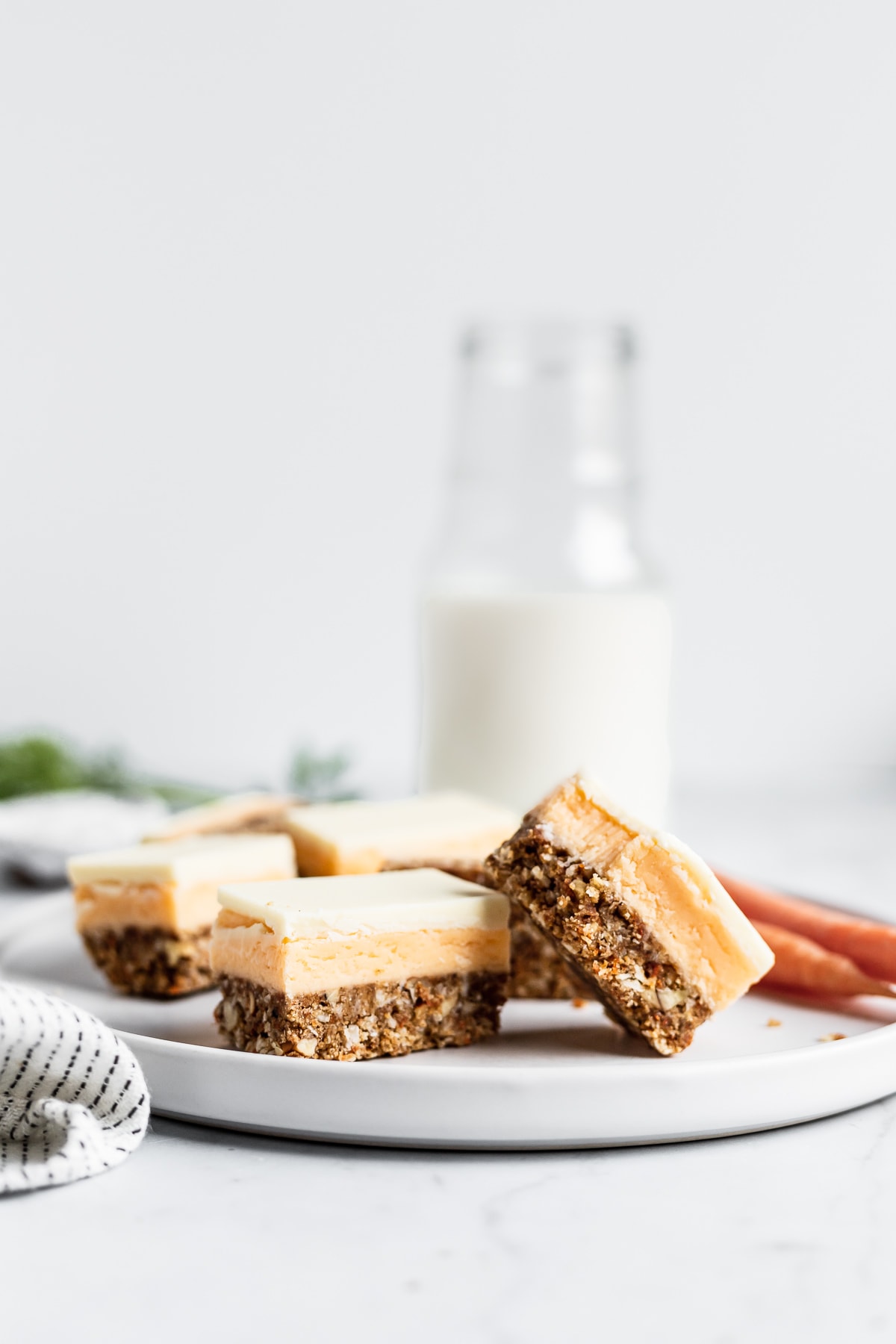 If you look at these no bake carrot cake bars and are reminded of the classic British Columbia, Canada dessert Nanaimo bars, you're correct. They served as my jumping-off point for this no bake dessert recipe. Living just 72 miles from Nanaimo as the crow flies, Nanaimo bars were a staple in my mom's dessert repertoire when I was a kid. She frequently made and packed them for summer boat trips (including to the namesake port city) we took as a family. I've always loved the textural combination of those bars. The chewy coconut chocolate graham cracker base, the creamy center, the rich chocolate layer on top. With this recipe, I wanted to use a similar three layer format but create a very distinct flavor profile. I hope you enjoy this spring inspired rendition!
Jump to: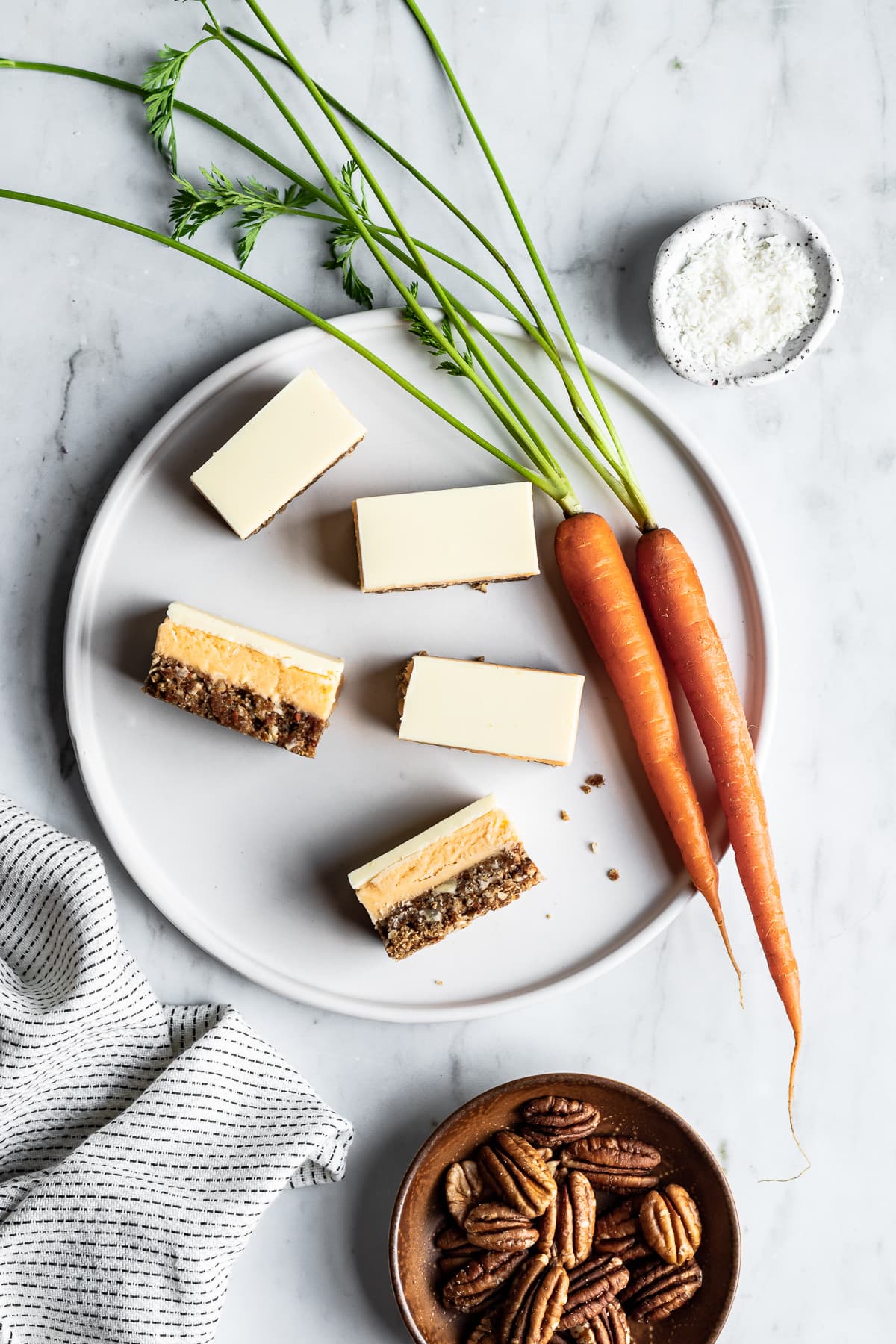 Ingredients and substitutions
Spiced graham cracker crust
Graham crackers in recipes can be confusing. There doesn't always seem to be consensus about amount or serving size. There's also the cracker vs. sheet dilemma. For this recipe, I used 10 sheets - each sheet has 4 crackers on it. You will need approximately 10 sheets to equal 1 ¼ cups of graham cracker crumbs. I've added the weight in grams so that you have an accurate amount of graham crackers no matter the brand you use. If you need a graham cracker substitute as you can't source them in your area, try replacing them with digestive biscuits, or even gingersnaps. I recommend grinding your own crumbs in a food processor for ultimate freshness, and to achieve evenly fine crumbs. That said, my grandma always put her graham crackers in a ziploc bag and crushed them using a rolling pin. That's an alternative method if you don't have a food processor.
Unsweetened shredded coconut - These bars are very sweet, so it's a good idea to stick with unsweetened shredded coconut rather than using a sweetened variety. It also contains less moisture than the sweetened variety, which will help balance out the added moisture from the shredded carrots.
Toasted pecans add a rich nuttiness to the base layer. Toasting is completely optional, but I appreciated the extra crunch and flavor that the toasted version provides. If you don't have pecans, you can substitute walnuts or almonds.
Almond flour is finely ground and helps bind the base and provide extra richness and flavor. If you don't have any, you can replace it with a similar amount of graham crackers.
Brown sugar adds a nice caramel flavor to the base.
Salt, cinnamon, ginger, nutmeg, cloves, and vanilla add delicious, warm flavor that really make the carrot cake taste come alive. Without them, you're simply eating a graham cracker crust. Add the spices, and it's transformed into carrot cake in bar form!
Unsalted butter, melted, serves as the binder holding the base layer together. I chose to go the extra step to brown my butter, which made for a decadent nutty addition that compliments the other flavors well. Browning the butter, like toasting the pecans, is optional, but recommended for an extra flavor boost.
Finely grated carrots are the key ingredient in these bars! Use a microplane or the smallest option on your grater for fine carrot gratings. Smaller pieces will ensure even distribution and will help keep the base from crumbling apart. Go to the extra step to grate your own carrots; prepackaged grated carrots will be too large and are often dry.
Creamy custard filling
Unsalted butter forms the foundation of this sweet and rich filling. Having your butter at room temperature, or even slightly softer, will help ensure the smoothest filling possible. You can cut your butter into small cubes to increase surface area and allow it to come to room temperature more quickly. If needed, carefully warm your butter in the microwave for 5 seconds at a time. Don't go too far! Butter melts from the inside out in the microwave and you don't want melted butter here.
The addition of cream cheese gives a nod to the classic pairing of carrot cake with cream cheese frosting.
Custard powder is a traditional ingredient in Nanaimo bars, and I wanted to keep it in this recipe. I purchased my custard powder online. You might also find it in some specialty grocery stores. To substitute for custard powder, consider using an equal amount instant vanilla pudding mix or simply adding the same amount of powdered sugar. The custard powder I used, Bird's Custard Powder, contains cornflour, salt, Annatto coloring, and flavoring.

Annatto is a natural red-orange colorant obtained from the seeds of the tropical Achiote tree found in Mexico and Brazil. It's a frequent addition to butter and cheese. The annatto is what turned the filling pale orange in color. At first I was wary of the orange color, but I've come to like it. It seems fitting for carrot cake bars.

Powdered sugar gives the filling its signature sweetness and smooth texture. Make sure to sift it well to avoid lumps of powdered sugar in the custard filling layer.
Vanilla extract adds depth of flavor.
Heavy cream helps thin out the buttercream filling just enough to achieve a thick but spreadable consistency. The higher fat in heavy cream will keep the filling from splitting or loosening as it might with the addition of lower fat milk. You're probably OK to substitute full fat milk if needed. Please let me know if you try it!
White chocolate topping
Use a high quality white chocolate for the topping. The best quality is often found in bars, blocks or feves. While you could try using white chocolate chips here, I'd caution you as they often contain fillers (hydrogenated oils) designed to help them retain their shape and not melt. For example, the ingredient list in several bags of grocery store white chocolate chips I looked at (called "white baking chips" - hmm) included the addition of palm kernel oil and palm oil. The white chocolate block I used here contained only sugar, cocoa butter, milk powder, soy lecithin, and natural vanilla. If you can find white chocolate chips with a similarly simple ingredient list, it might work out. I hope to test these again if I can find decent quality white chocolate chips, as the price point is definitely lower. To learn more about often maligned white chocolate, check out this article from Serious Eats. As a dark chocolate aficionado, I confess I dismissed white chocolate for a long time until I realized I'd mostly been eating low quality white chocolate and unfairly judging it.
Neutral vegetable oil is an integral part of the topping. It should be a taste-free oil such as grapeseed, canola or very light olive oil in order to not impart any of its own flavor. It will thin the melted chocolate enough to let it flow around the pan as you tilt it and guide the topping into each corner. This method allows you to achieve a silky smooth white chocolate layer on top as you won't need to use a tool to spread the chocolate.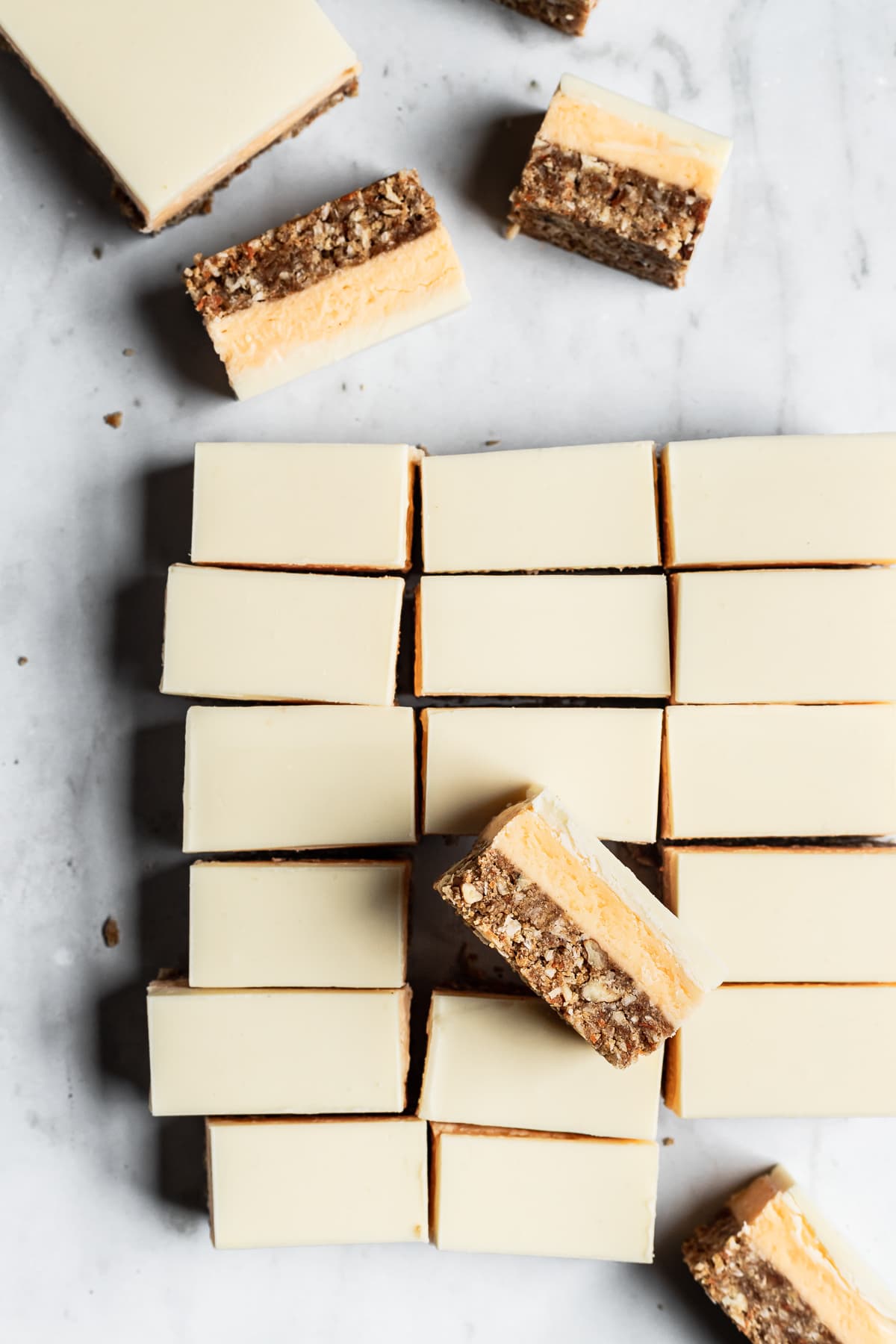 How to slice bars cleanly
To neatly slice these no bake carrot cake bars, ensure that the final product has chilled in the fridge for at least an hour. The bars should be firm throughout. If the filling is soft, a knife will compress the center layer, squeezing it out the sides and potentially cracking the white chocolate. Use a sharp chef's knife to cut the bars. Ideally the blade should be longer than 8" so that you can make a cut across the entire bar. Hold the blade under a stream of hot water until warm to the touch. Dry the knife on a towel and gently but firmly press down through the bars. Allow the heat of the knife to help cleanly melt through the chocolate layer and prevent it from cracking. Between each cut, wipe the blade clean and check its warmth. Reheat the blade as needed, at least every few cuts.
Storage
I like these bars best when they're served cold from the fridge. At room temperature they become difficult to eat, with the custard filling too soft to maintain the structure when you bite into them. They can be stored in an airtight container in the fridge for several weeks, although you'd be hard pressed to keep them around that long. You might find yourself cutting them into smaller and smaller pieces so that you can take a bite every time you open the fridge. Can no bake bars be frozen? Yes - they can be stored in the freezer in an airtight container. You can place parchment paper between layers if you stack them. Transfer to the fridge to defrost before eating.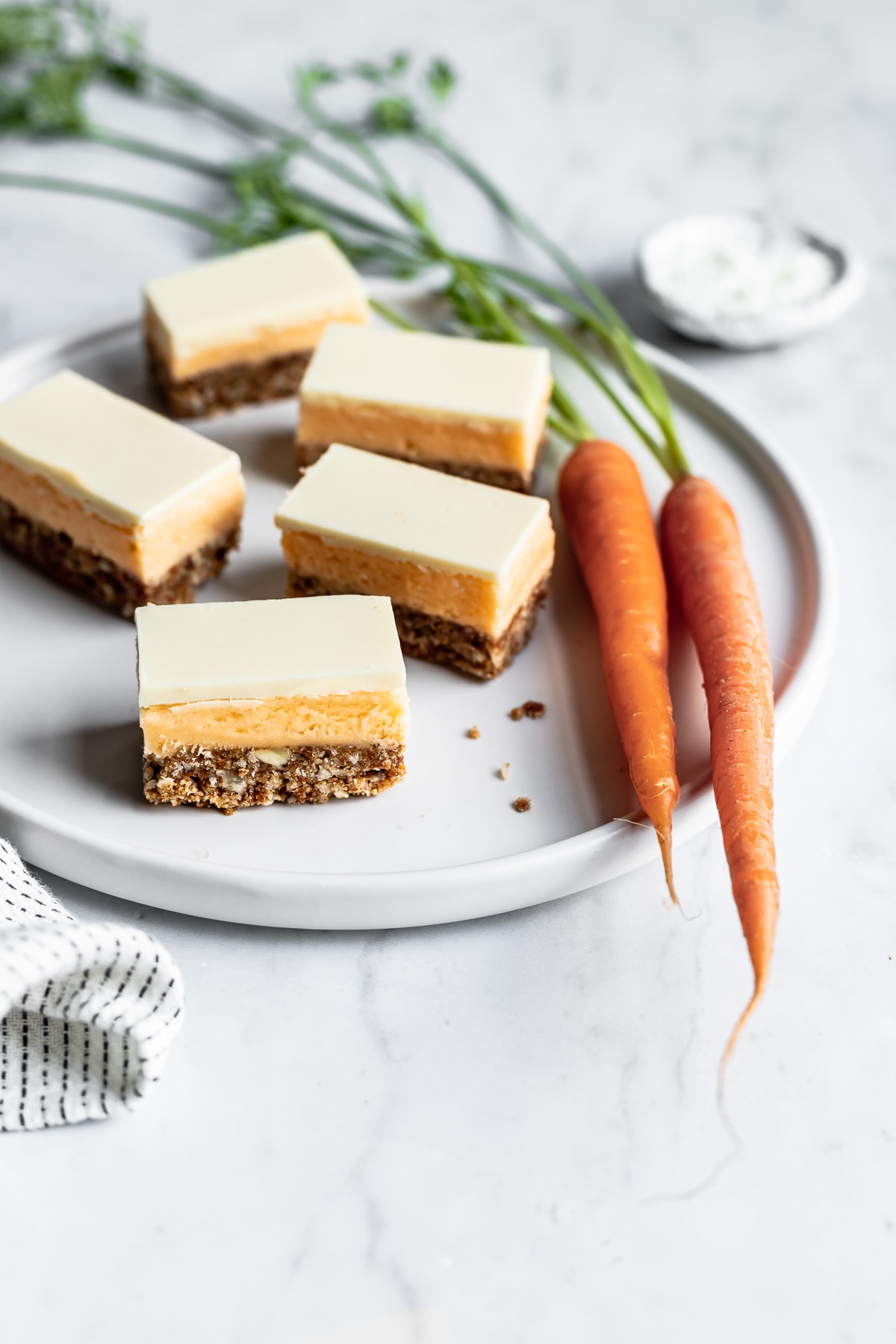 No bake
I love a good no bake recipe. I've made no bake honey orange cheesecake, and no bake key lime cheesecake bars. With this recipe, there are two optional steps that involve heating ingredients on a burner (toasting pecans, browning butter), but they aren't necessary for the success of the recipe. You can consider them flavor-enhancing steps that I recommend in order to make these carrot cake bars really sing - but they're not required.
Tips
The most important step in making these no bake bars is to ensure that you've chilled each layer before adding the next. This will help ensure that each layer is firm, keeping it from mixing with the next when layering. And they're best when served cold from the fridge.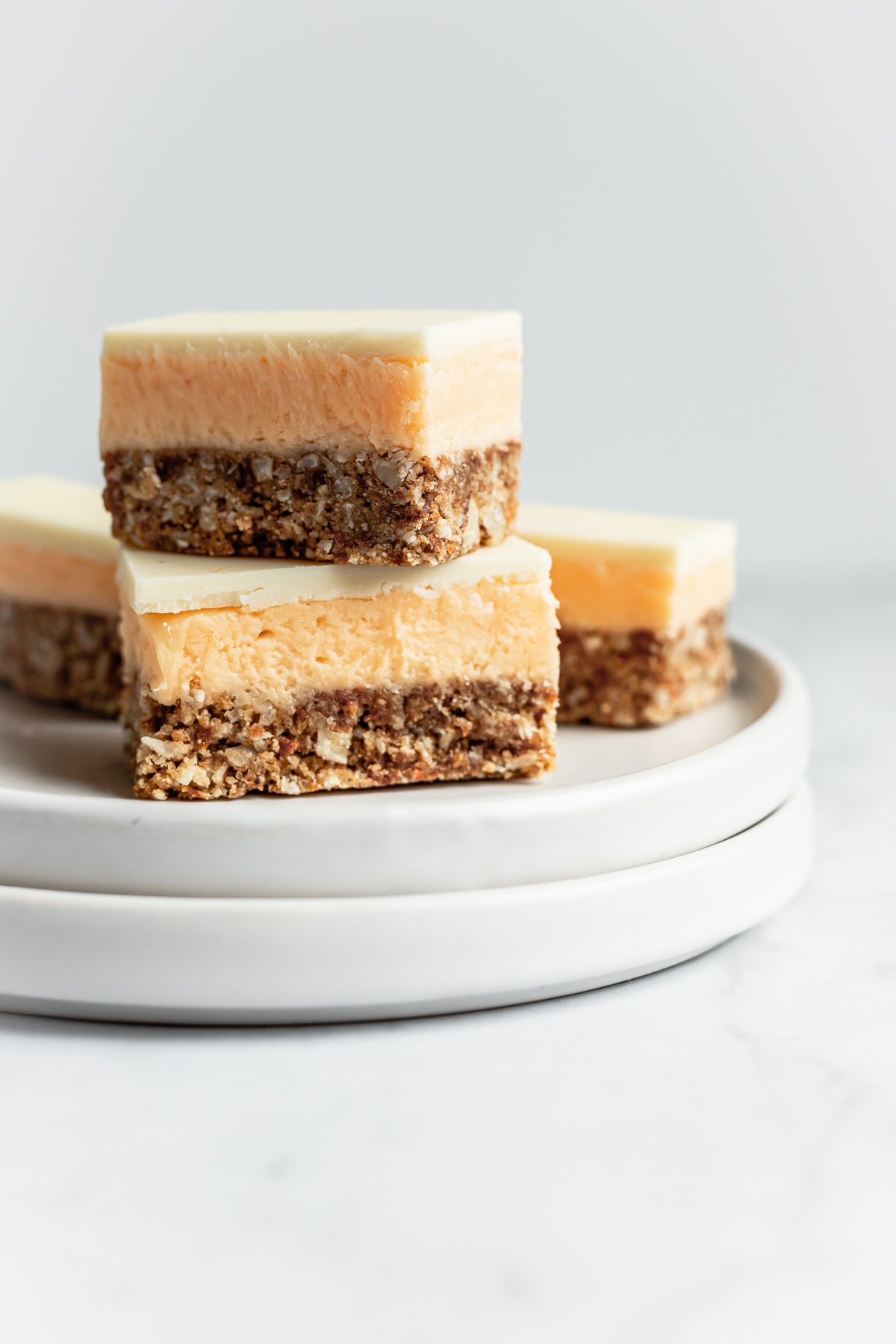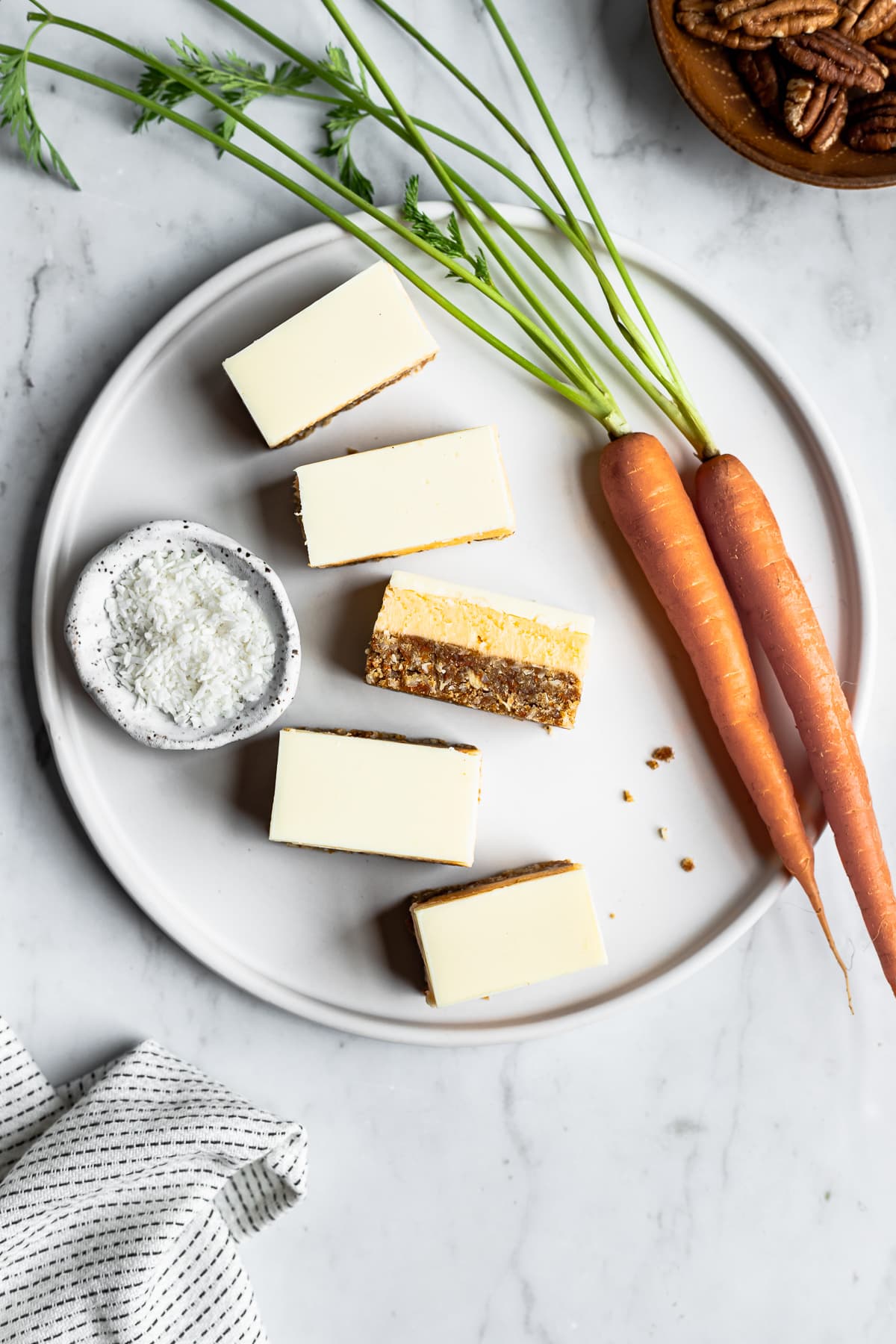 📖 Recipe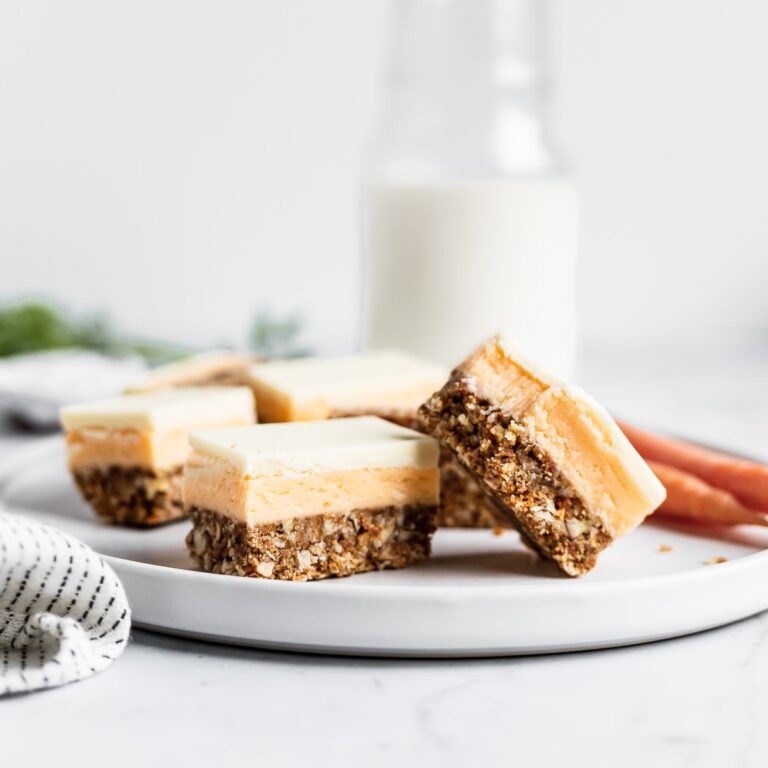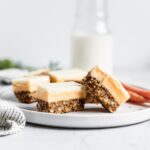 No Bake Carrot Cake Bars
Print Recipe
Pin Recipe
Three layers of carrot cake flavor without the baking: a spiced graham cracker base with toasted pecans, coconut and shredded carrots, a rich, creamy center layer, and a luxuriously smooth white chocolate topping. Best when served chilled.
Servings
24
bars, 8" square pan
INGREDIENTS
SPICED GRAHAM CRACKER BASE
1

¼ cups (155g, 10 full sheets)

graham crackers, finely ground

¾

cup (72g)

shredded unsweetened coconut

½

cup (60g)

pecans, finely chopped

⅓

cup (32g)

almond flour

¼

cup (50g)

brown sugar

¼

teaspoon

kosher salt

1

teaspoon

cinnamon

½

teaspoon

ginger, ground

⅛

teaspoon

nutmeg

⅛

teaspoon

cloves

½

cup (113g, 4 oz)

unsalted butter, melted

1

teaspoon

vanilla extract

½

cups (55g)

finely shredded carrots
CREAMY CUSTARD FILLING
½

cup (113g, 4oz)

unsalted butter, room temperature

¼

cup (56g, 2 oz)

cream cheese, full fat, room temperature

2

Tbsp (35g)

custard powder (read post for substitutions)

2

cups (240g)

powdered sugar, sifted

½

teaspoon

vanilla extract

1

tablespoon

heavy whipping cream (or full fat milk)
WHITE CHOCOLATE TOPPING
8

oz (227g)

white chocolate, finely chopped

1

tablespoon

neutral vegetable oil
INSTRUCTIONS
SPICED GRAHAM CRACKER BASE
Line an 8" square baking pan with parchment paper, extending the edges over the sides to create handles. This will help you lift out the bars after they have firmed up.

In a 1 quart pot, melt butter on the stove over medium heat. Optional, but delicious: Continue heating while butter begins to foam. Whisk frequently and watch carefully for the change of color from pale yellow to rich golden brown as the solids separate down to the bottom and the butter smells toasted and nutty. Remove browned butter from heat promptly and set aside to cool slightly.

Optional, but also delicious: In a small frying pan over medium low heat, toast finely chopped pecan pieces until lightly browned and fragrant smelling, stirring occasionally - about 2-5 minutes. Set aside to cool slightly.

In a large mixing bowl, combine graham cracker crumbs, coconut, (toasted) pecans, almond flour, brown sugar, salt, and spices. Whisk together until fully blended. Add melted (browned) butter, vanilla, and grated carrots. Mix with a spoon or spatula until crumbs are completely moist and mixture looks like wet sand.

Pour base mixture into prepared pan and distribute evenly. Using the bottom of a measuring cup, firmly press base mixture down until compacted and smooth. Place pan into fridge to chill.
CREAMY CUSTARD FILLING
In the bowl of a stand mixer fitted with the paddle attachment, mix the butter and cream cheese until completely blended and smooth, scraping down the bowl several times. Add the powdered sugar, custard powder, and vanilla and mix on low until incorporated. Add heavy cream and increase speed to high for a minute. You should have a thick but spreadable buttercream filling.

Spread filling onto chilled graham cracker base layer using a mini offset spatula to smooth out the top as much as possible. Rotate the pan as you spread to ensure uniform evenness. Return pan to fridge to chill as you prepare the topping.
WHITE CHOCOLATE TOPPING
In a microwave safe glass bowl (or over a double boiler), melt the finely chopped white chocolate for one minute. Stir, and return to microwave in 15 second intervals until just melted and no lumps remain. Add oil and stir gently until oil is completely incorporated. Gentle stirring will help avoid introducing extra air bubbles to the mixture.

Pour the white chocolate mixture onto the filling layer and quickly pick the pan up and tilt it in all directions to evenly spread the white chocolate into all corners. For the smoothest finish, avoid using a tool to spread the chocolate. Keeping it level, rap the pan firmly on a towel covered countertop 5 or 6 times to remove air bubbles from the white chocolate. Place in fridge until set, at least one hour.

To slice, lift the chilled bars out of the pan using the overhanging parchment paper. Place on a cutting board. Run a chef's knife under warm water, dry it off, and then slowly and firmly cut through the bar, allowing the warm knife to help melt through the chocolate layer first. Wipe the knife between cuts and warm again every few slices. Store bars in an airtight container in the fridge. I find these bars best served cold.
The Floured Table
Recipe Author: Kathleen Culver
https://www.theflouredtable.com/no-bake-carrot-cake-bars/
Made this recipe? Please leave a comment and a star review! ★★★★★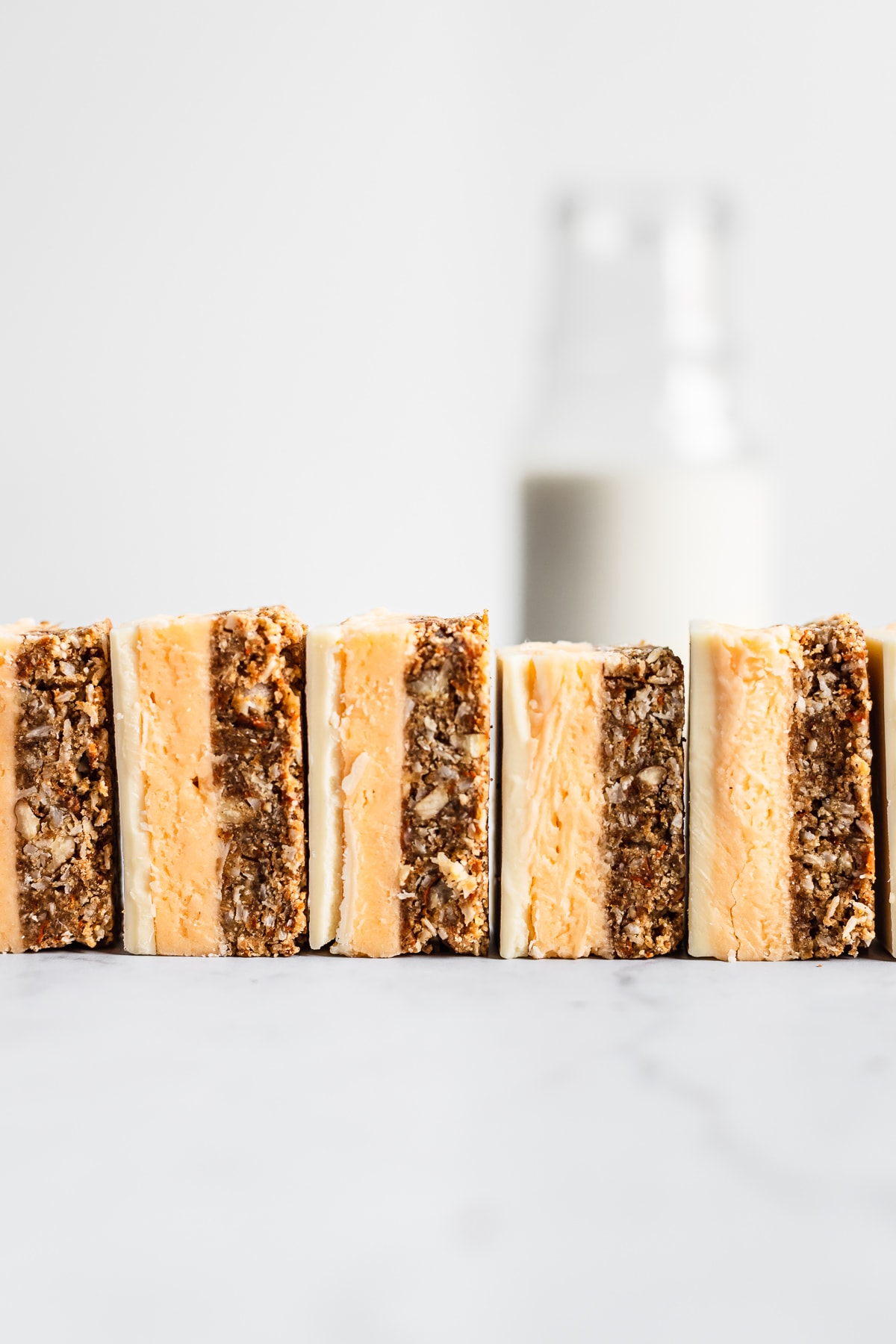 More bar cookie recipes
If you liked these carrot cake bars, you might also enjoy these recipes!