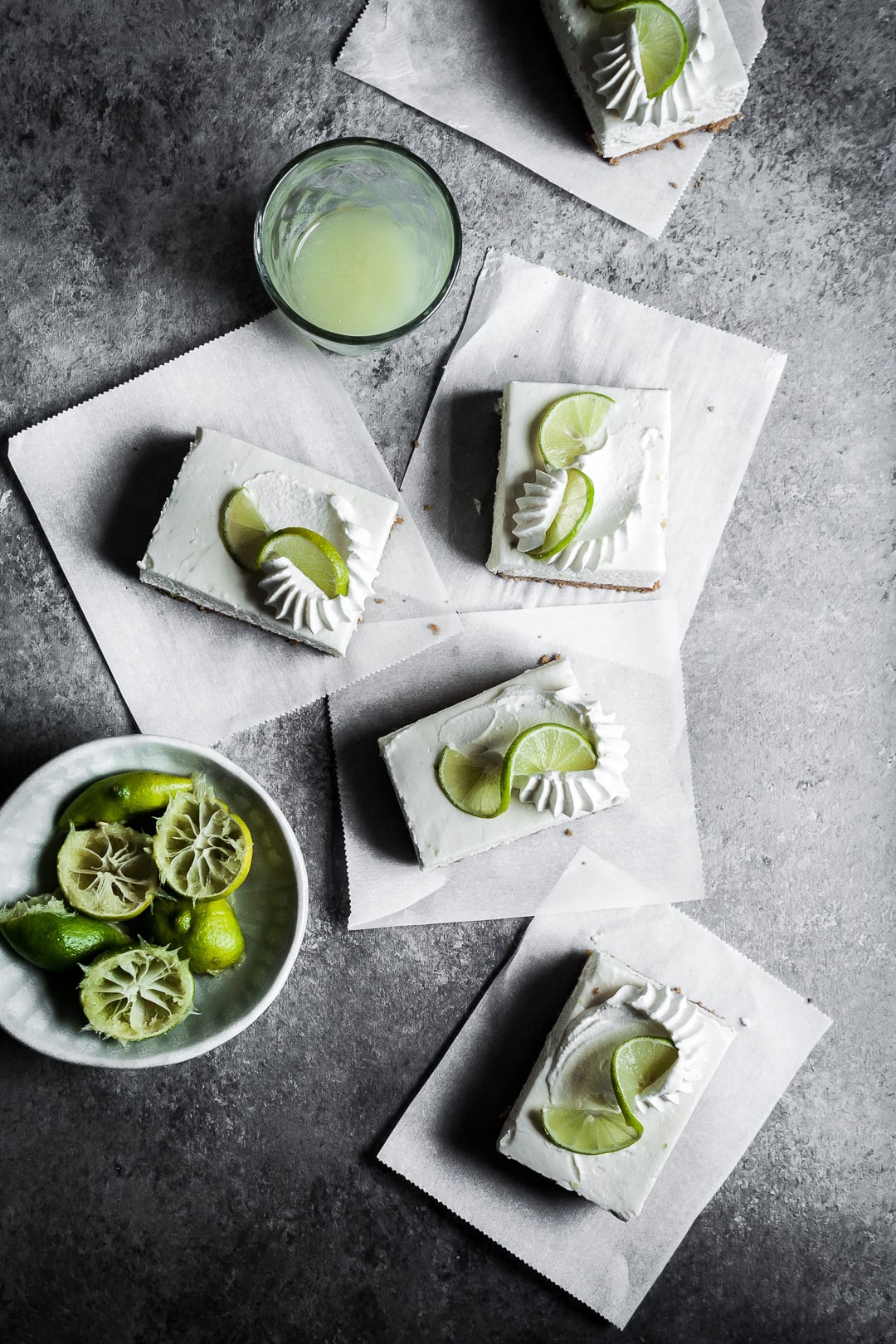 These no bake Key lime cheesecake bars came about after I found a few bags of the little Key limes at the grocery store this week. My parents told me about the incredible variety of Key lime pies they had sampled on a road trip in Florida a few years back. Seeing the fruit in the store now, I wondered what I could create.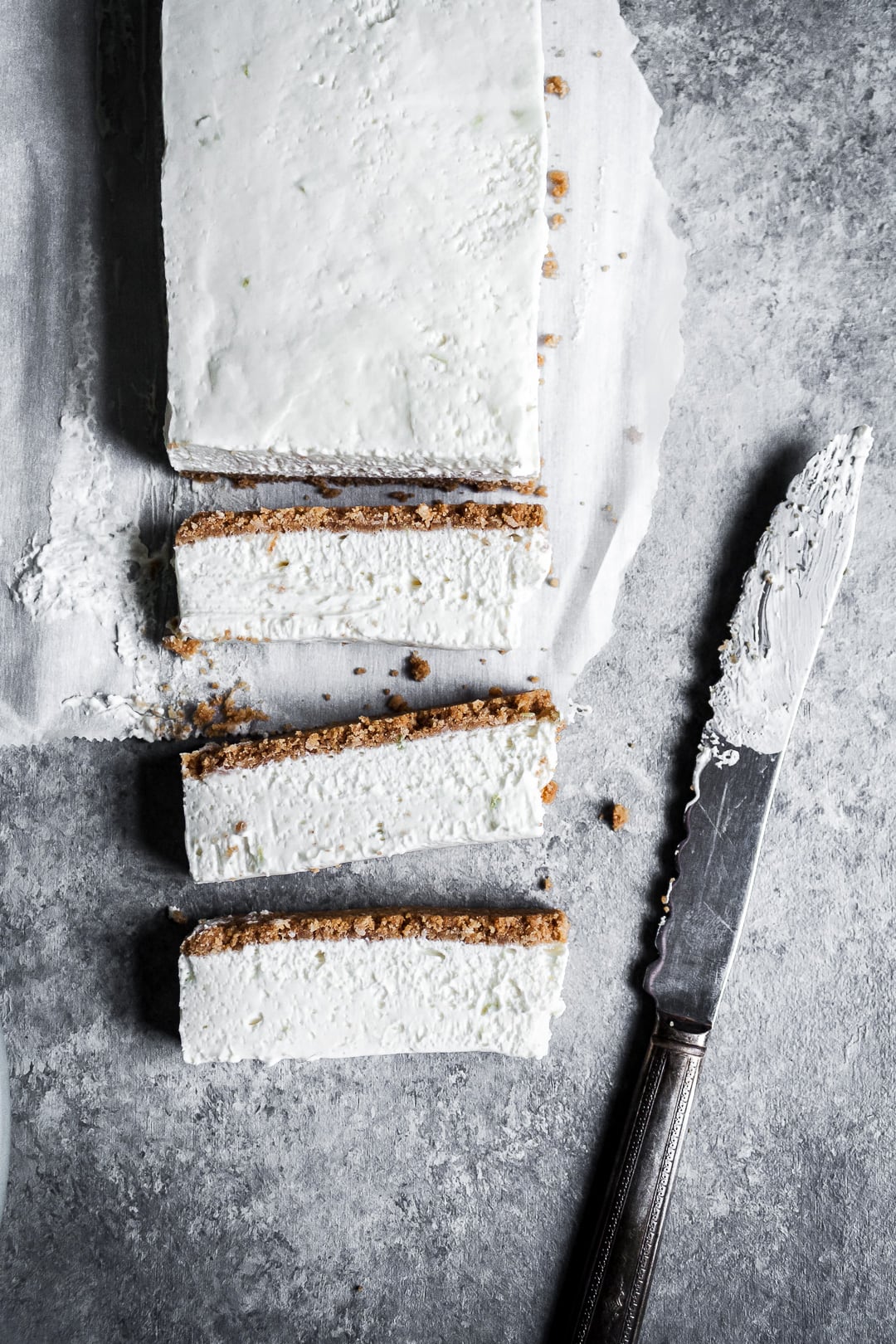 Traditional Key Lime Pie
A traditional Key lime pie calls for Key lime juice, sweetened condensed milk and egg yolks. Rather than bake a large pie, I wanted to come up with something more flexible that I could easily portion and serve to a group...or in our case, hand off on a precariously balanced paper plate to our six year old for dessert delivery to various neighbors on the block.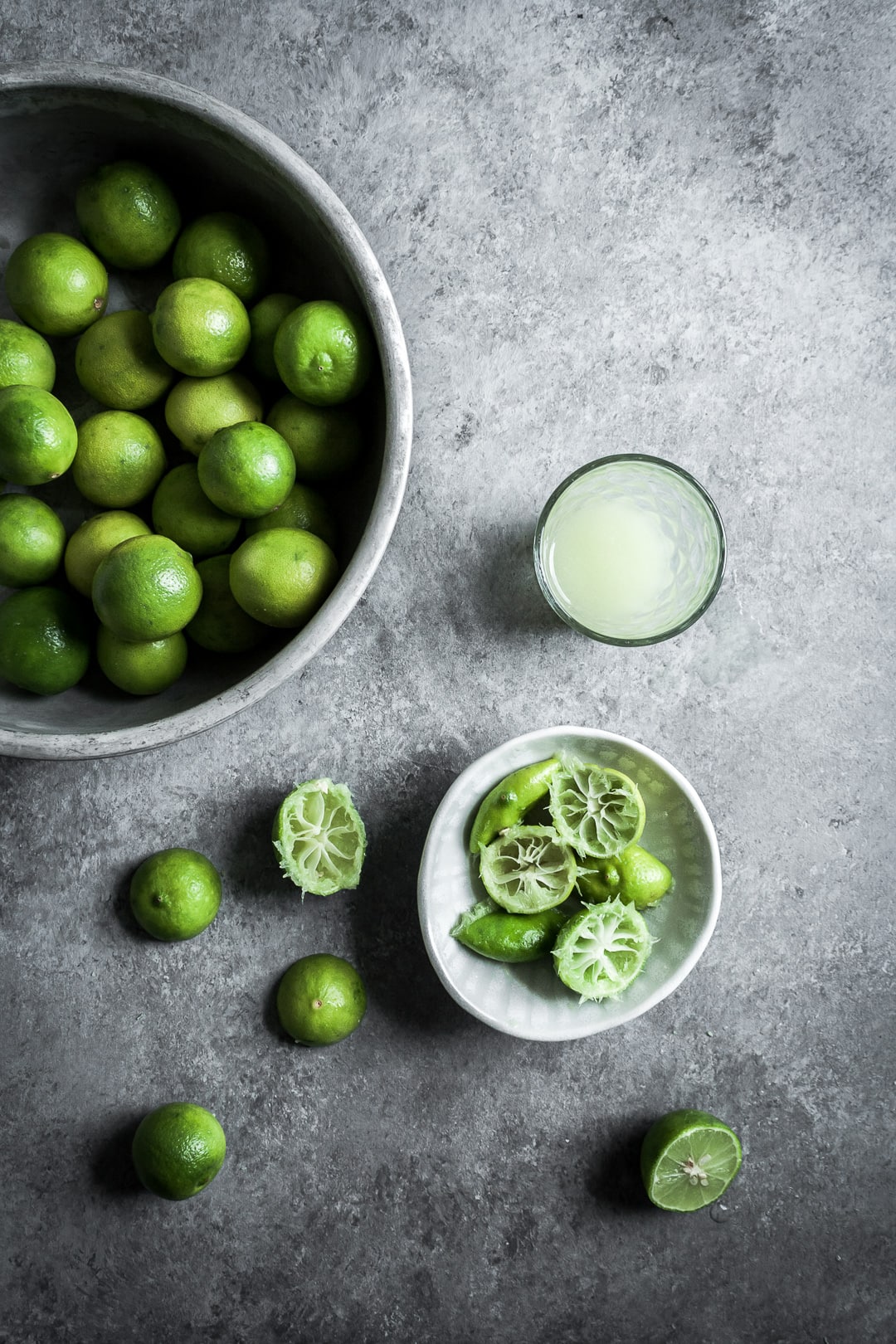 Lime Varieties
Small, round, yellow-green Key limes (also called Mexican or West Indian) are more floral and tart than the green Persian limes we generally see here. I was surprised to learn that the Key lime variety is more common in many parts of the world. These limes were commercially grown in Florida groves until the 1920s, when a hurricane damaged the crop significantly. Growers replaced them with the hardier Persian lime, which has become standard fare in most US grocery stores.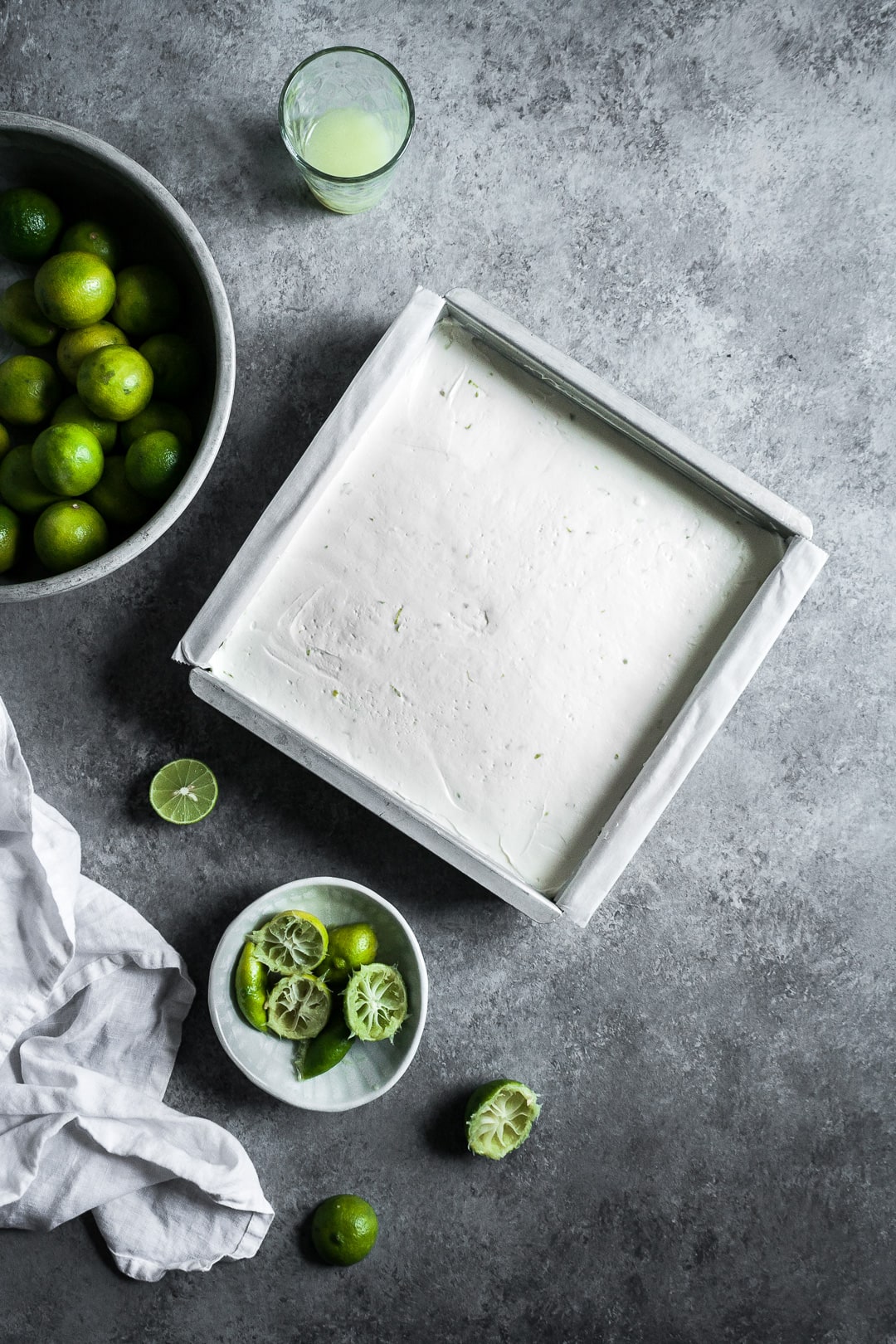 Easy No Bake Cheesecake
With these Key lime cheesecake bars, I was aiming to balance the significant acidity of the juice with the creamy flavor of cheesecake. After making a no bake honey orange cheesecake late last summer, I knew I wanted to use this same method. It incorporates all the delicious taste of a cheesecake with none of the common complexities that baked cheesecakes can suffer with leaky water baths and cracked, overbaked tops.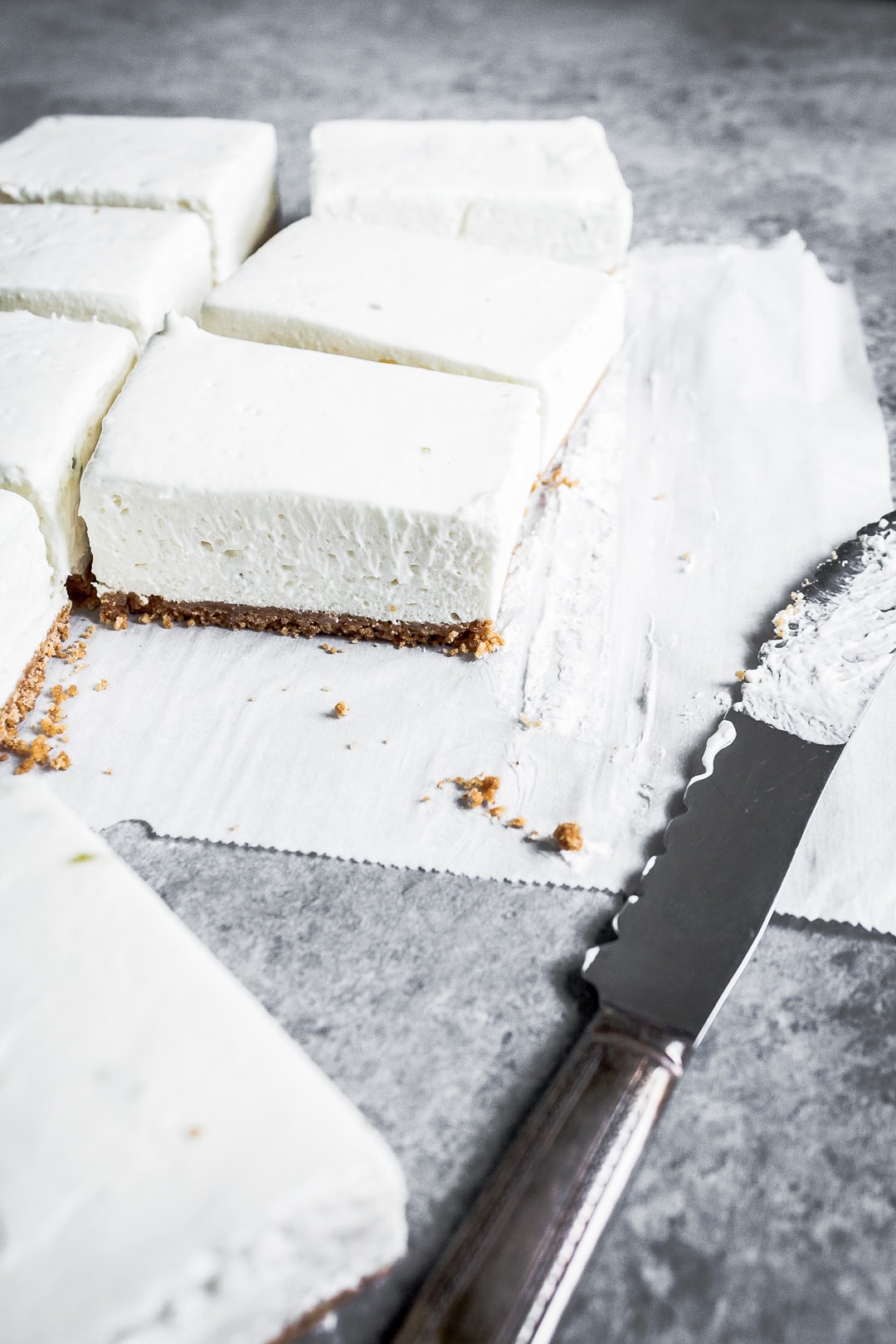 Even though the ingredients are rich and full fat (which is necessary in order to have the filling thicken and set), no bake cheesecake always tastes lighter to me. Folding whipped cream into the cheesecake filling creates an airy mouthfeel similar to mousse. The tang from the Key lime juice and zest helps keep these creamy bars feeling fresh and bright.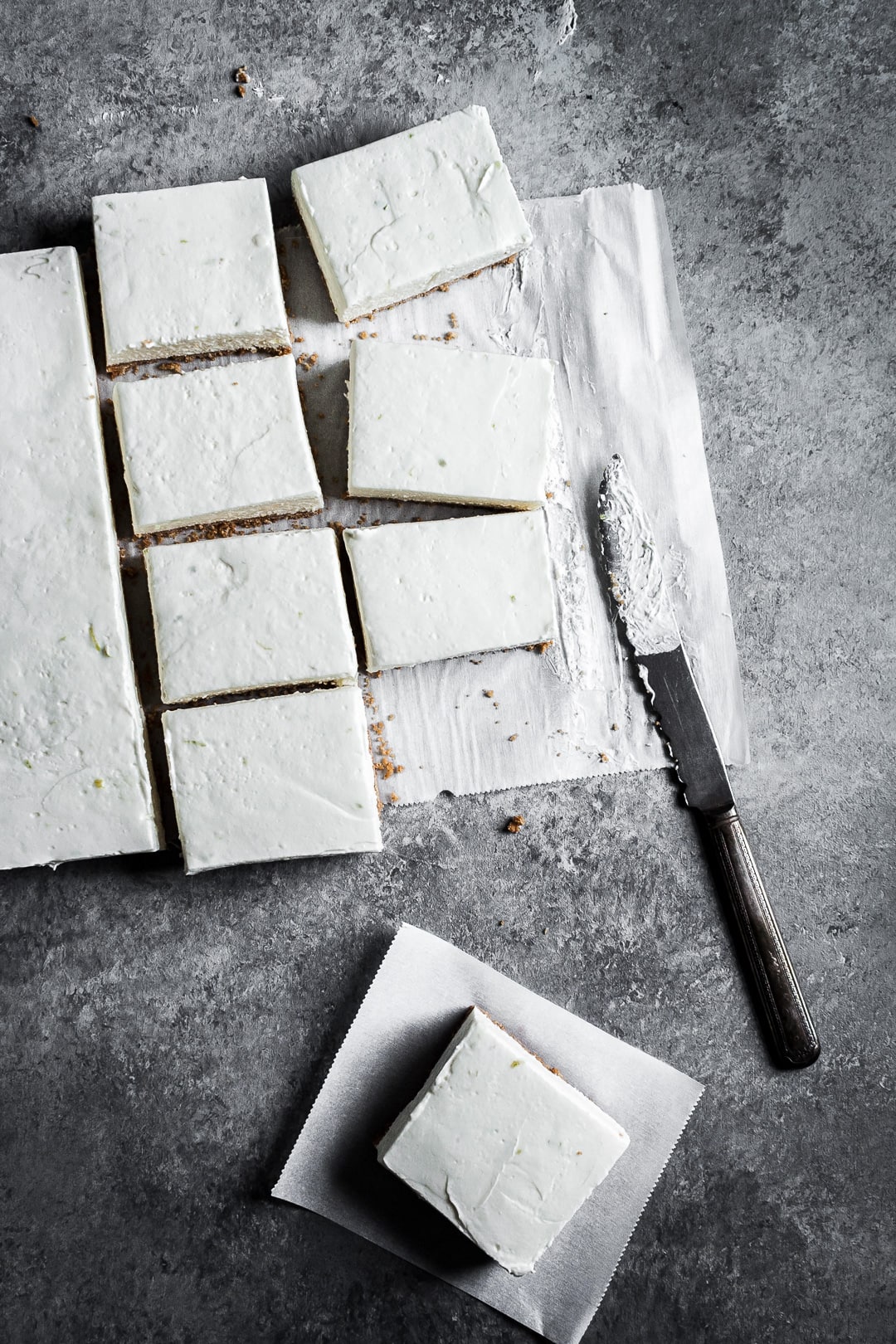 Recipe Notes
French star tip - To decorate the cheesecake bars, I used sweetened whipped cream in a piping bag fitted with a jumbo pastry tip. You can find the pastry tip here.
Portions - This is a flexible recipe - you can cut the bars into squares or rectangles depending on your desired serving size. You could easily get 12 - 16 servings from these - or more. I sliced 12 and they were very big squares.
Chilling time - These cheesecake bars need to be placed in the fridge to set up overnight. Due to the no bake factor, they will never be as firm as a regular cheesecake.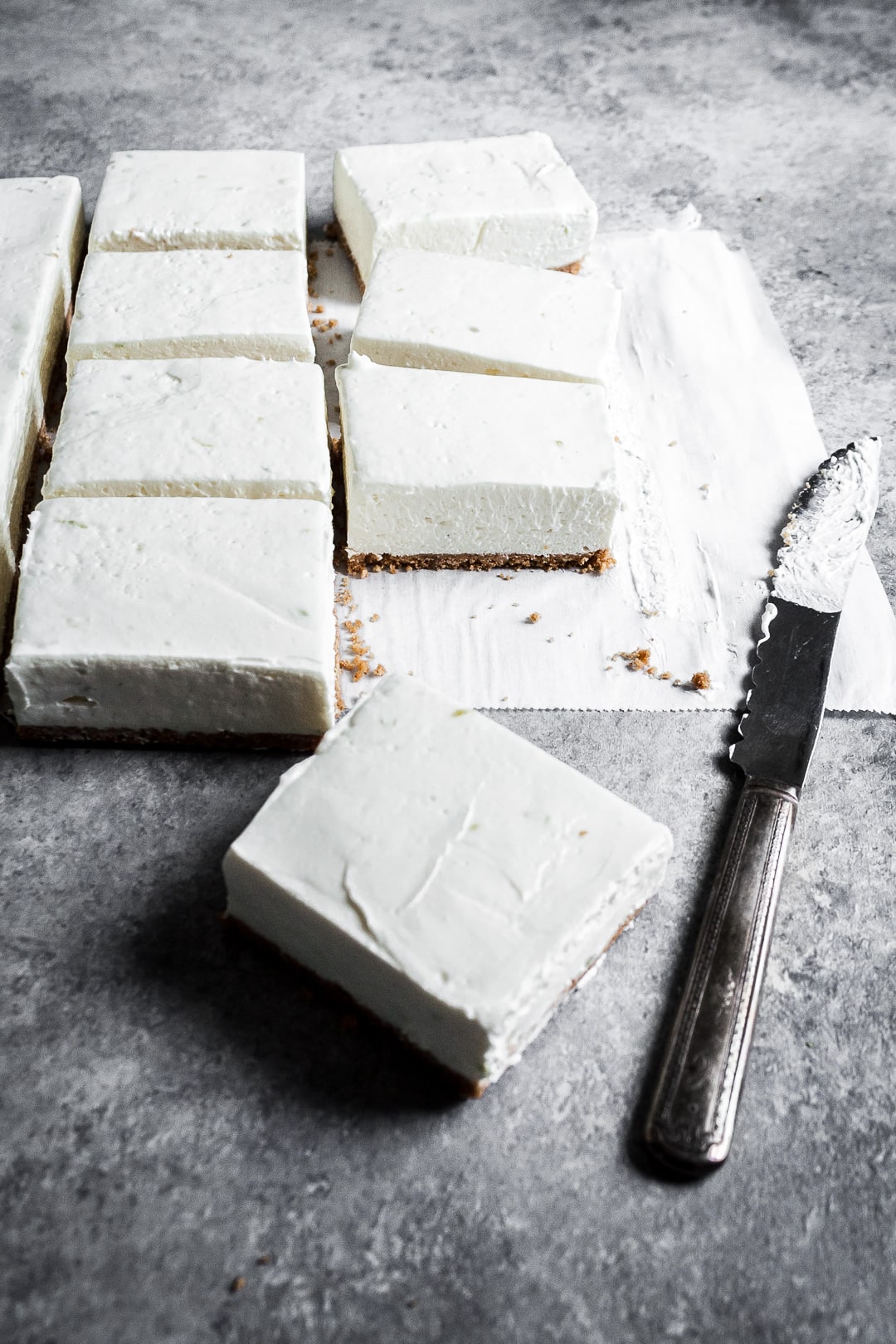 📖 Recipe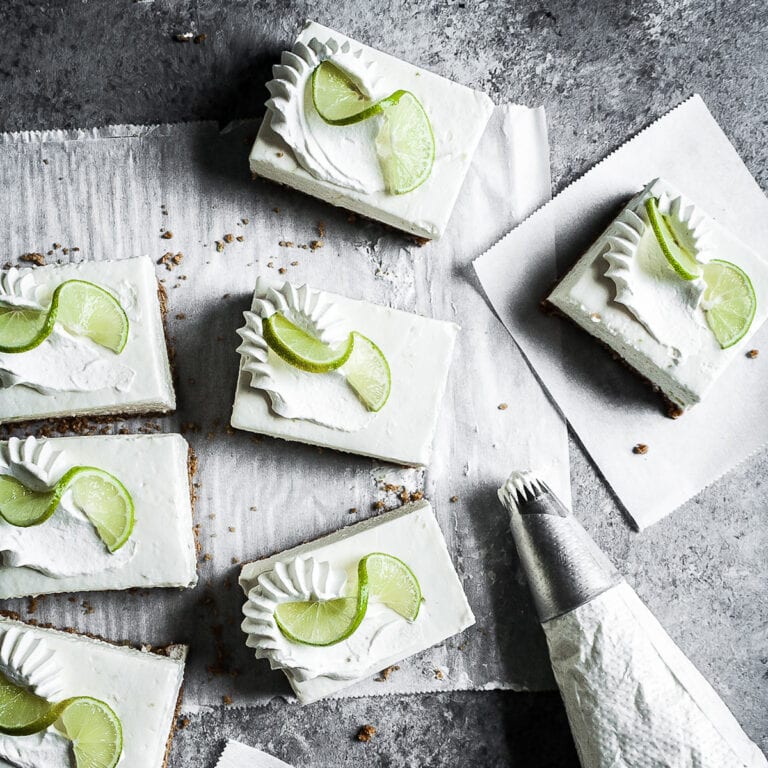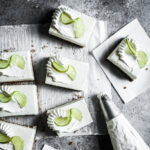 No Bake Key Lime Cheesecake Bars
Print Recipe
Pin Recipe
Easy, no bake cheesecake bars packed with creamy, rich texture and a bright Key lime flavor.
INGREDIENTS
Graham Cracker Crust
1 ½

cups (150g)

graham cracker crumbs (approximately 10 full sheets)

¼

cup (23g)

unsweetened shredded coconut

5

Tbsp (70g)

butter
Key Lime Cheesecake Filling
16

oz (550g)

cream cheese

⅓

cup (75g)

Greek yogurt

1 ¼

cups (156g)

powdered sugar

⅓

cup (80 mL)

Key lime juice (I used 7 key limes; results will vary)

1

tablespoon

Key lime zest

1

cup (250 mL)

heavy cream

1

tsp (5 mL)

vanilla extract
Decoration (Optional)
½

cup (125 mL)

heavy cream, for topping (optional)

1

tablespoon

granulated sugar

1

teaspoon

vanilla extract

2

key limes, for topping (optional)
INSTRUCTIONS
Graham Cracker Crust
Preheat oven to 350 degrees F.
(I realize this is a no-bake recipe, but the 12 minutes you spend to bake the crust will be worth it for some extra color, deeper flavor, and a slightly more solid crust at warmer temperatures.) If you choose to skip baking the crust, chill it in the fridge or freezer for at least 30 minutes prior to filling.


Line a 9 x 9 metal pan with parchment paper, allowing it to overhang by several inches on two sides.


In a large bowl, combine the graham cracker crumbs, shredded coconut and melted butter. Stir until butter is completely incorporated and no dry crumbs remain. Pour the mixture into the prepared pan and spread evenly to cover the entire base of the pan. Using the base of a flat item such as a glass or measuring cup, press the crumb mixture firmly to compress the crust.


Bake for 12 minutes. Remove from oven and set aside to cool.

Key Lime Cheesecake Filling
In a stand mixer with the paddle attachment, beat the cream cheese until smooth, creamy and light. Add Greek yogurt and mix to combine.

Add powdered sugar and mix slowly until incorporated. Scrape down the sides of the bowl.

Add Key lime juice and mix on low at first to avoid splashing. Continue to mix until fully blended. Incorporate the lime zest with a spatula or spoon (I always find that it gets stuck to the mixer attachments and doesn't blend in well).


Transfer cream cheese mixture to a large bowl (if you don't have a spare stand mixer bowl) and set aside.

In the clean bowl of a stand mixer with the whisk attachment, beat heavy cream and vanilla on medium-high until stiff peaks form.


Using a spatula, gently fold the whipped cream into the cream cheese mixture. Pour the filling into the prepared 9 x 9 pan. Using an offset spatula, spread out the filling and smooth out the top. Cover carefully with aluminum foil (try not to let the foil touch the cream cheese surface to maintain that nice smooth look). Refrigerate overnight.


Remove from the fridge, lift out of the pan using the parchment paper flaps, and place onto a cutting board. Cut into bars. If desired, top with whipped cream and thinly sliced cross sections of key lime.

Decoration (Optional)
Using the whisk attachment, beat ½ cup heavy cream, sugar and vanilla in the bowl of a stand mixer until stiff peaks form. Place whipped cream into a piping bag prepared with a jumbo french star piping tip. Pipe a large star in the corner of each bar.


Use an offset spatula or the back of a spoon placed halfway across the star to press down and drag the whipped cream in a curving motion. This will create the shooting-star shape seen here.

Thinly slice cross-sections of two key limes to create circles. Using a sharp knife, cut ¾ of the way across the center of each circle, leaving the remaining ¼ intact. Twist one cut end away from the other and place on top of the the whipped cream star.


Serve immediately.

The Floured Table
Recipe Author: Kathleen Culver
https://www.theflouredtable.com/no-bake-key-lime-cheesecake-bars/
Made this recipe? Please leave a comment and a star review! ★★★★★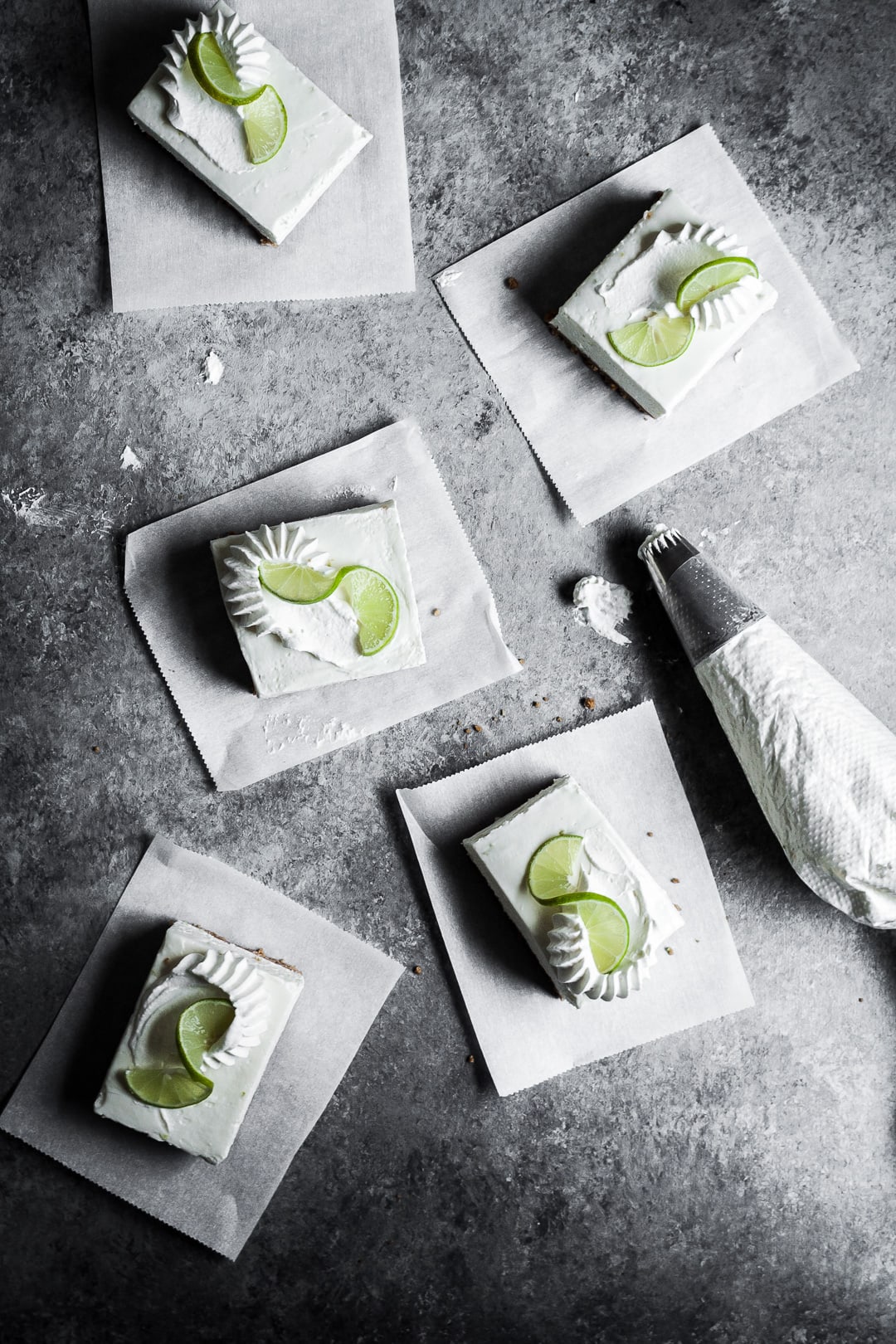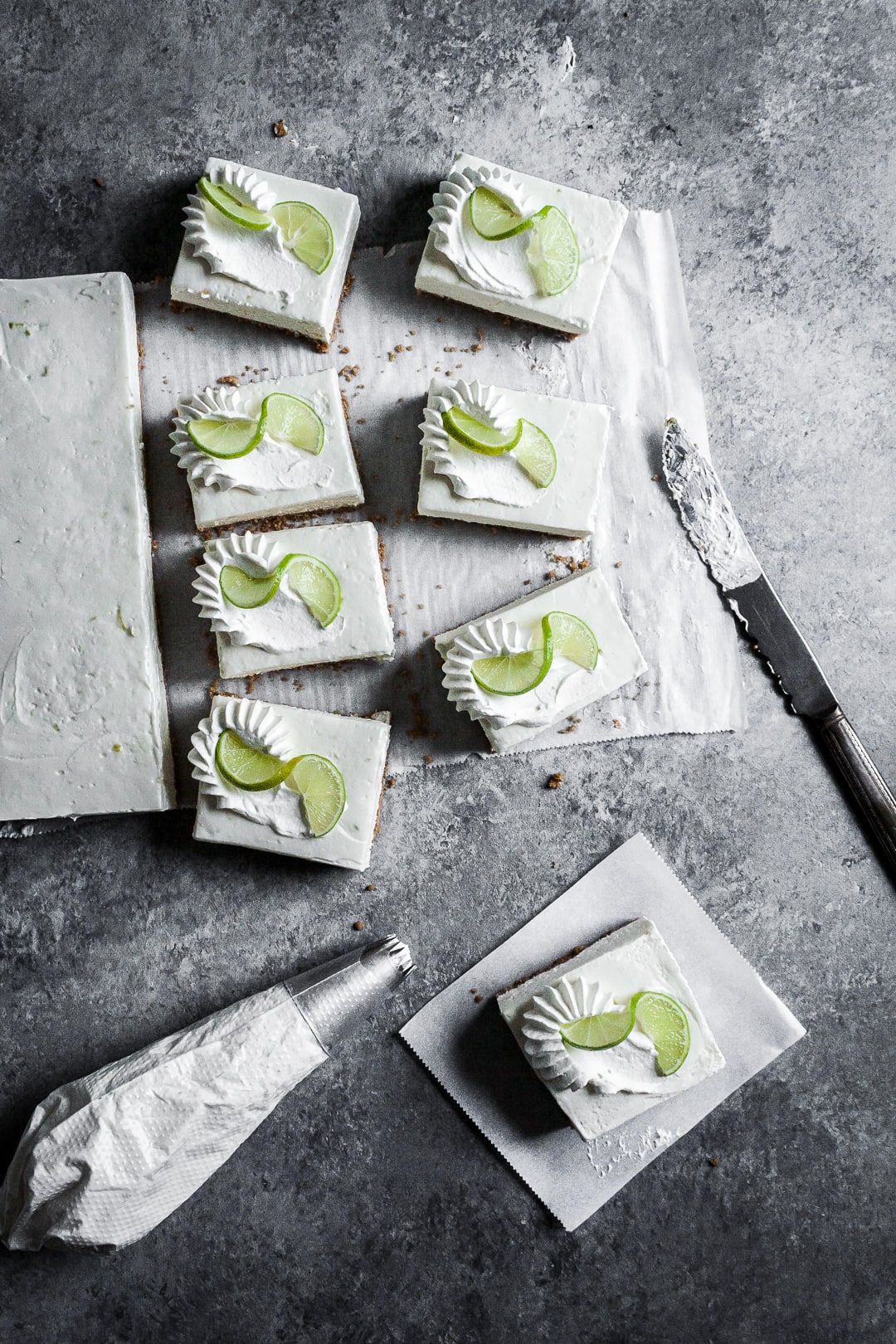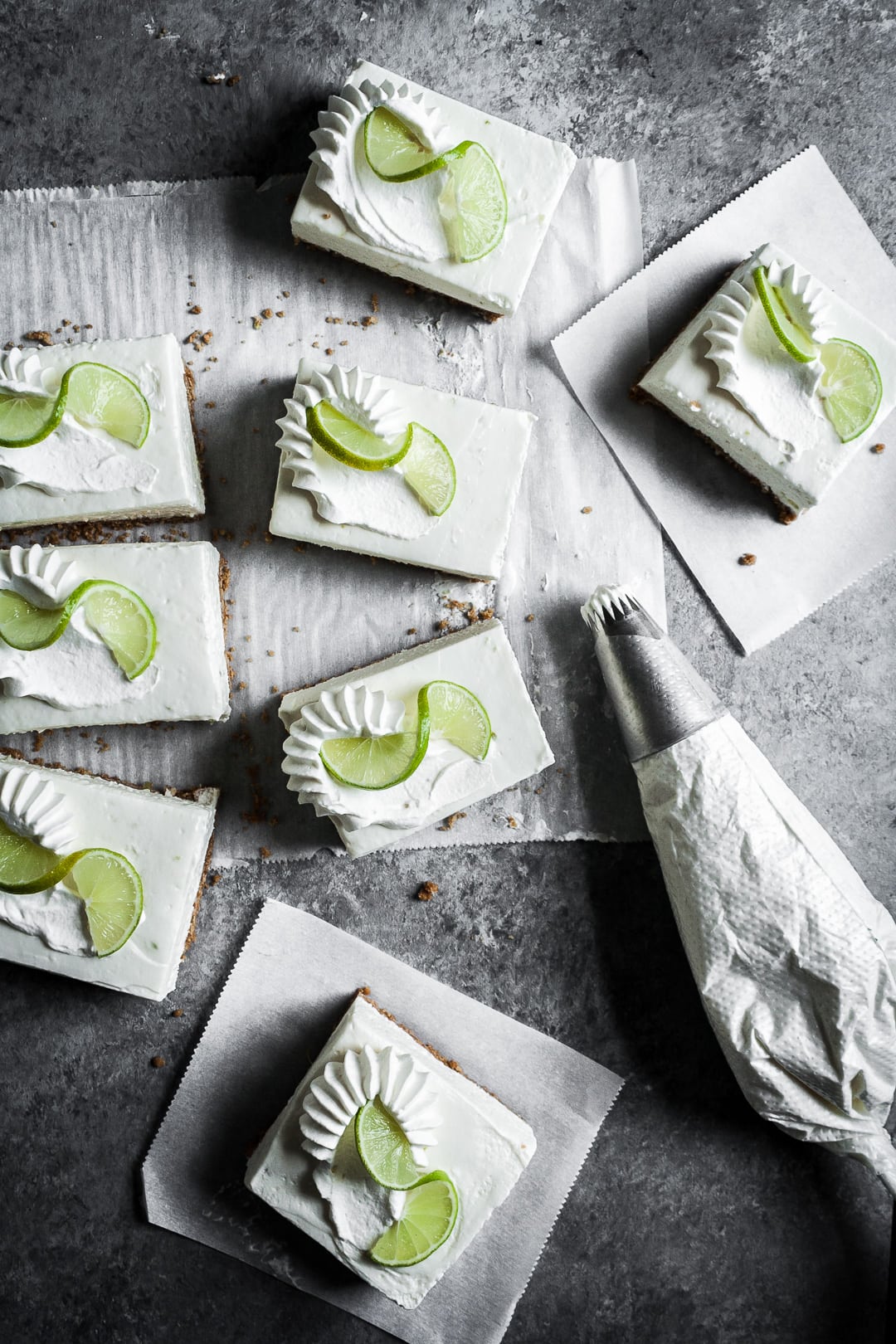 If you like these Key lime cheesecake bars, you might also enjoy:
No Bake Honey Orange Cheesecake with Rosemary Almond Crust
Chocolate Blood Orange Ice Cream Sandwiches