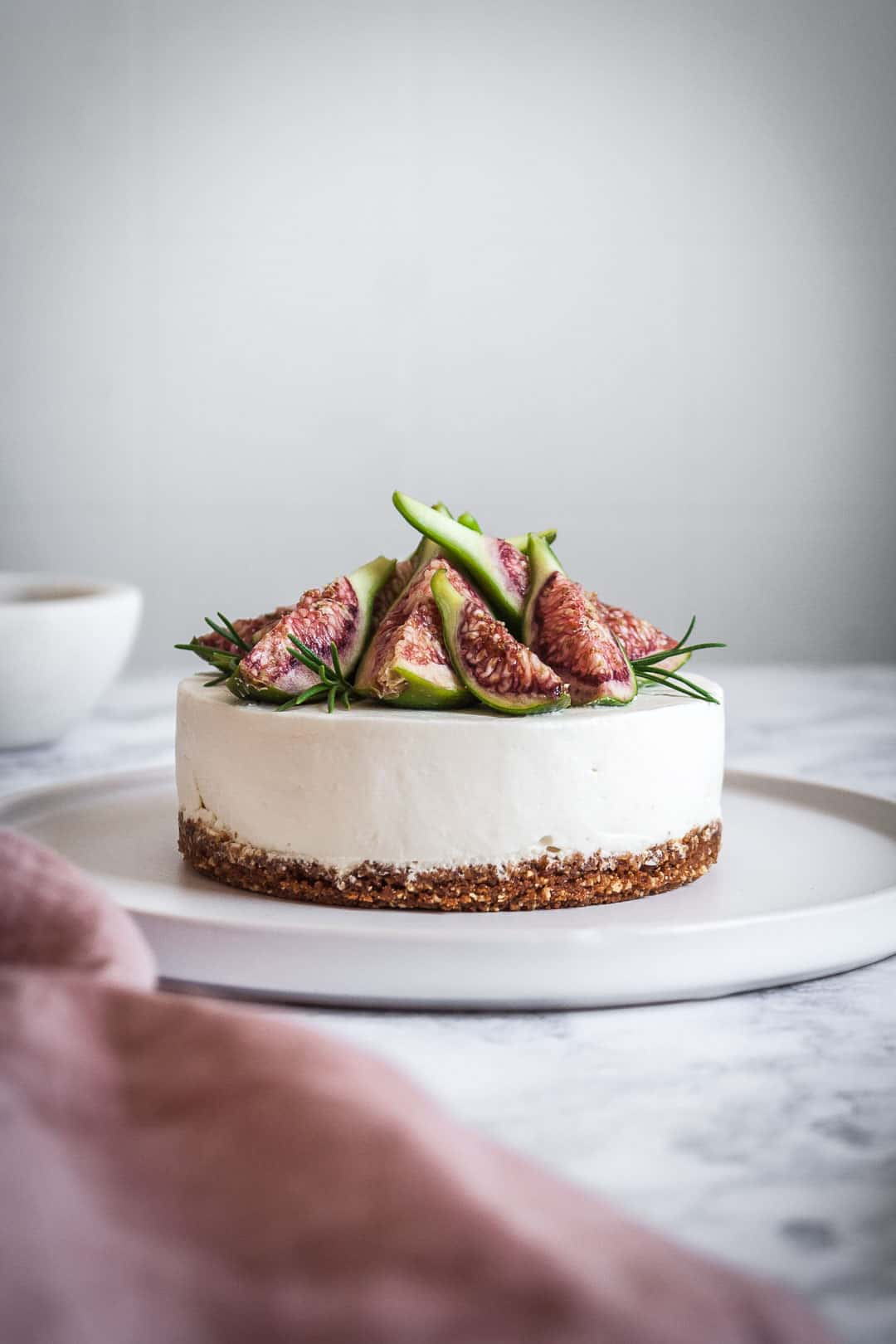 I'm finally sharing this simple no bake honey orange cheesecake with figs and rosemary almond crust. I made it several times in the heat of the summer when turning on the oven was the very LAST thing I wanted to do. In fairness, there is a brief 10 minute baking period required, but only for the crust. The final result - cool, creamy and smooth, flavored with citrus and rosemary, bedecked with figs and a drizzle of honey, is worth the discomfort of the hot oven for those few minutes.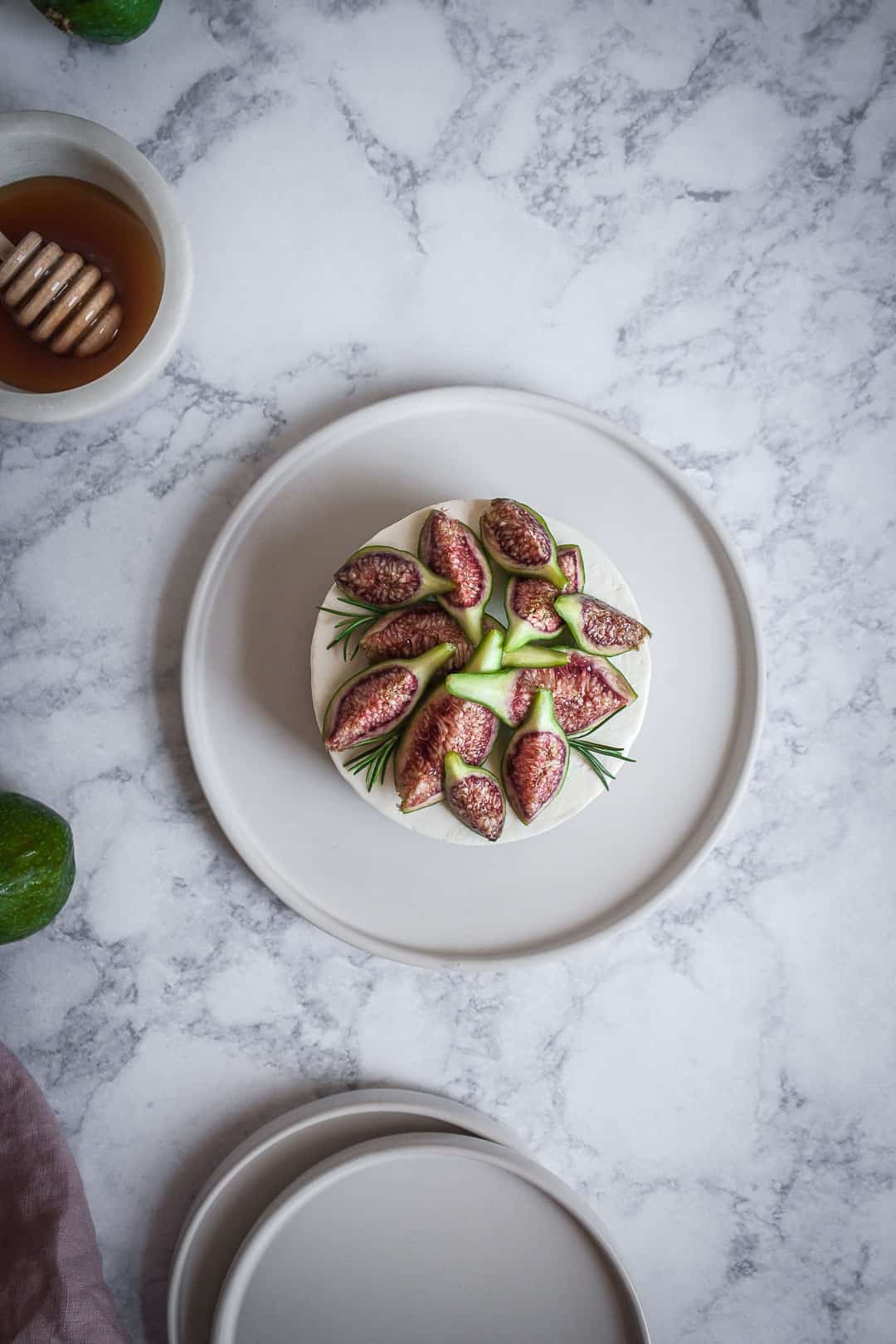 The delay in sharing has been multi-fold. There is my husband's intensely seasonal job in farm management, our desire to enjoy the fleeting Pacific Northwest summer to the very utmost, my older daughter's recent transition to kindergarten, and my first (thank goodness) real experience dealing with a back injury... Really, any one of those things could have derailed my desire to post regularly, and combined, it was just a bit too much. But as the transition to fall becomes more evident with each darkening day, as we settle into our new routines, I feel a gravitational pull back to this space to share kitchen ideas and creativity.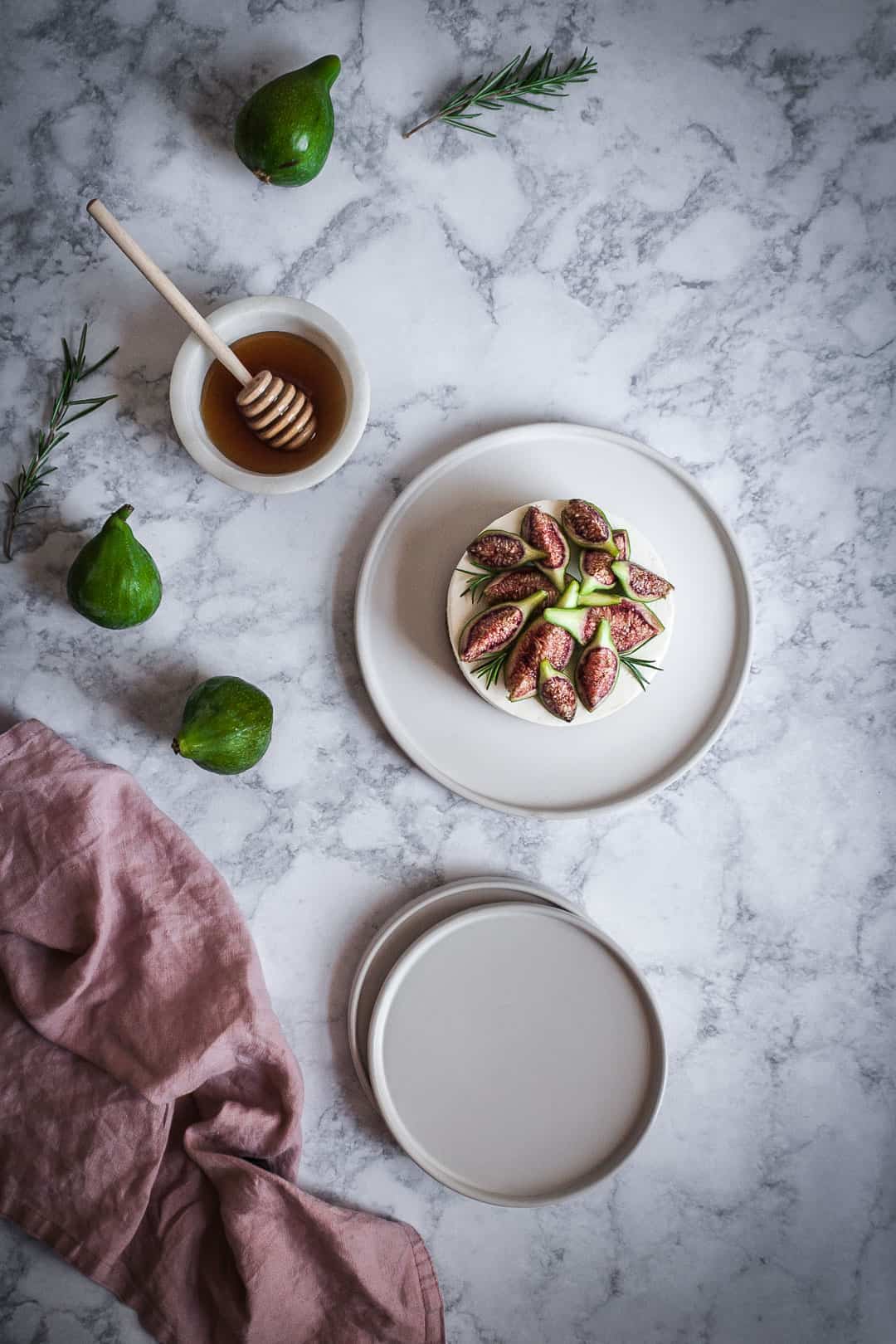 And as each day brings slow improvement to the situation in my lower back, it provides a somewhat insulting and sobering reminder that at 38, I might have to be a bit more thoughtful about my activity and movement. Time marches forward on all fronts, and my body is a record of its passage. It's also a subtle reminder to embrace the present and follow my passions. And throughout this last month, they've been there all along, mocking me with the seasonal fruit dripping low from the trees and the farmer's market bounty calling to me from the stalls. It's time to answer while the figs are still fresh.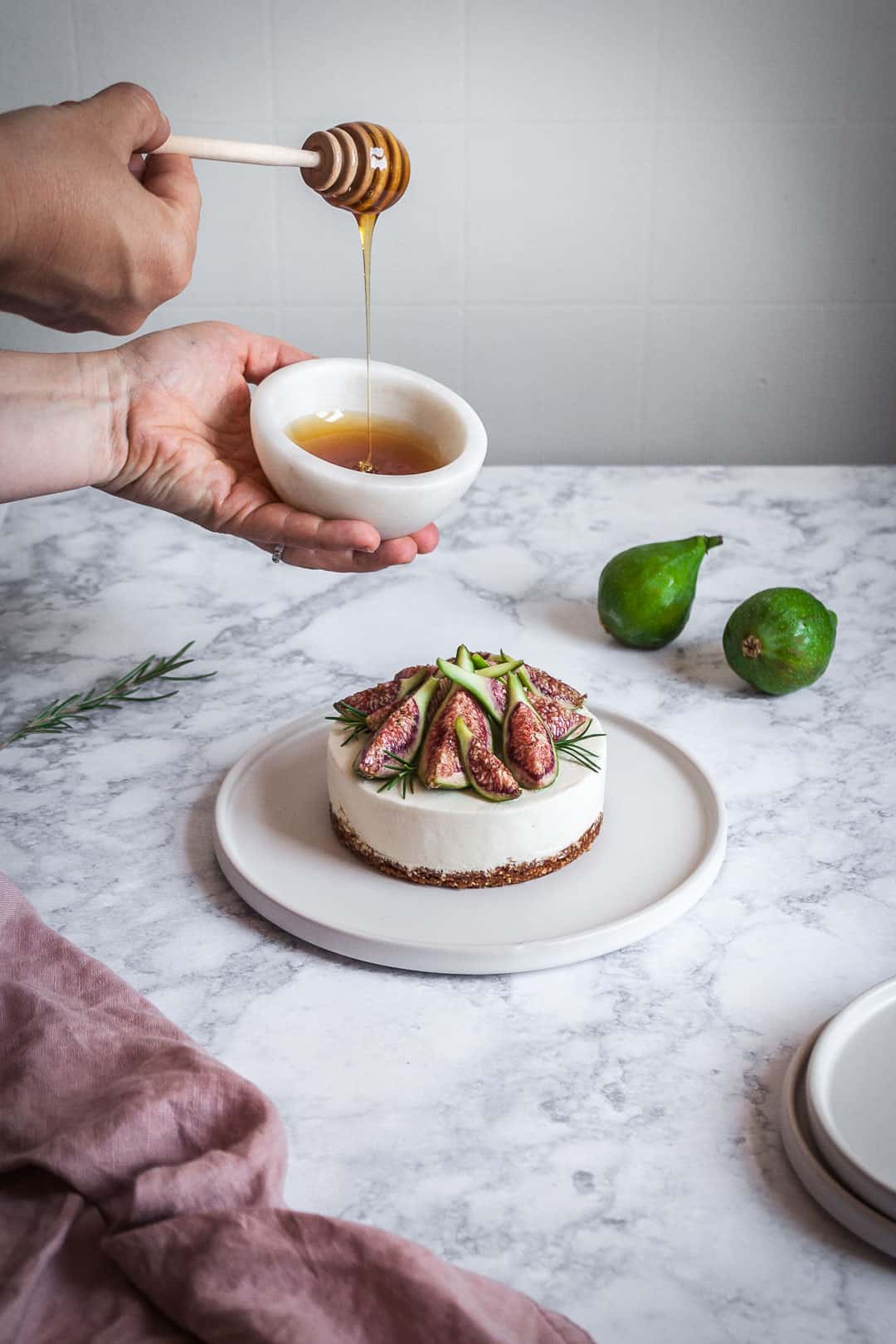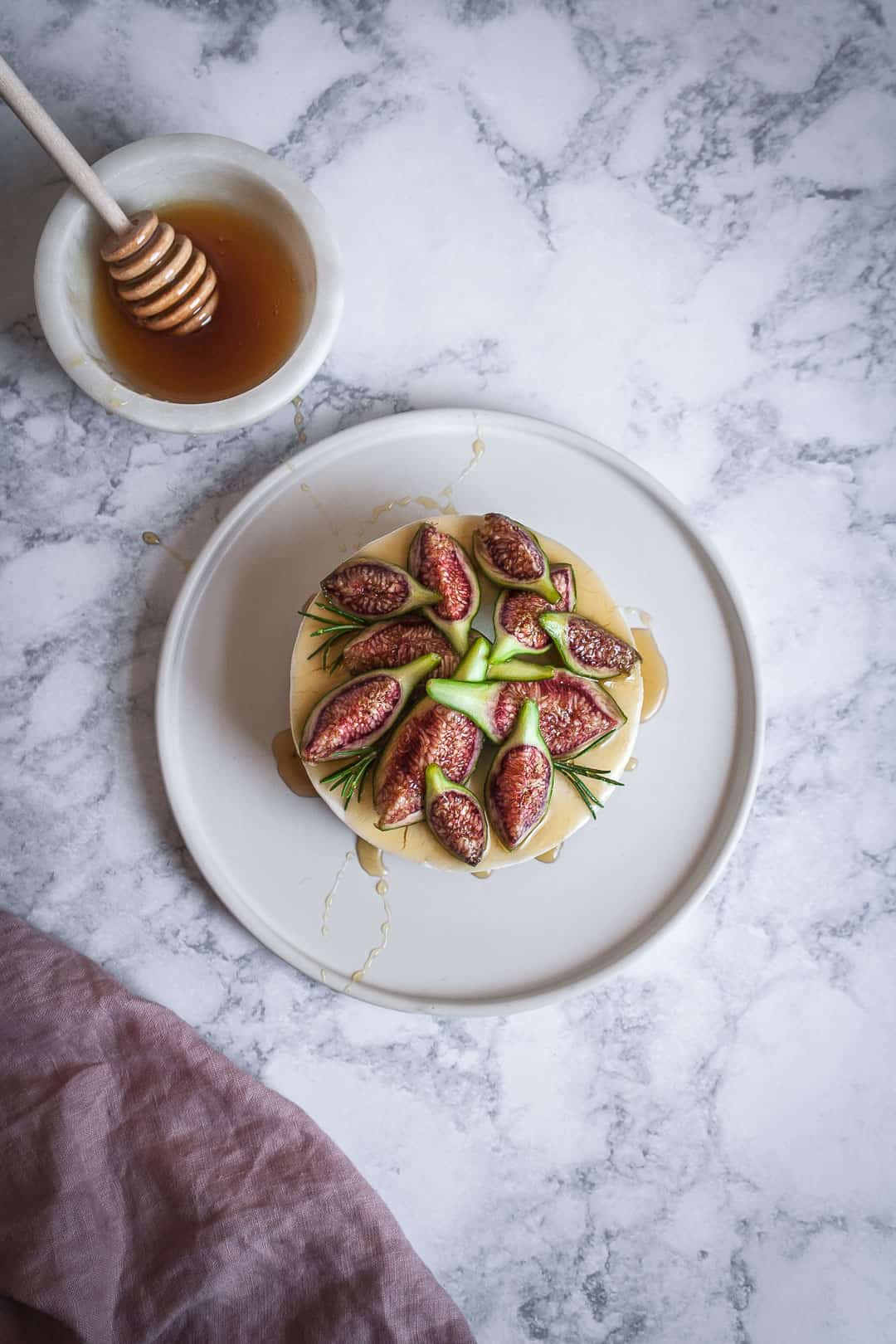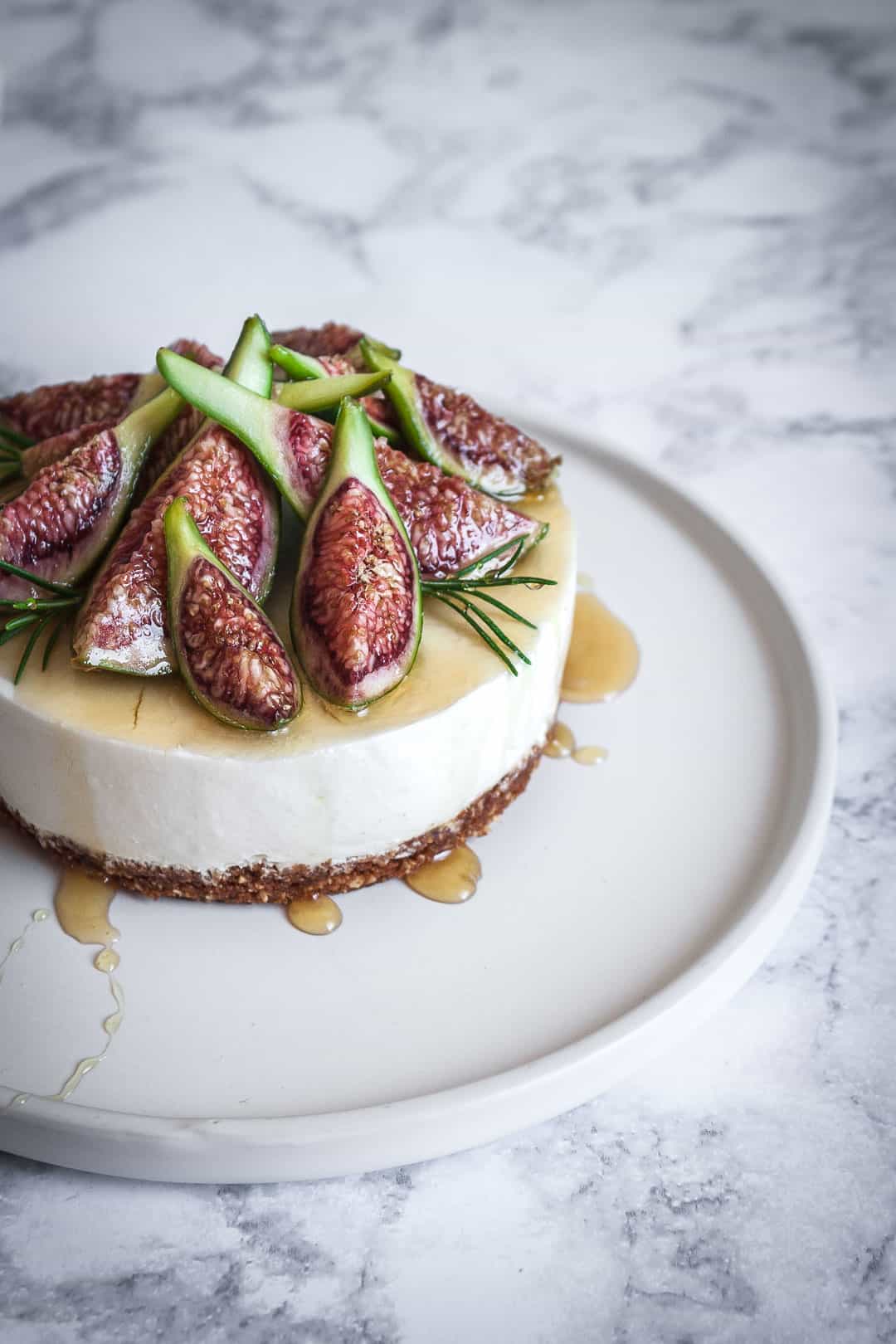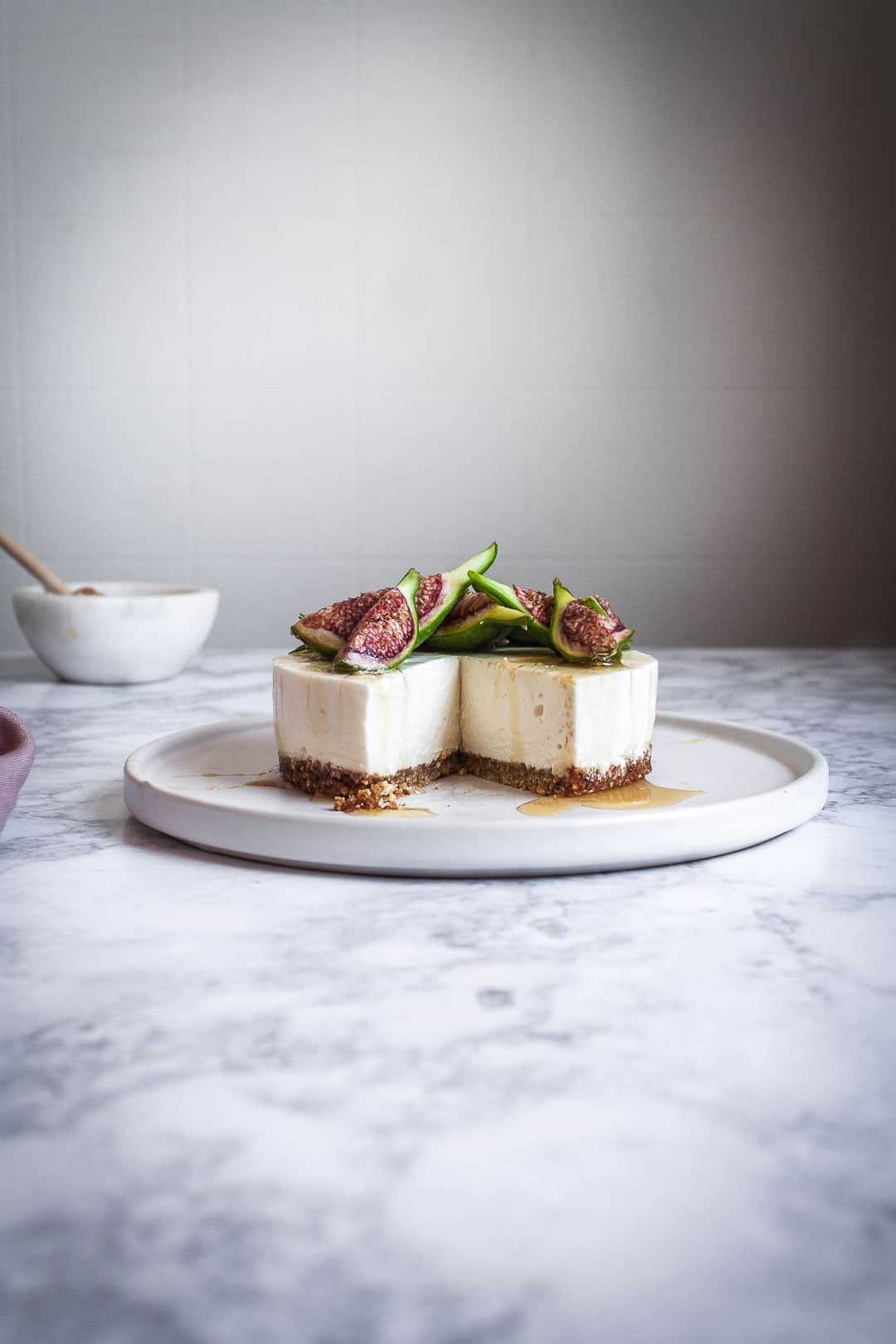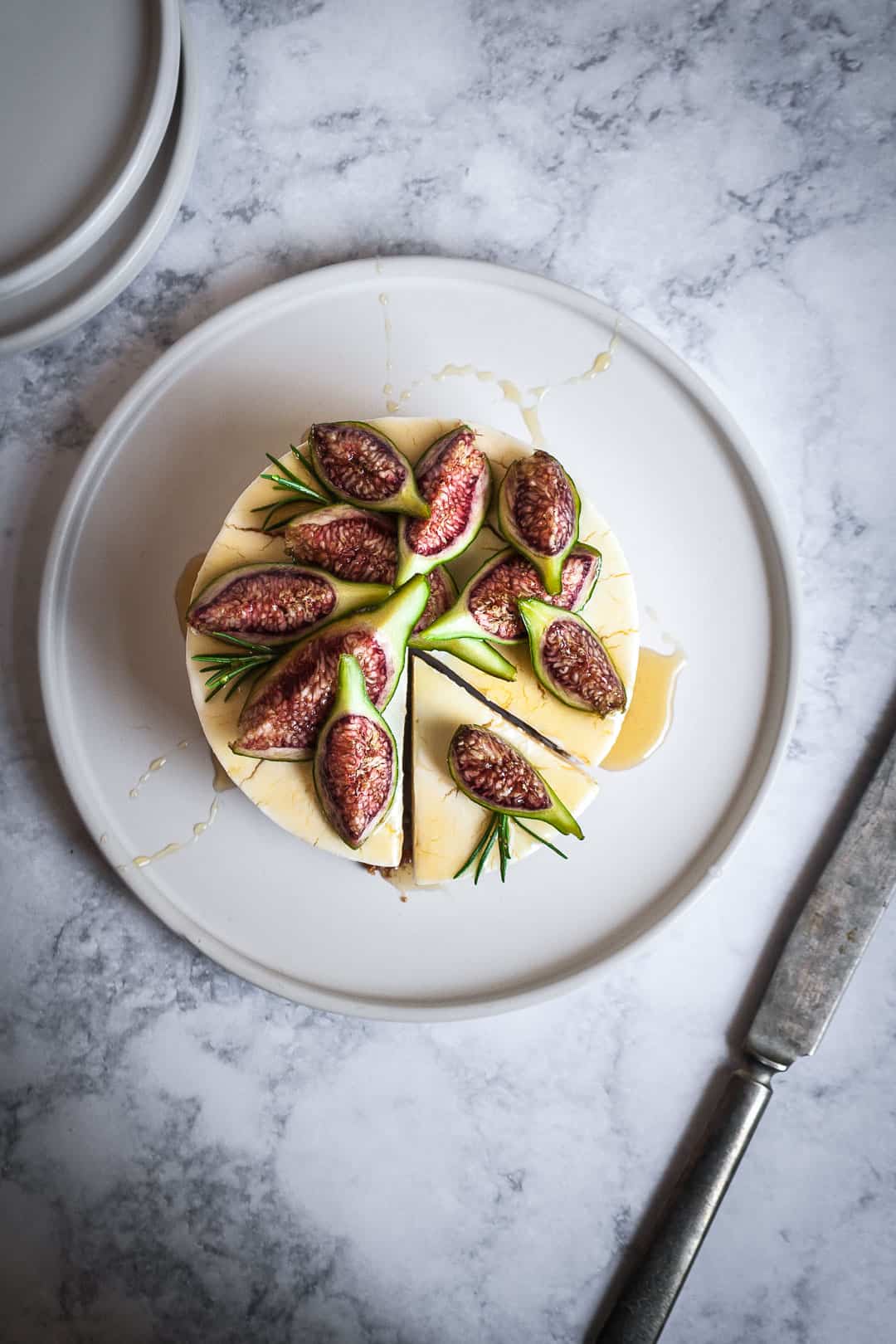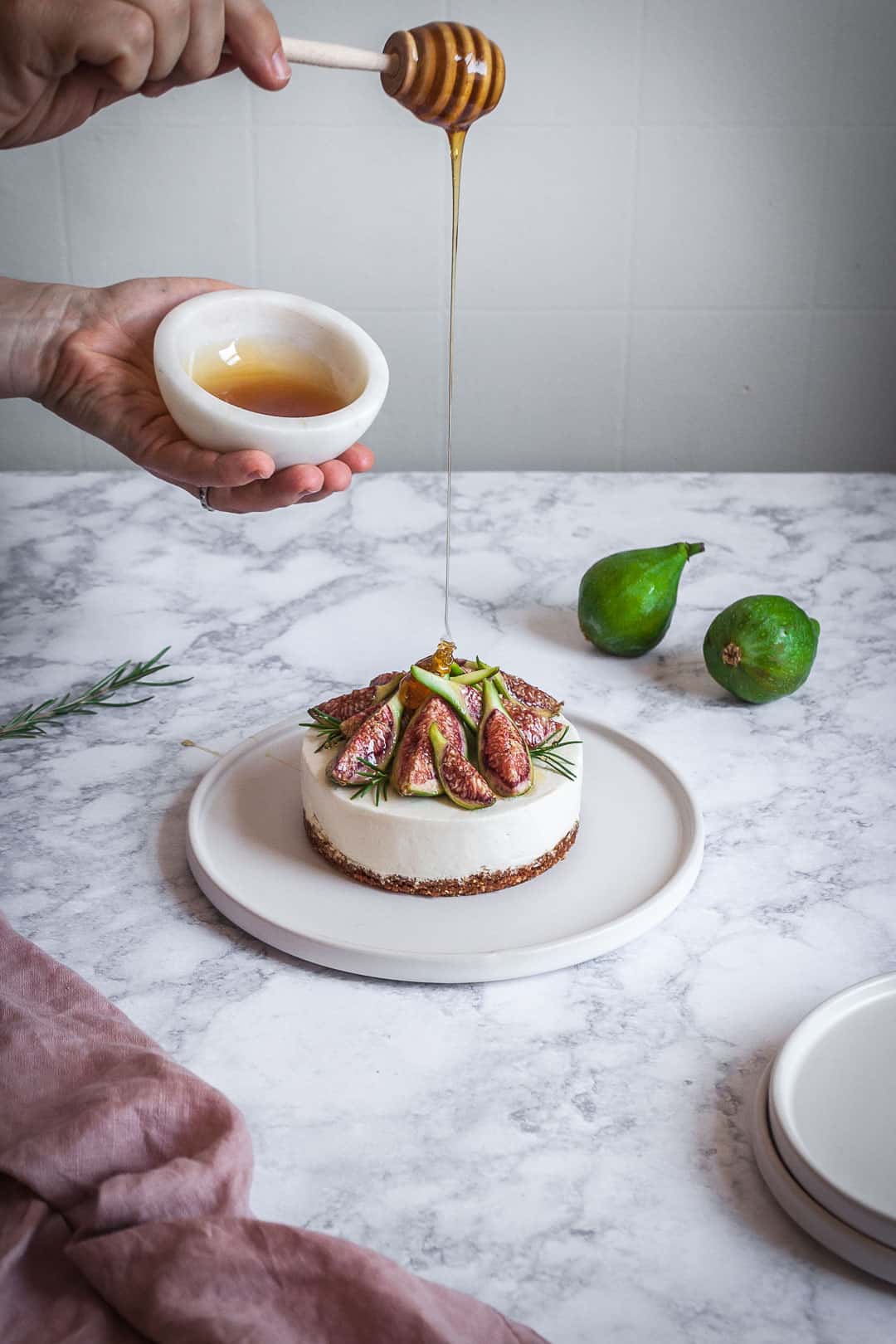 📖 Recipe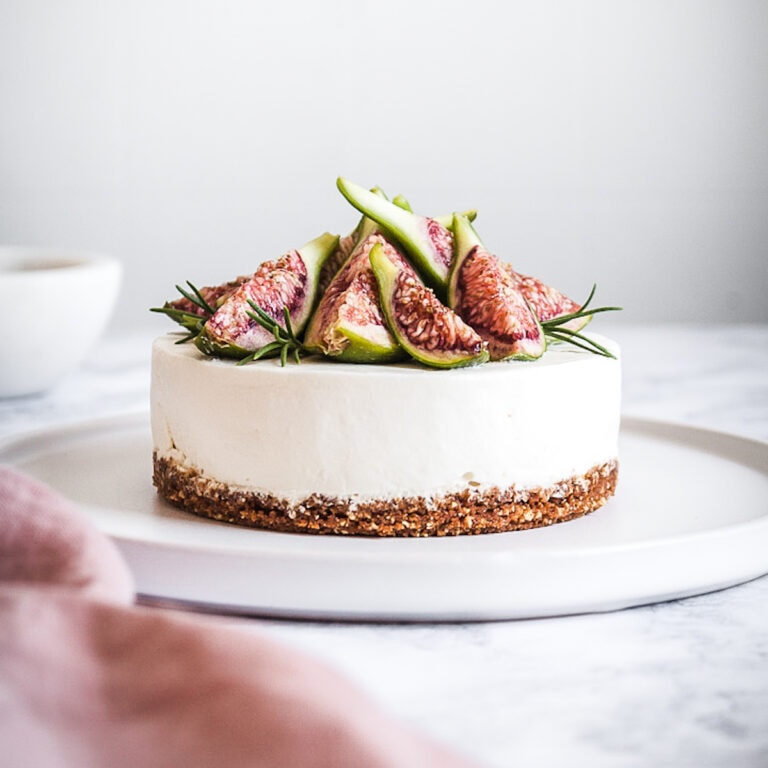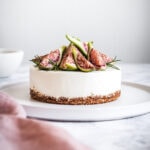 Honey Orange Cheesecake with Figs and Rosemary Almond Crust
Print Recipe
Pin Recipe
Creamy, tangy, (almost) no-bake cheesecake that is easy to put together and requires just a 10 minute stint in the hot oven - and only for the crust. No fussing around, and no worrying whether it will slump, crack, or turn out too dry. In other words, perhaps the easiest cheesecake you'll make. Crown with jewel-toned figs and a drizzle of honey for a dessert that belies the little effort required. 
Servings
1
9" springform pan
INGREDIENTS
CRUST
1

cup

sliced almonds, lightly toasted

1

cup

graham cracker crumbs (7 full rectangular sheets)

1

tablespoon

fresh rosemary, finely chopped - reserve a bit unchopped for garnish

¼

cup

brown sugar

5

tablespoon

unsalted butter
FILLING
32

oz

cream cheese (2 lb = 32 oz = four 8 oz containers)

⅓

cup

honey - plus more for decoration

¼

cup

sugar

1

cup

heavy cream

2

tablespoon

lemon juice, freshly squeezed

½

teaspoon

orange extract - or more to taste

1

teaspoon

gelatin

5 - 10

figs

for decoration
INSTRUCTIONS
CRUST
Preheat oven to 350 degrees.

Melt the butter. Combine along with all other crust ingredients into a food processor and blend until finely ground and well mixed together.

Press crust into the base of the springform pan and bake in preheated oven for 10 minutes, until set. Set aside and let cool completely.

NOTE: I chose not to press any of the crust up the sides of the pan as I preferred the aesthetics of a single layer of crust with the cheesecake fully revealed when viewed from the side. Either method is fine. If you proceed as I did, the crust will be somewhat thicker, but still easy to cut.

In the bowl of an electric mixer using the paddle attachment, beat the cream cheese, honey and granulated sugar on medium speed until smooth. Scrape the sides of the bowl down several times.

Add the lemon juice, orange extract, and HALF of the cream (½ cup). Mix on low at first to avoid sloshing, and then increase the speed to medium until well blended. Continue scraping down the bowl to ensure all ingredients are well blended.

In a small saucepan, measure out 1 tablespoon water. Sprinkle the gelatin over the water and set aside to absorb for 5 minutes. Place the saucepan on a low burner and whisk gently and continuously until gelatin has completely dissolved. Be careful not to overheat - the mixture should not bubble or boil.  

Remove saucepan from heat. Into the saucepan, slowly pour in the remaining ½ cup of cream, whisking continuously.

With the mixer on low, add the gelatin mixture to the cream cheese mixture. Scrape the bowl several times to ensure all the cream cheese is blended evenly. Turn the mixer to medium and beat until fluffy.

Pour the filling onto the crust in the springform pan. Use an offset spatula to smooth the top. Cover carefully with plastic wrap and place in refrigerator overnight to set - at least 12 hours.

To serve, remove the pan from the fridge. Run a thin sharp knife around the inside edge of the pan in order to loosen the cheesecake (this will help avoid any pulling or tearing when you release the springform sides). Gently undo the springform and lift off.

NOTE: If you wish, run a clean knife or offset spatula around the edges of the cheesecake to tidy up any imperfections. I like to dip the spatula in hot water and wipe dry with a paper towel in order to get the smoothest texture.

Place on a serving plate. To decorate, cut figs from top to bottom into halves or quarters (depending on their size). Arrange as desired on the top of the cheesecake. Drizzle with additional honey and garnish with rosemary sprigs.
Notes
This recipe is adapted from a Honey Nectarine Cheesecake recipe by Williams Sonoma.
The photos I took are of a half recipe, divided between two mini springform pans. As most people have one large springform pan in their kitchen cupboards, I've provided the full recipe so that no special equipment is needed.
The Floured Table
Recipe Author: Kathleen Culver
https://www.theflouredtable.com/honey-orange-cheesecake-with-figs-and-rosemary-almond-crust/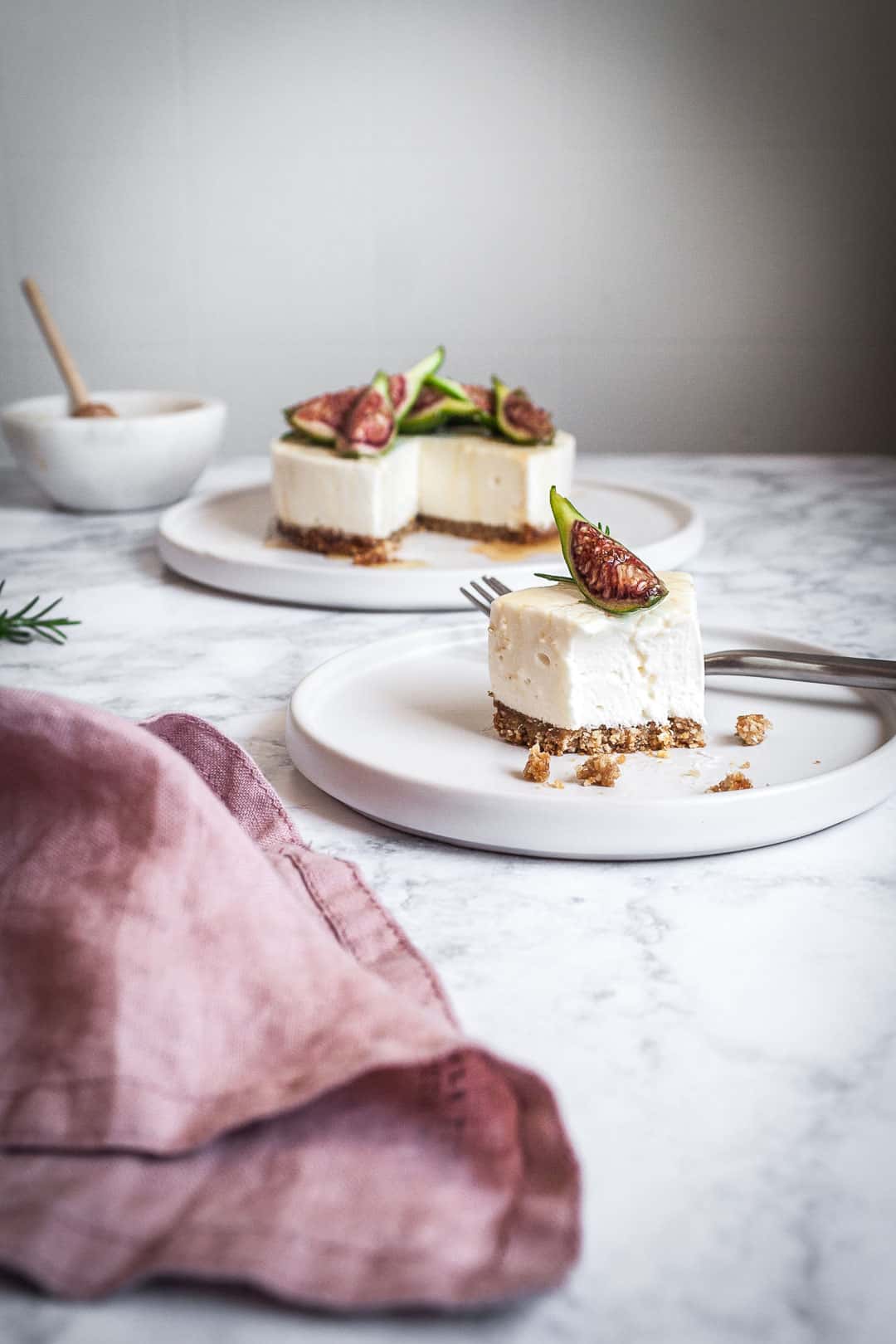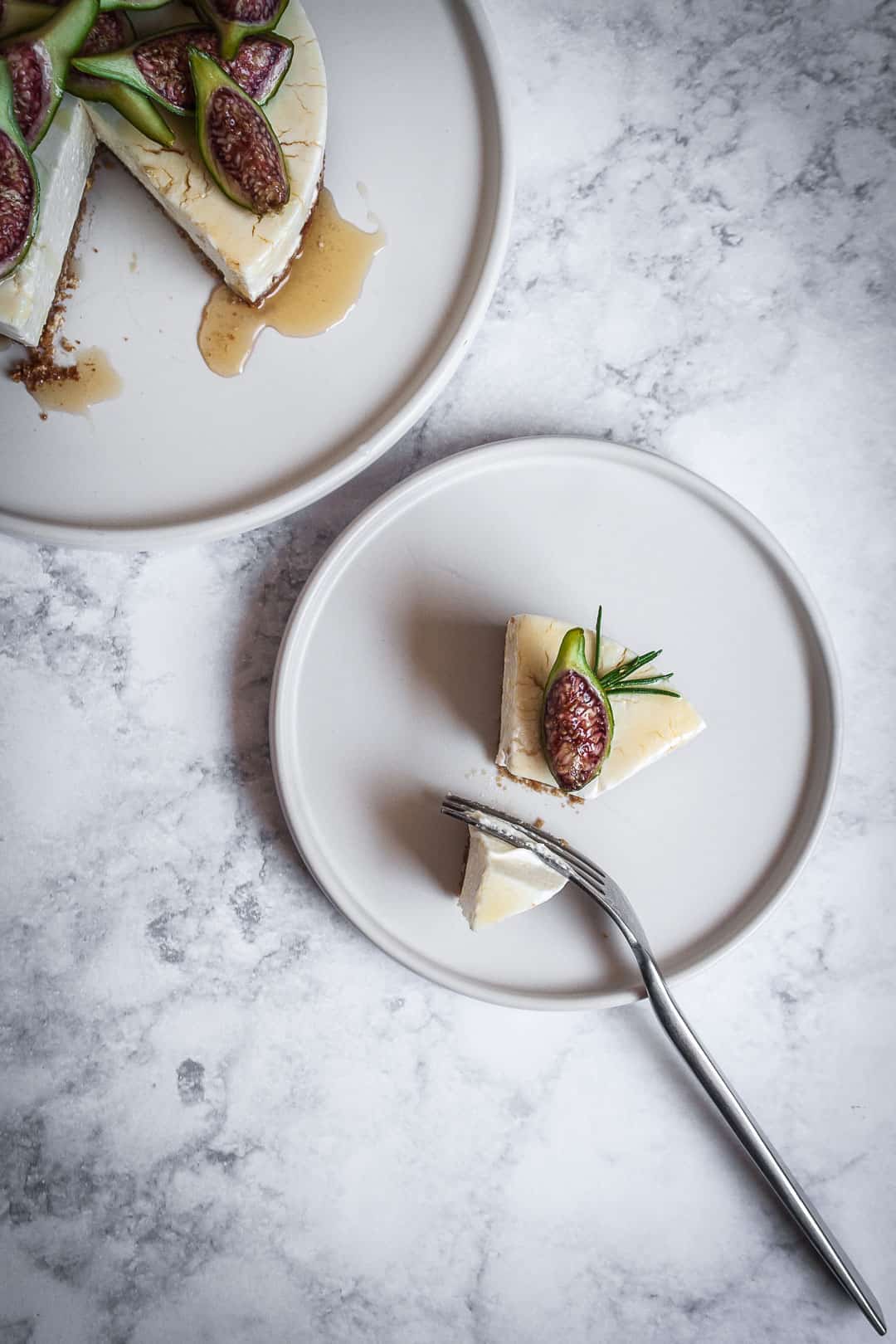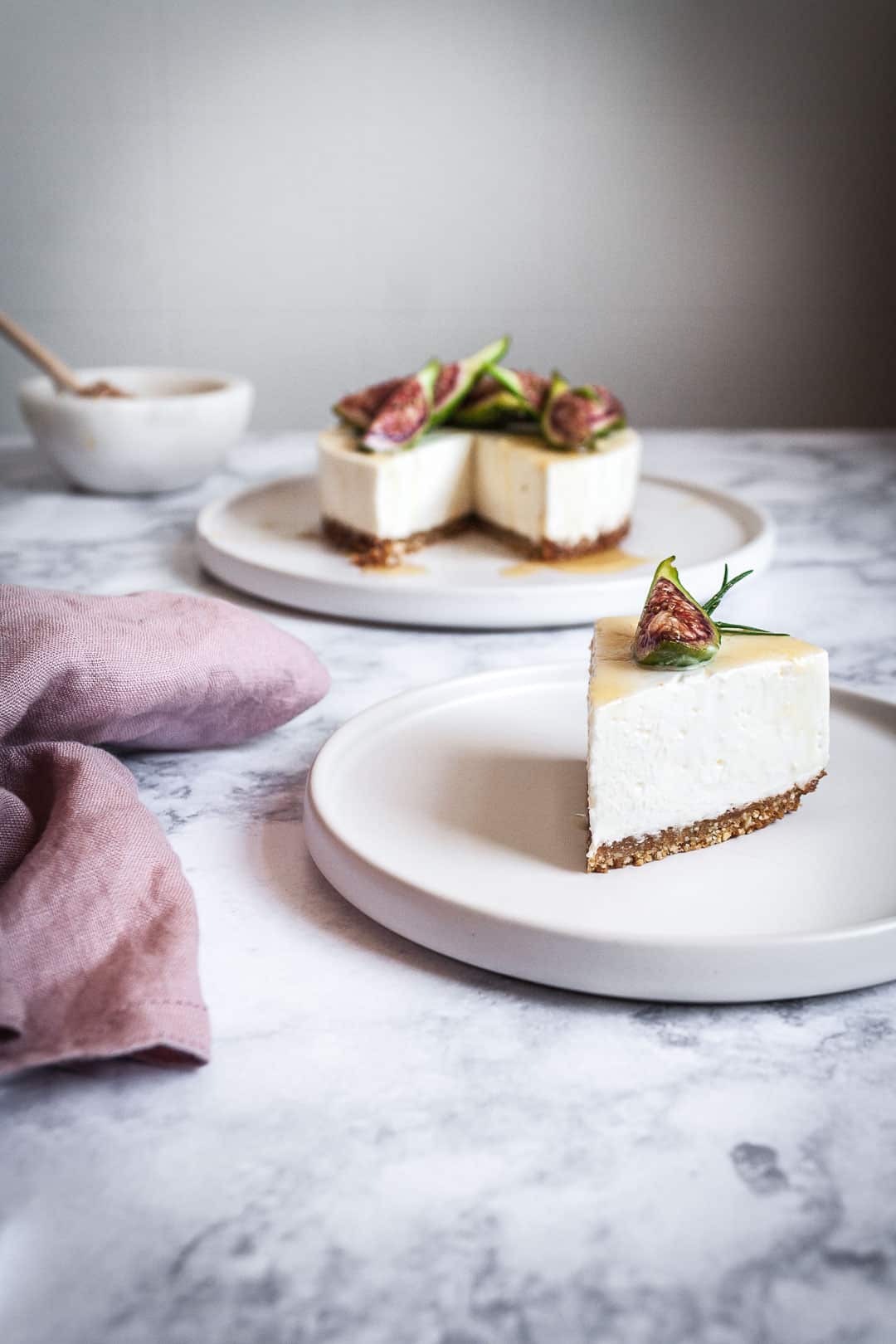 If you liked this no bake orange cheesecake with honey and figs, you might also enjoy:
No Bake Key Lime Cheesecake Bars
Honey Blackberry Mascarpone Ice Cream
Pink Apple Tart with Cream Cheese Filling