Celebrate the arrival of summer and fresh, sweet strawberries with this rich and creamy strawberry Eton mess cheesecake. A dramatic topping of strawberry swirled whipped cream, fresh strawberries, rose water meringues, and strawberry coulis blankets a smoothly textured, easy homemade cheesecake. Make this sublime dessert experience even better by pairing it with a lovely dry 2019 Erath Rosé of Pinot Noir. Thanks to Erath Wines for sponsoring this post!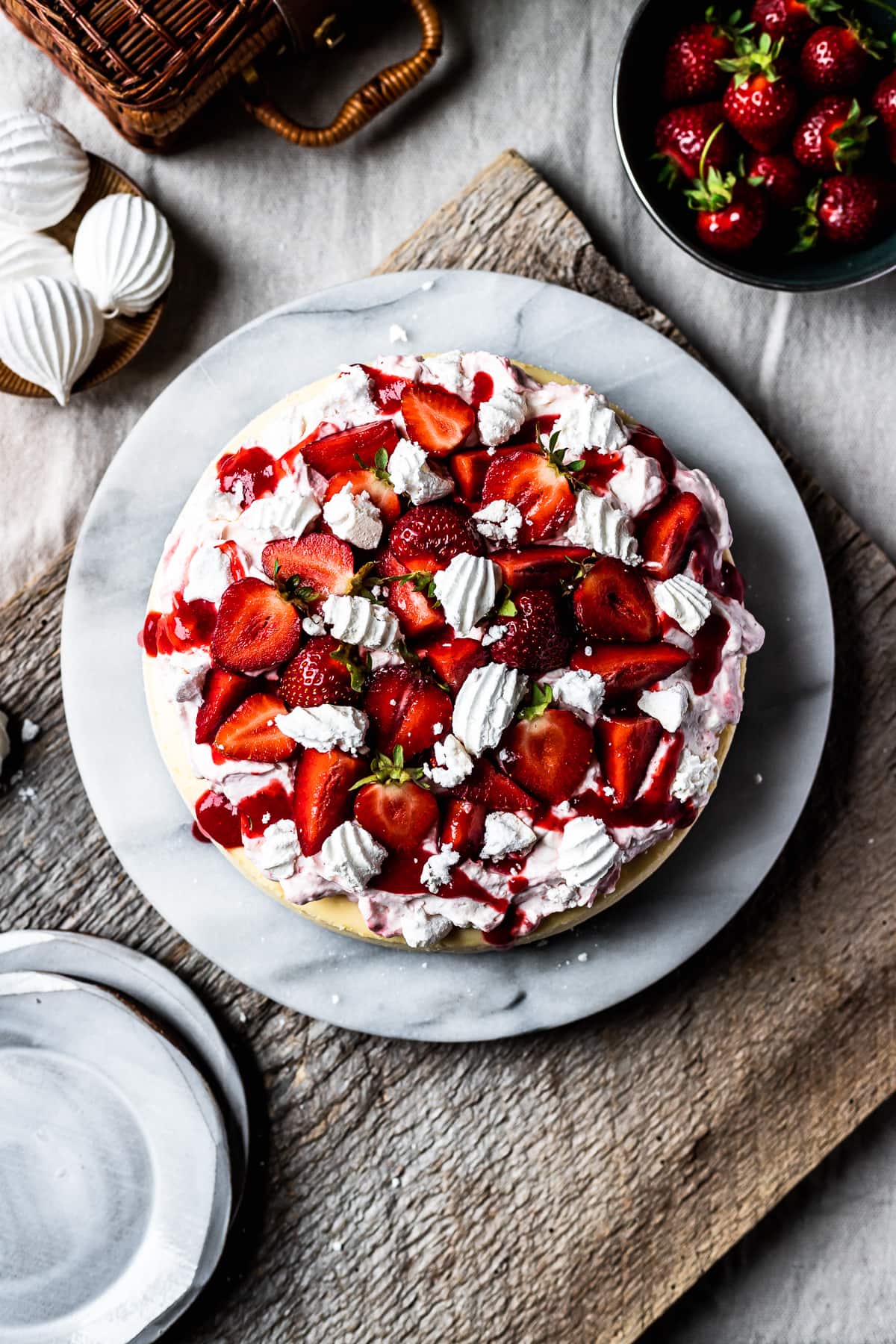 STRAWBERRY ETON MESS CHEESECAKE
The first fresh local strawberries of the season are beginning to make their appearance at markets and in gardens. I wanted to create a summery recipe that would highlight these beautifully vibrant, flavor packed berries at their peak. With long warm evenings upon us, I envisioned a summery dessert worthy of being the centerpiece at a festive outdoor party.
A classic strawberry cheesecake seemed like a reliable option, but so did traditional English dessert Eton Mess, a layered concoction of whipped cream, crushed meringue cookies, and fresh strawberries. My indecision led me to combine the two in a strikingly elegant and decadent dessert. I first made a rich, creamy cheesecake, and then topped it with a layer of meringue studded whipped cream, swirls of fresh strawberry coulis, ruby toned strawberries bursting with fruity summer flavor, and decorative shards of rose water flavored meringues. Not only is it visually appealing, but OH MY, the taste. This is a dessert for a party. Don't forget the wine.
A SUMMERY, PARTY-WORTHY CHEESECAKE AND ERATH WINE - A PERFECT PAIRING
Erath Winery is located in the Dundee Hills of Oregon. Pinot grape varieties thrive in Oregon's northern latitude. Occasional marine breezes and long hours of sunshine create warm summer days and a cooler autumn that allow grapes to ripen gradually, key to producing memorable wines. Erath's philosophy towards their craft is simple: to create high quality wines that are fruit forward in style and reflect the Oregon vintage, soil and grapes. While I've chosen the 2019 Erath Rosé of Pinot Noir to serve alongside this cheesecake, the other 2019 Pinot varietals that I tasted would also make excellent choices for a special gathering.
2019 Erath Rosé of Pinot Noir is a dry rosé with fruit-focused flavors and aromas. Notes of wild strawberries and cream paired with a fresh acidity make this an ideal wine to pour alongside this strawberry Eton mess cheesecake.
2019 Erath Pinot Noir - Mouth watering aromas of summery red cherry, currant and red plum, are seasoned with fragrant rose petal, lavender and anise. Characteristic flavors of pomegranate, cranberry, and pie cherry coat the palate with a pleasing weightiness. This Pinot Noir would surely pair well with the berry-forward flavors and the rose-water meringues.
2019 Erath Pinot Gris - Aromatic and fruit-forward, scents of key lime, Anjou pear, juicy melon, anise and a faint pine introduce this Alsatian style Pinot Gris. Melon, honey crisp apple, gooseberry and citrus pith linger on the round, full palate. Clean and quenching on the finish, this Pinot Gris would be a wonderfully refreshing way to balance out the richness of the cheesecake.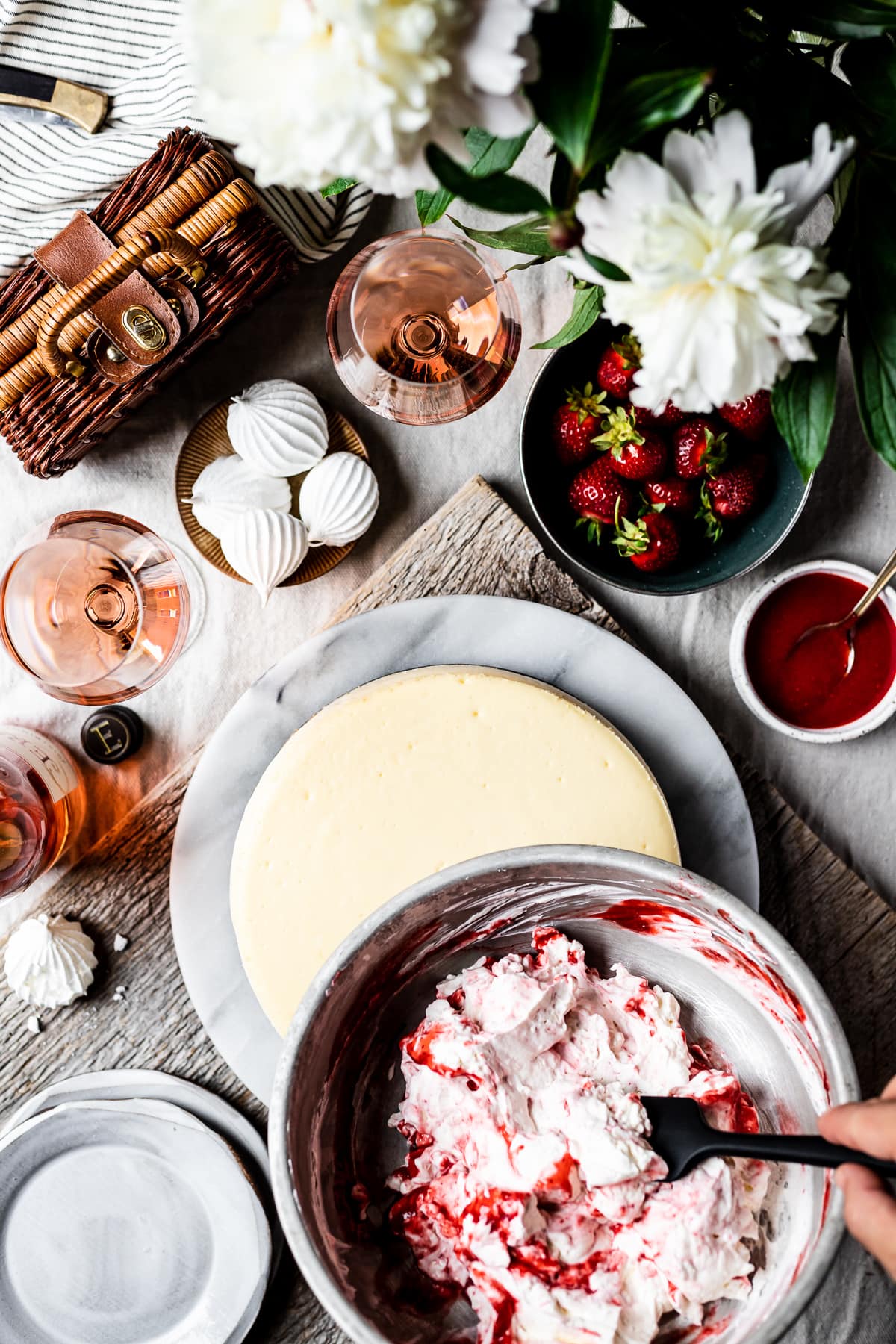 STRAWBERRY ETON MESS CHEESECAKE INGREDIENTS AND SUBSTITUTIONS
Cream cheese is the key element that provides the taste, tang and creaminess that we know and love in cheesecake. I opted for decadence and used full-fat cream cheese in this cheesecake recipe. If you prefer, you can make a lighter cheesecake by substituting American Neufchatel cheese.
Sour cream is added to cheesecake to soften the cream cheese and provide moisture content. You can substitute full fat Greek yogurt in its place if you'd like. Sour cream also acts as a stabilizer when added to the whipped cream, helping it stay light and airy for longer.
Fresh, local strawberries are really the highlight of this recipe, providing amazing flavor and pretty visual interest. If you're in a pinch, you can substitute frozen berries when making the coulis (fully defrost the berries first). You must use fresh berries for the decoration to avoid introducing extra moisture into the topping.
Cream of Tartar is an acid that stabilizes and helps add volume to the egg white in meringues. It also helps to cut the sweetness a bit. If you cannot locate any, you can substitute an equal amount of white vinegar.
Rose water - Rose water adds a delicate floral note to the meringues. Rose water is highly concentrated and can be overly perfume-like when used in large quantities. Measure carefully to keep the scent and flavor subtle. Rose is an excellent flavor pairing with strawberry. I purchase rose water from a local Middle Eastern store that carries products from all over Europe and Asia. If you have a similar specialty store, start there. You can also purchase online.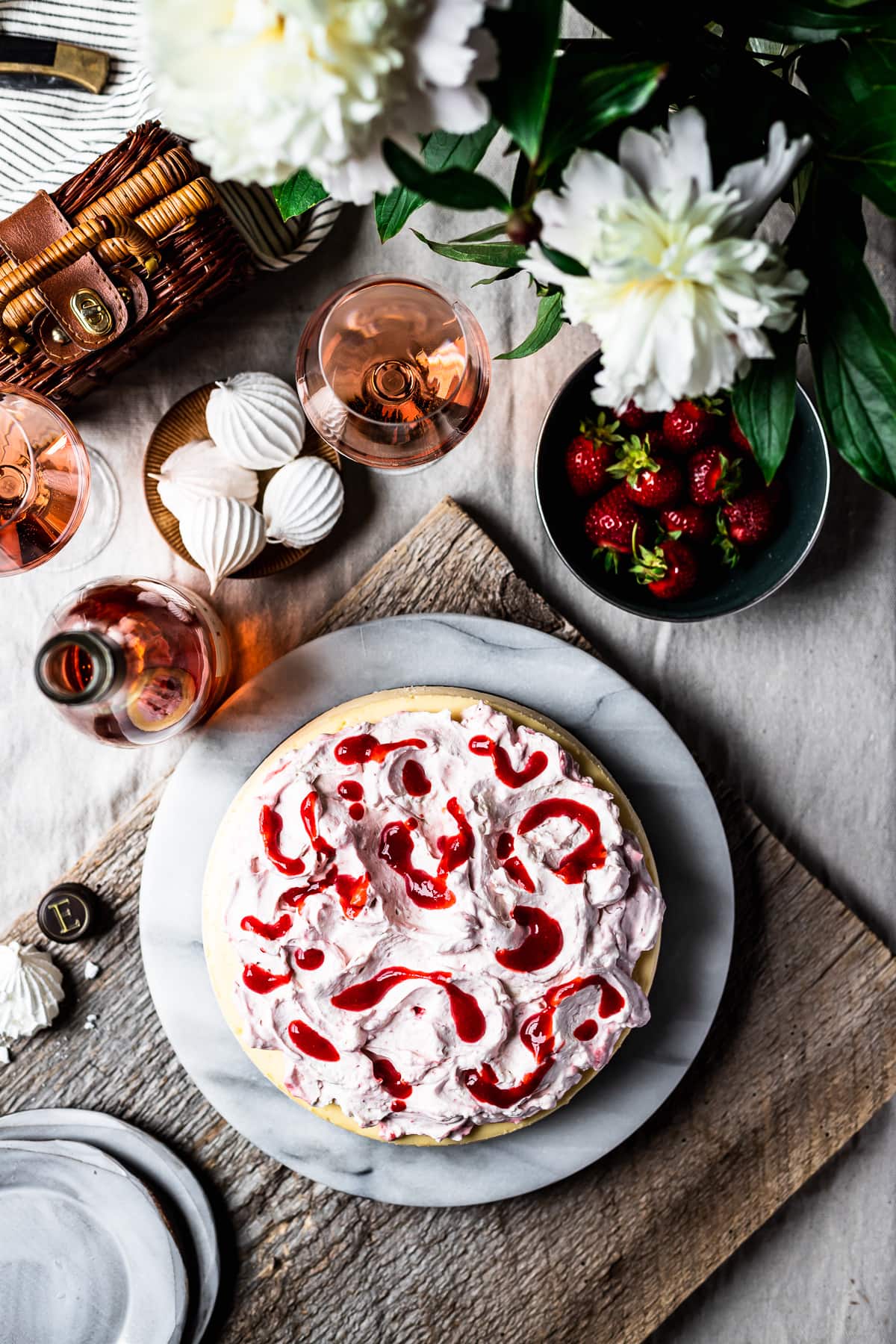 FREQUENTLY ASKED QUESTIONS
CAN I MAKE THIS STRAWBERRY ETON MESS CHEESECAKE IN ADVANCE?
Yes - it's quite helpful to make the components in advance and assemble the cheesecake shortly prior to serving. This will ensure maximum freshness.
The cheesecake with graham cracker crust can be made several days in advance and kept well wrapped in the refrigerator. It can also be frozen. Just allow at least one full day for it to fully defrost in the fridge before serving.
The strawberry coulis can be made several days in advance and stored in a well sealed jar in the fridge.
The meringues can be finicky and somewhat weather dependent. A heavy rain or high humidity can begin to affect baked meringues, causing them to become sticky on the exterior. If the forecast is good, making the meringues a few days in advance should be no issue. After baking, store meringues in an airtight container at room temperature until use. If they begin to soften or become tacky, place them back in a very low oven for a period of time to dry out again. Keep the oven on your lowest setting, ideally around 180 degrees F.
The whipped cream topping should be made shortly before assembly to maintain the volume of the whipped cream. If made too far in advance, the whipped cream could begin to weep and separate.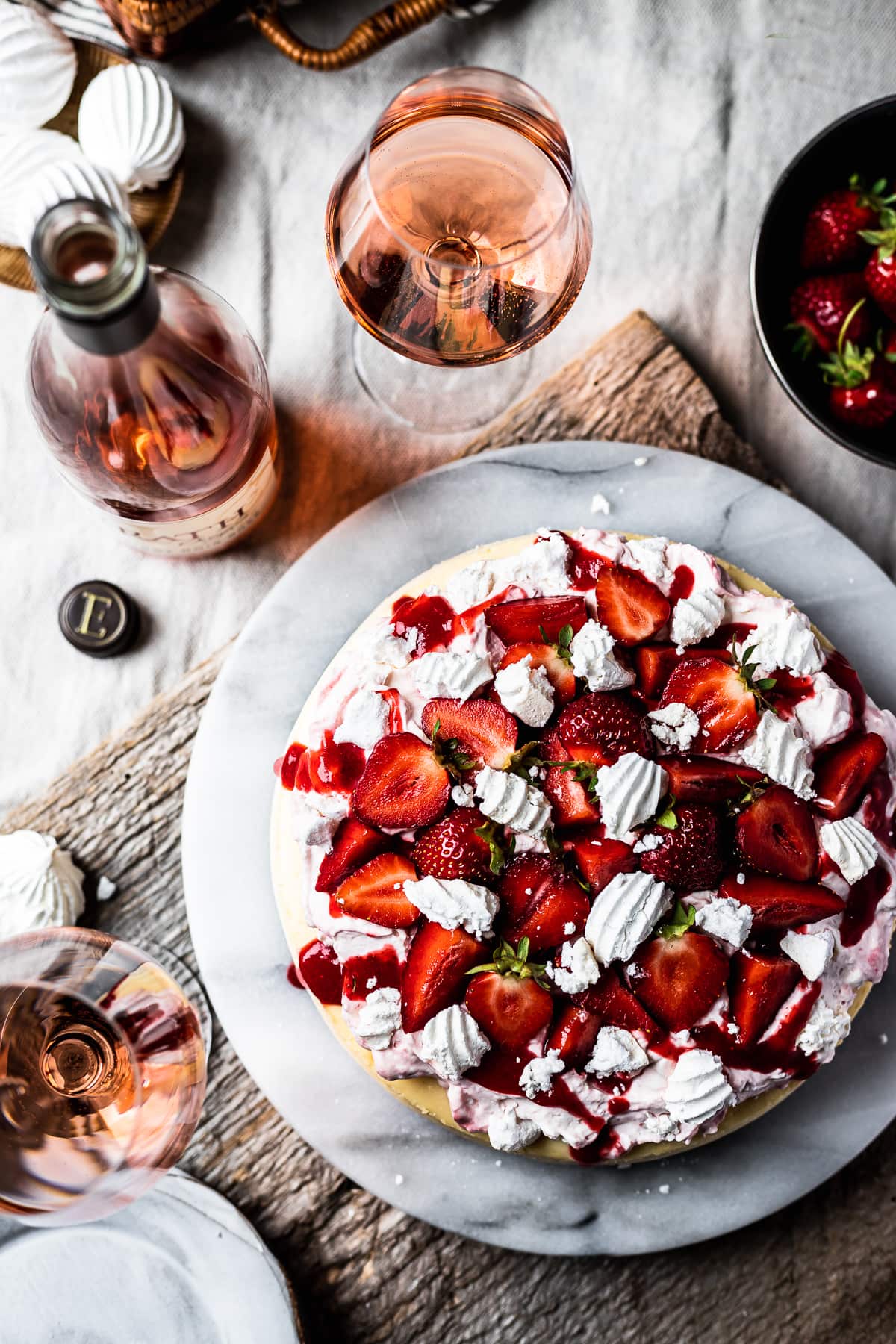 WHAT IS ETON MESS?
Eton mess is a traditional English dessert that consists of layers of lightly sweetened whipped cream, broken meringues, and fresh strawberries. There are varying versions of its origin. The most common story says that cooks at Eton College, a boy's boarding school outside of London, served this dessert in their mess hall. Rumor has it the original was made with bananas instead of strawberries!
CAN I MAKE THE MERINGUE COOKIES WITHOUT CREAM OF TARTAR?
Yes! I use Cream of Tartar here to stabilize and add volume to the egg whites. However, if you can't source it or need to avoid it for any reason (such as not being able to find a certified gluten-free version), you can use equal amounts of white vinegar in its place.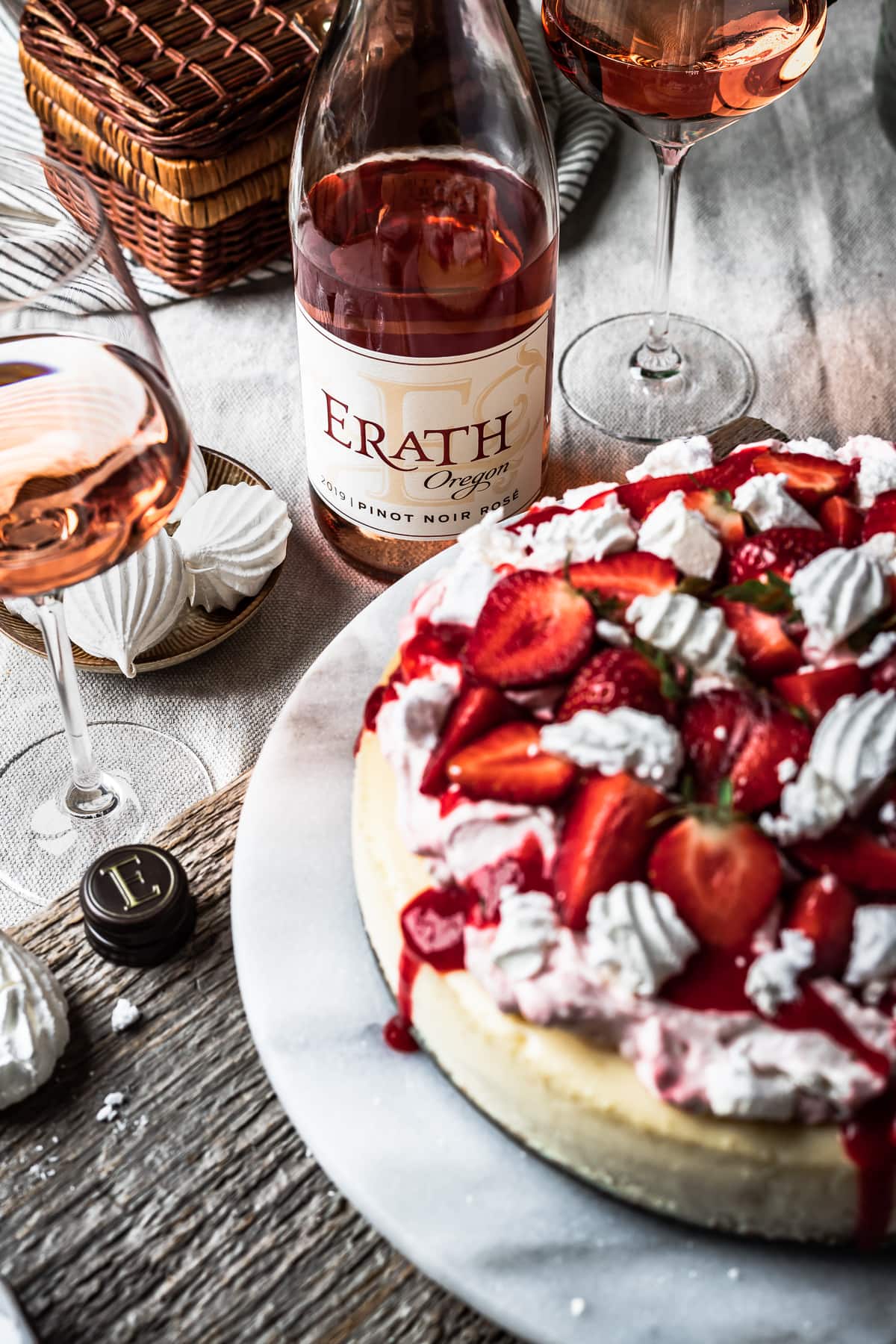 HOW DO I RECOGNIZE STIFF PEAKS IN MERINGUE OR WHIPPED CREAM?
The visual cues for stiff peaks are the same for both meringue and whipped cream. With stiff peaks, the mixture is glossy and very thick. When lifting the whisk out of the bowl and turning it upside down, the peak should stand upright and not slump. Refer to this helpful visual guide so that you can make both the meringue and whipped cream with confidence and recognize when they are ready.
IS THIS CHEESECAKE GLUTEN FREE?
The cheesecake filling is completely gluten free. In order to make the recipe fully gluten free, you must use gluten free graham crackers in the crust. Sheets of graham crackers vary in size between brands, so it's best to weigh the graham crackers to ensure you're getting the same amount. Cream of Tartar is inherently gluten free, but make sure you use a brand labeled as a gluten free item to make sure it has not been cross-contaminated in production.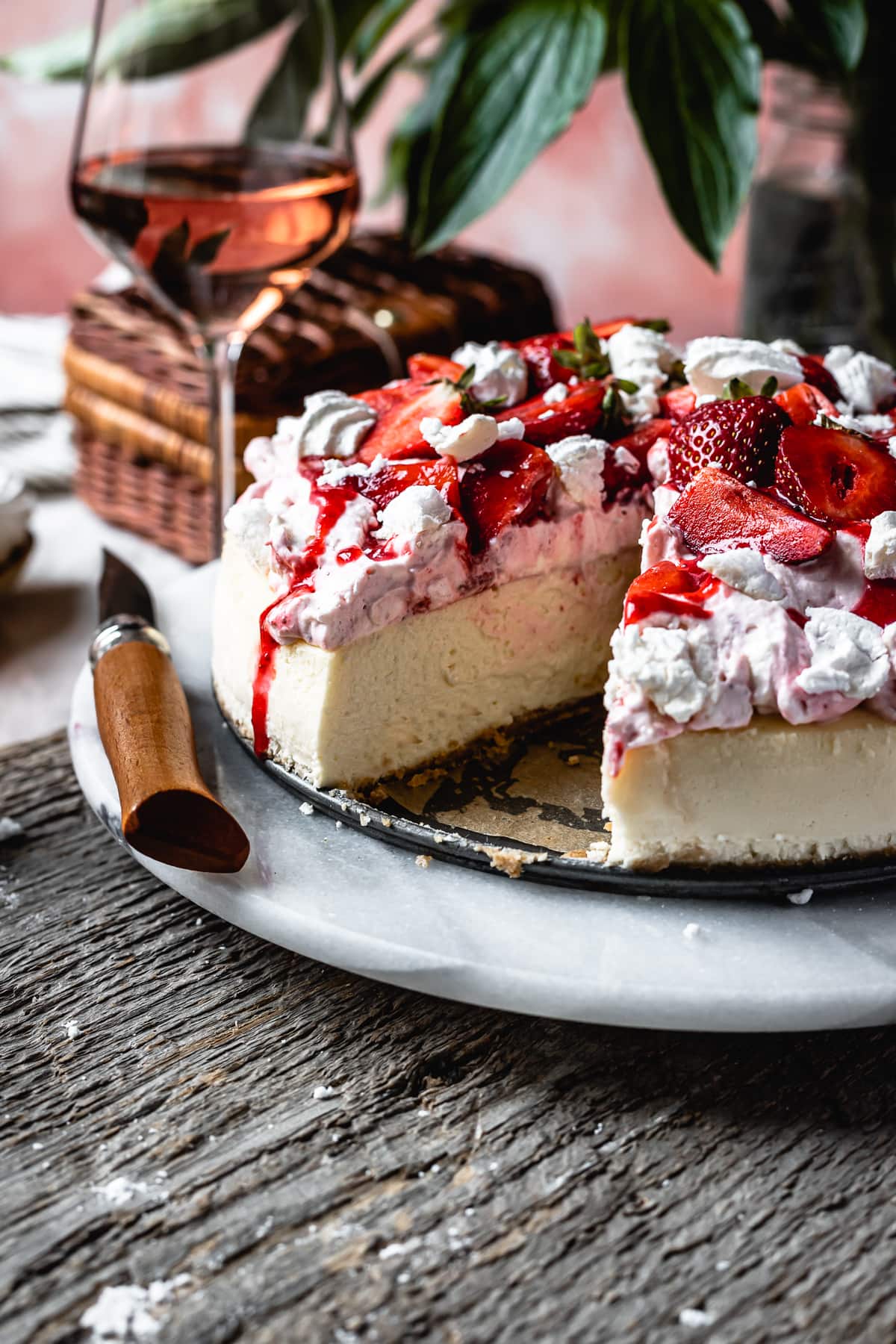 WHY USE A WATER BATH FOR CHEESECAKE?
In order to cook the cheesecake batter evenly, wrap the cheesecake pan base in aluminum foil and place in the oven to bake within a larger pan filled partway with hot water. This hot water bath provides humidity and steam that helps ensure the delicate, egg-heavy batter of the cheesecake rises evenly and doesn't bake too quickly on the exterior. A water bath, or bain-marie, is a worthwhile step that I would not omit when baking this cheesecake.
CAN CHEESECAKE BE FROZEN?
You can freeze the full-fat version of this homemade cheesecake, without the cheesecake toppings, after it is baked and fully cooled. Run a knife around the inside of the springform pan to loosen the cheesecake. Remove the sides of the pan. Wrap the cheesecake and cheesecake pan base carefully with plastic wrap and freeze for up to a month. To defrost the cheesecake, place in the refrigerator for at least 24 hours, or set out on the counter for 2-4 hours. If you are substituting Neufchatel cheese for full fat cream cheese, or Greek yogurt for the sour cream, note that these ingredients have a higher water content and freezing may impact the texture of the cheesecake.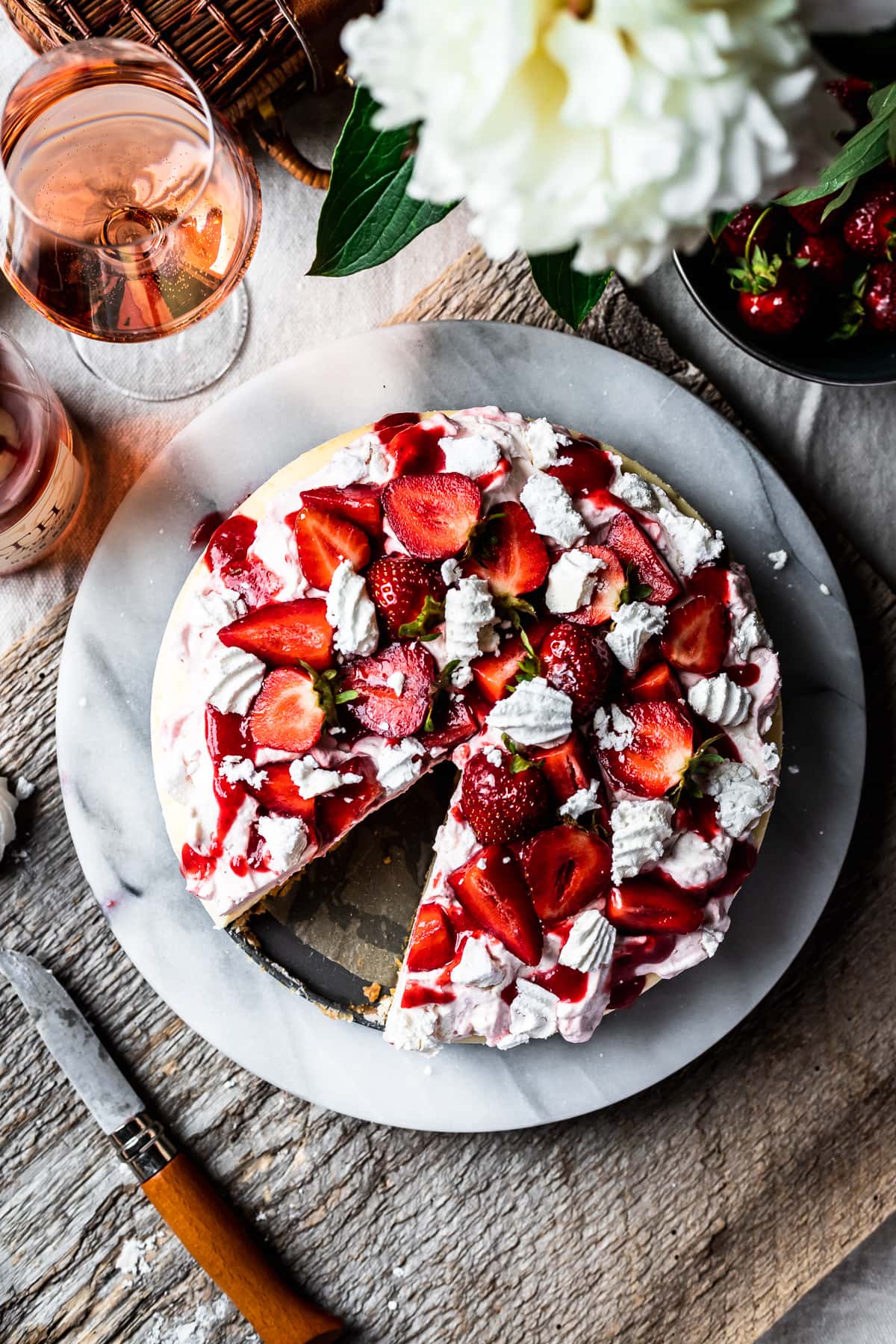 CAN THIS RECIPE BE SIMPLIFIED?
While I hope that you'll give the full recipe a try, I recognize that sometimes you're short on time and can't pull off a full cheesecake recipe, eton mess recipe, and meringue recipe all in one! The beauty of this recipe is the separate elements that you can combine to make one showstopping dessert. You can purchase a plain bakery cheesecake and then proceed with the rest of the recipe as written. You can also buy meringues at some bakeries or specialty grocery stores. (However, baking meringues at home is fairly easy, guarantees they are fresh, and allows you to add the rose water flavoring.)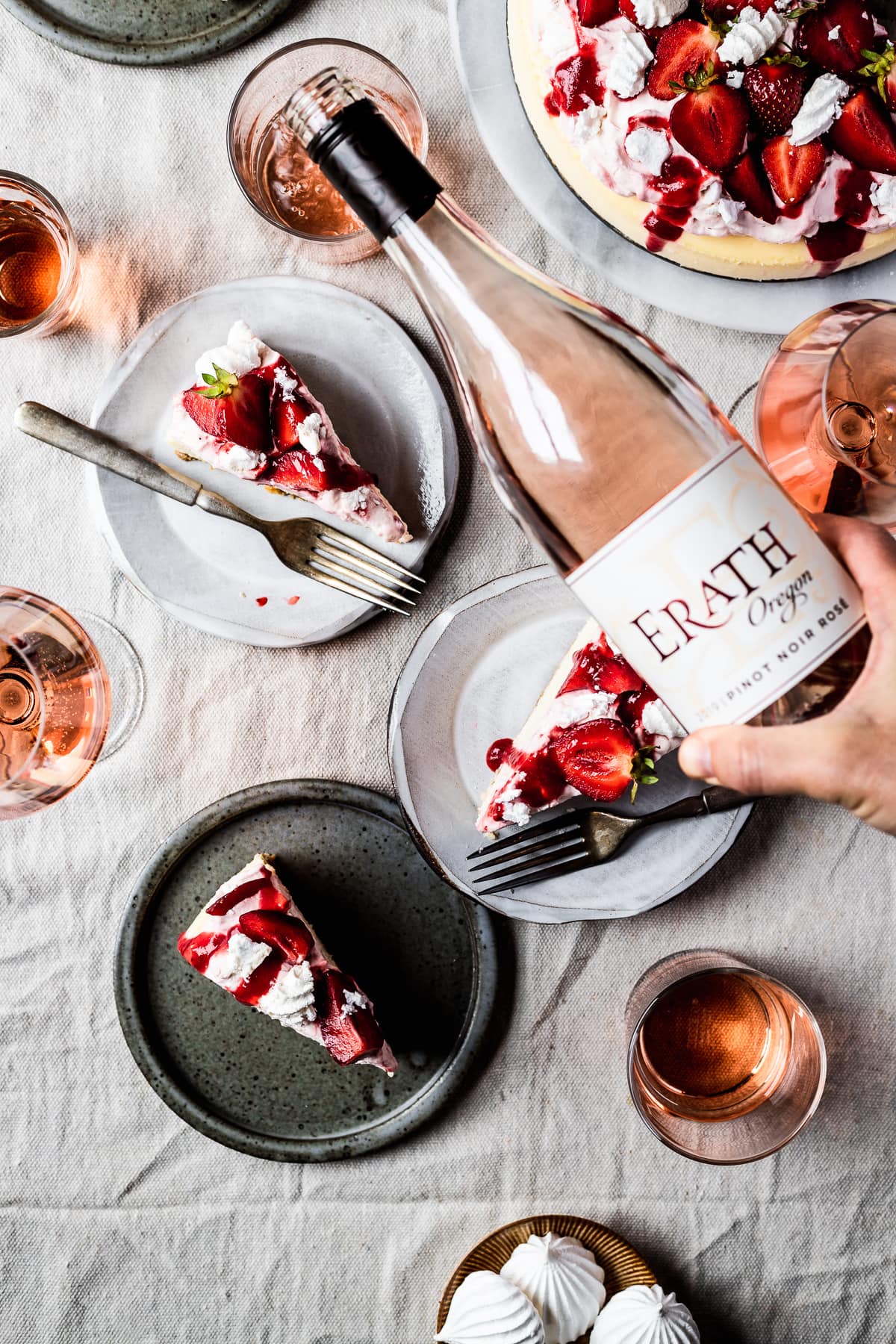 📖 Recipe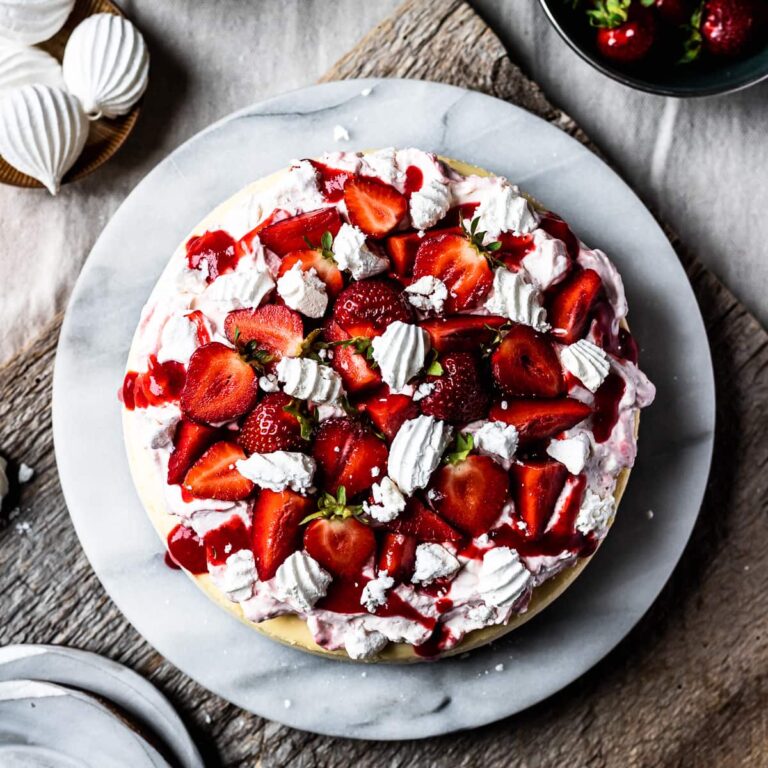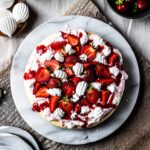 Strawberry Eton Mess Cheesecake
Print Recipe
Pin Recipe
A rich, creamy cheesecake topped with a layer of meringue studded whipped cream, swirls of fresh strawberry coulis, ruby toned strawberries bursting with fruity summer flavor, and decorative shards of rose water flavored meringues.
Servings
16
slices - 9" cheesecake
INGREDIENTS
CHEESECAKE CRUST
1½

cups (150g)

graham cracker crumbs, finely ground (approximately 10 full sheets)

2

Tbsp (25g)

granulated sugar

⅓

cup (75g)

unsalted butter, melted and cooled

¼

teaspoon

kosher salt
CHEESECAKE FILLING
32

oz (907g)

cream cheese, room temperature

1 ¼

cups (250g)

granulated sugar

½

cup (120g)

sour cream

1

Tbsp (15mL)

vanilla extract

4

large eggs, room temperature, beaten
ROSE MERINGUES
2

egg whites (approx 66g)

¼

teaspoon

cream of tartar

½

cup (100g)

granulated sugar

¼

teaspoon

rose water
STRAWBERRY COULIS
2

cups (1 pint, ¾ lb, 350g)

strawberries, washed, hulled and sliced

2 - 3

tsp (8-12g)

granulated sugar, to taste

1

teaspoon

lemon juice, freshly squeezed
WHIPPED CREAM TOPPING
1

cup (250mL)

heavy whipping cream, cold from fridge

½

cup (120g)

sour cream

2 - 3

tsp (8-12g)

granulated sugar, to taste
FRESH STRAWBERRY DECORATION
2

cups (1 pint, ¾ lb, 350g)

fresh strawberries for decoration
INSTRUCTIONS
CHEESECAKE CRUST
Preheat oven to 350° F (177° C, gas mark 4). In a medium bowl, combine graham cracker crumbs, sugar, salt and melted butter until mixture resembles wet sand. Pour crust mixture into prepared pan and distribute evenly in the base. (This recipe only uses a bottom crust - there is no crust up the side of the pan). Using the bottom of a measuring cup or a smooth bottomed glass, firmly press crust mixture down until compacted and smooth. Bake for 8 minutes. Remove from oven and carefully press crust firmly again to pack it tightly. Set aside to cool.
PREPARE THE PANS
Place a 10 x 14 x 2 inch (25 x 36 x 5 cm) metal baking pan, roasting pan or broiling pan (must be large enough to fit a 9" (23cm) springform pan) on the center rack of the oven and fill with ¾ inch (2 cm) of water.

Wrap the exterior of the springform pan with aluminum foil to prevent water entering during baking. Set springform pan aside.
CHEESECAKE FILLING
Preheat oven to 300° F (150° C, Gas Mark 2) with prepared water bath inside.

Make sure your cream cheese is at room temperature (about 72° F/22° C). It should be soft to the touch, like soft butter. If it's too firm, carefully microwave in 10 second bursts until soft enough. In the bowl of a stand mixer, beat the cream cheese with the paddle attachment on medium speed until smooth. Scrape down the sides of the bowl with a spatula.

Add sugar and beat on medium-low until mixed in. Scrape the bowl again. Add the sour cream and vanilla extract. Mix on medium-low speed until well combined, scraping down the bowl several times to ensure cream cheese is fully blended into the mixture. Remove bowl from stand mixer. Add beaten egg mixture and mix by hand with a spoon or spatula until completely incorporated. Mixing by hand helps ensure you do not overmix. If you overmix, the cheesecake batter will contain too much air, which can cause cracks.

Pour cheesecake filling on top of baked crust and rap the springform pan firmly on the counter several times to pop any air bubbles that have formed during mixing.

Place cheesecake directly into hot water bath and bake at 300° F for 70 minutes. The cheesecake should be slightly dull on the top, and mostly set. The center should have a slight wobble. It will continue to bake when removed from the oven.

Remove from oven and place onto a rack to cool completely. When cool, cover pan with foil and refrigerate for at least 3 hours or overnight.
ROSE MERINGUES
Place a rack in the center of the oven and preheat oven to 225° F (105° C, Gas Mark ¼). Prepare a baking sheet with a layer of parchment paper.

Into the bowl of a stand mixer fitted with the whisk attachment, add the egg whites. Beat on low for a minute until mixture is frothy. Add cream of tartar through a sieve to distribute it evenly and ensure there are no lumps. While mixing on medium, pour in the sugar in a stream, 1 tablespoon at a time. Add rose water. Turn mixer to high and beat until stiff peaks form. The mixture should be glossy, and the meringue should begin to form a ball inside the whisk.

Place a jumbo star tip (I use Ateco 869) into a 16" piping bag. Scoop the meringue into the piping bag and twist the top closed. Holding the bag at a 45° angle, pipe meringues in roughly egg-sized ovals onto the baking sheet. You should have around 20.

Bake meringues for 60 minutes on the middle rack of the oven - watch to make sure they are not browning at all. Do your best not to open the door during baking! Meringues should turn from glossy to matte and be firm to the touch. When done baking, turn oven off and leave meringues inside with oven door shut until completely cool. When cool, remove meringues from baking sheet and store in an airtight container until ready to use.
STRAWBERRY COULIS
Place 2 cups sliced strawberries, sugar and lemon juice in a food processor or blender. Blend until mixture forms a puree and no lumps remain. If desired, strain to remove seeds (I didn't feel this step was necessary). Place in a lidded jar and refrigerate until needed.
WHIPPED CREAM TOPPING, AND ASSEMBLING THE STRAWBERRY ETON MESS CHEESECAKE
The cheesecake should be assembled shortly before consuming for best results.

Place the chilled cheesecake on a serving platter. Break ¾ of the meringues into small pieces. These will be folded into the whipped cream mixture. Break the remaining ¼ of the meringues into small and medium pieces. These will be used to decorate the top.

Wash and dry the whole strawberries that were set aside for decoration. Slice half of the strawberries in half vertically through the green stem, keeping the leaves attached. Slice the remaining portion of strawberries into quarters and eighths, removing the stem.

In the bowl of a stand mixer fitted with the whisk attachment, add the whipping cream, sour cream and sugar. Whisk on medium speed, increasing speed to high, until stiff peaks form. Carefully fold in the larger amount of broken meringues. Add 6 tablespoon of the strawberry coulis and gently swirl it through the mixture. Not too much mixing - you want the red streaks to remain.

Scoop the whipped cream mixture onto the top of the cheesecake. Using the back of a spoon, gently push it outwards with a swirling motion so that the whipped cream covers the cheesecake. Drizzle more strawberry coulis in a swirl pattern over the whipped cream. Arrange some of the nicest looking strawberry halves on top of the cheesecake, with some cut side up and some cut side down. Fill in with smaller sliced strawberries. Decorate with some of the remaining meringue pieces. I tried to select the pieces with ridged piping pattern on them to add additional texture.

Slice and serve with additional strawberry coulis (and any leftover strawberries and meringues) if desired.
The Floured Table
Recipe Author: Kathleen Culver
https://www.theflouredtable.com/strawberry-eton-mess-cheesecake/
Made this recipe? Please leave a comment and a star review! ★★★★★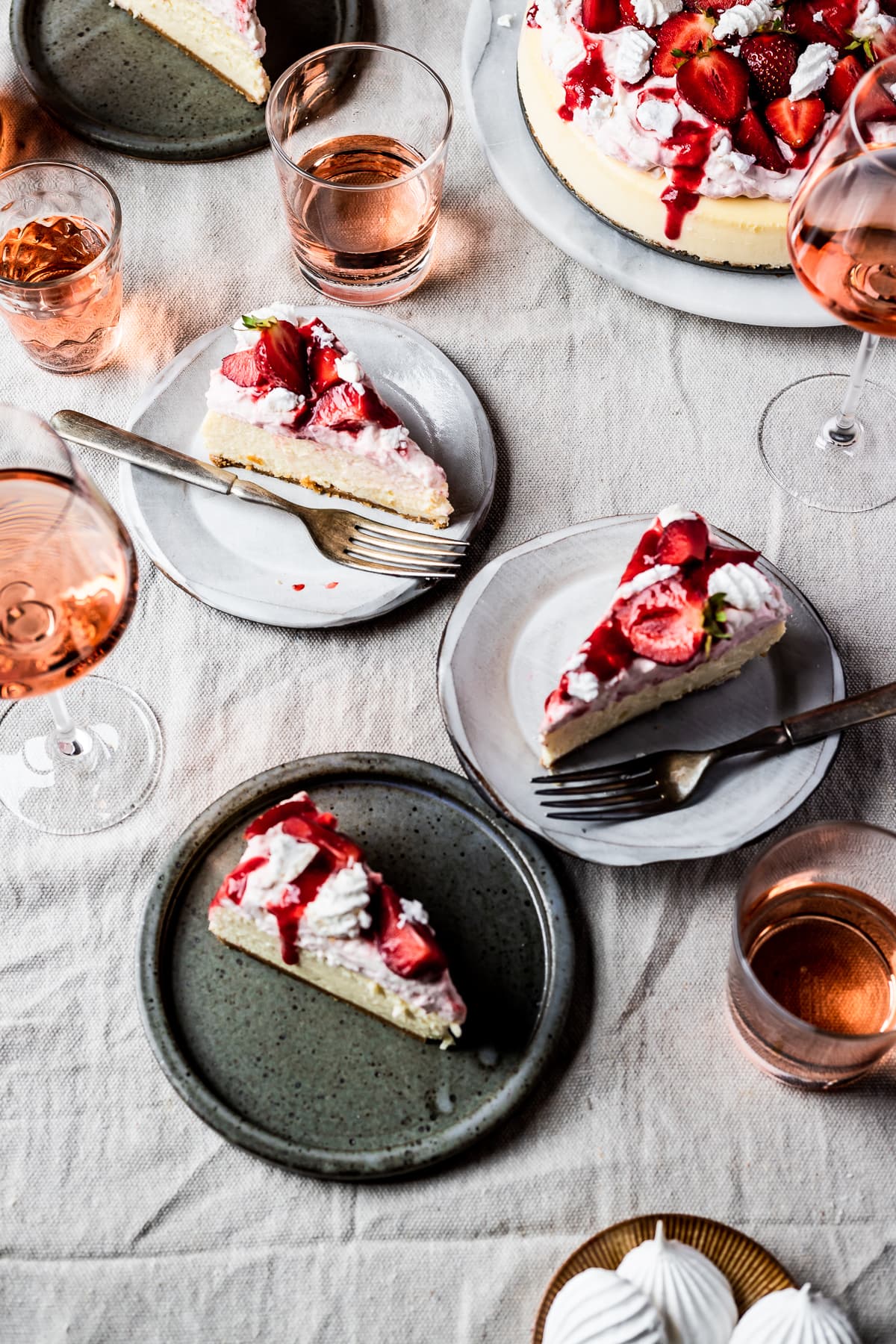 PAIR THESE OTHER SUMMERY DESSERTS WITH ERATH ROSÉ OF PINOT NOIR
Thank you to my friends at Erath for making this post possible. And to you, my readers: thank you for supporting the great companies I work with. This allows me to continue creating high quality recipes and content for you.