Creamy and honey sweetened, this honey blackberry mascarpone ice cream features a dark and jammy blackberry swirl that tastes like the last sunny-gold days of summer. Two full cups of freshly picked blackberries are cooked down into a puree that is cooled and folded into a churned Philadelphia-style honey mascarpone ice cream. The vibrant color is completely natural - I created this beautiful purple with no artificial food coloring whatsoever.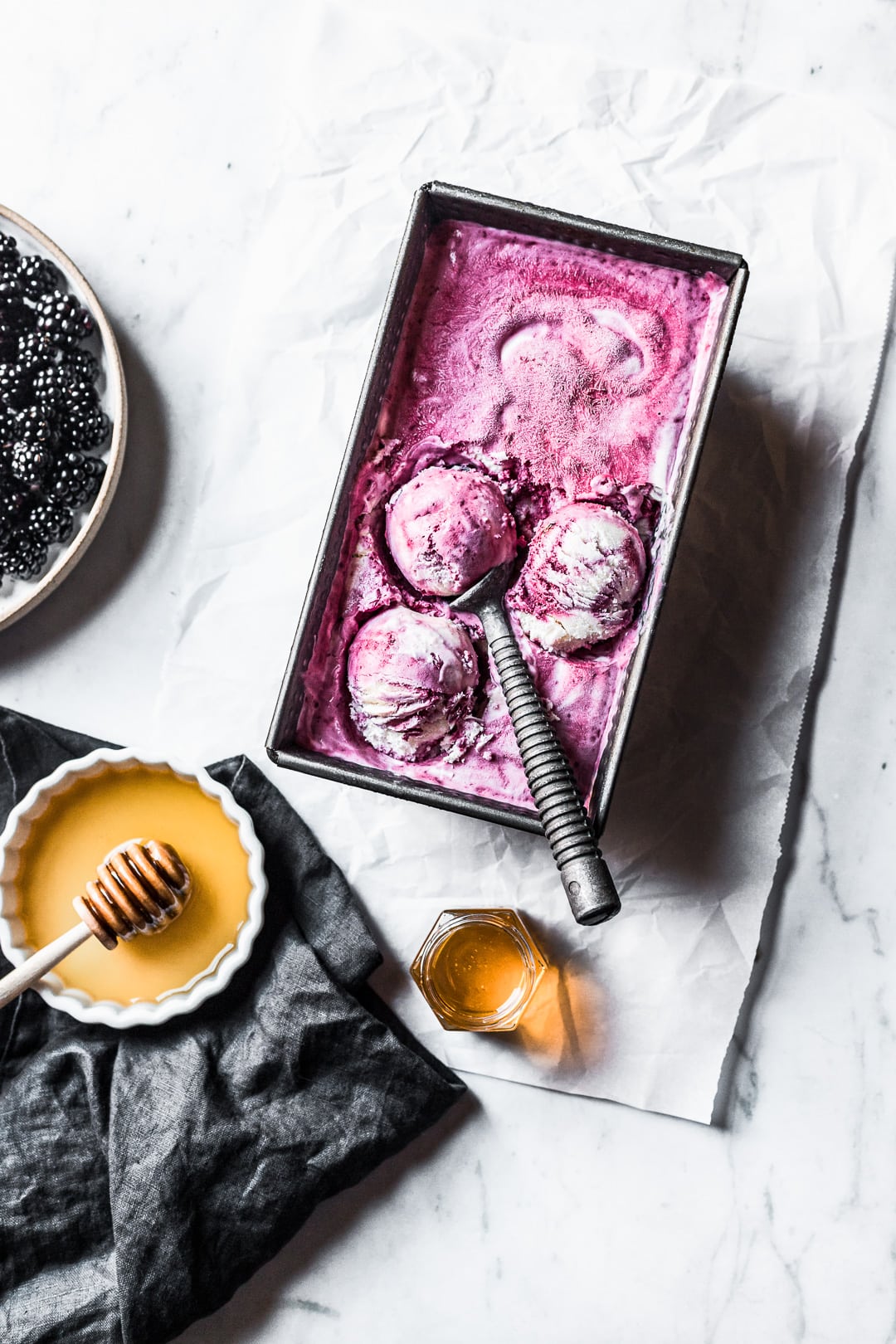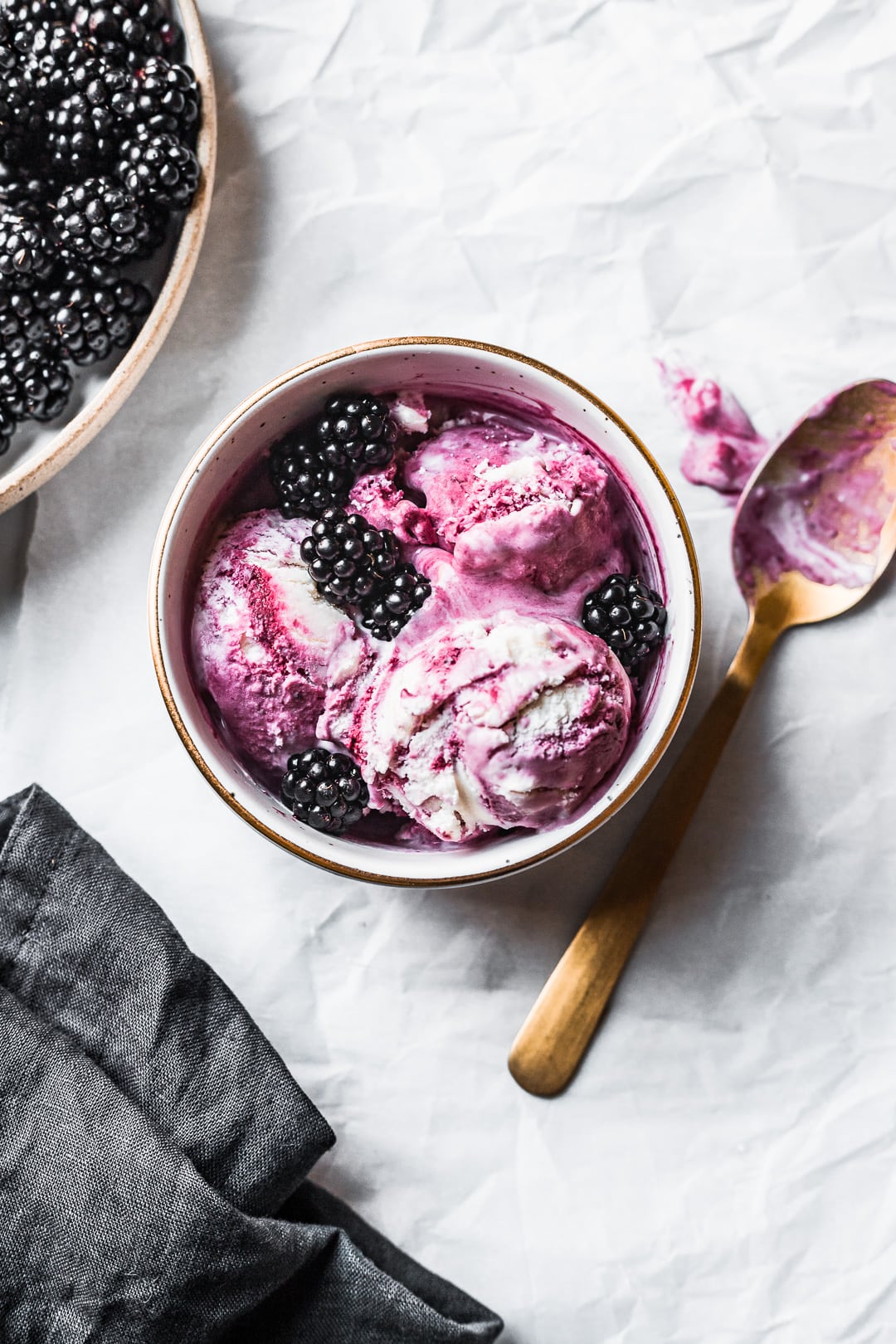 BLACKBERRY ICE CREAM AS INSPIRATION
A few years ago, prior to starting my blog, I made an ice cream from David Leite's site. It was this blackberry ice cream made with creme fraiche. I went a bit over the top and made my own creme fraiche, which meant dedicating 48 hours to the process as it sat on my countertop and percolated. The end result was completely worth it - both the creme fraiche itself, and the ice cream it became a part of.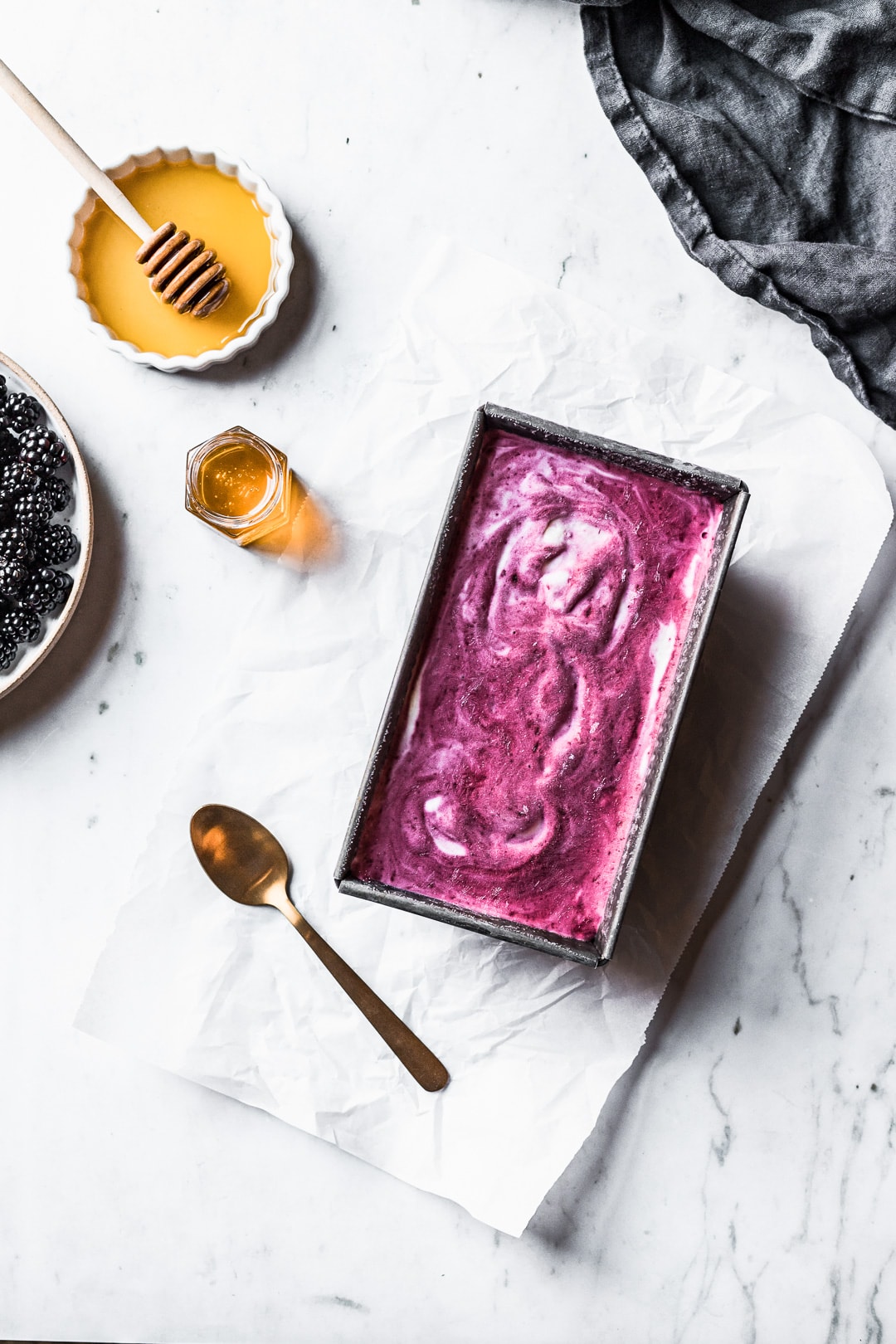 SIMPLIFYING THE PROCESS
This time around, I wanted to make something similar but with a pared down process. I settled on an eggless Philadelphia style ice cream base that uses a combination of heavy cream and whole milk. Having just purchased a 5 pound tub of mascarpone cheese on a whim, I thought I'd work on a combination of blackberry and mascarpone, with honey as sweetener. The mascarpone provided a rich and creamy texture that made up for the lack of a custard base.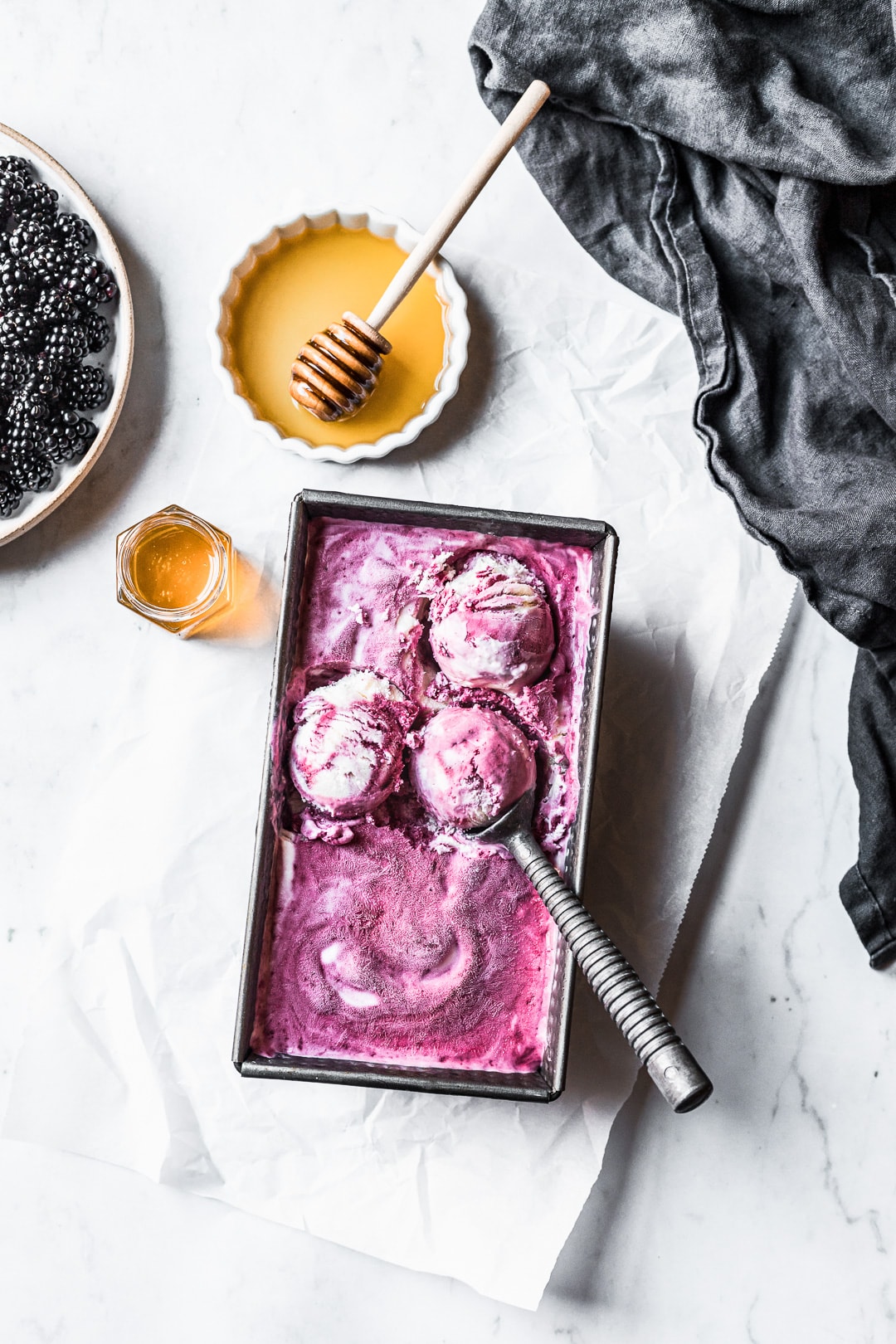 BLACKBERRY PUREE
In order to capture the flavor and color of the blackberries, I reduced two full cups of freshly picked berries into a jammy, concentrated sauce. After passing it through a fine mesh sieve, I had a wonderfully dark and fruity puree. It smelled just like ripe fruit on the vine. The vibrant purple color that it imparted to the honey mascarpone base was an added bonus. Isn't it striking?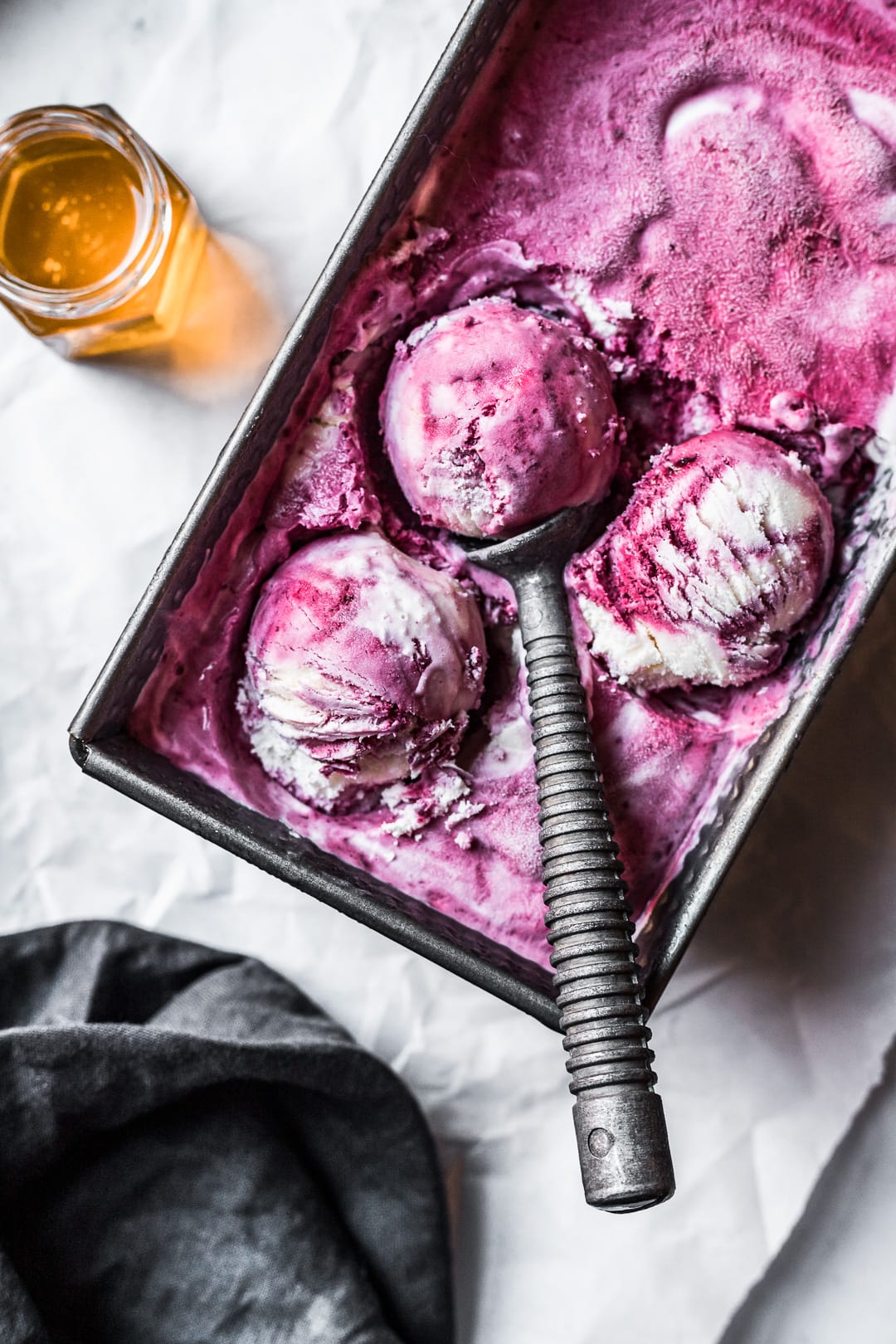 FALL IS ON ITS WAY
I had originally aimed to get this recipe up sooner, given the short season blackberries have, and the impending avalanche of fall-based food content coming our way. But when I sat down to work on this post late this past Saturday evening, a massive thunder and lightning storm interrupted me. It caused thousands of lightning strikes all over western Washington state in the span of a few hours. It was the biggest and most dramatic electrical storm I've ever witnessed. My husband and I both shut off our computers and spent over an hour watching out the windows as lightning flashed outside and the thunder rumbled through, shaking the house as it boomed. Surprisingly, neither of the girls woke up. The dog, however, was a mess.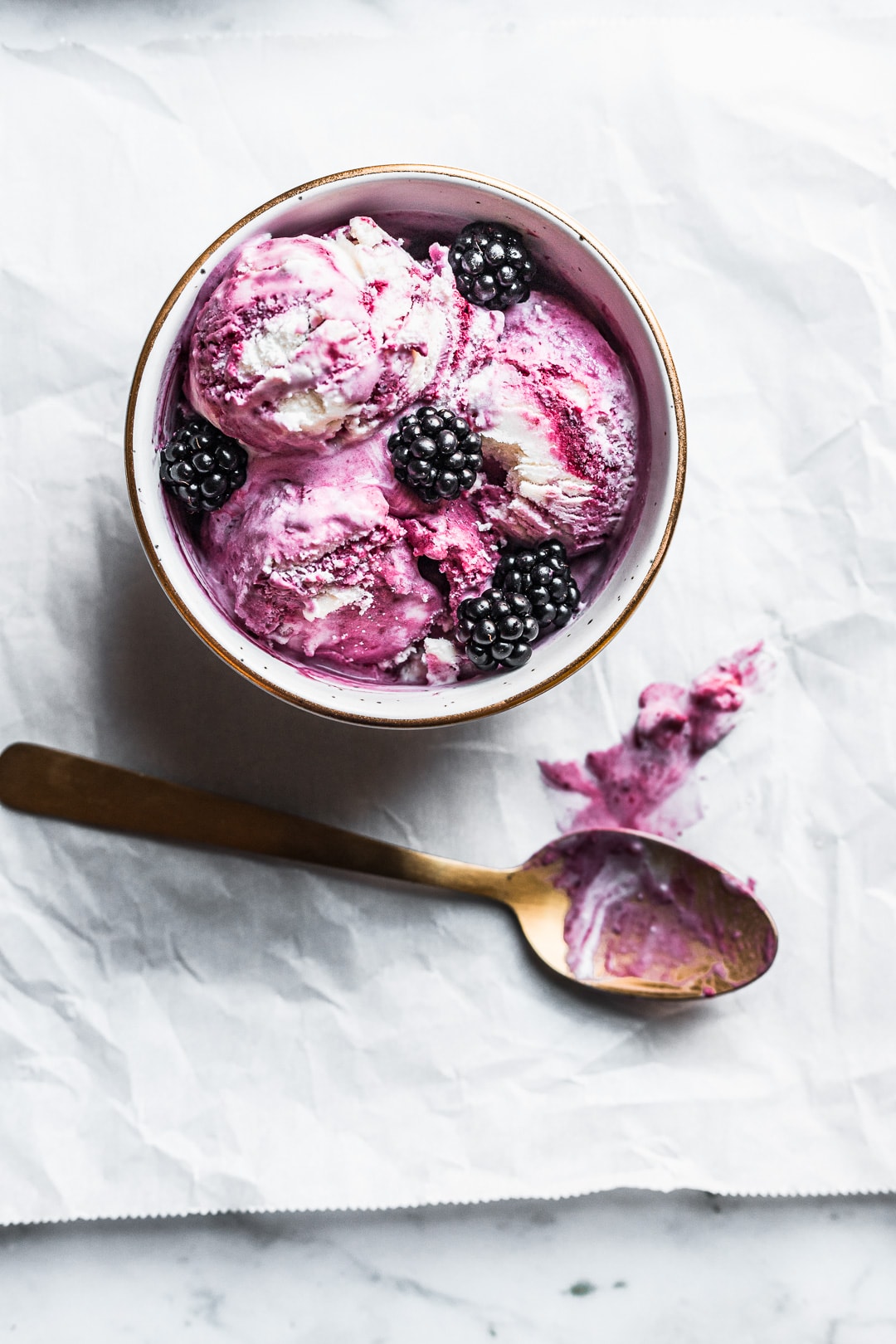 Since then, we've had much cooler temperatures and sporadic rain most days. The weather app on my phone shows a stretch of rain showers for the foreseeable future. Fall has arrived, with a flash and a boom, in the Pacific Northwest. So wherever you are, if you're still enjoying those languid, warm summer days...grab a bowl and find yourself a blackberry bush. Pick two cups, and eat the rest with sticky fingers. Make this ice cream before the last of summer slips from your grasp.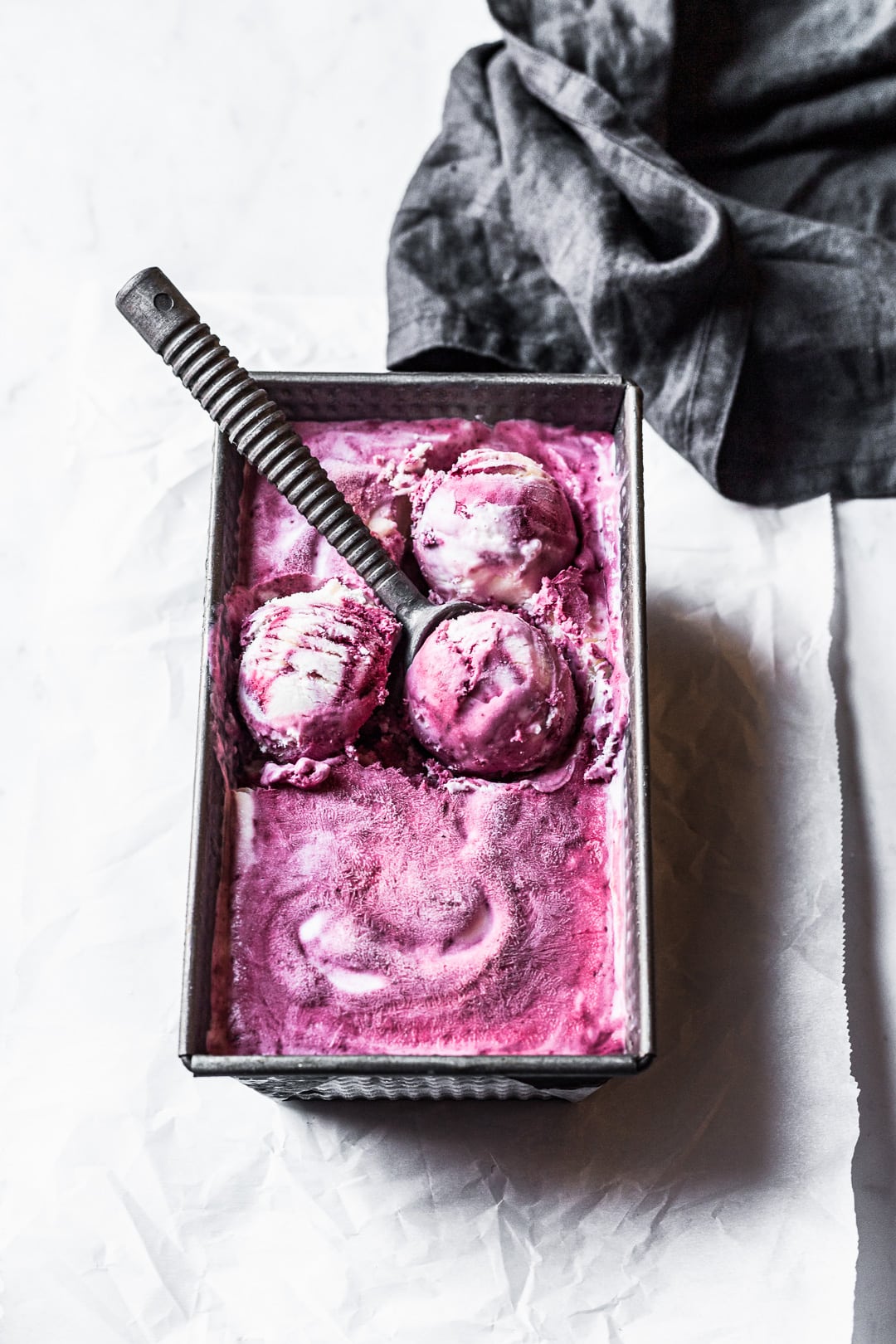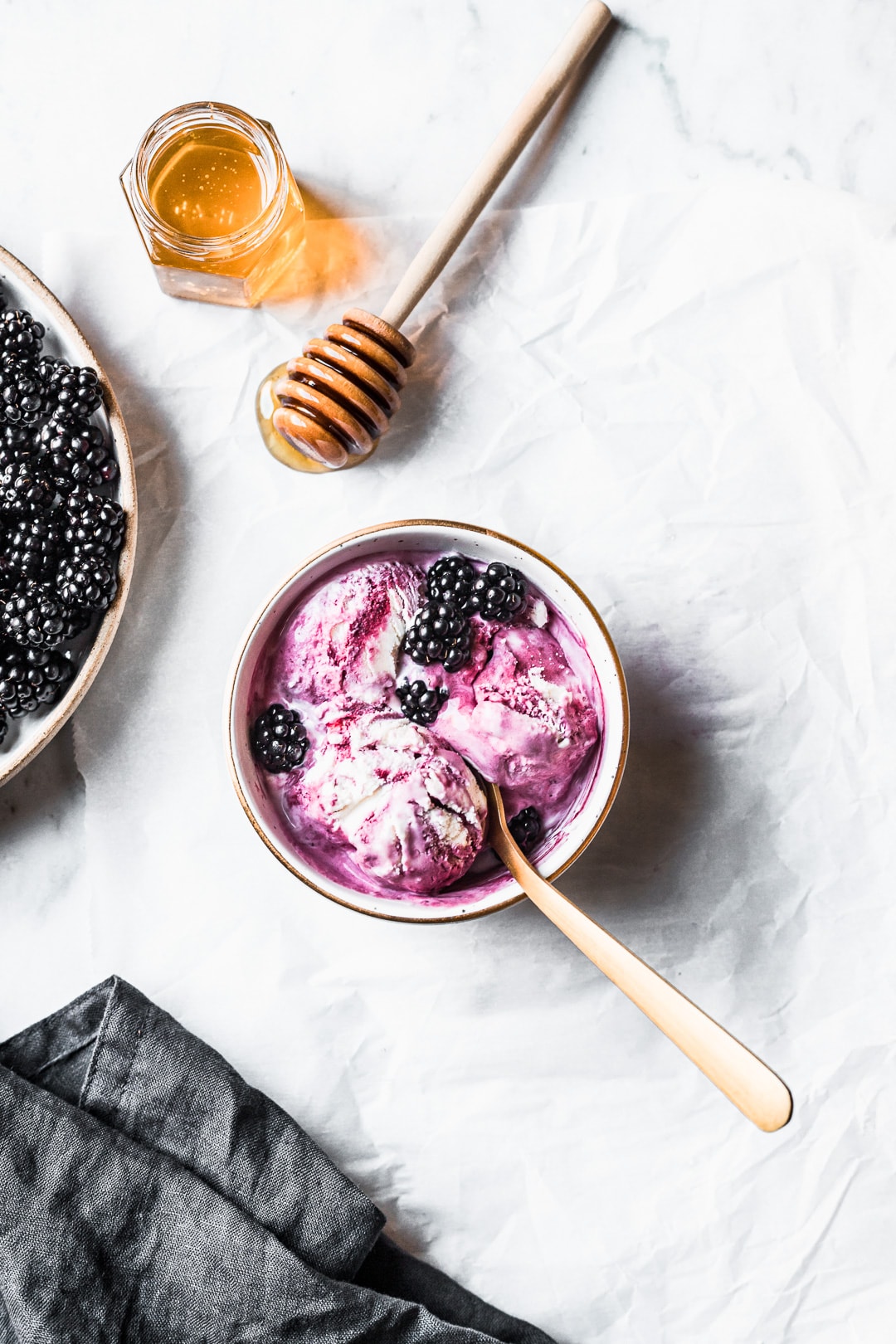 RECIPE NOTES
CORN SYRUP - The small amount of corn syrup in the blackberry puree is there to help keep it from turning icy and hard when frozen. Corn syrup is classified as an invert sugar, which means it is less likely to crystallize. You can certainly omit it if you'd prefer, but the final consistency might be altered from what you see here.
MASCARPONE - After making several desserts with mascarpone, I've found that mixing mascarpone is a sensitive business. It's very high in butterfat and you can easily overmix it, resulting in a grainy or curdled texture. To avoid this, keep mascarpone cold and combine with other ingredients that are similar temperatures. In this case, leave the mascarpone in the fridge until you need it. Don't bring it to room temperature first. Keep the heavy cream and milk in the fridge until you are ready to add them. When combining them, be gentle and patient. Frenzied whisking might negatively affect the texture of the mascarpone. If this does occur, rest assured it won't affect the taste of the final product and you can still proceed.
FOLDING IN THE BLACKBERRY PUREE - In contrast to the delicate swirl from my recent lemon mascarpone ice cream with currant puree, you incorporate the blackberry puree here by folding the entire amount into the already churned honey mascarpone base. I transferred the just-churned ice cream to a large mixing bowl and poured the entire container of blackberry puree on top. Using a spatula, I gently folded the mixture several times until I had partially incorporated the puree, but small areas of white honey mascarpone remained. I'd say you want to mix it until the purple puree appears approximately 60-75% blended. Pouring it into the loaf pan (or other freezer safe container) will further mix the two together.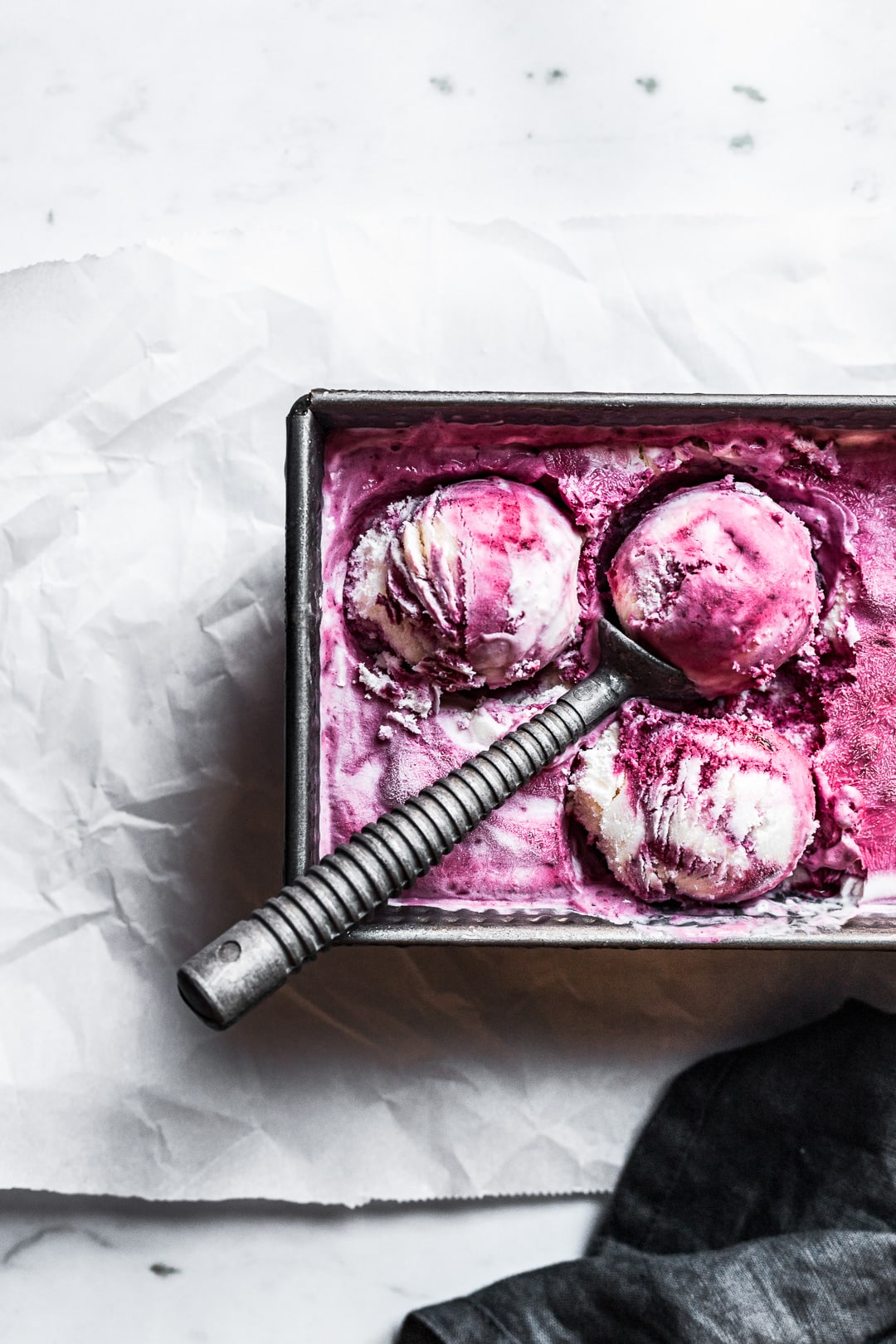 📖 Recipe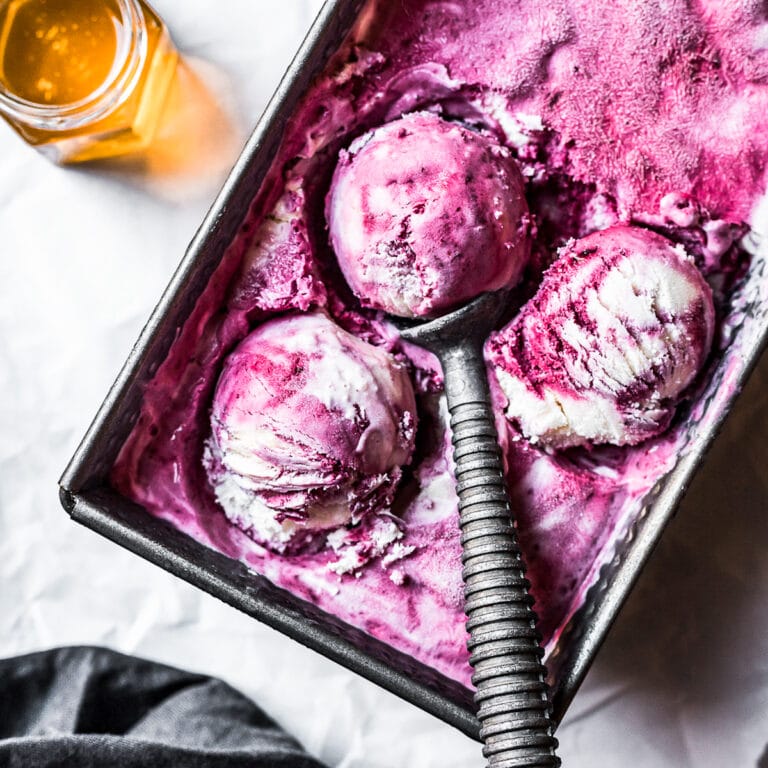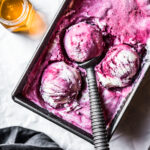 Honey Blackberry Mascarpone Ice Cream
Print Recipe
Pin Recipe
Creamy and honey sweetened, with a dark and jammy blackberry swirl that tastes like the last sunny-gold days of summer.
INGREDIENTS
Honey Blackberry Mascarpone Ice Cream
1

cup (8 oz)

mascarpone cheese

⅓

cup (113 g)

honey

1 ½

cups (12 oz)

heavy cream

1 ½

cups (12 oz)

whole milk

¼

teaspoon

kosher salt

1

teaspoon

vanilla

2

tablespoon

lime juice, freshly squeezed

2

cups (365 g)

blackberries

1

Tbsp (½ oz)

corn syrup (I used organic)

½

cup (100g)

granulated sugar
INSTRUCTIONS
Honey Blackberry Mascarpone Ice Cream
In a large bowl, combine mascarpone cheese and honey. Stir to combine. Add cream, milk, salt, vanilla and lime juice and whisk gently until completely blended together and no mascarpone bits remain. Cover and place in refrigerator to chill for 4 hours or overnight.

Meanwhile, make the blackberry puree. Add blackberries, corn syrup and sugar to a medium pot and stir to blend. If needed, use a potato masher or the back of a spoon to extract as much juice as possible. Simmer over low heat until the mixture has thickened and has a loose jam-like texture, approximately 15-20 minutes. Strain through a fine wire mesh sieve into a small bowl. Use a spatula or spoon to press as much of the blackberry sauce through the sieve as possible. Set the blackberry puree aside to cool completely. Once cool, cover and refrigerate until use.

Pour the chilled ice cream mixture into an ice cream maker and churn according to the manufacturer's instructions.

Transfer the churned ice cream to a large bowl. Working quickly, drizzle the blackberry puree over the ice cream and fold in using a spatula. Do not overmix - you want to have some visible variation in color. Transfer the ice cream to a chilled freezer safe container (I used a loaf pan) and cover with plastic wrap. Freeze for at least 4 hours before serving.
The Floured Table
Recipe Author: Kathleen Culver
https://www.theflouredtable.com/honey-blackberry-mascarpone-ice-cream/
Made this recipe? Please leave a comment and a star review! ★★★★★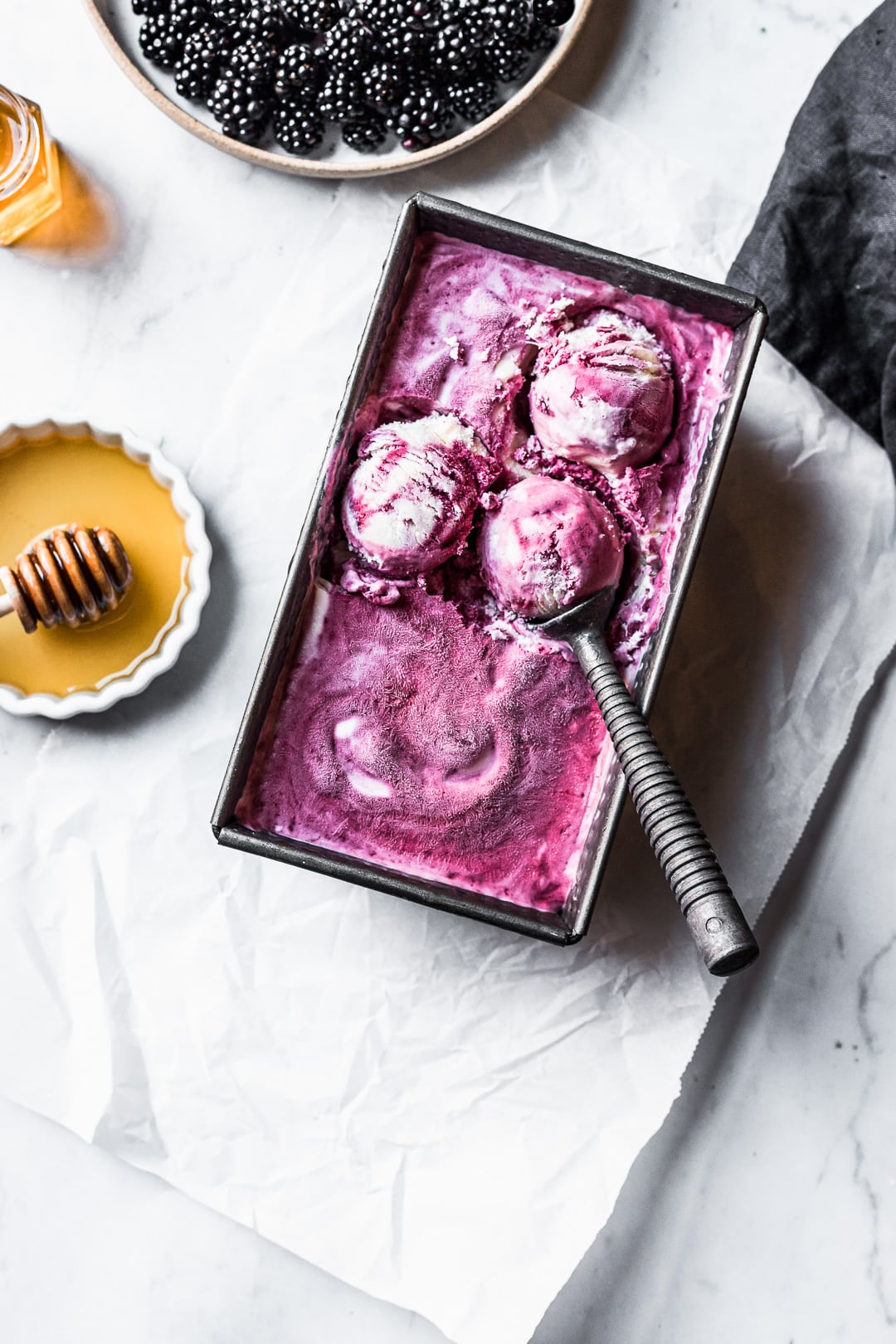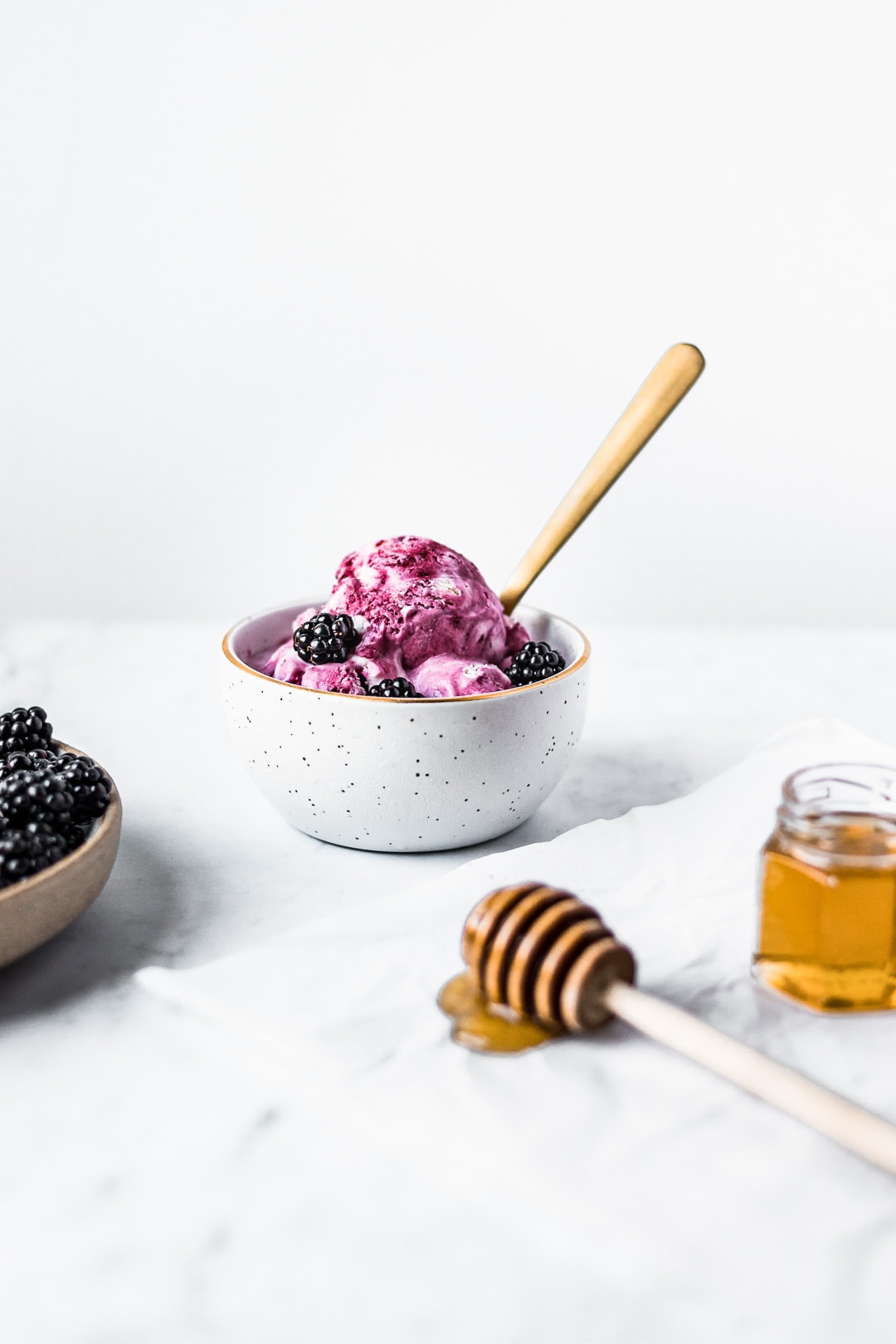 If you liked this honey blackberry mascarpone ice cream, you might also enjoy:
Lemon Mascarpone Ice Cream with Currant Swirl
Honey Orange Cheesecake with Figs and Rosemary Almond Crust