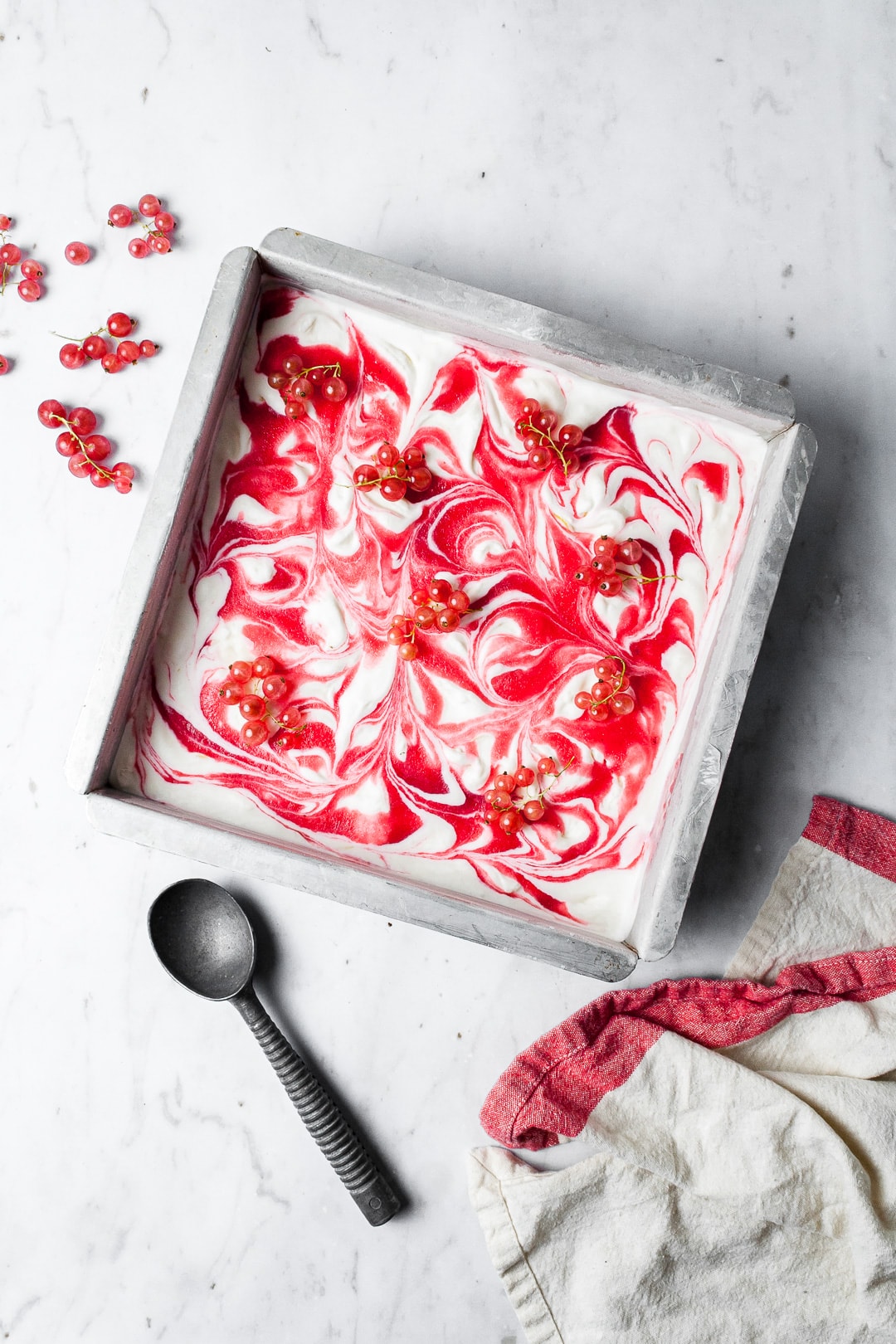 This creamy, rich and vibrantly flavored lemon mascarpone ice cream features a dramatically contrasting swirl of sweet tart currant puree. It has a lovely texture thanks to the heavy cream and smooth mascarpone. Lemon zest provides a bit of tooth and a citrus kick that balances the creaminess of the dairy. The currant swirl creates a visual drama that begs you to present the container at the table for scooping. It deserves to be shown off.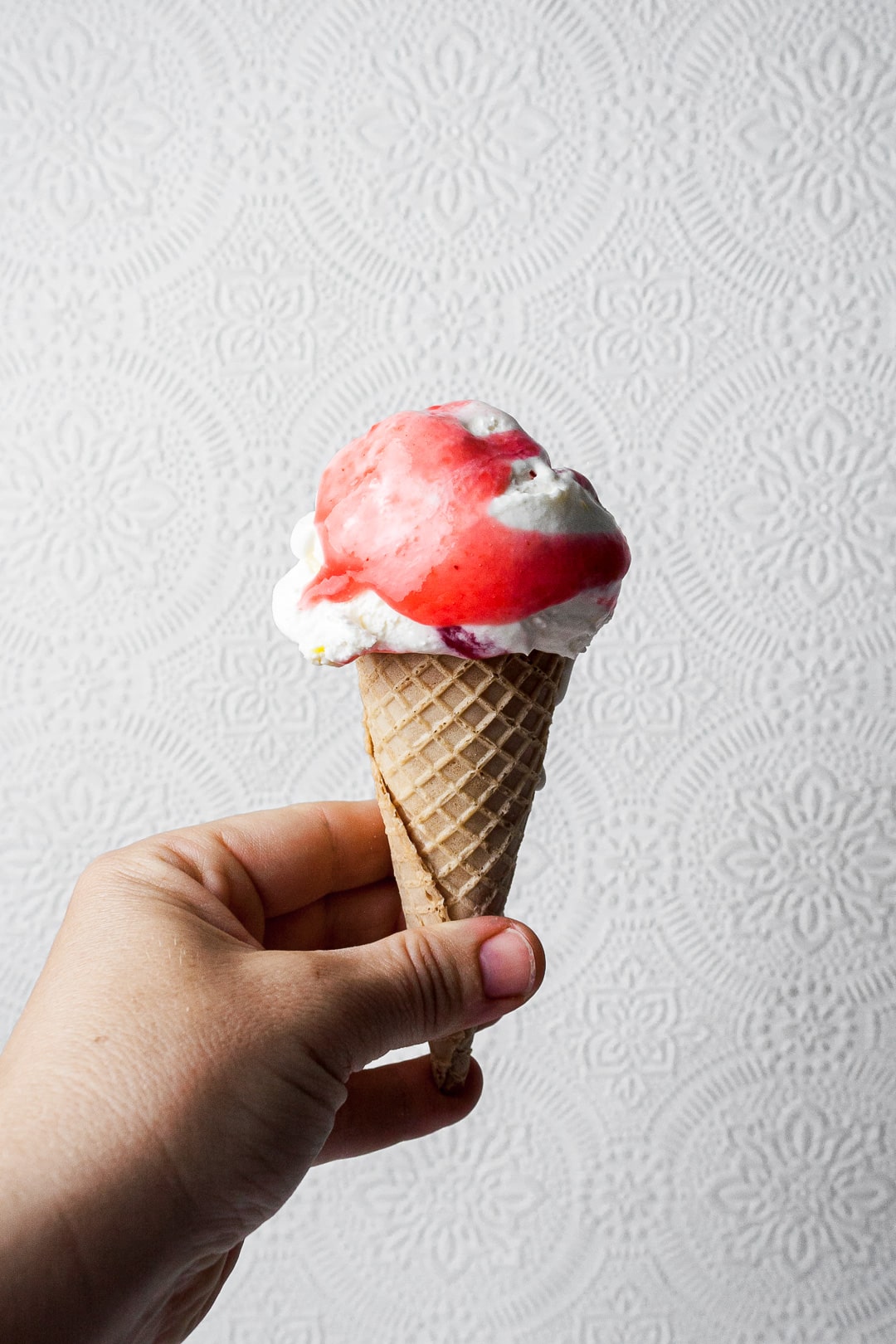 It was late July when I put this recipe together: the peak of summer, the berries still dripping from the branches and sweat from our brows. I wanted something cold and creamy, yet refreshing. Something that would incorporate the opalescent pink champagne currants without veiling their beautiful color or tart flavor.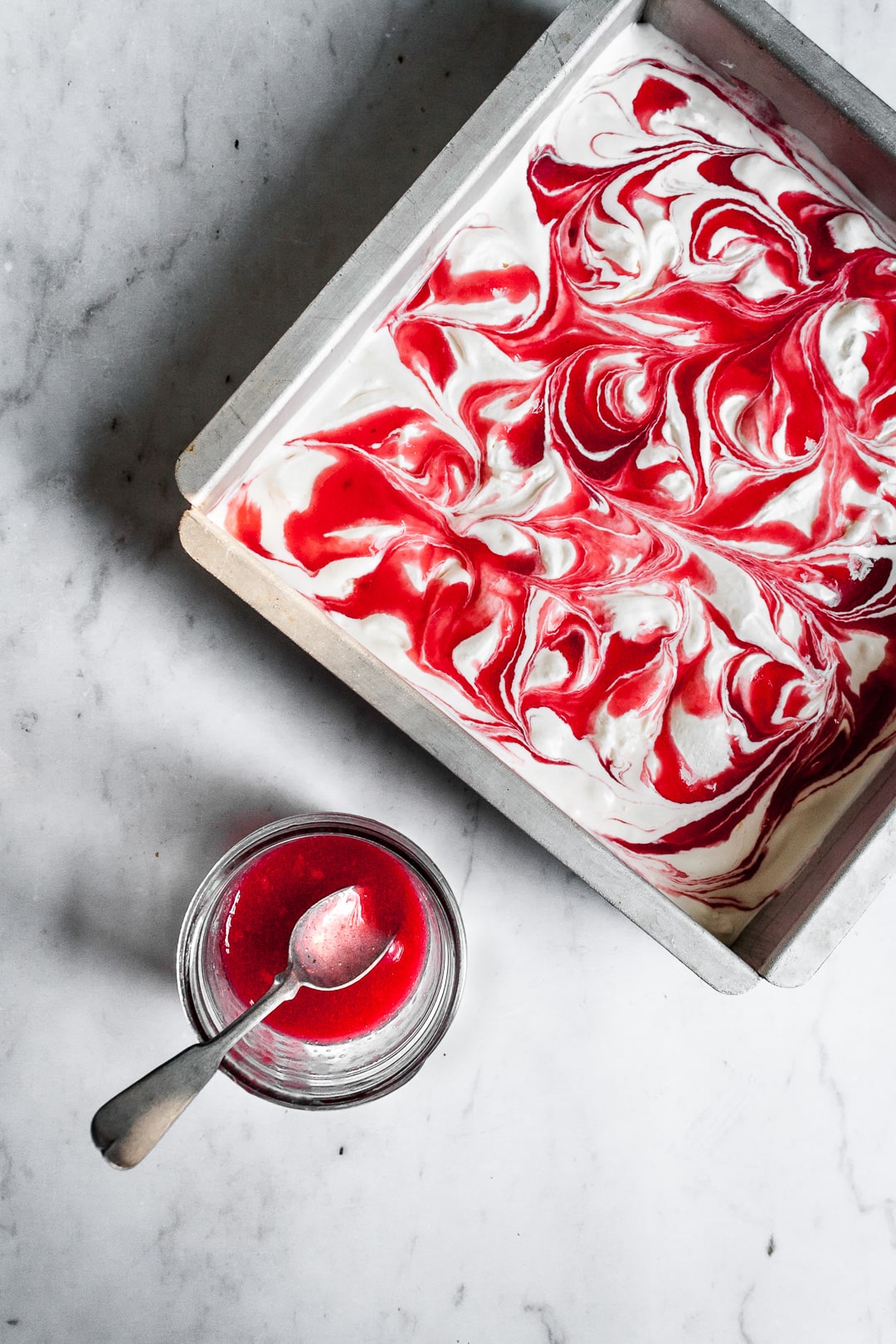 THE HISTORY OF CURRANT PRODUCTION
I was lucky to have two friends share the fruity abundance of their currant bushes with me this year. I had never seen them at the grocery store, which struck me as odd given how much fruit a single bush can produce. A bit of research soon led me to understand that currants were banned as a crop in the US in the early 1900s as they were thought to carry a fungus that threatened the timber industry. The federal ban was removed in 1966, but the prohibition still stands in a handful of states, particularly on the east coast. Fruit growers and advocates are now working to reinstate the commercial production of currants. You can read more of the history here.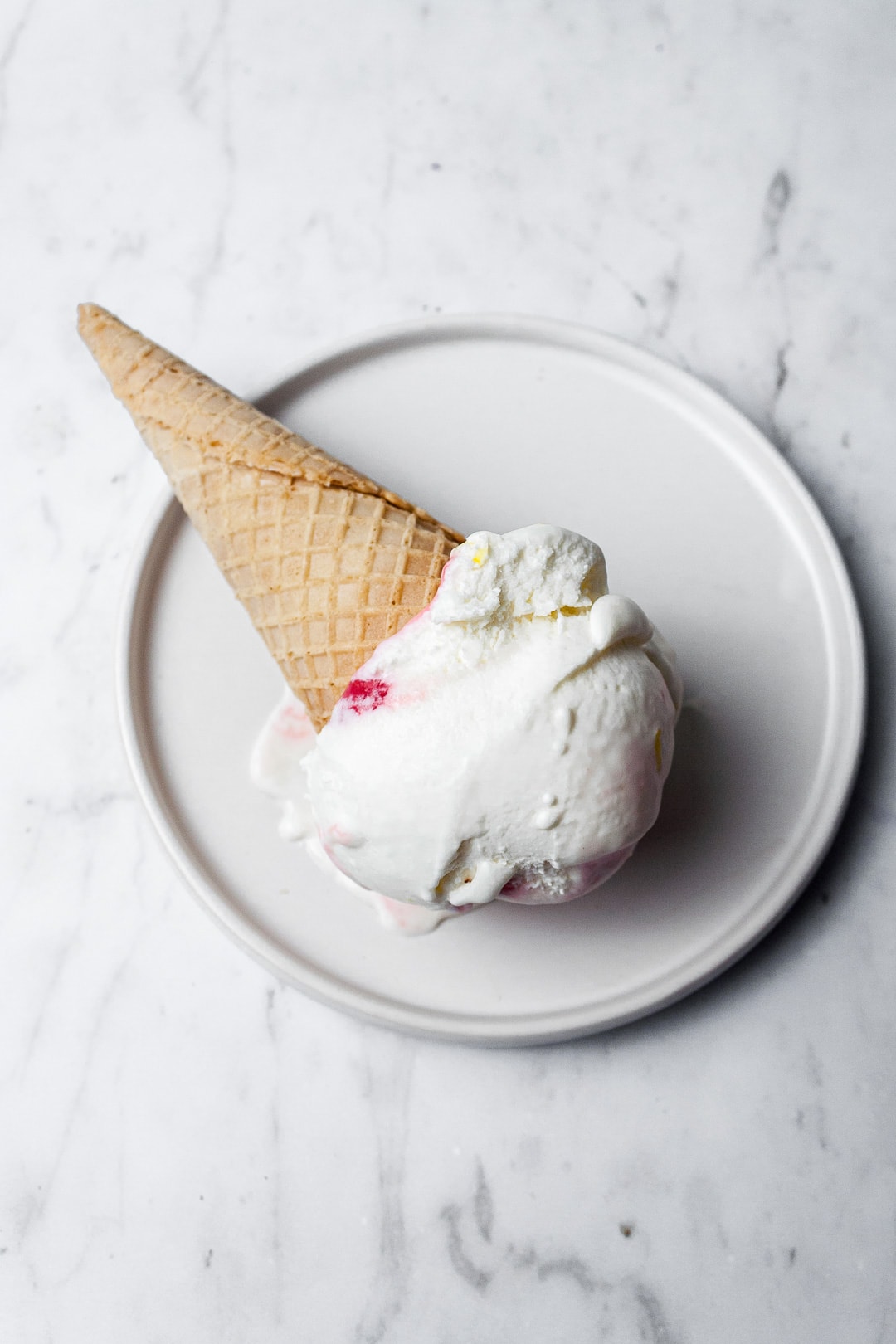 CURRANT PUREE
To make the puree, I put a few cups of currants into a pot with a bit of sugar over low heat. To maximize the juice from the fruit, I smashed it all vigorously with a potato masher and cooked it down to a jammy consistency. I then passed it all through a fine mesh strainer to remove all the currant seeds; there were an impressive amount of them left behind. Stubborn persistence will pay off when pushing the puree through the sieve. The resulting jewel toned puree was so good that I found myself eating it straight from the spoon.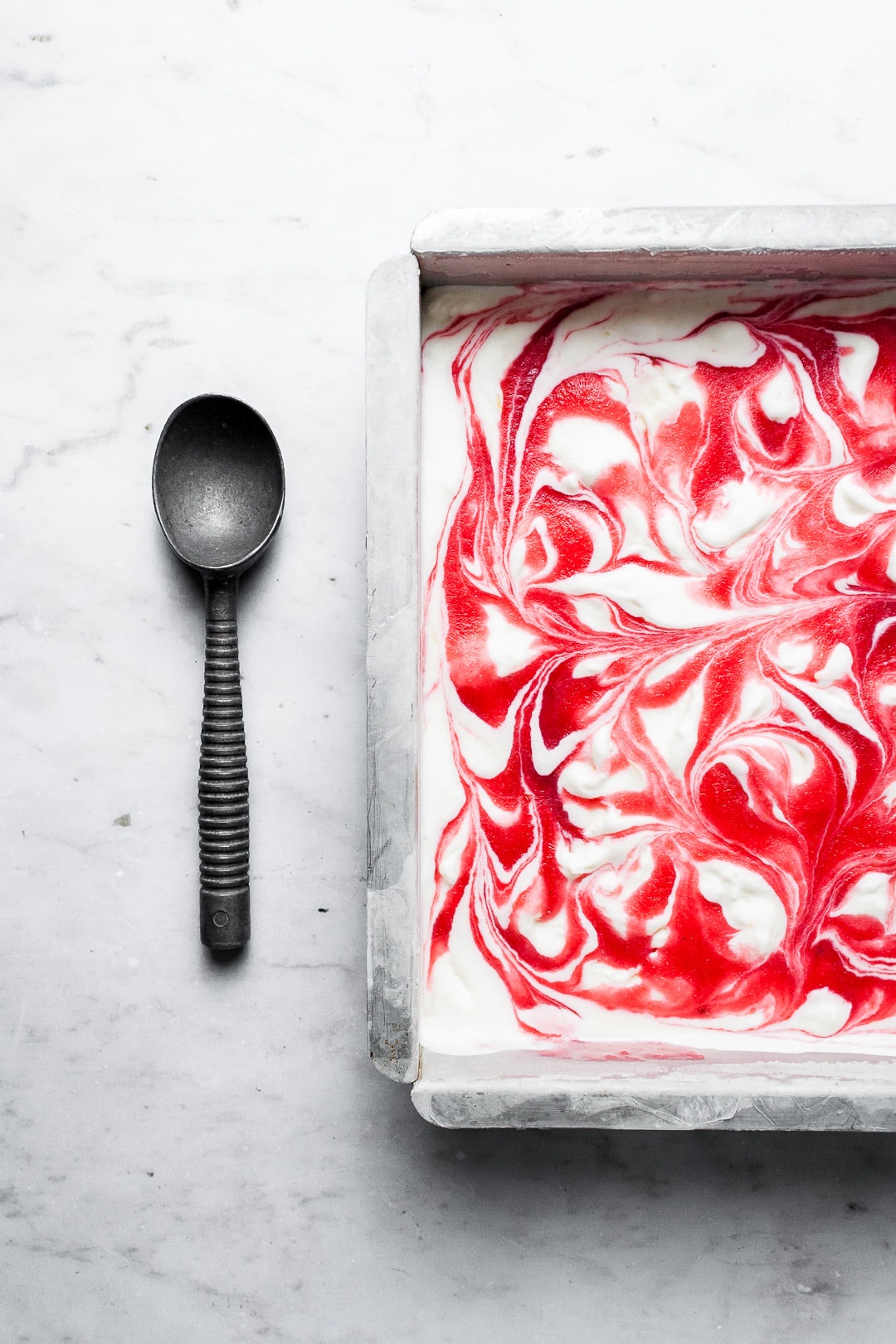 The girls ate this ice cream two nights in a row and declared it one of their favorites. For the next few weeks they asked for it again and again, even though we'd long since eaten the last scoops and scraped the ice cream bowls clean.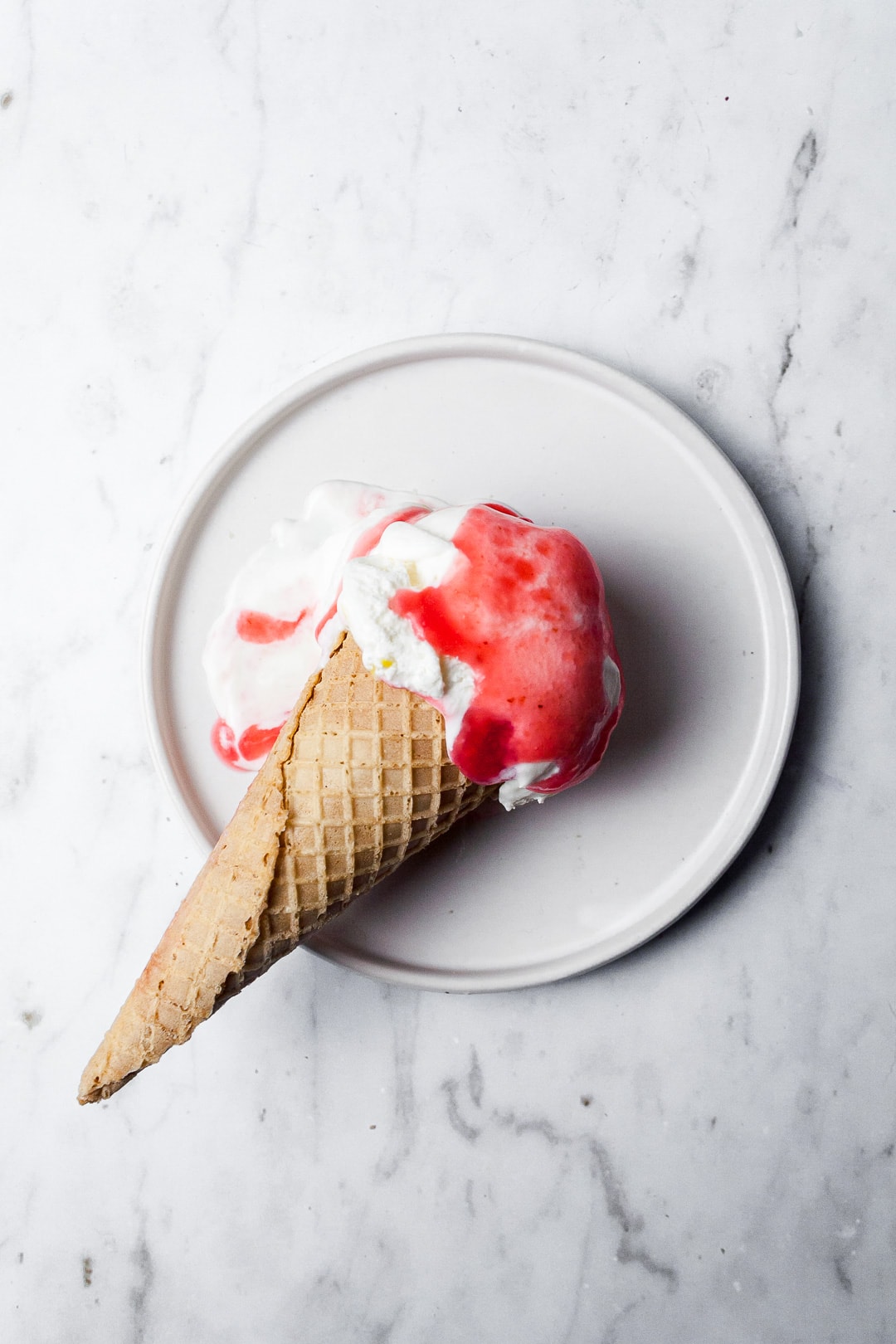 RECIPE NOTES
PREPPING CURRANTS - The most tedious part of a recipe made with currants is the de-stemming process. Preparing two cups of currants took me the better part of an hour. If you have extra hands at your disposal, this would be a good moment to call them into action. Or at least have some good music or a podcast at the ready. It's a meditative process.
CURRANT VARIETIES - For this recipe, I used pink champagne currants as they're what I had on hand. The color became much more concentrated when I made the puree. I think any red, pink or black currants would work well in this recipe since they would provide the dramatic color contrast for the swirl. You could certainly use white currants, but the resulting visual will have less of an impact.
CURRANT SWIRL - In order to achieve a delicate and detailed swirl, let the ice cream soften somewhat before drizzling the currant puree over the top. Run a fine tool such as a toothpick or a thin skewer through the drizzles to create swirls. Stop before you've gone so far that the colors blend too much and become muted or muddied.
LEMON ZEST - I've chosen to include the lemon zest in the ice cream - not only to harness as much lemon flavor as possible, but also - honestly - to avoid adding another step to a fairly straightforward recipe. The addition of zest does provide a slight texture change and means that your ice cream will be 95% creamy with some very small bits of zest in it. That said, my texture-sensitive kids didn't have any issue with the little pieces of zest. If you do decide to go 100% smooth and remove the zest, I would recommend you infuse the lemon flavor by soaking the zest in the heavy cream for a good while (and possibly over heat) to extract the lemon flavor before straining it out. Or perhaps you could replace the zest with 1 teaspoon lemon extract if you so desire. Still - when I make this again, I'll include the zest.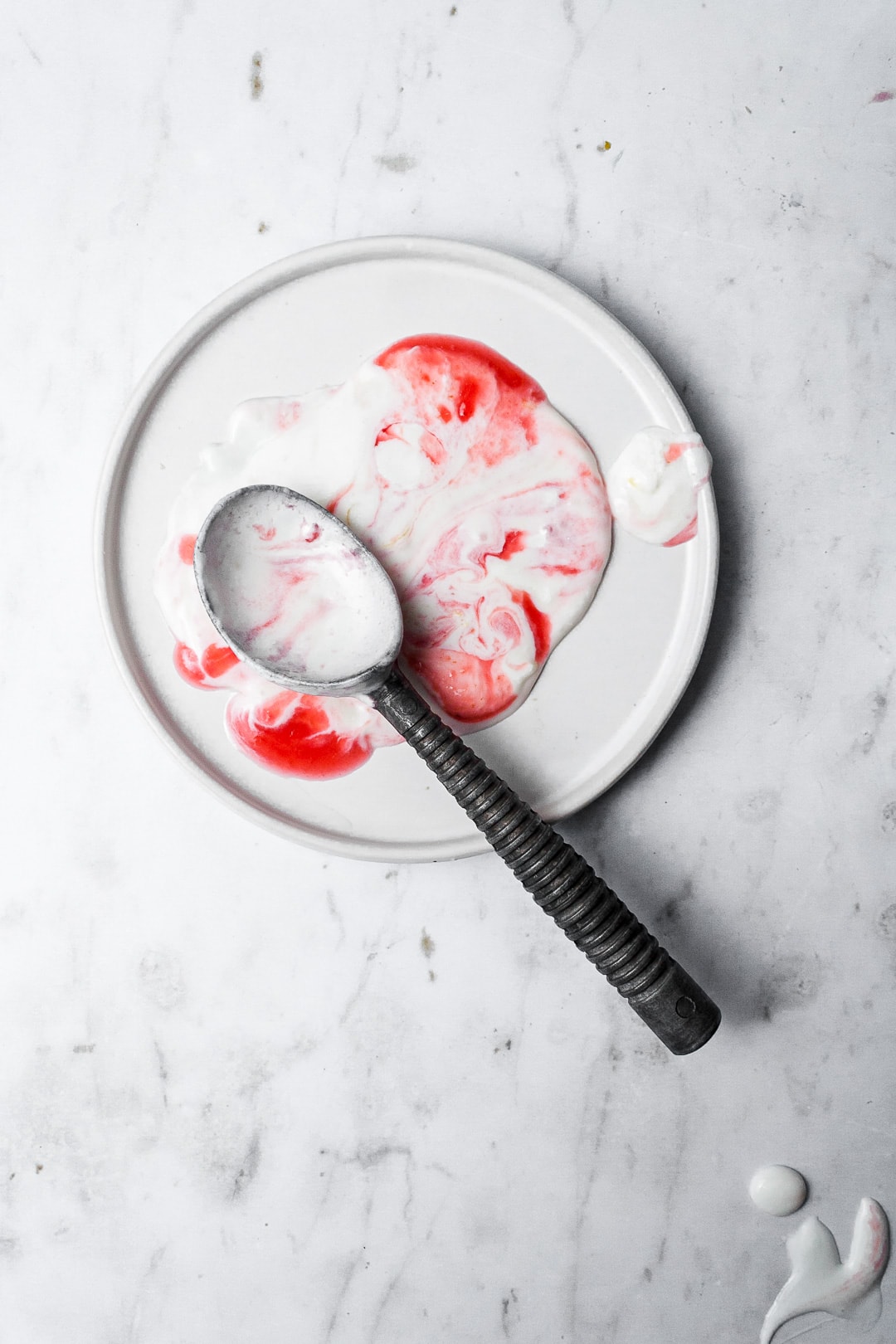 📖 Recipe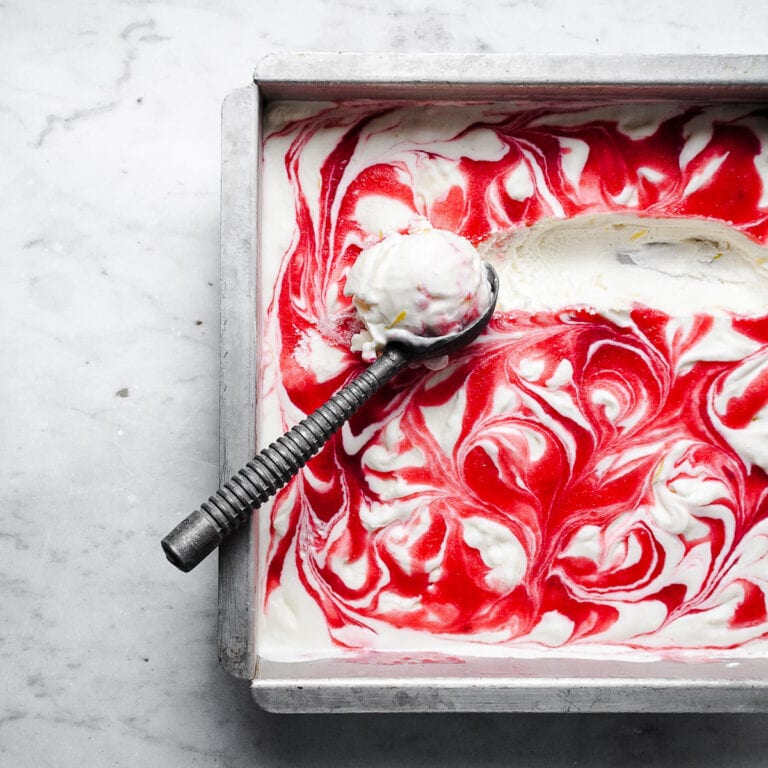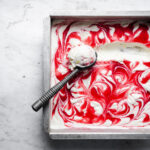 Lemon Mascarpone Ice Cream with Currant Swirl
Print Recipe
Pin Recipe
INGREDIENTS
Currant Puree
2

cups (350g)

currants

3

tablespoon

granulated sugar
Lemon Mascarpone Ice Cream
2

cups (16 oz)

heavy cream

1

cup (200g)

sugar

⅛

teaspoon

salt

½

cup (112g)

mascarpone cheese

zest of 1 lemon

½

cup

lemon juice, freshly squeezed (approximately 2-3 medium lemons)
INSTRUCTIONS
Currant Puree
Make sure currants are all de-stemmed. Add currants and sugar to medium pot and stir gently to blend. Cook over low heat until currants have burst and are jammy, about 5-10 minutes. If needed, use a potato masher to extract as much juice as possible.

Strain through a fine wire mesh sieve into a small bowl. Use a spatula or spoon to press as much of the currant sauce through the sieve as possible. Repeat more times than seems necessary - you'll be surprised how much you can extract. You'll know you're done when you're left with only the currant seeds in the strainer. Set the currant puree aside to cool completely.
Lemon Mascarpone Ice Cream
In a large bowl, combine all ice cream ingredients and whisk gently until completely blended together. Cover and place in refrigerator to chill for 4 hours or overnight.

Pour the mixture into an ice cream maker and churn according to the manufacturer's instructions.

Transfer the ice cream to an 8 x 8 metal pan. Working quickly, drizzle the currant sauce over the ice cream with a spoon. Using a toothpick or knife, swirl the sauce through the ice cream. Cover container with plastic wrap and freeze for at least 2 hours before serving.
The Floured Table
Recipe Author: Kathleen Culver
https://www.theflouredtable.com/lemon-mascarpone-ice-cream-with-currant-swirl/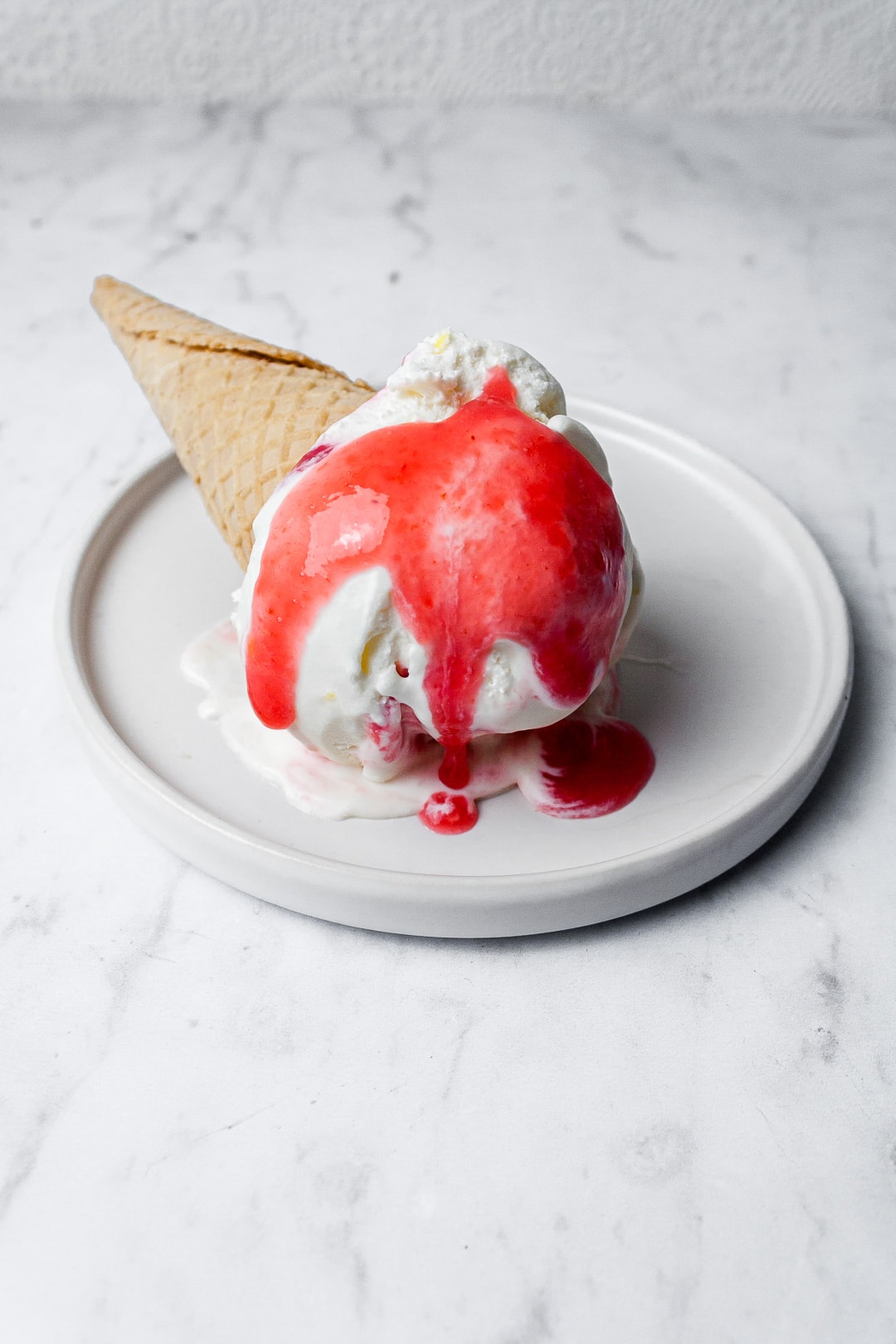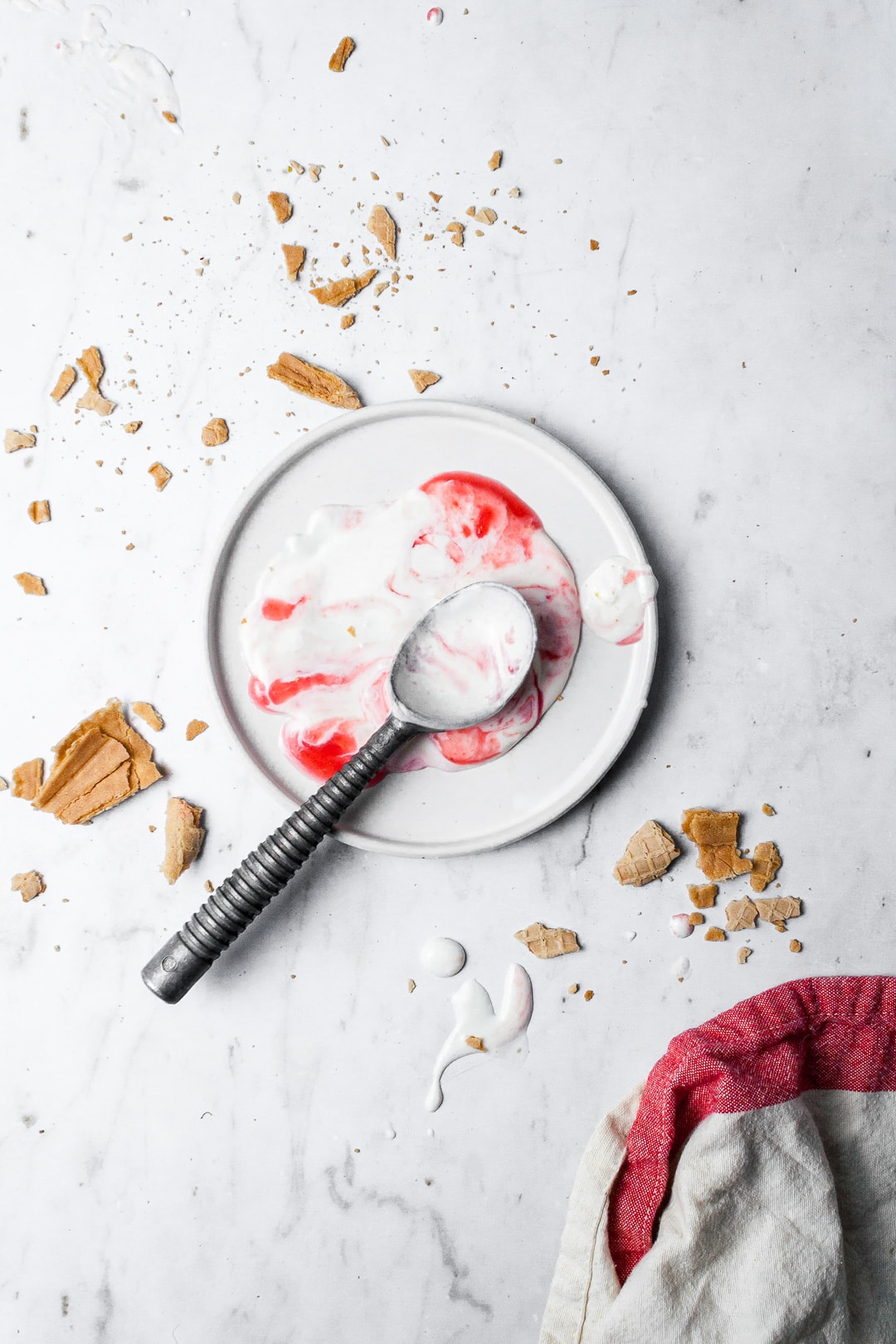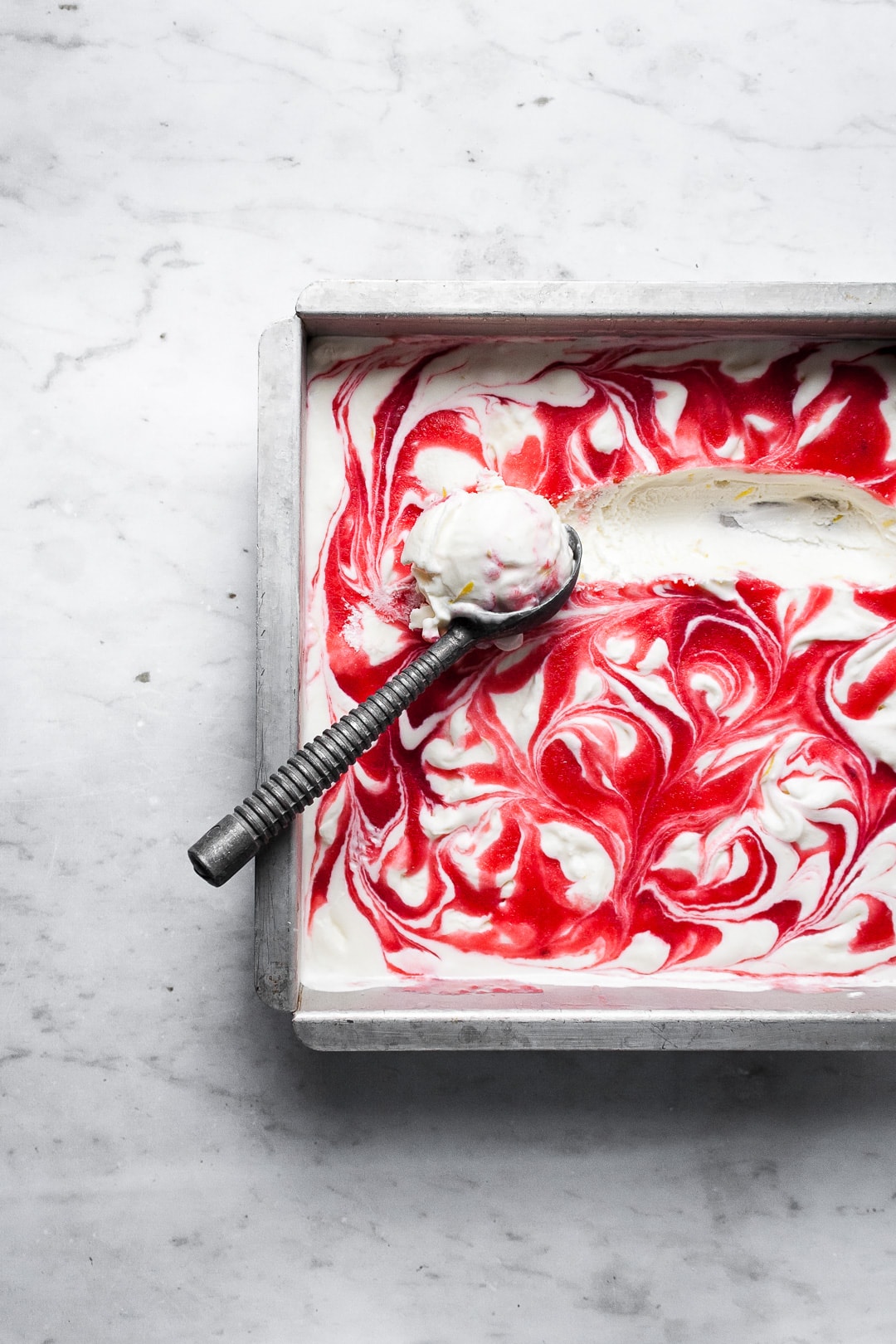 If you liked this Lemon Mascarpone Ice Cream with Currant Swirl, you might also enjoy:
Strawberry Lime Rhubarb Slab Pie
No Bake Key Lime Cheesecake Bars