These caramel pecan shortbread bars feature a buttery shortbread base topped with a chewy combination of sweet caramel and toasted pecans. A bit of espresso powder in the caramel adds a layer of darker flavor and tempers the sweetness of the caramel. Sprinkled with flaky sea salt, these sweet, salty, nutty treats are very hard to resist.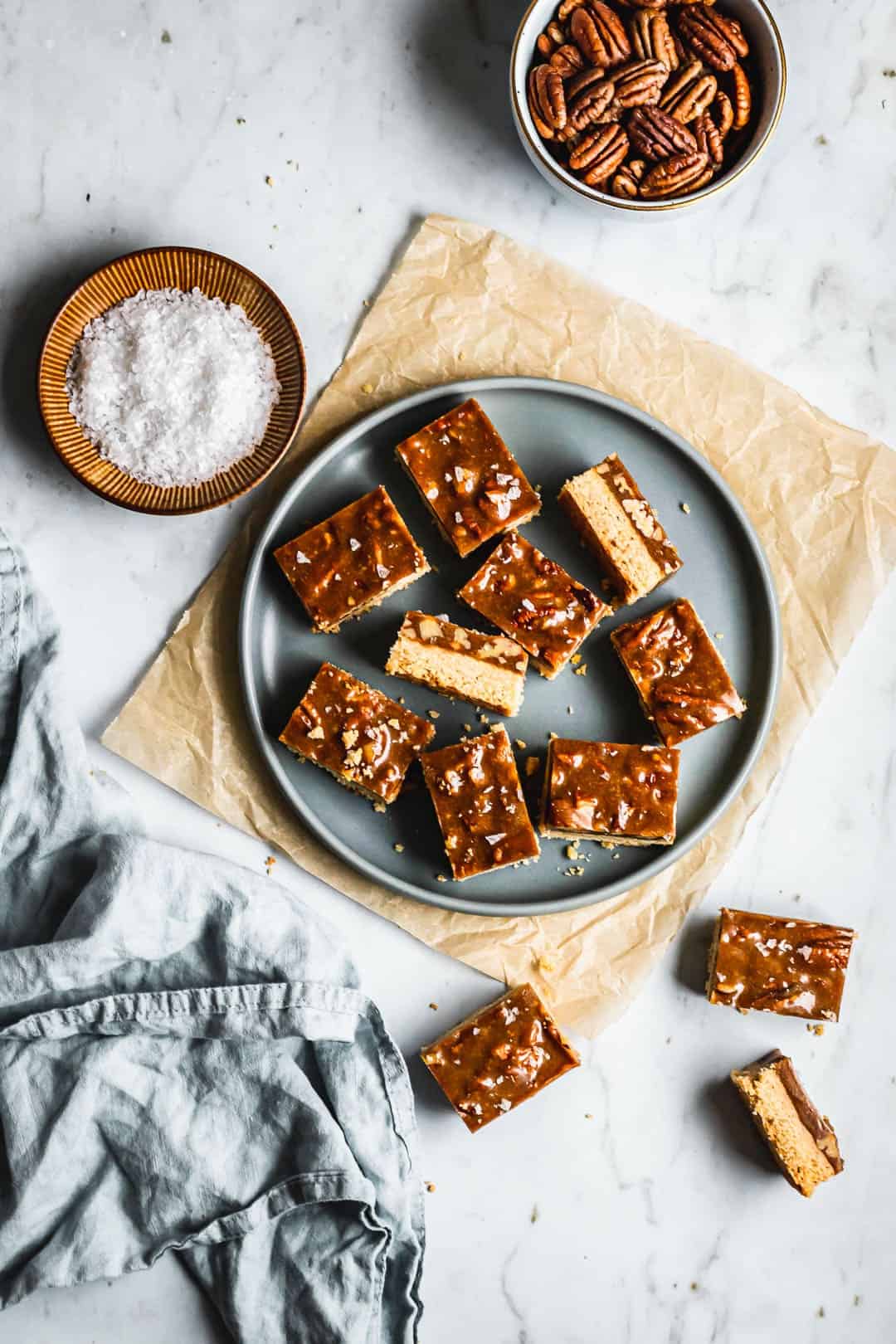 CARAMEL PECAN SHORTBREAD BARS
I first made these caramel pecan shortbread bars a few years back, when taking a plate of food to share (with a gaggle of guests from different households, snugly packed together in one home) was the most normal thing in the world. They were so good that they became my go-to housewarming fare, pleasing children and adults alike with their combination of nutty, sweet caramel and buttery, rich shortbread. While they're an excellent cookie for a festive table, they're too good to relegate just to the holiday months. Caramel with pecan is a classic partnership of sweet and savory that can be enjoyed year round. Every time I eat these now, the flavors bring back the memory of those times, and I'm glad.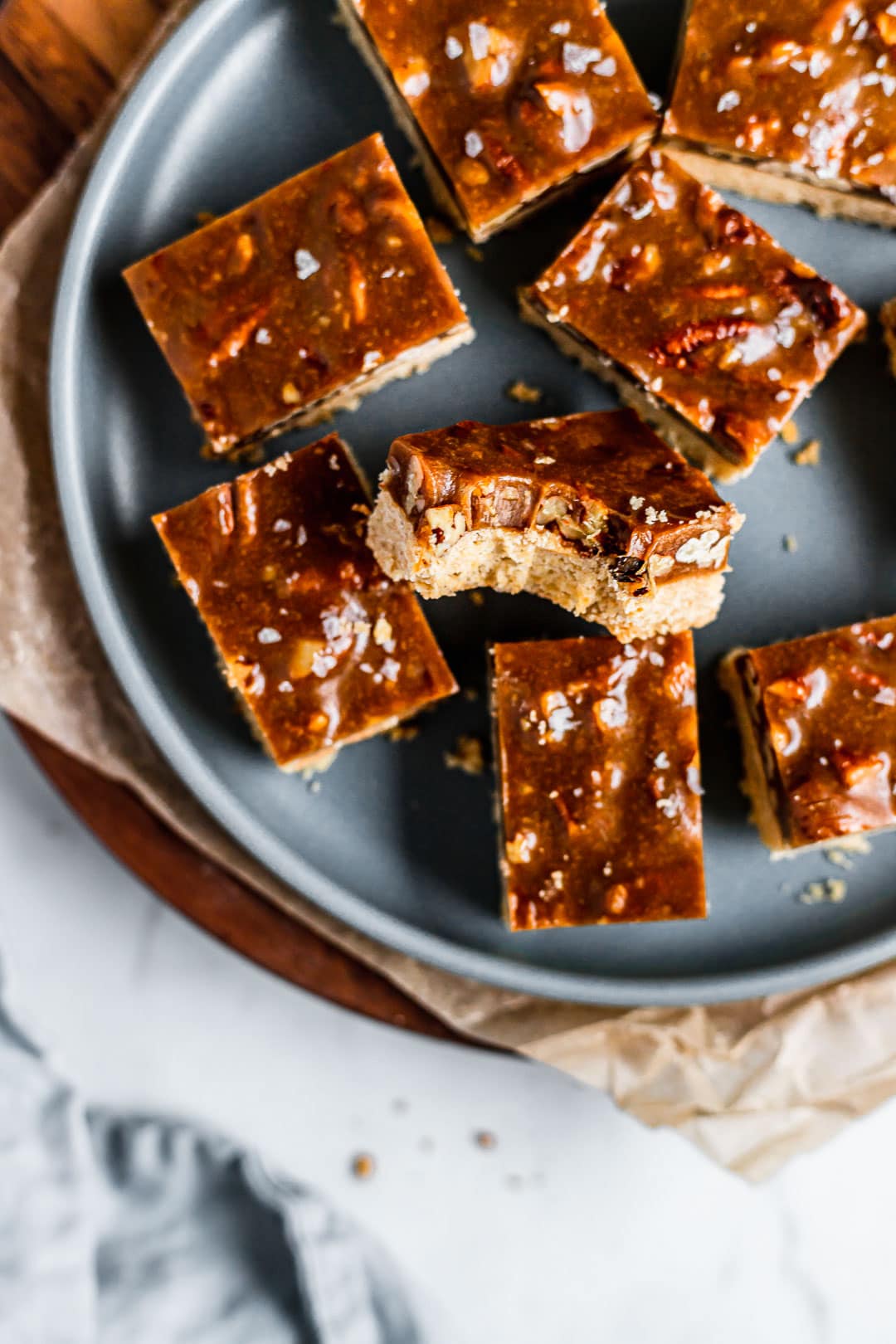 RECIPE NOTES - INGREDIENTS AND TIPS
UNSALTED BUTTER - Using unsalted butter allows you to control the total amount of salt in the recipe. With salted butter, brands use different amounts of salt, so you're never sure where you're starting with salt quantity. With a simple recipe for shortbread bars that only has 4 ingredients, each one really counts. Too much salt could throw off the final taste, so I always recommend using unsalted butter when specified.
BROWN SUGAR - Adding brown sugar to the caramel sauce provides a dark, toffee, molasses taste.
HONEY - The addition of honey (an invert sugar; so is corn syrup) helps prevent crystallization from occurring and turning the texture of the caramel layer grainy. The honey also provides a nice flavor. If you want to substitute for honey, use corn syrup or glucose syrup (other invert sugars).
ESPRESSO POWDER - While this is technically optional, I love the addition of espresso powder. It's one of my favorite ingredients - I've used it in mint mocha chocolate chip ice cream and this coffee chocolate mascarpone tart. In this caramel pecan recipe, you don't really note an outright coffee taste, but it adds a darker depth to the caramel. The bitterness of the espresso also helps balance the sweetness of the caramel.

Espresso powder is NOT finely ground espresso coffee beans. It is made of instant coffee crystals that have been highly concentrated. It fully dissolves when added to liquids. It's great for adding a coffee flavor to cakes, frostings, and other recipes without introducing additional liquid that might impact the wet to dry ratio of the recipe. My local store carries Medaglia D'Oro instant espresso powder, which is what I used here. I recommend going to the effort to find it.

If you need to substitute for espresso powder, try using the same amount of instant coffee granules. You may need to increase the amount slightly - taste as you go.

PECANS - This recipe calls for two sizes of pecans - both whole and coarsely chopped. It gives a nice visual variety and allows more pecan to nestle into the caramel. Purchase enough whole pecans for the entire recipe and then chop half yourself; they'll be fresher than chopped packaged pecans and you can better control the sizing.
FLAKY SALT is an optional finishing touch that I really enjoy, as the salt really brings out the caramel flavor (you'll know this if you're a fan of salted caramels.)
RESTING TIME - These bars with a shortbread crust are fully baked prior to the addition of the caramel. Once the caramel pecan mixture is poured over the top, they must completely cool before being sliced and served. This will take several hours given the initial temperature of the caramel when added to the shortbread base. Make sure to factor in this extra resting time prior to serving. If they're cut while still warm, the caramel will not be firm enough to maintain a clean bar shape and will droop (or worse, run) off the shortbread. Patience here is challenging, but key.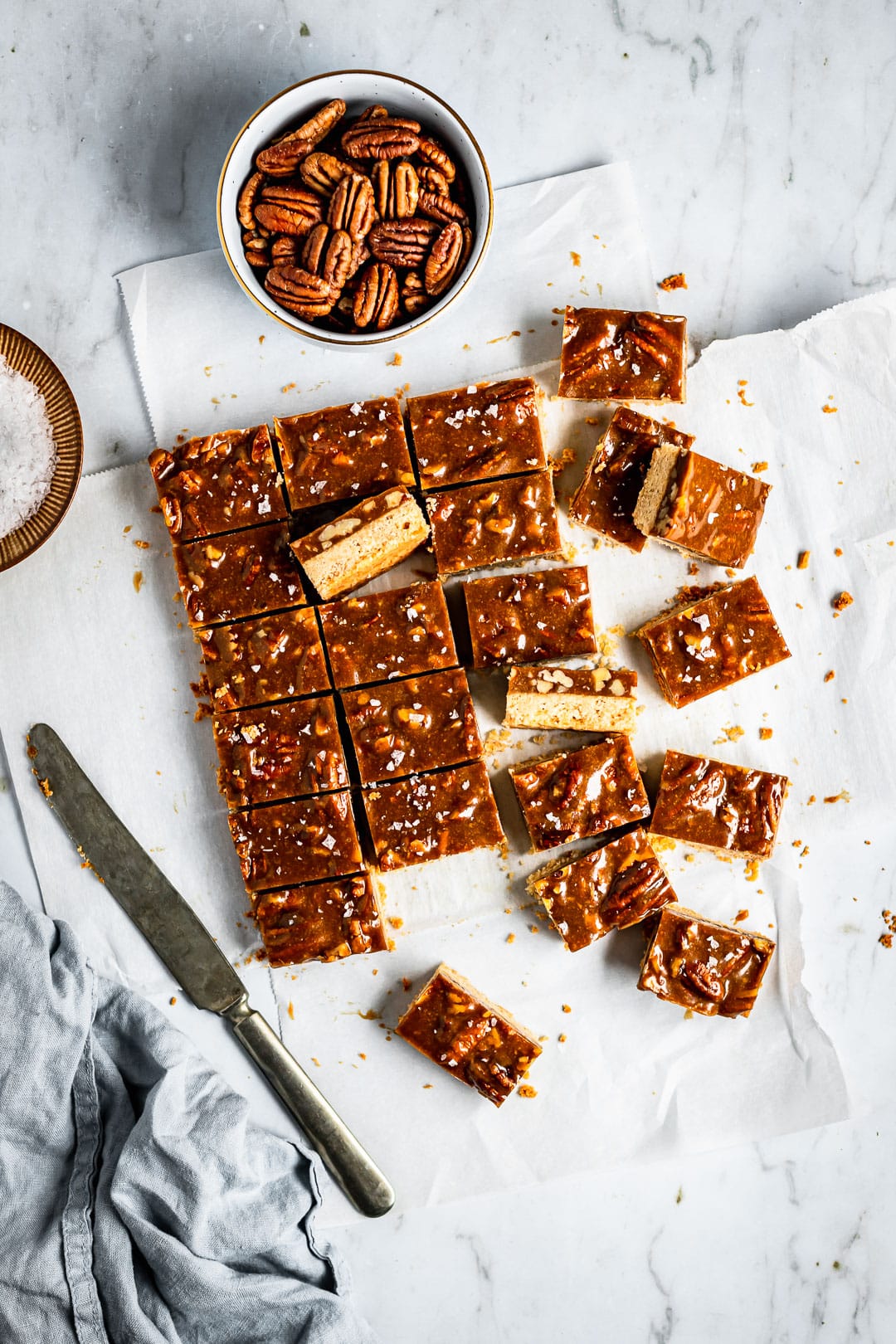 HOW TO TELL WHEN SHORTBREAD BARS ARE DONE BAKING
When making bars with shortbread crust, it's good to know how to gauge when the bottom layer of your bars is finished baking. When shortbread is first baking, the butter will begin to melt and give a sheen to the surface of the bars. As they continue to bake, the top of the bars will lose its glossy sheen and look dull. The top of the shortbread should be a very light golden brown, and the edges of the shortbread should be slightly more golden brown. Delicious smells are also a good clue - in this case, perfectly baked shortbread should smell like golden, toasted butter.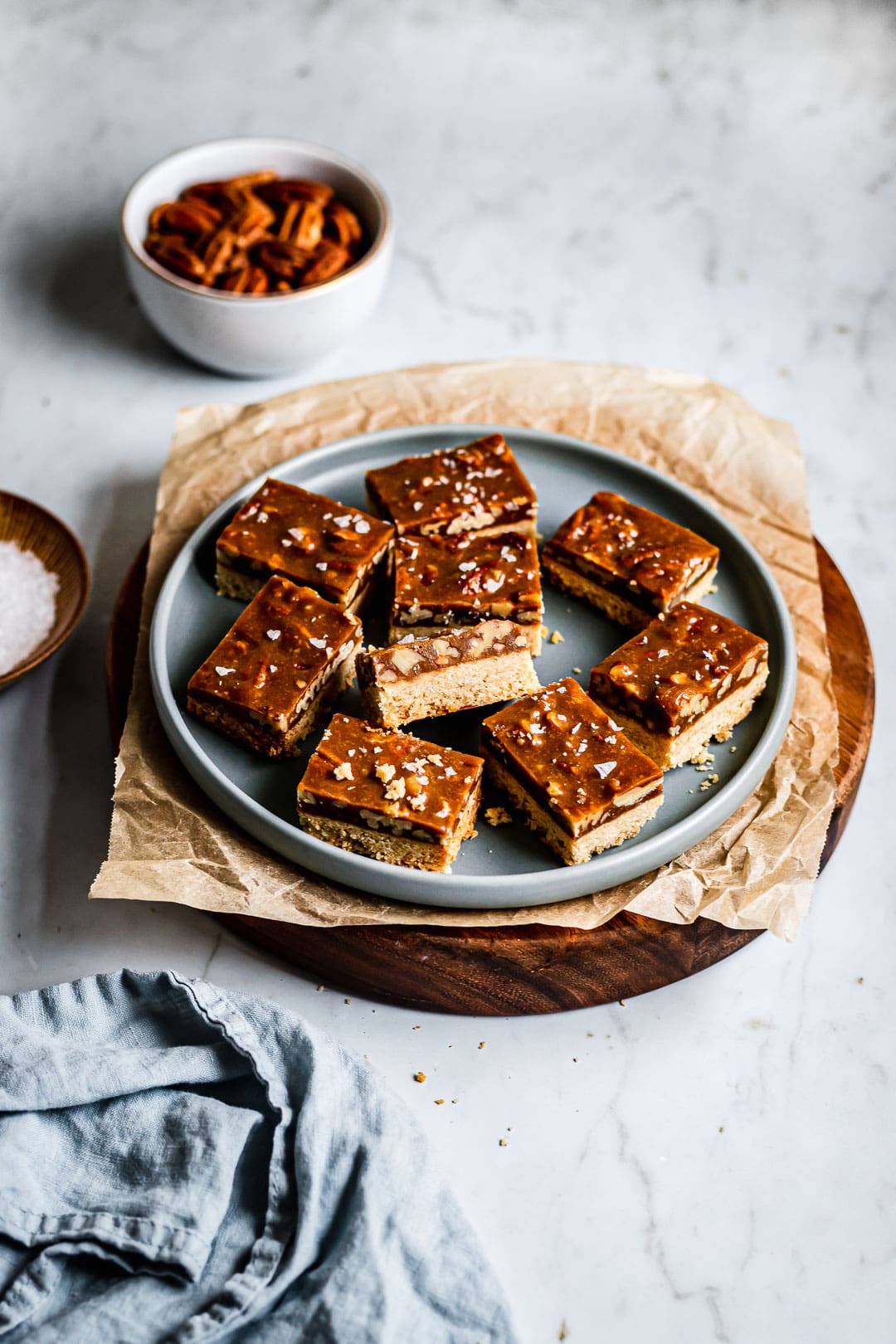 How to Make Caramel
When making caramel - whether for caramel bars like these, or any other purpose, there are a few things that you can do to help ensure you have success.
Prepare Your Ingredients and Tools in Advance
Make sure to have all your ingredients and kitchen tools prepared ahead of time and within reach. Candy making is a very precise, time sensitive kitchen activity and you want to be ready to go when it's time for each step, rather than rushing around looking for tools or ingredients. Once the caramel begins to climb in temperature, it's best to stay in front of the stove and monitor it.
Add Invert Sugar to Prevent Crystallization
The addition of honey (an invert sugar with a high level of glucose; corn syrup also falls into this category) helps prevent crystallization from occurring. For the chemistry behind this, see this Cook's Illustrated article on caramel.
Use a Candy Thermometer to Ensure Correct Temperature
A candy thermometer is an invaluable tool that makes a candy recipe like caramel much less intimidating. The thermometer has standard candy temperatures marked on the gauge so that you can easily see when your recipe has reached each of the seven stages: thread, soft ball, hard ball, firm ball, soft crack, hard crack, and caramel stages. The candy thermometer takes the guesswork out of the recipe. This s key because different candy stages are often separated by only a few degrees.
For this recipe, we heat the caramel to 245 degrees F, which corresponds to the firm ball stage. Make sure that the tip of the candy thermometer is completely submerged in the caramel throughout the heating process to ensure an accurate reading. Also make sure that the thermometer tip does not touch the bottom of the pan. My thermometer has a guard that prevents the top from reaching the pan bottom.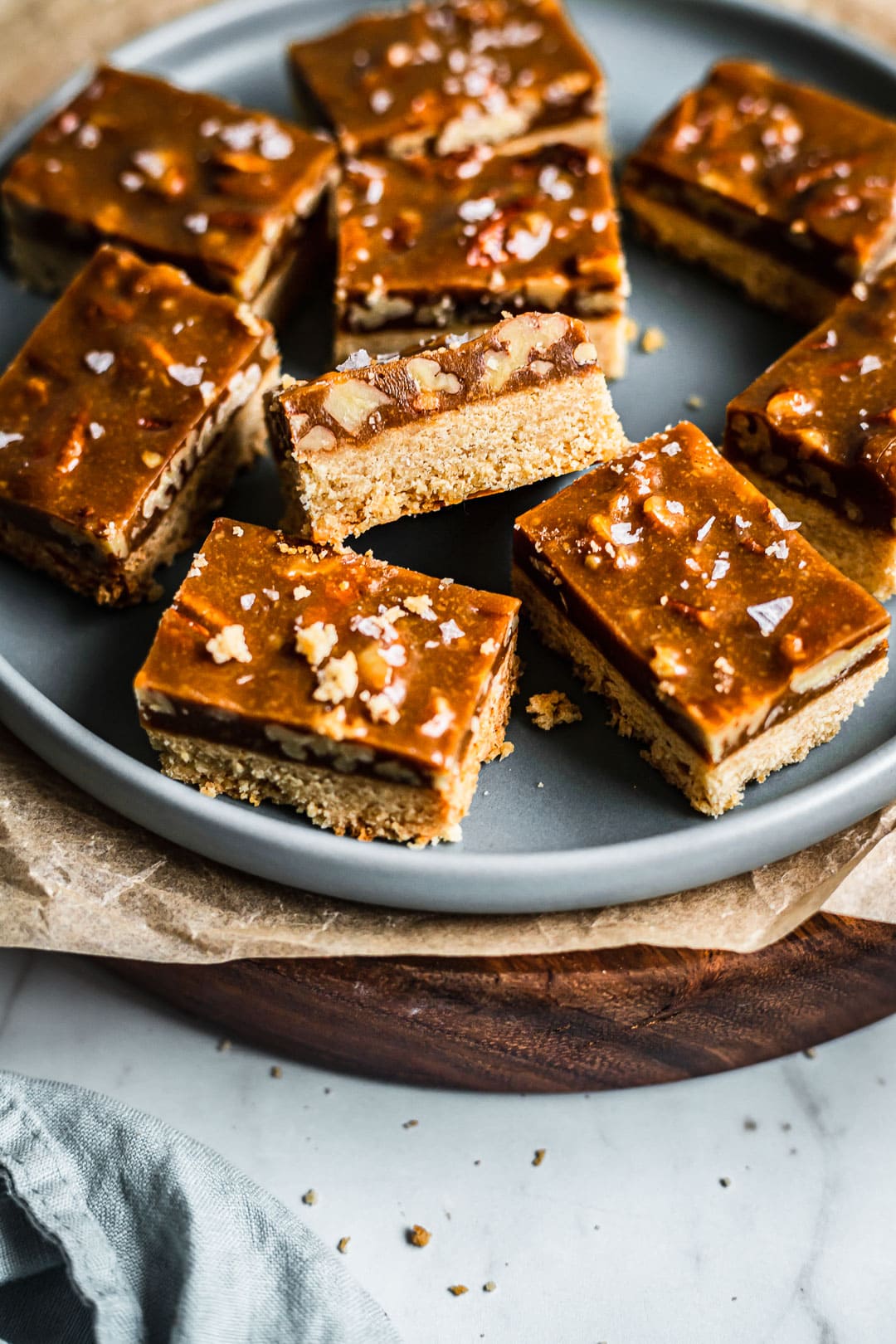 📖 Recipe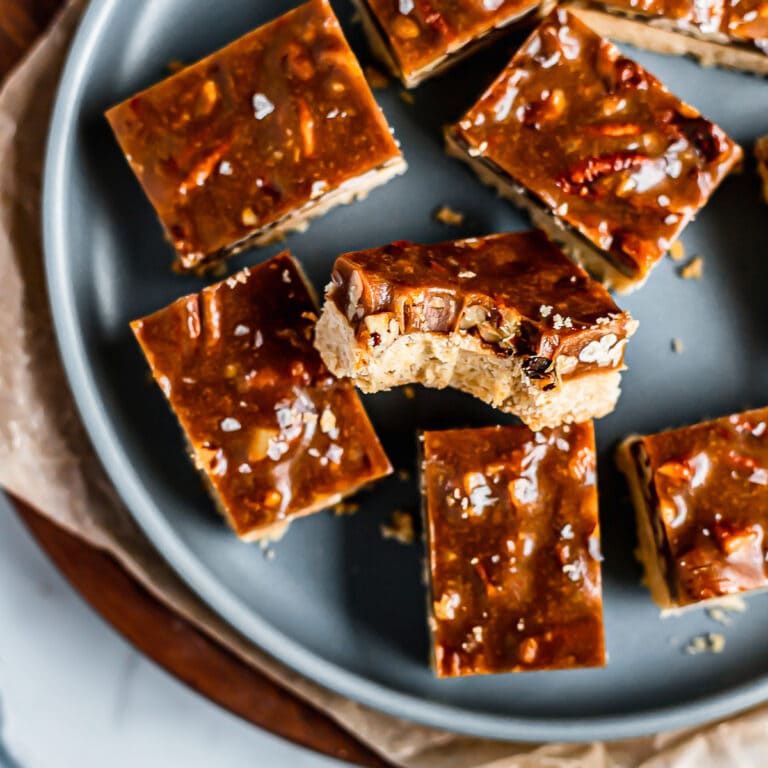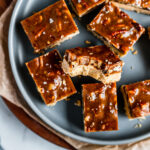 Caramel Pecan Shortbread Bars
Print Recipe
Pin Recipe
Rich honey caramel pecan bars with a buttery shortbread base. The perfect combination of sticky, chewy, sweet and crumbly. A delicious pairing of caramel and pecans.
Servings
24
large or 36 small
INGREDIENTS
SHORTBREAD BASE
¾

cup (170g, 6 oz)

cold unsalted butter, cut into cubes

⅓

cup (68g)

granulated sugar

1 ½

cups (180g)

all-purpose flour

½

teaspoon

kosher salt
CARAMEL PECAN TOPPING
6

Tbsp (75g, 3 oz)

unsalted butter

¼

cup (85g, 60 mL)

honey

¼

cup plus 2 tablespoon (75g)

brown sugar

¼

cup (60g, 60mL)

heavy cream, at room temperature

2

teaspoon

espresso powder (optional, see ingredient notes in text)

1

teaspoon

vanilla

½

teaspoon

kosher salt

½

cup (60g)

whole pecans

½

cup (60g)

coarsely chopped pecans

½

teaspoon

salt flakes (I used Maldon)
INSTRUCTIONS
Shortbread Layer
Preheat the oven to 350 degrees F (177 C, gas mark 4).

Line an 8" square (20 cm square) pan with parchment paper, extending a flap of parchment over opposite sides as a handle to aid in removing the bars later.

In the bowl of a stand mixer fitted with the paddle attachment, combine the butter, sugar, flour, and salt and mix until the dough begins to come together with a lumpy, sandy texture.

Dump the dough into the prepared pan and press with your fingers until it is spread evenly into all areas of the pan. Cover with plastic wrap and use the flat base of a drinking glass or the bottom of a measuring cup to firmly pack down the dough and smooth the top. Chill in the fridge for 30 minutes.

Bake the shortbread for 24-26 minutes, until top has gone from shiny to dull, shortbread is baked through, just barely beginning to turn golden brown, and beginning to smell like toasted butter. Remove from oven and set aside to cool on a baking rack.
Caramel Pecan Topping
In a heavy 3 quart pot, melt the butter over medium-low heat. Clip a candy thermometer to the side of the pot so that you can monitor the temperature of the caramel. Add the honey, brown sugar, espresso powder, vanilla and salt and stir minimally just to incorporate. Without further stirring, continue cooking over medium-low heat until the mixture reaches 225 degrees.

Carefully add the room temperature heavy cream (it might bubble) and stir just to incorporate. Continue to cook on medium without stirring until the mixture reaches 240 degrees. Immediately add both sizes of pecans, stirring to coat. You might need to stir gently every little while to make sure the pecans don't burn. Cook until thermometer reads 245 degrees. Immediately remove the caramel from the heat.

Quickly and very carefully pour the hot caramel pecan mixture onto the cooked shortbread layer, using a silicone spatula to scrape all the caramel out of the pan. Distribute the pecans evenly (with the spatula - too hot for fingers!) and make sure the caramel reaches the edges and into the corners of the pan. If you're feeling particularly enthusiastic, use a toothpick or knife to flip the whole pecans so they are flat side down. Cool completely and sprinkle with salt flakes if desired.

Once completely cool, lift the bars out of the pan using the parchment paper and place on a cutting board. Use a sharp knife to cut into squares and serve.
Notes
Recipe adapted from Honey Walnut Bars by Mindy Segal in her book Cookie Love. I changed pan sizes (hers was 9 x 13 - I used an 8" square pan) to end up with a smaller batch, but doubled the original ratio of shortbread to caramel. The espresso addition is mine as well. After a few attempts, also I ended up cooking the caramel to a higher final temperature to ensure that it firms up enough to slice and maintain its shape.
The Floured Table
Recipe Author: Kathleen Culver
https://www.theflouredtable.com/caramel-pecan-shortbread-bars/
Made this recipe? Please leave a comment and a star review! ★★★★★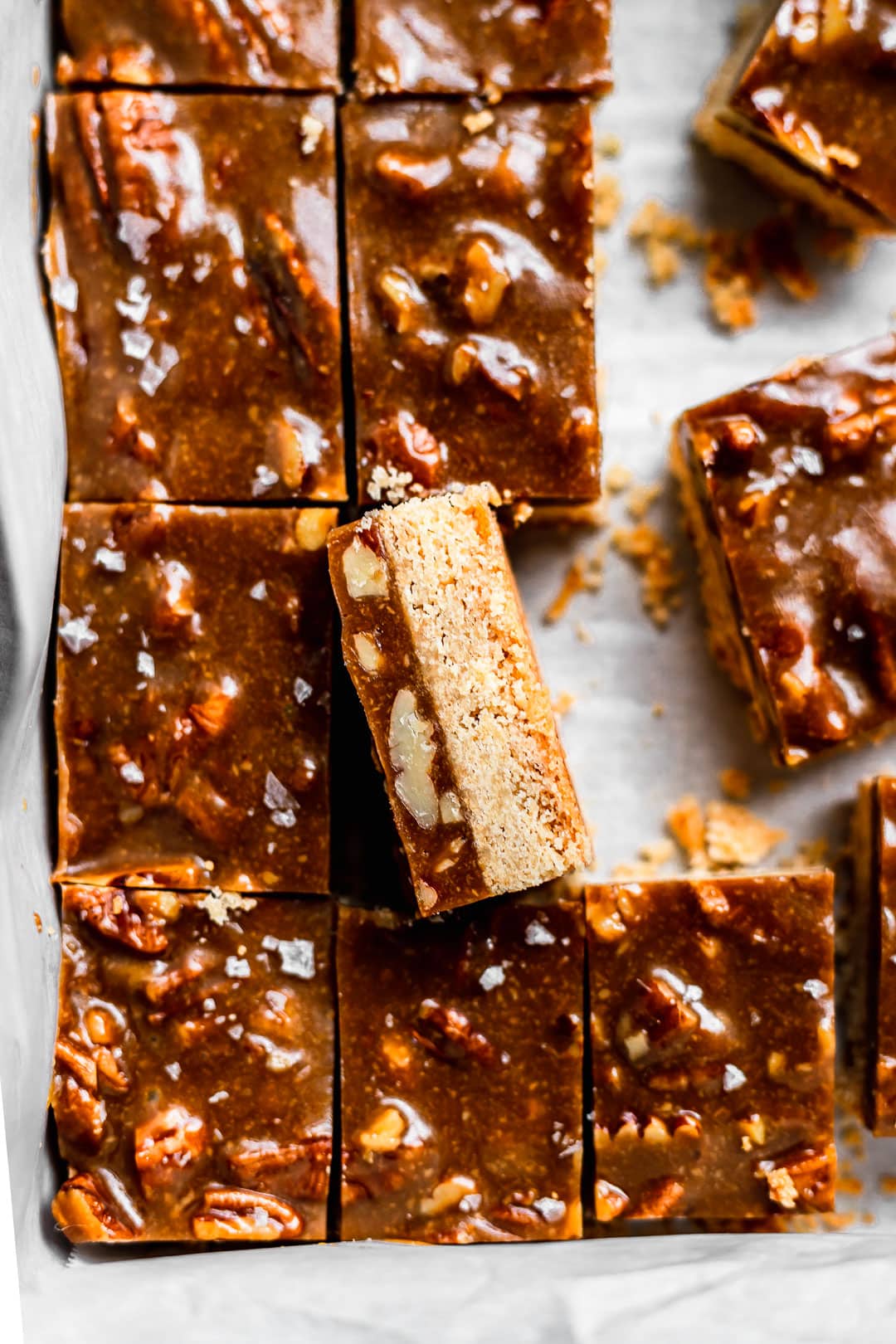 MORE CARAMEL RECIPES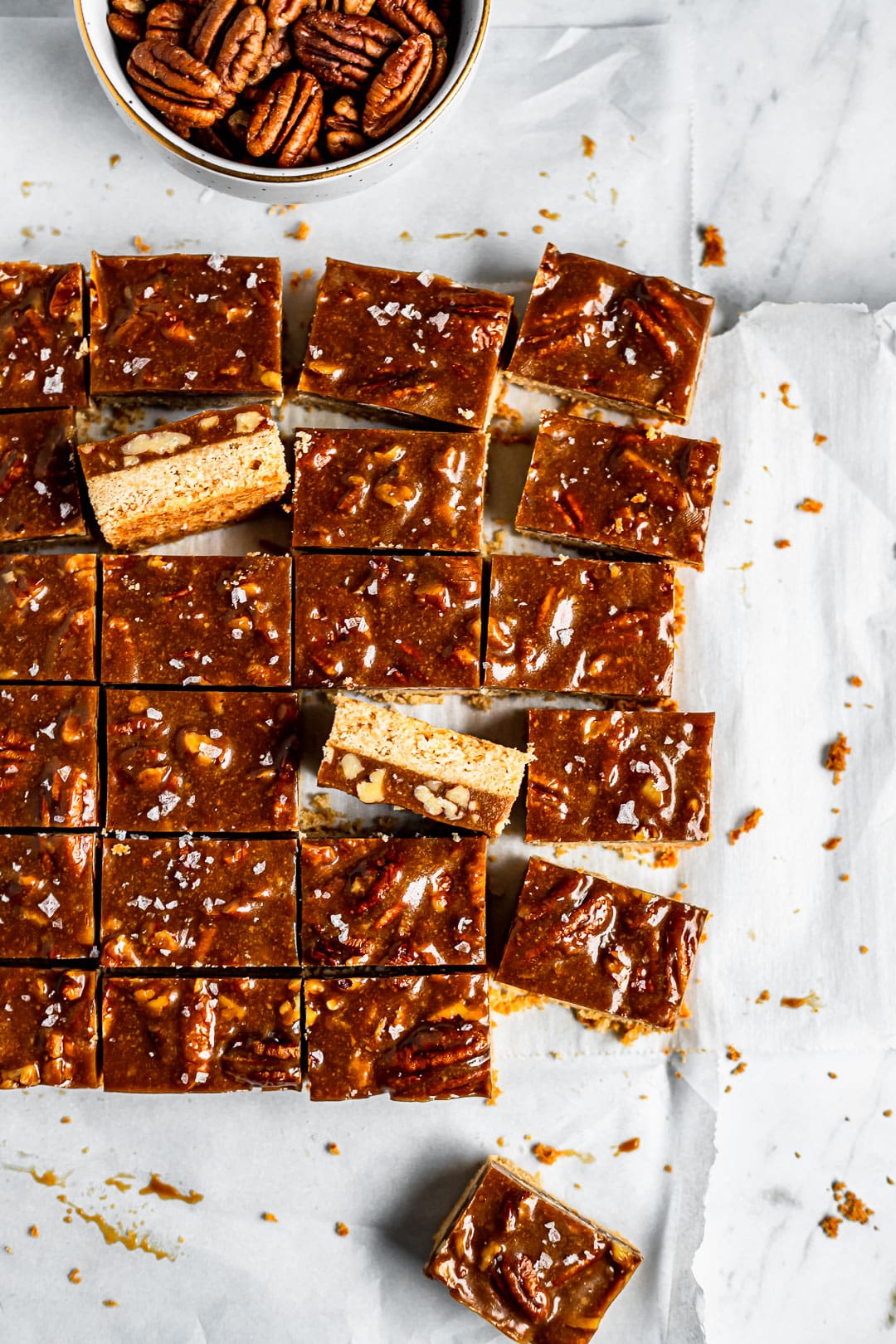 MORE BAR COOKIE RECIPES