This chocolate coffee mascarpone tart features a sweet shortcrust pastry (pâte sucrée), a rich layer of silky chocolate mascarpone, and a piped topping of just-sweet-enough coffee mascarpone. Dusted with a layer of cocoa powder, it hits all the key flavors of a tiramisu minus the sweet Marsala wine usually found in the dessert.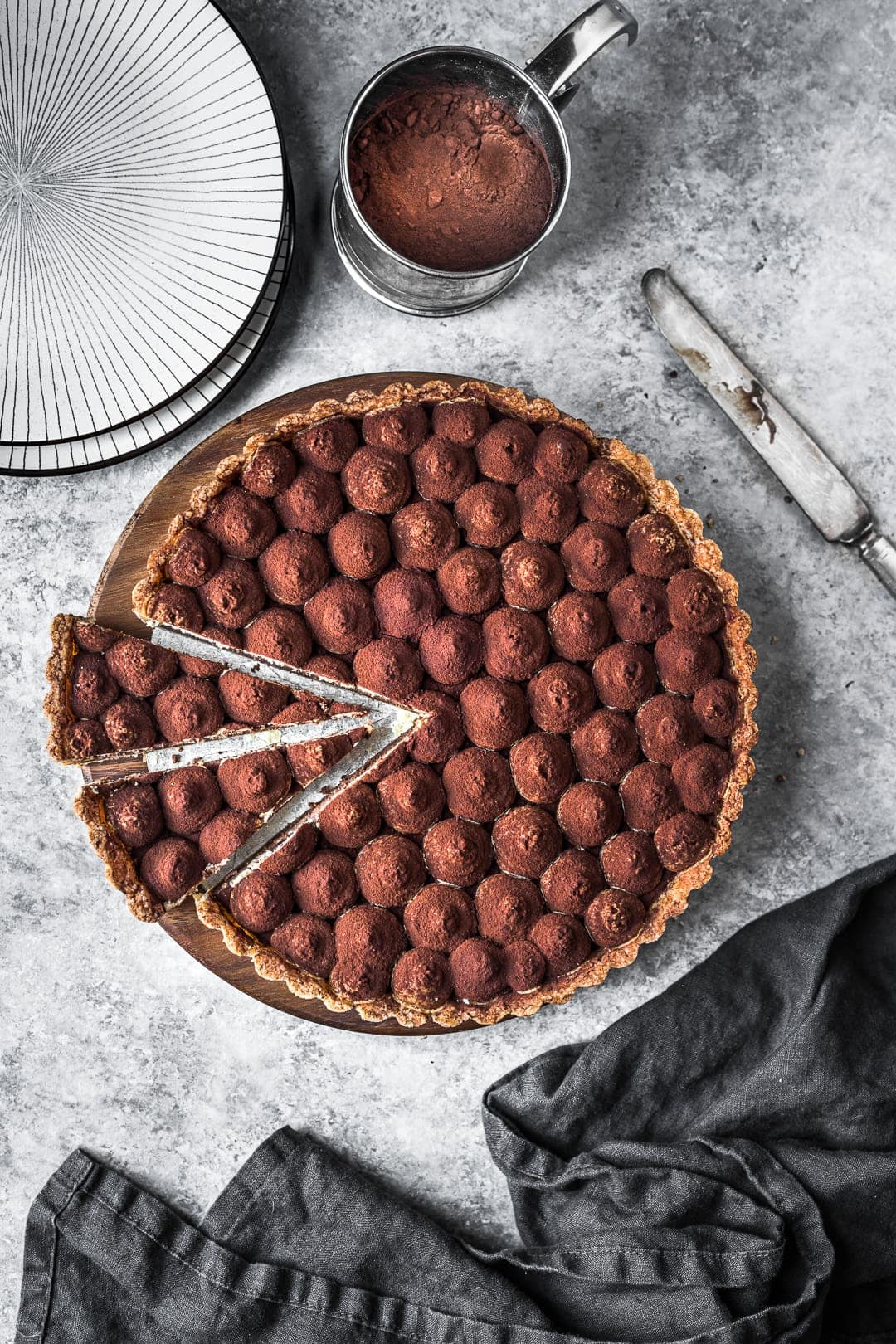 This espresso mascarpone chocolate tart was the happy third outcome of a late summer mascarpone cheese impulse buy. Earlier this summer I ended up with a 5 pound (2.2 kilo) tub of mascarpone cheese that I brought home on a whim from the restaurant supply store. The self induced pressure of using up that much soon-to-expire dairy led me to create a handful of desserts with mascarpone, including lemon mascarpone ice cream with currant swirl, and also honey blackberry mascarpone ice cream. You can find them both in the ice cream section of the blog.
I've also got recipes for blackberry poppy seed cake with a mascarpone frosting, and easy grilled peaches with mascarpone. (I told you I love this stuff.)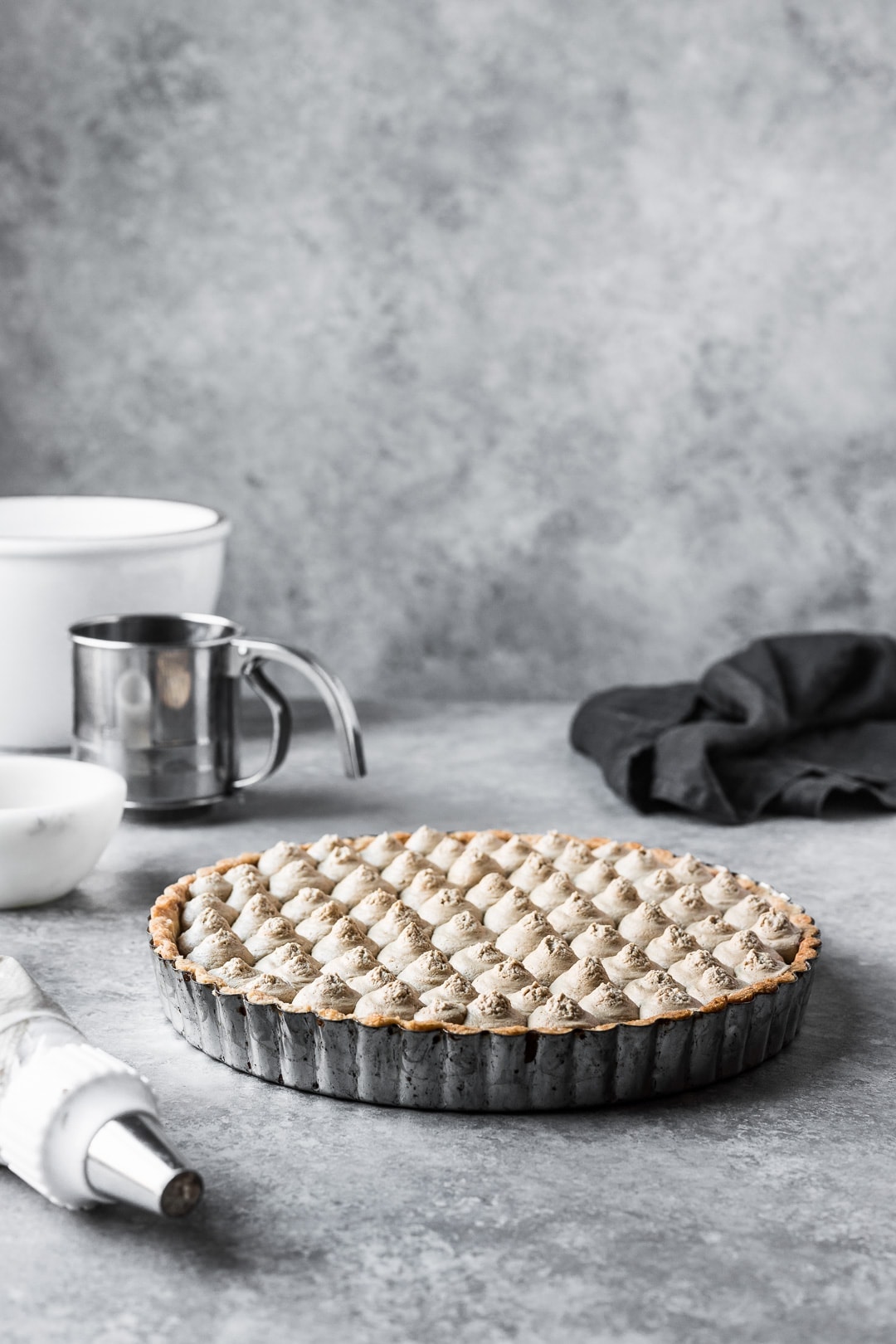 I think this is one of my favorite recipes to date. The combination of coffee and chocolate is such a classic pairing, and with good reason. They simply work so well together. The contrasting textures help make eating this tart a truly pleasurable sensory experience: there's the buttery crumb of the crust, the dense creamy chocolate layer, the airy whipped coffee mascarpone, and the powdery layer of cocoa on top.
If you can't get enough of the coffee mascarpone flavor combination, these chocolate coffee mascarpone sandwich cookies should be on your baking list too, along with these coffee cookies made with chopped chocolate covered espresso beans.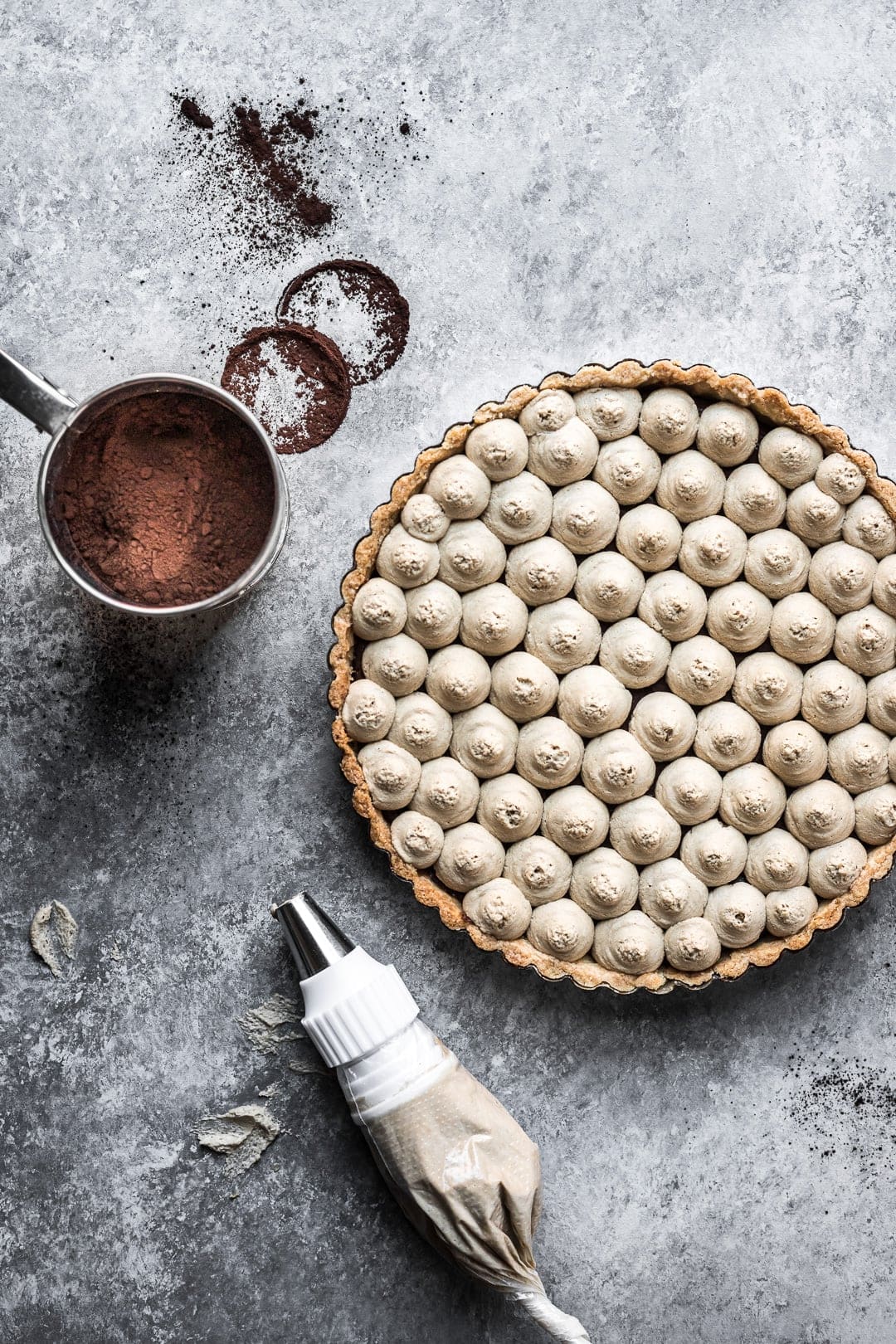 I bake so often that I usually end up sharing the majority with friends, family, neighbors and office colleagues. However, after I'd finished slicing and photographing this tart, I carefully wrapped it up and placed it in the very back of the fridge, behind the mayonnaise and pickles. There was no way I was giving it up. For an entire week, I'd sneak a slice when no one was looking. Not from any shame in eating it – because I had none – but simply so that I wouldn't have to share. The girls discovered it once, but I shooed them away due to the coffee content (probably not enough to affect them, but it was a convenient excuse).
So fair warning to you – this impressive chocolate coffee mascarpone tart is wonderful for a festive dinner with friends and family – but you'll be sad when it's gone. I used up the last of the vat of mascarpone cheese making this recipe. I'm already thinking I might need to buy another.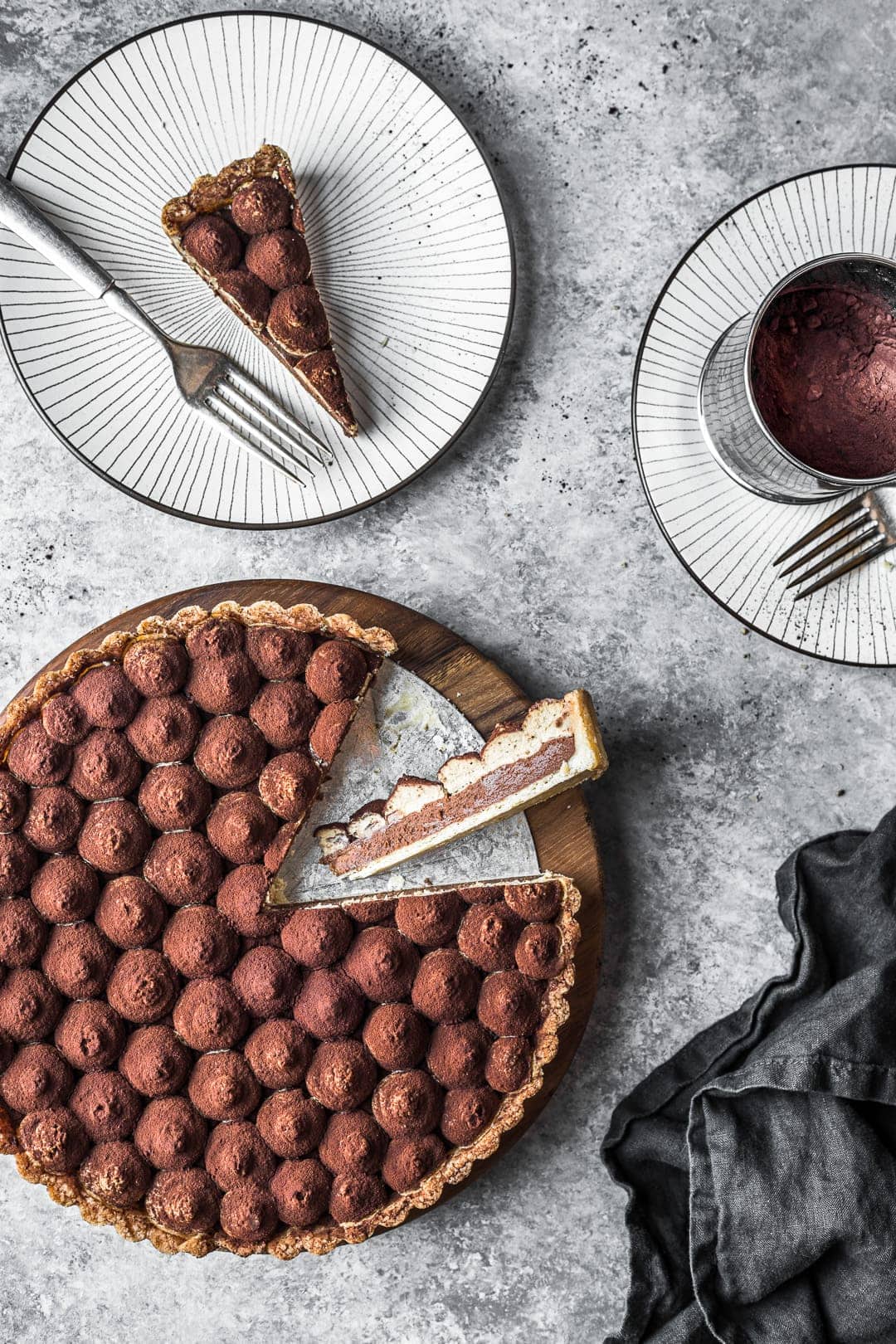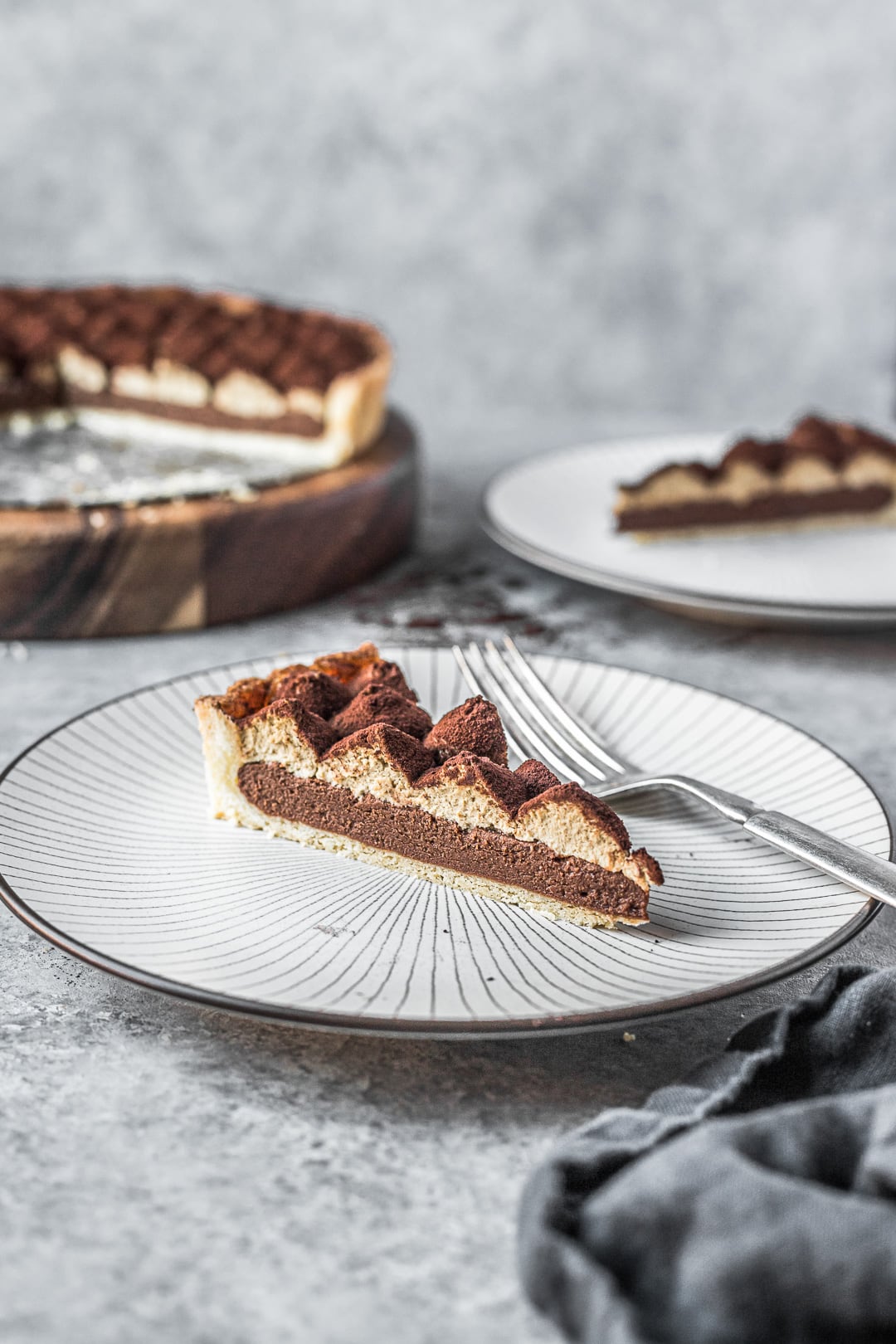 Recipe Notes
Make ahead - I wouldn't label this an "easy" recipe due to the amount of steps involved, but it's certainly doable! If you'd like to break the recipe up over several days, you can:
Make the pâte sucrée dough ahead of time, roll it out, place it in the tart pan (affiliate link), wrap well, and freeze it unbaked. This could be done several weeks in advance. No need to let it defrost before baking.
Blind-bake the tart shell a day in advance, let cool, then (while still in the tart pan) wrap tightly in plastic wrap to maintain freshness. Be careful - after baking it can be quite fragile.
Fill the baked tart shell with the chocolate mascarpone the day prior to serving, then cover with plastic wrap and refrigerate.
It's best to add the mascarpone coffee cream and cocoa powder the day you'll be making the dessert. This will maximize freshness and prevent the topping from being damaged by an accidental smoosh from plastic wrap or tin foil.
Espresso powder - I use instant espresso powder (affiliate link) to flavor the coffee mascarpone filling. It's far more concentrated than instant coffee. You can read more about instant espresso powder and its uses here. It's my go-to when baking with coffee.
Pâte Sucrée - For the tart shell, I used David Leite's excellent Pâte Sucrée recipe, which is an adaptation of a recipe from Joanne Chang of Flour Bakery in Boston. If you want to try a chocolate tart crust instead, feel free to substitute the chocolate sable dough from this Sour Cherry Chocolate Tart recipe.
Equipment
Items below contain affiliate links.
For my tart recipes, I use this nonstick carbon steel tart pan with a removable base.
To pipe the coffee mascarpone filling, I use a 16 inch pastry bag fitted with a large round metal piping tip. Here I used a Wilton 1A tip.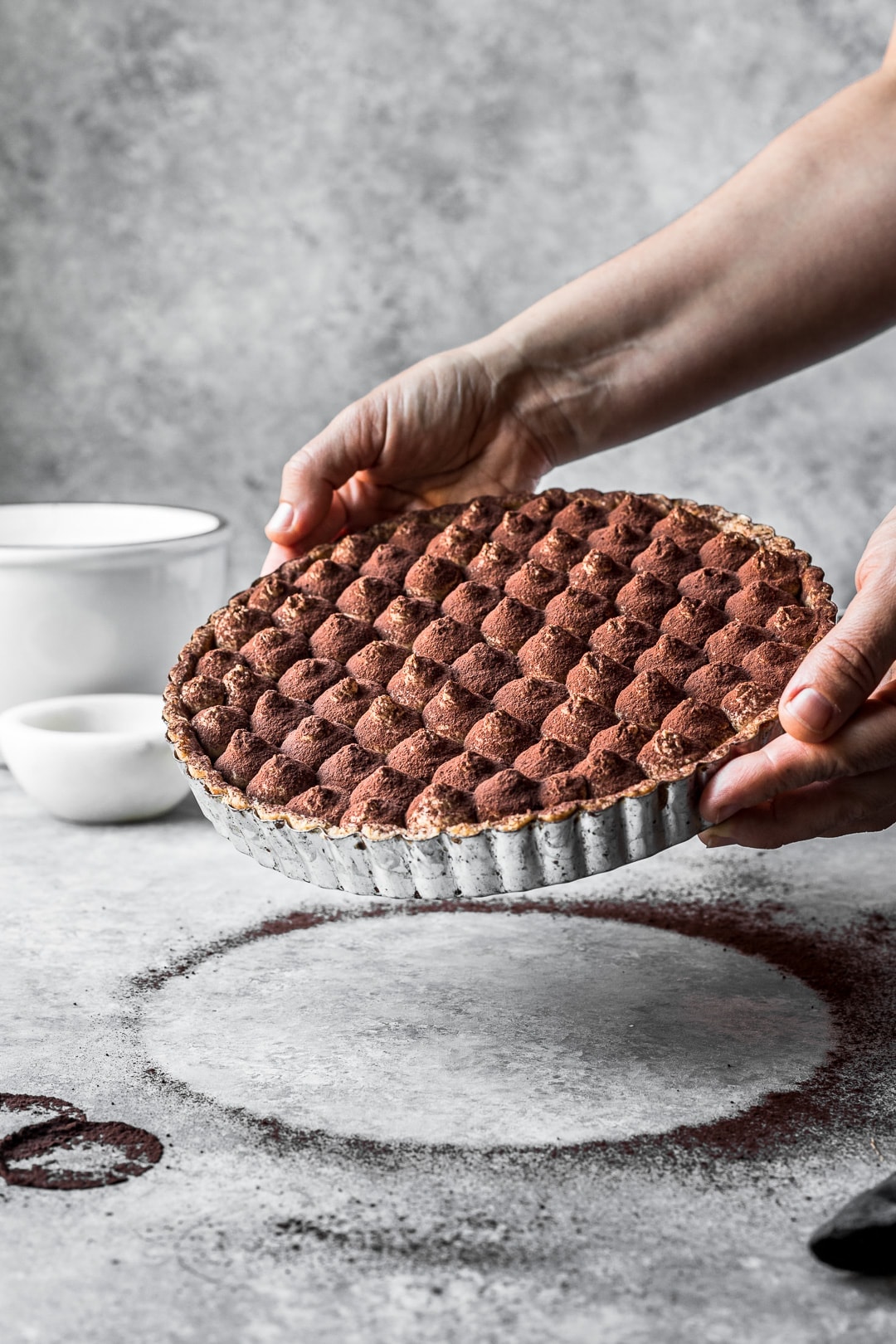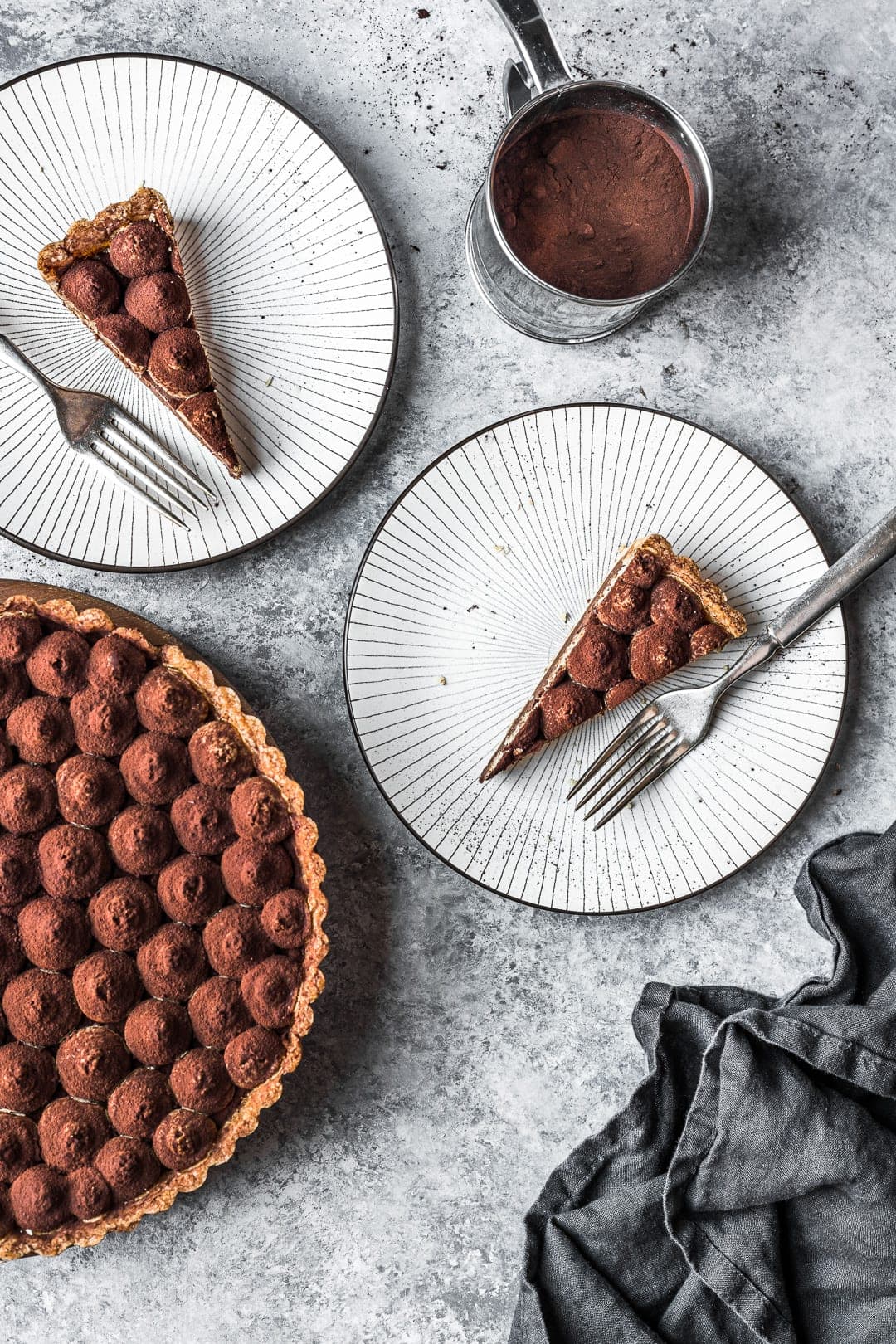 📖 Recipe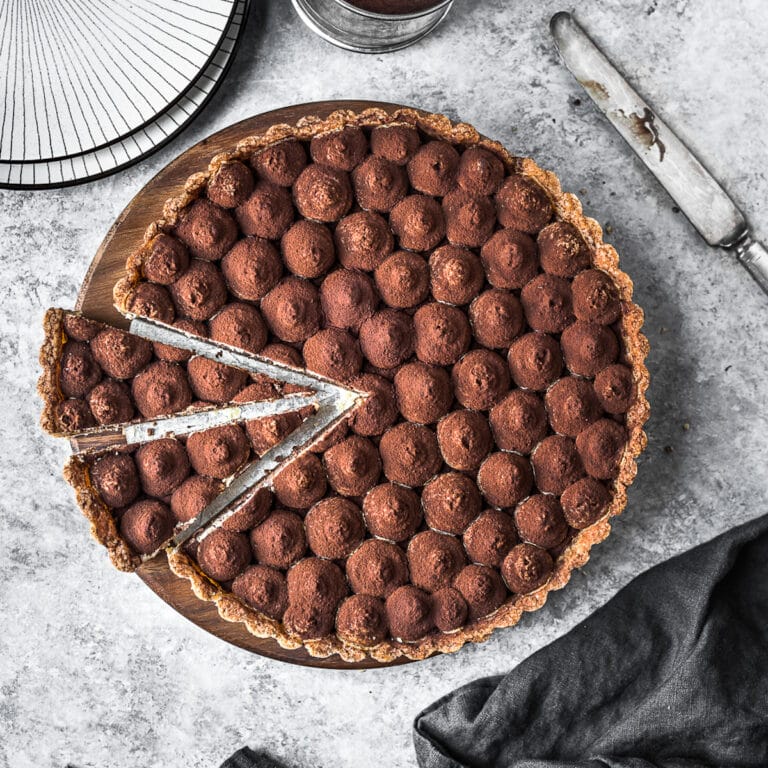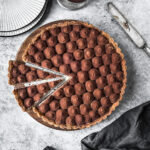 Chocolate Coffee Mascarpone Tart
Print Recipe
Pin Recipe
This tart features a sweet shortbread pâte sucrée crust, a rich layer of silky chocolate mascarpone, and a piped topping of just-sweet-enough coffee mascarpone. Dusted with a layer of cocoa powder, it's basically a tiramisu tart!
Servings
12
(makes a 9 inch tart)
INGREDIENTS
PATE SUCREE
½

cup (113g, 4 oz)

unsalted butter

room temperature

¼

cup (50g)

granulated sugar

½

teaspoon

kosher salt

1

cup (120g)

all purpose flour

1

egg yolk
CHOCOLATE MASCARPONE FILLING
6

oz (1 cup, 170g)

dark chocolate

finely chopped (I use a 72% cacao bar)

¼

cup (50g)

granulated sugar

2

teaspoon

vanilla extract

½

teaspoon

kosher salt

⅓

cup (2.6 oz)

heavy cream

¾

cup (168g, 6 oz)

mascarpone cheese

cold, from refrigerator
COFFEE MASCARPONE TOPPING
1

cup (224g, 8 oz)

mascarpone cheese

cold, from refrigerator

1

cup (8 oz)

heavy cream

¼

cup (50g)

granulated sugar

2 ½

teaspoons

espresso powder

¼ - ⅓

cup (25-33g)

cocoa powder

to dust on top
INSTRUCTIONS
PATE SUCREE
Into the bowl of a stand mixer fitted with the paddle attachment, add the butter, sugar and salt. Mix well to combine, and continue beating on medium high until mixture is pale and fluffy, about two minutes. Scrape down the sides of the bowl.

Add the flour and mix until just combined. Mixture will be coarse and grainy.

Add the egg yolk and mix for about 30 seconds. The dough should start to pull together into a ball.

Flatten the dough into a disc shape and wrap well with plastic wrap. Refrigerate for at least an hour.

Remove dough from refrigerator and let sit for 20-30 minutes to soften slightly. On a lightly floured surface, roll the dough out to a 10 inch diameter circle, making sure that it does not stick. Sprinkle a bit of flour on top of the dough and work surface as needed.

Carefully transfer dough to the 9 inch tart pan by rolling it over the rolling pin then lifting and unrolling it over the tin. Gently press the dough down into the pan while lifting up the sides, ensuring that no empty space remains between the dough and the pan. If any cracks or tears occur, patch with extra dough scraps. Trim the excess dough with a knife held parallel to your work surface to ensure the tart shell has a clean edge. Cover tart pan with plastic wrap and place in freezer to chill for 30+ minutes. (You can also stop at this stage if you need to break the steps up into multiple days).

Preheat oven to 350 degrees F (177 C, Gas number 4). Remove tart pan from freezer and cover the dough with a piece of parchment paper that you've crumpled up and then flattened back out. Fill with pie weights or dried beans (I use and reuse the latter) to keep the dough from bubbling up. Bake for 20 minutes and then carefully lift the weight-filled parchment from the pan. Return to the oven to bake an additional 10-15 minutes, until golden brown. Place on a baking rack to cool.
CHOCOLATE MASCARPONE FILLING
Combine chocolate, sugar, vanilla and salt in a medium mixing bowl. Heat heavy cream in microwave safe container in 30 second intervals until steaming. Pour cream over chocolate mixture and slowly whisk until all ingredients are blended and no lumps of chocolate remain. Add mascarpone and whisk until completely combined. Pour into cooled tart shell, smooth with an offset spatula if needed, and place in refrigerator to set.
COFFEE MASCARPONE TOPPING
Place mascarpone, heavy cream, and sugar into the bowl of a stand mixer fitted with the whisk attachment. In a very small bowl, mix espresso powder with ½ teaspoon water, stirring until fully dissolved. Add an additional ½ teaspoon water if necessary. Add espresso mixture to the mascarpone bowl.

Mix on medium speed just until firm peaks form and coffee mascarpone mixture holds its shape. Transfer mascarpone mixture to a 16 inch piping bag fitted with a large round tip (I used a Wilton 1A tip). Remove tart from fridge and use a toothpick to gently mark guidelines about every inch along the chocolate filling. Using the lines as reference, pipe rows of roughly quarter-sized circles of coffee mascarpone. Hold the bag straight up and down as you pipe. Continue until chocolate filling is completely covered with coffee mascarpone.

Place cocoa powder into a fine sieve or sifter. Gently tap the sieve while moving it over the tart to dust the top with cocoa. Adjust cocoa amount to your liking. I put a generous amount on top, completely covering the coffee mascarpone filling, and thought it made a good contrast to the sweeter elements.
The Floured Table
Recipe Author: Kathleen Culver
https://www.theflouredtable.com/chocolate-coffee-mascarpone-tart/
Made this recipe? Please leave a comment and a star review! ★★★★★
If you like this mascarpone filled chocolate coffee tart recipe, you might also enjoy these desserts: