This blackberry poppy seed cake is a celebration of late summer flavors, particularly blackberry and basil, which are growing in abundance in my garden (the basil, thankfully) and neighborhood at this time of year. This cake recipe features an easy, moist cake packed full of poppy seeds, with alternating layers of vibrant purple blackberry basil jam and a lightly sweetened mascarpone cream frosting. I've dressed it up with a delicate caramel sauce drip and a fruit crown of late summer bounty.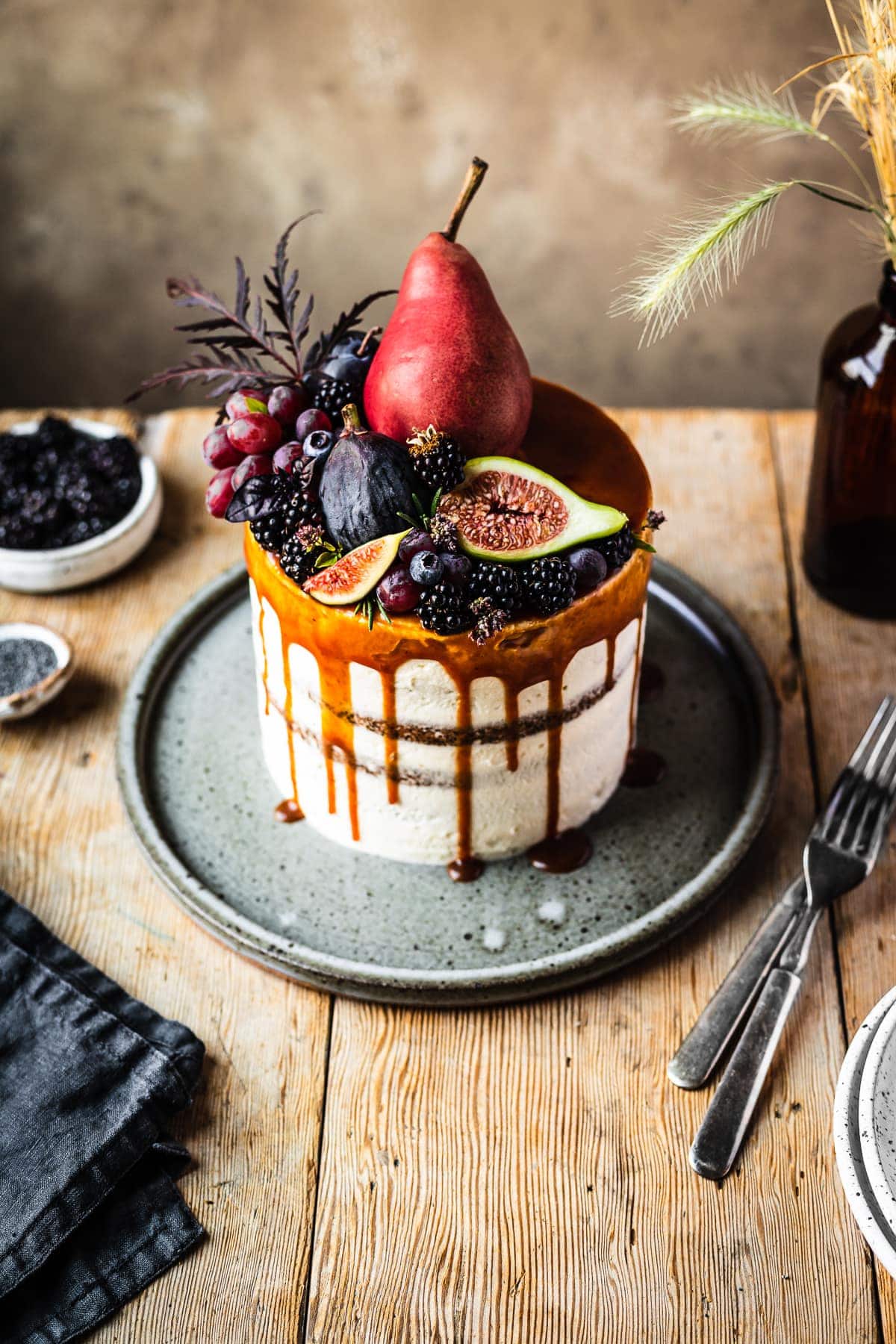 The origins of this jam filled cake recipe
I've been wanting to make a cake like this ever since seeing a scroll-stopping cross section of a similar cake on Instagram from the delight inducing Seattle cake shop, Deep Sea Sugar & Salt. Their version used a black currant blackberry jam and cream cheese frosting, but I had a vat of mascarpone in the fridge again, and a small forest of basil growing in our raised garden beds out front. I went over the top and added a caramel sauce drip and some seasonal late summer fruit as decoration. I loved the visual drama of deep purple blackberries, figs, and blueberries, and thought it played well with the golden glow of the caramel sauce.
The glorious combination of sweet, acidic blackberries and creamy mascarpone is one I discovered a few summers ago. I put together a honey blackberry mascarpone ice cream during my race to use up another 5 pound container of mascarpone cheese. (I also made this chocolate coffee mascarpone tart, and this lemon mascarpone ice cream with a red currant swirl)
And for other cake recipes with jam, there's my brown sugar cake with rhubarb compote and creme fraiche buttercream.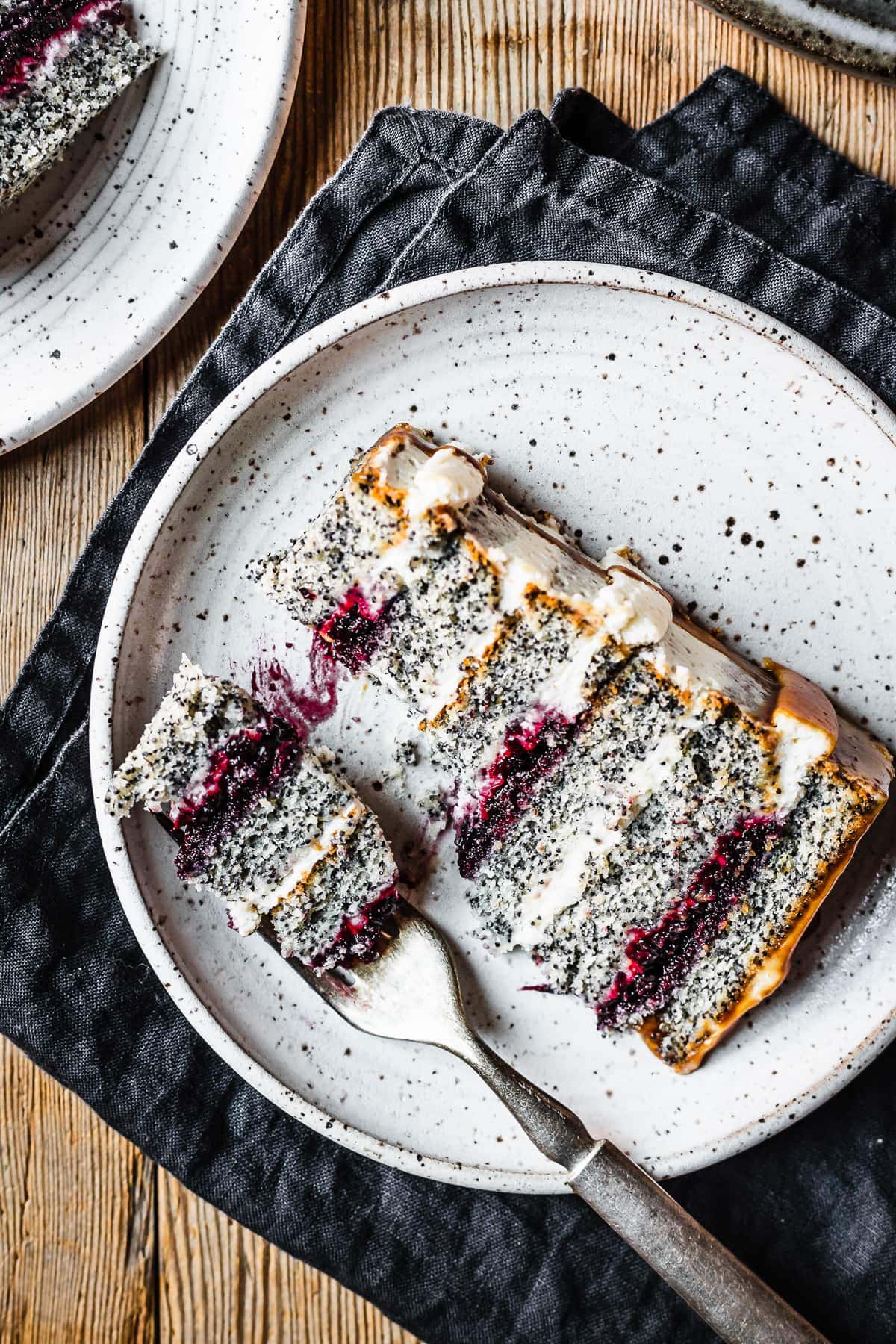 Blackberry poppy seed layer cake with mascarpone cream frosting
The poppy seed cake is my adaptation of a well loved poppy seed loaf cake published in the NY Times. It's filled to the brim with poppy seeds soaked in warm milk to tenderize their tough outer shell and release extra flavor. It's delicate, moist and has a slightly nutty flavor and fun textural crunch that is a nice foil for the creamy mascarpone.
The blackberry basil jam is an easy recipe that pairs two classic summer flavors into a deliciously sweet and sharp combination. The spicy flavor of Genovese Basil tempers the jam's sweetness and keeps it all from being cloying.
And there's the mascarpone, a delightfully adaptable ingredient with a wide range of uses that can swing either sweet or savory. Here I've used it in a lightly sweetened mascarpone cream frosting to which I've added a bit of vanilla and almond extract. Whipped with heavy cream, it thickens beautifully, creating the delight sometimes known as chantilly mascarpone. Mascarpone icing is wonderfully easy to spread on the cake layers, pipe as a dam to keep the jam from escaping, and cover the cake's exterior with a minimal naked look.
I dripped a whisper thin layer of caramel sauce over the cake to add a golden touch and nice notes of deeply toasted sugar. The fresh fruit piled atop the cake echoes the notes of late summer present in the flavors, and provides a simple, minimal decoration. Bonus - edible cake decorations!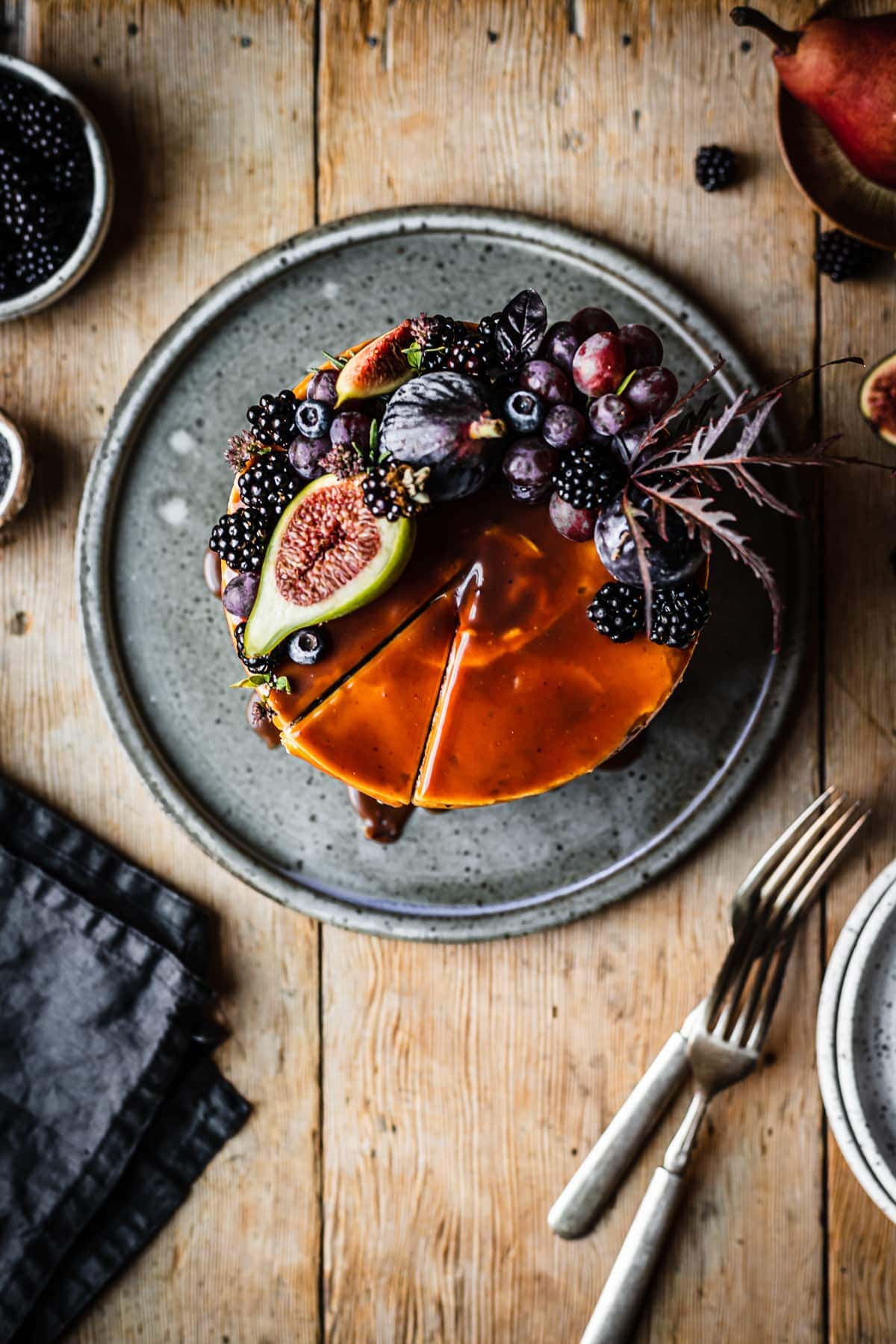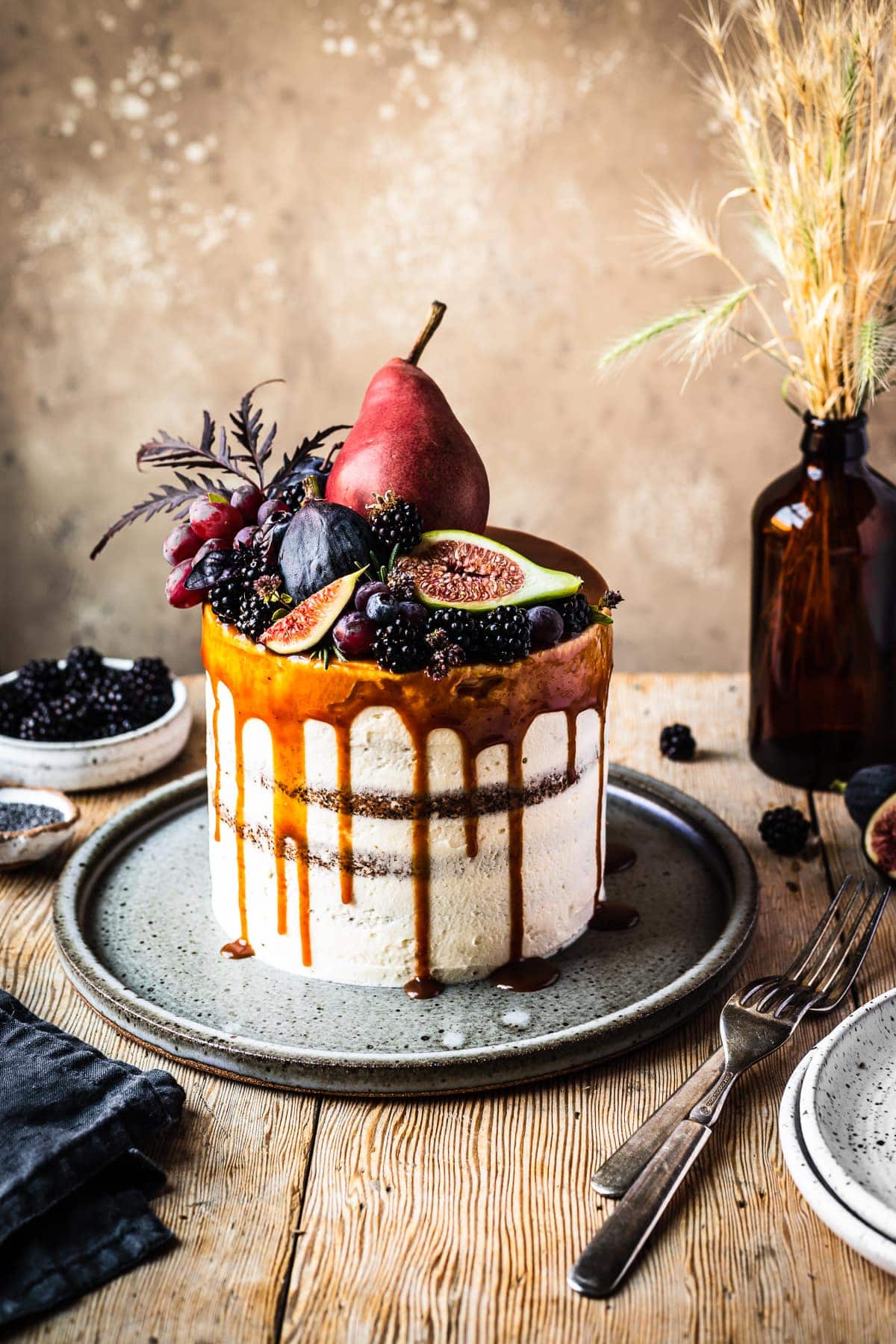 Frequently Asked Questions
Can I make this cake with a different jam?
Yes! You can certainly use your own preferred jam for cake filling. You'll probably need about 1 cup of jam for the filling. I do really think you should try this recipe for blackberry jam with basil, though! It has amazing flavor and is quite easy to put together. It's one of the standout parts of the cake for me.
Why are the cake layers added upside down?
This cake is made up of three 6 inch cakes that are torted (divided in half horizontally) into a total of 6 layers. Each layer ends up having a smooth, exterior side and an exposed, crumb filled interior side. To minimize crumbs in the frosting and make spreading the mascarpone cream easier, add each cake layer with the cut side down. This creates a smoother surface with less crumbs exposed.
Can this cake be stored at room temperature?
Since the frosting includes a fair amount of heavy cream and mascarpone, I recommend storing the cake in the refrigerator if it's not going to be served within an hour or two. Allow enough time for the cake to come to room temperature before serving, however! The flavor and texture of a cake made with butter, such as this one, is always best at room temperature.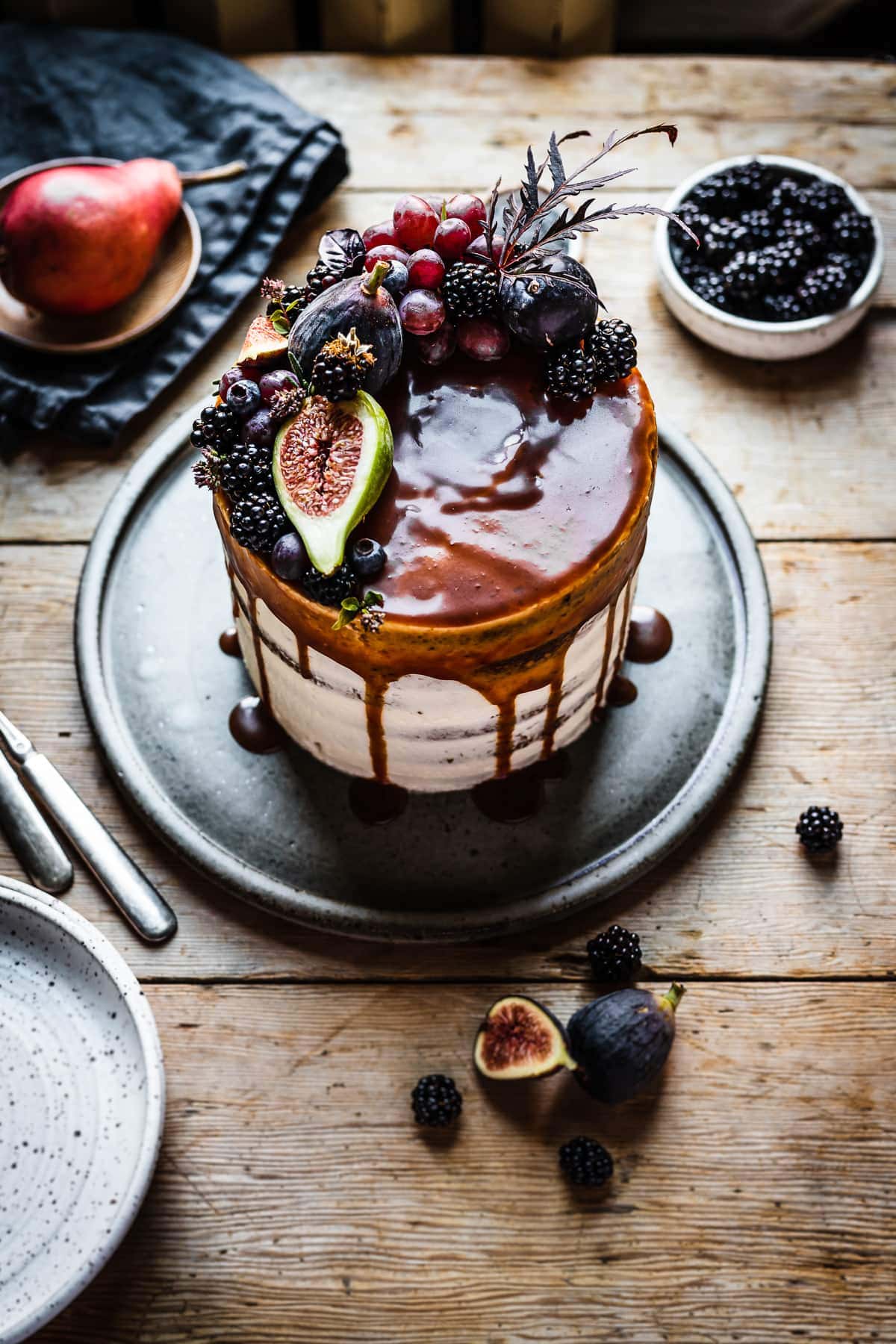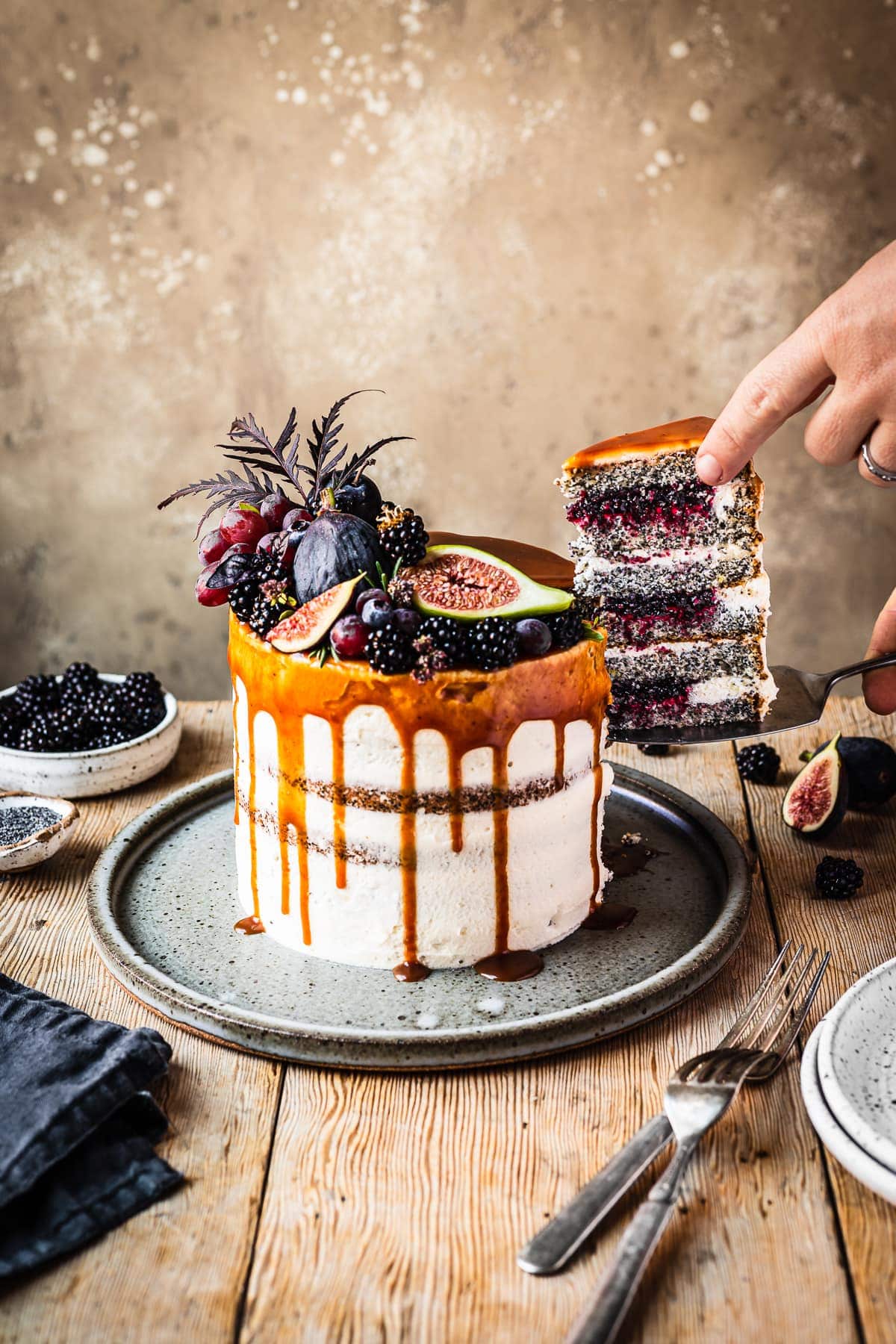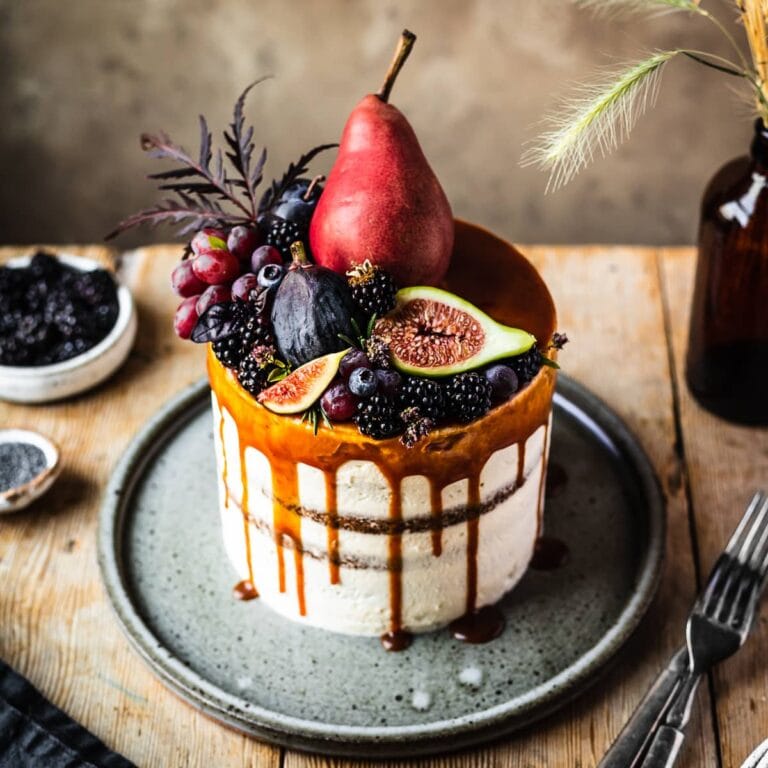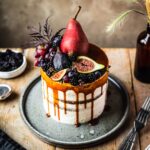 Blackberry Poppy Seed Layer Cake
Print Recipe
Pin Recipe
A delicious layer cake packed full of poppy seeds, with the late summer flavors of blackberry basil jam and a lightly sweetened mascarpone cream frosting. Topped with a delicate caramel sauce drip and a dramatic fruit crown of summer's bounty.
Servings
12
servings (6" cake with 3 layers, torted into 6)
INGREDIENTS
POPPY SEED LAYER CAKE
100

grams (¾ cup)

poppy seeds

250

mL (1 cup)

whole milk

240

grams (2 cups)

all purpose flour

2 ½

teaspoons

baking powder

½

teaspoon

kosher salt

226

grams (1 cup, 8 ounces)

unsalted butter, room temperature, cubed

200

grams (1 cup)

granulated sugar

3

large

eggs, room temperature

2

teaspoons

vanilla extract

½

teaspoon

almond extract

lemon zest (from 1 medium lemon)
BLACKBERRY BASIL JAM
525

grams (3 cups)

fresh blackberries

14

grams (½ oz, ¾ cups loosely packed)

fresh basil leaves

1

Tablespoon

lemon juice, freshly squeezed

100

grams (½ cup)

granulated sugar
MASCARPONE CREAM FROSTING
226

grams (8 oz, 1 cup)

mascarpone cheese, chilled

2

teaspoons

vanilla extract

¼

teaspoon

almond extract

220

grams (1 cup)

powdered sugar, sifted

250

mL (1 cup)

heavy whipping cream, chilled
CARAMEL SAUCE
200

grams (1 cup)

granulated sugar

60

mL (¼ cup)

water

125

mL (½ cup)

heavy whipping cream, warm

28

grams (2 Tablespoons)

unsalted butter

1

teaspoon

vanilla extract

½

teaspoon

kosher salt

2

teaspoons

blackberry liqueur, such as creme de mure (optional)
LATE SUMMER FRUITS FOR DECORATION
Seasonal fruit such as pears, figs, plums, blackberries and blueberries.

Basil leaves and other floral additions as appropriate (make sure they are edible and/or food safe!)
INSTRUCTIONS
POPPY SEED LAYER CAKE
Preheat oven to 350° Fahrenheit (177° Celsius, Gas Mark 4)

Grease three 6" cake pans and cut circles of parchment paper to place in the bottom of each pan.

In a 1 quart saucepan, warm the milk and poppy seeds over medium heat until the mixture comes to a boil. Remove from heat and set aside to cool.

In a medium bowl, blend the flour, baking powder and salt with a whisk. Set aside.

Into the bowl of a stand mixer fitted with the paddle attachment, add the butter and granulated sugar. Mix until light and fluffy. Add the eggs one at a time and mix well between each addition. Scrape down the sides of the bowl. Add the vanilla and almond extracts, and the lemon zest. Mix until incorporated.

Add half of the flour mixture to the bowl and beat until just combined. Add the poppy seed and milk mixture and beat until smooth. Add the remainder of the flour and mix well. Scrape the bowl with a spatula to ensure there is no unmixed flour at the bottom.

Pour the cake batter evenly between the three pans. I use my kitchen scale to ensure that the layers are similar in weight.

Bake for 23-25 minutes, until cake begins to pull away from sides of pan and a toothpick inserted into the center comes out with no crumbs.

Cool in pans for 10 minutes and then flip onto a metal cooling rack and remove the parchment paper. Cool completely before torting the layers.

To torte the layers, divide each cake layer into two thinner rounds by slicing carefully in half horizontally with a sharp serrated knife. This will result in 6 cake layers.
BLACKBERRY BASIL JAM
Yield: 1.5 cups (375 mL) blackberry basil jam, enough to use between cake layers with some extra to spare.

Place half of the blackberries in a fine mesh strainer over a bowl. Press berries thoroughly to extract as much juice as possible. Be thorough and patient with this step - you'll be surprised how much juice you will get if you work at it for a while. Discard the strained blackberry seeds.

Place the strained blackberry liquid into a blender with the basil leaves and lemon juice. Blend until smooth.

Into a 3 quart saucepan place the remainder of the blackberries and the sugar. Using a potato masher or the back of a spoon, mash until the berries release their juices and have become saucy. Add the blended blackberry basil mixture and mix well. Cook over medium heat, stirring from time to time to keep the foam down, until mixture has gelled and thickened to a jam-like consistency. Cook time varies depending on your berries, stove temperature, etc. It should take around 20-25 minutes. To test, place a teaspoon of jam into the freezer on a chilled plate - if it remains thick and the juices don't run when tilted, it's ready. Set aside to cool. If making ahead, transfer into lidded mason jars and store in the fridge for up to a month.
MASCARPONE CREAM FROSTING
Yield - 3 cups, enough for a thin application between each of the 6 torted cake layers, as a dam for the blackberry basil jam, and to coat the exterior of the cake in a naked cake style.

In the bowl of a stand mixer fitted with the whisk attachment, combine the chilled mascarpone, vanilla extract, almond extract and powdered sugar. Beat on medium speed until mixed. Scrape down the sides of the bowl. Increase speed to high and beat for 1 minute or so, until light and fluffy. Be careful not to mix too much, as mascarpone is sensitive and can turn grainy when overmixed.

Turn the mixer to high and stream in the heavy whipping cream. Beat for another minute or two, until the mixture is thick and fluffy and can stand up on its own. It should have the consistency of stiff shaving cream. If it's at all runny, whip further. Stop once you've achieved a thick consistency (again, overmixing cream mascarpone can cause graininess and a curdled texture.)
CARAMEL SAUCE
Yield - about 2 cups of caramel sauce. I find it's easier to make in this quantity than in smaller batches (it lasts a good long while in the fridge). Feel free to reduce - you'll only need about a quarter this much for the caramel drip.

In a large, heavy shallow saucepan, add the sugar and water. Cook over medium heat, without stirring, until the color of the sugar mixture is a light copper brown. Quickly remove from heat. Whisking constantly, slowly pour the heavy cream into the hot sugar mixture - be careful as it might sizzle and foam at the beginning.

Continue to whisk until the cream is completely incorporated and the sauce is smooth. Add the butter, vanilla and salt. Stir until butter is melted and mixed in. If including, now whisk in the the blackberry liqueur. Set aside to cool.

Extra portions can be placed in an airtight container in the refrigerator.
CAKE ASSEMBLY
Place the first of the six torted cake layers onto a serving platter, cut side down. Spread a layer of mascarpone frosting onto the entire layer. Using a piping bag with a large round open tip* (I used a Wilton 1A tip), pipe a circle of frosting around the outside border of the cake, closing it completely. This will create a barrier to prevent the jam from leaking out the sides. Using a spoon, fill the center with jam. There will be three total layers of jam, so portion accordingly. You may have some leftover.

* Other alternatives include a piping bag with a simple cut opening or a heavy ziploc bag with a corner cut off.

Cover with the 2nd layer of cake, cut side down. Press down gently and check the level with each addition. Add a layer of mascarpone, but do not pipe a dam or add jam. Cover with the 3rd layer of cake, cut side down. Repeat the mascarpone, piped border, and jam. Cover with the 4th layer of cake, cut side down. Add another layer of mascarpone, but do not pipe a dam or add jam. Cover with the 5th layer of cake, cut side down. Repeat the mascarpone, piped border, and jam. Cover with the 6th and final layer of cake, cut side down.

Using an offset spatula and a bench scraper, cover top and sides of cake with the remaining mascarpone frosting. To achieve the naked look, apply a thinner amount and use a bench scraper or cake spatula to expose a bit of the cake underneath. If you have a cake turntable or a lazy suzan you can place the platter on, it will make this process much easier.

Refrigerate for 30 minutes minimum before adding caramel drip. Test the consistency of your caramel drip by doing a practice run on an upside down quart mason jar or similar container. Your caramel should be at room temperature. If too warm, it will run down the sides too quickly and puddle at the bottom of your cake. Chilling the cake will help control the drip.

To add the caramel drip, pour enough caramel onto the cake to cover the top. Using a mini offset spatula, gently push a bit of the caramel over the edge in a sweeping motion, following the curve of the cake. This should create a waterfall effect that will push the caramel over the edge into drips. Add additional caramel where needed to create extra drip. Chill cake for an additional 30 minutes to help caramel set before adding fruit decoration.

For fruit decoration, add the larger fruits first, and then layer in the smaller bits as you go. I chose to form the fruit into a crescent shape. To keep the pear upright, I placed a toothpick halfway into the cake and poked the pear into it. I used a red pear, a green fig cut in two, some purple figs, a few very small Italian plums, blackberries, and blueberries. I also added purple basil and a beautiful purple Japanese maple leaf. Have fun with the decoration!
Made this recipe?
Please leave a comment and a star review! Share it on Instagram with
@theflouredtable and #theflouredtable.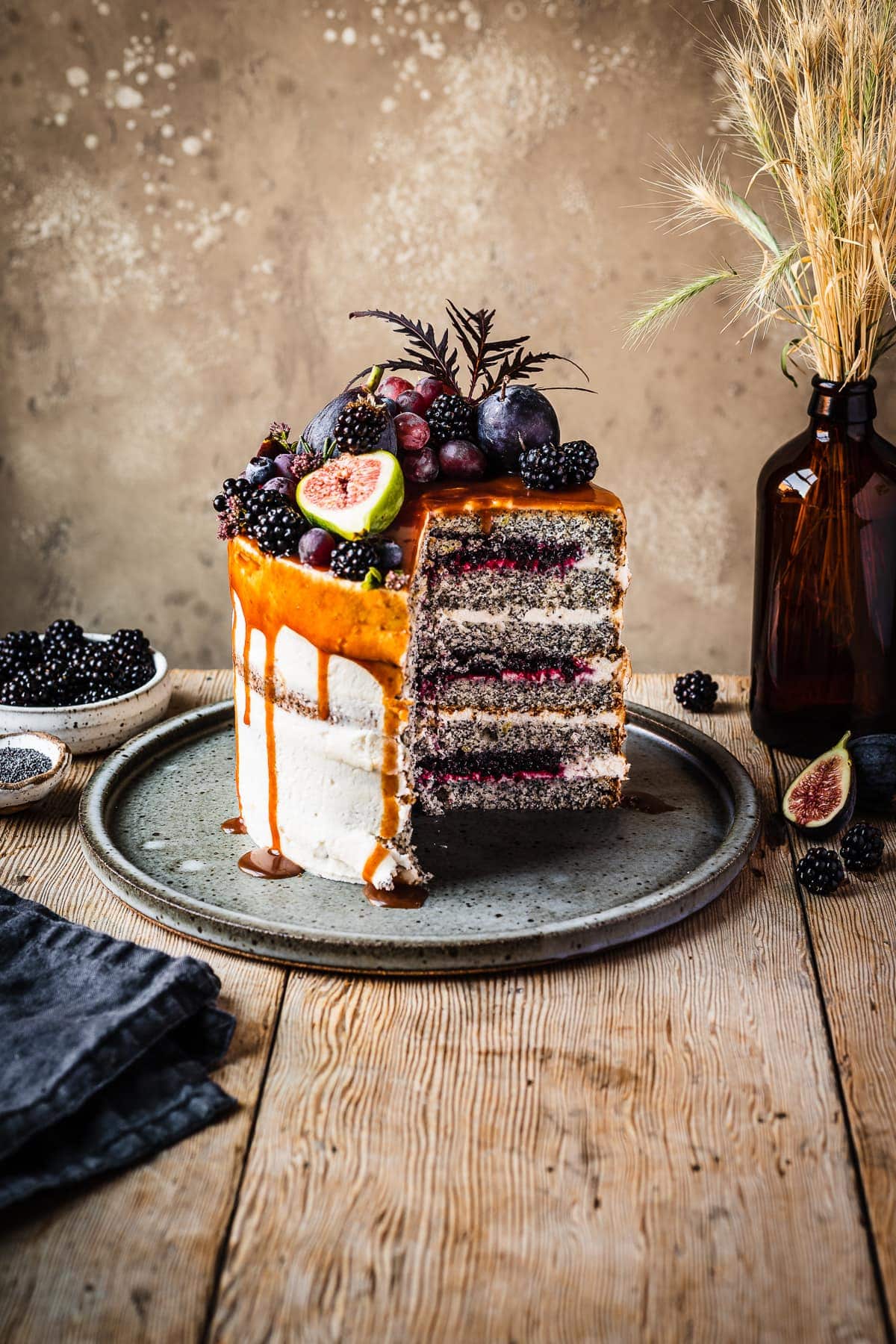 More Late Summer Recipes
If you liked this blackberry poppy seed fruit decorated cake, you might also enjoy these recipes: