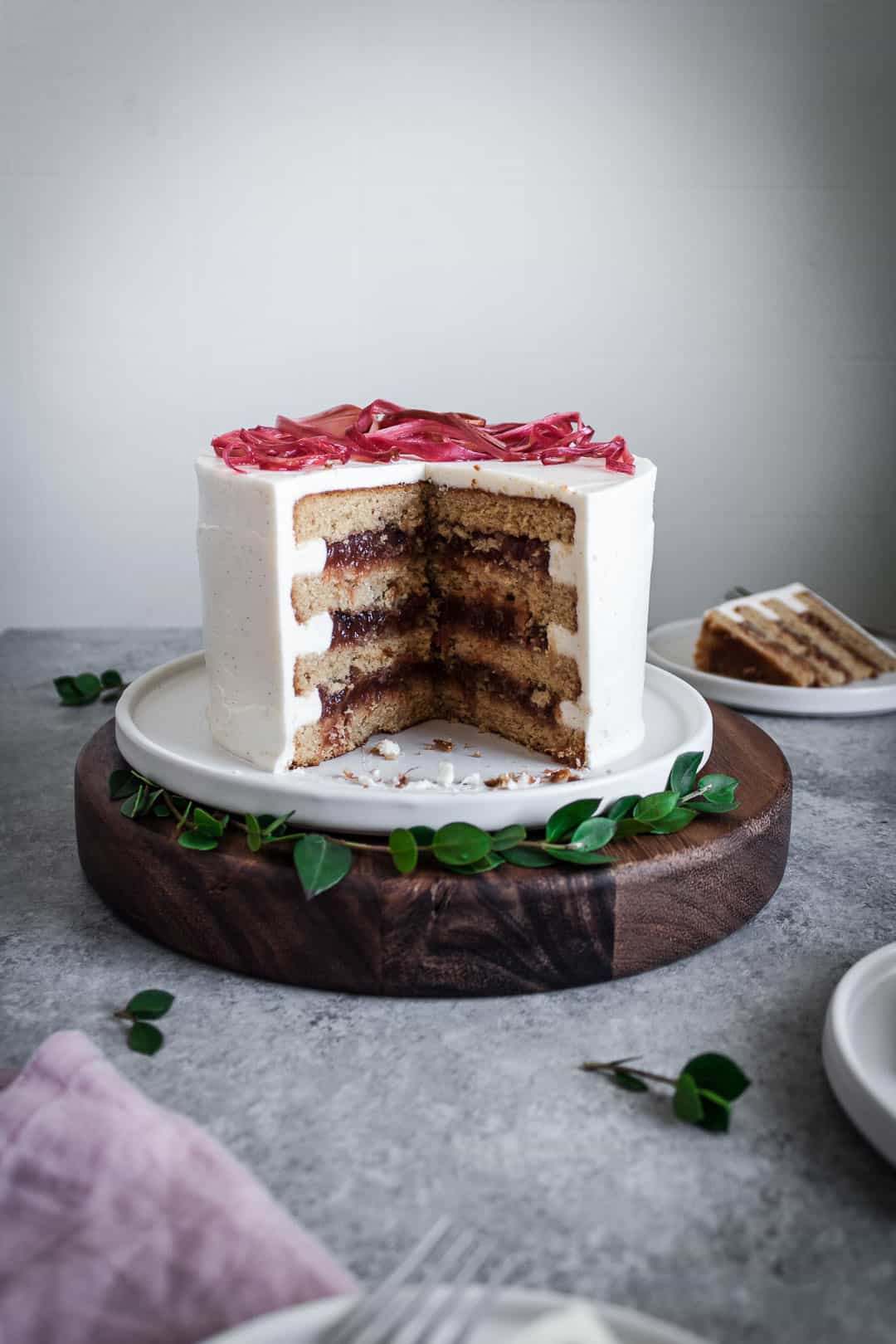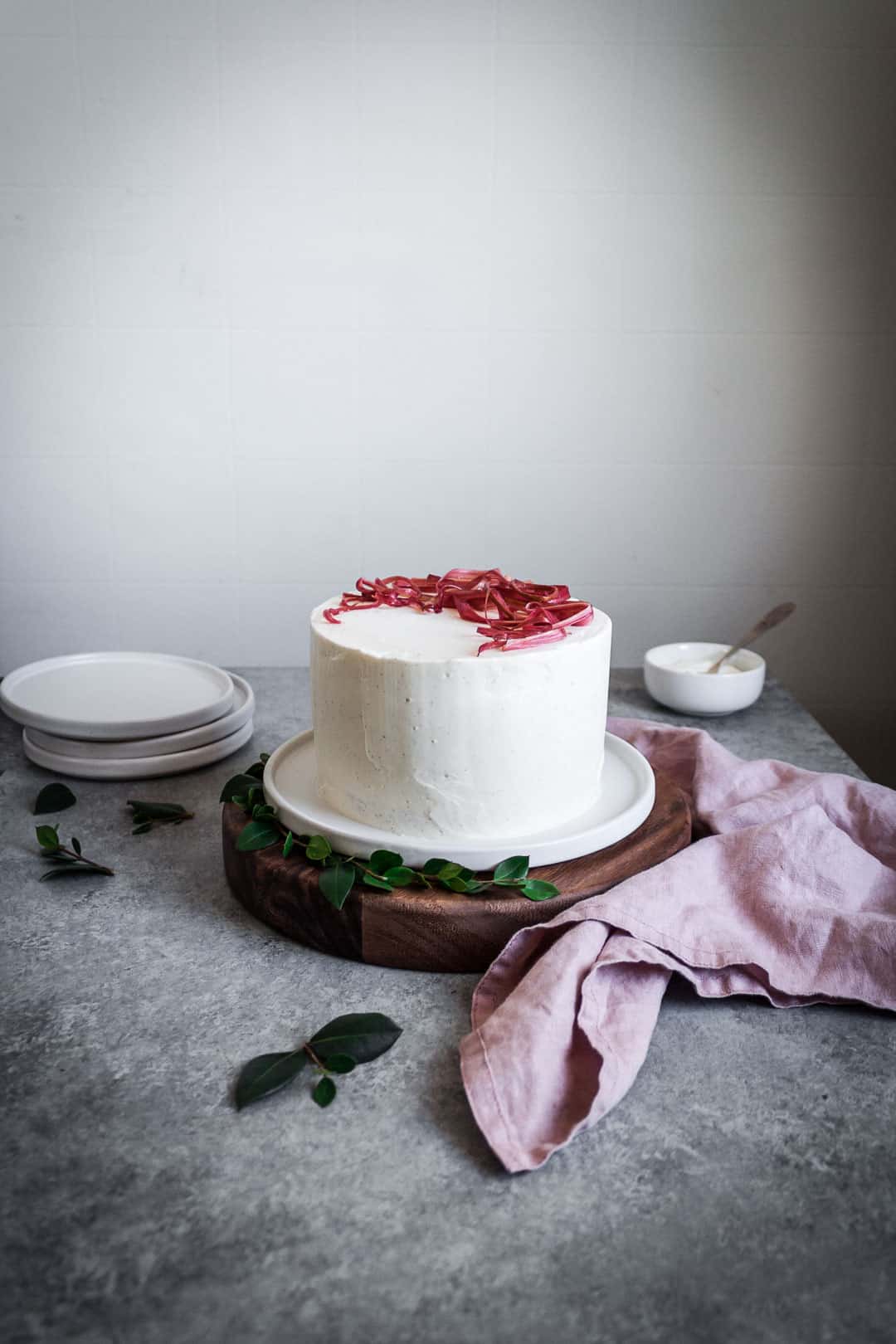 Infinitely variable and endlessly delicious. Brown sugar cake + an easy compote of whatever fruit you have on hand (or even jam!) + creme fraiche buttercream = a lovely cake that you can customize to what's available locally, in season, and makes your palate sing. Here I've sandwiched the golden cake layers with a rhubarb compote, because I first made this in May when the teetering pile of rhubarb in my fridge threatened to tumble out every time I opened the door.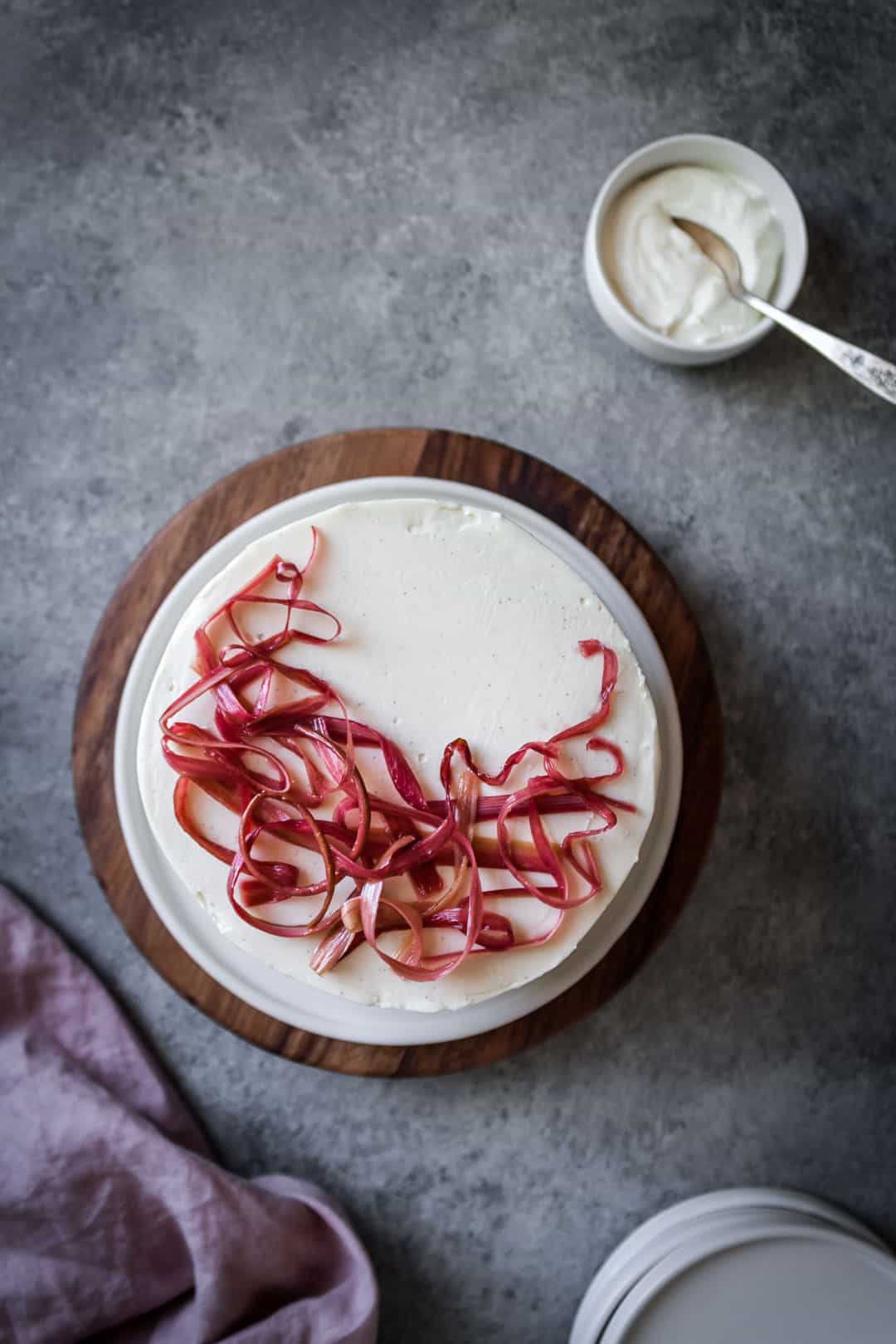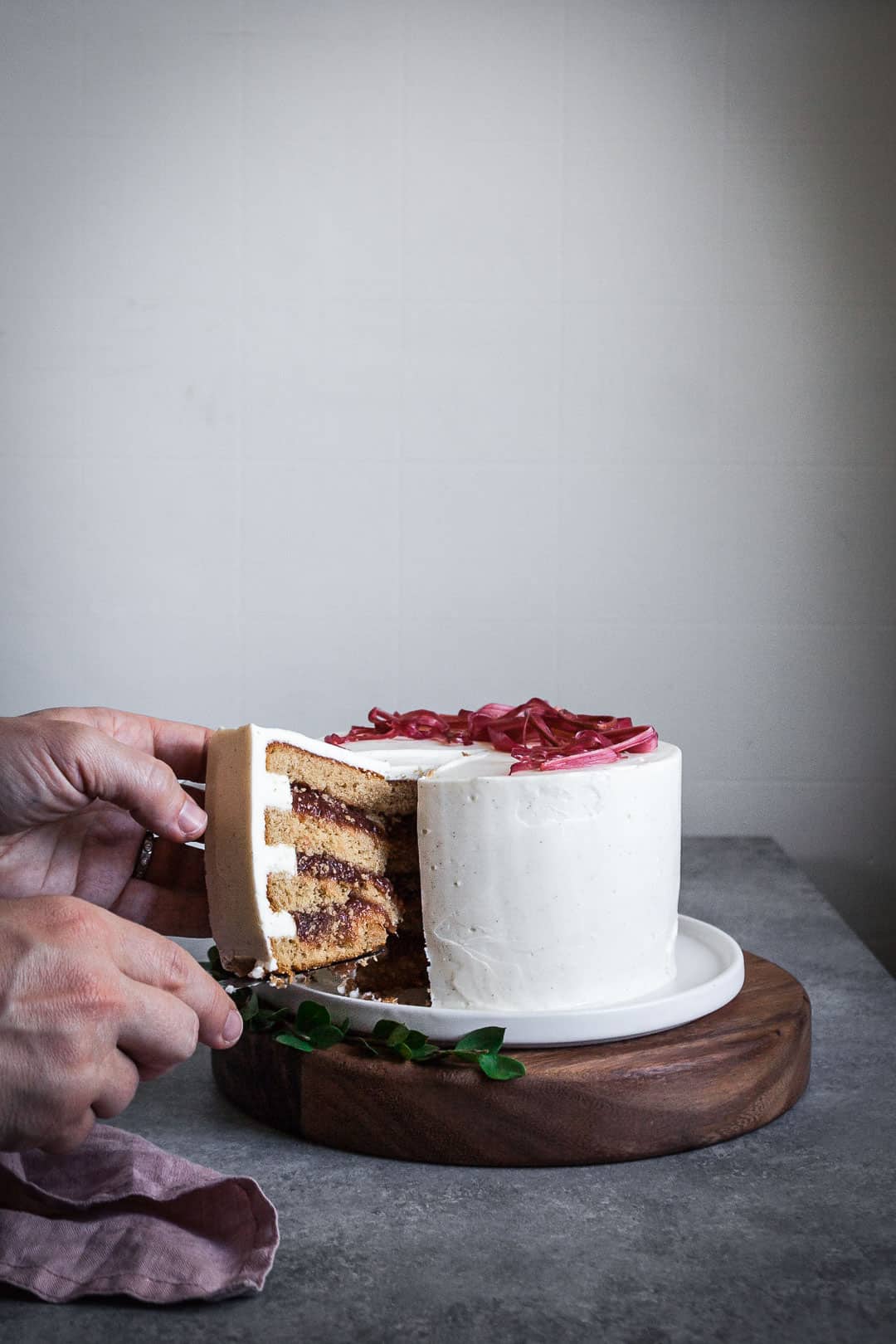 Now that I suddenly and somewhat shockingly find myself in mid-July, I'm already dreaming about a new rendition filled with a summery peach compote. And if time is short or you can't bear the oven and the stovetop in the heat, a pot of jam could easily take the place of the compote. Perhaps blackberry, or strawberry. See? Endlessly adaptable. Brown sugar and the tang of creme fraiche are truly excellent companions for most fruits. And now I've just thought of figs...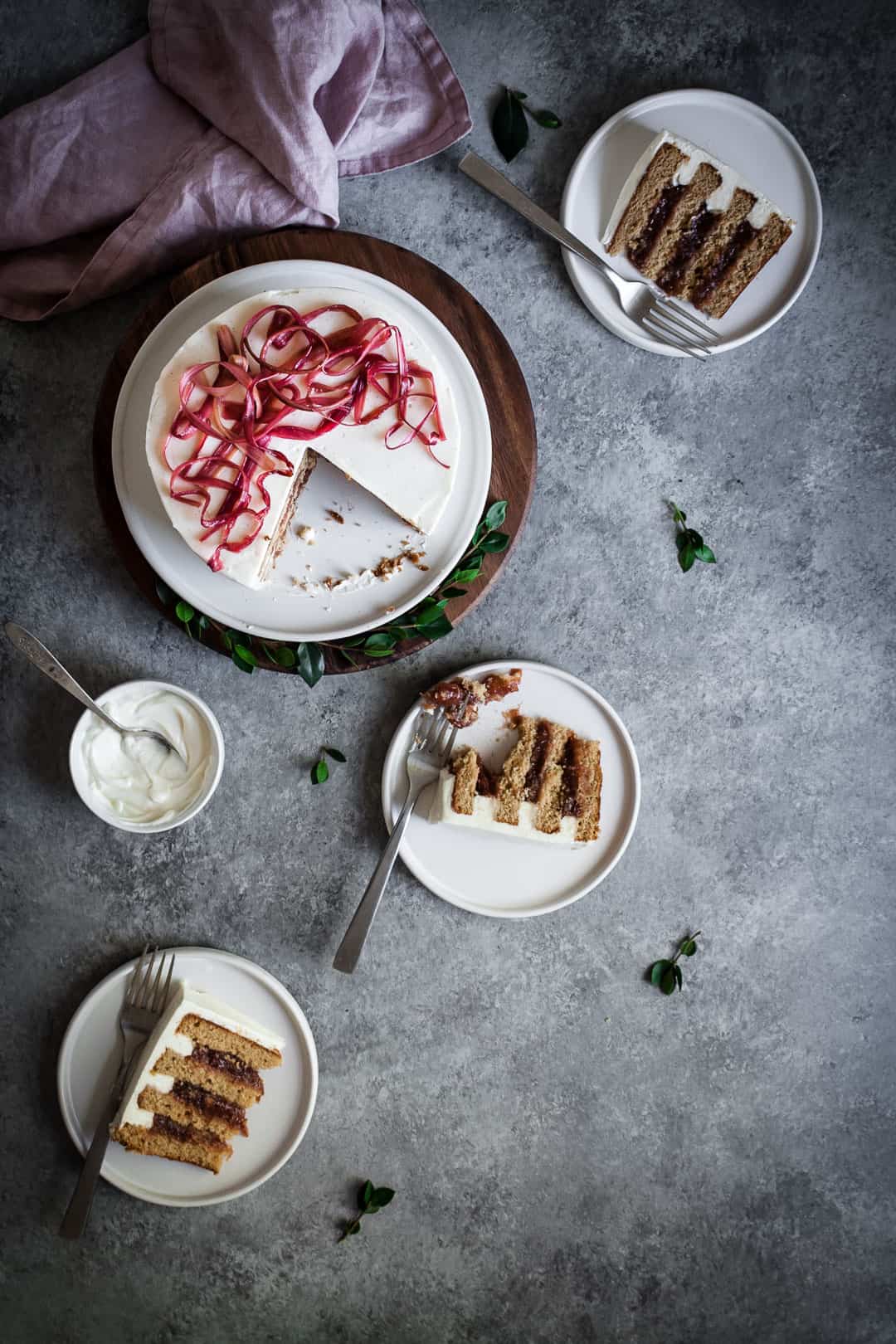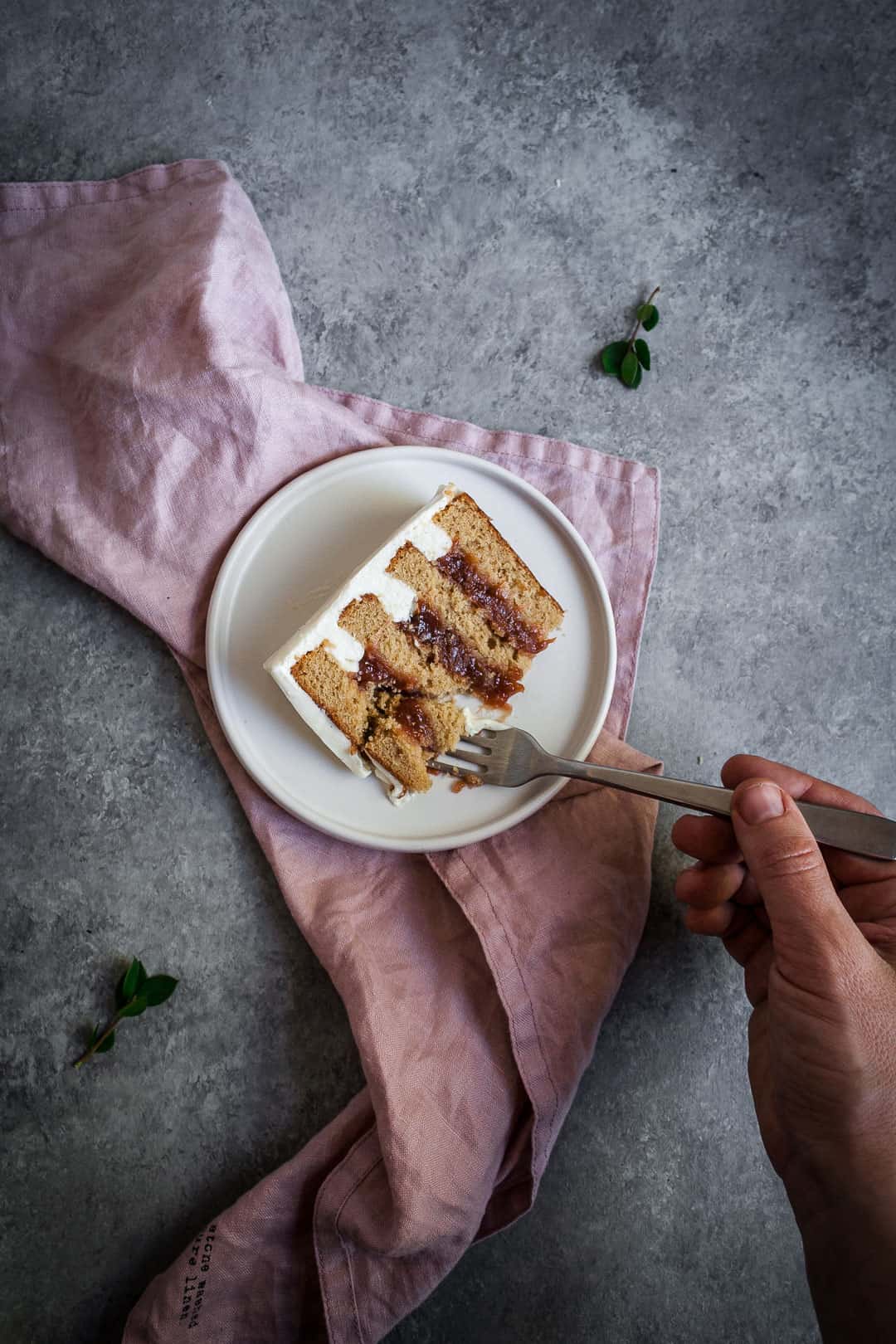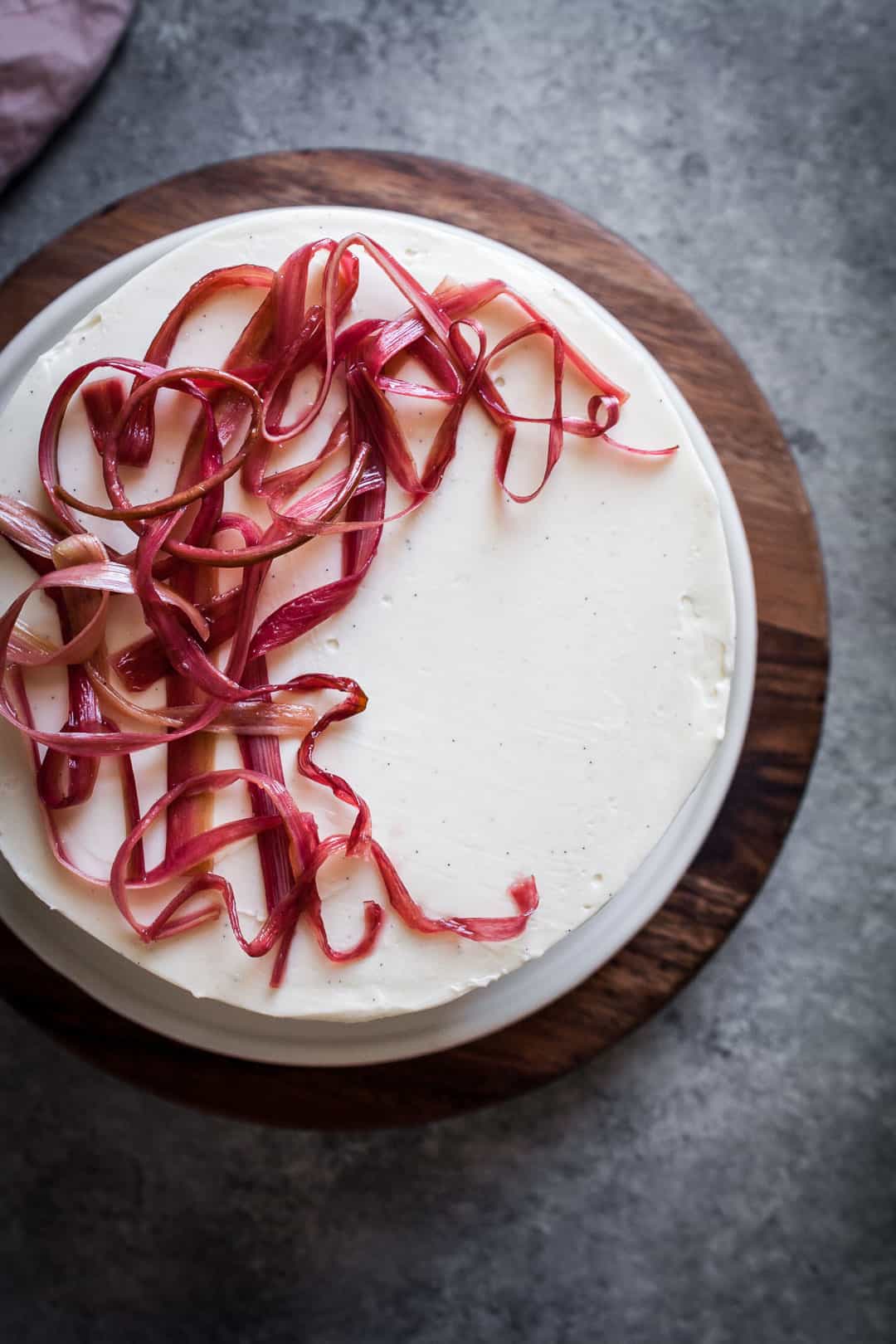 📖 Recipe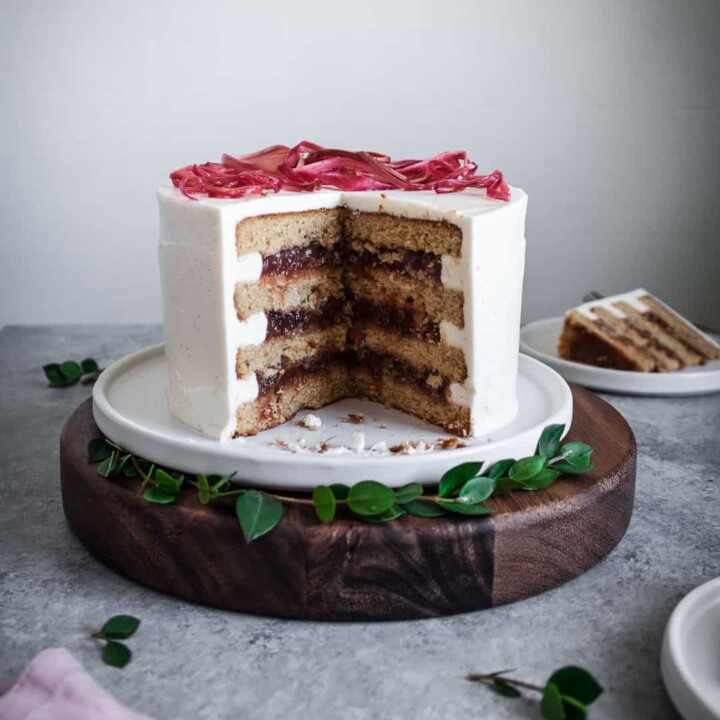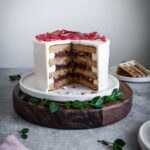 Brown Sugar Cake with Rhubarb Compote and Creme Fraiche Buttercream
Print Recipe
Pin Recipe
I adapted the cake layers in this recipe from Erin McDowell's Vanilla Strawberry Mousse cake in her wonderful book The Fearless Baker. I've made several of Erin's cakes and they have come out exactly as described - some of the best layer cakes I've baked to date. The Fearless Baker is an invaluable addition to any baker's collection and has something for every palate and skill level. My aunt gave me a copy for the holidays and I'm happy to already have smudge marks on the pages of the recipes I've tried.
Servings
1
6" cake with four layers
INGREDIENTS
Brown Sugar Cake
1 ¾

cups

all purpose flour

1 ½

teaspoon

baking powder

½

teaspoon

sea salt

2

large

eggs

room temperature

1

large

egg yolk

room temperature

1

cup

brown sugar

2

teaspoon

vanilla extract

1

cup

heavy cream
Rhubarb Curls
Use the rhubarb for the compote (just the outer peel) to make the curls

½

cup

maple syrup
Rhubarb Compote
5

cups

rhubarb

About 1.5 lbs

1

cup

sugar

1 ½

teaspoon

vanilla extract
Creme Fraiche Buttercream
6

egg whites

1 ¼

cups

sugar

2

cups

butter - at room temperature

¼ - ½

cup

creme fraiche

depending on desired thickness of buttercream
INSTRUCTIONS
Brown Sugar Cake
Preheat oven to 350 degrees.

Grease and add parchment circles to the bases of two 6" cake pans. I like to add an extra layer of cooking spray to the top of the parchment circles too, just to be thorough. Set aside.

Add flour, baking powder and salt to a large bowl and mix with a whisk until well combined. Set aside.

To the bowl of a stand mixer with the whisk attachment, add the eggs, egg yolk and sugar. Whisk on low speed until ingredients are well blended. Continue whisking, increasing the speed to high, until mixture is light in color and much thicker - approximately 5 minutes.

Add a third of the dry ingredients to the sugar mixture and mix minimally on low speed, until just blended in. Add the remaining dry ingredients in two more portions, again mixing just until blended.

On low speed, whisk in cream and vanilla. Do not over-mix.

Pour the batter evenly into the two prepared pans.

Bake for 35-40 minutes or until cake tester comes out clean and cake springs back when gently touched in center.




Cool in cake pans for 10 minutes. Run a knife around the outside of the cakes to make sure they are fully loosened from the pan. Turn out of pan onto baking rack to cool completely. They seem a bit crumbly on the outside when warm, but cooling them fully remedies this. Be gentle with them while they're warm!

When cakes are fully cooled, cut each layer horizontally into two with a sharp bread knife - you will have a total of four layers.
Rhubarb Curls
Select the straightest, most aesthetically pleasing rhubarb stalks of the bunch. For this recipe, I picked the most vibrantly reddish-pink pieces. Using a vegetable peeler, peel only the outermost strips from the stalks (the pieces that have color). Peel the quantity that you wish for decorations, allowing for some extra in case of breakage.

Bring ½ cup maple syrup to a boil. Add rhubarb strips and immediately remove from heat. Gently stir strips to ensure they are covered with syrup. Let sit for about 5 minutes, and then strain and place on a plate to cool. Shape into curls or desired look.
Rhubarb Compote
Chop rhubarb into small pieces and combine in a bowl along with the sugar and vanilla. Stir to coat. If you have the luxury of time, cover and leave to rest overnight or several hours in the fridge.

Cook in a heavy pot on the stove top on medium, stirring frequently to prevent burning, until reduced to preferred thickness - approximately 10-20 minutes.

Remove from heat and cool. Place in a sealed container in the fridge until ready to use.
Creme Fraiche Buttercream
Combine egg whites and sugar in a heavy medium sized pot. Heat on medium low while whisking constantly, until mixture reaches a temperature of 160 degrees on a candy thermometer. If you don't have a candy thermometer, stir constantly until sugar-egg mixture is hot to the touch and all feelings of graininess have disappeared when you rub the mixture between your fingers.

Transfer sugar mixture to a stand mixer fitted with a whisk attachment. Whisk at medium-high speed until stiff peaks form and exterior of bowl is mostly cool to the touch. This might take between 5-10 minutes.

Cut the room temperature (approximately 70-72 degree) butter into small cubes. Switch to the paddle attachment on the stand mixer. At low speed, add a few butter cubes at a time to the meringue, making sure that they are well incorporated before adding a few more. Continue adding butter slowly until it is all added.

If the buttercream separates and becomes liquid-y or begins to look like curds and whey, continue mixing at low speed and it will eventually incorporate into a beautifully light and smooth texture. Be patient and don't panic!

On low speed, add ¼ to ½ cup of creme fraiche, depending on the taste and consistency of the final buttercream that you desire. For this recipe, I used ½ cup.

This creme fraiche buttercream is best used immediately to frost the cake. However, if you plan to use it at a later date, it can be refrigerated or frozen in a well sealed container until needed. Bring completely to room temperature prior to re-mixing in stand mixer. Refer to notes above regarding separation if necessary.
Cake Assembly
Place the first of four cake layers onto a cake board or serving plate. Using a piping bag with a large round open tip*, pipe an approximately ½ inch thick border of buttercream around the top of the cake. This will create a barrier to prevent the compote from oozing out the sides.

* Other alternatives include a piping bag with NO tip and a simple opening or a heavy ziploc bag with a corner cut off.

Using a spoon, spread ⅓ of the rhubarb compote into the center of the cake layer inside of the buttercream circle. Cover with the next layer of cake.

Repeat application of buttercream barrier and ⅓ rhubarb compote and top with next layer of cake. Repeat one more time, and top with final layer of cake. Tip: place the top cake layer with the smooth (uncut) side facing up. Less crumbs = easier to frost with buttercream.

Using an offset spatula and a bench scraper, cover cake with a crumb coat (a very thin layer of buttercream that will seal in the crumbs). Refrigerate for 15-30 minutes.

Cover cake with creme fraiche buttercream to desired thickness. This recipe will make some additional buttercream; I like to have extra as a decorating option for the top of the cake.

Arrange rhubarb curls on top of cake in desired pattern (I placed the curls in a crescent shape for this cake.)
The Floured Table
Recipe Author: Kathleen Culver
https://www.theflouredtable.com/brown-sugar-cake-with-rhubarb-compote-and-creme-fraiche-buttercream/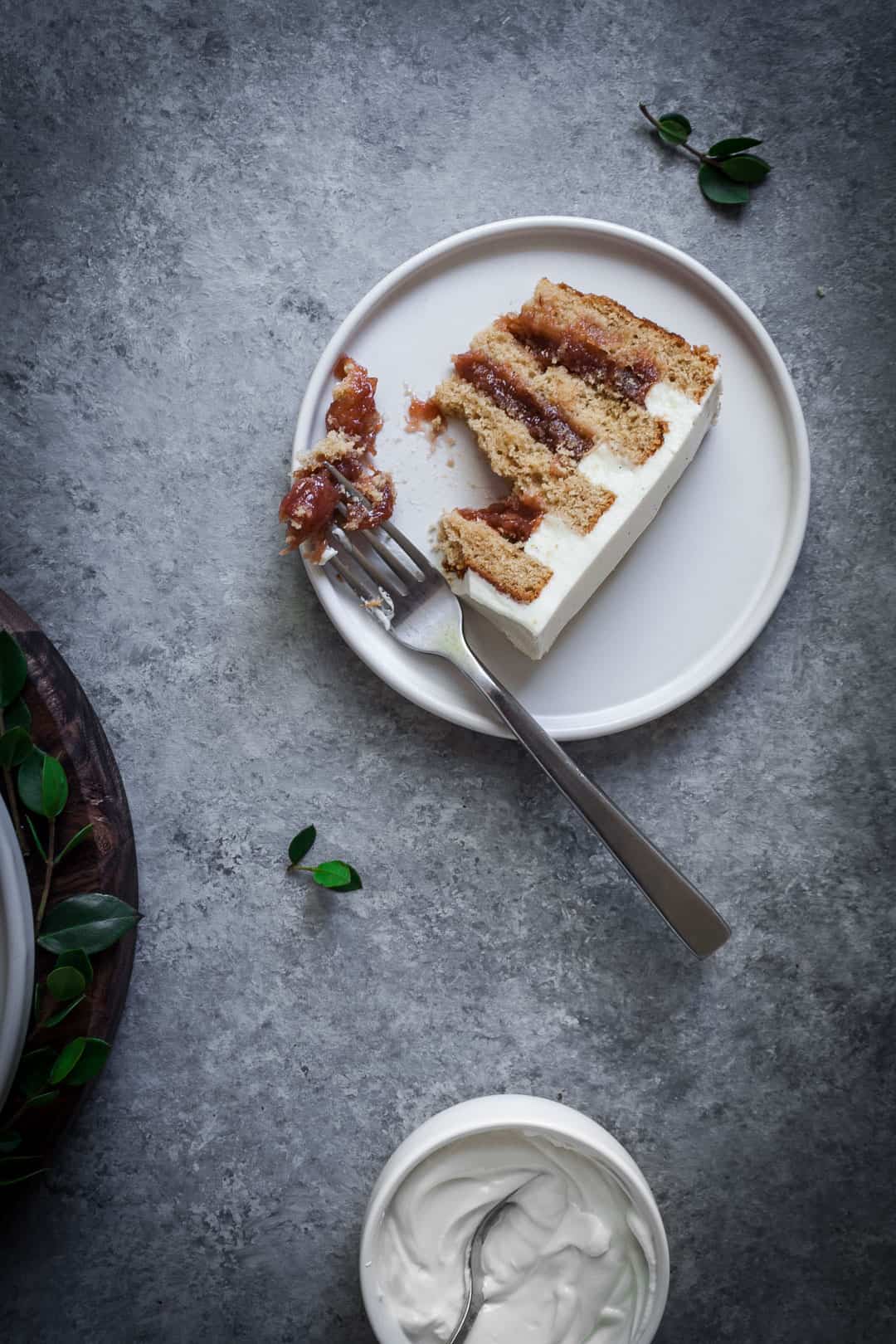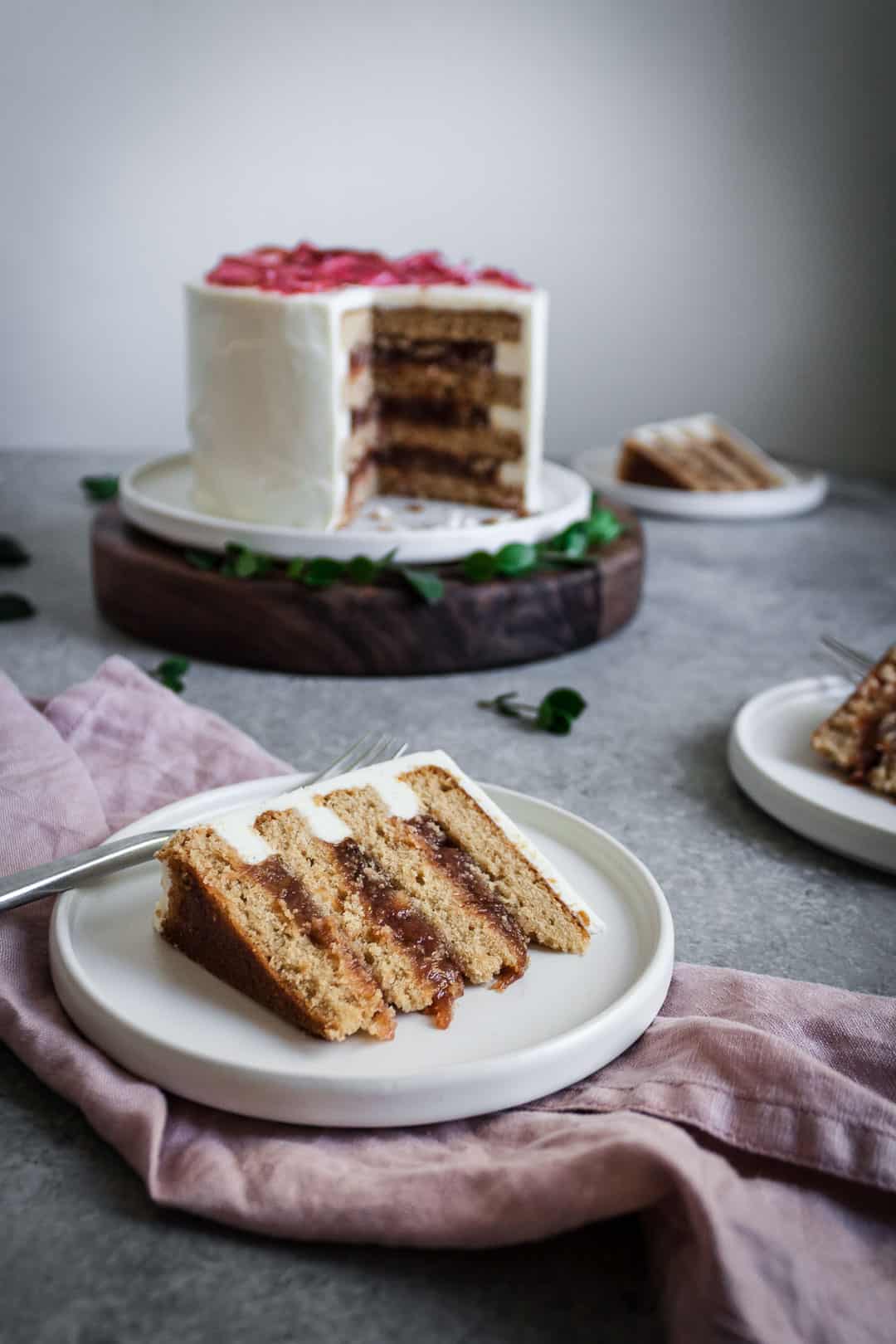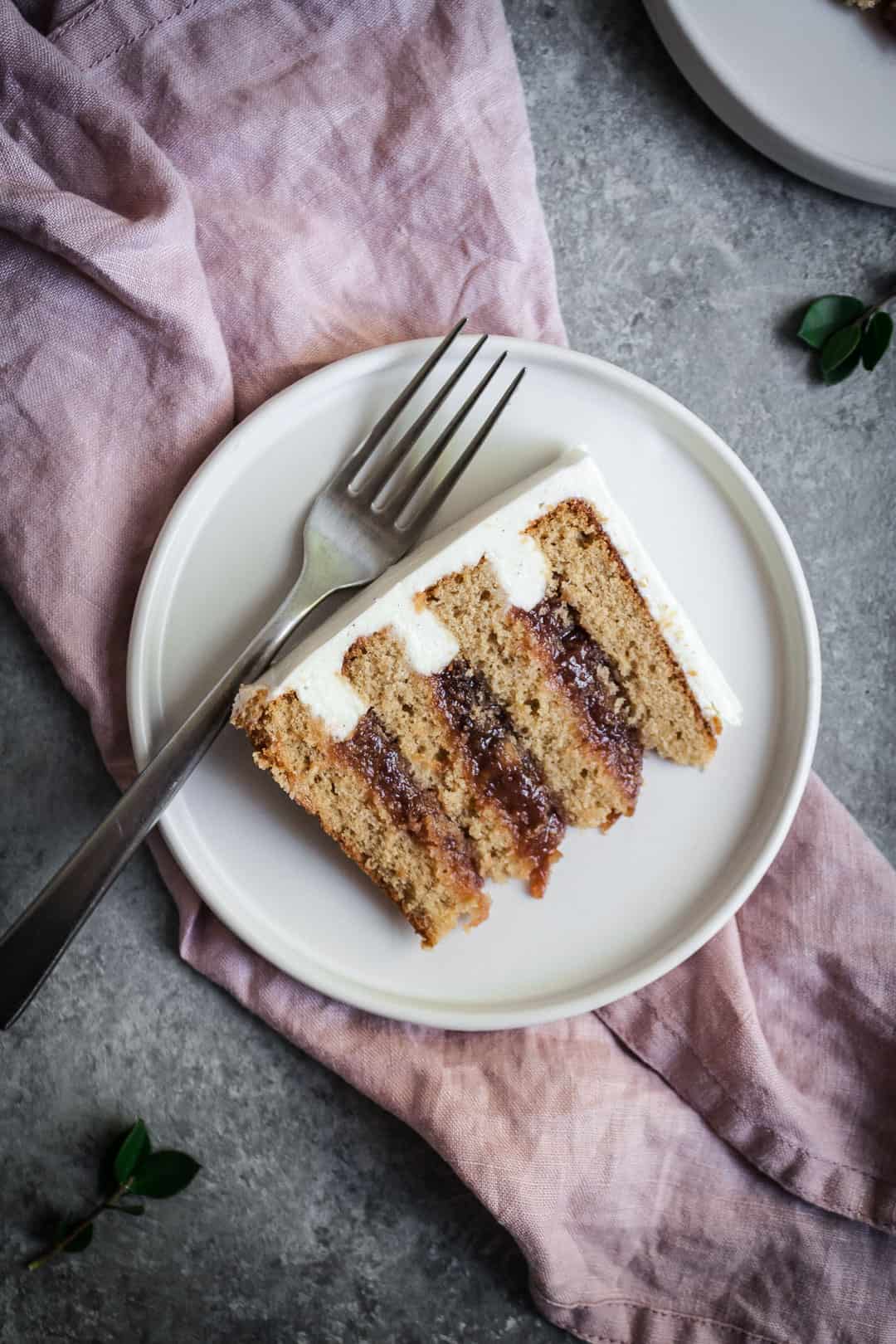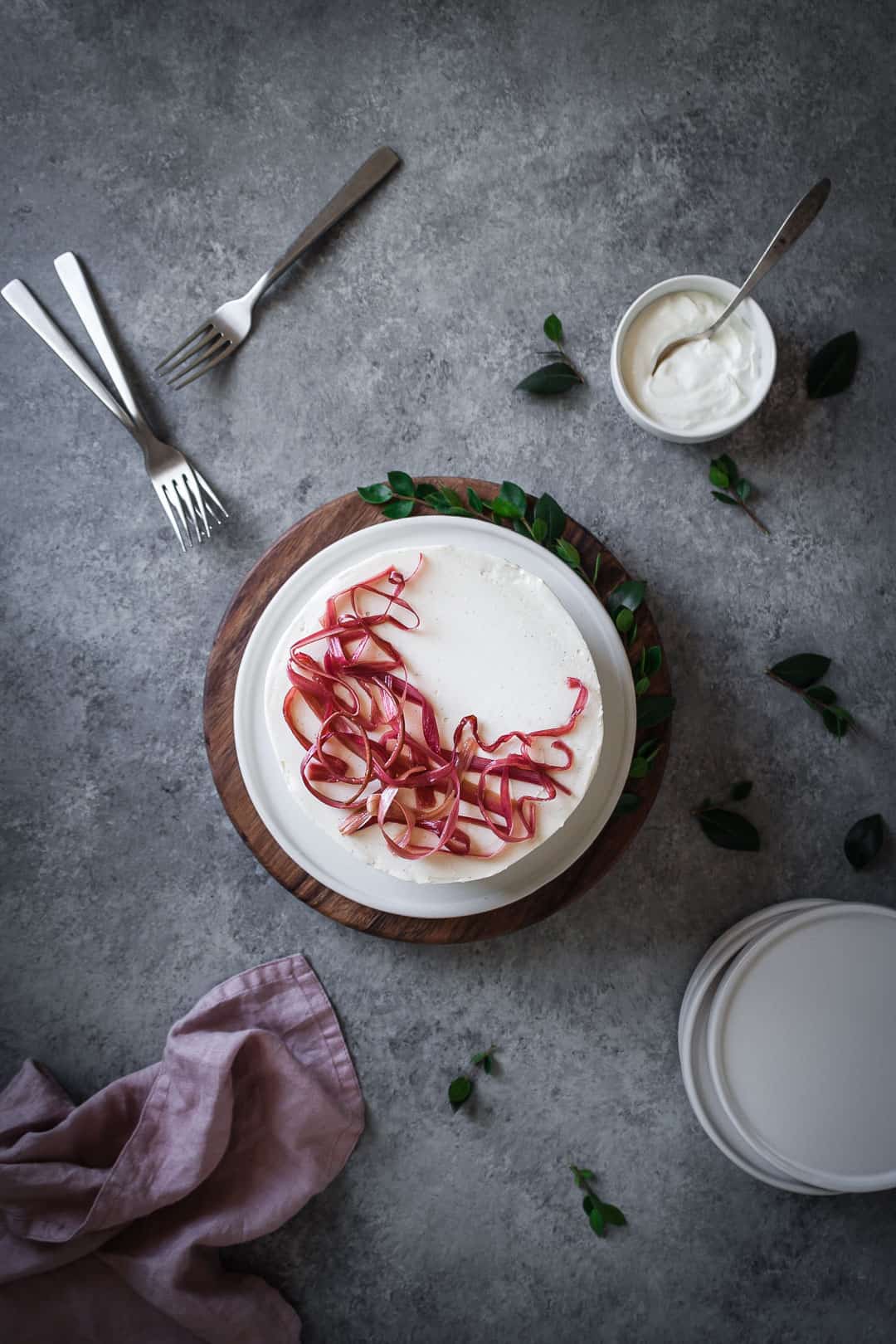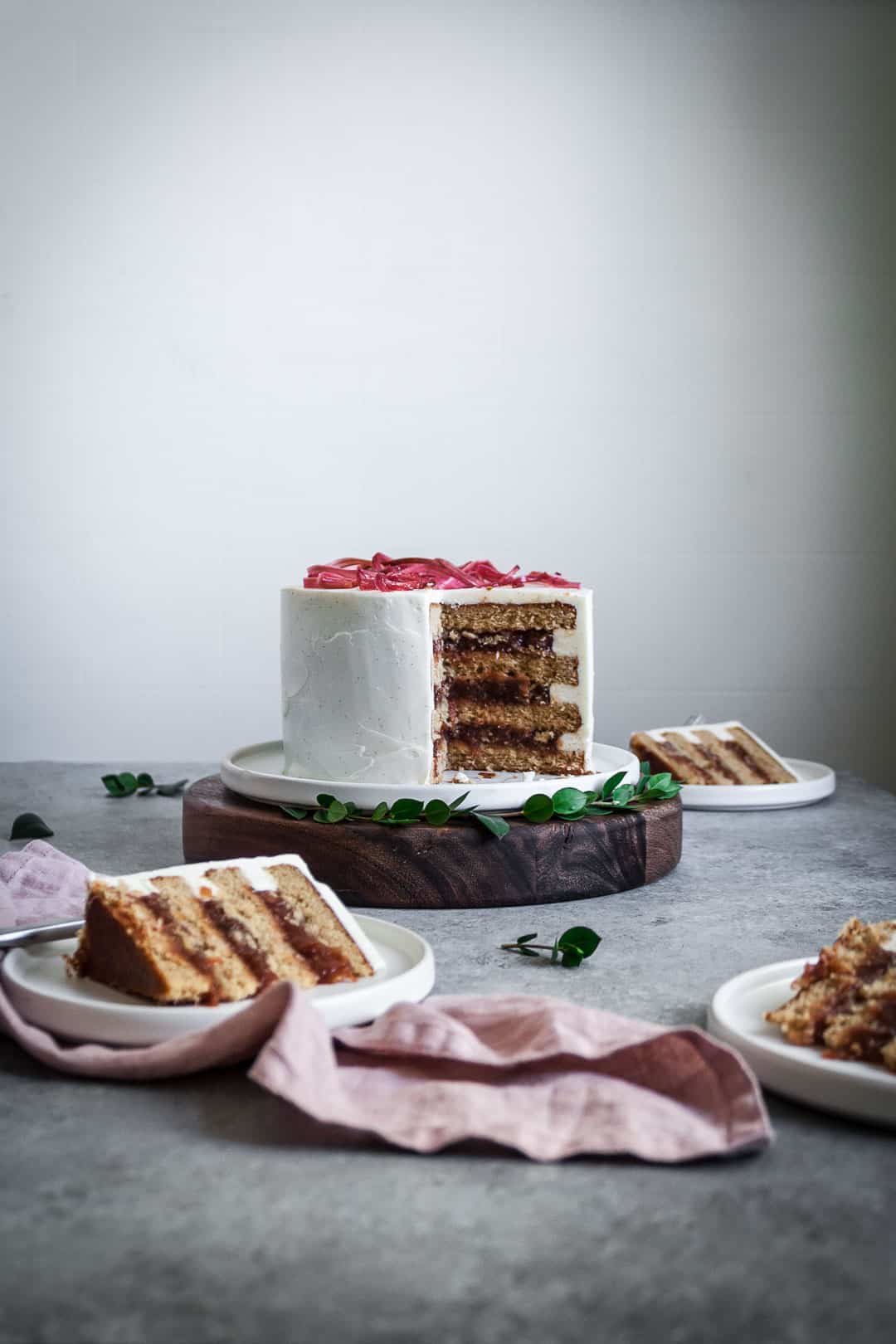 If you liked this Brown Sugar Cake with Rhubarb Compote and Creme Fraiche Buttercream, you might also enjoy: