A STRAIGHTFORWARD TART
This rhubarb frangipane tart has a buttery, flaky, golden brown shortcrust pastry shell filled with a chewy, rich, almond frangipane and a colorful, brightly flavored rhubarb topping. I had several large stalks of rhubarb left over in the fridge after making my Strawberry Lime Rhubarb slab pie and was looking for a straightforward way to take advantage of them. Once I settled on a tart, it came together quickly thanks to David Leite's excellent Pâte Sucrée recipe, which is an adaptation of a recipe from Joanne Chang of Flour Bakery in Boston. It's easy to mix up and handles well.
AN EASY TART FILLING
I added a generous amount of lemon zest to the frangipane filling in order to add a bit more zip (I sound like my grandma) and lighten its richness. I've become a huge fan of frangipane tarts given how easy it is to make the filling. If you have a food processor, it's only a matter of measuring the ingredients and then processing them all at once to make a thick almond cream that pairs wonderfully with all types of fruit.
BREAKING UP THE KITCHEN WORK
To make this whole thing even easier, you can mix up the pate sucree dough a day or two in advance. Unbaked, it will keep in the fridge for up to five days, and up to two weeks in the freezer. Extra points if you regularly keep such things on hand for moments like these when leftover ingredients beckon or when that lightning bolt of baking inspiration hits.
You could divide your kitchen time even further by making the frangipane in advance, if you so desire. According to Saveur, frangipane can be made up to two days in advance if stored in an airtight container in the refrigerator. As for the rhubarb, that's more of a last-minute item. Cut it just before you place it on the frangipane filling so that it remains fresh and doesn't have the chance to wither or brown.
MY MOM LOVES THIS TART
After I'd made this rhubarb frangipane tart, my mom came over to the house to help out with the girls. I mentioned what I'd baked and asked if she'd like a little piece to sample. At first she turned it down with a bit of a sigh, lamenting the slowing of the metabolism with age. I prodded, and she finally enjoyed a slice while remarking on the dense and chewy almond frangipane texture. A few days later, she happened by the house again, and tried to subtly ask, "Say, is there any of that rhubarb frangipane left?" So this one has mom's stamp of approval - and she's the one that got me started baking in the first place. If that's not a ringing endorsement to make this tart, I'm not sure what else is.
RECIPE NOTES
Tart Dough - When blind baking the tart, I like to line the dough with parchment paper and fill it with beans rather than investing in pie weights. I keep the beans in my pantry in a quart mason jar and use them over and over again. Just be sure to let them cool completely before placing them back in the mason jar to avoid condensation and mold. Before adding the pie weights or dried beans, crumple the parchment paper into a tight ball and then smooth it flat again. This helps it adapt to the shape of the pan more easily.
Frangipane - I've chosen to mix the frangipane ingredients in my food processor. If you don't have one, you can use a stand mixer. If you use a stand mixer, first cream the butter and sugar together, then add the remaining ingredients one at a time, mixing well between each addition.
Rhubarb - I cut the rhubarb stalks on the bias in order to create a slightly more delicate and decorative look. You can learn about cutting foods on the bias by watching this video for reference.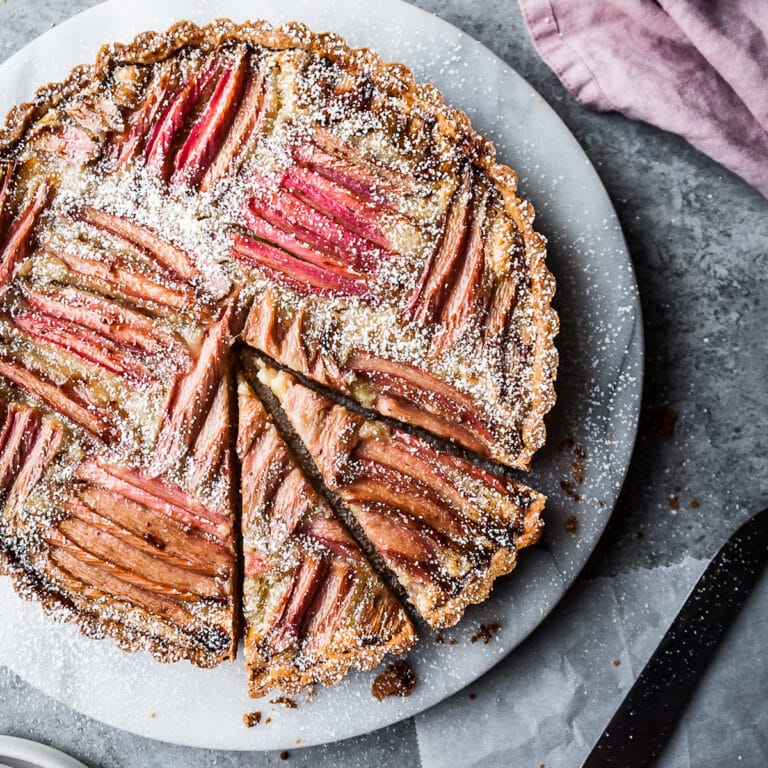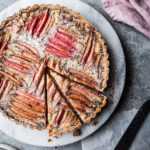 Rhubarb Frangipane Tart
Print Recipe
Pin Recipe
Servings
12
servings - One 9 inch round tart
INGREDIENTS
PATE SUCREE
½

cup (113g, 4 oz)

unsalted butter, at room temperature

¼

cup (50g)

granulated sugar

½

teaspoon

kosher salt

1

cup (120g)

all purpose flour

1

egg yolk
FRANGIPANE
1 ¼

cups (120g)

almond flour (also called almond meal)

¼

cup (30g)

all purpose flour

¾

cup (150g)

granulated sugar

1

tablespoon

lemon zest (zest of 1 medium lemon)

1

teaspoon

vanilla extract

2

large

eggs

3

Tbsp (45g, 1.5 oz)

butter, cubed
RHUBARB TOPPING
3

cups (366g, 13 oz)

rhubarb, sliced on the bias (I used three large thick stalks)

¼

cup (82g)

strawberry jam (or another fruit jam such as apricot)

1

teaspoon

water, if needed, to thin jam for brushing

¼

cup (31g)

powdered sugar (optional)
INSTRUCTIONS
PATE SUCREE
Into the bowl of a stand mixer fitted with the paddle attachment, add the butter, sugar and salt. Mix well to combine, and continue beating on medium high until mixture is pale and fluffy, about two minutes. Scrape down the sides of the bowl.

Add the flour and mix until just combined. It will be coarse and grainy.

Add the egg yolk and mix for about 30 seconds. The dough should start to pull together into a ball.

Flatten the dough into a disc shape and wrap well with plastic wrap. Refrigerate for at least an hour.

Remove dough from refrigerator and let sit for 20-30 minutes to soften slightly. On a lightly floured surface, roll the dough out to a 10 inch diameter circle, making sure that it does not stick. Sprinkle a bit of flour on top of the dough and work surface as needed.

Carefully transfer dough to the 9 inch tart pan by rolling it around the rolling pin and unrolling it over the tin. Gently press the dough down into the pan and up the sides, ensuring that no empty space remains between the dough and the pan. If any cracks or tears occur, patch with extra dough scraps. Trim the excess dough with a knife held parallel to your work surface to ensure the tart shell has a clean edge. Cover tart pan with plastic wrap and return to the refrigerator to chill for 30 minutes.

Preheat oven to 400 degrees F (200 C, Gas number 6). Remove tart pan from refrigerator and cover the dough with a piece of parchment paper. Fill with pie weights or dried beans (I use and reuse the latter) to keep the dough from bubbling up. Bake for 6 minutes and then carefully lift the weight-filled parchment from the pan. Return to the oven to bake an additional 6 minutes. Place on a baking rack to cool.
FRANGIPANE FILLING
In the bowl of a food processor, add the almond flour, flour, sugar, lemon zest, vanilla and egg. Scatter the butter over the top.

Process until well mixed. You may need to stop the processor to scrape down the walls partway through.

Pour filling into cooled tart shell. Use an offset spatula to smooth the filling evenly around the entire shell.
RHUBARB TOPPING
Preheat oven to 350 F (177 C, Gas number 4) and place rack in the middle of the oven.

Cut the rhubarb on the bias into long thin slices. (Instead of simply cutting straight across the stalk at a 90 degree angle, turn your knife 45 degrees so that it makes a diagonal cut.) Continue cutting along same angle with remaining rhubarb. This creates longer, thinner slices.

Place the rhubarb stalks onto the frangipane filling in a decorative pattern, pressing down gently. For this tart, I used four rhubarb slices for each square to make a square basket parquet pattern, also known as parquet mosaique. If you do a Google image search for visuals of either of these terms and also look at the photos I've included here, you'll get a sense of the pattern.

As your pattern nears the edges of the tart, trim the rhubarb slices to fit the remaining space on top of the frangipane filling so that the rhubarb stays within the tart border.

Using a pastry brush, gently brush strawberry jam onto the rhubarb slices. If the jam is too thick to apply easily, add a teaspoon of water and stir well to create a thinner jam.

Bake for 45-55 minutes, or until tart edge is golden brown and frangipane filling is set and no longer moist and shiny. Set on a baking rack to cool somewhat. Immediately before serving, dust with powdered sugar (optional) by placing the powdered sugar in a small sieve and tapping it (lightly!) with your hand as you move it over the tart.
Made this recipe?
Please leave a comment and a star review! Share it on Instagram with
@theflouredtable and #theflouredtable.
If you like this Rhubarb Frangipane Tart, you might also enjoy:
Strawberry Lime Rhubarb Slab Pie