This pear frangipane tart has a buttery, golden brown crust filled with a lightly spiced hazelnut frangipane. It's topped with pretty fans of thinly sliced fresh pear halves, toasted hazelnuts, and a dusting of powdered sugar. Baking this pear tart recipe is a lovely way to ease into fall. Paired with a bottle of Erath Wines 2019 Oregon Pinot Noir, it's a delicious combination for a special night in or a holiday table. Thanks to Erath Wines for sponsoring this post!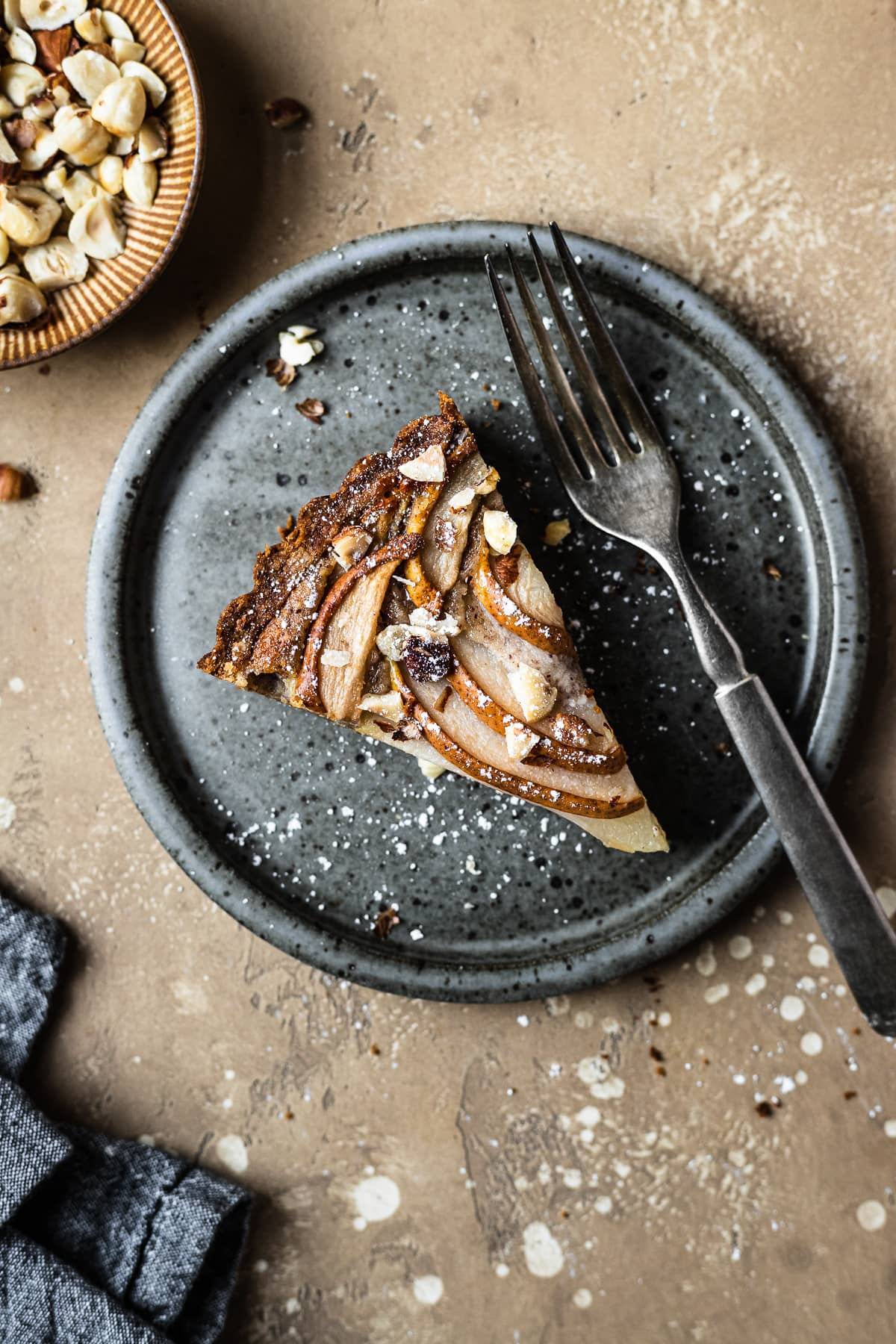 PEAR TART WITH HAZELNUT FRANGIPANE
With the arrival of September come cooler days and the glow of slanting sun in the evening. I try to keep up with the abundance of the last summer days in the garden before the shift to autumn is officially upon us. But I can't help myself from tiptoeing into fall flavors already, seeking out a bit of spice, a bit more warmth, a cozy nuttiness in the flavors of this tart.
Toasted hazelnuts form the foundation of the recipe, in both the buttery sweet crust (pâté sucrée) and the hazelnut cream filling - otherwise known as hazelnut frangipane. A showy presentation of fanned-out pear halves provide visual drama and add a sweet and aromatic element to the golden toasted nut flavors. Sprinkled with additional chopped hazelnuts and a delicate dusting of powdered sugar, this hazelnut frangipane pear tart is a beautiful finale to a special meal. It's able to stand on its own, or you can dress it up further with a bit of whipped cream, some maple sweetened mascarpone, or a small scoop of vanilla ice cream.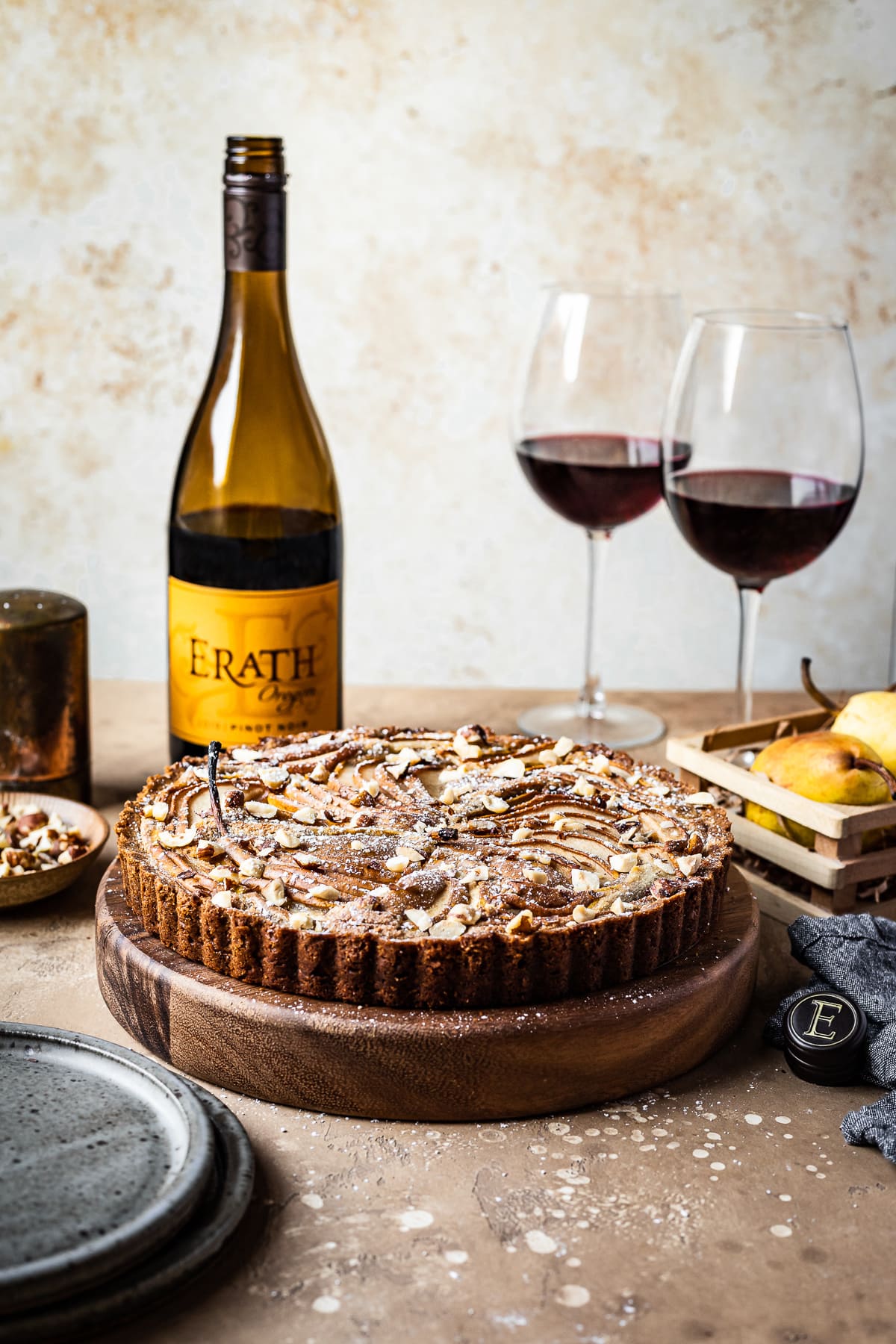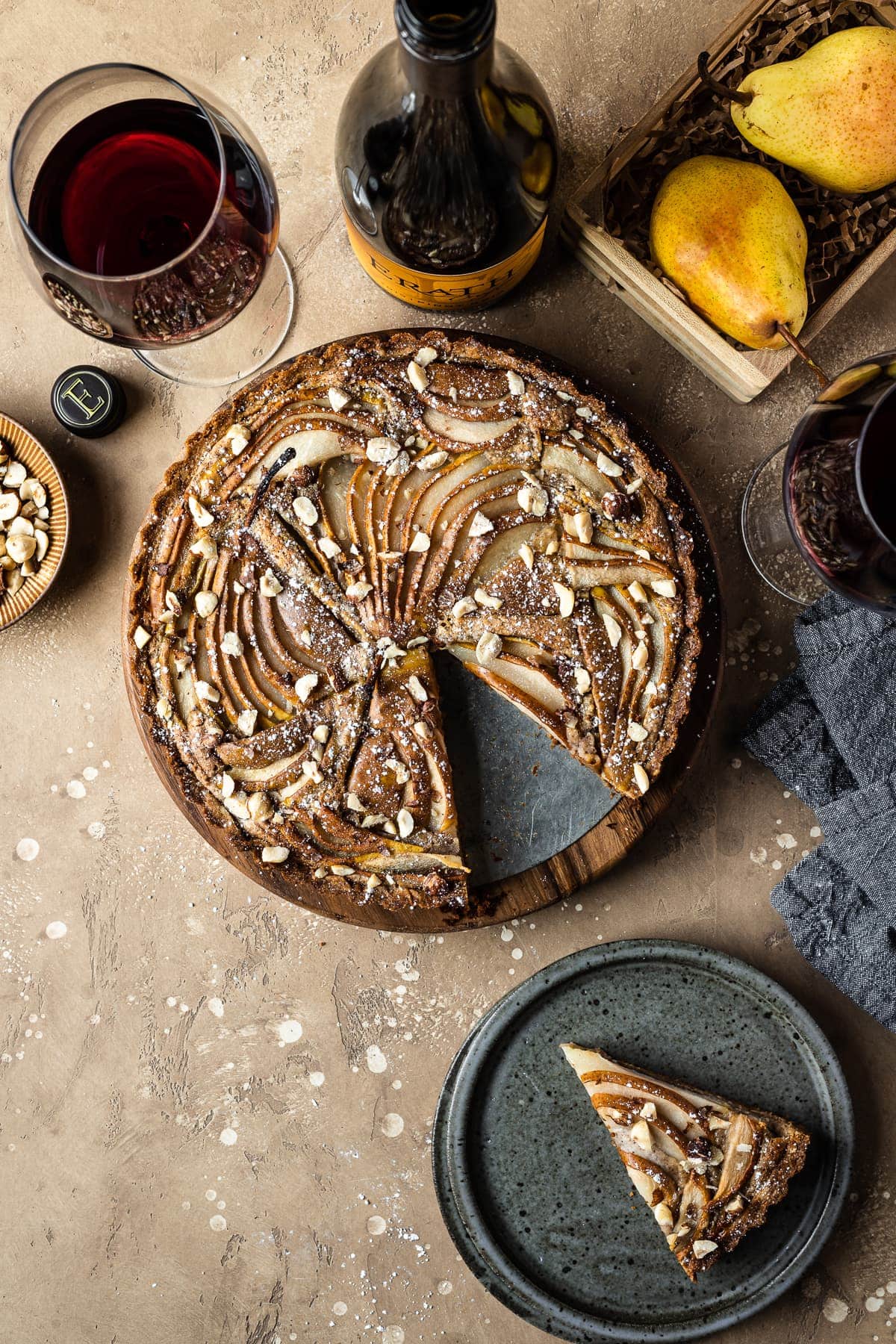 ERATH WINES AND THE FLAVORS OF FALL
In 1969, Dick Erath planted his first Pinot Noir grapes in the mountains of Oregon. Erath wines are an expression of the land that the winery has cultivated since that time, longer than any other winery in the Dundee Hills of Oregon. Erath Wines transforms Pinot grapes into memorable, critically acclaimed wines that are also affordable. Ruby transparency is only the beginning of the quintessential Pinot experience. The nose reveals delicate aromas of orchard cherries, fresh violet, perhaps herbal tea. Silky, soft fruit whets the palate, whispering of freshness, brightness and refined balance. Never bigger or bolder than the food it is destined to accompany, Erath is classic Pinot: light, delicate and fruit-forward.
To pair with this recipe for pear tart, I've selected the 2019 Erath Pinot Noir. Pinot noir is an incredibly versatile wine that complements a wide variety of foods. The rich, nutty flavor of hazelnuts are a perfect wine accompaniment, according to Wine Enthusiast, as they have less tannins and are less oily than other nuts.
2019 Erath Pinot Noir – Mouth watering aromas of summery red cherry, currant and red plum are seasoned with fragrant rose petal, lavender and anise. Characteristic flavors of pomegranate, cranberry, and pie cherry coat the palate with a pleasing weightiness. The anise flavors and dark red fruits make a wonderful combination with the nutty hazelnut frangipane, the golden richness of the shortbread tart crust, and the smooth, buttery texture of baked pears.
These other 2019 Erath Wines varietals would also suit this hazelnut pear tart well:
2019 Erath Rosé of Pinot Noir is a dry rosé with a burst of acidity and fruit-focused flavors and aromas. It would be an excellent partner to the fresh pear flavors of this tart.
2019 Erath Pinot Gris – Aromatic and fruit-forward, scents of key lime, Anjou pear, juicy melon, anise and a faint pine introduce this Alsatian style Pinot Gris. Melon, honey crisp apple, gooseberry and citrus pith linger on the round, full palate. Clean and quenching on the finish, this Pinot Gris would be a refreshing wine to pair with the buttery rich tart crust, and the pear and citrus notes would compliment the pear and lemon zest in the frangipane filling.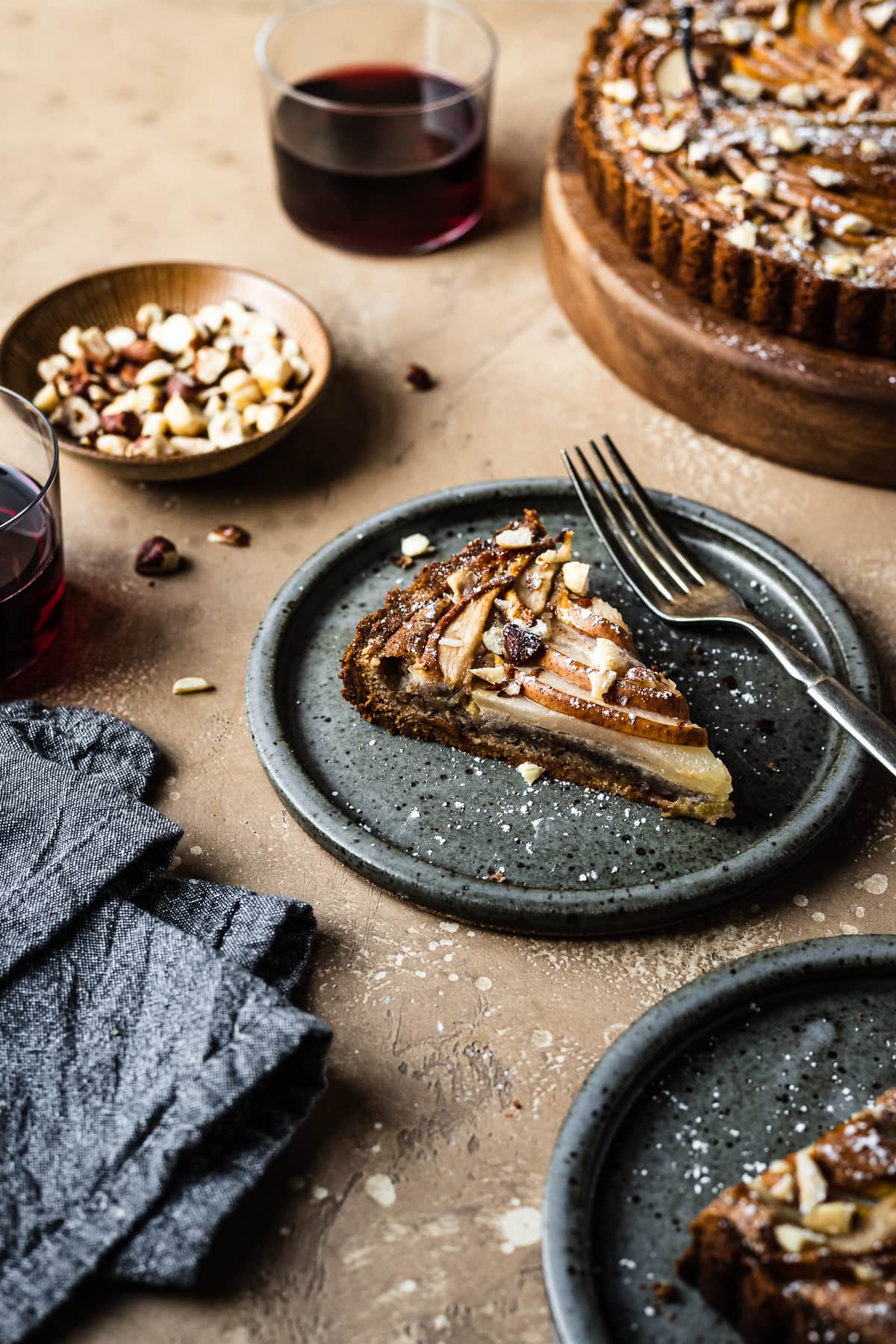 INGREDIENTS, SUBSTITUTIONS AND RECIPE NOTES
FOR THE SHORTBREAD TART CRUST
Hazelnuts - I started with whole, raw hazelnuts so that I could toast them myself and ensure their freshness. If you prefer to purchase ground hazelnut meal (also called hazelnut flour), you will need to adjust the quantity, as 1 cup of ground hazelnuts are not equal to 1 cup of whole hazelnuts. If you have a kitchen scale (which I highly recommend), you can measure out the same amount by weight (135g). Check the label to see if your hazelnut meal is roasted. If not, you can measure it out and carefully toast it in the oven on a baking sheet. It will likely brown sooner than whole hazelnuts, so keep a close watch to avoid burning it.
Granulated sugar - Adding the granulated sugar to the whole hazelnuts when processing into ground hazelnuts helps give the blades some extra bite and also helps absorb any oil released from the nuts. This helps prevent the mixture from converting to hazelnut butter as promptly. Definitely something you want to avoid here!
Kosher salt - for flavor.
Unsalted butter – using unsalted butter allows you to control the total quantity of salt in the recipe. Salt content in salted butter varies from brand to brand. The butter should be cubed and at room temperature.
All-purpose flour - to provide structure.
Egg yolk – as a binder to provide structure to the dough, as well as adding fat and flavor.
FOR THE HAZELNUT FRANGIPANE
Hazelnuts - roasting the hazelnuts has a huge impact on their flavor - the rich, sweet, nutty flavor profile is so much more present after just 8-10 minutes on a sheet pan in a 350 degree oven. I highly recommend not skipping this step!
Granulated sugar - As in the tart dough, sugar helps provide friction to create hazelnut meal from the whole roasted nuts, and to add sweetness to the frangipane filling.
All-purpose flour - provides structure to help the frangipane set.
Lemon zest - I like to add the zest from one medium lemon to provide additional depth of flavor. You could easily substitute with orange zest here too.
Vanilla extract, ground cinnamon, ginger and cloves - For a bit of warming spices. Cloves are a strong flavor, so be sparing with your small pinch, or consider omitting if it's not a spice you love. You can substitute allspice for cloves if you prefer.
Eggs - Eggs help the frangipane to set when baked in the oven.
Unsalted butter - Unsalted butter adds richness without additional salt. For the frangipane, you'll want the butter cubed and at room temperature.
FOR THE PEARS AND TOPPING
Pears - For this pear tart recipe, select a firm variety of pear, such as Bartlett, Bosc or Anjou. There's no need to peel the pears. The peel provides a beautiful color contrast with the flesh of the pear when baked, and is rendered soft in the process. To prepare the pears:

Cut them in half lengthwise and use a melon baller or round teaspoon to scoop out the core. Leave the stem intact for additional decoration.
Slice each pear half into thin fans starting about one half inch below the stem. You should have somewhere between 8-12 thin slices with the stem end holding them all together.
Carefully fan them out with your hand, and place skin/curved side up onto the frangipane filled tart.
Continue with the remaining pears, slicing smaller pieces of the fanned pears to fit into the remaining spaces as you go. Check out a few of the prep photos for reference. I used between 2 ½ to 3 pears when making this tart.

Hazelnuts - Toasted, chopped and sprinkled onto the top of the baked tart for additional texture and flavor.
Powdered sugar - A delicate dusting of powdered sugar (place in a fine meshed sieve or use a mesh tea strainer) adds a touch of sweetness and a pretty final touch. Add the powdered sugar right before serving, as it will eventually soak into the tart due to the moisture content of the filling.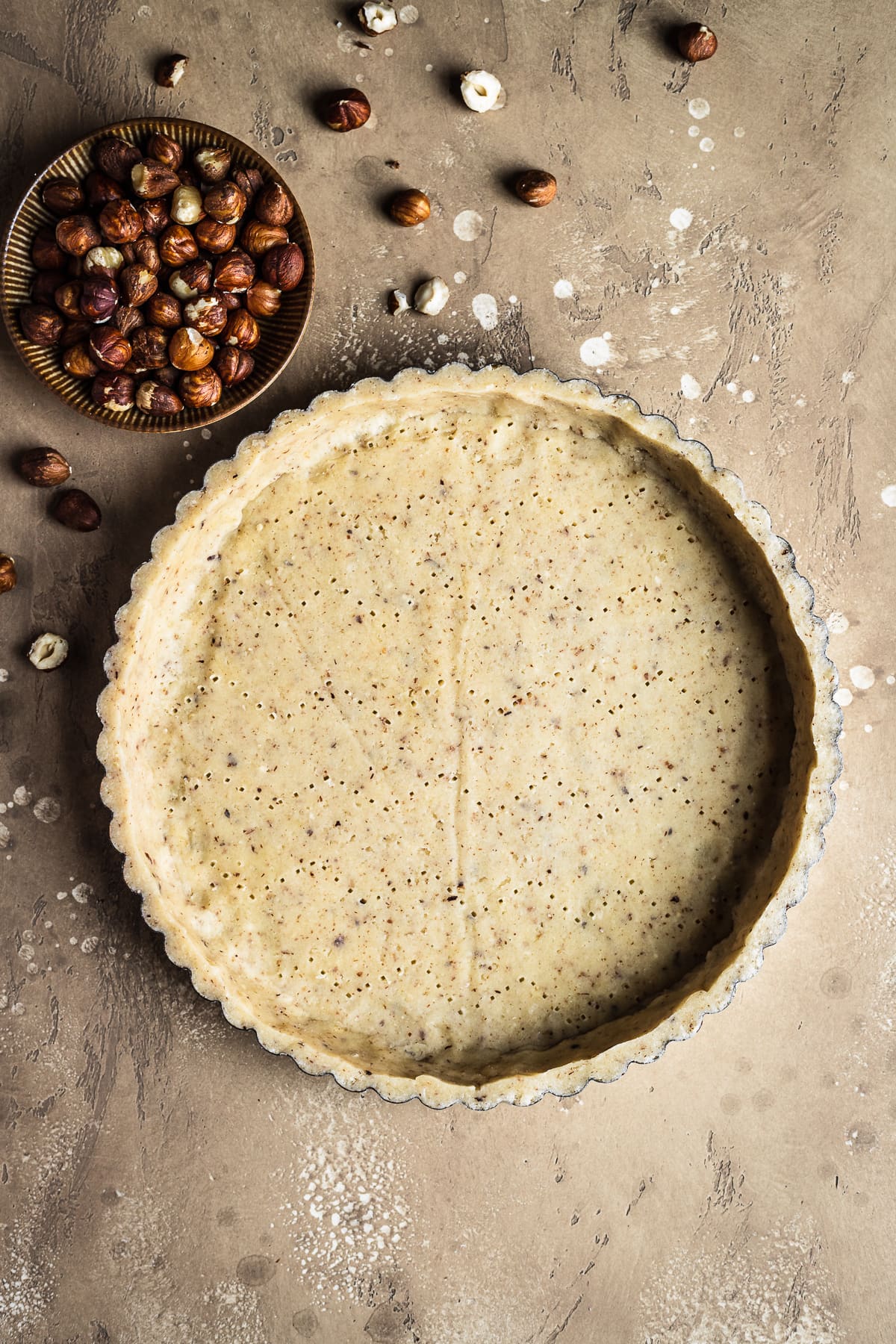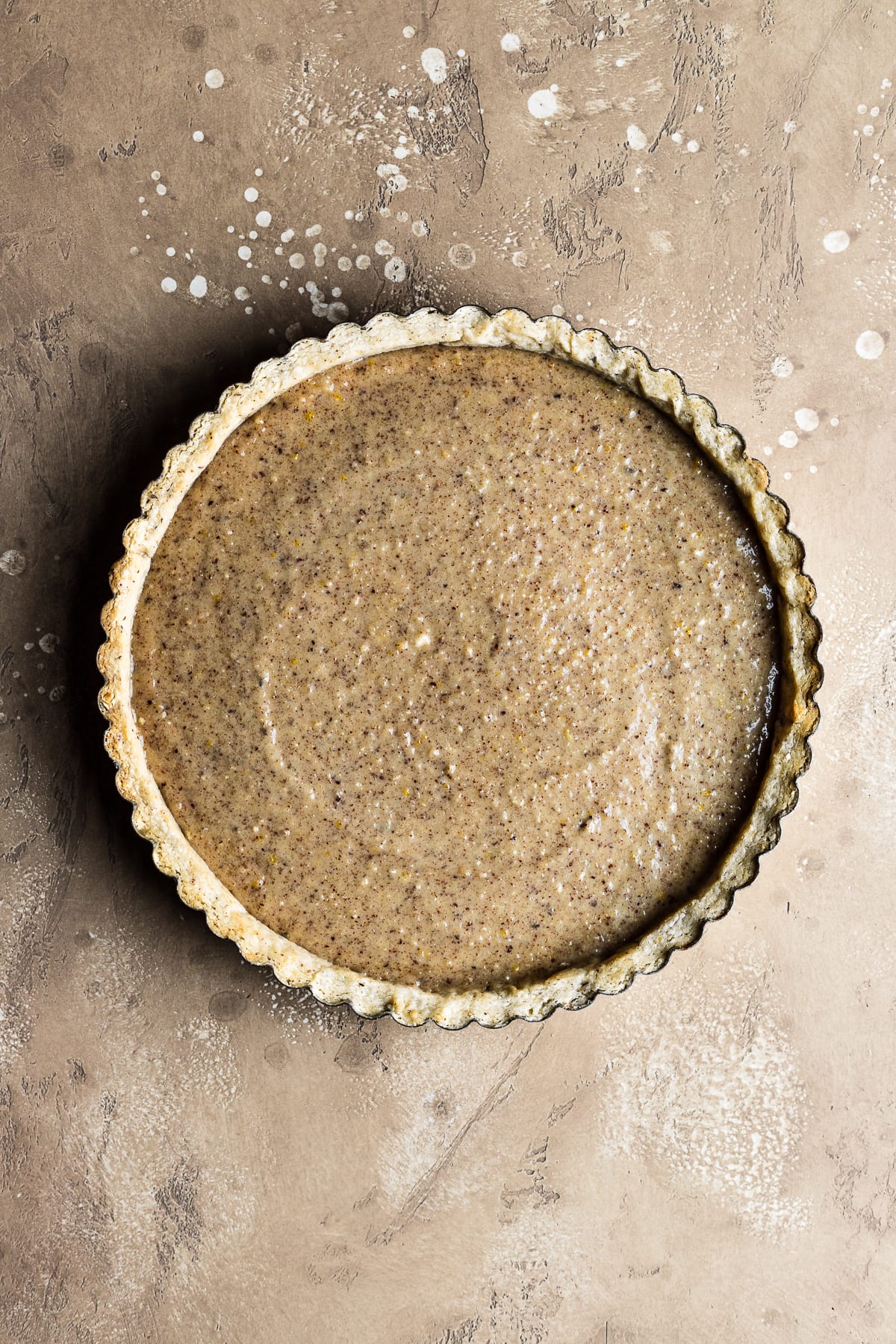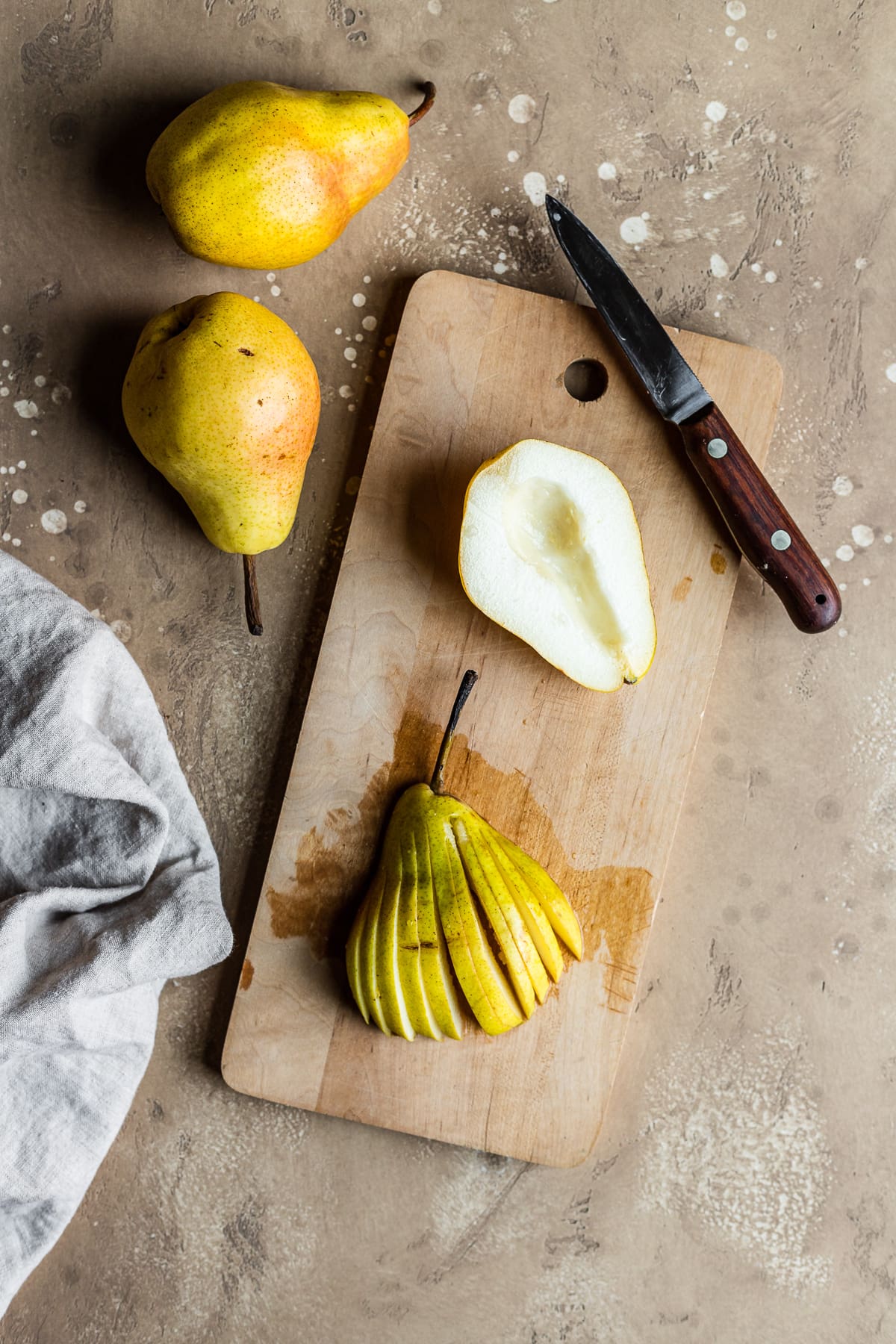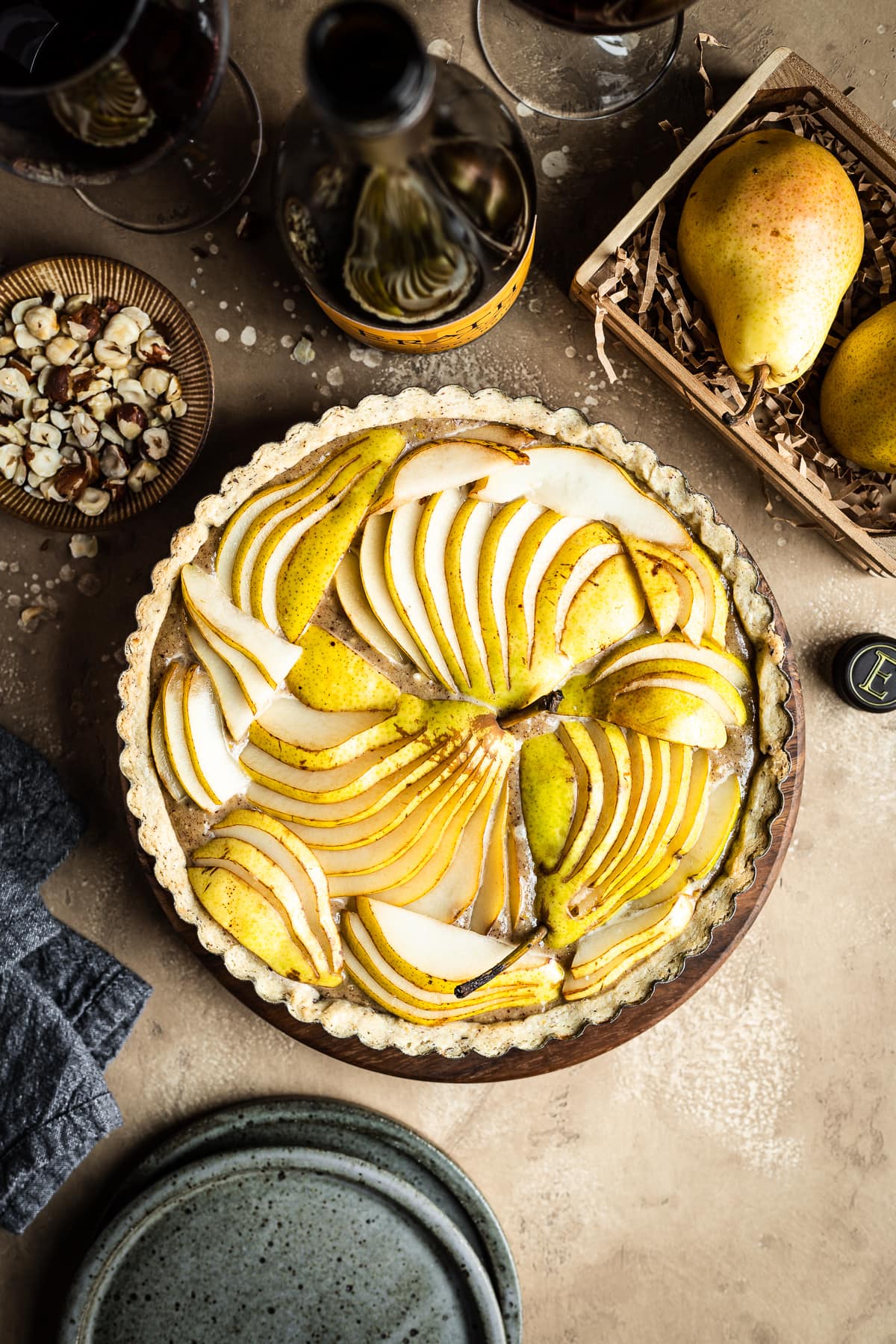 FREQUENTLY ASKED QUESTIONS
WHAT IS FRANGIPANE?
Frangipane (pronounced FRAHN-zhee-pahn) is traditionally an almond based custard made with almonds, sugar, eggs, butter and a bit of flour. It is often used as a filling in tarts, but can also be found in pastries, cakes, and galettes. I've become a huge fan of frangipane given how easy it is to make. If you have a food processor, it's only a matter of measuring the ingredients and then processing them all at once to make a thick nut based cream filling that pairs wonderfully with all types of fruit. While almonds are most commonly used, you can substitute other nuts to make a variety of flavored creams. I've used it in a rhubarb frangipane tart, and even this peach galette with cornmeal frangipane.
CAN I MAKE THIS PEAR TART IN ADVANCE?
If you'd like to break the recipe up over several days, you can make several of the components in advance:
Make the pâte sucrée (sweet tart) dough ahead of time, roll it out, place it in the tart pan, wrap well, and refrigerate or freeze it unbaked. Unbaked, it will keep in the fridge for up to five days, and up to two weeks in the freezer. No need to let it defrost before baking.
Blind-bake the tart shell a day in advance, let cool, then (while still in the tart pan) wrap tightly in plastic wrap to maintain freshness. Be careful – after baking it can be fragile.
Make the frangipane filling. According to Saveur, frangipane can be made up to two days in advance if stored in an airtight container in the refrigerator.
Add the pears directly before baking. They will begin to brown once cut. You can make and bake the entire tart up to a day before you serve it. Store at room temperature for up to three days, then refrigerate. If made in advance, wait until just before serving to add hazelnut garnish and powdered sugar.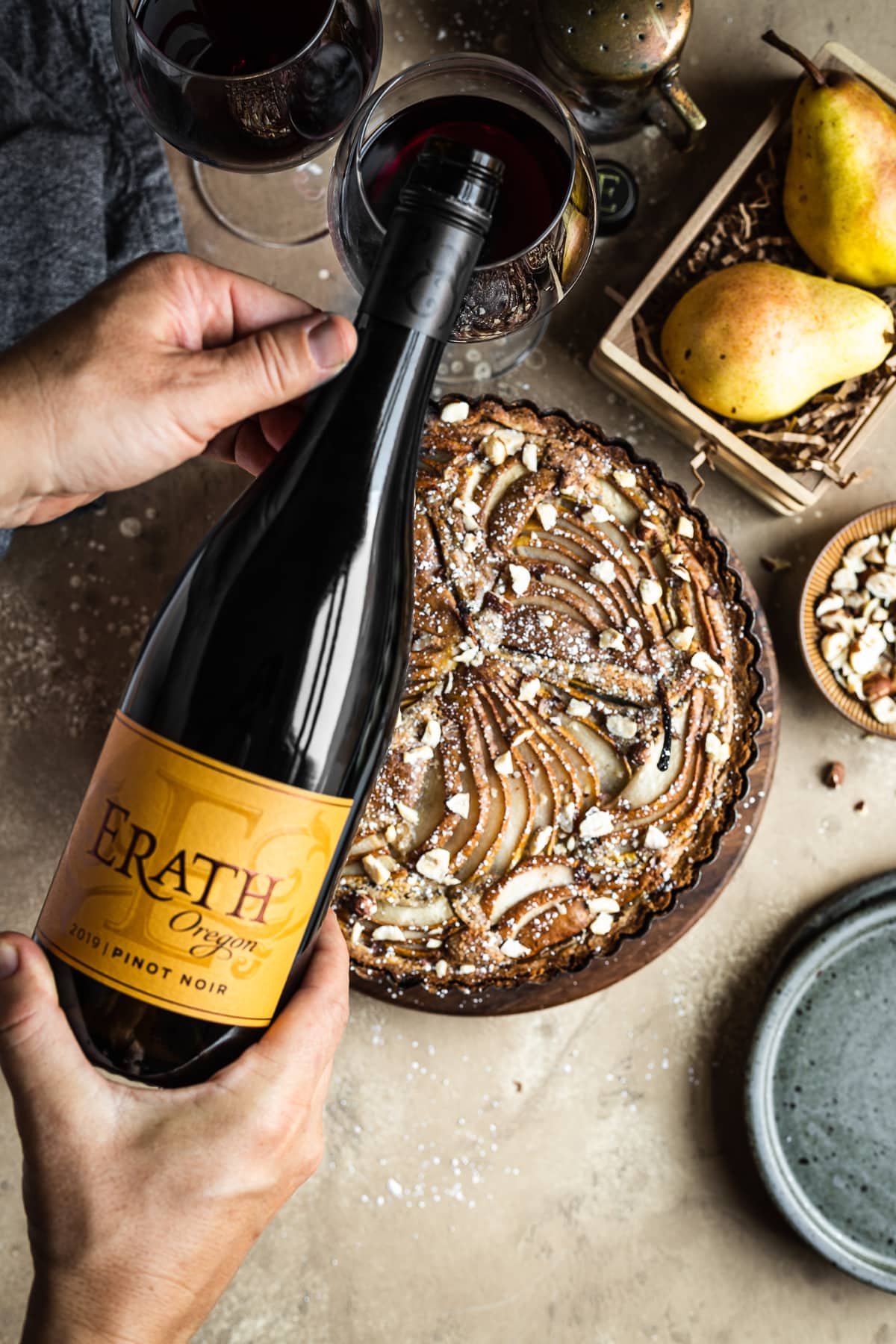 CAN I SUBSTITUTE FOR HAZELNUTS?
If you're not able to eat hazelnuts, or can't source them where you're located, you can certainly substitute them. For the shortbread crust, simply omit the hazelnuts. For the hazelnut frangipane, substitute 120g (1 ¼ cups) of almond flour/almond meal for the hazelnuts. This will result in a more classic pear frangipane tart with almond cream.
IS A PIE SHIELD NECESSARY FOR BAKING THIS TART?
Yes! The sweet tart crust needs to be blind baked before the hazelnut frangipane is added. The shield isn't necessary for the blind baking step, but is crucial for the main bake once the frangipane filling and pears are added. Covering the tart crust from the beginning will protect it from getting too dark while baking. Don't skip this step! You can use a store bought pie shield or a homemade foil version. Add it before you bake the tart so that it's easy to place while the tart is still cool!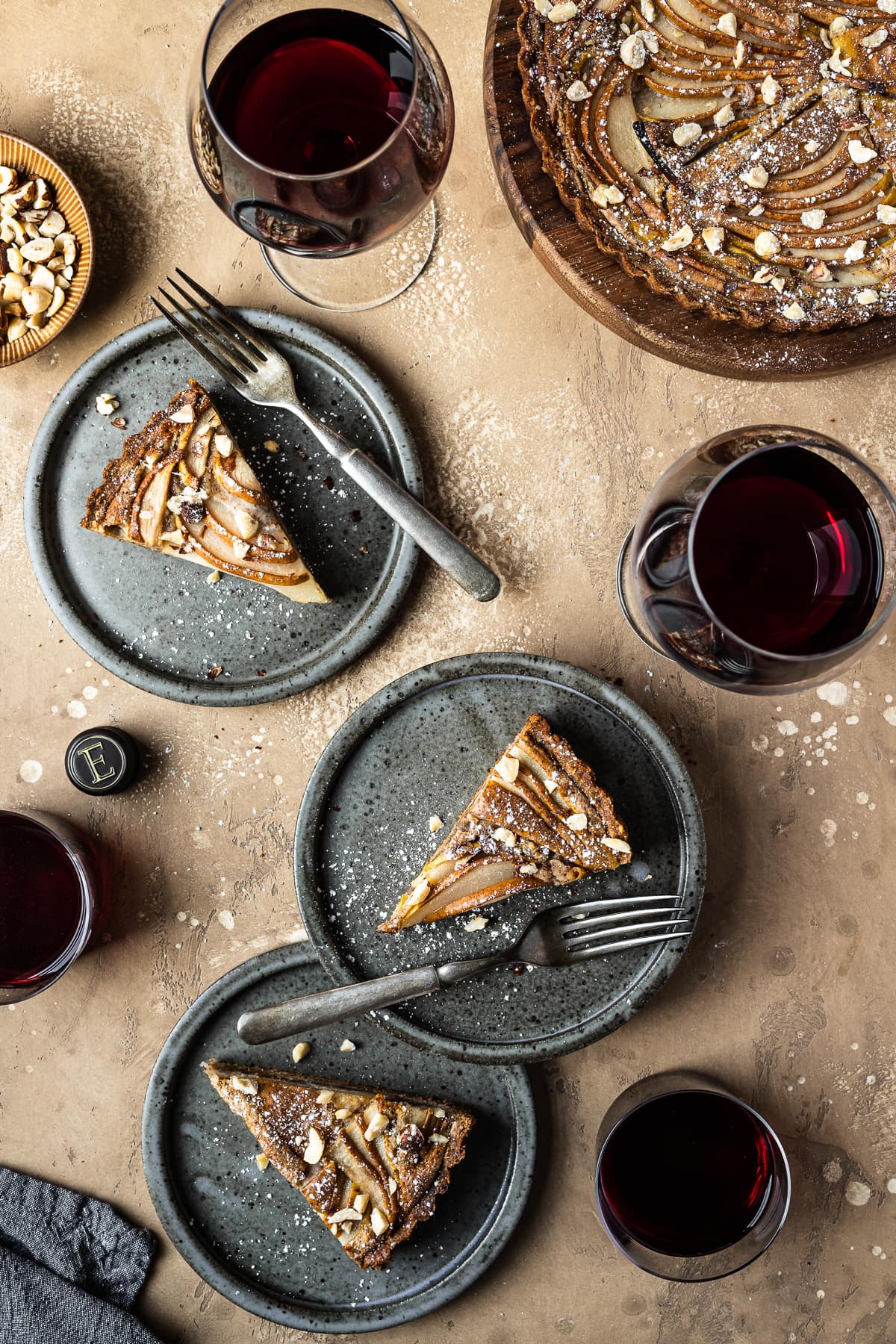 📖 Recipe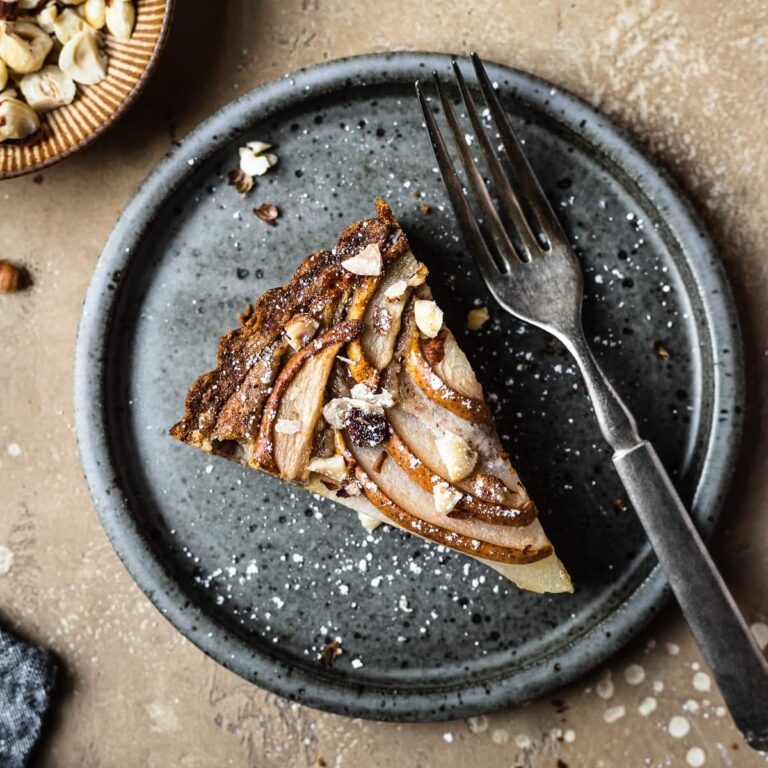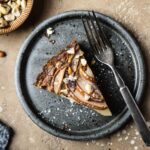 Pear Tart with Hazelnut Frangipane
Print Recipe
Pin Recipe
This pear hazelnut frangipane tart has a buttery, golden brown crust filled with a lightly spiced hazelnut frangipane. It's topped with pretty fans of thinly sliced fresh pear halves, toasted hazelnuts, and a dusting of powdered sugar. The perfect way to welcome fall!
Servings
12
servings (9" round tart)
INGREDIENTS
PATE SUCREE TART DOUGH
34

grams (¼ cup)

toasted hazelnuts, whole

50

grams (¼ cup)

granulated sugar

½

teaspoon

kosher salt

113

grams (½ cup, 4 ounces)

unsalted butter, at room temperature

120

grams (1 cup)

all purpose flour

1

egg yolk
HAZELNUT FRANGIPANE
135

grams (1 cup)

toasted hazelnuts, whole

150

grams (¾ cup)

granulated sugar

30

grams (¼ cup)

all purpose flour

lemon zest (from 1 medium lemon)

1

teaspoon

vanilla extract

¼

teaspoon

cinnamon

¼

teaspoon

ginger, ground

pinch

cloves, ground

2

large

eggs

45

grams (3 Tablespoons, 1 ½ ounces)

unsalted butter, room temperature, cubed
PEAR FILLING AND TOPPING
3

medium

pears, ripe but firm (such as Bartlett, Bosc or Anjou)

additional toasted hazelnuts, chopped, for topping

powdered sugar, for topping
INSTRUCTIONS
PATE SUCREE TART DOUGH
Preheat oven to 350 degrees Fahrenheit (177 C, Gas number 4) and place rack in middle of oven.

Place all whole hazelnuts (for crust, frangipane and any extra for decoration) in a single layer on a sheet pan and place in oven for 8-10 minutes, or until golden brown and nutty smelling. Shake the pan halfway through cooking to ensure the nuts brown evenly. Remove from oven and immediately transfer to a plate to cool to stop the cooking process.

To the bowl of a food processor, add the sugar, salt and 34g (¼ cup) cooled hazelnuts. Pulse until hazelnuts are finely ground.

Into the bowl of a stand mixer fitted with the paddle attachment, add the hazelnut mixture and butter. Mix well to combine, and continue beating on medium high until mixture is pale and fluffy, about two minutes. Scrape down the sides of the bowl. Add the flour and mix until just combined. It will be coarse and grainy. Add the egg yolk and mix for about 30 seconds. The dough should start to pull together into a ball.

Flatten the dough into a disc shape and wrap well with plastic wrap. Refrigerate for at least an hour.

Remove dough from refrigerator and let sit on counter to soften slightly. Roll the dough out between two sheets of parchment paper to a 10 inch diameter circle.

Peel off one layer of parchment. (If the dough is very soft and wants to stick, place it back into the fridge to firm up for a few minutes). Carefully transfer dough to the 9 inch tart pan by turning it upside down on top of the pan and peeling off the remaining parchment. Gently press the dough down into the pan and up the sides, ensuring that no empty space remains between the dough and the corners of the pan. If cracks or tears occur, patch with extra dough scraps. Chill in the refrigerator for 30 minutes. After chilling, trim the excess dough flush with the tart edge with a knife held parallel to your work surface.

Preheat oven to 400 degrees Fahrenheit (200 C, Gas number 6). Remove tart pan from refrigerator and line the tart dough with a piece of parchment paper. Fill with pie weights or dried beans (I use and reuse the latter) to keep the dough from puffing up. Bake for 6 minutes and then carefully lift the weight-filled parchment from the pan. Return to the oven to bake an additional 6 minutes. Place on a baking rack to cool. If crust has slumped at all, use a ⅓ cup measuring cup to gently press the crust back into shape along the edge and base.
HAZELNUT FRANGIPANE
Preheat the oven to 350 degrees Fahrenheit (177 C, Gas number 4) and place rack in middle of oven.

To the bowl of a food processor, add 1 cup of toasted hazelnuts and sugar. Process until hazelnuts are very finely ground. Add flour, lemon zest, vanilla, spices and eggs. Scatter the butter over the top. Process until well mixed. You may need to stop the processor to scrape down the sides partway through. Pour filling into cooled tart shell. Use an offset spatula to smooth the filling evenly around the entire shell.
PEAR FILLING AND TOPPING
Slice pears in half lengthwise, from stem to base. Carefully remove core, leaving stem intact for decoration. Place pear halves flat side down. Starting about ½" below the top, slice pears into around 8-10 thin strips, keeping the top intact. Gently fan out the pieces, making sure not to break them off. Place, curved side up, onto top of frangipane. Cover frangipane with remainder of pear halves. As space becomes limited, cut 2-3 strips of the sliced pears, fan them out, and tuck them into smaller areas, trimming pears as needed for best fit.

Cover the tart crust with foil to protect it from getting too dark while baking. Don't skip this step! You can use a pie shield or a homemade foil version.

Place tart on a baking sheet and bake for 55-60 minutes, until pear slices are golden and frangipane filling is puffed, golden brown, and no longer moist.

Set on a baking rack to cool. Immediately before serving, sprinkle with chopped toasted hazelnuts and dust with powdered sugar by placing the powdered sugar in a small sieve and tapping it (gently!) with your hand as you move it over the tart. May be served plain or with a bit of whipped cream, maple sweetened mascarpone, or vanilla ice cream.
The Floured Table
Recipe Author: Kathleen Culver
https://www.theflouredtable.com/pear-tart-with-hazelnut-frangipane/
Made this recipe? Please leave a comment and a star review! ★★★★★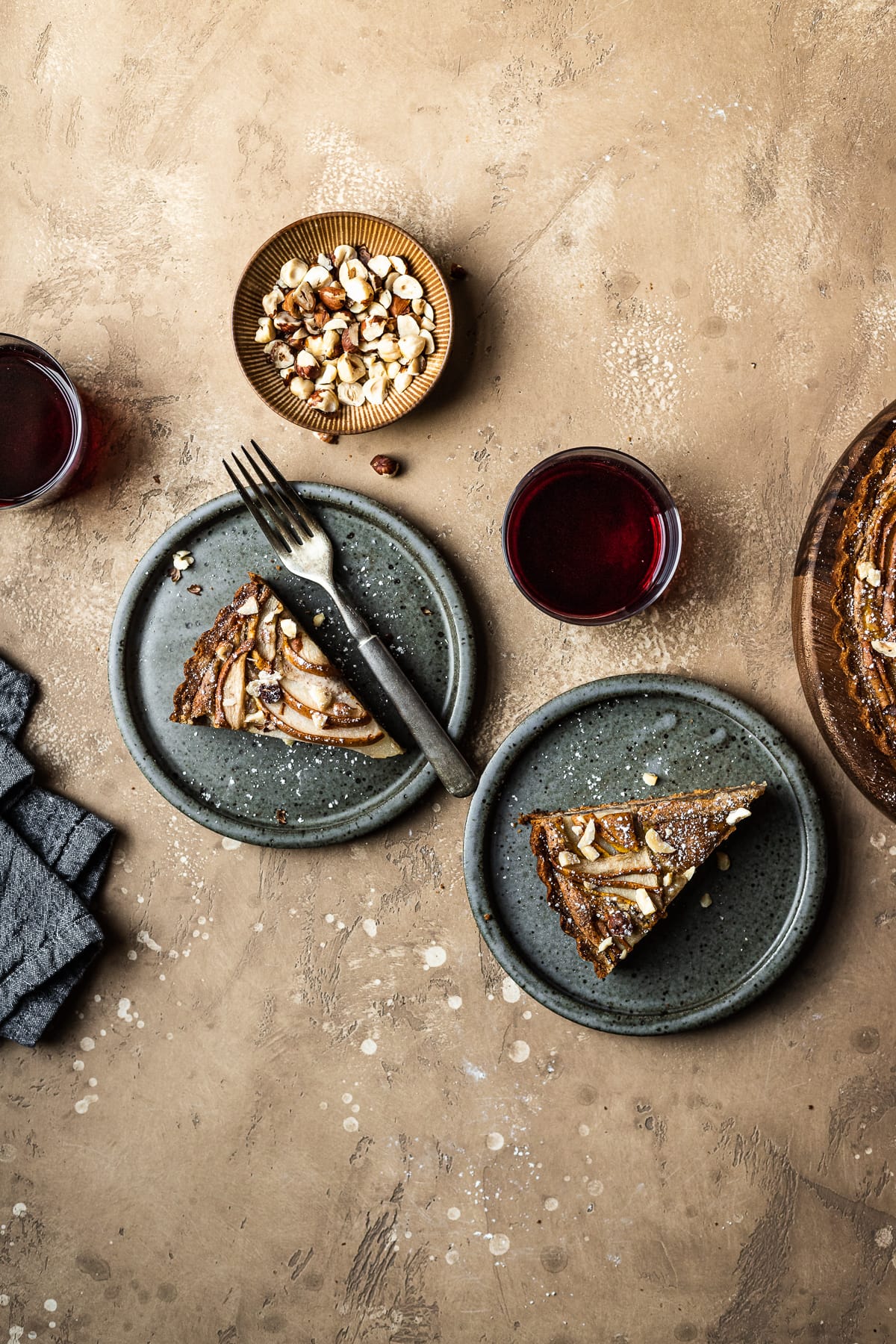 MORE FALL RECIPES
If you're ready for fall baking, here are a few more delicious options to consider!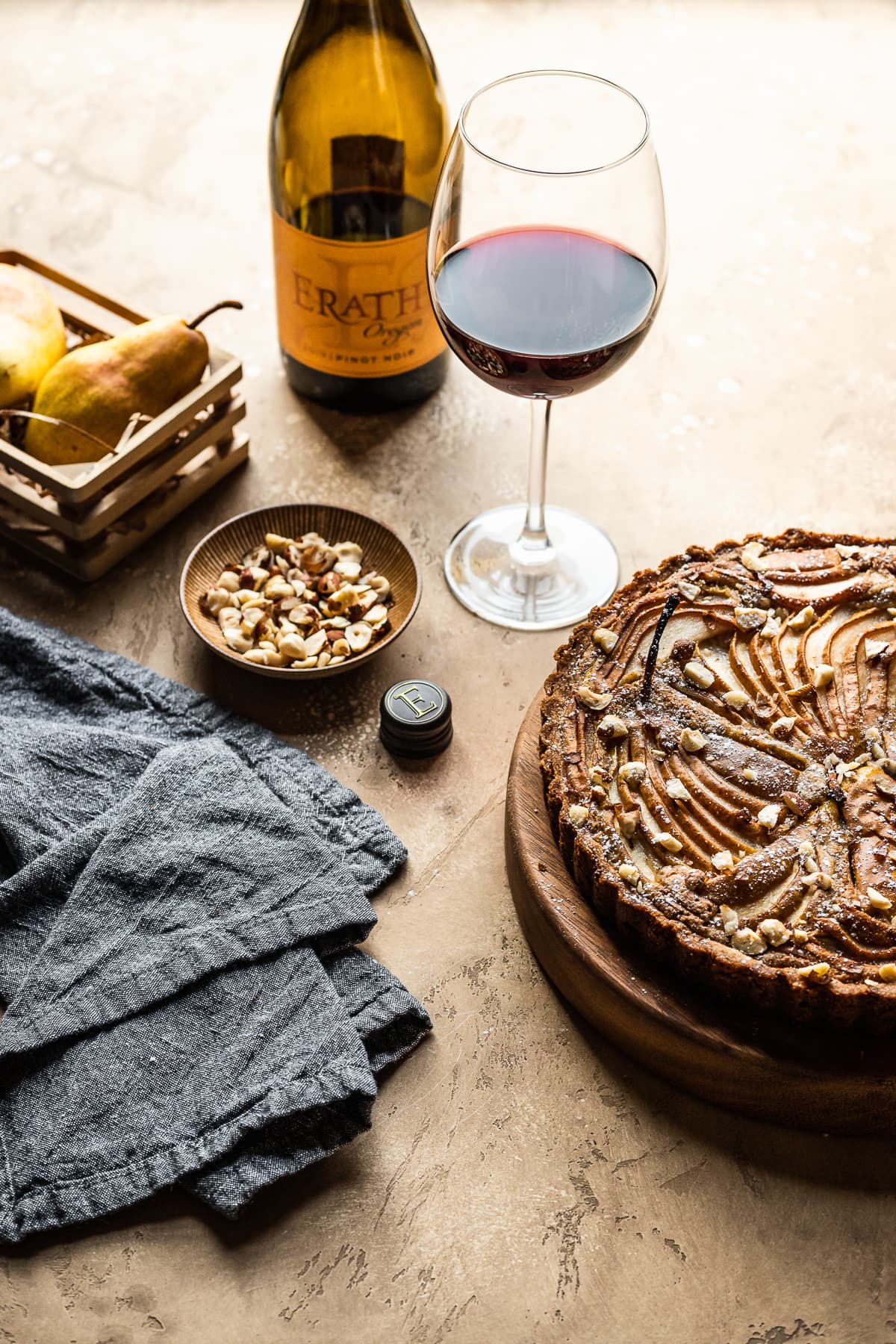 Thank you to my friends at Erath for making this post possible. And to you, my readers: thank you for supporting the great companies I work with. This allows me to continue creating high quality recipes and content for you.