These chewy, fudgy biscoff blondies are full of the warming, golden caramel flavors of Belgian speculoos cookies and cookie butter spread. Notes of cinnamon and nutmeg combine with rich, buttery brown sugar in these rich bar cookies. This easy, one bowl recipe uses melted butter so there's no mixer required.
This post was originally published June 22, 2022. It has been updated to include labeled ingredient images and step-by-step photos for making the recipe.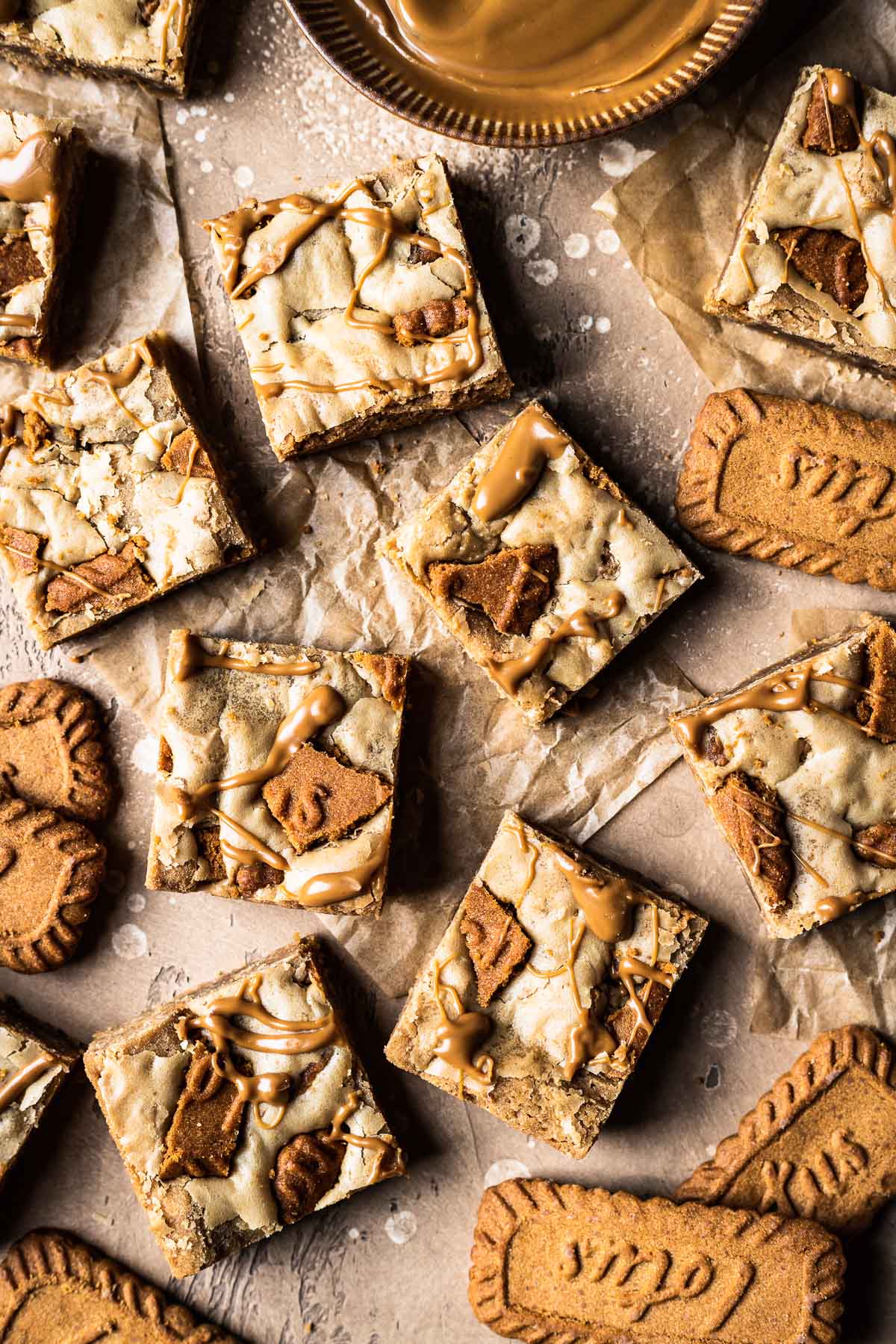 I keep a jar of biscoff cookie butter in the pantry, and use it frequently. After making my raspberry white chocolate blondies, I knew the caramel flavors of Belgian biscoff cookies (also known as speculoos) and the cookie butter spread made from them, would be the perfect pairing with the buttery, brown sugar flavors of the blondies.
I've packed in as much biscoff flavor as possible. There are crumbled biscoff cookies in the dough and cookie chunks studding the top of the bars. I've added cookie butter spread to the dough and as a decorative drizzle on top. There's no shortage of biscoff taste here.
If you're a fan of biscoff, you'll also love these chewy biscoff butter cookies, which have a similar flavor profile in round drop cookie form.
Explore the entire collection of cookie recipes here.
Jump to:
Ingredients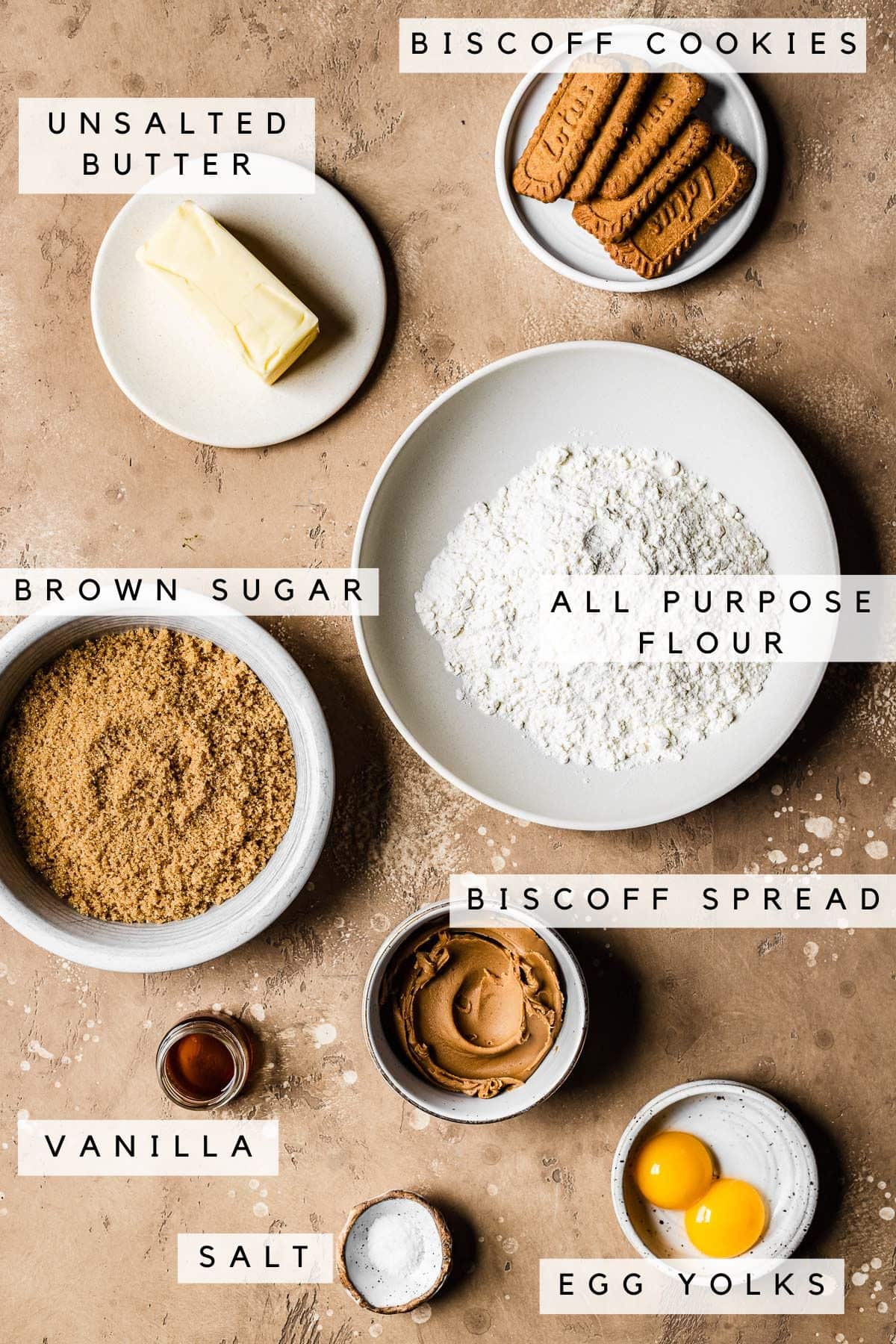 Unsalted butter - Using unsalted butter allows you to control the total quantity of salt in the recipe. Salt content in salted butter varies from brand to brand. Melting the butter makes this a really easy cookie recipe to make without a mixer. Using melted butter also gives you a more chewy, dense cookie.
Brown sugar - Brown sugar adds caramel flavor and extra moisture, which makes these bar cookies nice and chewy in the center. I don't recommend using coarse organic brown sugar in this recipe, as it doesn't dissolve well into the melted butter. This results in a grainier finished product.
Biscoff cookie butter spread - I use the creamy variety of cookie butter spread here. You can find cookie butter spread online or in stores. Trader Joe's sells their own version of the spread.
Egg yolks - Using egg yolks rather than whole eggs adds additional flavor and richness while reducing moisture, creating a fudgier texture.
Biscoff cookies - Adding broken up biscoff cookies (also known as speculoos cookies, or Belgian spice cookies) contributes additional texture, crunch and flavor to the biscoff blondies. You can purchase them online (affiliate link) or find them in the cookie aisle in many grocery stores.
* See recipe card for full list of ingredients and quantities.
Instructions
Learn how to make biscoff blondies! These photos provide visual cues. Find the detailed instructions in the recipe card.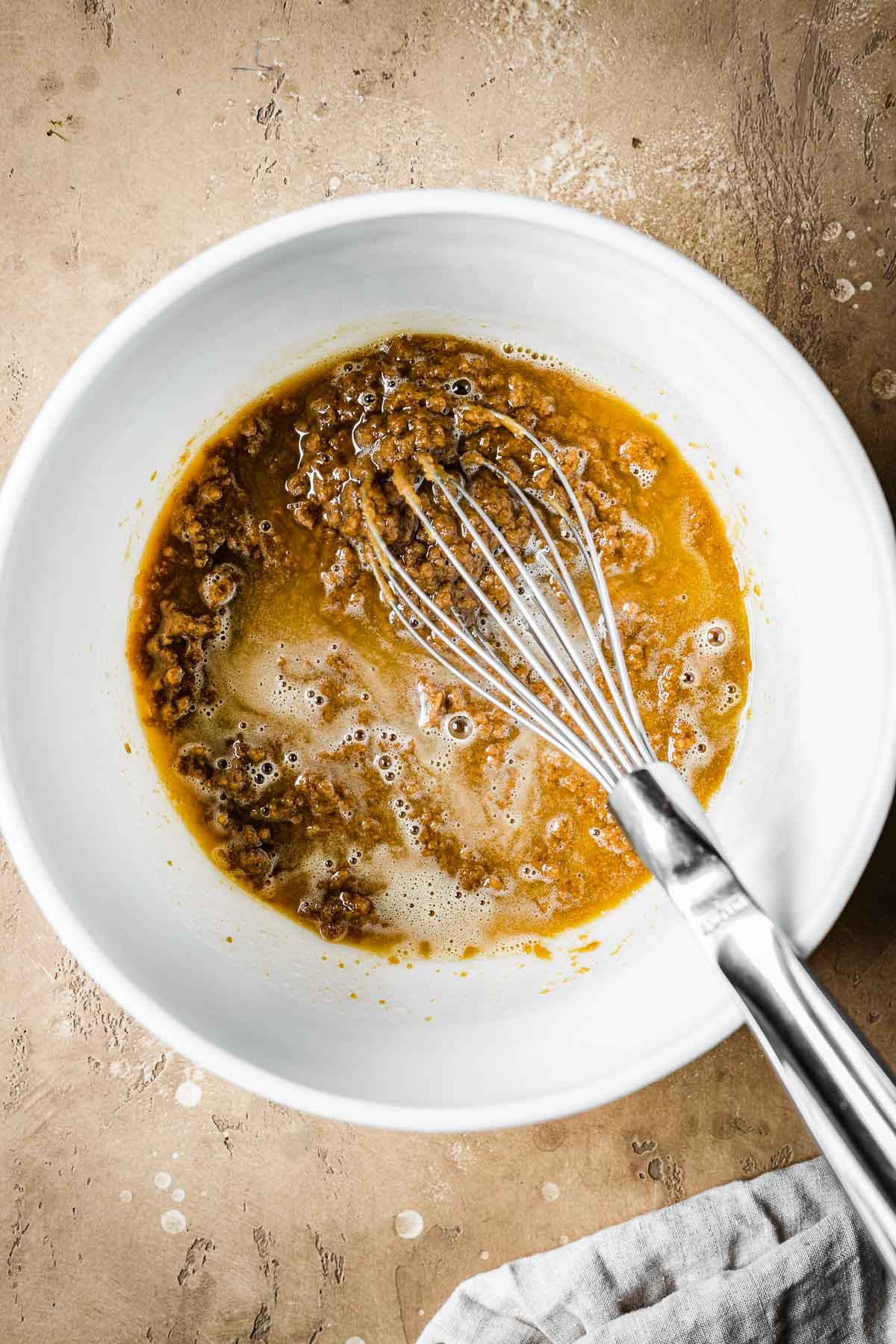 In a microwave safe bowl, heat butter and brown sugar in 30 second increments until fully melted. Whisk until well incorporated and the mixture looks smooth and glossy. Add biscoff spread. Don't worry if the mixture begins to curdle. It will come together at the next step.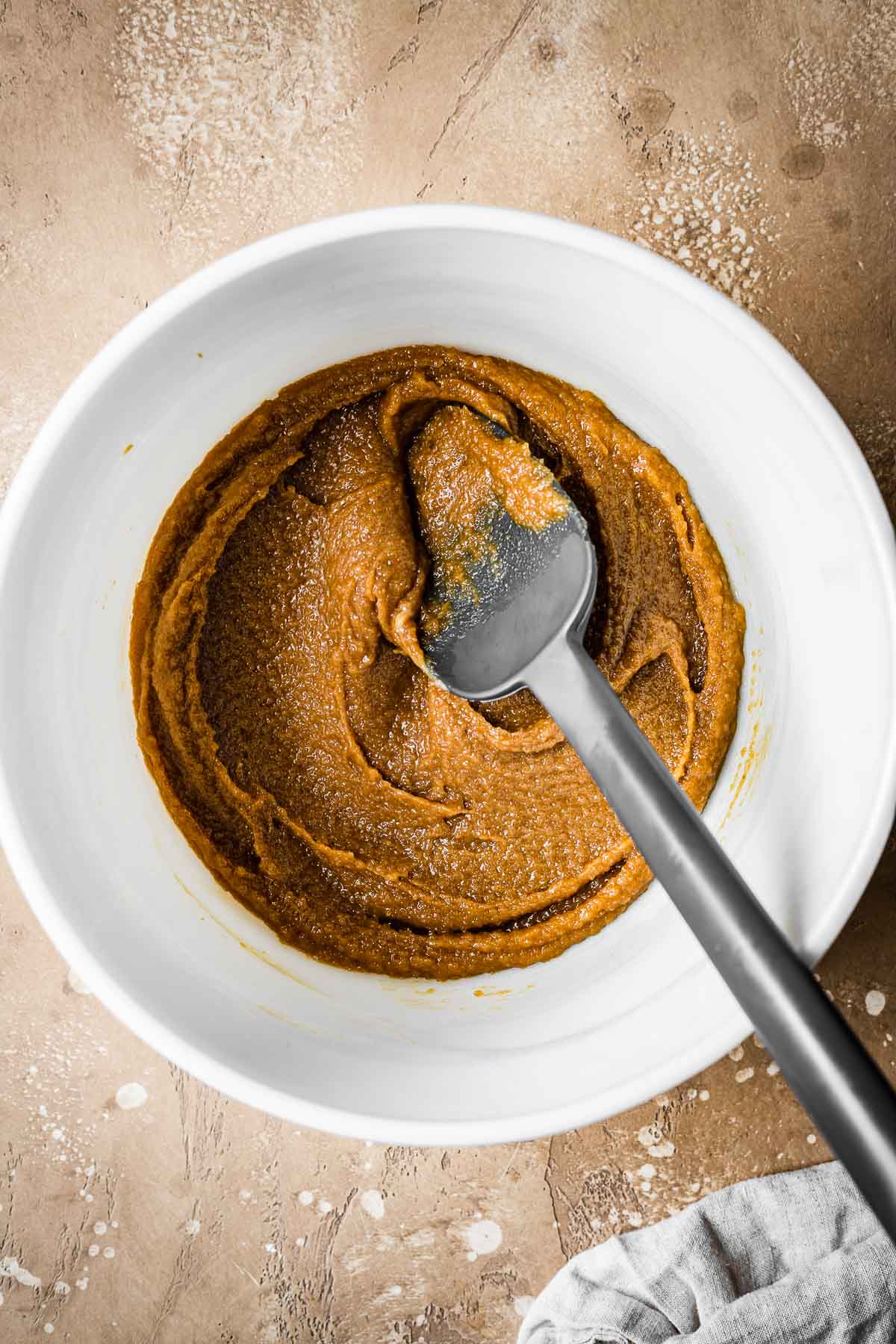 Add egg yolks, vanilla and salt, mixing thoroughly until fully incorporated.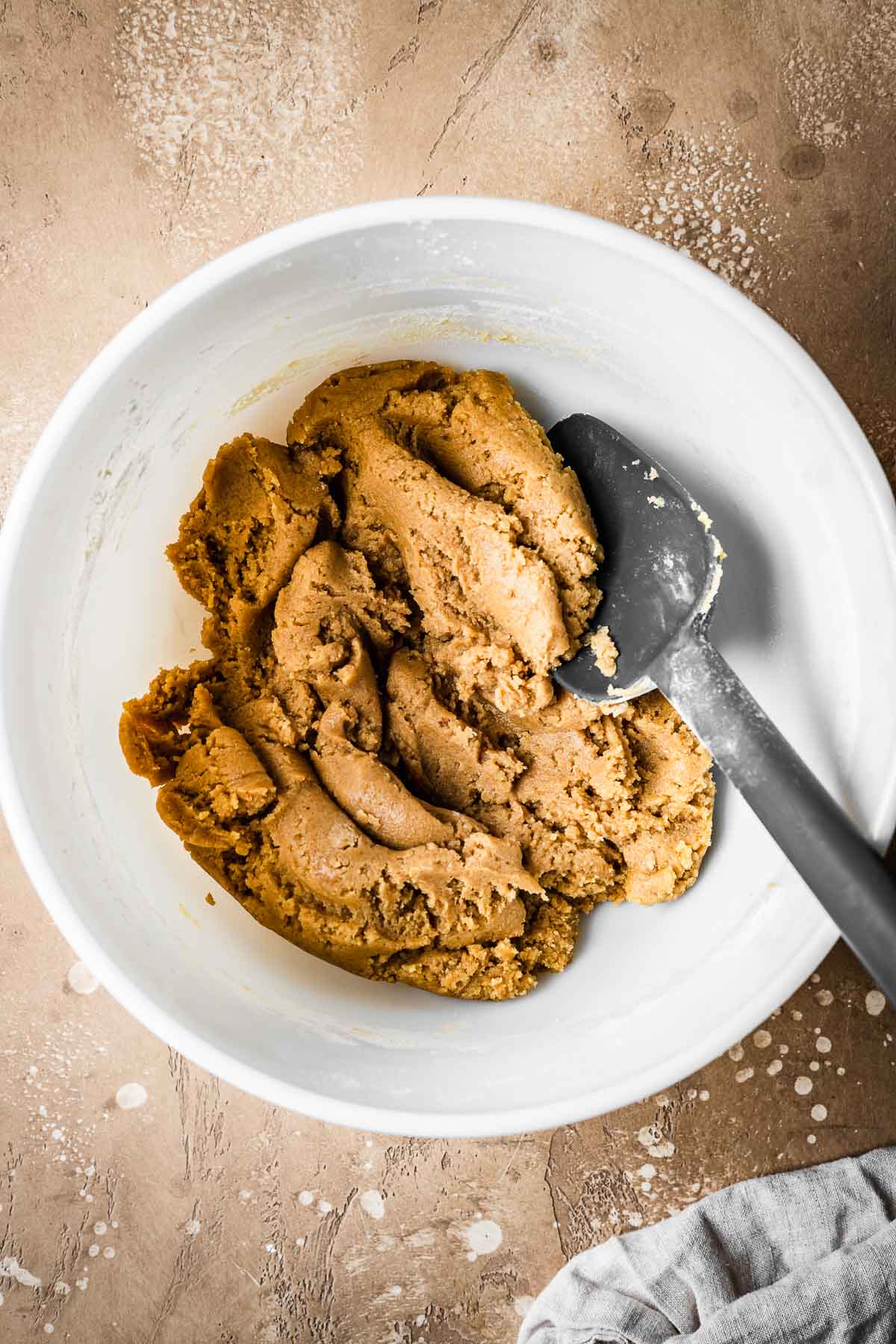 With a spoon or spatula, mix in flour.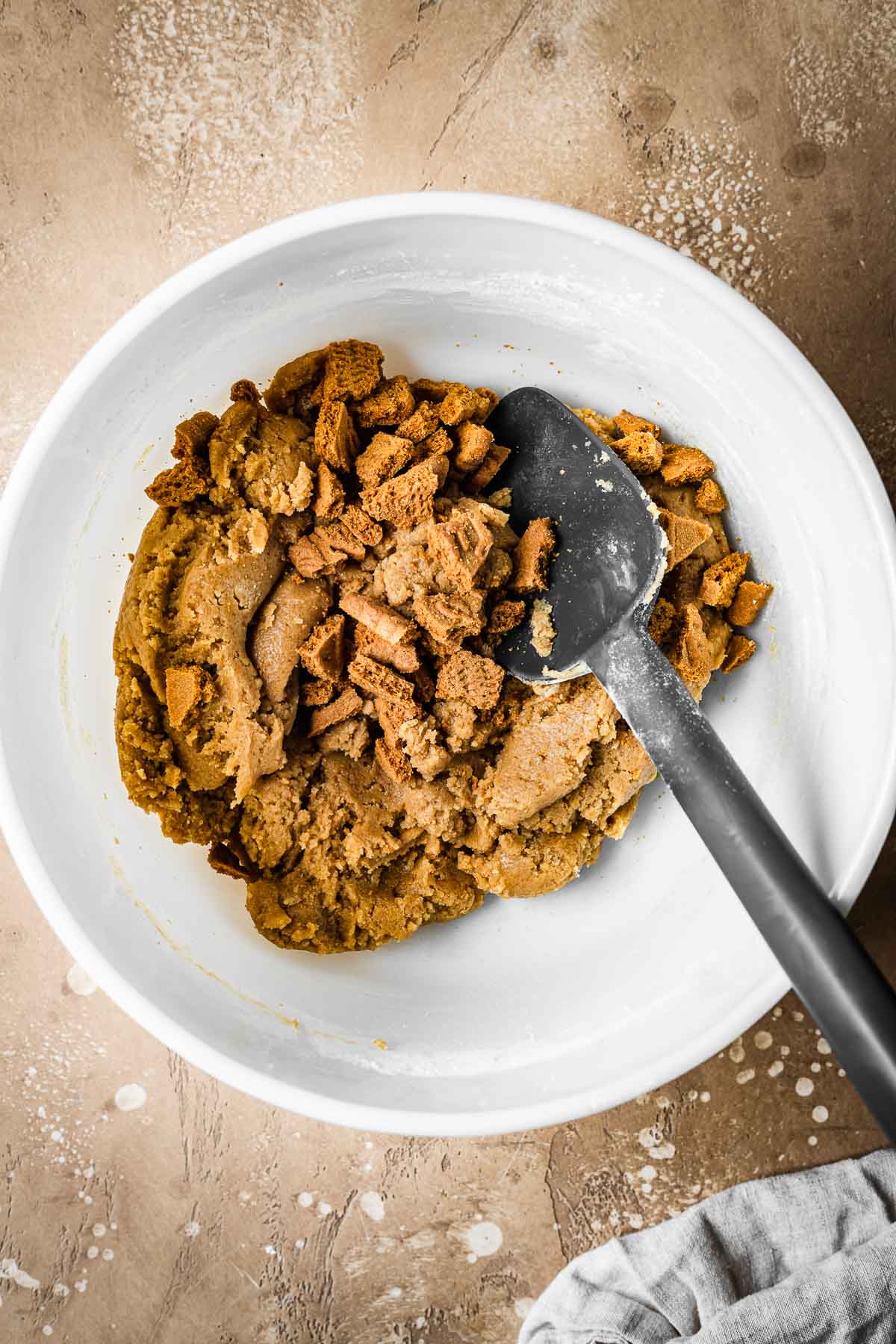 Break 4 Lotus biscoff cookies into small pieces. Add to dough.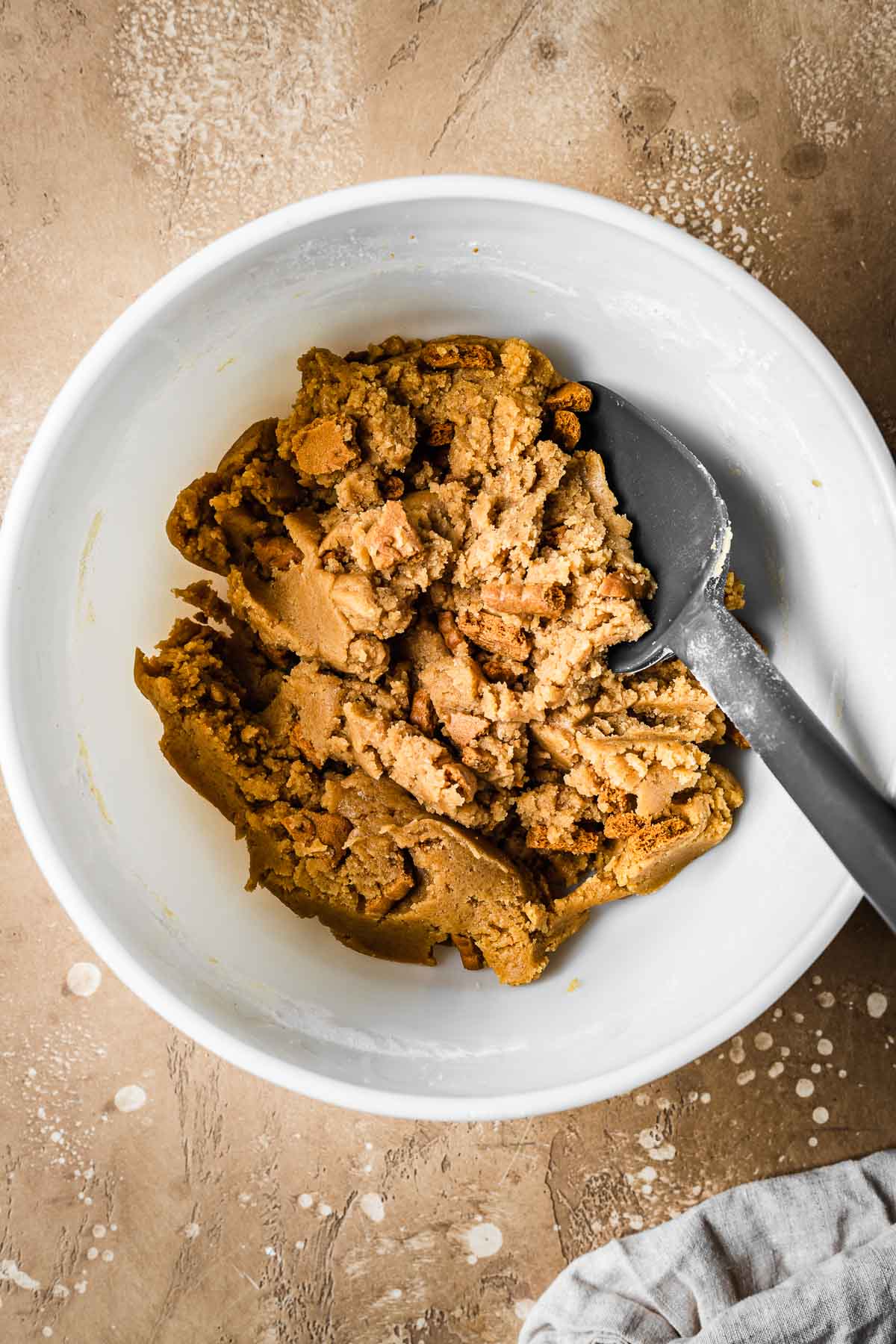 Mix just to distribute cookies throughout dough.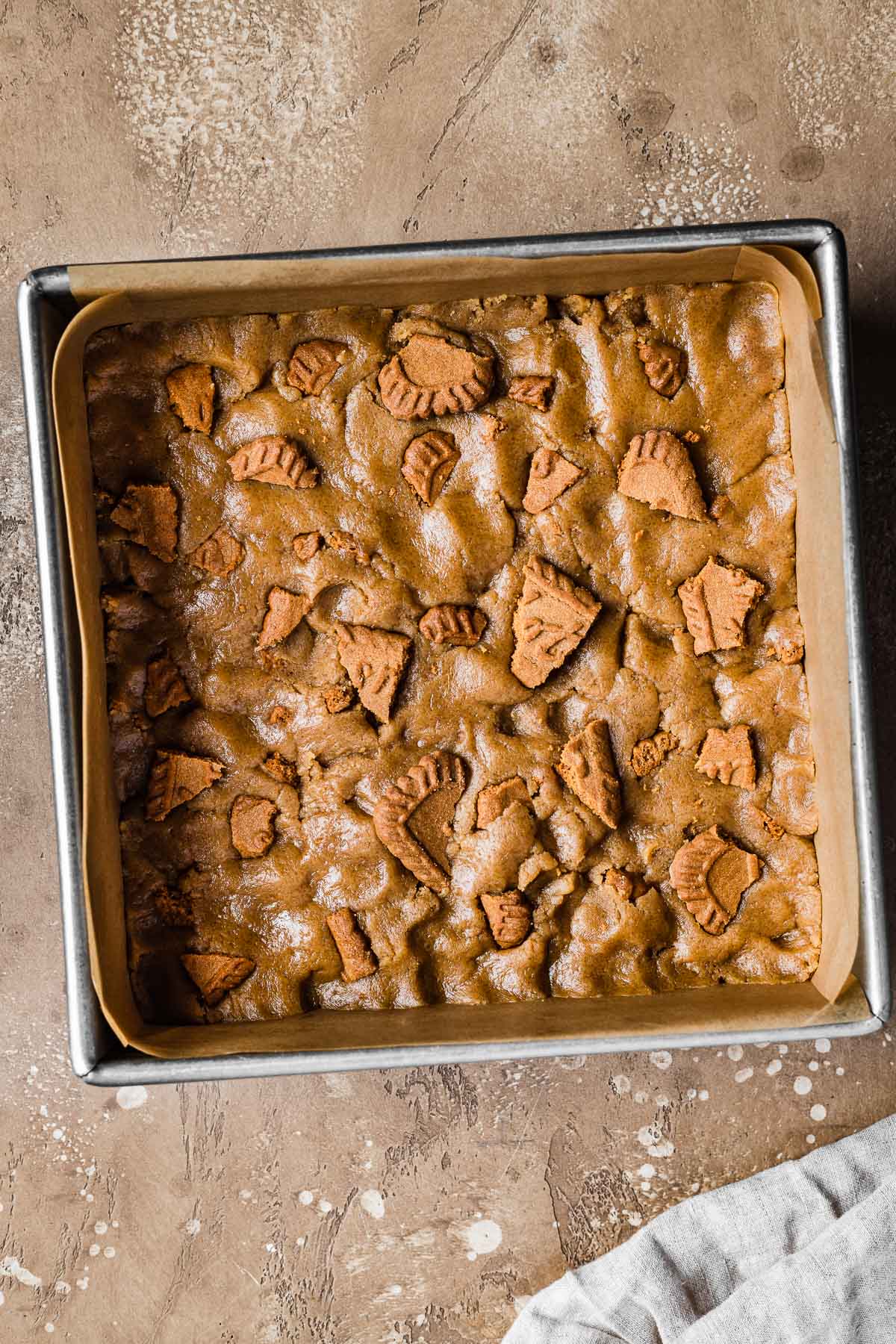 Scoop the dough into the pan in spoonfuls and gently spread or press into an even layer. Gently press larger biscoff cookie chunks into top of dough.
Bake for 21-24 minutes, until center is fully set, top is gently golden brown, and bars are beginning to pull away from the pan at the edges. Place on a rack to cool. After cooling a bit, drizzle with warmed cookie butter spread. Once fully cooled, slice and serve.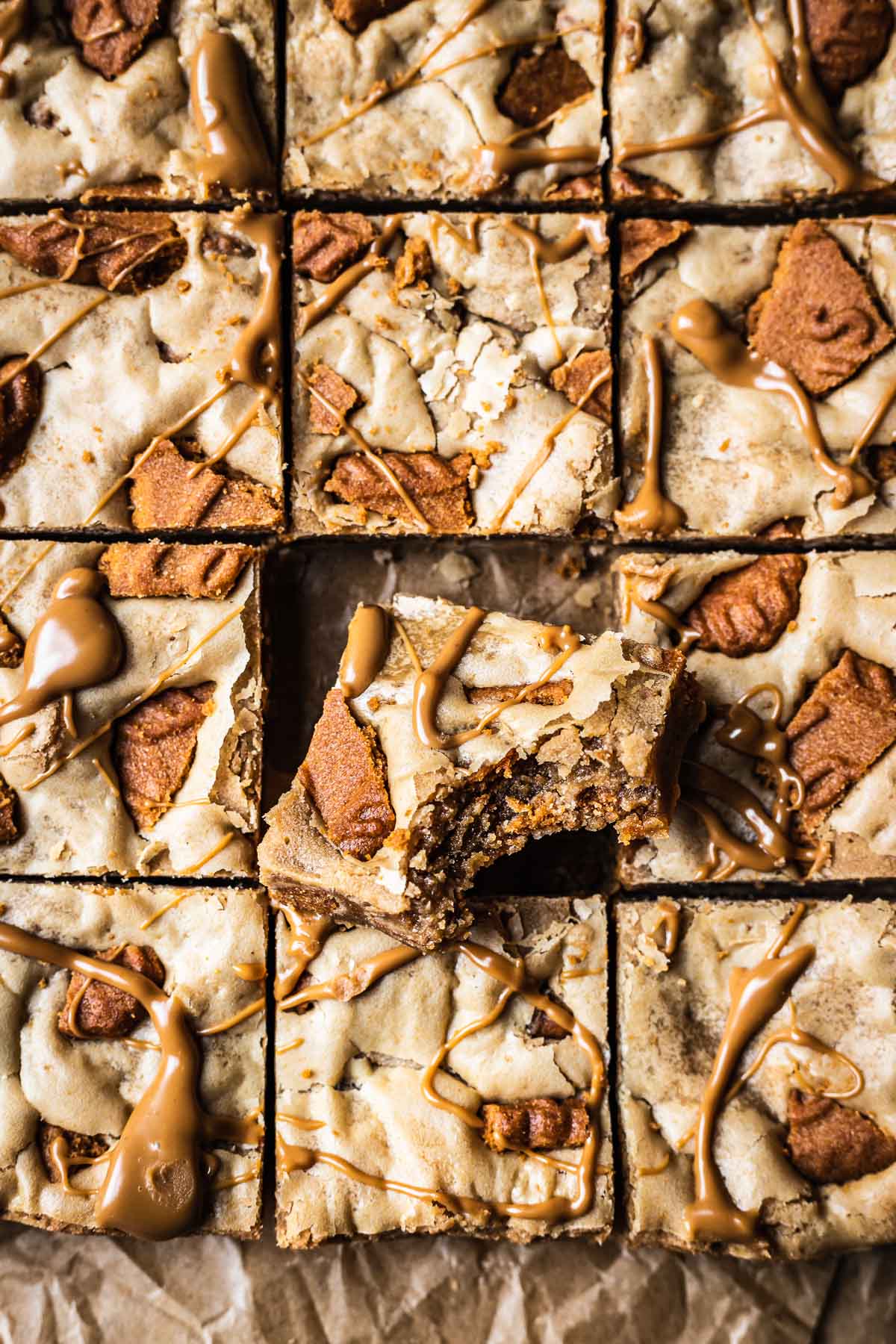 Hint: For best results (and neat slices), wait until the biscoff blondies are completely cool before cutting into pieces. They'll have a denser, fudgier mouthfeel if allowed to cool first so the butter and cookie butter can set.
Variations
I chose to make the biscoff flavor in these speculoos blondies the main focus, so I omitted additional items like white chocolate chips. Feel free to try these variations if you want a more complex flavor!
White chocolate biscoff blondies - Add 120 grams (4 oz, ⅔ cup) coarsely chopped chunks of white chocolate (or white chocolate chips) to the dough. Baking time may need to be increased a few minutes due to additional volume.
Extra spice - For an extra big punch of speculoos flavor, add 1 teaspoon cinnamon and ¼ teaspoon nutmeg (freshly grated if you have it) to the dry ingredients. For authenticity and best flavor match to the biscoff taste, seek out Ceylon cinnamon. Ceylon cinnamon is most common in Belgian recipes, including speculoos cookies, and is lighter and more floral in flavor than Cassia cinnamon. Cassia cinnamon is most commonly used in the United States and flavors recipes like cinnamon rolls and apple pie.
Chocolate chip biscoff blondies - Add 120 grams (4 oz, ⅔ cup) coarsely chopped chunks of your favorite chocolate bar (or chocolate chips) to the dough. Baking time may need to be increased by a few minutes due to additional volume.
For other blondie varieties, see my raspberry white chocolate blondies and my brownie blondies!
Equipment
Items below contain affiliate links.
Square metal pan - I use this 8 x 8 x 2.25 inch nonstick metal pan to bake most of my bar cookies.
Glass and metal pans conduct heat differently. Glass bakeware takes longer to heat up than metal pans, and retains heat for longer once hot. Using a glass pan without adjusting this recipe might result in overbaked edges, as the dough will take longer to cook, and might bake too long towards the sides.
If you only have a glass pan, you may need to experiment with lowering the heat by 25 degrees Fahrenheit and baking for an additional 10 minutes. King Arthur Baking has visual examples of recipes tested using different pans here.
Binder clips - Use small or medium binder clips to keep the parchment paper lining the pan from falling down into the blondie dough. I also use them as bag clips to keep my pantry ingredients sealed.
Parchment paper is great for lining the baking pan. The cookies won't stick at all if you use parchment paper underneath. Bonus: you don't have to use any grease, and can often simply wipe down the pan rather than needing to wash it after baking. One roll of this 15 inch x 164 foot (38 centimeter x 50 meter) non-stick paper lasts a LONG time! If you have access to a nearby Costco, the price is often a bit better in store.
Storage
Store: Store cooled cookie butter bars in an airtight container at room temperature for up to a week.
Freeze: Can you freeze biscoff blondies? Yes! Freeze the blondies in an airtight container or zipper sealed bag with parchment paper between layers for 2-3 months.
Recipe Tip
If you make the blondie dough quickly, the melted butter will still be warm, and the dough will have a much thinner consistency. If you make the dough slowly (or barely melt the butter), the dough will begin to firm up and you'll need to press it into the pan. I baked batches with the dough both thinner and thicker with no significant change to the final result.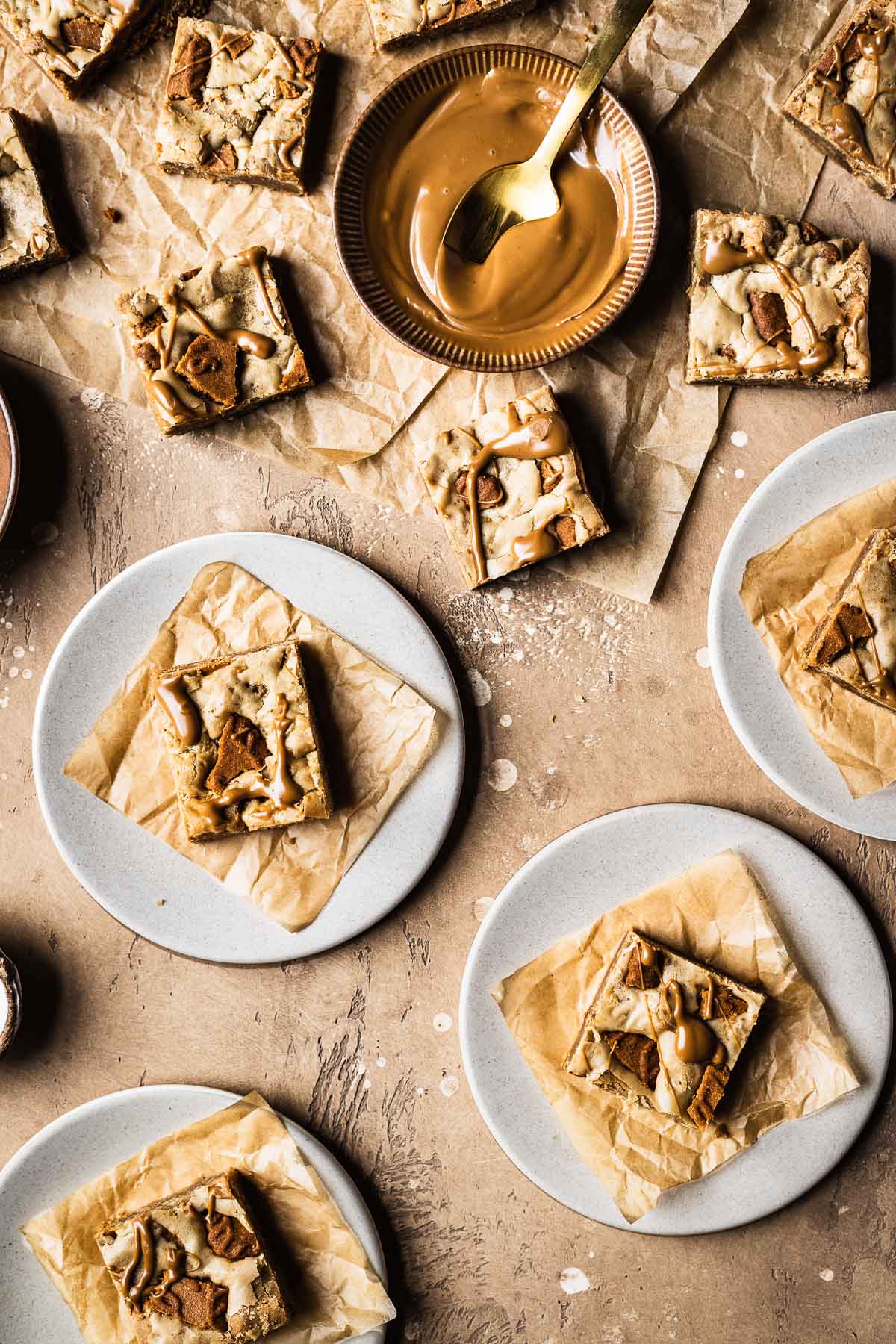 FAQ
What is cookie butter?
Cookie butter also goes by the name biscoff spread or speculoos spread. It is a blended paste made of speculoos cookies, oil, flour and sugar and has a similar consistency to peanut butter. It comes in both crunchy and creamy varieties.

Cookie butter was first introduced in the early part of the 2000s by several competitors on a Belgian TV show featuring inventors, De Bedenkers ("The Inventors.") Lotus Biscoff went on to purchase the recipe from the inventors and incorporate the product into their sales.
Speculoos vs. Speculaas?
Though the terms are similar, the two cookie varieties are actually different from each other. Speculaas cookies originated in the Netherlands and are full of flavorful spices, much like gingerbread. Speculaas spice commonly includes cinnamon, nutmeg, cardamom, white pepper, cloves, ginger, allspice and cloves.

Speculoos cookies, on the other hand, are from Belgium. They use far less spice than the Dutch version as spices were much more expensive to import to Belgium. These cookies frequently contain only cinnamon, and sometimes nutmeg. The main flavor is a rich caramel taste, which comes from the unique flavor of Belgian brown sugar.

Belgian brown sugar is made from beet sugar that has been caramelized and has a rich, dark flavor profile. This contrasts to most brown sugar in the US, which is made from beet or cane sugar that has had molasses added to it.

Biscoff is the most popular brand of speculoos cookies, made by the Lotus Biscoff brand. They have been making their unique version of speculoos cookies in Lembeke, Belgium since 1932.
More Bar Cookies
If you liked this biscoff blondie recipe, you'll want to explore these other bar cookies too!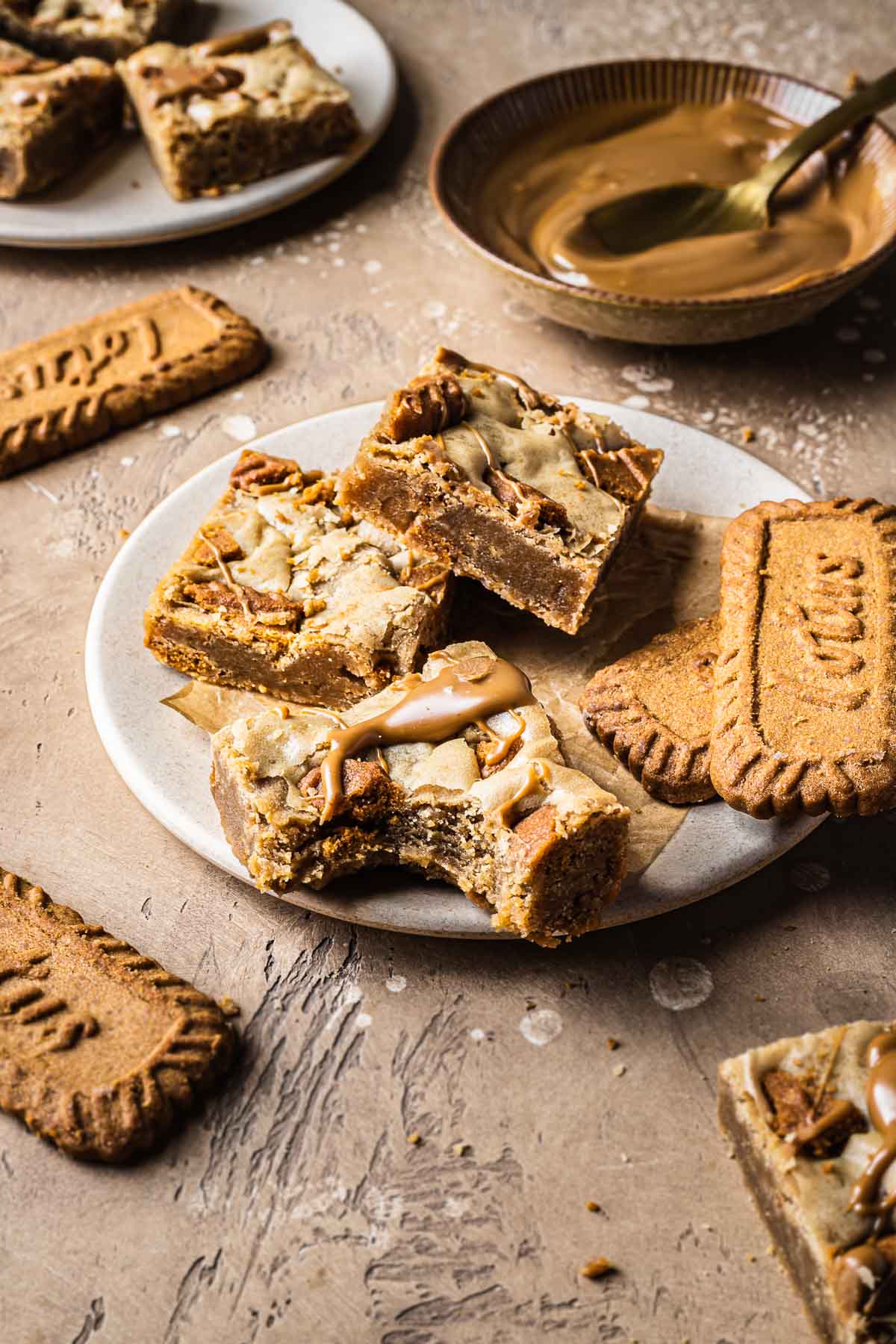 Love this recipe? Please leave a 5-star ★★★★★ rating in the recipe card below, and scroll down to leave a review. Your comments, suggestions and adaptations are very helpful to other bakers. Thank you for visiting!
📖 Recipe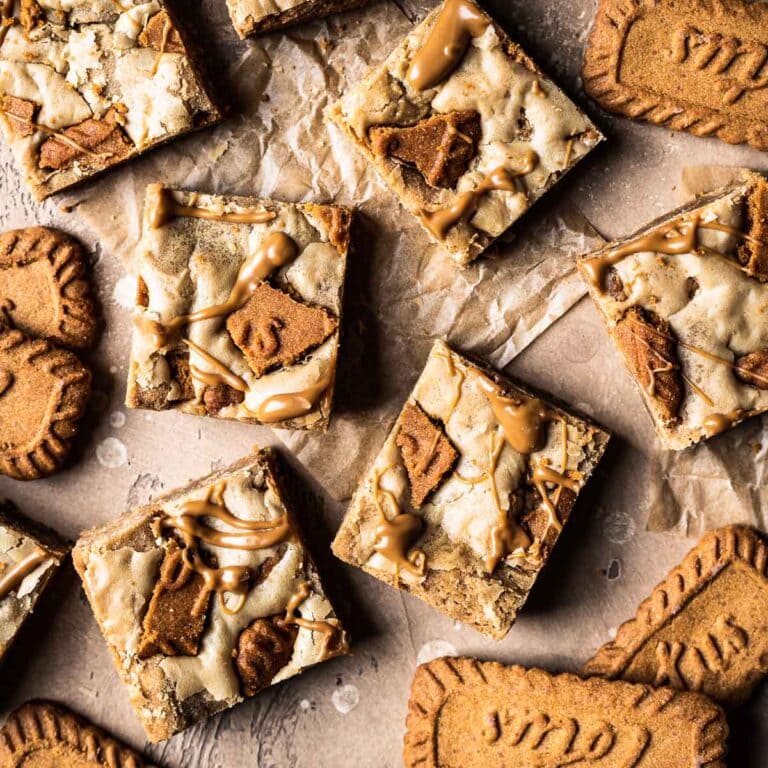 Biscoff Blondies
Print Recipe
Pin Recipe
These chewy, fudgy biscoff blondies are full of the warming, golden caramel flavors of Belgian biscoff cookies and speculoos (cookie butter) spread. Notes of cinnamon and nutmeg combine with rich, buttery brown sugar in these easy bar cookies. 
Servings
16
squares ( 8 x 8 inch pan, 20 x 20 centimeter)
INGREDIENTS
Biscoff Blondies
113

grams (4 ounces, 8 Tablespoons)

unsalted butter

175

grams (¾ cup + 2 Tablespoons)

brown sugar

90

grams (6 Tablespoons)

creamy cookie butter spread (speculoos or biscoff)

2

large

egg yolks

1

teaspoon

vanilla extract

½

teaspoon

Kosher salt

150

grams (1¼ cups)

all purpose flour

4

biscoff cookies, broken into blueberry sized pieces
Biscoff Blondie Topping
2

biscoff cookies, broken into blueberry and cherry sized pieces

30

grams (2 Tablespoons)

creamy cookie butter spread (speculoos or biscoff)
INSTRUCTIONS
Place rack in center of oven and preheat to 350° Fahrenheit (177° Celsius, Gas mark 4).

Line an 8 x 8 inch (20 x 20 cm) metal baking pan with parchment paper, extending it up opposite sides as a handle to lift out the baked blondies. I like to use binder clips to clip the paper to the sides so that it doesn't slump into the dough.

In a microwave safe bowl, heat butter and brown sugar in 30 second bursts until fully melted, 60-90 seconds. Whisk until the mixture looks smooth and glossy. Add cookie butter spread and whisk until fully incorporated. If the mixture starts to look curdled, don't worry! The next addition will smooth it back out again.

113 grams (4 ounces, 8 Tablespoons) unsalted butter,

175 grams (¾ cup + 2 Tablespoons) brown sugar,

90 grams (6 Tablespoons) creamy cookie butter spread (speculoos or biscoff)

Add egg yolks, vanilla and salt. Whisk thoroughly. With a spoon or spatula, mix in flour.

2 large egg yolks,

1 teaspoon vanilla extract,

½ teaspoon Kosher salt,

150 grams (1¼ cups) all purpose flour

Stir in the 4 biscoff cookies that have been broken into small pieces. Mix in just until distributed throughout dough.

4 biscoff cookies, broken into blueberry sized pieces

Scoop the dough into the pan and gently press it evenly into the corners. Press the larger broken pieces of remaining 2 biscoff cookies into the dough.

2 biscoff cookies, broken into blueberry and cherry sized pieces

Bake for 21-23 minutes, until center is fully set, top is golden brown, and bars are pulling away from the pan at the edges. Once somewhat cool, gently warm the remaining 2 Tablespoons of cookie butter in 5 second bursts in the microwave (or in a double boiler over a bowl of hot water). Using a spoon, drizzle runny cookie butter over the bars. Wait until blondies are fully cooled before cutting into pieces.

30 grams (2 Tablespoons) creamy cookie butter spread (speculoos or biscoff)
The Floured Table
Recipe Author: Kathleen Culver