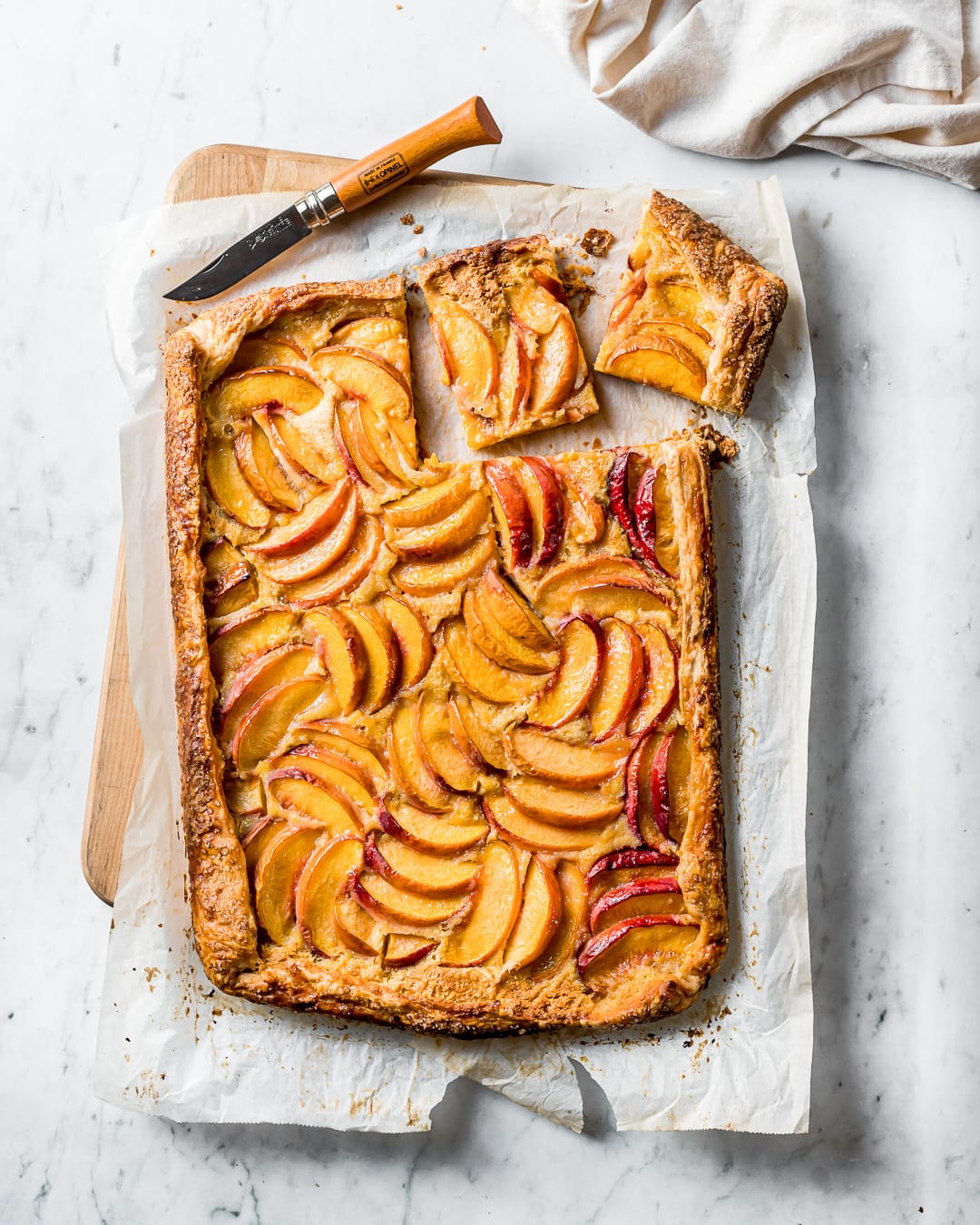 37 degrees. That's the temperature my thermostat registered outside my house this morning. We're entering the second week of October here in the Pacific Northwest. The chilly morning lows and the sunny late afternoon highs swing back and forth and keep us guessing about what to wear. I just bought my daughters new gloves, and I've shaken out the winter coats. And yet, here I am, posting tempting photos of a peach galette with cornmeal frangipane basking in the late afternoon sun.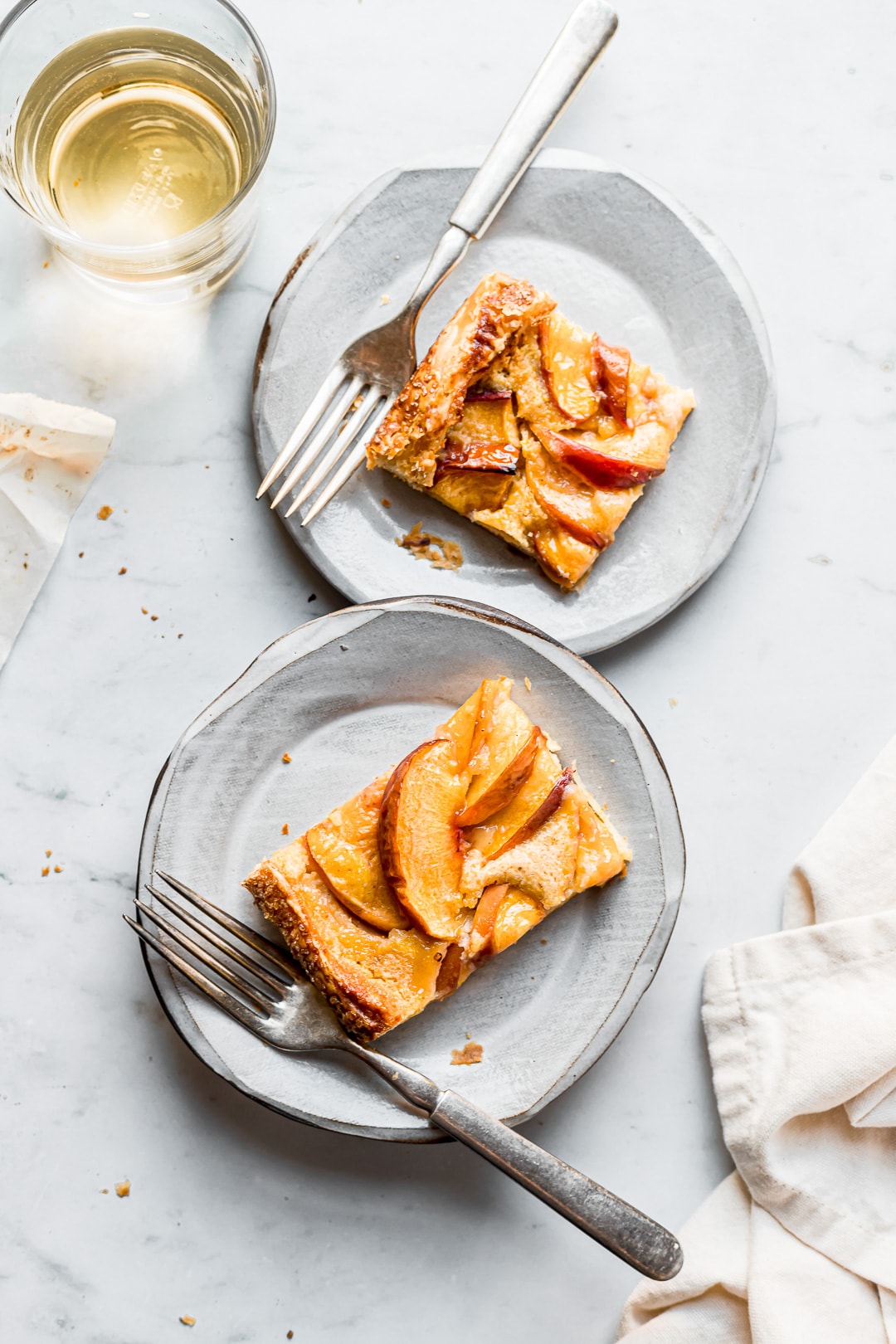 I'm justifying it with the weather again. In Georgia, where we know peaches grow in great abundance, it's still in the high 70s. The low in Florida was 77 degrees in Florida this week, and Texas recorded a high of 97. It may not be summer here, but it's still peach eating weather somewhere. Plus, doesn't the golden glow of this juicy free-form galette remind you of autumn colors? I didn't want to shelve this recipe and have it languish until next summer's stone fruit harvest to share it with you. It's too good for that.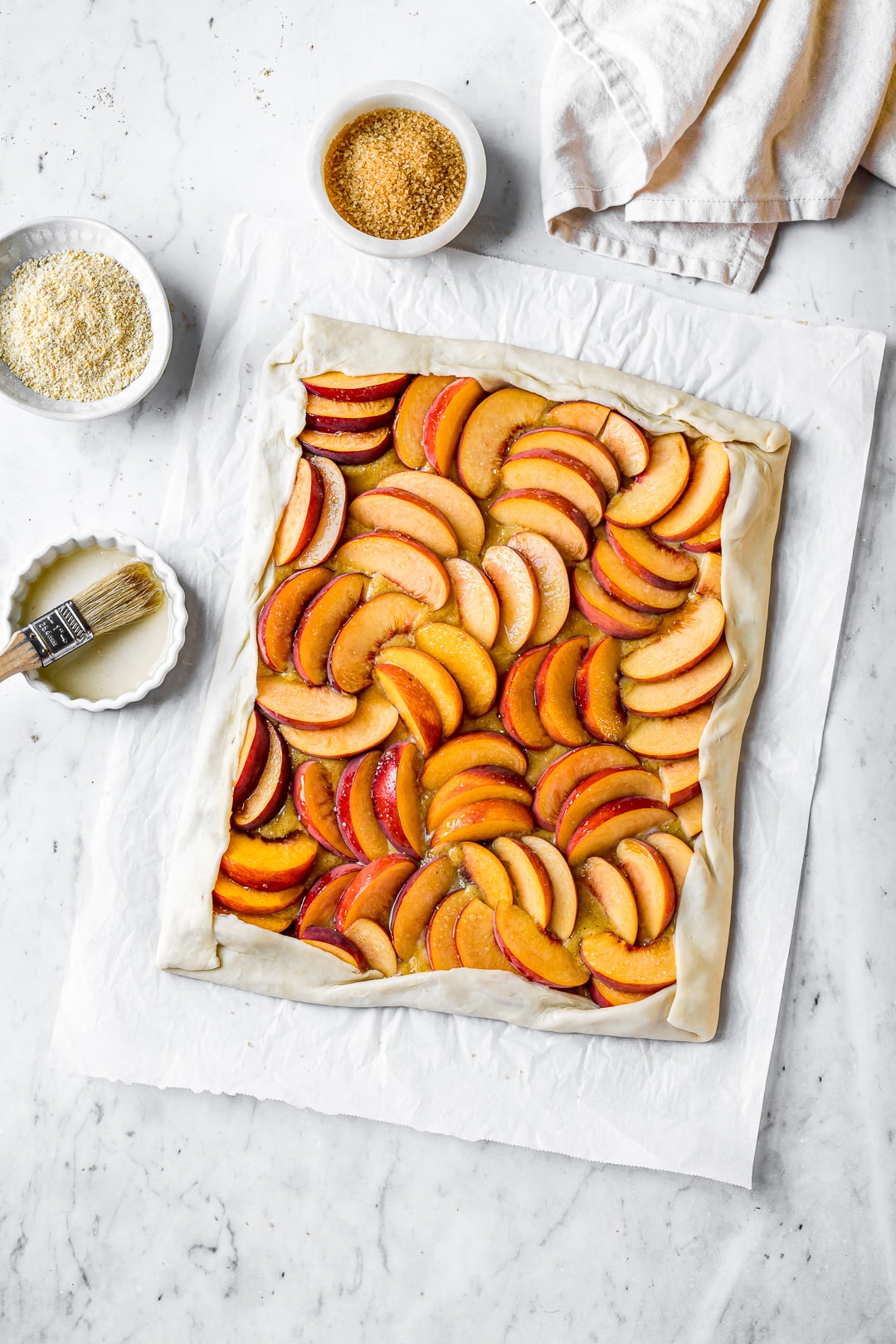 The all-butter galette dough is shatteringly flaky and crisp. (Just like the satisfyingly crunchy fall leaves covering the sidewalks). A vibrant yellow cornmeal frangipane, sweet and bright, blankets the dough and cradles artfully arranged peach slices. The whole thing is covered in glittering gold Turbinado sugar before it's baked in the oven.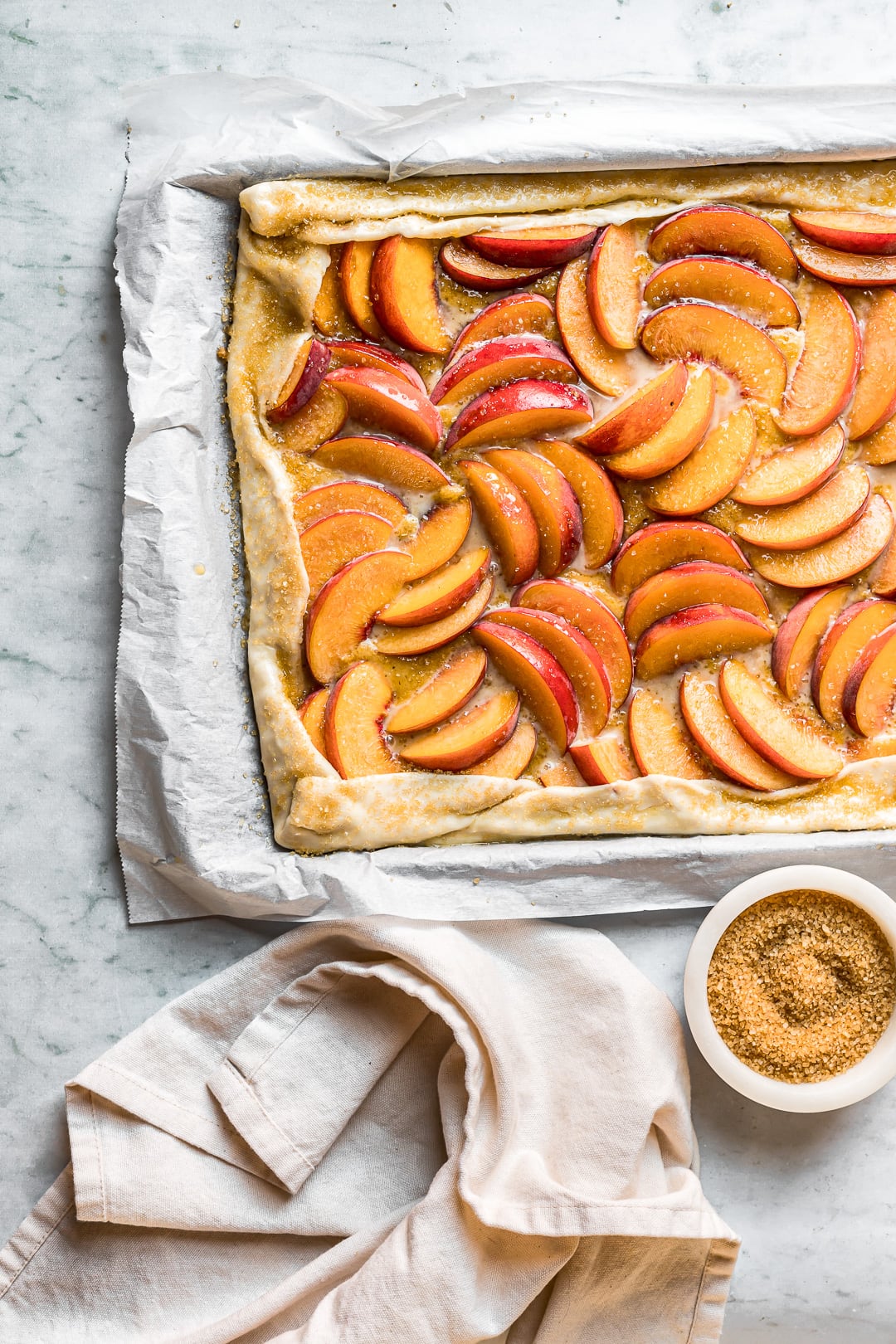 As I write this, I'm still having a hard time believing it's already mid-October. Summer was lovely, intense, and brief. I'm hoping that fall cozies up and stays for a while. Summer in the northwest feels like it carries an underlying urgency, a frenzied mandate: hurry up, enjoy it all, get outside, it's not here for long, the rain will be back before you know it. And while there's some truth to that, it often leads us into a headlong rush of activity that we can only shed with the shortening of the days, the return of the darker nights, and colder weather.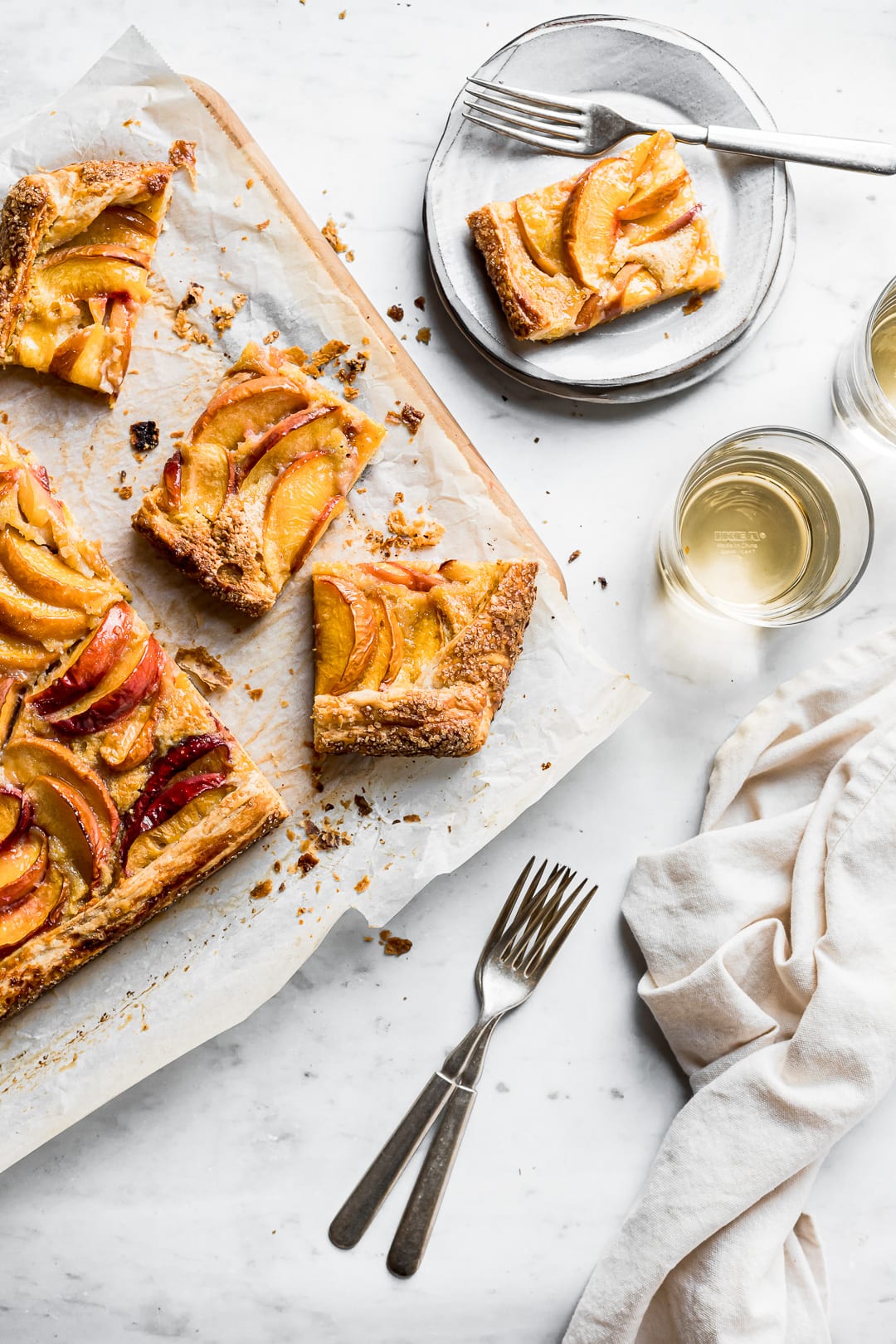 I've felt the need to slow down and turn my attention back to the forgotten tasks inside the house that languished while I went outside and soaked up the sun. I'm ready to spend more time in quiet, curling my hands around a hot coffee in those inky dark hours without sunlight, exploring the pages of new cookbooks.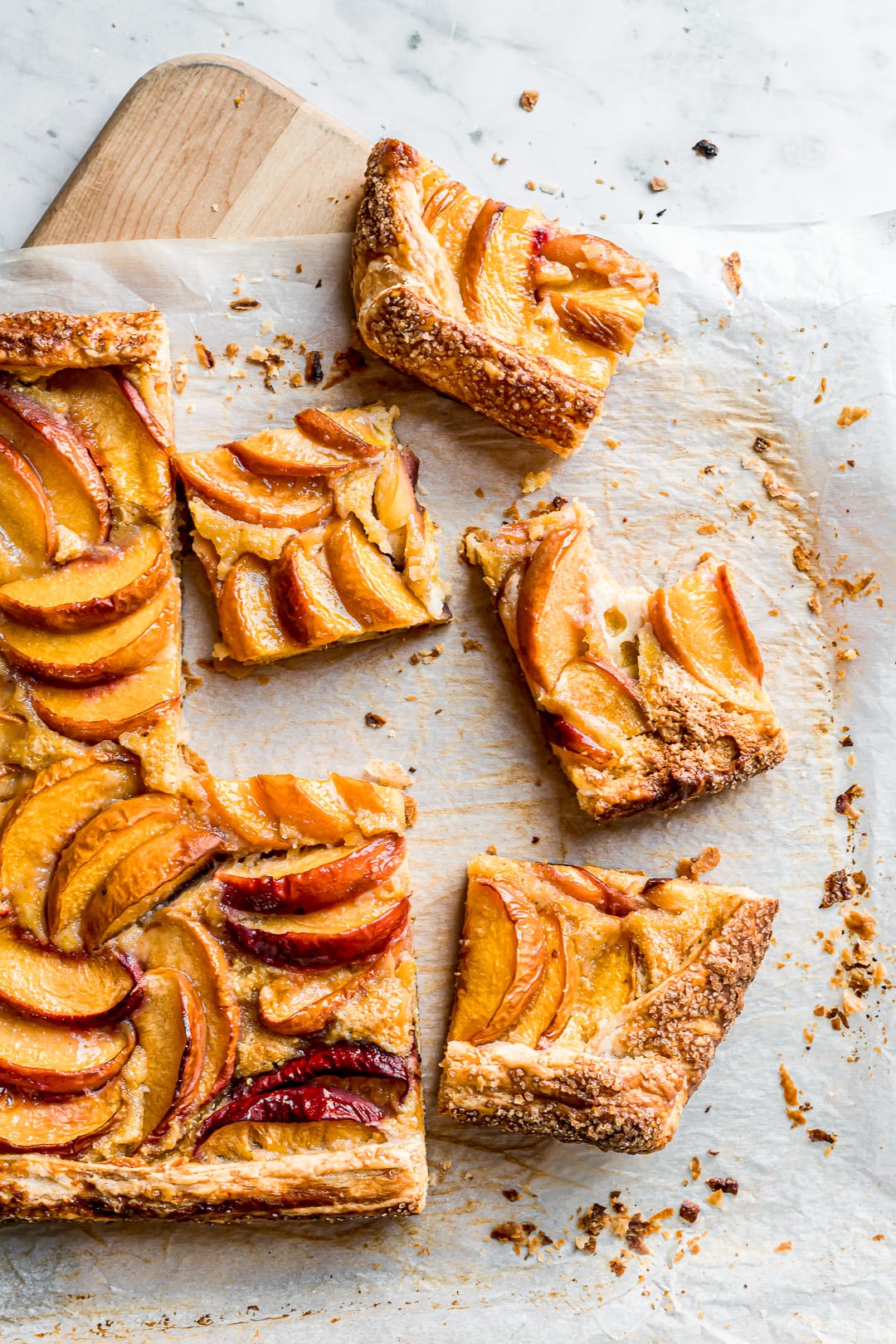 This rustic peach frangipane tart is my farewell to summer. It was a good one – full of memories made and time spent together with family. We rebuilt our front porch with my dad's help while my mom and aunt kept the garden tamed. My three year old learned to ride her pink bike with pedals. My older daughter overcame her fear of water and is *thisclose* to swimming on her own. We gathered with extended family at a lovely outdoor wedding on my grandpa's island property. We logged a lot of time at the many parks, beaches and playgrounds in our area. We went on our first family camping trip with friends. Little milestones that held big joy.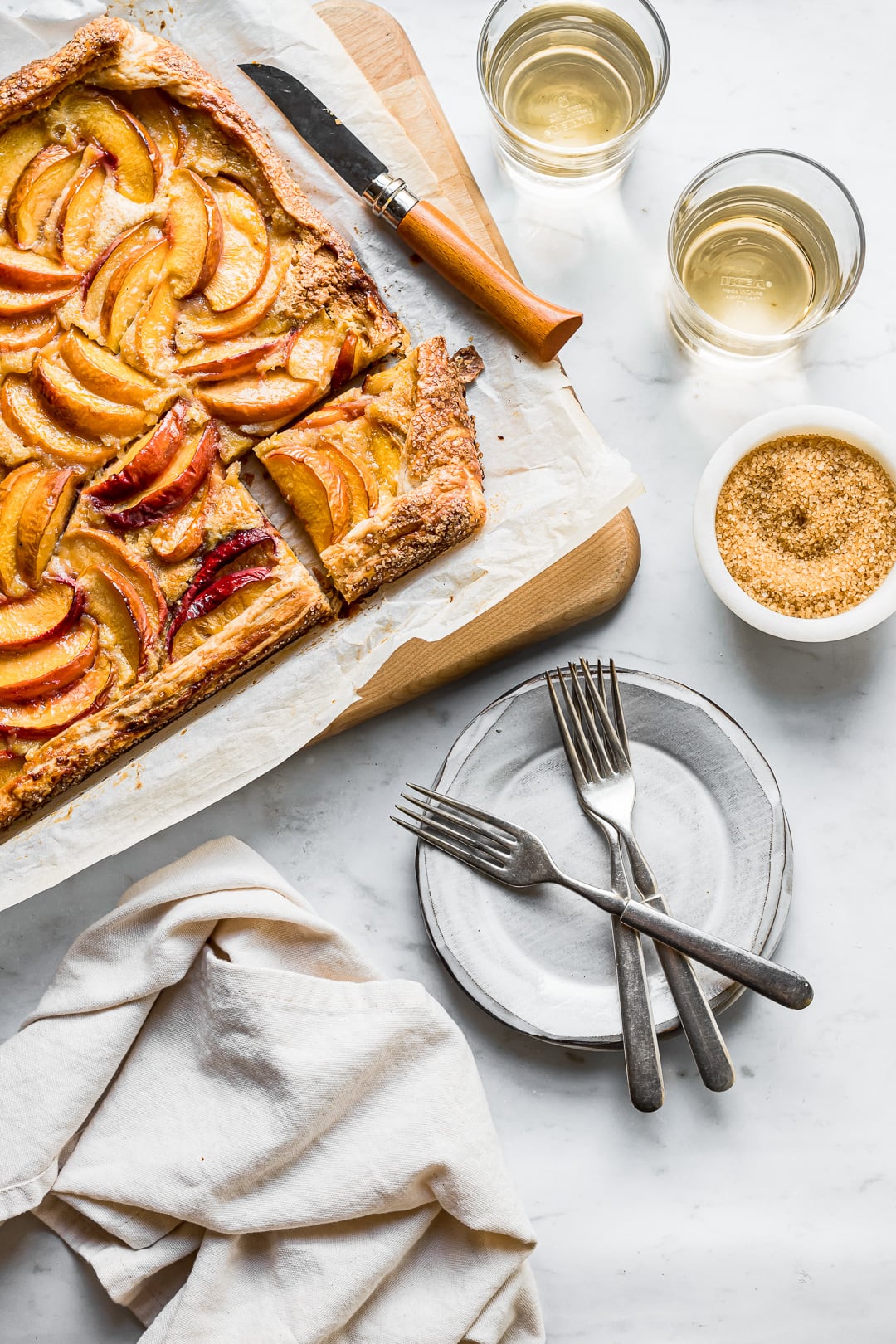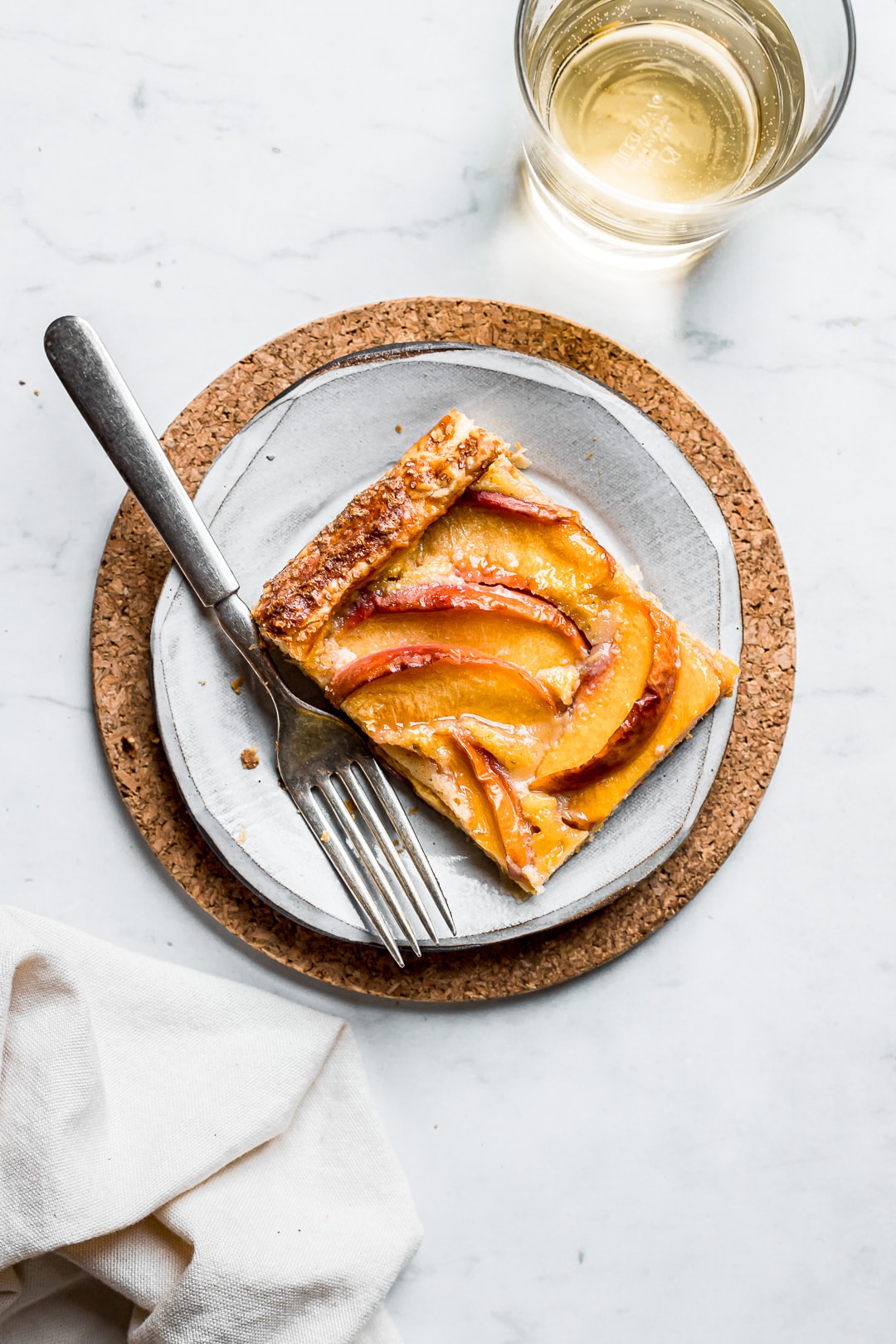 RECIPE NOTES
Peaches - For this peach galette recipe (and in general), I don't peel the peaches. They break down enough in cooking that the skin doesn't pose a problem at all. And whenever possible, I prefer to keep the steps to a minimum.
Making the recipe in phases - If tackling this recipe all at once feels overly ambitious, consider breaking the three recipe elements up into separate days or moments. Prepare the pie dough up to a week in advance, wrap it well, and store in the fridge or freezer until you need it. Make the cornmeal frangipane a day beforehand and store, covered, in the fridge. Leave the peaches whole until the last moment - you want them to be freshly cut.
Baking time - As always, baking times provided are a range due to varying oven temperatures (test your oven!), thickness of galette dough, and frangipane application. Use your eyes and nose to observe the galette as it nears the end of its time in the oven. Does the crust look golden and crisp? Has the liquid from the peaches begun to bubble? Is it beginning to smell like baked pie crust in your kitchen? Paying attention to these clues as you monitor baking time will help you achieve a just-right baked galette.
Cornmeal - Use a finely milled cornmeal for this recipe, not a coarse grain. Avoid anything labeled polenta, grits or medium or coarse grain cornmeal. They're simply too rough and will feel gritty. On the other end of the spectrum, finely milled corn flour will have delicious corn taste but almost no texture. Part of the appeal is to enjoy the subtle textural crunch of the cornmeal. Therefore, I recommend finely ground cornmeal. For a full rundown on the different types of dried corn products, read this Epicurious article. If you like the idea of cornmeal in desserts, you might also try my Blood Orange Cornmeal Shortbread Bars.
📖 Recipe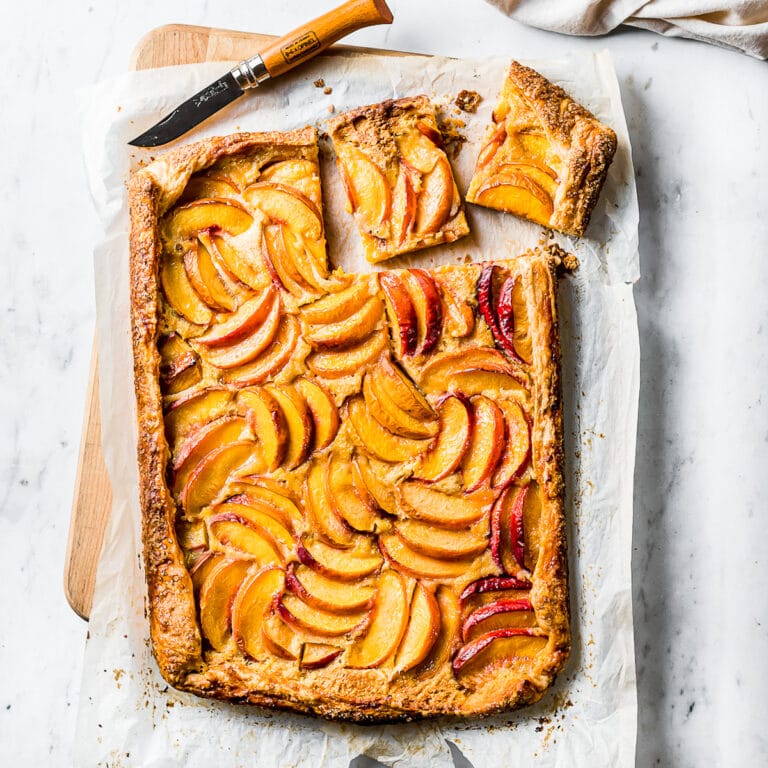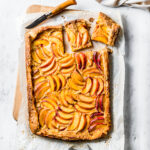 Peach Galette with Cornmeal Frangipane
Print Recipe
Pin Recipe
Servings
1
roughly 11" x 16" galette
INGREDIENTS
GALETTE DOUGH - USING SISTER PIE'S ALL-BUTTER PIE CRUST RECIPE
1

Tbsp (15mL)

vinegar

½

cup (125mL)

water (minus one tablespoon)

2 ½

cups (300g)

all-purpose flour

1

tsp (4g)

granulated sugar

1

tsp (6g)

kosher salt

1

cup (226g; 8 oz)

unsalted butter, chilled
CORNMEAL FRANGIPANE
¾

cup (150g)

granulated sugar

¾

cup (115g)

fine cornmeal

½

cup (48g)

almond flour (also called almond meal)

¼

cup (30g)

all purpose flour

2

large eggs

1

teaspoon

vanilla extract

¼

teaspoon

almond extract

3

Tbsp (45g, 1.5 oz)

unsalted butter
INSTRUCTIONS
GALETTE DOUGH
Pour 1 tablespoon of vinegar into a ½ cup measuring cup. Fill the remainder of the cup with water and place into the freezer to chill. You'll want it to remain liquid, so don't do this too far in advance.

In a large bowl, combine flour, sugar and salt with a whisk.

Remove butter from fridge and cut into 8 pieces, working quickly to avoid warming the butter. Add to the flour mixture and toss to coat butter pieces. Using a pastry blender, cut the butter into the flour until it is pea-sized.

Add the water vinegar mixture. Using a bench scraper or a heavy spatula or wooden spoon, push the mixture back and forth until the liquid has been absorbed into the dry ingredients. Using your hands, lift the edges of the rough dough mass, turn them inwards and press them firmly down. Repeat this, turning the bowl, until you can gather the dough into a rough ball, and there are no loose pieces at the bottom of the bowl.

Place the dough onto a lightly floured work surface. Form into a flattened rectangle and wrap well with plastic wrap. Place in refrigerator to chill for several hours.

Once chilled, place rectangle of dough on a lightly floured work surface. Holding a rolling pin at one end, pound the dough with about four or five vigorous whacks while moving from left to right. Rotate the dough 180 degrees and pound it again.

Roll the dough out until it is somewhat larger and flatter, working to maintain the rectangular shape. With the long edge closest to you, fold the dough into thirds (as with a letter) by lifting the right edge and folding it ⅔ of the way across, and then folding the left edge over until it touches the right edge. Flip the dough over and pound the dough with the rolling pin again.

Roll the dough out by placing the rolling pin in the center of the rectangle and firmly pressing down while moving the pin towards the outer edge of the dough. Turn the dough clockwise 90 degrees and continue this process of rolling and turning until the dough forms a rectangle slightly less than 13 x 18 inches in diameter (the dimensions of a standard half-sheet baking pan in the US) and about ⅛ inch thick. Trim dough if needed with a knife to achieve these dimensions.

Line a half-sheet baking pan (13 x 18) with parchment paper. Gently fold the dough in half and lift it onto the pan. Center it carefully and unfold it. Cover with plastic wrap and place into the fridge to chill.
CORNMEAL FRANGIPANE
In the bowl of a food processor, add the sugar, cornmeal, almond flour, all purpose flour, vanilla, almond extract and eggs. Scatter the butter over the top. Process until well mixed. You may need to stop the processor to scrape down the sides partway through. Use an offset spatula to smooth the filling evenly over the galette dough, leaving bare a one inch border of dough around the edges.
PEACH TOPPING
Cut peaches in half and remove pits. Slice each half from top to bottom into 6 roughly even wedges (do this easily by cutting each half into two quarters, and then cutting each quarter into three). Starting at one corner, arrange peaches on top of frangipane in shingled (slightly overlapping) groups of three, alternating the direction of each neighboring group of peaches to create a rough basket-weave pattern (see photos for reference).

Fold edges of galette dough in about 1 inch, working your way completely around the galette. Press dough gently at corners to seal the folds and prevent the crust from unfolding while baking. Place unbaked galette in fridge for at least 30 minutes to chill.

Immediagely prior to baking, brush the crust with the beaten egg and sprinkle crust and peach filling generously with turbinado sugar.

Bake on center rack at 400 degrees F (200 C gas number 6) for 30 minutes. Reduce temperature to 350 degrees (177 C, gas number 4) and bake an additional 35-40 minutes, until crust is golden brown and peach juices begin to bubble. If the crust begins to brown before the galette is finished, cover just the crust portion with strips of aluminum foil.

Place on a cooling rack until just warm to the touch. Cut into slices and serve!

White wine and late summer sunshine are optional accompaniments, but either or both are highly recommended.
The Floured Table
Recipe Author: Kathleen Culver
https://www.theflouredtable.com/peach-galette-with-cornmeal-frangipane/
Made this recipe? Please leave a comment and a star review! ★★★★★