These blood orange cornmeal shortbread cookies are buttery and rich, with a citrus kick from freshly grated orange zest and the subtle textural crunch and flavor of finely ground cornmeal. Dipped in a brightly pink hued blood orange glaze, they're also a visual delight. With only seven basic ingredients, including the glaze, and a shortbread dough that is quickly mixed, pressed into an 8x8 pan and baked, you'll be enjoying these delicious shortbread bars in no time at all.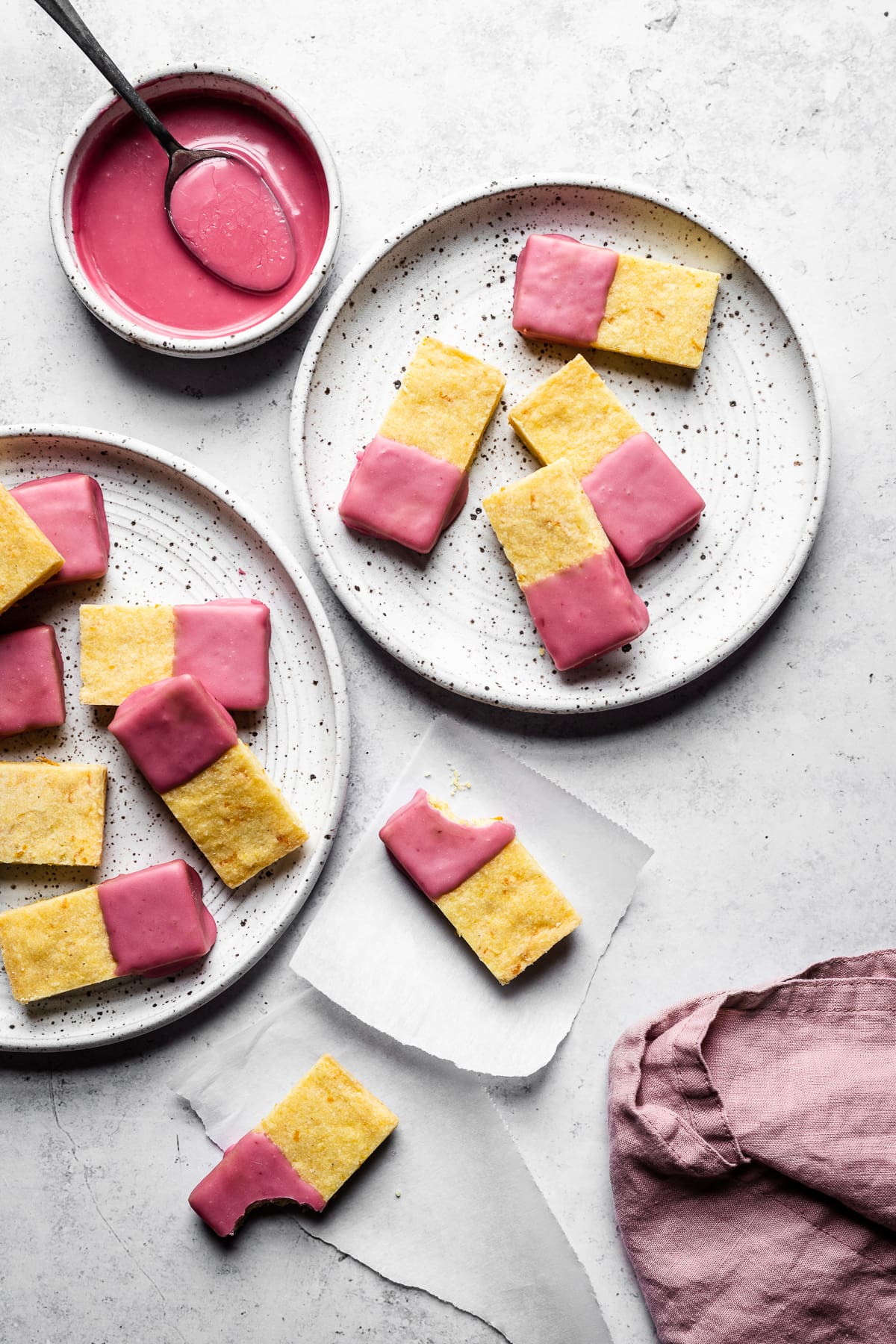 I made these bars three times to make sure I had the ratios of cornmeal just right. Corn and butter are classic flavor partners, so cornmeal shortbread seemed like a logical jump from savory to sweet. (I also used cornmeal in my Peach Galette with Cornmeal Frangipane). Indeed, they pair very well together, and the buttery cornmeal shortbread provides a delicious delivery vehicle for the sweet citrus glaze. Adding the blood orange glaze is really the fussiest part of the whole recipe; I've provided two different glaze methods so you can choose the option that most appeals.
Jump to: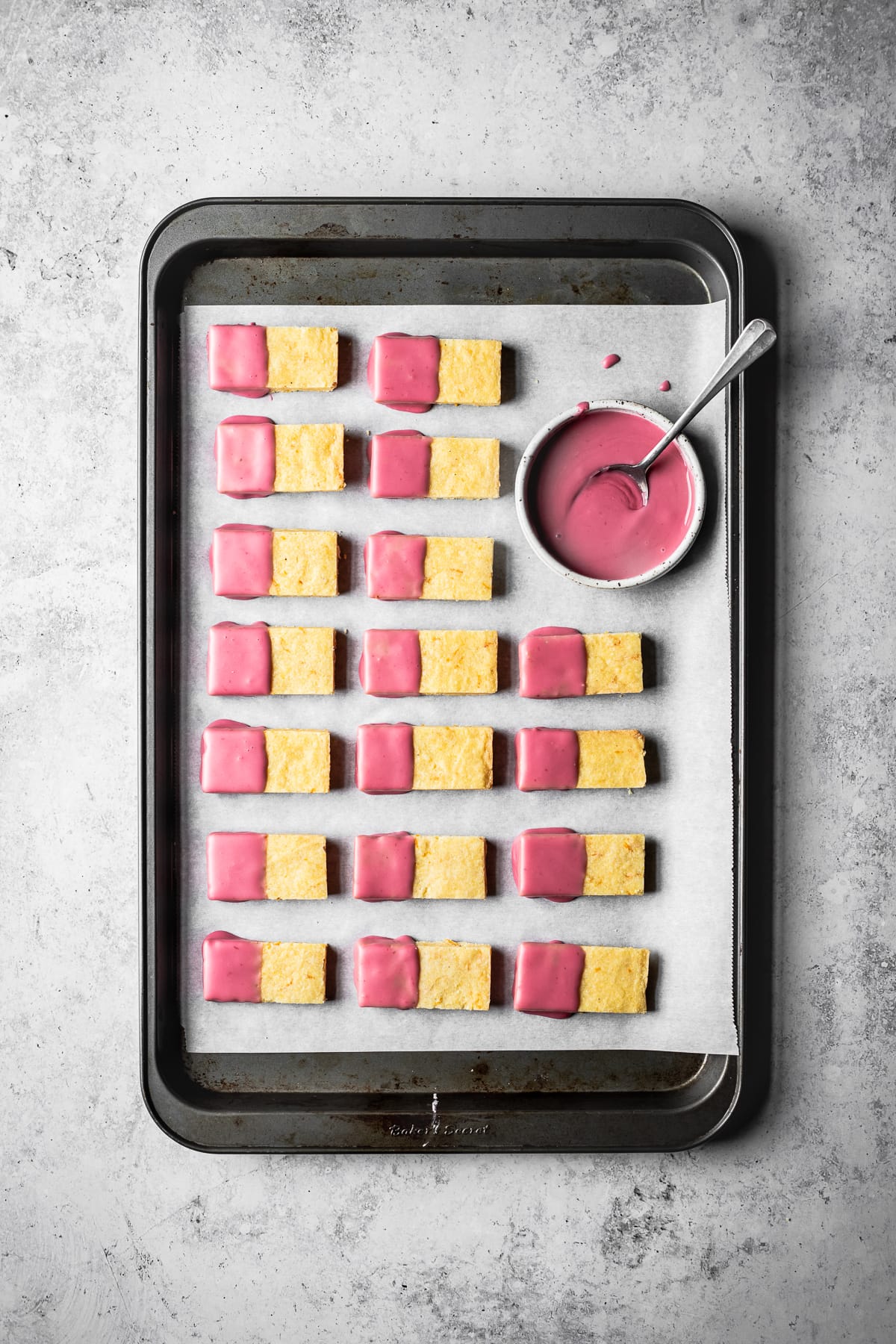 What are blood oranges?
Blood oranges, and all citrus, really, are a welcome bridge between the abundant fall harvest and the first signs of spring (rhubarb, that's you). They came about through a natural genetic mutation that originated in Italy. Blood oranges have a unique fragrance and somewhat tart flavor, and are often compared to a floral raspberry or a cranberry. The deep color of their flesh comes from antioxidants called anthocyanins, which are typically found not in citrus, but in berries. You can find high concentrations of anthocyanins in blackcurrants, raspberries, blackberries, cranberries and blueberries.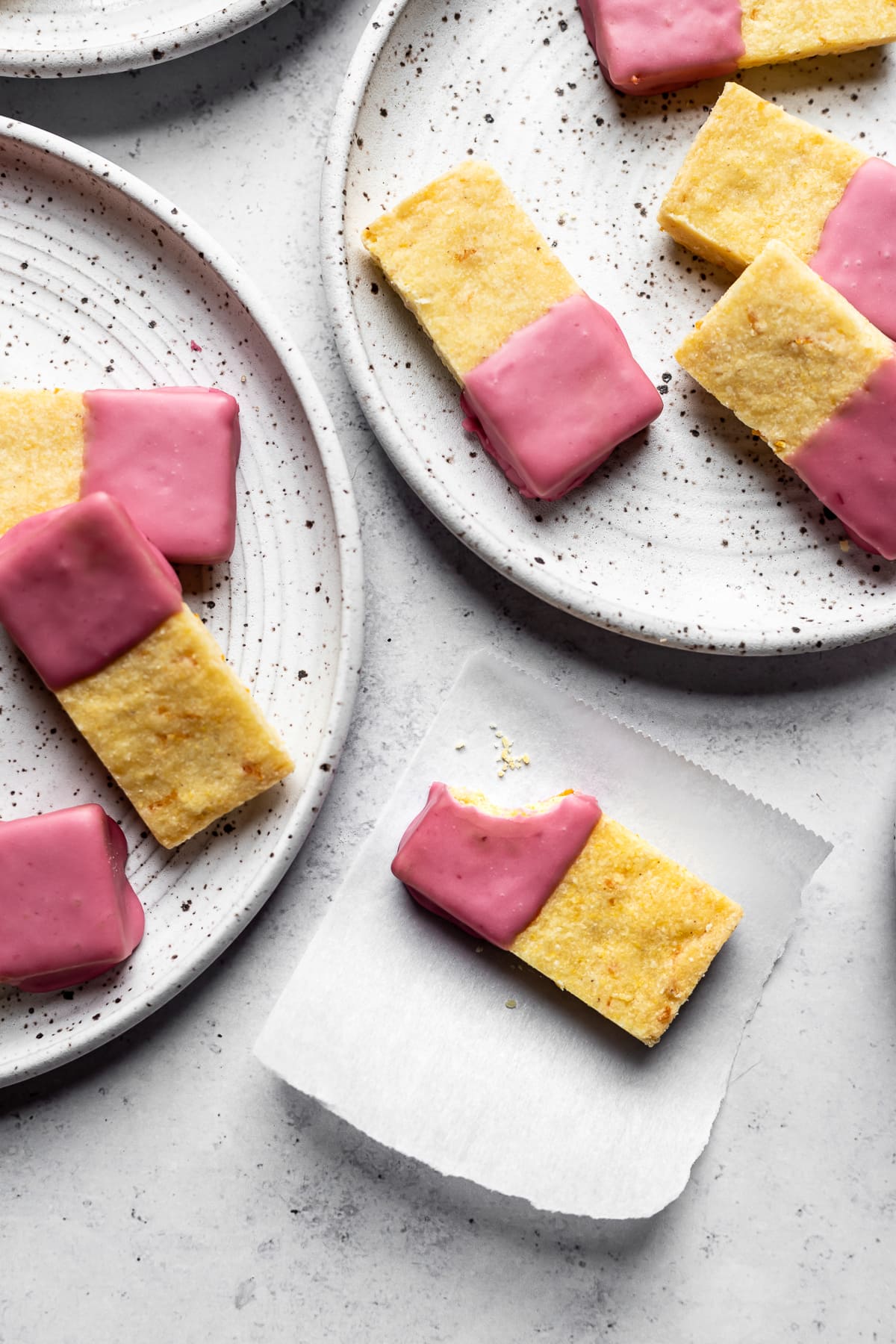 Cornmeal vs. corn flour
You'll want to make sure you are using a finely milled cornmeal for this recipe, not a coarse grain. Avoid anything labeled polenta, grits or medium or coarse grain cornmeal. I first tested a batch using a coarsely ground cornmeal while impatiently waiting for a grocery order containing the fine cornmeal. While the flavor was delicious, the grit and crunch overwhelmed the eating experience (and my teeth). On the other end of the spectrum, finely milled corn flour will have delicious corn taste but almost no texture. Part of the appeal in these cornmeal shortbread cookies is to enjoy the subtle textural crunch of the cornmeal. Therefore, I recommend finely ground cornmeal. For a full rundown on the different types of dried corn products, read this Epicurious article.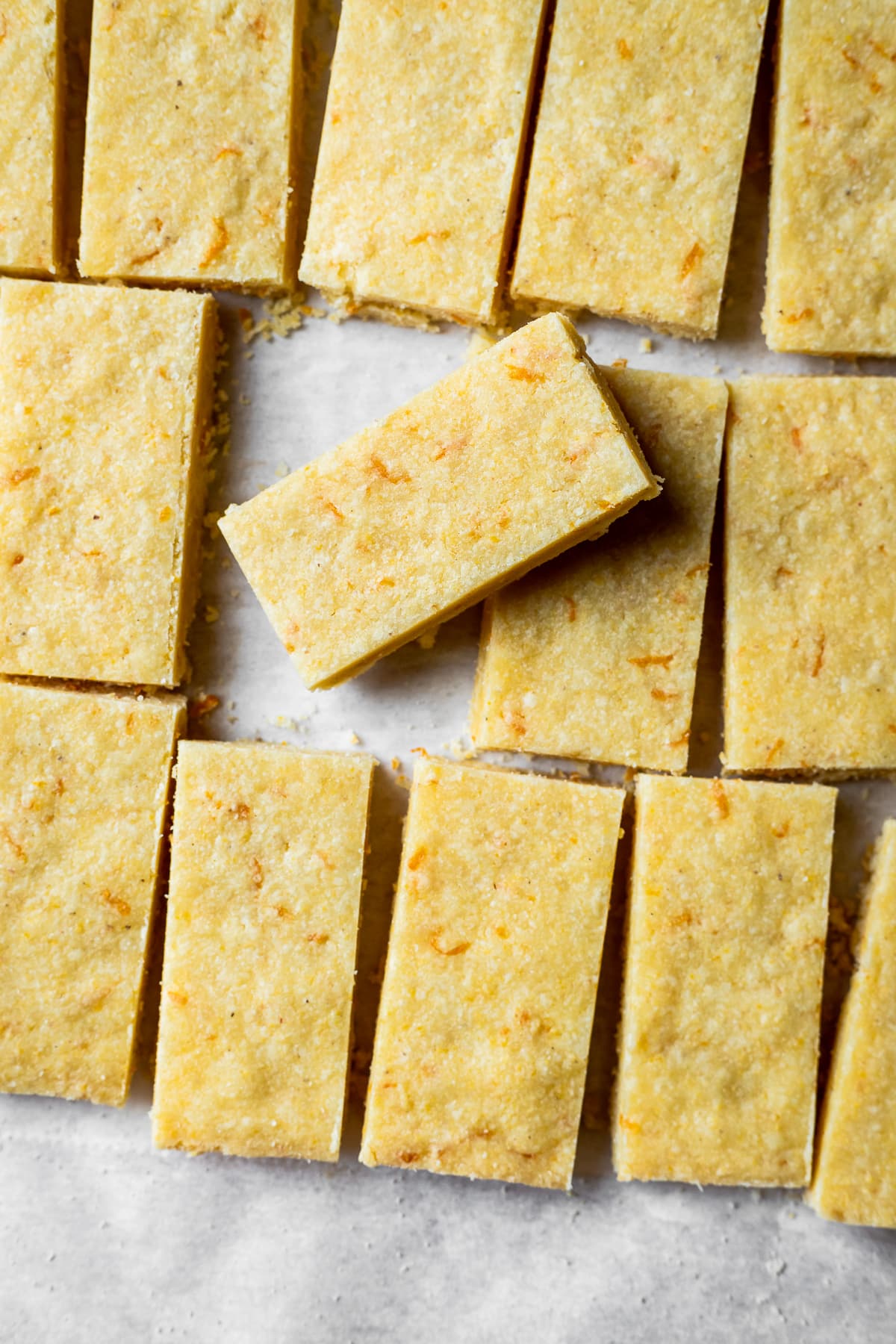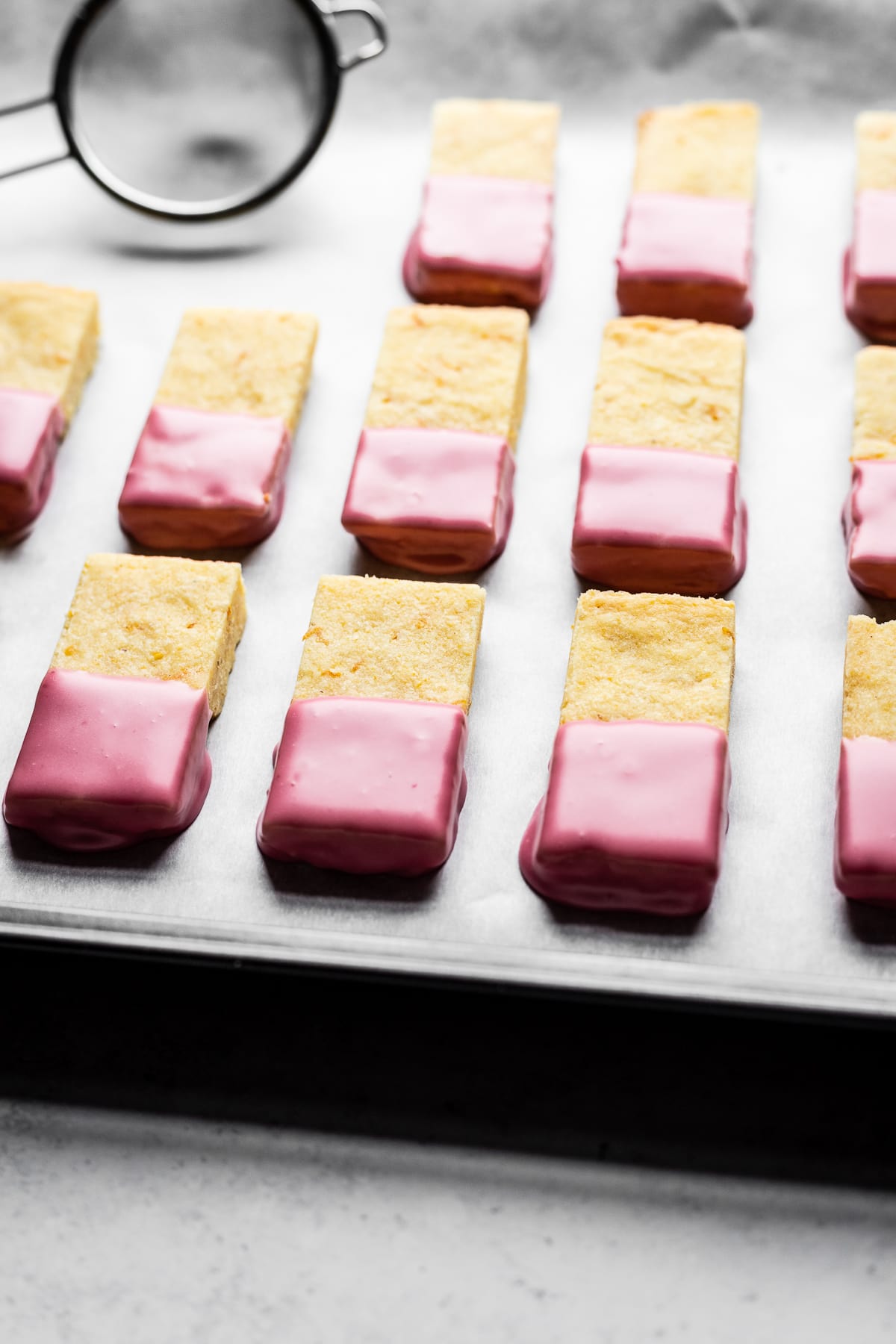 Substitutions
For the cornmeal orange shortbread, I chose NOT to use blood orange zest. I instead used the zest from a navel orange. The blood oranges I purchased had peels ranging in color from dark orange to crimson to an ombre orange-green. I wanted the flecks of zest to read as orange in color. That said, you can definitely use blood orange zest in baking, and you are welcome to use it in these shortbread cookies if you'd like.
For the glaze, if you cannot locate blood oranges, you can substitute orange juice from a Navel orange or other variety of orange such as Valencia or Cara Cara. However, be aware that the color will be a pale orange rather than a bright pink. I prefer to use natural coloring in most of my baking, but a drop of pink or red food coloring might brighten a plain orange juice glaze. I also imagine these would be delicious (although very different in color) substituting lemon or lime zest and juice. Please let me know if you try a variation!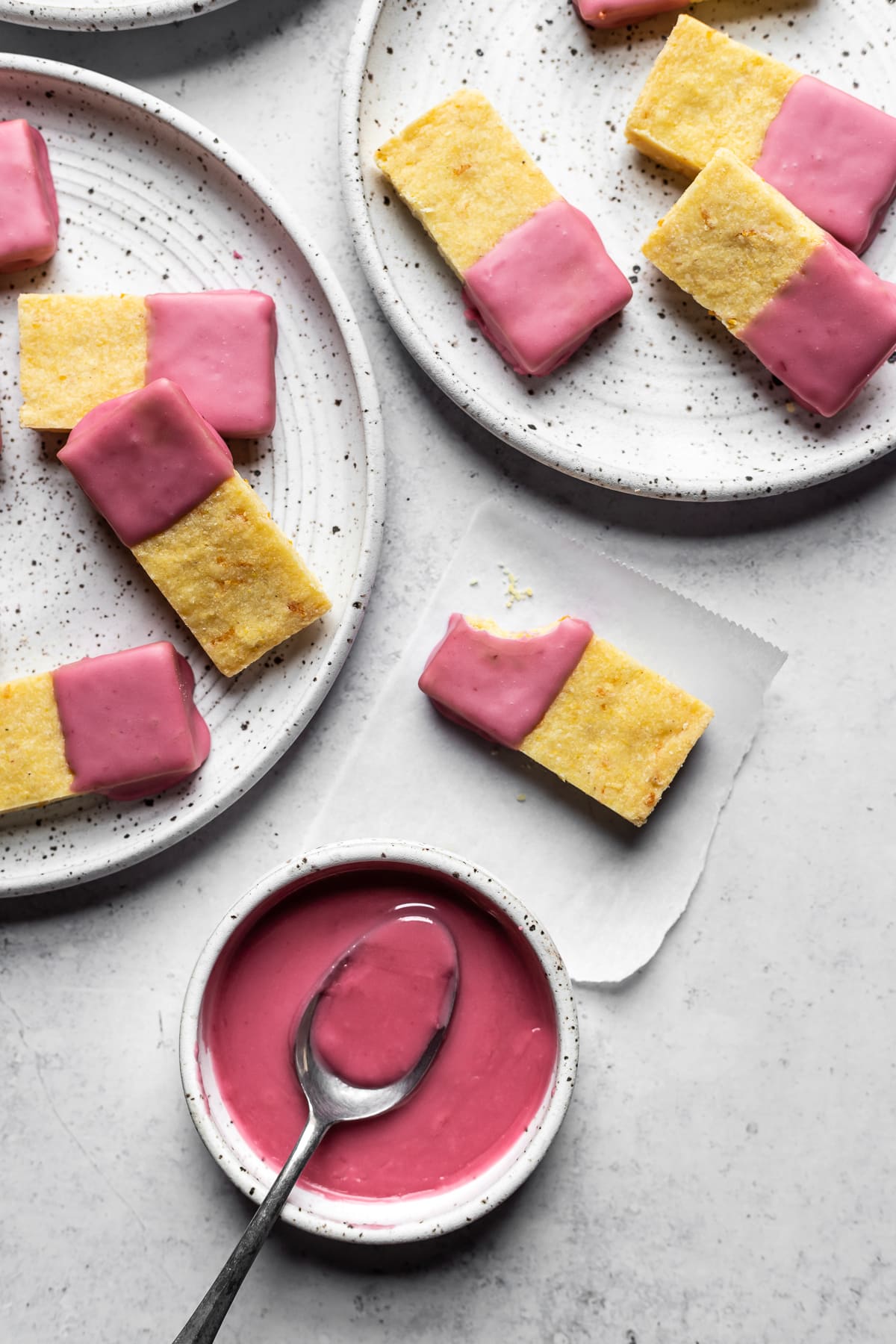 Blood orange glaze
To achieve the naturally pink glaze on these cookies, use the juice from a blood orange. In the ingredient list, you'll see that you only need the juice from one orange to make the glaze. I would recommend buying several blood oranges for this recipe just in case, as the interior color can vary widely between oranges. You may want to have a few extra on hand in case the first you cut open isn't as vibrant as you'd like.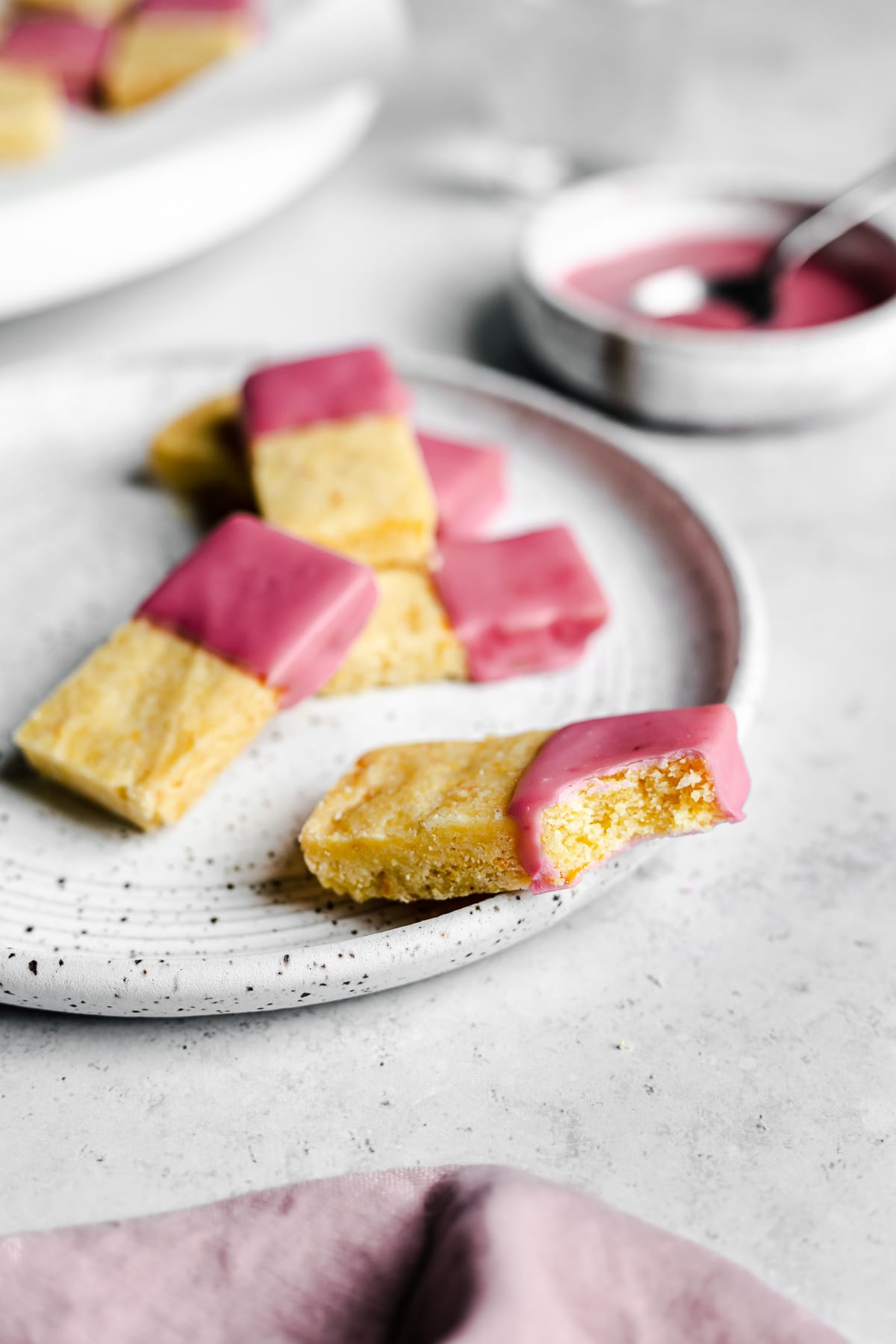 Glaze application - dip vs. drizzle
As indicated in the recipe instructions, for these glazed shortbread you can choose to either dip these cornmeal shortbread cookies into the blood orange glaze (as shown in the photos) or drizzle the glaze over the top of the cookies. The dip method will give you a somewhat more tailored cookie. Drizzling the glaze results in glaze applied across the entire cookie, for more blood orange flavor per bite. You choose!
Dip method
To dip the cookies, place the glaze in a narrow container so that you can submerge at least half the cookie. After dipping, gently shake it or tap your hand to encourage the extra glaze to drip back into the container. Carefully place each cookie onto a parchment covered cookie sheet until glaze hardens. As you dip more cookies, you might notice crumbs falling back into your glaze. If you're like me and this bothers you, strain the glaze into a clean container so that you don't end up with crumbs stuck to the latter portion of the glazed cookies. Or, relax and enjoy them just as they are - they're delicious either way!
Drizzle method
To drizzle the glaze, first place the cookies on a parchment paper covered cookie sheet to catch excess drips. Using a spoon or plastic squeeze bottle, drizzle the glaze back and forth over the cookie in a zig zag pattern. Use a light to medium glaze application. This way you won't end up with pools of glaze running off the cookies.
Storage
Once the glaze hardens, you can store these cornmeal shortbread cookies in an airtight container on the counter for up to a week. Can these shortbread cookies be frozen? Yes! they freeze very well, and are easily stacked into an airtight freezer-safe container. Simply bring them to room temperature prior to eating. Whether fresh or frozen, I recommend placing some parchment paper between layers to help keep them separated.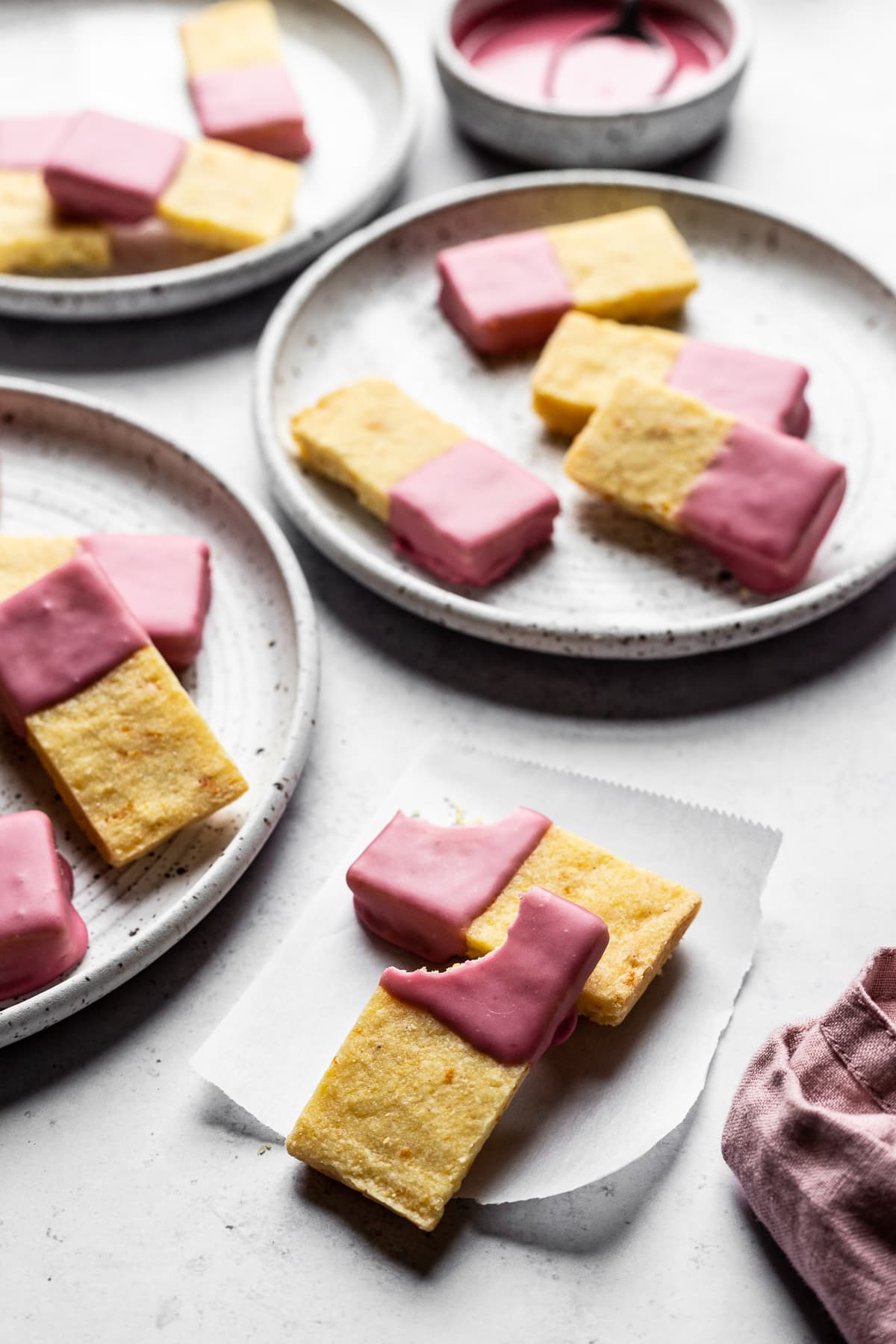 📖 Recipe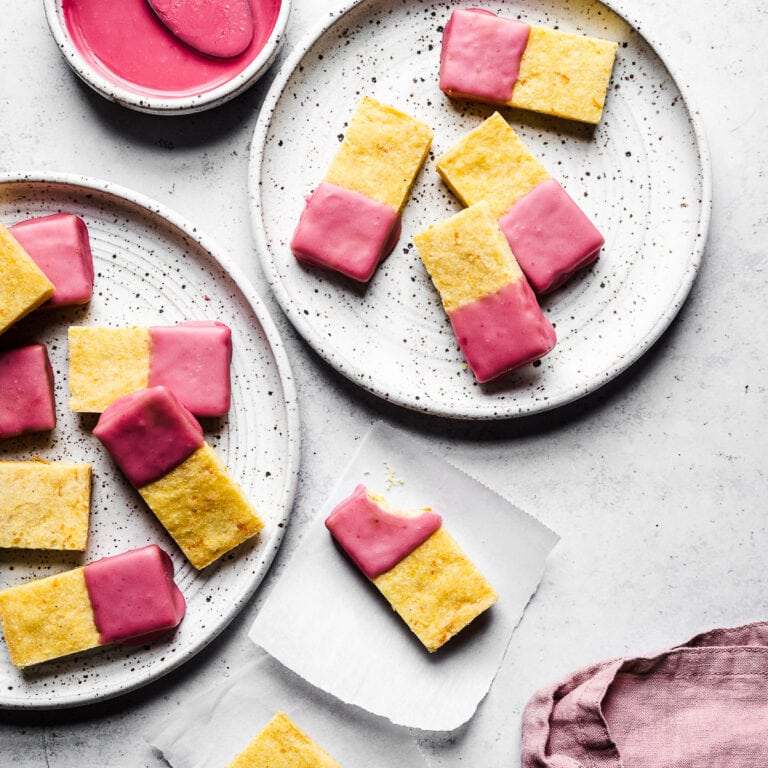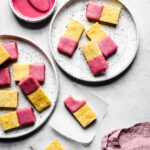 Blood Orange Cornmeal Shortbread Cookies
Print Recipe
Pin Recipe
These blood orange cornmeal shortbread cookies are buttery and rich, with a citrus kick from freshly grated orange zest and the subtle textural crunch and flavor of finely ground cornmeal. Dipped in a brightly pink hued blood orange glaze, they're also a visual delight. With only seven basic ingredients, including the glaze, and a shortbread dough that is quickly mixed, pressed into an 8x8 pan and baked, these bars are an easy dessert bursting with flavor.
Servings
18
bars (8 x 8 pan)
INGREDIENTS
Cornmeal Shortbread Cookies
¾

cup (178g, 6 oz, 1 ½ sticks)

unsalted butter, room temperature, cubed

½

cup (60g)

powdered sugar, sifted

½

teaspoon

kosher salt

zest of one large orange, finely grated (I used a navel orange for this part)

½

cup (70g)

fine cornmeal

1

cup (120g)

all-purpose flour
Blood Orange Glaze
1 ½

cups (180g)

powdered sugar, well sifted

2

tbsp + 1 tsp

blood orange juice, strained (1 blood orange will be enough)
INSTRUCTIONS
Cornmeal Shortbread Cookies
Line an 8 x 8 pan with parchment paper, ensuring the ends hang over the sides as handles.

In the bowl of a stand mixer fitted with the paddle attachment, add the butter, powdered sugar, salt and orange zest and mix on low, and then increase to medium, until well blended and no lumps of butter remain . Scrape down the bowl to ensure the zest and sugar are fully incorporated.

Add the cornmeal and mix on medium low until well blended. Scrape down the bowl.

Add the flour and mix just until flour is blended in. Do not overmix. Stir in the last loose crumbs with a spatula by hand if needed.

Dump the shortbread mixture into the prepared pan, using your hands to break the dough up into smaller bits that you can distribute evenly around the pan. Use your fingers to press the dough into the pan in an even layer. If your hands start to stick, wet them just slightly. Using a small offset spatula, smooth out the top of the dough to remove fingerprints and create an even top, turning the pan as you go to reach all the corners.

Place in the fridge to chill for 30 minutes or more.

Preheat oven to 350 degrees F (177 C, Gas Mark 4).

Place pan in center rack of oven and bake for 25-28 minutes, until the shortbread is no longer shiny/tacky, the center is firm, and the edges just begin to turn a light golden brown.

Cool on a baking rack. Carefully lift the shortbread out using the parchment paper handles and place on a cutting board. For 18 bars, make 3 even cuts horizontally, and 6 even cuts vertically. I found a sharp, thin bladed bread knife to be the best tool for clean cuts, although a chef's knife will work well too.
Blood Orange Glaze
In a 2 cup glass measuring cup (or similar container), combine the sifted powdered sugar and the blood orange juice. Whisk until powdered sugar is completely incorporated and no lumps remain. You should have a glaze that drizzles slowly from the whisk; thin enough to let the excess glaze drip off, but thick enough to coat the bars with an opaque pink layer. Gradually add ½ teaspoon more juice at a time if needed to thin the glaze to your liking.

For a more tailored look, dip each cooled bar halfway into the glaze and hold to let excess drip off. Place on a parchment covered cookie sheet to harden. Alternatively, you can start with the bars on a parchment covered cookie sheet and drizzle the glaze along the top of each bar for a more free-form glaze application (and more glaze per bite...)

* You'll want to allow a few hours for the glaze to harden completely before you serve/stack these cookies - time needed will depend on the thickness of the glaze application.
The Floured Table
Recipe Author: Kathleen Culver
https://www.theflouredtable.com/blood-orange-cornmeal-shortbread-cookies/
Made this recipe? Please leave a comment and a star review! ★★★★★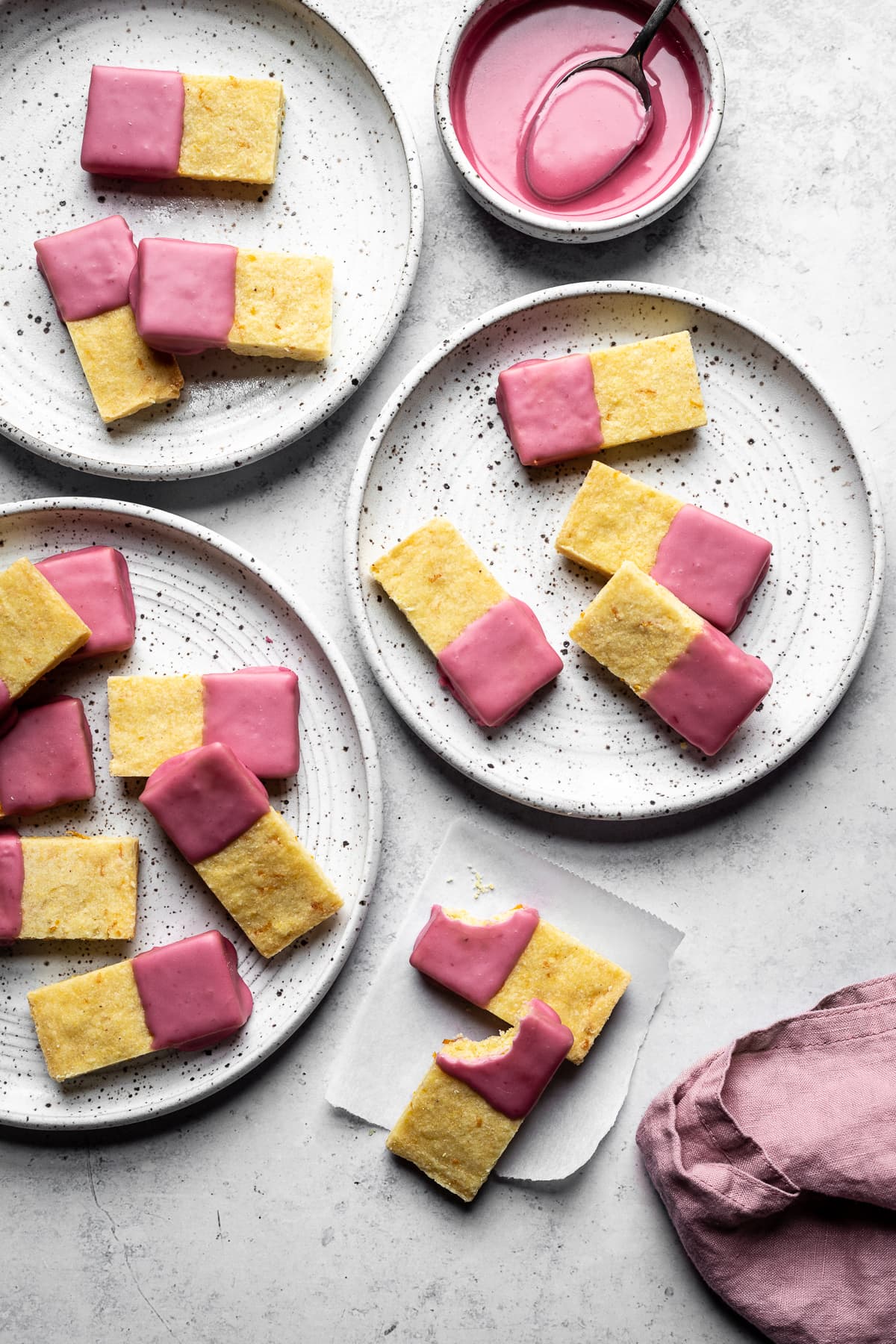 More citrus desserts
If you liked these blood orange iced shortbread cookies, you might also enjoy these recipes!