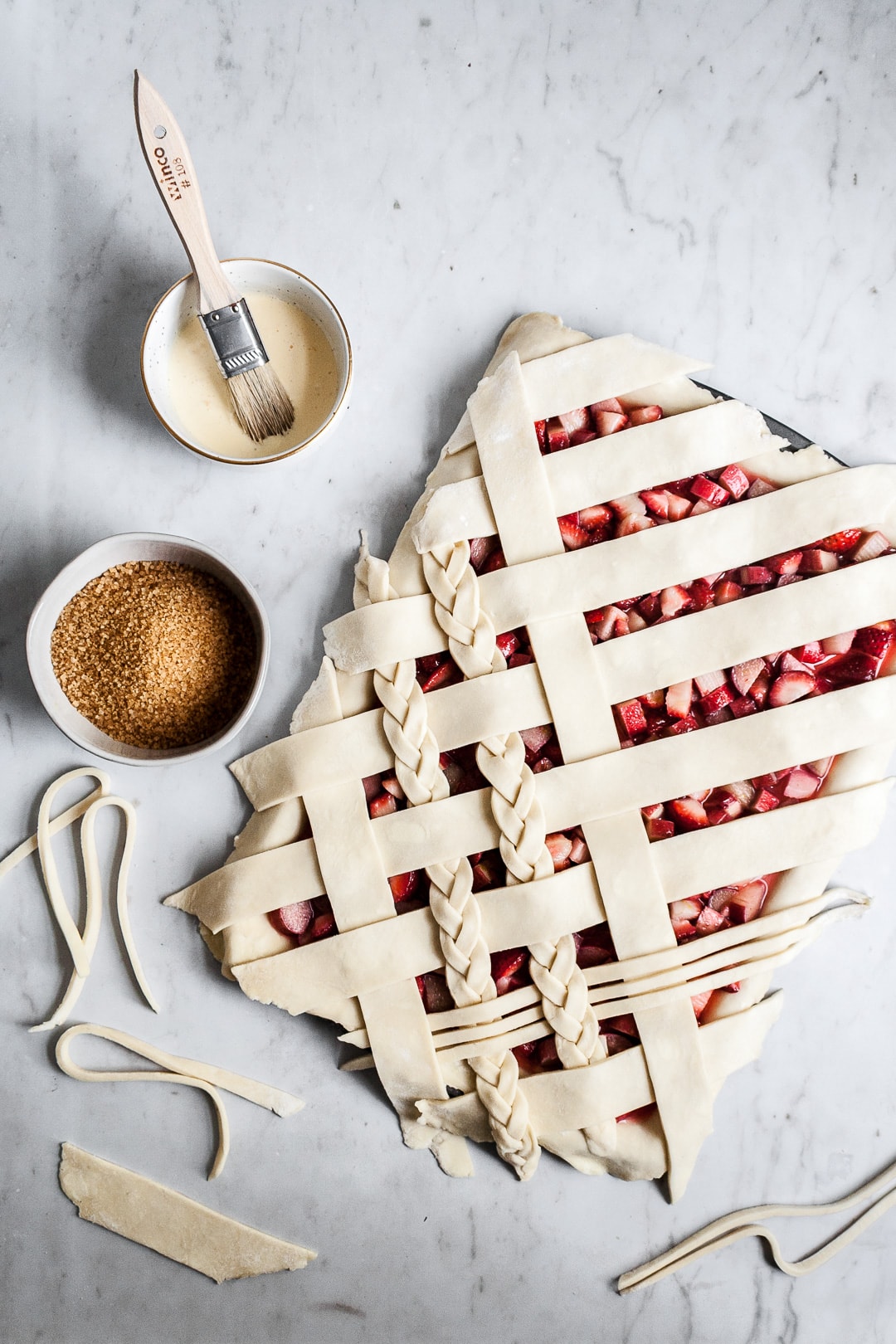 In this strawberry lime rhubarb slab pie, I gave the classic pie pairing of strawberries and rhubarb a little twist by adding lime zest and fresh lime juice. The filling melds into a sweet jammy interior with a bit of zip from the citrus. The pie is covered with a variety of interwoven lattice strips, which I brushed with a rich egg wash and sprinkled with a generous helping of coarse golden Turbinado sugar. The smell filling the kitchen as it baked was divine. Is there anything that announces the impending arrival of summer more than warm strawberries?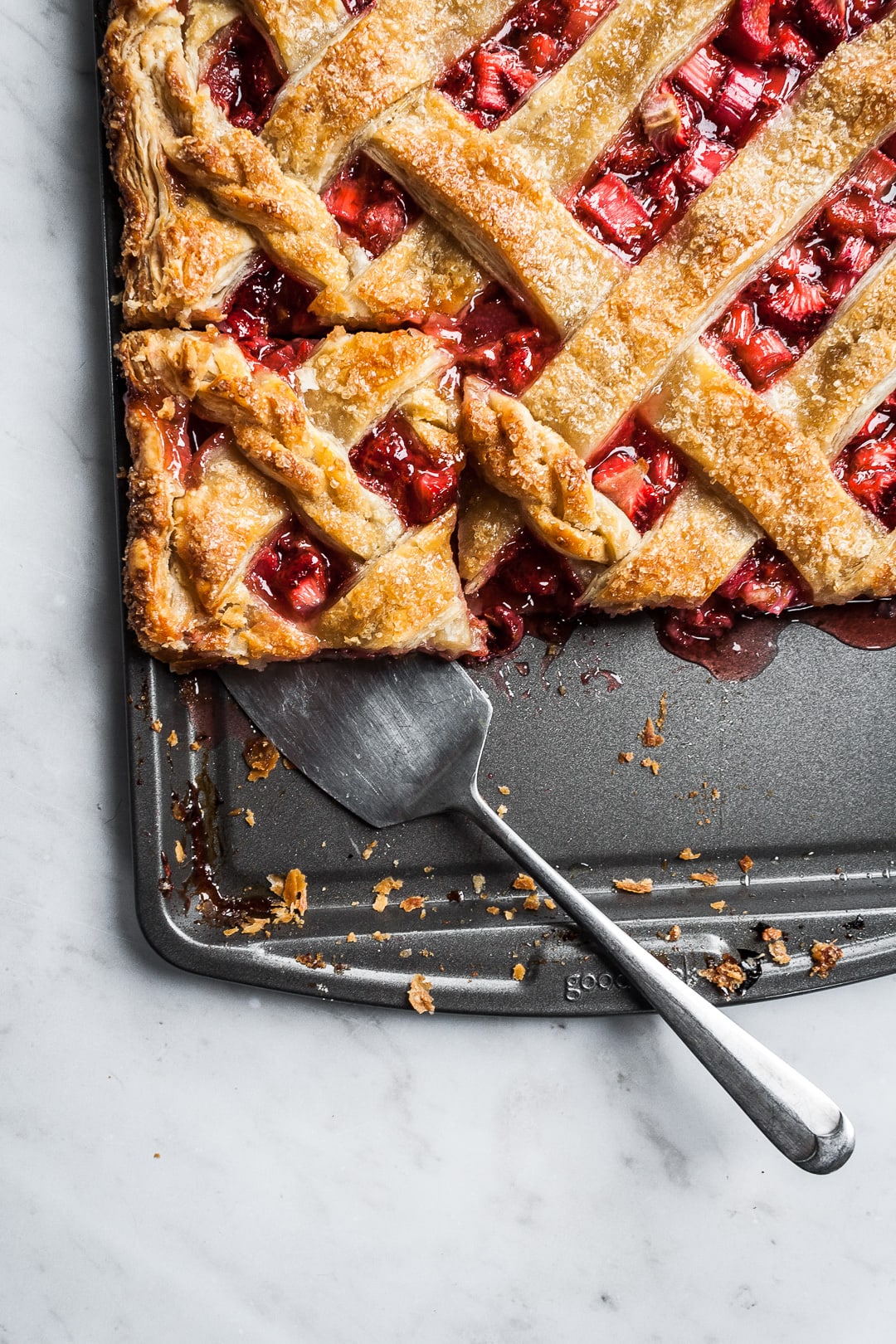 Slab pie
I've been meaning to make a slab pie for a good while now. As a matter of fact, I've pinned a bunch of them on my Pinterest pie board. The idea of pie, but in a big rectangular shape, struck my fancy. It reminded me of the sheet pans full of savory stuffed empanadas that bakeries in Spain create, but in sweet form. The slab pie is a brilliant concept since it really allows the crust to shine through. The ratio of filling to crust is definitely lower than in a standard pie since a sheet pan can't possibly hold the same amount of filling. This is where you want a crust recipe that will really stand out, along with a truly flavorful filling that won't get lost amidst the pastry.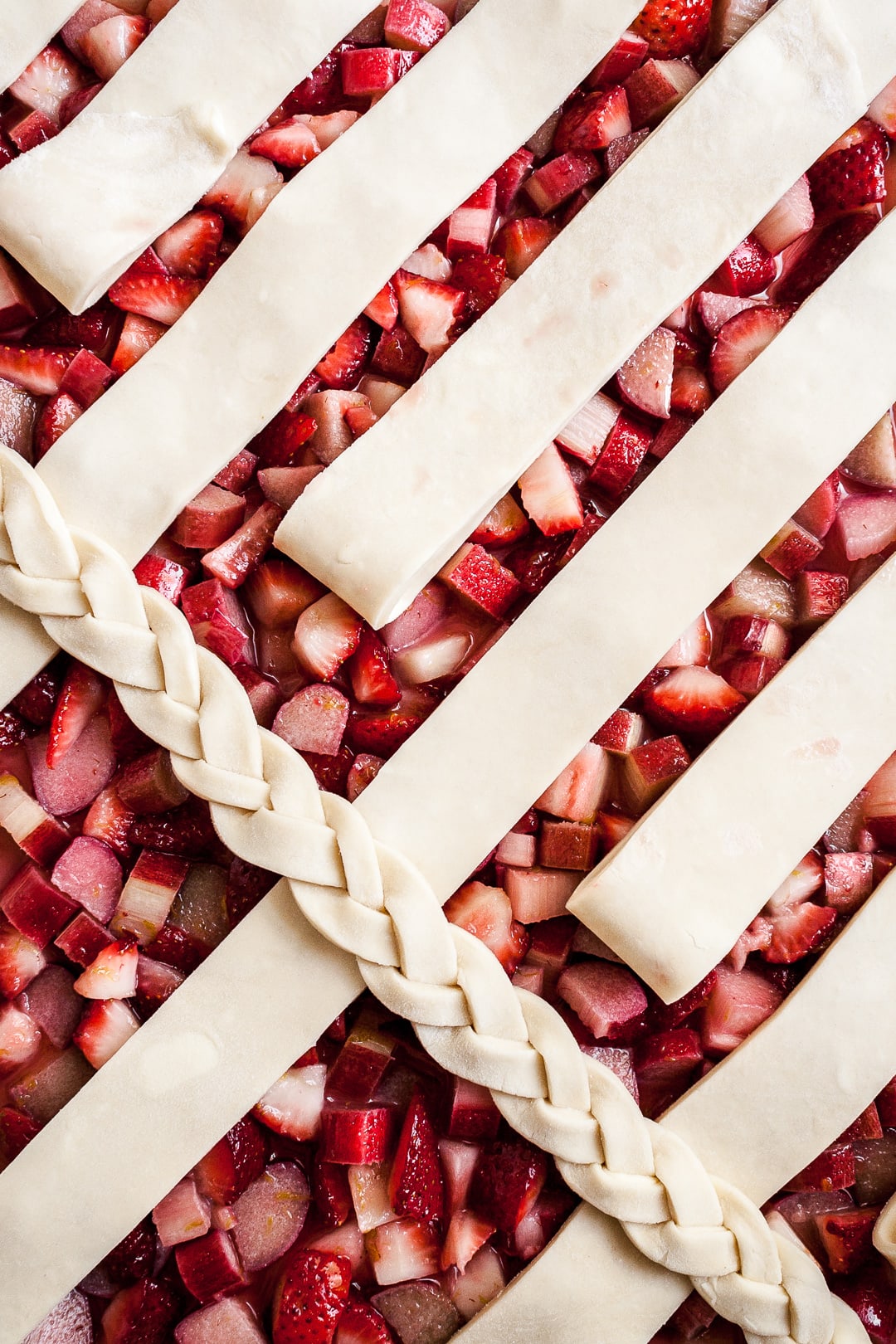 Pie crust
I again used the incredible pie crust recipe and technique from my copy of Sister Pie. My first go-round with the dough was this Cherry Rhubarb pie. I'm a convert. This all butter pie crust rolls out nicely, handles being, well, handled to create lattice strips and braids, bakes beautifully, produces the flakiest layers, and tastes incredible. Are you putting your apron on yet?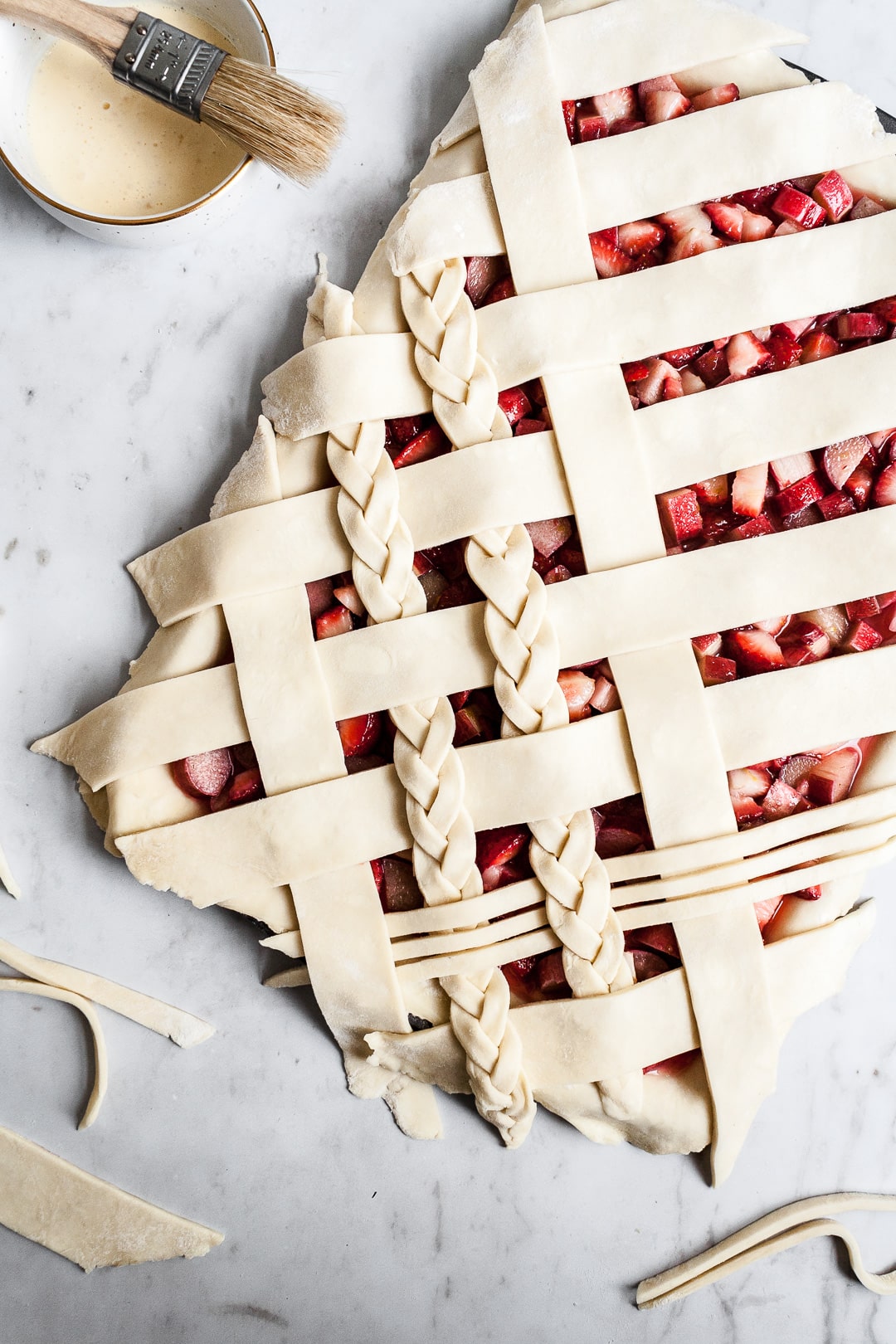 Lattice pie crust
I headed into this round of pie making knowing that I wanted to create a lattice top for this pie. The colors of the strawberries and rhubarb are simply too pretty to hide underneath a full blanket of crust. The filling deserves to be seen and enjoyed visually - plus it's so juicy that it's fun to have it bubble up around the lattice and create that delicious sticky-sweet layer that coats certain bits of the crust.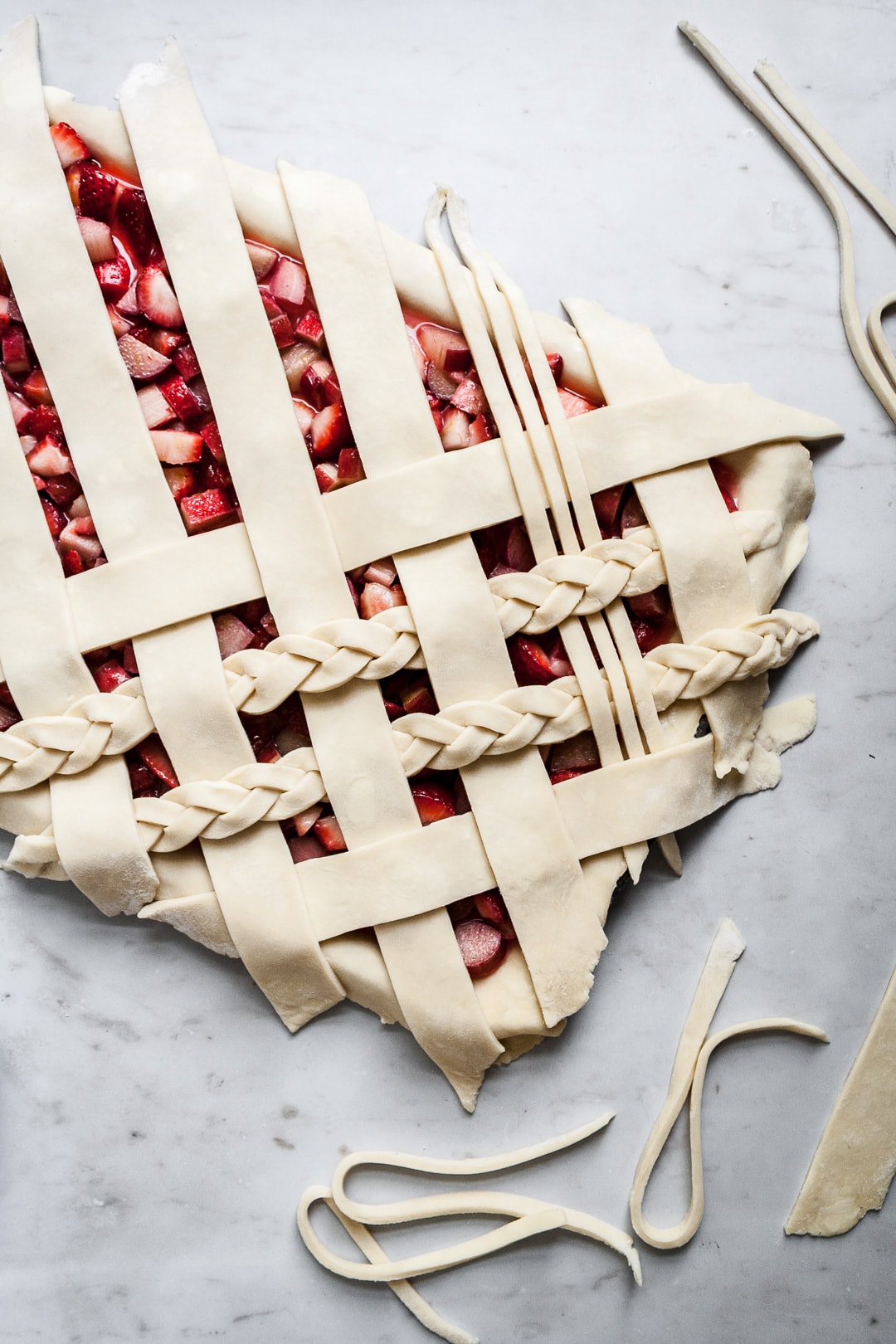 This was a spontaneous lattice design that incorporates some of my preferred decorations: thick lattice strips (aka "fattice"), three strand braids, and delicate thin strips, all held together by a sturdy crimped outer crust. You can combine these elements in the pattern and numbers that you desire. Once you have the building blocks for lattice, the variations are limitless. You could keep things simple and use only the thick lattice strips, or you could create a more intricate design by weaving in more braids and thin strips. I like how the more decorative pieces serve as an accent here; you choose your own lattice adventure. For a tutorial on how to make a decorative lattice crust pie, see my blog post here.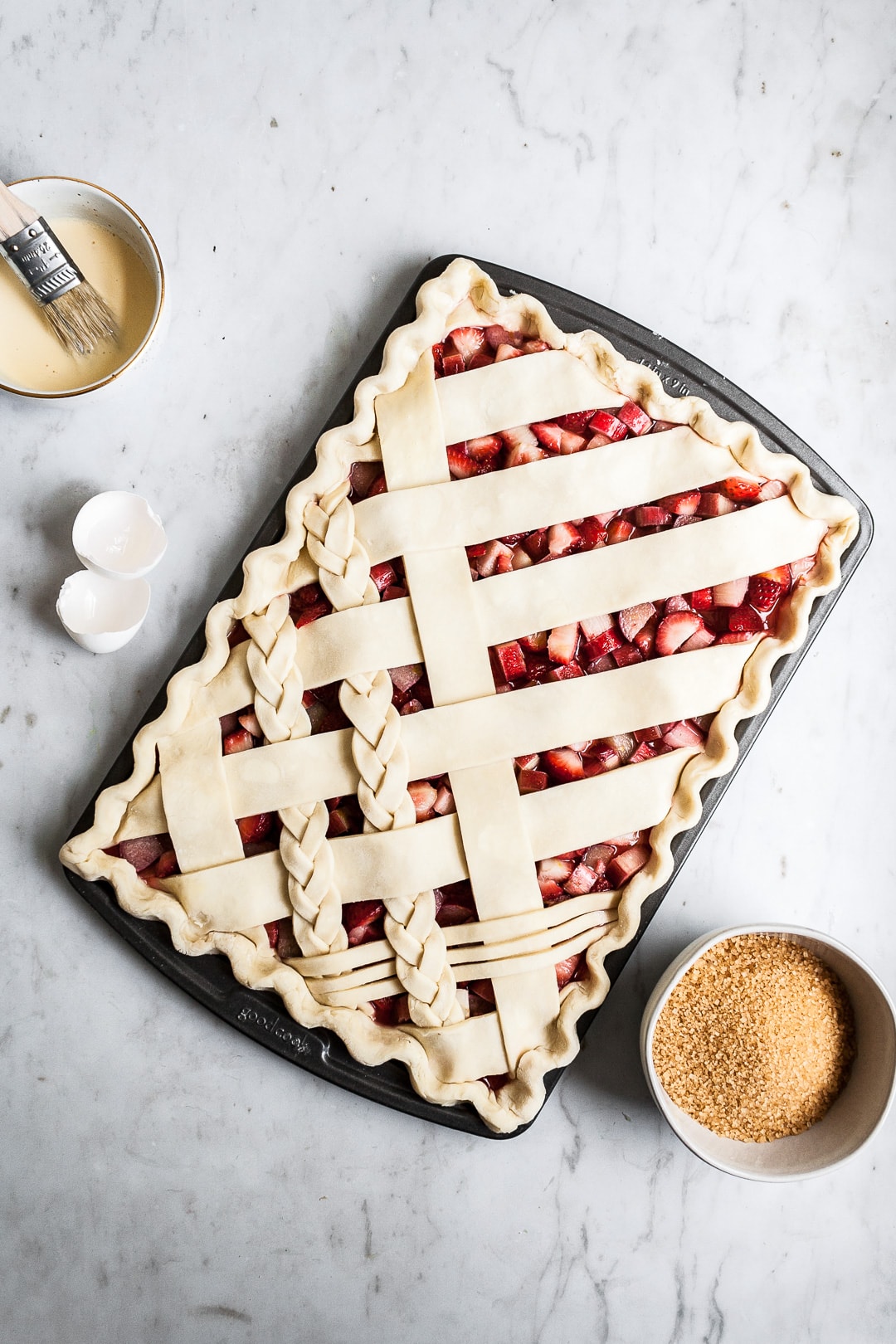 The benefits of a slab pie
A slab pie is the ideal dessert for a big gathering. It's the same amount of pie effort with a bigger payoff: more pie to go around. I made this recipe in a quarter sheet pan, which measures 9 x 13. You can easily get between 12 to 15 pieces from the pie, depending on how generous you're feeling when you're slicing it. It's an easy pie to serve, and you can eat it with your hands. I certainly did. Is there anything better?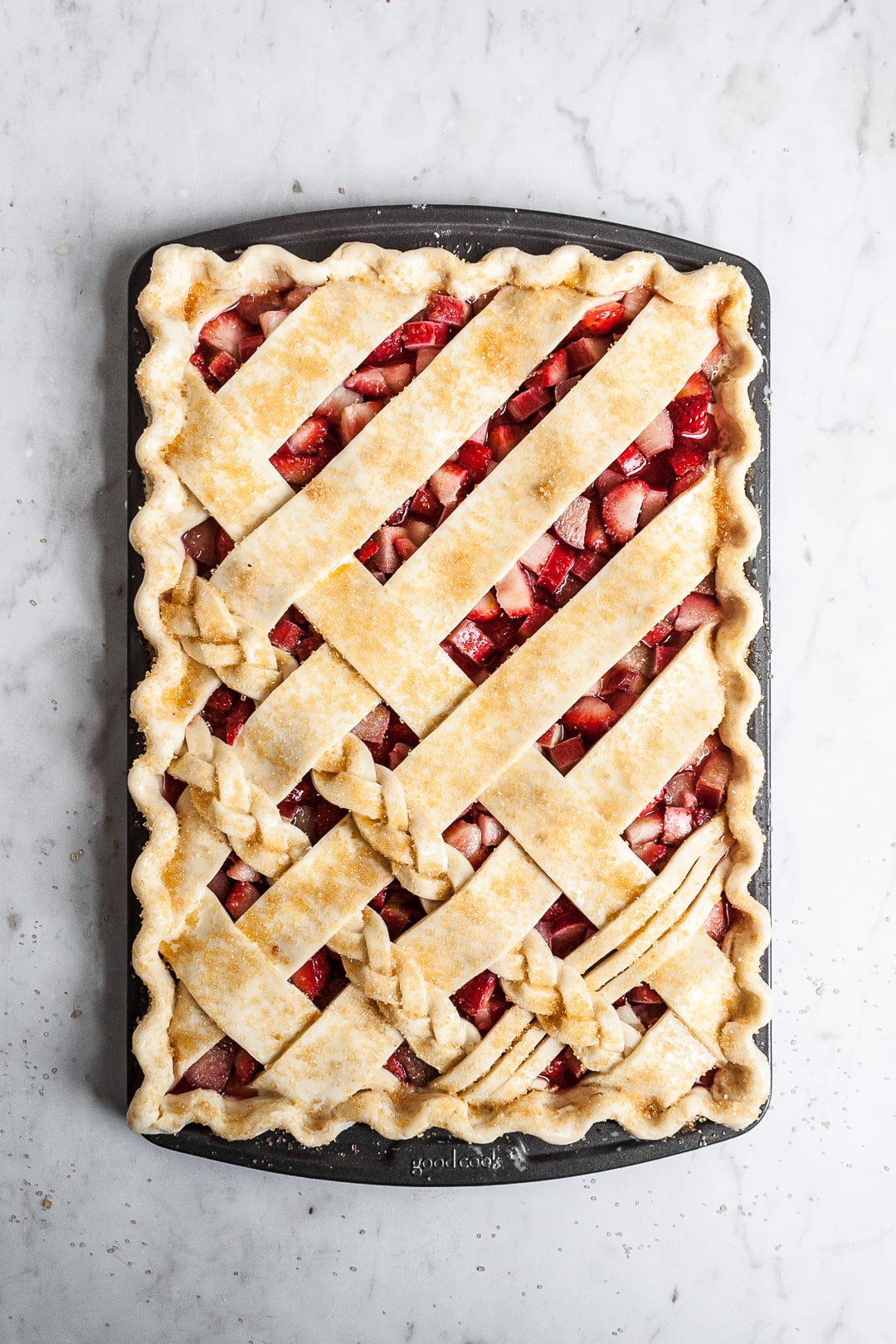 Recipe notes
Quarter Sheet Pan - I made this strawberry rhubarb pie in a quarter sheet pan which measures 9 x 13 but has a much lower rim than a standard 9 x 13 baking pan (such as you'd use for brownies). I would recommend sourcing one rather than trying to substitute.
Pie Dough - I originally made this recipe by multiplying by 1.5 the amount of ingredients needed for a standard pie with bottom crust and lattice. It did the job, but left me with very little room for error. In order to allow you a bit more breathing room with your lattice work, I've decided to double the recipe here so that you can confidently approach the decorations and make more lattice strips, braids, and if needed, mistakes. I would have appreciated the extra dough the first go-around.
Egg Wash - The egg wash is completely optional, but it does create a lovely golden brown color and a slight sheen on the crust. It also means that you'll need to tent the pie with foil earlier than you might otherwise in order to keep the top from getting too dark.
Turbinado sugar - Turbinado sugar is a golden brown, coarse grained sugar. It's what you find in the little brown sugar-in-the-raw packets in coffee shops and restaurants. I love to use it on pies to give the top an extra layer of texture and crunch. If you don't have any on hand, a little granulated sugar will work as well. You probably won't need as much.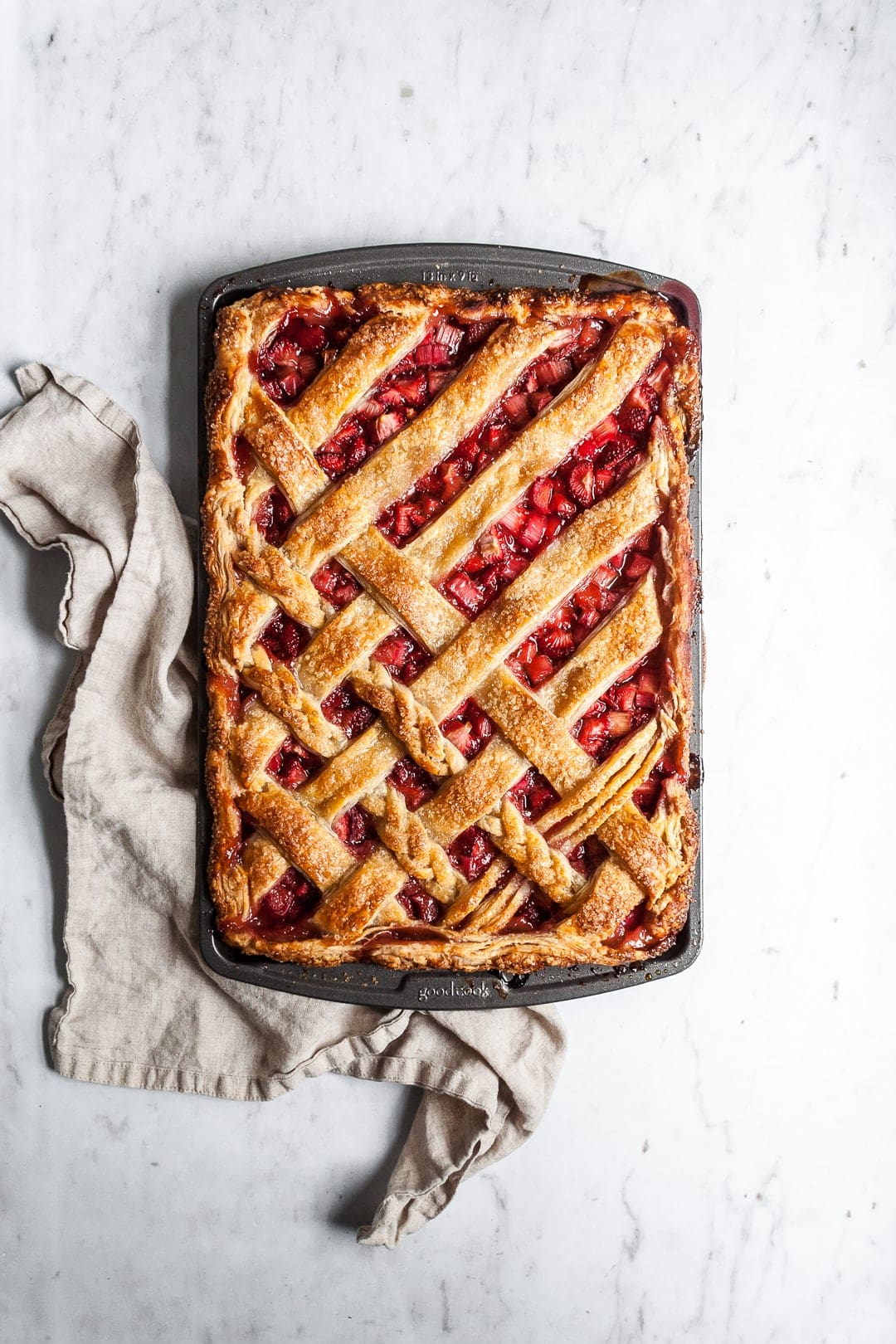 📖 Recipe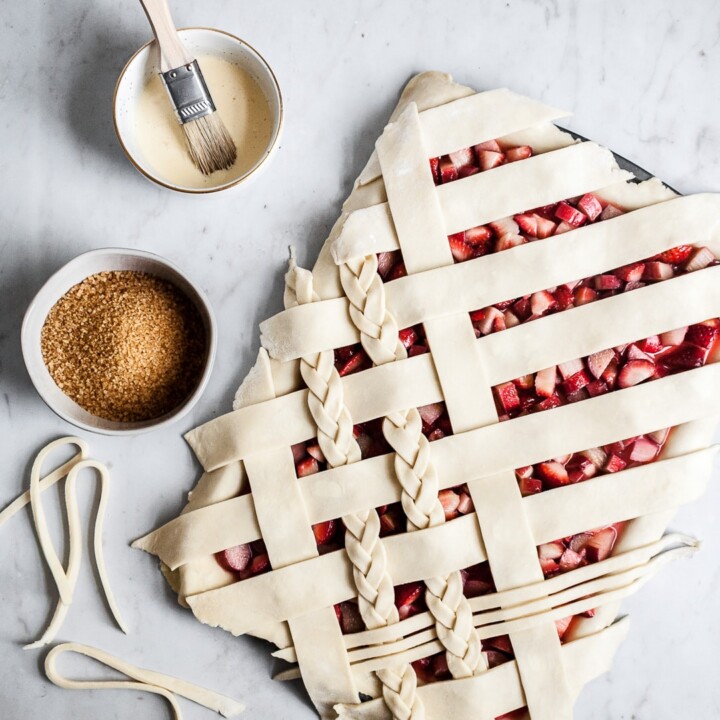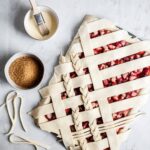 Strawberry Lime Rhubarb Slab Pie
Print Recipe
Pin Recipe
A wonderfully sweet and tart slab pie made with floral strawberries, rhubarb, and a bright lime zest that provides a flavorful citrus boost. Slab pies give you a bigger crust to filling ratio, which is perfect for this flaky, all butter pie crust!
INGREDIENTS
SISTER PIE'S ALL BUTTER PIE DOUGH
5

cups (600g)

all-purpose flour

2

tsp (8g)

granulated sugar

2

tsp (12g)

kosher salt

2

cups (552g, 16 oz)

unsalted butter

chilled

2

Tbsp (30mL)

vinegar (I used apple cider vinegar)

1

cup (250mL)

cold water (minus 2 Tbsp)
STRAWBERRY LIME RHUBARB PIE FILLING
2 ½

cups (14 oz, approx. 400g)

strawberries, hulled and quartered

3 ¾

cups (16 oz, approx. 450g)

rhubarb, diced

1

cup (200g)

granulated sugar

zest of one large lime

2

tablespoon

lime juice (approximately half a large lime)

⅓

cup (40g)

tapioca starch (also called tapioca flour)
EGG WASH (OPTIONAL)
1

egg

2

tablespoon

cream

¼ to ½

cup

Turbinado sugar, to sprinkle over crust
INSTRUCTIONS
MAKING THE DOUGH
Pour 2 tablespoon of vinegar into a 1 cup measuring cup. Fill the remainder of the cup with water to 1 cup and place into the freezer to chill. You'll want it to remain liquid, so don't do this too far in advance.

In a large bowl, combine flour, sugar and salt with a whisk.

Remove butter from fridge and cut into 16 pieces, working quickly to avoid warming the butter. Add to the flour mixture and toss to coat butter pieces. Using a pastry blender, cut the butter into the flour until it is pea-sized.

Add the water - vinegar mixture. Using a bench scraper or a heavy spatula or wooden spoon, push the mixture back and forth until the liquid has been absorbed into the dry ingredients. Using your hands, lift the edges of the rough dough mass, turn them inwards and press them firmly down. Repeat this, turning the bowl, until you can gather the dough into a rough ball, and there are no loose pieces at the bottom of the bowl.

Place the dough onto a lightly floured work surface and divide it into two pieces. Form each into a rectangle and wrap tightly with plastic wrap. Refrigerate the dough for several hours or overnight.
ROLLING OUT THE BOTTOM CRUST AND LATTICE
Place one rectangle of dough on a lightly floured work surface. Holding a rolling pin at one end, pound the dough with about four or five vigorous whacks while moving from left to right. Rotate the dough 180 degrees and pound it again.

Roll the dough out by placing the rolling pin in the center of the rectangle and firmly pressing down while moving the pin towards the outer edge of the dough. Turn the dough 90 degrees and continue this process of rolling and turning until the dough forms a rectangle approximately 11 x 15 inches in diameter (enough to have a several inch overhang on the sheet pan).

Gently fold the dough in half and then again into quarters and lift it onto your 9 x 13 sheet pan. Center it carefully and unfold it, pressing down into the base and corners to be sure there are no air pockets trapped underneath. Place the quarter sheet pan onto a half sheet pan in order to support the overhanging crust, cover in plastic wrap and place into the fridge to chill.

Place the second rectangular disc of dough on a lightly floured work surface. Repeat the same banging motion as above, from left to right. Roll the rectangular until it is somewhat larger and flatter, like a standard letter sized piece of paper. With the long edge closest to you, fold the dough into thirds by lifting the right edge and folding it ⅔ of the way across, and then folding the left edge over until it touches the right edge. Flip the dough over and pound the dough with the rolling pin again. Roll out the dough in a rectangular shape until it is approximately 11 x 15 inches.

Using a pastry cutter (or a knife) and a ruler, cut lattice strips in ¾ inch widths diagonally across the rectangle, starting in a corner and working your way across. If you wish to make a braid or two, divide one of the thick lattice strips further into three - each would be ¼ inch thick - and braid together. To make the thin strips, divide a thick strip into three and use each ¼ inch strip independently. Gently transfer lattice strips to a parchment covered baking sheet, cover with plastic wrap and place in the fridge to chill.
MIXING THE PIE FILLING
In a large bowl, combine strawberries, rhubarb and lime zest. Add lime juice, sugar and tapioca starch. Gently fold ingredients together until completely blended. Pour into prepared pie crust and spread out to ensure even coverage.
ASSEMBLING THE LATTICE
Lay half of the cut strips of lattice dough onto the filled pie diagonally, making sure that each strip overhangs the sheet pan by about one inch on each side. Fold half of the lattice strips halfway back upon themselves and place a lattice strip at a 90 degree angle perpendicular to the other strips, forming an x shape. Make sure that the added strip also overlaps on each side of the pan. Fold the other strips back down. Repeat in alternating fashion until lattice has been fully woven. If this seems complex, refer to the photos and my detailed post on how to make lattice crusts.

Trim the edges of the lattice so that they just meet the edge of the sheet pan (while leaving the bottom crust overhanging still). Roll the overhanging edge of the crust inwards and over the top of the trimmed lattice ends so that they are not visible. Using your fingers, create a crimped edge (refer to this video from King Arthur Flour for a visual of the crimping method)

Chill the assembled pie in the fridge for at least 30 minutes.
BAKING THE PIE
Preheat the oven to 400 degrees and position a rack in the lower third of the oven.

If using the egg wash, add the egg and cream to a small bowl and beat well to combine. Using a pastry brush, gently brush the egg mixture onto every exposed part of the crust. Sprinkle crust liberally with Turbinado sugar.

Line a rimmed sheet pan with aluminum foil (to catch any spills). Place the pie on the baking sheet and bake in the lower third of the oven for 30 minutes, or until top crust is golden. Gently tent with aluminum foil and bake an additional 30 minutes. At this point, check the pie. You want to bake until the juices in the center of the pie are bubbling. This might take an additional 15 minutes (for a total of 1 hr, 15 minutes). Remove from oven and let sit until warm; if pie is still hot, the filling will not set (The waiting part is hard!)
The Floured Table
Recipe Author: Kathleen Culver
https://www.theflouredtable.com/strawberry-lime-rhubarb-slab-pie/
Made this recipe? Please leave a comment and a star review! ★★★★★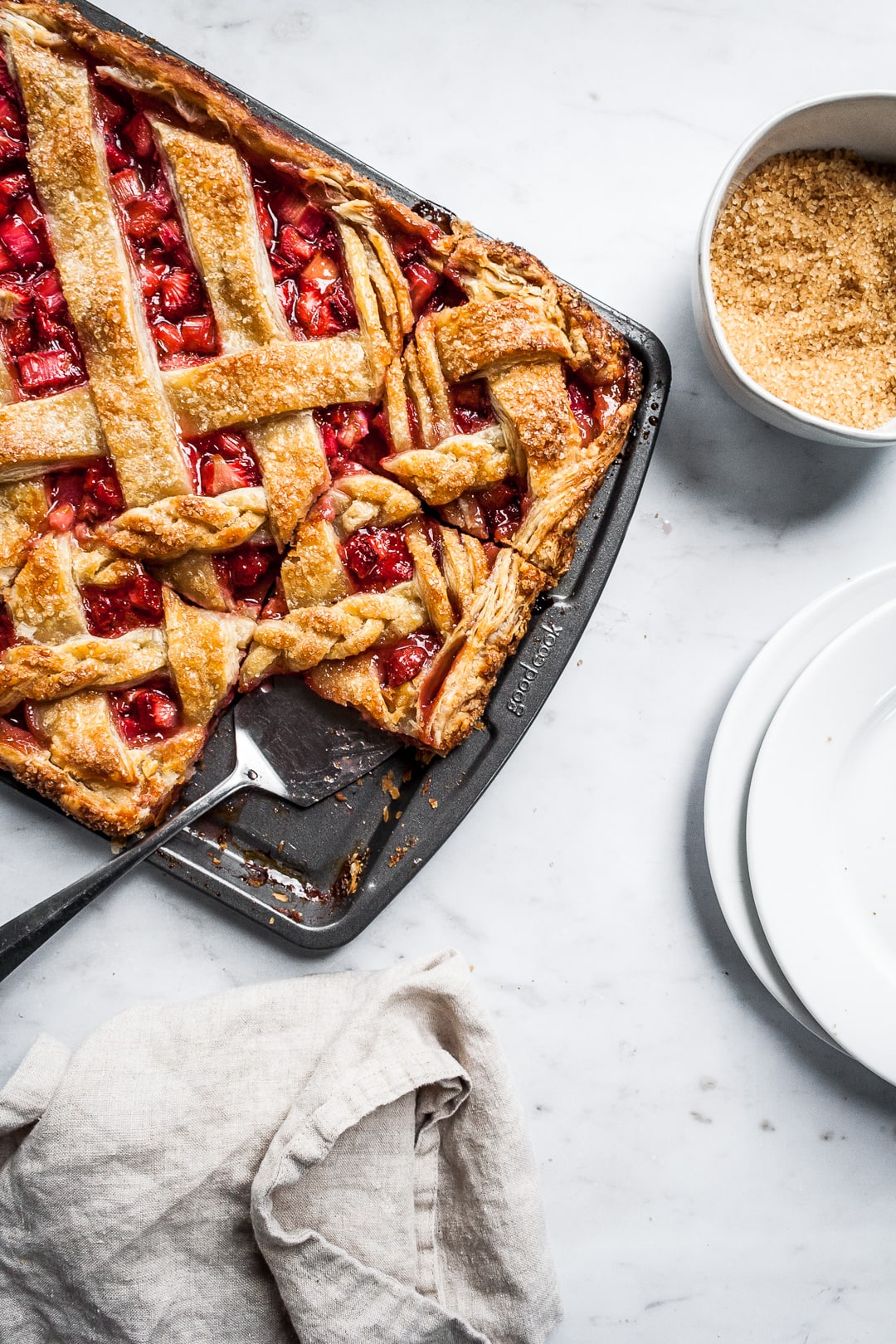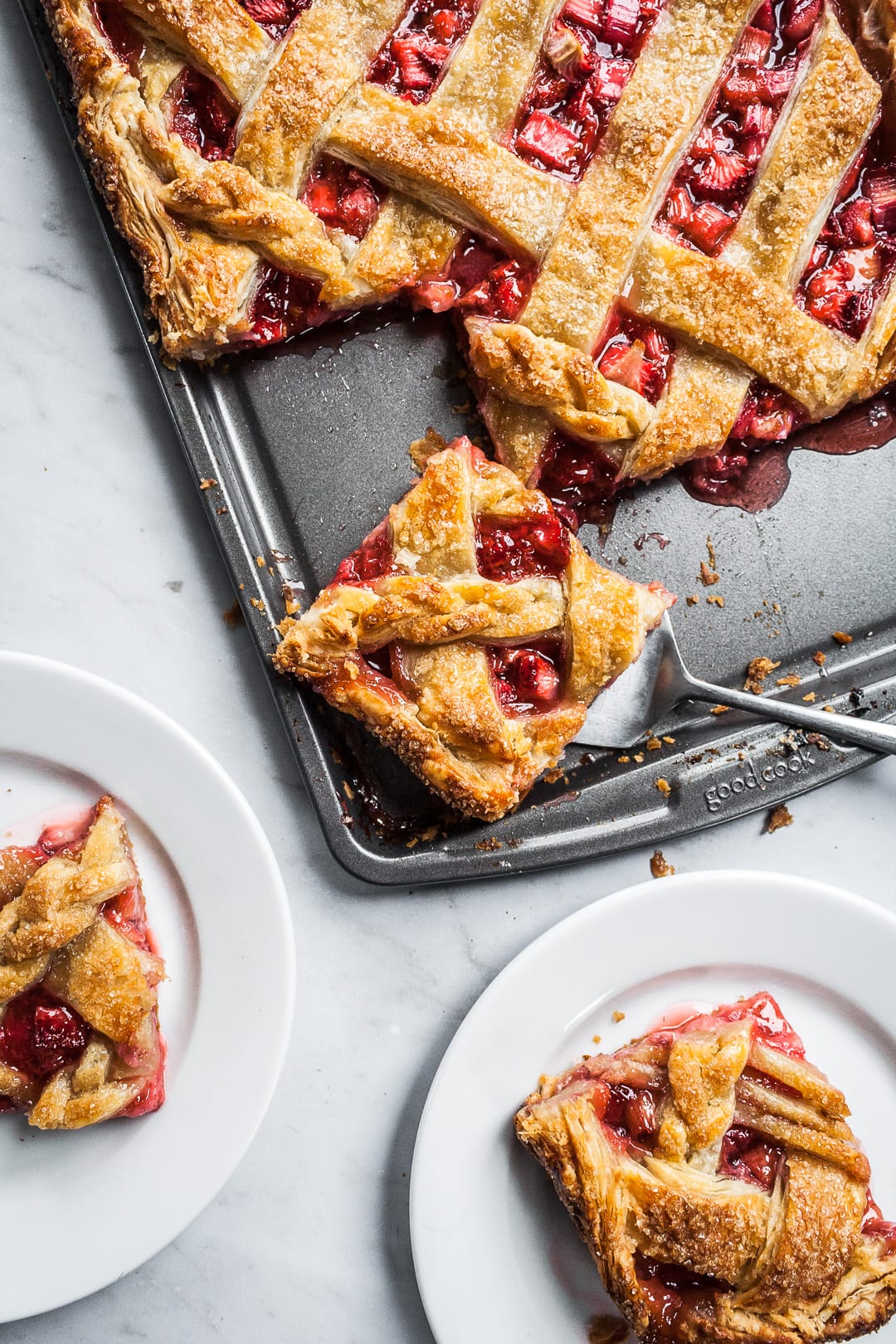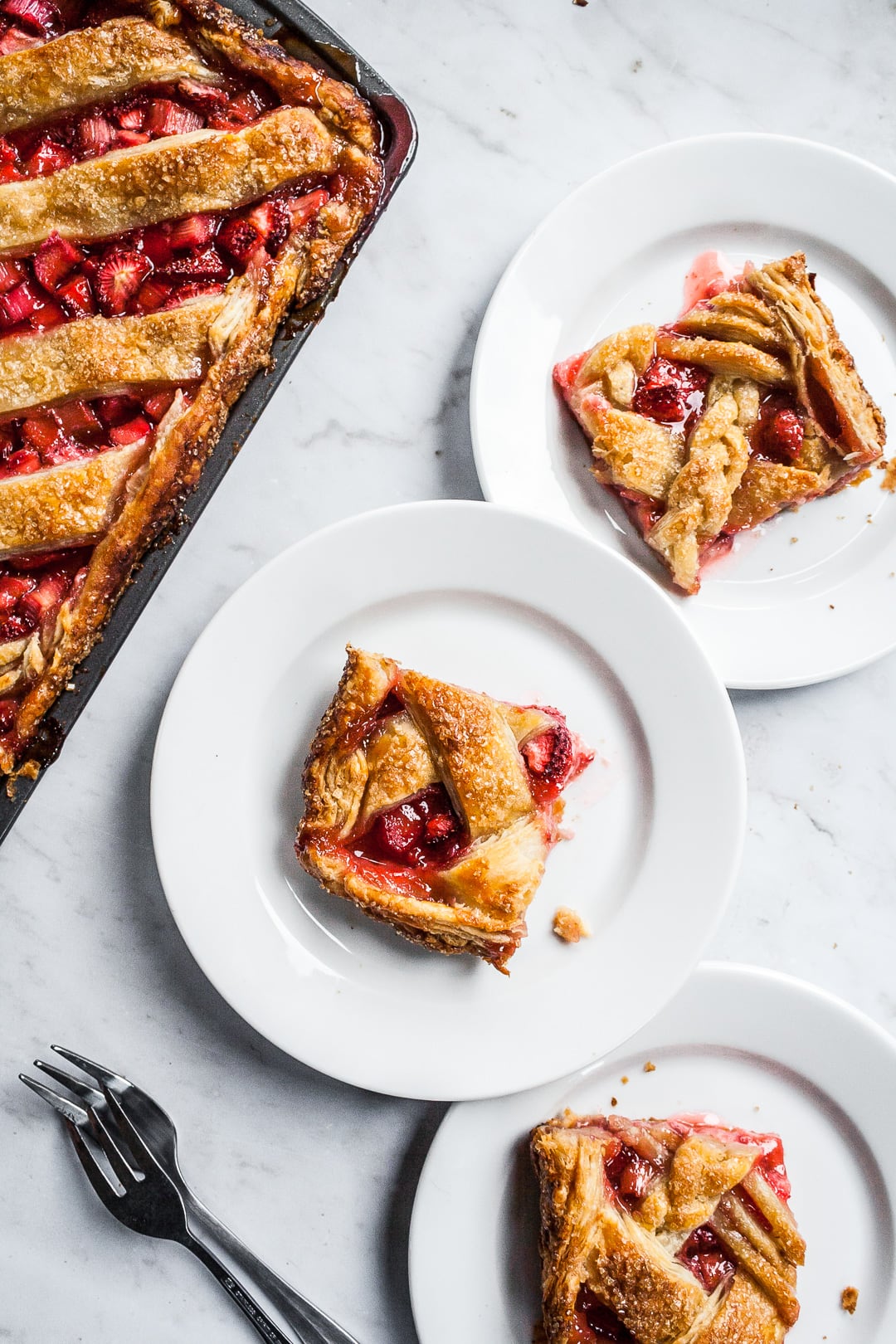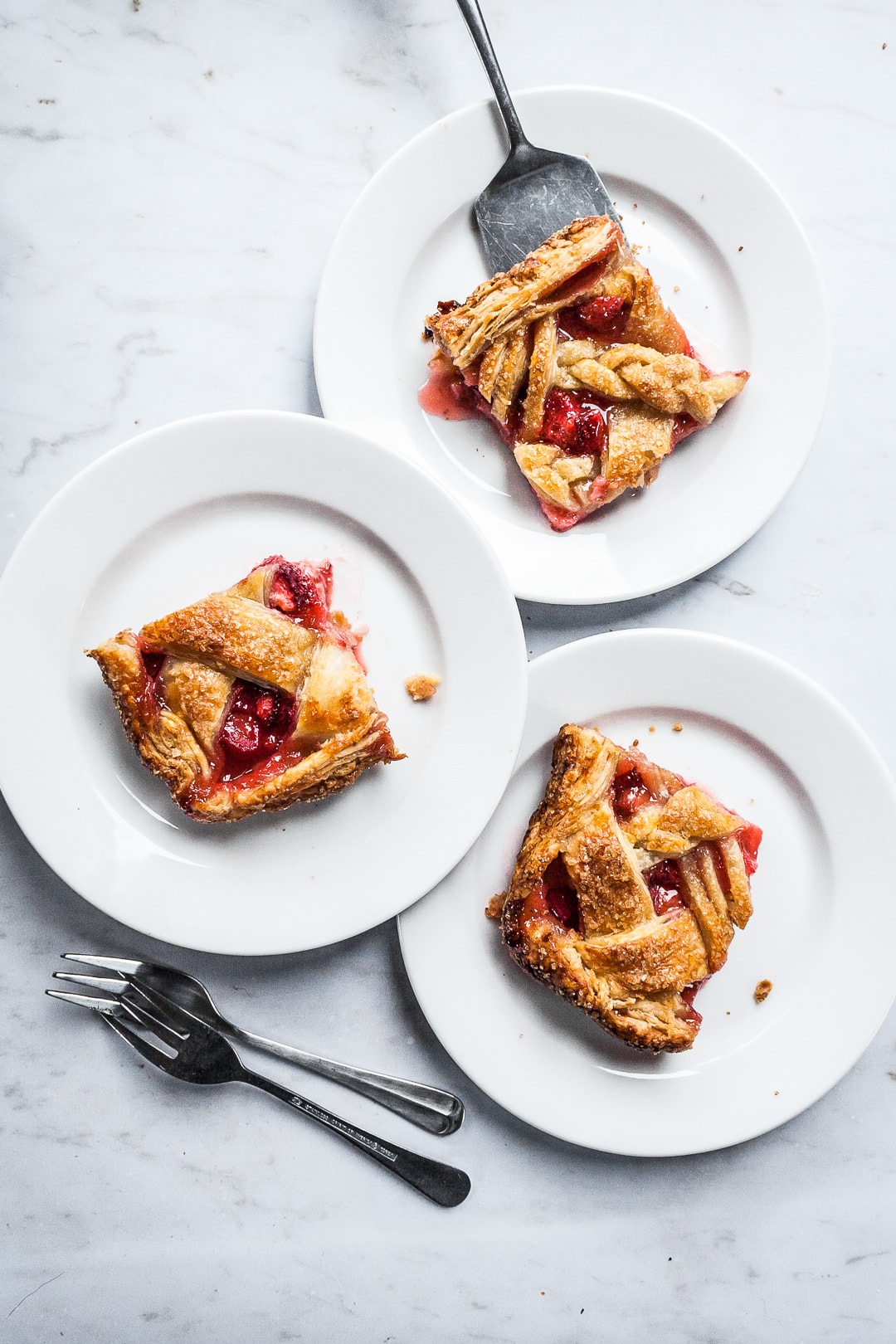 More strawberry rhubarb recipes
If you liked this strawberry & rhubarb pie, you might also enjoy these recipes!