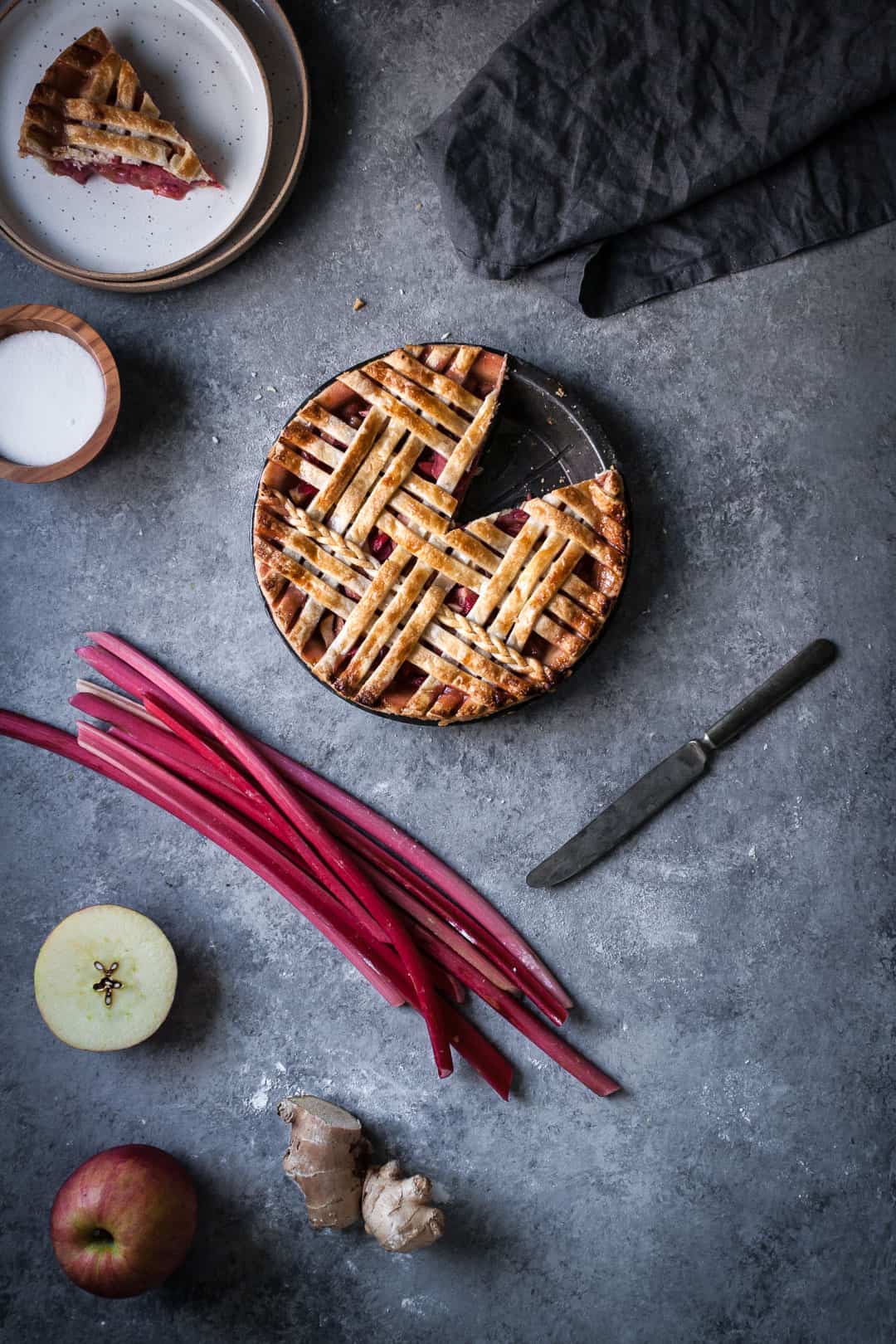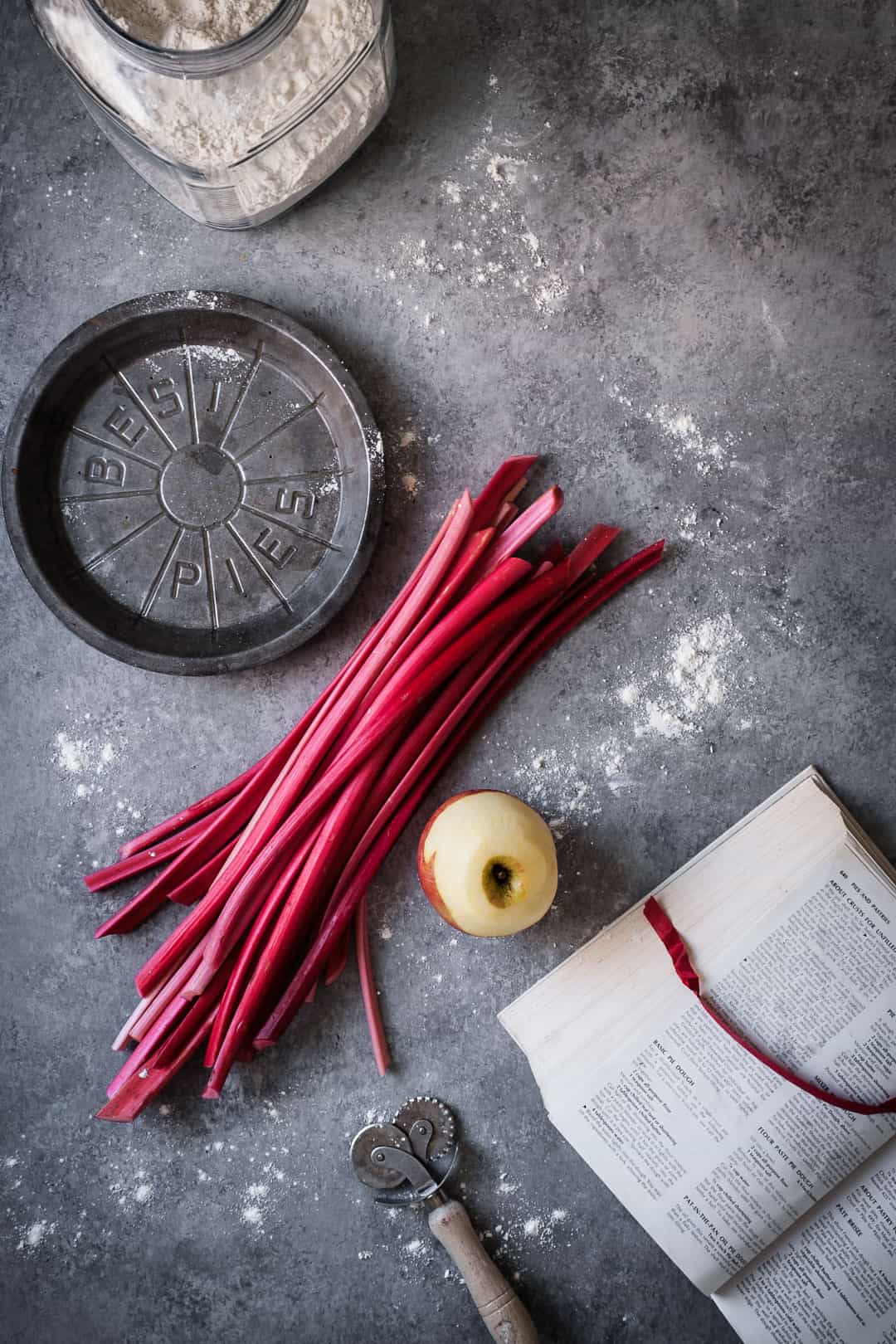 This may be the best pie I've ever made. And I don't say that lightly, since last year on Instagram I boldly declared that I'm not even a pie person. After making this, I literally ate my words - slice by delicious slice - and decided that I do indeed like pie. At least this rhubarb apple pie with ginger and lemongrass.
A weekend ago, between pie making and other activities, the urge struck me to rid our house of absolutely everything. This was my plan: I'd pack it all up and move it out to the garage - all nine years of things that we've accumulated in the time we've lived in this creaky 1910 Craftsman. And then I'd only bring in what I needed - and only when it was needed - and not a moment before.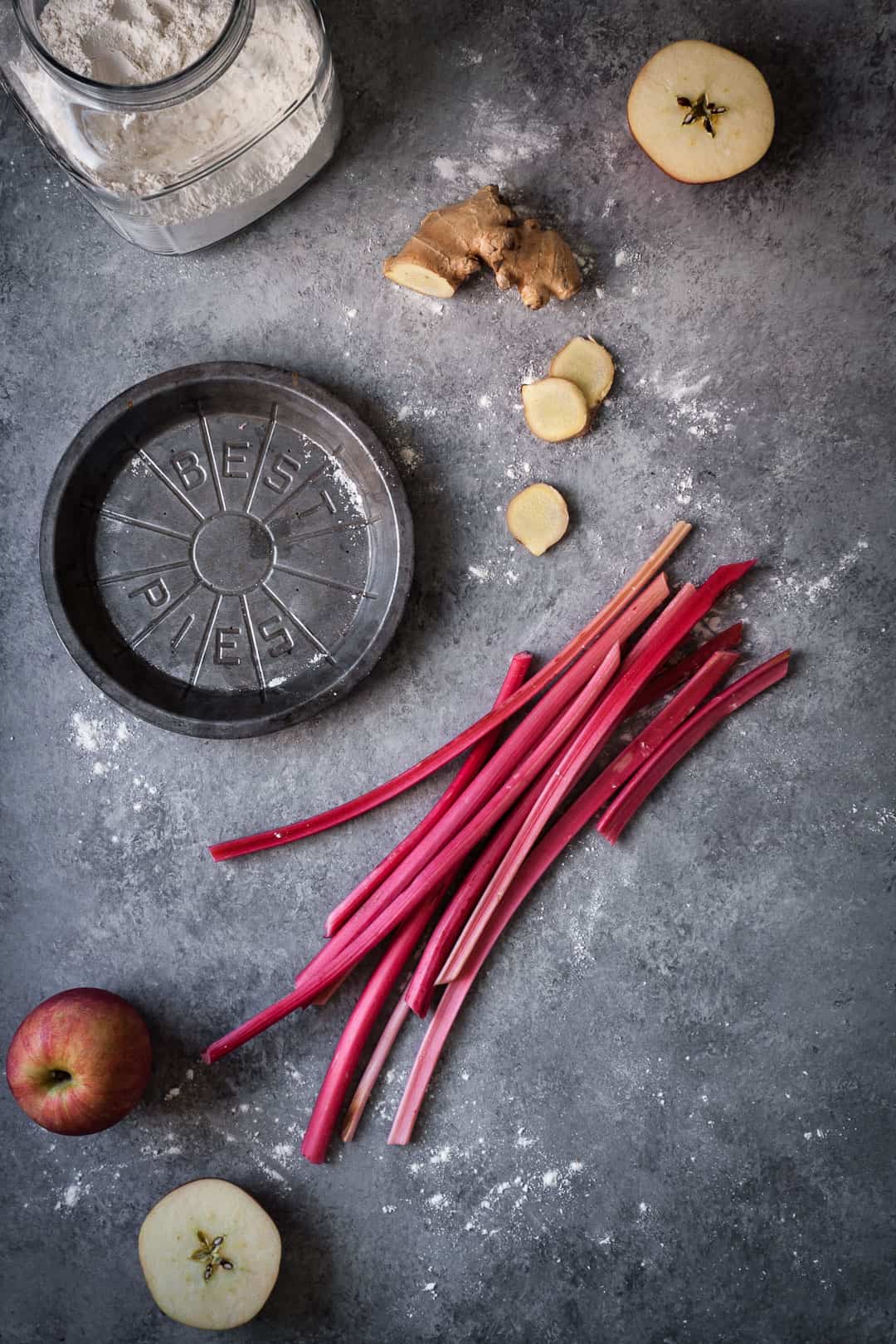 This was less a realistic plan than a reaction to my feelings of overwhelm from the amount of stuff that surrounded me. A (clean and folded) pile of laundry on the dining room table, whose wood surface we rarely see anymore. 90% of the time it serves as a landing pad for all the random detritus that comes in the door. The kids' toys liberally sprinkled around the house - creeping out of the dedicated play area with a life of their own. The paper: prodigious crayon scribbles, grocery coupons, full-page receipts, notes I've written myself on post-its. Clothes we need to sort and set aside for our younger daughter - who trails her sister by almost 4 years. The shoes that are too small for one, too big for the other - hidden in the closet, but found and worn as dress-up.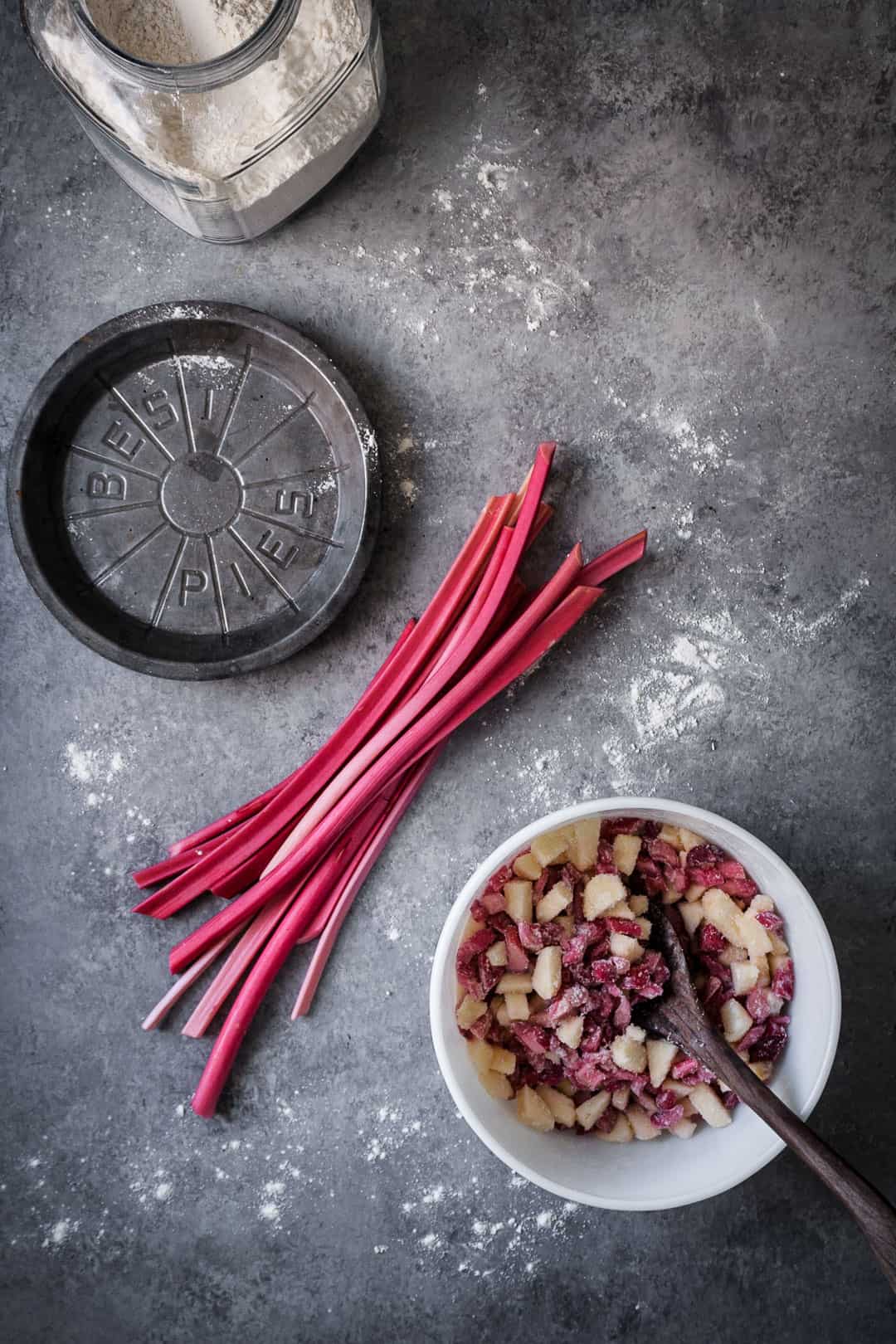 The wearying task of picking things up and re-homing them is at a peak in our home these days. The kids are supremely mobile, which creates a whirlwind effect wherever they go. I'll busy myself with something for a few moments, and when I look up, the couch cushions have been strewn on the living room floor and are now serving as a landing pad for their swan dives. I step out the front door to check the mailbox and in the meantime, every magnet on the fridge has been tossed onto the kitchen floor.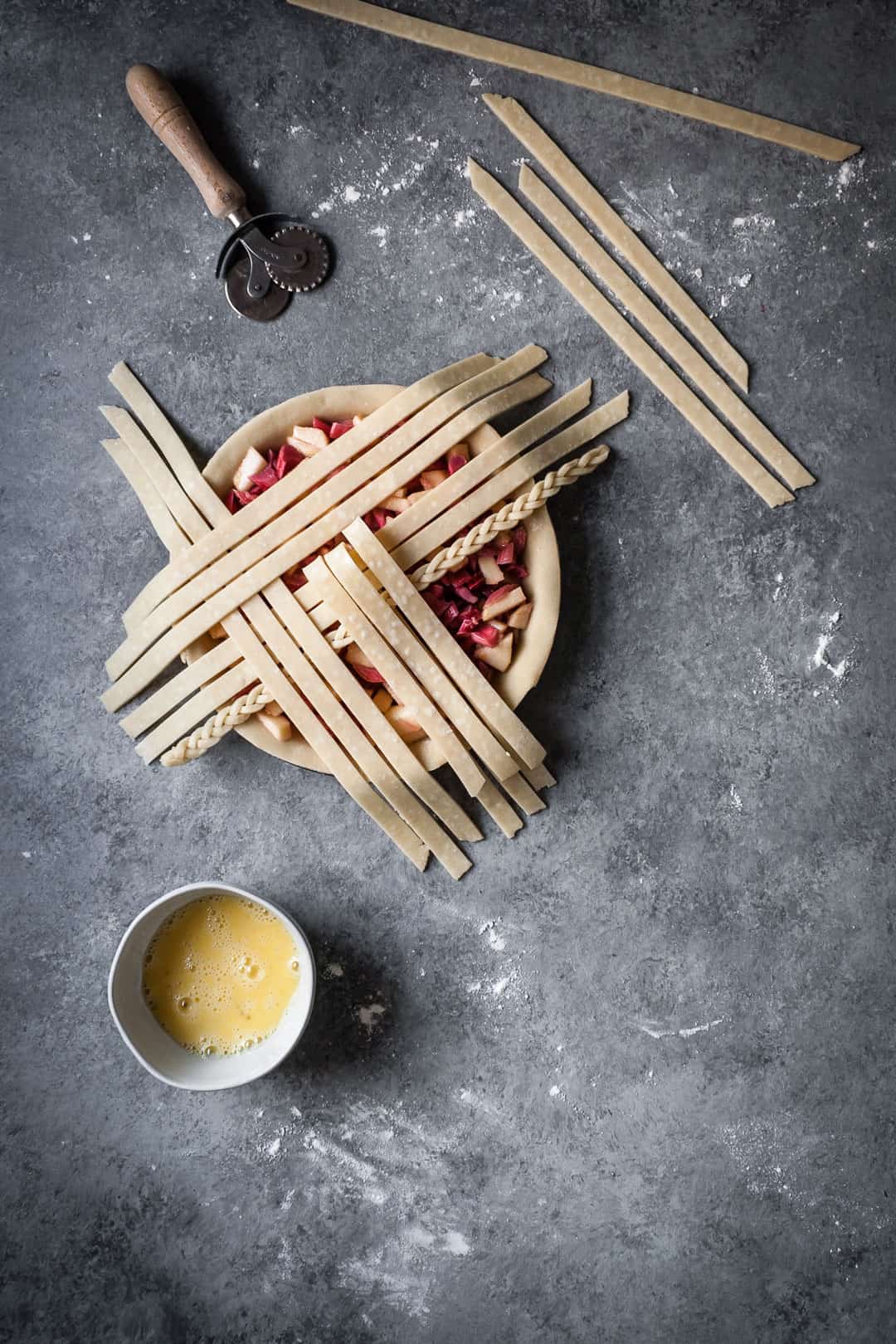 All of this has, of late, worn on me. I think it's a natural phase that many parents experience, yet it feels disingenuous to put the blame on the kids. There are plenty of other areas of the house that they don't inhabit (our unfinished basement shop, for example) that suffer the same fate. And I can't point the finger at my husband, either. He's always been the tidy, organized one in our relationship.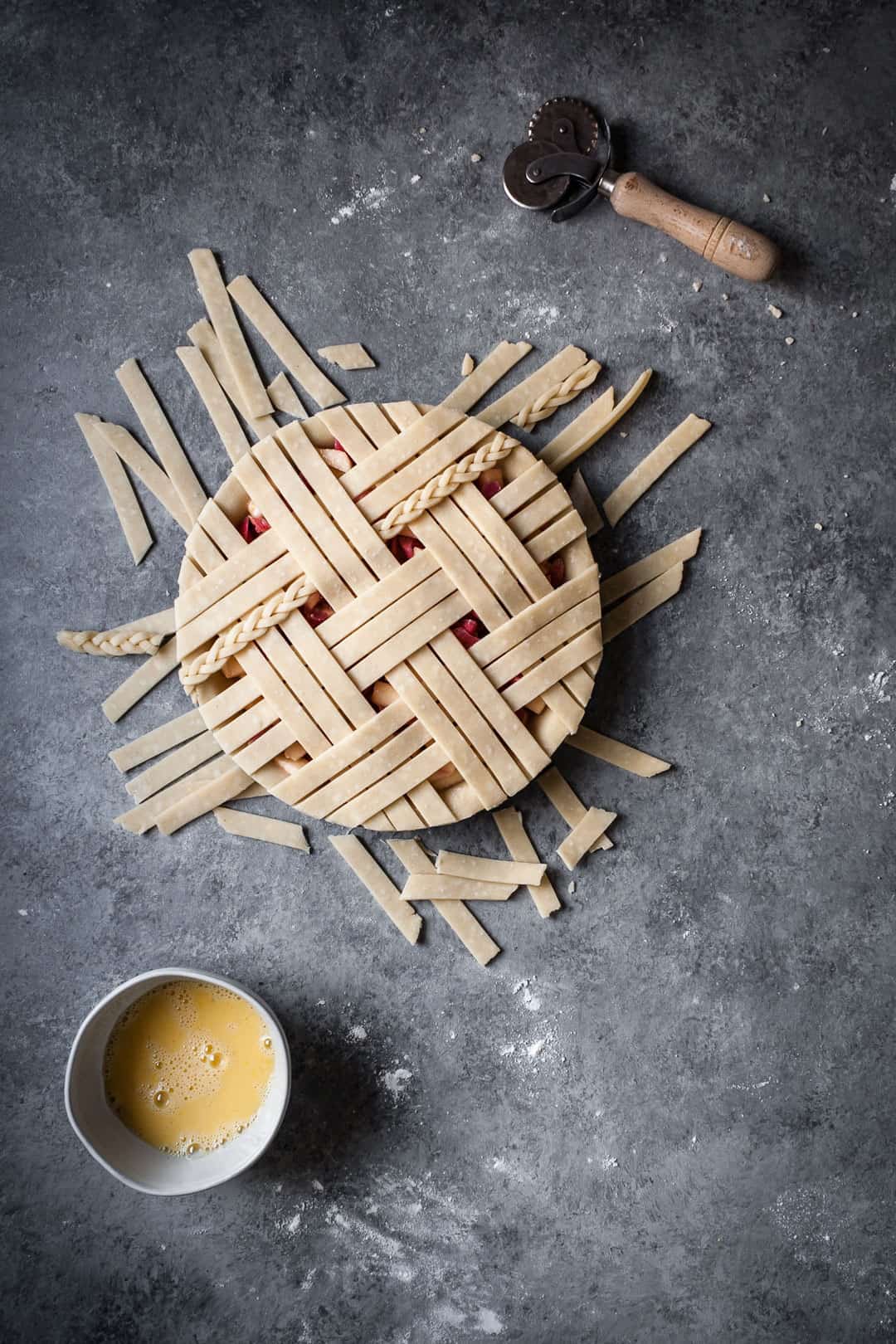 I'm the clutter magnet. Give me a bare, flat surface, and I will cover it.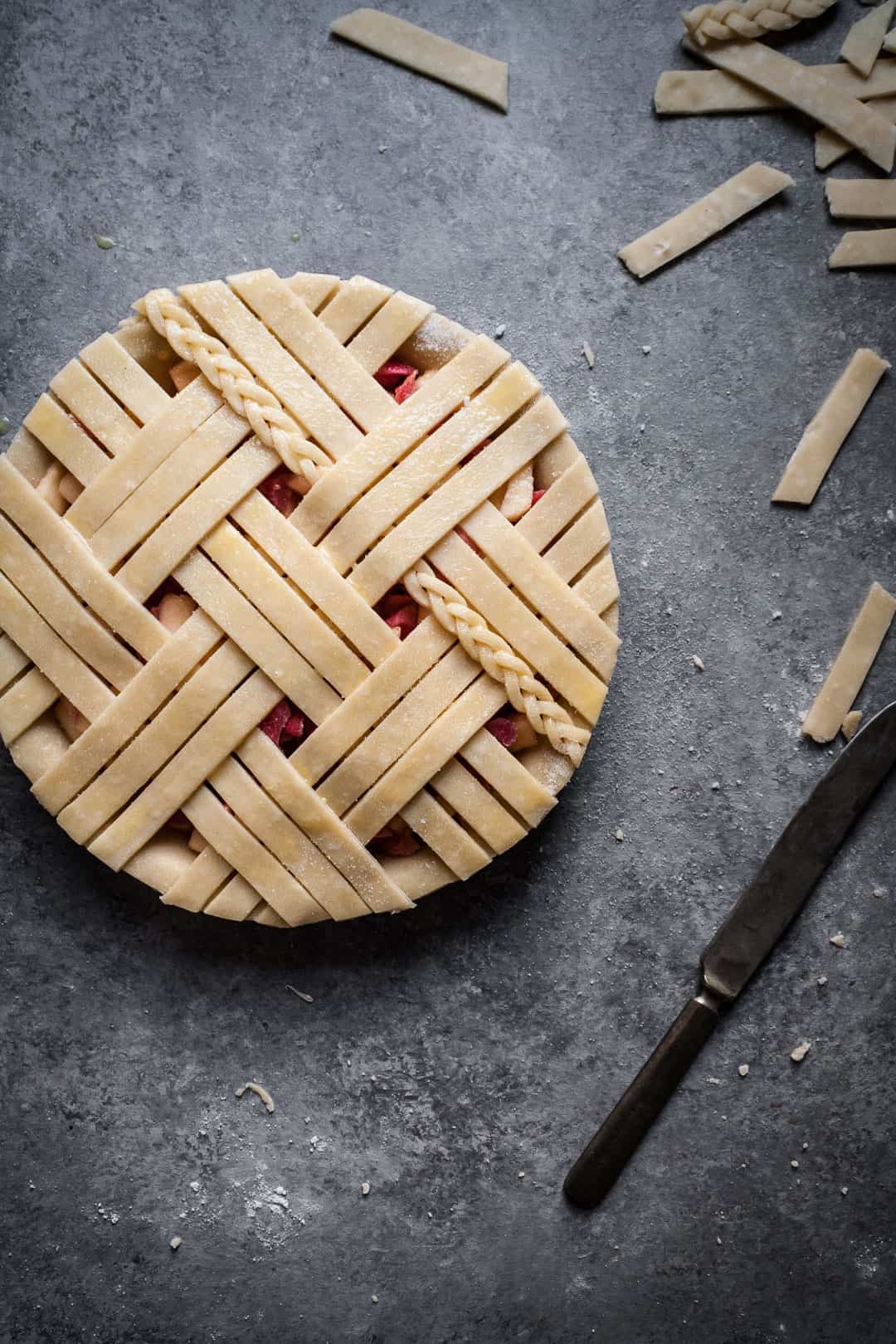 The irony is that I'm visually pulled towards simplicity. My Pinterest is filled with images that are spare, quiet, monochromatic, simple.
If images speak a thousand words, these all whisper in calm, soothing voices.
I long to live in a space where I feel at peace when I look around me.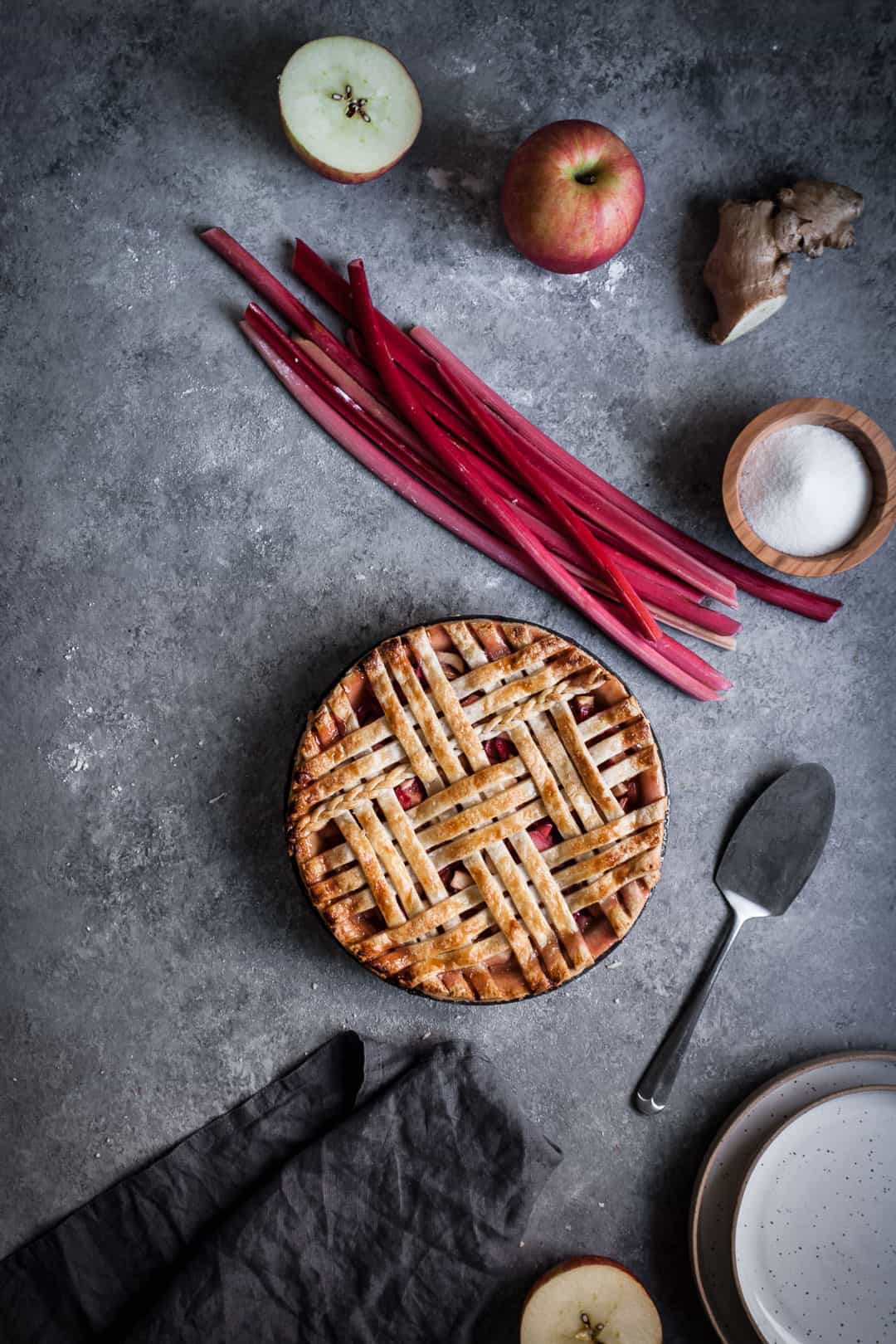 I'm discovering the challenges of living with visual clutter; even if we don't own a terribly large amount of stuff, the piles on surfaces are getting to me.
They make me feel anxious, guilty, frustrated.
The stuff - it's overwhelming.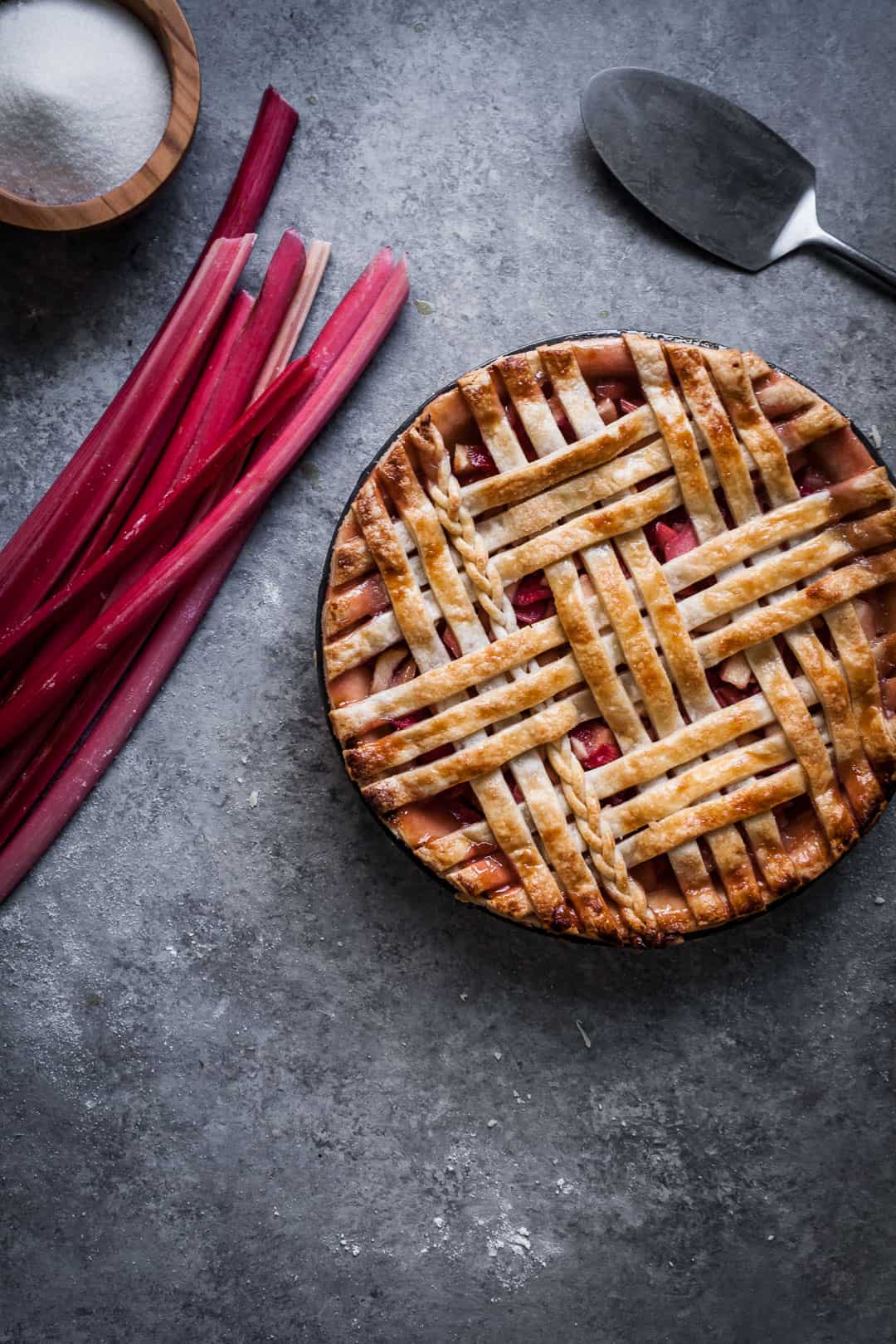 The extreme purge I long for isn't going to happen - but I'm determined to figure out a balance that works.
I dream of having less, and of living a life that reflects William Morris' quote: "Have nothing in your houses that you do not know to be useful, or believe to be beautiful."
And much like so many things in life, if we ever find that magic place where the objects we own enhance our lives rather than detract from them, it will forever be a work in progress.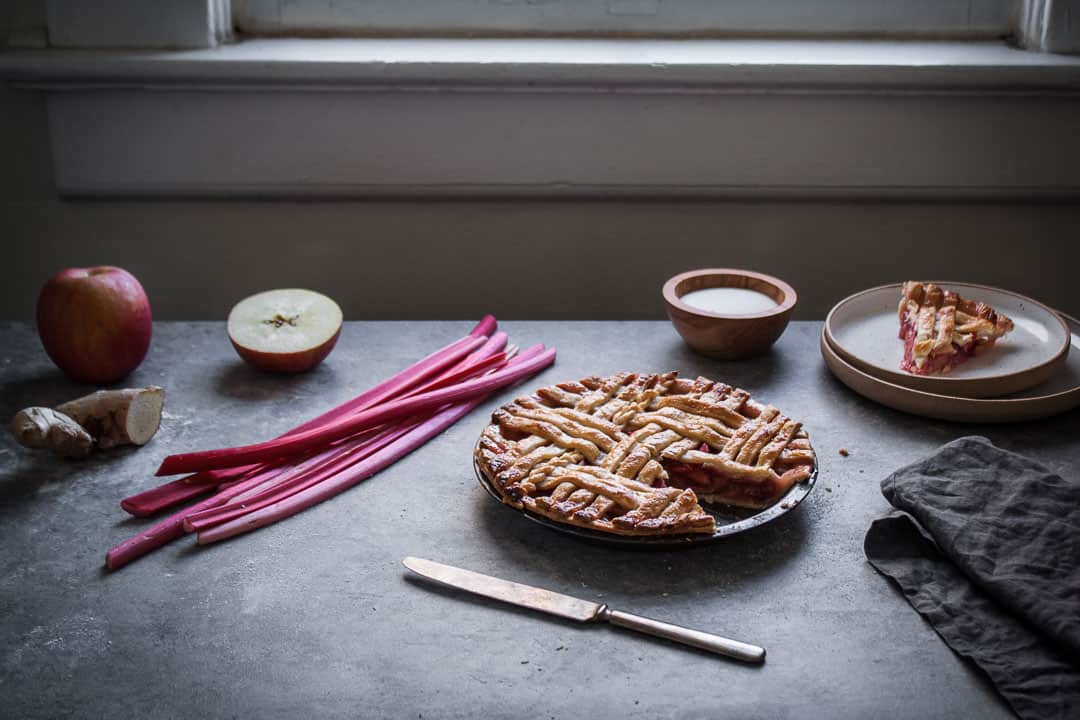 I'm starting the work now. There's a lot to let go of.
But this rhubarb apple pie? It's a keeper.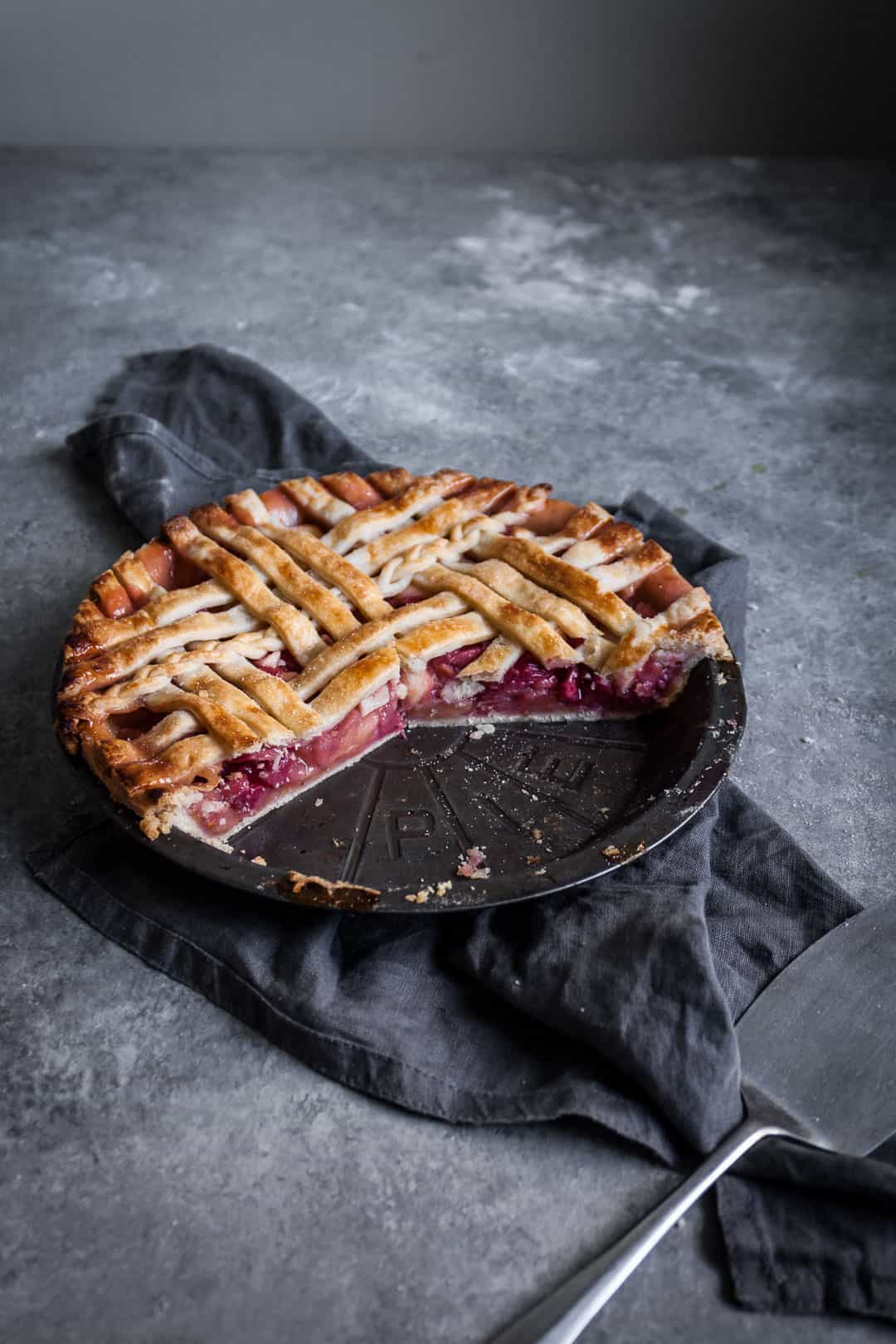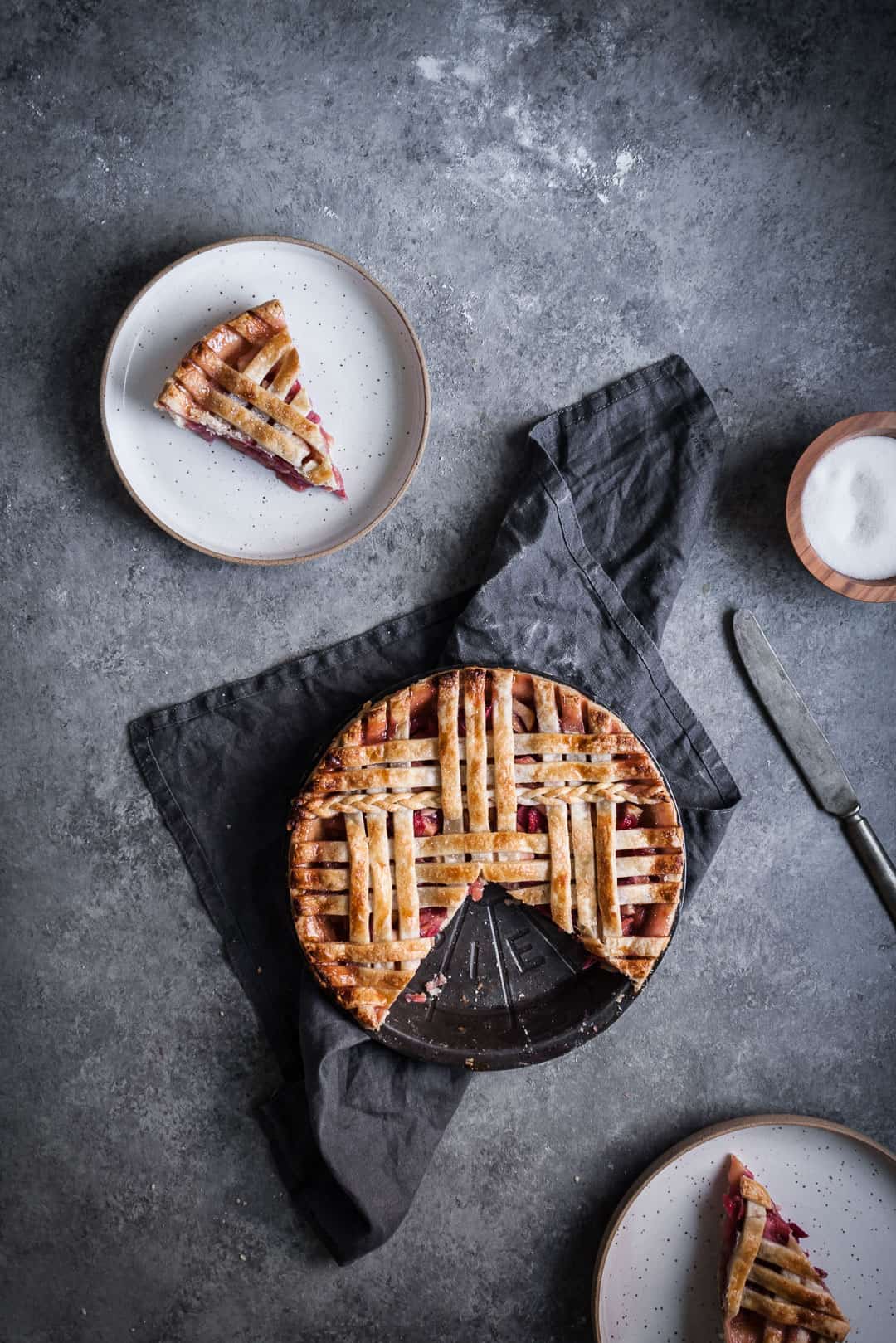 📖 Recipe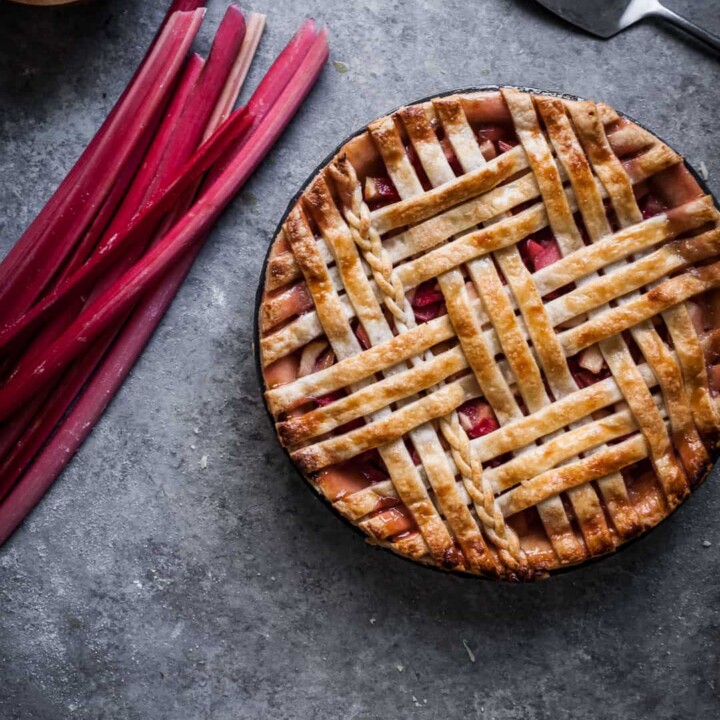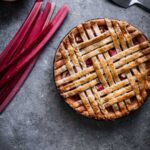 Rhubarb Apple Pie with Ginger and Lemongrass
Print Recipe
Pin Recipe
This rhubarb apple pie with ginger and lemongrass has me loving pie in a serious way. Sweet apples are a perfect foil for the tart rhubarb and help reduce the amount of sugar required. The ginger and lemongrass add a depth and brightness that I find incredibly refreshing.
Servings
8
slices from an 8" pie
INGREDIENTS
PIE DOUGH
2

cups (240g)

flour

1

teaspoon

salt

14

Tbsp

butter

(approx ⅔ cup + 2 Tbsp)

4

tablespoon

water
RHUBARB APPLE FILLING
2

cups

rhubarb, cut into cubes

2

cups

apples, peeled and cut into cubes

(I used sweet Fuji apples)

¼

cup (30g)

flour

1

cup (200g)

sugar

1

tablespoon

finely grated fresh ginger

1

tablespoon

finely grated fresh lemongrass
EGG WASH
1

egg, beaten

1

tablespoon

water
INSTRUCTIONS
PIE DOUGH
In a food processor, measure out flour and salt. Add the butter in tablespoon sized chunks and lightly toss in flour to cover. Pulse minimally, just until butter is pea-sized.

Add water and pulse a few times to blend. Turn out mixture onto work surface or into a large bowl to finish bringing the dough together into a ball. If needed, add an additional 1-2 teaspoon of water to bind the dough.

Divide dough into two flattened discs and wrap well with plastic wrap or place into ziplock bags. Chill in the fridge for at least 30 minutes.
RHUBARB APPLE FILLING
Place cut rhubarb and apples in a large bowl. Add flour and sugar and mix well to combine.

Add grated ginger and lemongrass and mix until evenly distributed.
PIE ASSEMBLY
For this recipe, I used an 8" diameter pie tin.

Remove dough rounds from the fridge and set on counter to warm until just pliable - around 15-30 minutes.

On a lightly floured surface, roll out one disc of dough into a circle until approximately 10 inches in diameter. You can check the size by holding your pie tin over the dough to see if it extends by at least an inch on all sides.

Line your pie tin with the pie dough, making sure it is flat against the tin with no air pockets. Place dough lined pie tin in fridge to chill.

Roll out the second disk of dough until it is 10" in diameter, or at least 2 inches wider than the diameter of the pie pan. Place on a parchment lined baking sheet and return to the fridge to chill for 15-30 minutes.

Remove the baking sheet of chilled dough from the fridge and transfer parchment to work surface. Measure and cut strips of dough using a ruler and sharp knife. For this pie, the lattice pieces were approximately ½ inch wide and I made the braid by plaiting three ¼ inch strips together. You will need a total of 18 strips/finished braids total - the ratio of strips to braids is up to you. Return parchment paper to cookie sheet and chill in the fridge for an additional 15 minutes.

Remove dough lined pie tin from fridge. Pierce the dough all over with a fork. Pour in the rhubarb apple filling.

Remove cut dough strips from the fridge and, working quickly, build the lattice design by laying three strips of dough together across the middle of the pie. Place another three strips on top and perpendicular to these,  forming an x shape. Add the remaining strips in groups of three on each side of the x shape, weaving them under and over the existing strips. Trim the overhanging strips using a knife and gently press the edges together.

*For a detailed explanation of how to achieve a similar lattice pattern, refer to my blog post on how to make a lattice pie crust. It's also helpful to look at a finished photo as you're constructing the lattice.

Return finished pie to the fridge for 15-30 minutes while you preheat the oven.

Preheat oven to 375 degrees.
EGG WASH
Beat an egg with the tablespoon of water until well blended.

Using a pastry brush, gently brush the lattice crust with the egg mixture. Sprinkle crust with a bit of sugar.
BAKING
Bake pie on middle rack for 35-45 minutes or until crust is golden brown and filling is jammy and bubbling. If crust is browning before filling is fully baked, tent a piece of tin foil on top to loosely cover the crust.
Notes
I used the basic pie dough recipe from the Joy of Cooking for this recipe. Growing up, it was the ever-present cookbook in my mom's kitchen. I watched her fill her copy with notes, comments and edits to the many recipes she made over the years. When I went to college, I asked for one for myself, and then was bewildered when I opened it (the 1997 edition) to find low fat alterations and microwave cooking. We returned it and found a copy of the 1975 edition that I'd grown so familiar with. It's got a special spot on my cookbook shelf.
The Floured Table
Recipe Author: Kathleen Culver
https://www.theflouredtable.com/rhubarb-apple-pie-with-ginger-and-lemongrass/
Made this recipe? Please leave a comment and a star review! ★★★★★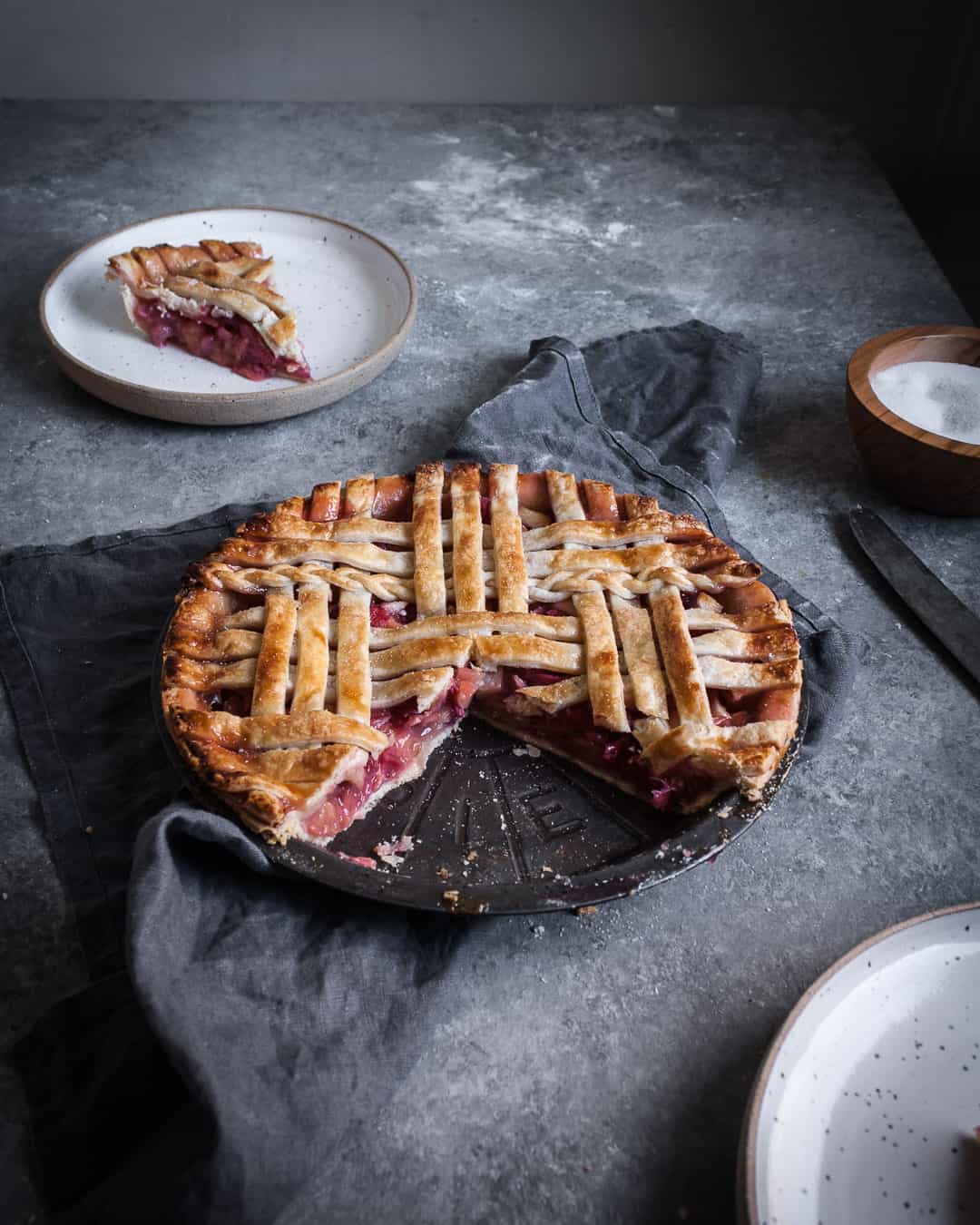 More Rhubarb Recipes
If you liked this rhubarb apple pie with lemongrass and ginger, you might enjoy these recipes!