These creamy strawberry rhubarb ice cream bars are packed with a pound and a half of fruit that's reduced to a smooth, jammy puree and blended with sour cream to create a flavorful, sweet and tangy ice cream interior. After freezing, they're coated with a luxuriously smooth white chocolate shell. While we most often think of rhubarb in pies, crisps and other baked recipes, this simple frozen strawberry rhubarb recipe is a unique way to enjoy the overlap of late rhubarb with the first fresh strawberries of the season.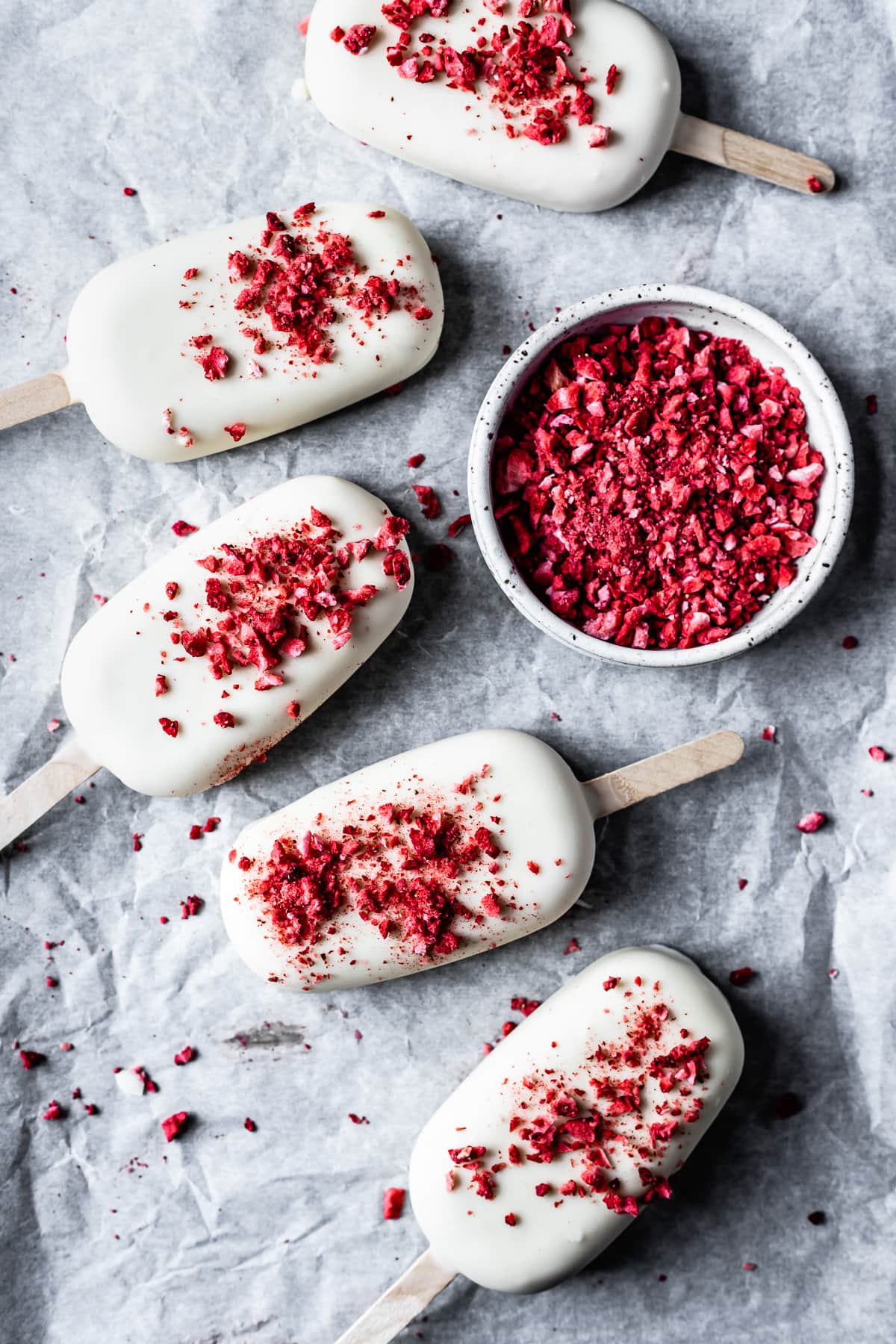 STRAWBERRY RHUBARB ICE CREAM
When I was pondering what to make next with my latest bunch of rhubarb (after finishing off the strawberry rhubarb panna cotta tart and lemon rhubarb bars), I kept coming back to something that would really show off the fruity flavors of strawberry and rhubarb together, and ideally something easy, refreshing and frozen that could bridge the "not quite done with spring, but wishing it were summer" period we're in here in the Pacific Northwest. I remembered my friend Bella's simple plum sherbet that she published last summer on her site, ful-filled, and wondered if I could try something similar using strawberries and rhubarb. With a handful of adaptations to adjust the fruit quantity and the ratio of water to sugar, and the added step of churning the base mixture, I landed upon the ideal frozen strawberry rhubarb dessert. The finishing touch was adding a silky smooth white chocolate shell layer and a sprinkle of freeze dried strawberry bits.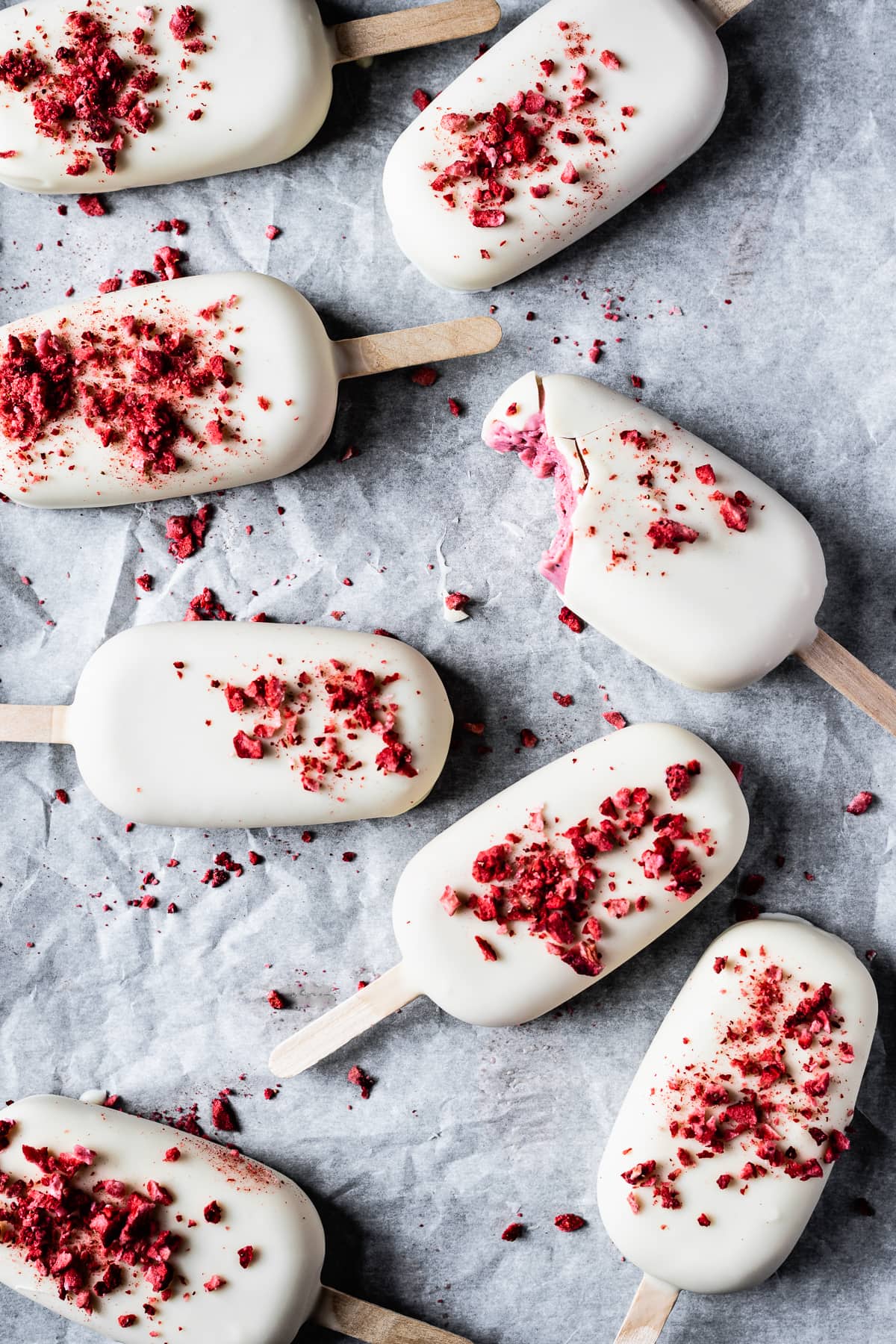 ICE CREAM, GELATO, SHERBET OR SORBET?
After making this recipe, I became curious about whether it technically qualifies as sherbet or ice cream. I decided to explore the different types of frozen desserts to see where this recipe lands. According to Masterclass, ice cream has the highest milkfat content of frozen desserts. It is made from cream, milk, sugar, and sometimes egg yolks. It usually falls into the 14-25% fat range. At a minimum, the USDA require 10% milkfat to designate a product as ice cream.
Gelato is made from milk, cream and sugar, and does not typically contain egg yolks. It contains more milk than cream. It is churned at a slower speed than ice cream, which incorporates less air and creates a denser final product. Gelato has a fat content between 3-8%. Since it has a lower fat percentage, the flavors of the main ingredients aren't masked by the fat and really stand out.
Sherbet (sometimes mistakenly called sherbert) contains fruit, milk (or buttermilk) and sugar. It has a much lower milkfat content than ice cream or gelato at 1-2%.
Sorbet contains no dairy and is simply fruit, sugar and water, and therefore has a 0% milkfat content.
In order to figure out where this recipe lies on the milkfat scale, I used this ice cream butterfat calculator (thank you, internet!) After tallying all the ingredients by weight, the calculator tells me that this recipe for strawberry rhubarb ice cream bars falls at about 4.9% milkfat. I used a standard make-at-home ice cream machine with one speed, so I'm not sure that we can technically consider this gelato, although it does fall within the allotted milkfat range. Perhaps we can call it a hybrid sherbet - gelato (sherlato?) mixture. While it doesn't hit ice cream range, I'm not uncomfortable labeling it as ice cream. After all, those specifications are not aimed at the homemade ice cream crowd, but rather those producing for sale. It tastes incredibly creamy, and in my opinion, that's much more important than the technicalities.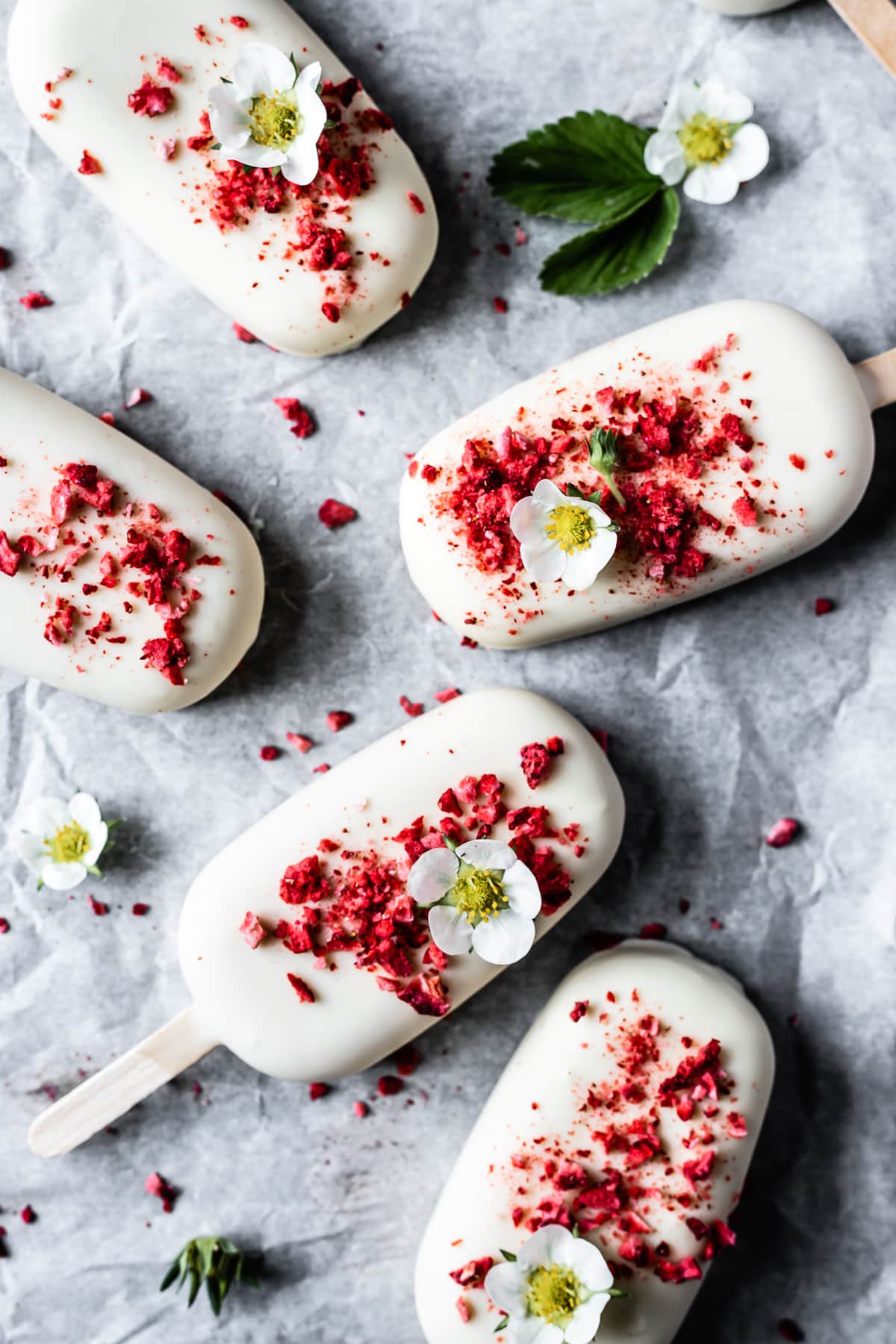 HOW TO MAKE STRAWBERRY RHUBARB ICE CREAM BARS
To make these ice cream bars, I used these silicone molds. Each package contains 6 molds. I have two packages in order to have a 12 bar capacity (this recipe makes 8 bars). Using the molds makes the entire process easy and efficient. They are easy to fill, freeze beautifully, and the bars come out of the flexible molds effortlessly. Somehow eating an ice cream off of a stick feels more festive than from a bowl. I don't know why. I struggled with the idea of purchasing another single use kitchen item for a while before I finally purchased the molds. But we've used them a great deal around our house since then, and are holding up very well. And if you like ice cream dipped in chocolate, having molds makes a huge difference and truly streamlines that process.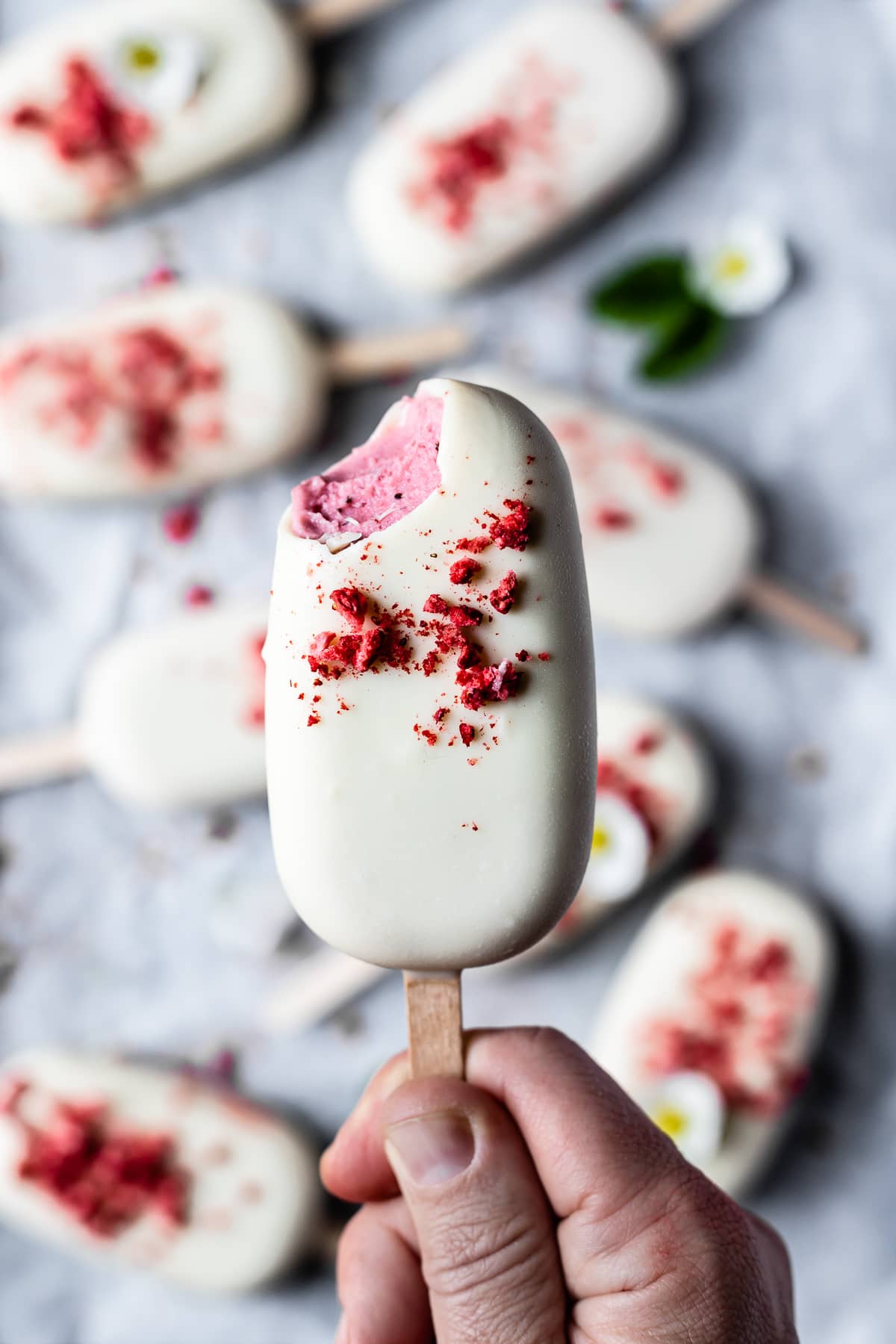 INGREDIENTS, SUBSTITUTIONS AND RECIPE NOTES
STRAWBERRIES AND RHUBARB
While I made use of fresh strawberries and rhubarb as I had them both on hand, it would be very easy to substitute frozen strawberries and frozen rhubarb (either or both) into this recipe. Since the fruit gets cooked down into a jam-like puree, using frozen fruit will work just fine. If possible, go by weight rather than volume when you're measuring out the fruit. You can add the frozen fruit directly to the pot along with the water and sugar (no need to defrost first), but you might need to reduce the heat at first and cook it for a longer period of time.
SOUR CREAM
Sour cream is the only fat in this ice cream recipe. Made from light cream (aka "regular cream,") fermented with lactic acids, sour cream ranks at the bottom of the scale when comparing fat in cream products. It has a minimum fat content of 18%. Creme fraiche contains 30% fat, heavy cream has 36-40% fat, and double cream scores highest with 48% fat. You can read more about different cream types here. When you purchase sour cream, try to find a brand that doesn't include additives and stabilizers. If you want to substitute for sour cream, I'd recommend either a low-fat/half fat creme fraiche if you'd like to keep the fat content similar, or a full-fat Greek yogurt if you don't mind a reduction in the creaminess. Coconut cream (with a teaspoon or two of lemon juice for the sour tang) would be a good vegan substitute.
VODKA
While completely optional, adding a bit of alcohol to this ice cream recipe will lower the freezing point and help avoid the formation of large ice crystals, giving you a smoother and slightly softer final product right out of the freezer. Vodka is a very neutral flavored liquor and we use a very small amount here. You won't taste it at all when you're eating the ice cream. My kids ate these with abandon with nary a peep.
WHITE CHOCOLATE
Use a high quality white chocolate for the white chocolate shell. You'll find the best quality in chocolate bars, blocks or feves. While you could try using white chocolate chips here, I'd caution you as they often contain fillers (hydrogenated oils) designed to help them retain their shape and not melt well. For example, the ingredient list in several bags of grocery store white chocolate chips I looked at (called "white baking chips" – hmm) included the addition of palm kernel oil and palm oil. The white chocolate block I used here contained only sugar, cocoa butter, milk powder, soy lecithin, and natural vanilla. If you can find white chocolate chips with a similarly simple ingredient list, they might work out. To learn more about often maligned white chocolate, check out this article from Serious Eats. As a dark chocolate aficionado, I confess I dismissed white chocolate for a long time until I realized I'd mostly been eating low quality white chocolate and unfairly judging it. I ate plenty of this while I was chopping it up...
COCONUT OIL
Coconut oil helps thin out the white chocolate to a good consistency for dipping and coating the strawberry rhubarb ice cream bars. It does impart a bit of a coconut flavor to the white chocolate, which doesn't bother me in the least. If you want to substitute the coconut oil for a more neutral oil such as grapeseed or a very light olive oil, I would recommend you reduce the total amount of oil to ⅓ cup. The white chocolate shell may take a bit longer to firm up if you use alternative oils.
FREEZE DRIED STRAWBERRIES
Freeze dried strawberries are another optional addition to these strawberry rhubarb ce cream bars, but certainly add a lovely pop of color and contrast beautifully with the simple white chocolate shell. You can find bags of freeze dried strawberries in most grocery stores. You'll only need part of the contents of one bag. Chop them finely into small pieces that you can sprinkle onto the white chocolate shell before it solidifies. Eat the rest out of the bag, or mix into granola or trail mix. They're very hard to stop eating!
PLANNING AHEAD
This recipe does require a bit of advanced planning due to the various steps that require chilling. Here's how I approach the recipe when I'm aiming to eat the bars the next evening after dinner:
The day before: Make sure the container of your ice cream machine is cooling in the freezer. I have an extra freezer where I store mine permanently so that it's always ready to go. For best results, freeze the ice cream container for at least 24 hours before churning the ice cream.
The night before: Mix up the ice cream ingredients and chill the mixture overnight in the fridge.
The morning of: Churn the ice cream. Once the ice cream is in the molds, the bars need more time in the freezer to firm up – 4 hours to be safe. Freeze them completely before dipping into the white chocolate.
The afternoon of: Dip in chocolate. Once dipped, back into the freezer they go for at least 30 minutes. If you dip them quickly and they don't sit out long, you can eat them sooner. If you think the ice cream got at all soft, it's best to give them time to firm back up. These are best when the ice cream interior is fully frozen. If it's too soft, your first bite will shatter a big part of the chocolate coating and the still-too-soft ice cream will ooze out.
The afternoon/evening of: Indulge.
You can, of course, make these farther in advance as well. This is the minimum amount of time I'd allot for best results.
WHITE CHOCOLATE COATING
These strawberry rhubarb ice cream bars are wonderful on their own, but covering them in a crispy smooth white chocolate shell transforms them into something extra special. The secret of the white chocolate mixture is to add a significant amount of coconut oil to the melted chocolate. It helps create the ideal consistency for dipping that encases the ice cream in one lovely thin layer of white chocolate. This recipe creates a generous amount in order to ensure that the level of chocolate remains deep enough to coat all eight bars. You'll most likely have a bit left over. It's very good used as a dip for fresh or frozen fruit (or poured over another ice cream). Another alternative for the leftovers: If you want to avoid the pressured situation of trying to sprinkle freeze dried strawberry bits onto the freshly dipped bars before the white chocolate hardens, you can also place the leftover melted white chocolate into a piping bag or ziploc and cut a small hole in the tip. Drizzle a zigzag pattern back and forth over a single bar and quickly sprinkle the freeze dried strawberry pieces on top. Repeat until all are decorated to your liking.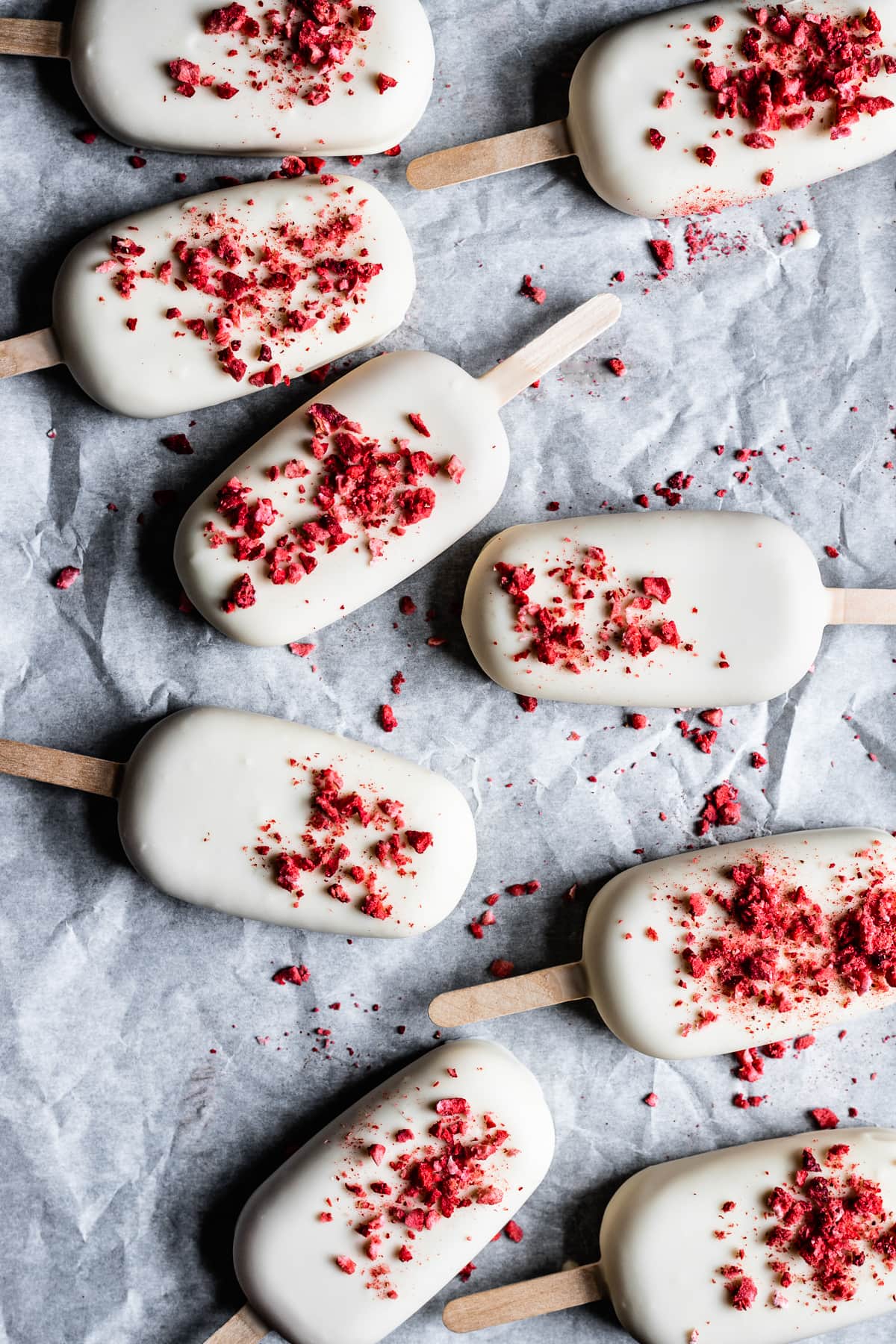 FREQUENTLY ASKED QUESTIONS
CAN I MAKE THESE STRAWBERRY RHUBARB ICE CREAM BARS WITHOUT AN ICE CREAM MACHINE?
The short answer is yes, you can make these without an ice cream machine. When I was testing this recipe, I tried making the ice cream bars both ways. The long answer is slightly more nuanced, and I will say that I much preferred the churned bars and really recommend you go that route. Here are my results.
NO CHURN: In my first test round, I made the ice cream base, chilled it in the fridge, and poured it directly into the ice cream molds without churning. The bars had a lovely pink color, froze in the molds well, and had excellent flavor. HOWEVER, as the ice cream froze, it formed very large ice crystals which gave the bars an icier texture which was notable on biting into the ice cream. The ice cream only became creamy as it softened significantly. It wasn't the mouth-feel or experience I was going for.
CHURNED: For my second round of testing, I made the ice cream base, chilled it in the fridge, churned it according to my ice cream manufacturer's instructions, and then poured it into the molds. The results were WILDLY better, in my opinion. Churning the ice cream as it froze helped to prevent the formation of large ice crystals and ensured that the end product was smooth and creamy. As you bite into a churned strawberry rhubarb ice cream bar, you notice the strong fruit flavor and the creamy texture. The smooth churned texture also pairs better with the white chocolate shell.
CAN I MAKE THIS STRAWBERRY RHUBARB ICE CREAM IF I DON'T HAVE ICE CREAM BAR MOLDS?
YES! This entire recipe is flexible and can easily be made into standard ice cream rather than molded into ice cream bars. You don't need to make any changes to the ingredient portion of the recipe. Once you have churned the ice cream, transfer it into an airtight freezer safe container and chill for 4+ hours. Since there is less surface area exposed to the freezer, it will take longer to fully freeze. You can make the white chocolate shell and use it as a sauce spooned over the finished scoops of ice cream, and sprinkle the freeze dried strawberry bits on top. It's the same experience, just slightly deconstructed. Don't let the lack of ice cream molds keep you from trying this lovely combination!
📖 Recipe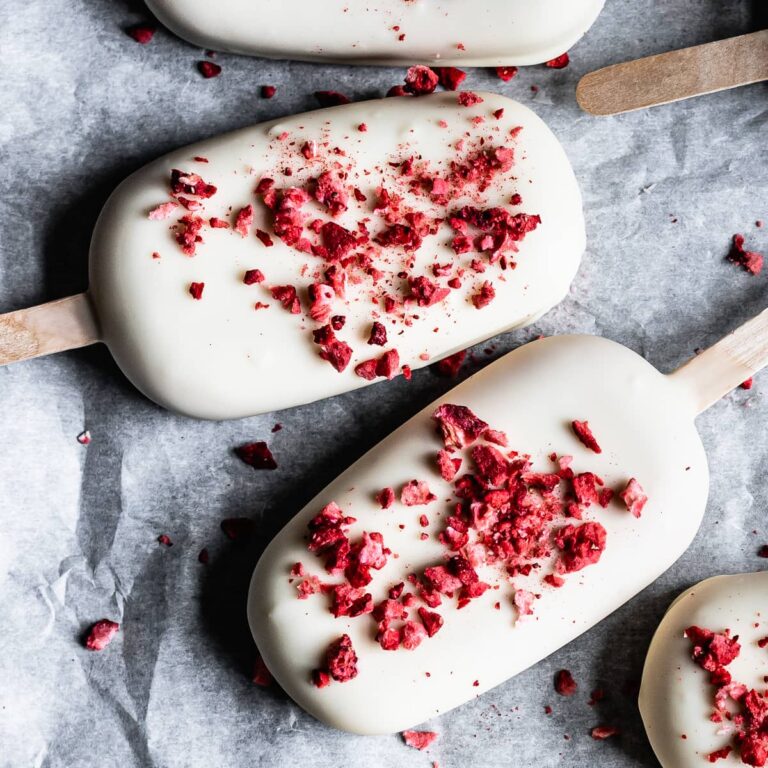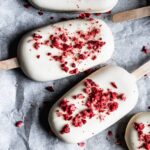 Strawberry Rhubarb Ice Cream Bars
Print Recipe
Pin Recipe
Packed with fruit, these creamy strawberry rhubarb ice cream bars boast a flavorful, sweet and tangy ice cream interior that's coated with a luxuriously smooth white chocolate shell.
INGREDIENTS
Strawberry Rhubarb Ice Cream Bars
¾

lb (340g, approx 2¼ cups)

strawberries, hulled and sliced

¾

lb (340g, approx 3 cups)

rhubarb, diced

¾

cup (150g)

granulated sugar

¼

cup (62mL)

water

1

teaspoon

vanilla extract

1

teaspoon

vodka (optional, see main post for details)

1

cup (240g)

sour cream, full fat
White Chocolate Shell
12

oz (2 cups, 340g)

white chocolate, finely chopped

4

oz (½ cup, 113g)

coconut oil
Freeze Dried Strawberry Decoration
finely chopped freeze dried strawberries (a portion of one small bag)
INSTRUCTIONS
Strawberry Rhubarb Ice Cream Bars
In a 3 quart saucepot, add the strawberries, rhubarb, sugar, and water over medium-low heat. Stir to combine. Cook at a simmer until strawberries and rhubarb have fully broken down into a somewhat thickened jammy sauce, stirring frequently. Set aside to cool.

Once somewhat cooled, pour strawberry rhubarb mixture into a blender. Add sour cream, vanilla, and vodka, if using. Blend at medium speed for a minute, until mixture is pureed and no lumps remain.

Using a fine mesh sieve over a medium bowl or 4 cup measuring cup, strain mixture to remove some of the strawberry seeds. Use a rubber spatula or the back of a spoon to press the liquid through and scrape the seeds out of the way. It doesn't need to be completely strained, but straining a good portion of the mixture will eliminate a lot of the seeds and improve the texture of the ice cream base.

Cover and chill strawberry rhubarb ice cream base in the fridge for a minimum of 4 hours or overnight.

Before churning the ice cream, prepare the ice cream molds. Place the molds onto a rimmed baking sheet and insert the popsicle sticks. If your molds came with lids, have them ready nearby. If not, get out a roll of plastic wrap and have it nearby. Set aside.

Churn the strawberry rhubarb ice cream base according to ice cream machine manufacturer's instructions. I found that this mixture firmed up sooner than some others I've made. Check it every 5 minutes to monitor doneness.

Working quickly, spoon ice cream into molds. Using the spoon, tamp down the ice cream so that it reaches the underside of the popsicle stick and extends to the corners of the mold. Using a bench scraper or mini offset spatula, smooth the ice cream so that it's level with the top of the molds. Wipe up any overflow. Place lids onto molds (cover with plastic wrap if your molds did not come with lids) and place baking sheet with filled molds into a level location in the freezer for a minimum of 4 hours to set completely.
White Chocolate Shell
Place the finely chopped white chocolate and coconut oil into a microwave safe bowl.* Melt in the microwave using 15 second bursts. Stir well between each burst. There should be no lumps of chocolate or coconut oil remaining. Once completely smooth, set aside to cool slightly.

*If you do not have a microwave, you can melt the chocolate and coconut oil in the top of a double boiler.

Pour the white chocolate mixture into a wide-mouth pint glass jar (see photos for reference) or a container with similar dimensions. It should be taller than it is wide in order to accommodate the length of the ice cream bar.

Line a baking sheet with parchment paper and set next to the container of white chocolate.

Remove the fully frozen ice cream bars from the silicone molds and place back on the frozen baking sheet. One by one, hold the ice cream bar by the stick and dip into the white chocolate mixture. Make sure to coat the ice cream all the way up to where the ice cream meets the stick. Lift the bar back up and hold it over the glass jar while the extra chocolate drips off.

If you'd like to add the finely chopped freeze dried strawberries now*, sprinkle some onto each bar immediately after dipping, as the white chocolate shell begins to harden very quickly. I would dip the bar with my right hand, place it on the baking sheet, and then have the freeze dried strawberry bits ready to go with my left hand so that I could sprinkle them on before the chocolate coating solidified. If you have a kitchen assistant nearby, the second set of hands would be useful here!

*Refer to main post for alternate decorating method.

Set the ice cream bar flat side down onto the parchment lined baking sheet. Promptly dip the remaining bars. If the white chocolate mixture cools too much and gets thick, heat it for 10-15 seconds in the microwave and stir well before resuming. As you dip the last of the bars, you may need to tip the jar of white chocolate on an angle and spin the ice cream bar in order to obtain full coverage.

Place the ice cream bars (on the baking sheet) into the freezer. After they've had a chance to firm back up for 30-60 minutes, serve or store in an airtight container in the freezer.
The Floured Table
Recipe Author: Kathleen Culver
https://www.theflouredtable.com/strawberry-rhubarb-ice-cream-bars/
Made this recipe? Please leave a comment and a star review! ★★★★★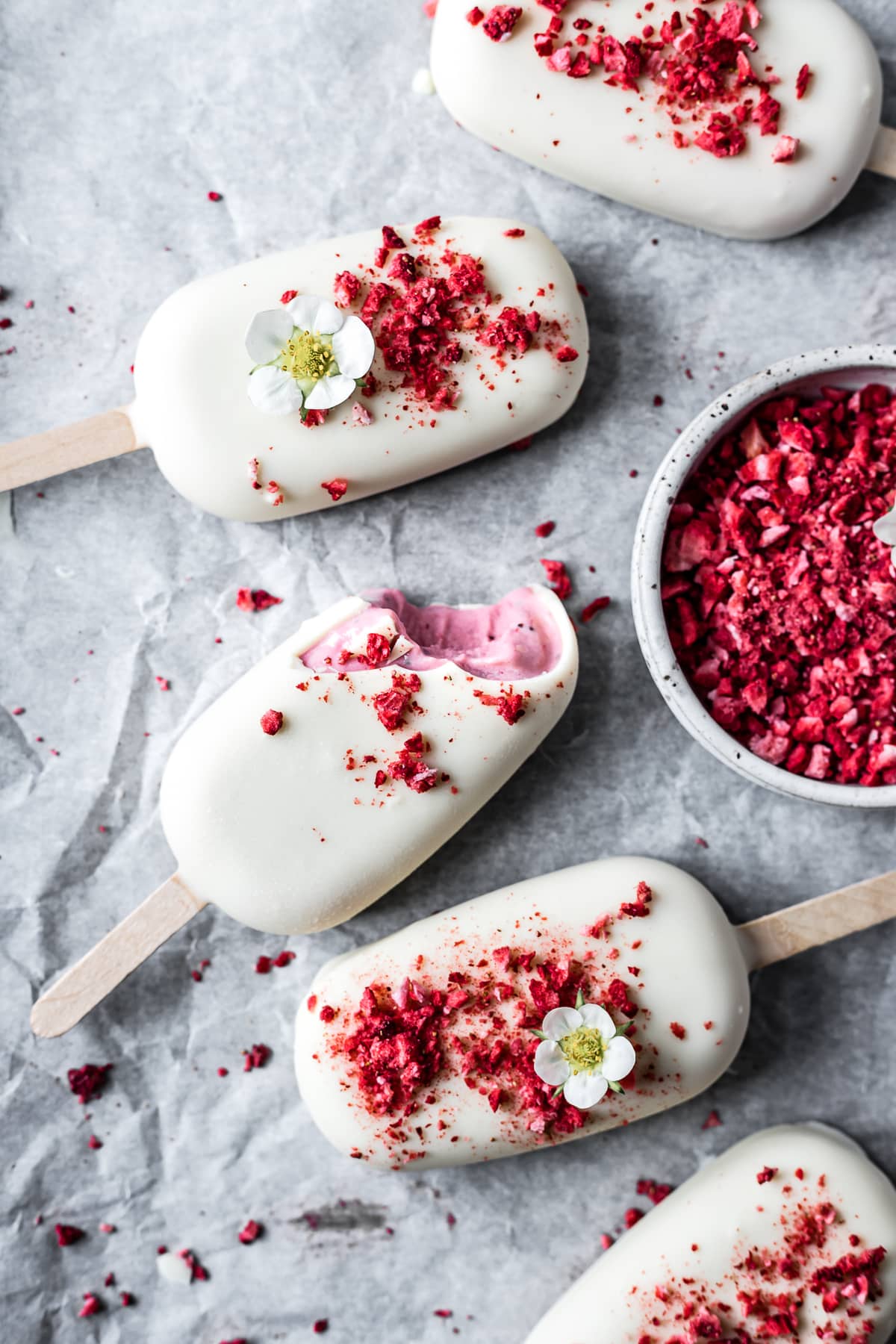 MORE ICE CREAM RECIPES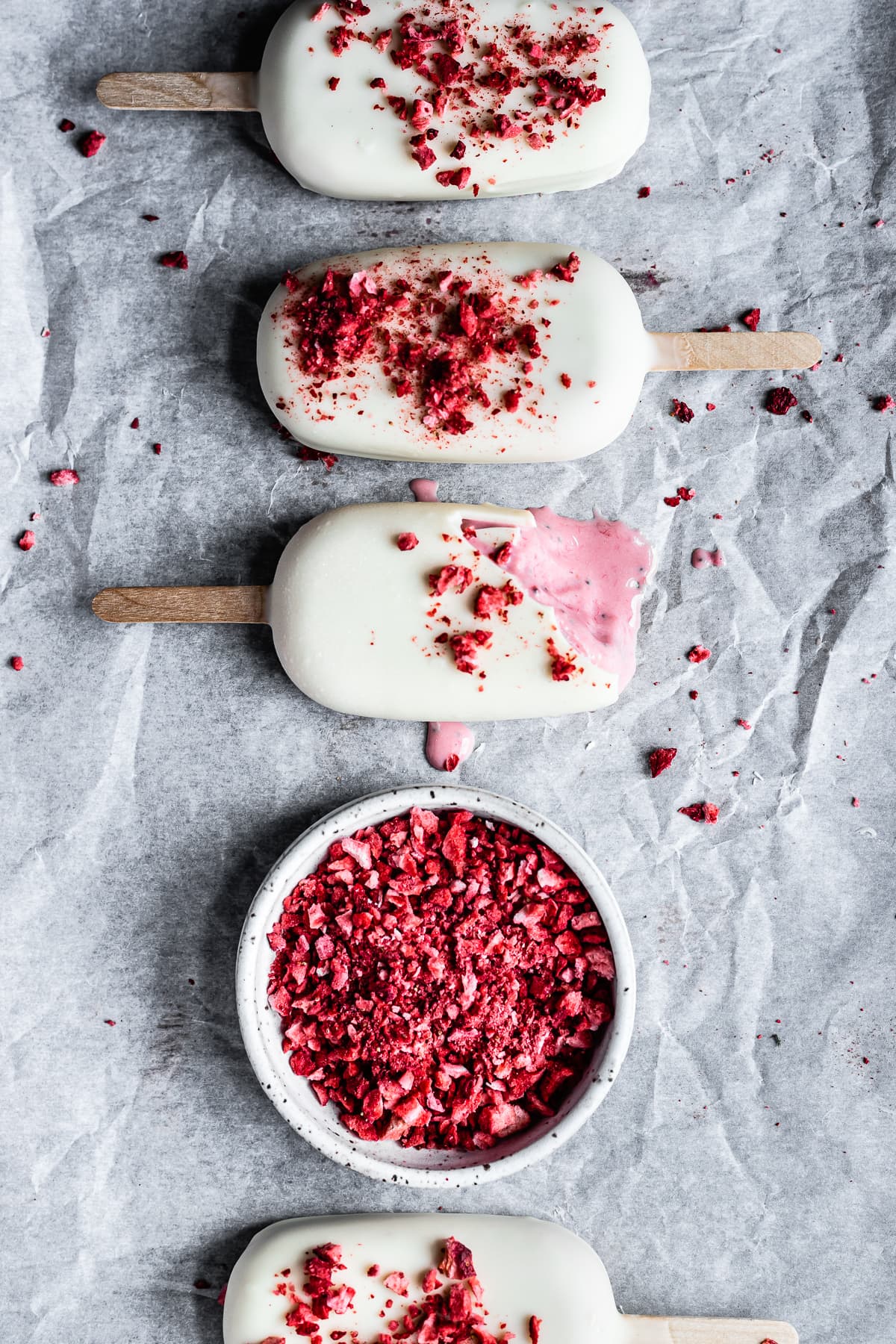 MORE STRAWBERRY RHUBARB RECIPES