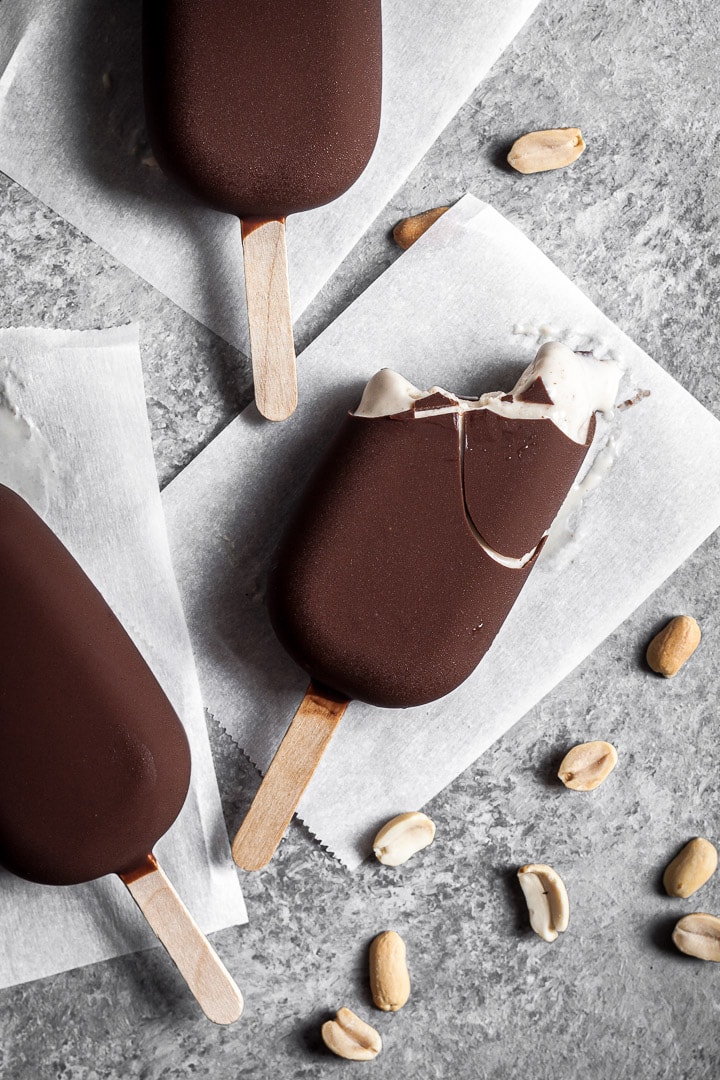 Blend creamy peanut butter into a simple, egg-free ice cream base. Once frozen, dip into velvety smooth melted chocolate to create a rich and elegant ice cream bar. Each bite you take shatters the chocolate shell and reveals the salty sweet ice cream inside. With all the classic flavor of a peanut butter cup, these chocolate peanut butter ice cream bars are ideal for a refreshing summer treat.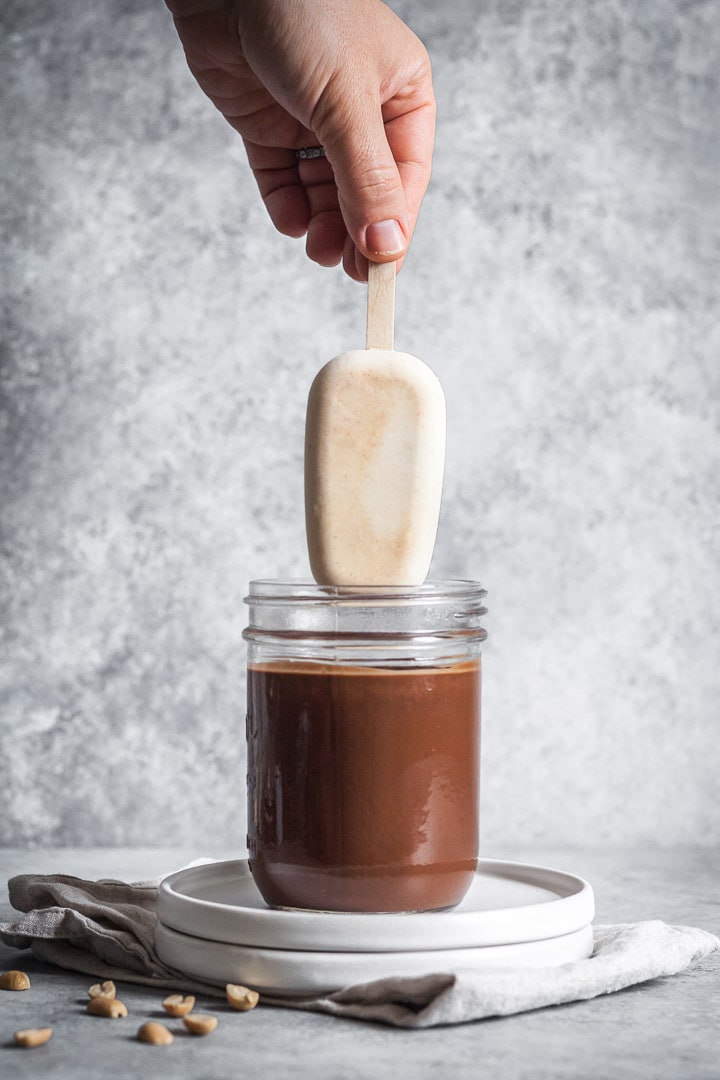 PHILADELPHIA STYLE ICE CREAM
Lately I've become a big fan of Philadelphia style ice cream. Also referred to as American style ice cream, it's a straightforward method using a combination of cream, milk and sugar. There are no eggs, and therefore no additional steps needed to cook the ice cream base into a French style custard. Phildadelphia style ice cream is a great method for those just getting into ice cream making for the first time, or for those (like me) who find the extra time and effort of a custard base doesn't always result in a better final product. In this case, when the principal ingredients (peanut butter and cream) already impart significant richness, I don't find the eggs necessary.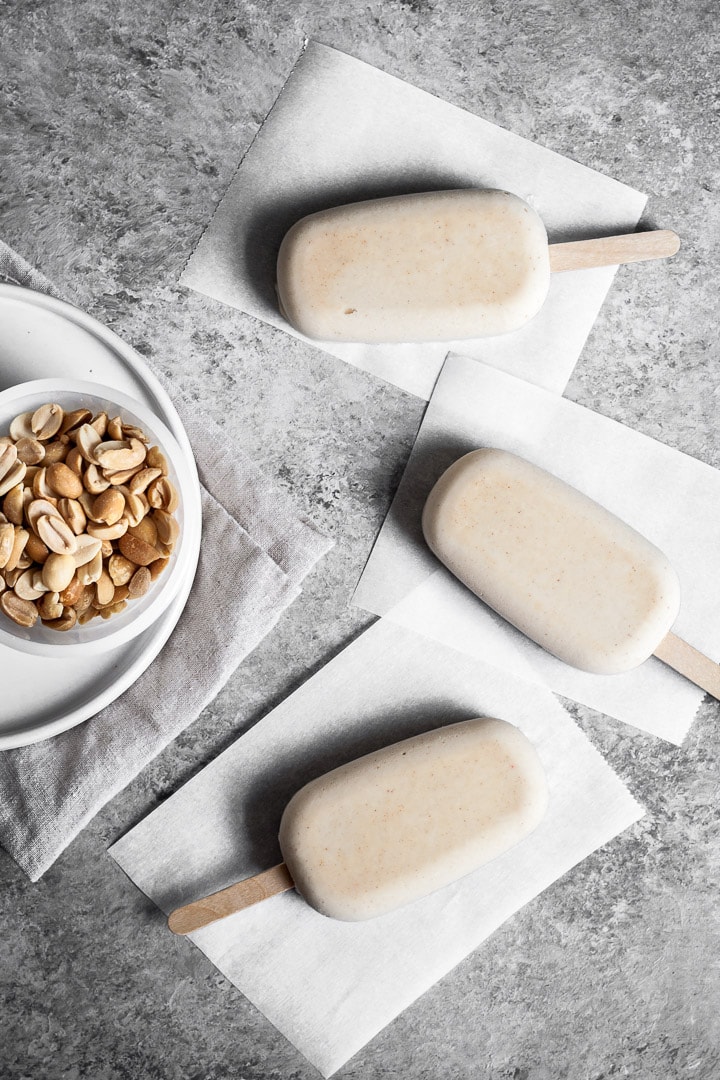 WHAT TYPE OF PEANUT BUTTER SHOULD I USE?
In this recipe, I use creamy store-bought peanut butter - the kind that's been homogenized with a bit of oil so that it achieves a silky smooth texture. I think it's an important specification. You could certainly try this with a more natural style of peanut butter with the oil on top, but I anticipate that it will be more difficult to achieve the creamy base that you see here. I find that natural peanut butter has a coarser grind than I'd like for ice cream.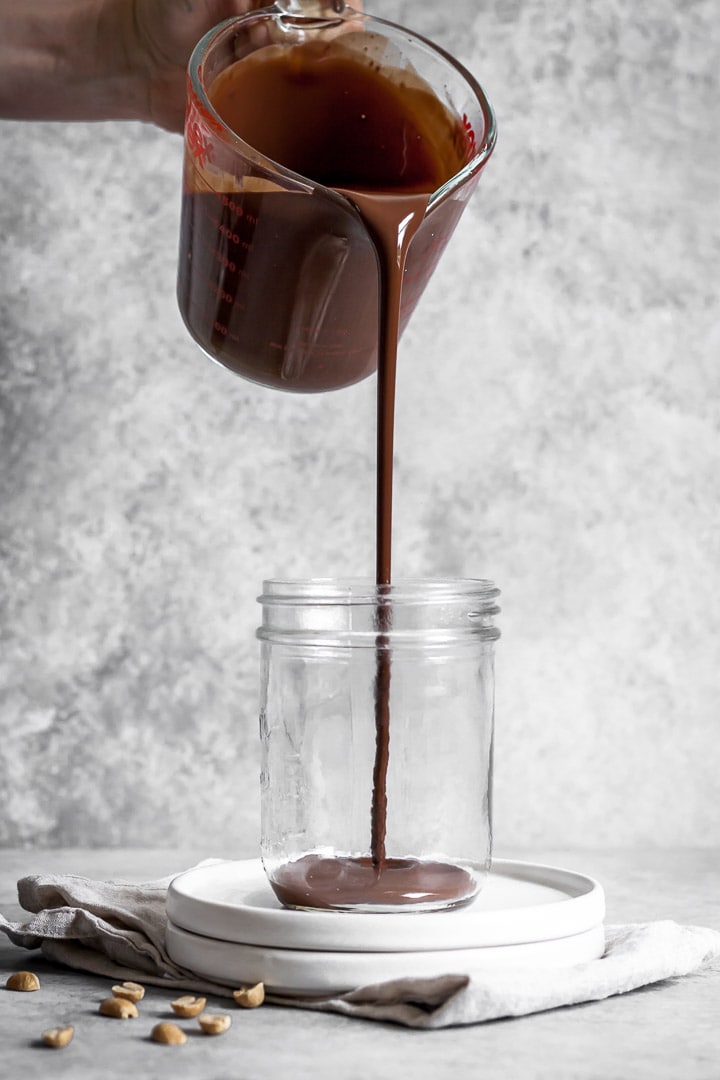 ICE CREAM BAR MOLDS
When I first made this recipe, I tried to avoid purchasing ice cream bar molds (one more single use kitchen item...) I spread the churned ice cream into a lined 9 x 13 pan and cut it into small rectangles once it was firm. The dipping process was less streamline than I'd hoped. I used a fork to lower each bar into a bowl of melted chocolate coating and transfer it to a parchment lined baking sheet to freeze. While it mostly worked, the tines of the fork under the bar prevented me from achieving full coverage. I also had to nudge each bar off the fork with my fingers, which left a slight indentation in each one. You can see the (still delicious) results here. While not as pretty, this method is definitely an option if you'd rather not buy ice cream molds.
The second time around, I purchased these silicone molds. Each package contains 6 molds. I ordered two packages in order to have a 12 bar capacity. Using the molds made the entire process more efficient. They were easy to fill, froze beautifully, and the bars came out of the flexible molds effortlessly. And when I dipped the ice cream into the melted chocolate, having a stick to hold made it 100 times faster and less messy.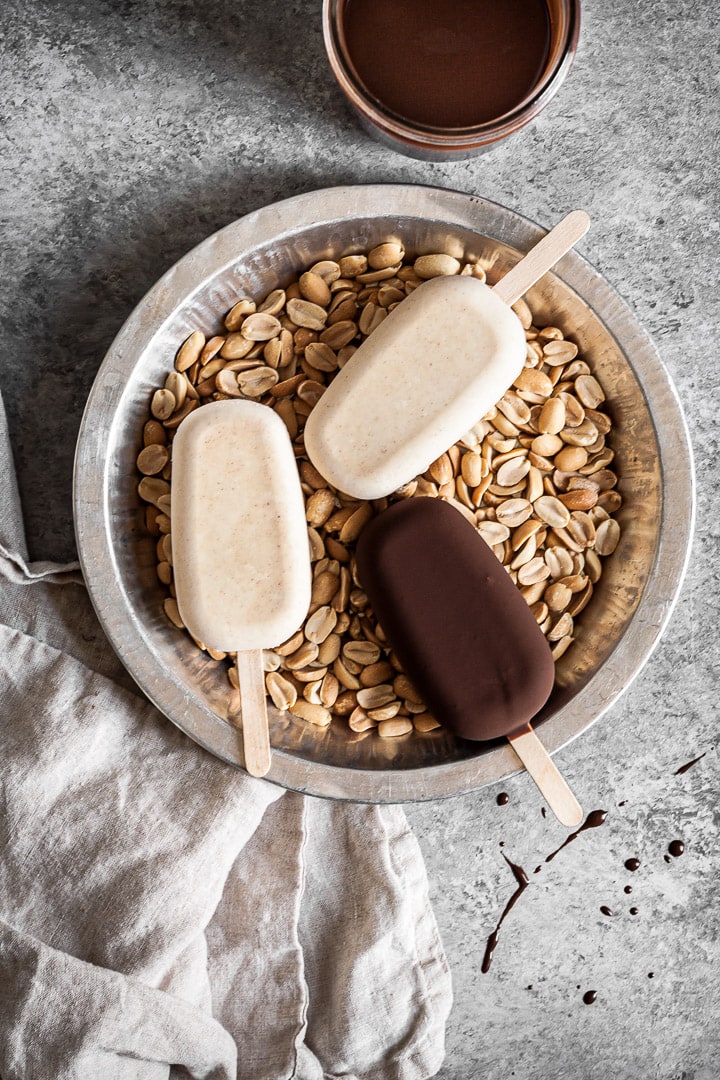 CHOCOLATE COATING
These bars are wonderful on their own, but covering them in a crispy smooth chocolate shell transforms them into something much more special. The secret of the chocolate mixture is to add a significant amount of coconut oil to the melted chocolate. It helps create the ideal consistency for dipping that enrobes the ice cream in one lovely thin layer of chocolate. The recipe is from Stella Parks; it's the chocolate coating from her version of a homemade Klondike bar. I've increased the recipe here in order to ensure that the chocolate remains deep enough to coat all twelve bars. You'll most likely have some left over. It's very good used as a dip for fresh fruit.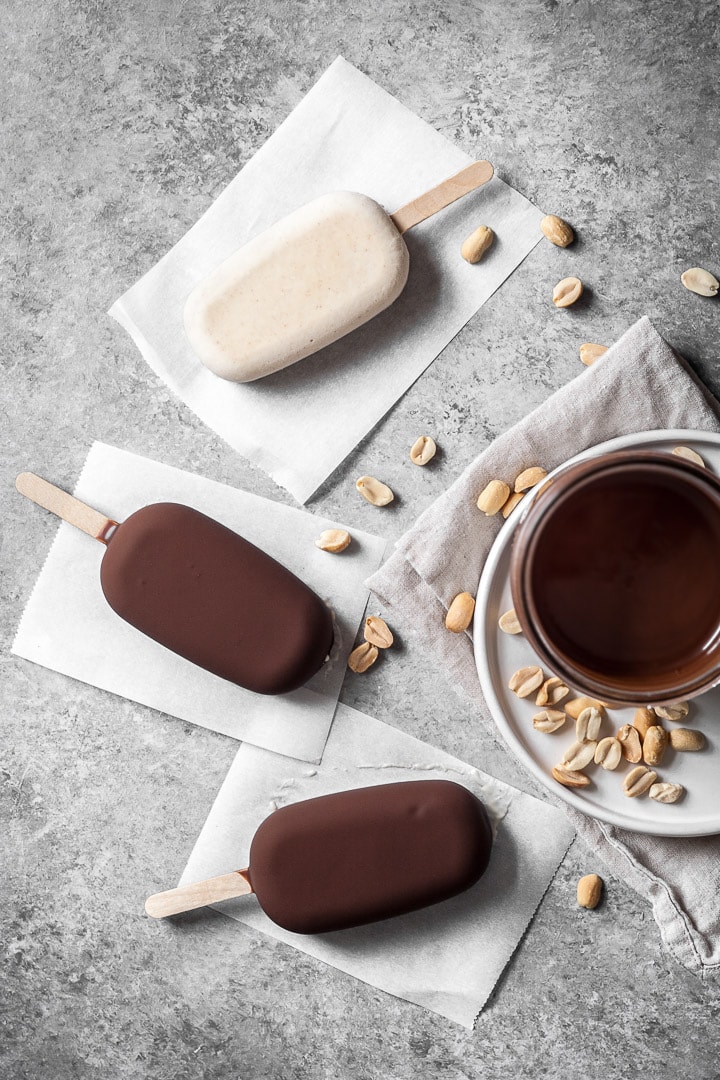 A FROZEN PEANUT BUTTER CUP
There's a glass candy jar in the office of a colleague at my day job. He keeps it stocked full of mini chocolate bars for the whole office to share. From time to time I swing by and get a peanut butter cup. One recent hot day (the campus building where I work is over 100 years old and has no air conditioning), I was eating a mostly melted peanut butter cup and trying to figure out how I could recreate it in a more refreshing format. After freezing a little stash of them for later, this was the idea I came up with. The girls were thrilled that I made this recipe twice for testing purposes. If you like the classic combination of peanut butter and chocolate, I think you'll enjoy this frozen chocolate peanut butter dessert too.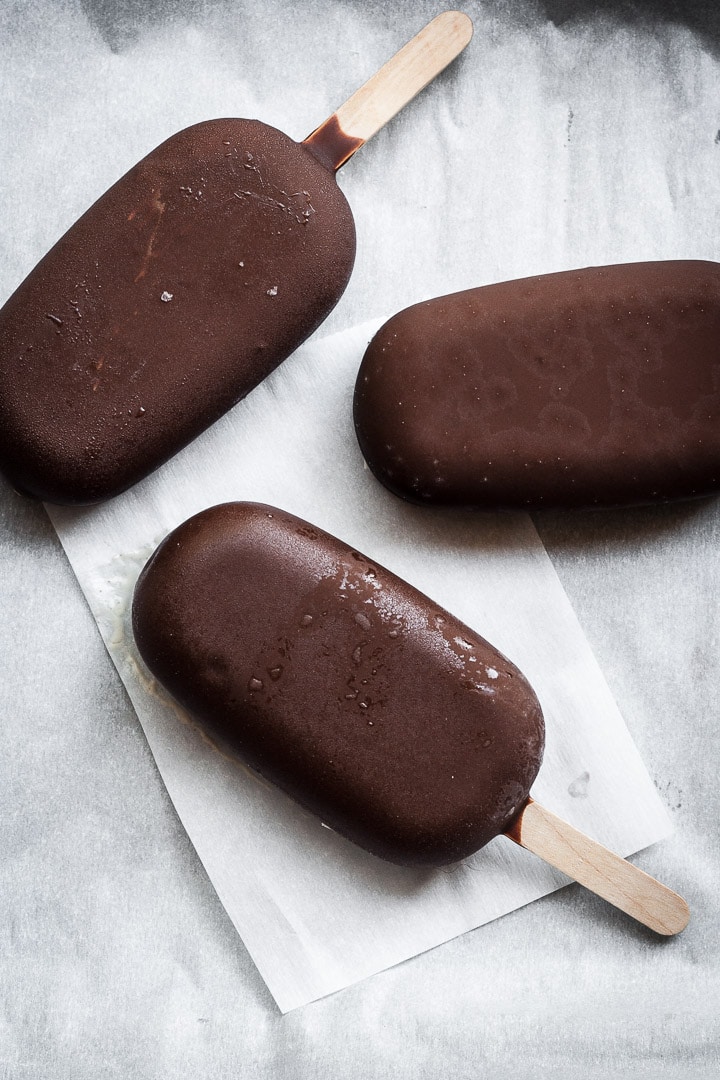 RECIPE NOTES
PLANNING AHEAD - This recipe does require a bit of advanced planning due to the various steps that require chilling. Here's how I approach the recipe when I'm aiming to eat the bars the next evening after dinner:
The day before: Make sure the container of your ice cream machine is cooling in the freezer. I have an extra freezer where I store mine permanently so that it's always ready to go.
The night before: Mix up the ice cream ingredients and chill the mixture overnight in the fridge.
The morning of: Churn the ice cream. Once the ice cream is in the molds, the bars need more time in the freezer to firm up - 4 hours to be safe. They should be completely frozen before dipping into chocolate.
The afternoon of: Dip in chocolate. Once dipped, back into the freezer they go for at least 1 hour (more is better). These are best when the ice cream interior is fully frozen. If it's too soft, your first bite will shatter a big part of the chocolate coating and the still-too-soft ice cream will ooze out.
The evening of: Indulge.
You can, of course, make these farther in advance as well. This is the minimum amount of time I'd allot for best results.
HALF AND HALF - Since this recipe calls for equal parts heavy cream and whole milk, you can substitute half and half (3 cups total) with no issues. It really just depends on what you keep in your fridge most frequently, and what you'd rather use up later, given that you'll have a bit remaining from the container either way. If you do go the half and half route, make sure that it's regular half and half, not a fat free version with additives and thickeners.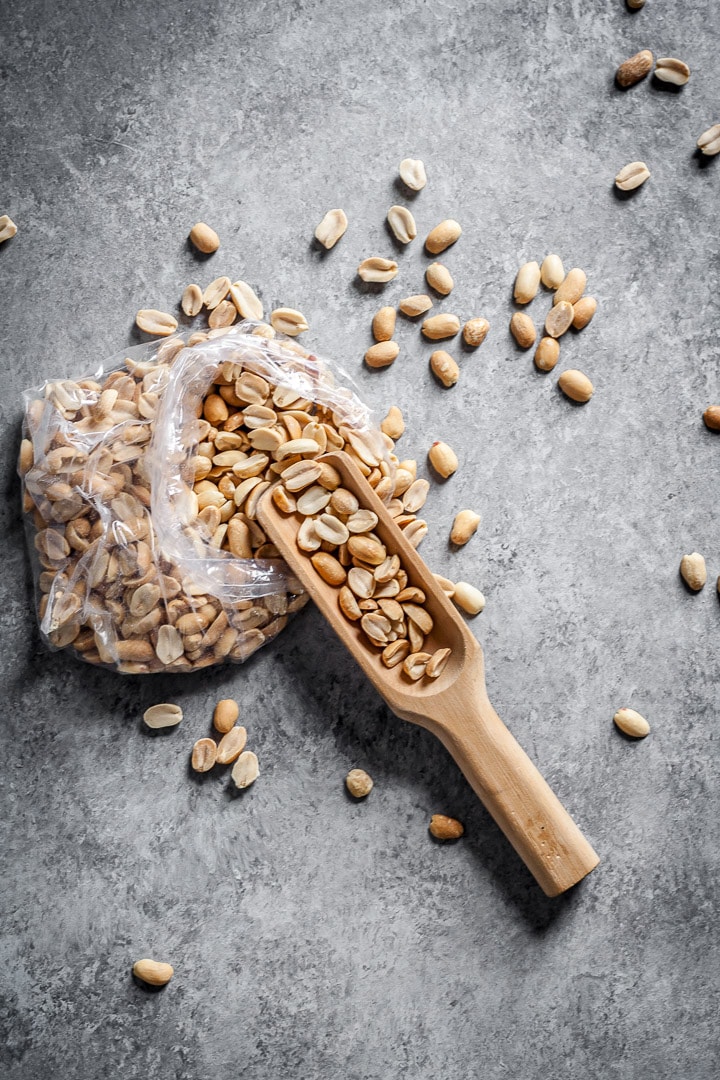 📖 Recipe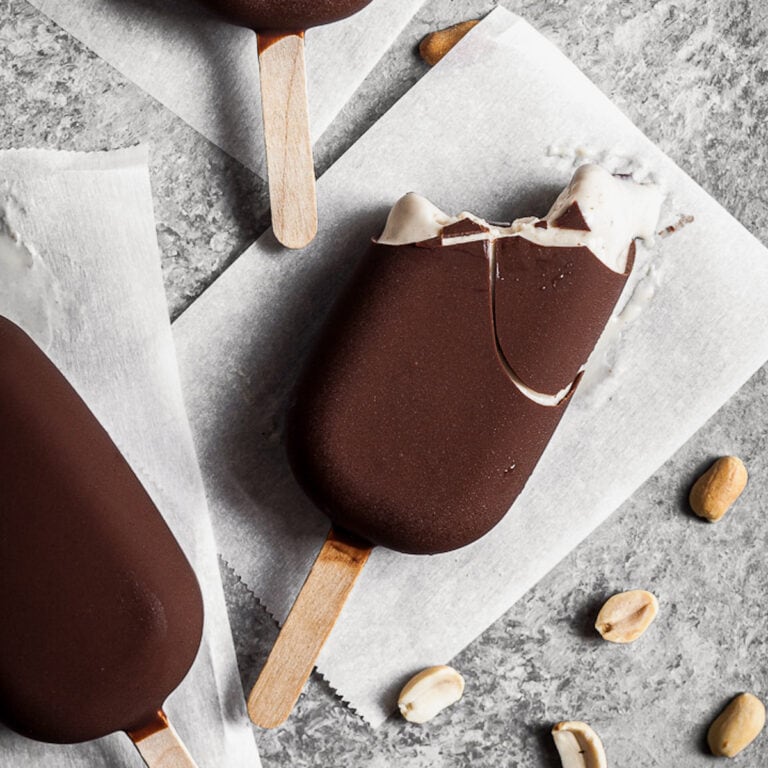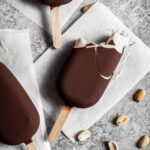 Chocolate Peanut Butter Ice Cream Bars
Print Recipe
Pin Recipe
Blend creamy peanut butter into a simple, egg-free ice cream base. Dip into velvety smooth melted chocolate to create a rich and elegant ice cream bar. Each bite you take shatters the chocolate shell and reveals the salty sweet peanut butter ice cream underneath. With all the classic flavor of a peanut butter cup, these chocolate peanut butter ice cream bars are ideal for a refreshing summer treat.
INGREDIENTS
PEANUT BUTTER ICE CREAM
¾

cup (190 g)

creamy peanut butter

½

cup (100 g)

granulated sugar

1 ½

cups (355 mL, 12 oz)

heavy cream

1 ½

cups (355 mL, 12 oz)

whole milk

2

teaspoon

vanilla extract

¼

teaspoon

kosher salt
CHOCOLATE COATING
2

cups (400 g, 14 oz)

semisweet chocolate, finely chopped (I used chocolate with 65% cocoa)

1

cup (200 g, 7 oz)

coconut oil
INSTRUCTIONS
PEANUT BUTTER ICE CREAM
In a large mixing bowl, combine peanut butter and sugar. Stir using a whisk until well blended.

Gradually add the heavy cream and whisk slowly until the cream is completely blended in.

Add milk, vanilla and salt and whisk until combined.

Cover and chill ice cream base in the refrigerator at least 4 hours or overnight.

Prior to churning ice cream, prepare ice cream molds. Place molds on a rimmed metal baking sheet and insert popsicle sticks. If your molds came with lids, have them ready nearby.

Churn according to ice cream machine manufacturer's instructions.

Spoon ice cream into molds. Using the spoon, tamp down the ice cream so that it reaches the underside of the popsicle stick and extends to the corners of the mold. Place lids onto molds (cover with plastic wrap if your molds did not come with lids) and place baking sheet with filled molds into freezer for a minimum of 4 hours to set completely.
CHOCOLATE COATING
Place the chocolate and coconut oil into a microwave safe bowl.* Melt in the microwave using 15 second bursts. Stir well between each burst. There should be no lumps of chocolate or coconut oil remaining. Once completely smooth, set aside to cool slightly.

*If you do not have a microwave, you can melt the chocolate and coconut oil in the top of a double boiler.

Pour the chocolate mixture into a wide-mouth pint glass jar (see photos for reference) or a container with similar dimensions. It should be taller than it is wide in order to accommodate the length of the ice cream bar.

Line a baking sheet with parchment paper and set next to the container of chocolate.

Remove the ice cream bars from the silicone molds and place back on the frozen baking sheet. One by one, hold the ice cream bar by the stick and dip into the chocolate mixture. Make sure to coat the ice cream all the way up to where the ice cream meets the stick. Lift the bar back up and hold it over the glass jar while the extra chocolate drips off. As you hold the bar, you'll see the chocolate firming up before your eyes. Magic!

Set the ice cream bar flat side down onto the parchment lined baking sheet. Promptly dip the remaining bars. If the chocolate mixture cools too much and gets thick, heat it for 10-15 seconds in the microwave and stir well before resuming. As you dip the last of the bars, you may need to tip the jar of chocolate on an angle and spin the ice cream bar in order to obtain full chocolate coverage.

Place the ice cream bars (on the baking sheet) into the freezer. After they've had a chance to firm back up for 60-90 minutes, serve or wrap them individually in aluminum foil and store in a freezer-safe container.
The Floured Table
Recipe Author: Kathleen Culver
https://www.theflouredtable.com/chocolate-peanut-butter-ice-cream-bars/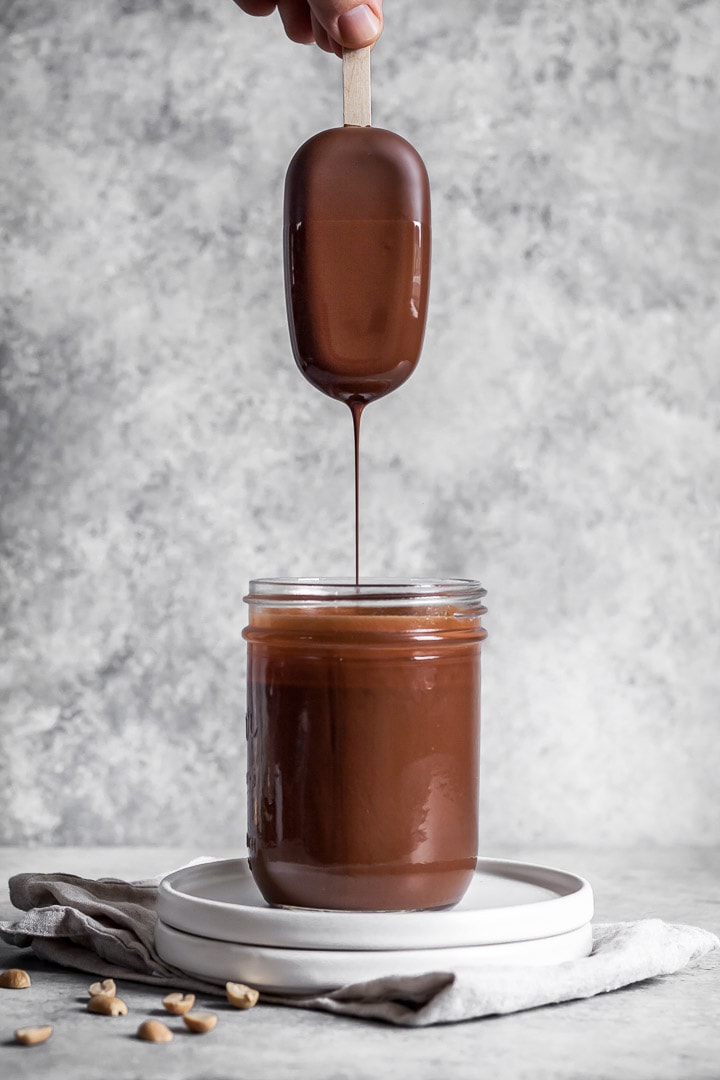 If you like these peanut butter chocolate ice cream bars, you might also enjoy:
Mint Mocha Chocolate Chip Ice Cream
Coconut Chocolate Chip Cookies
No Bake Honey Orange Cheesecake with Figs and Rosemary Almond Crust