This rich and fudgy, moist chocolate cake with olive oil alternates layers with a nutty chestnut chocolate mousse. It's topped with a layer of dark chocolate ganache. The cake batter is easy to make by hand. It's baked in a half-sheet pan, generously spread with mousse, and then assembled into a rectangular four layer stack. Chestnuts add a nutty twist to the decadent chocolate mousse filling. This chocolate layer cake is a dramatic centerpiece for any special occasion and is sure to impress. Chocolate lovers won't be able to pass this one up! Pair it with a smooth 2019 Erath Pinot Noir for a celebratory touch. Thanks to Erath Wines for sponsoring this post.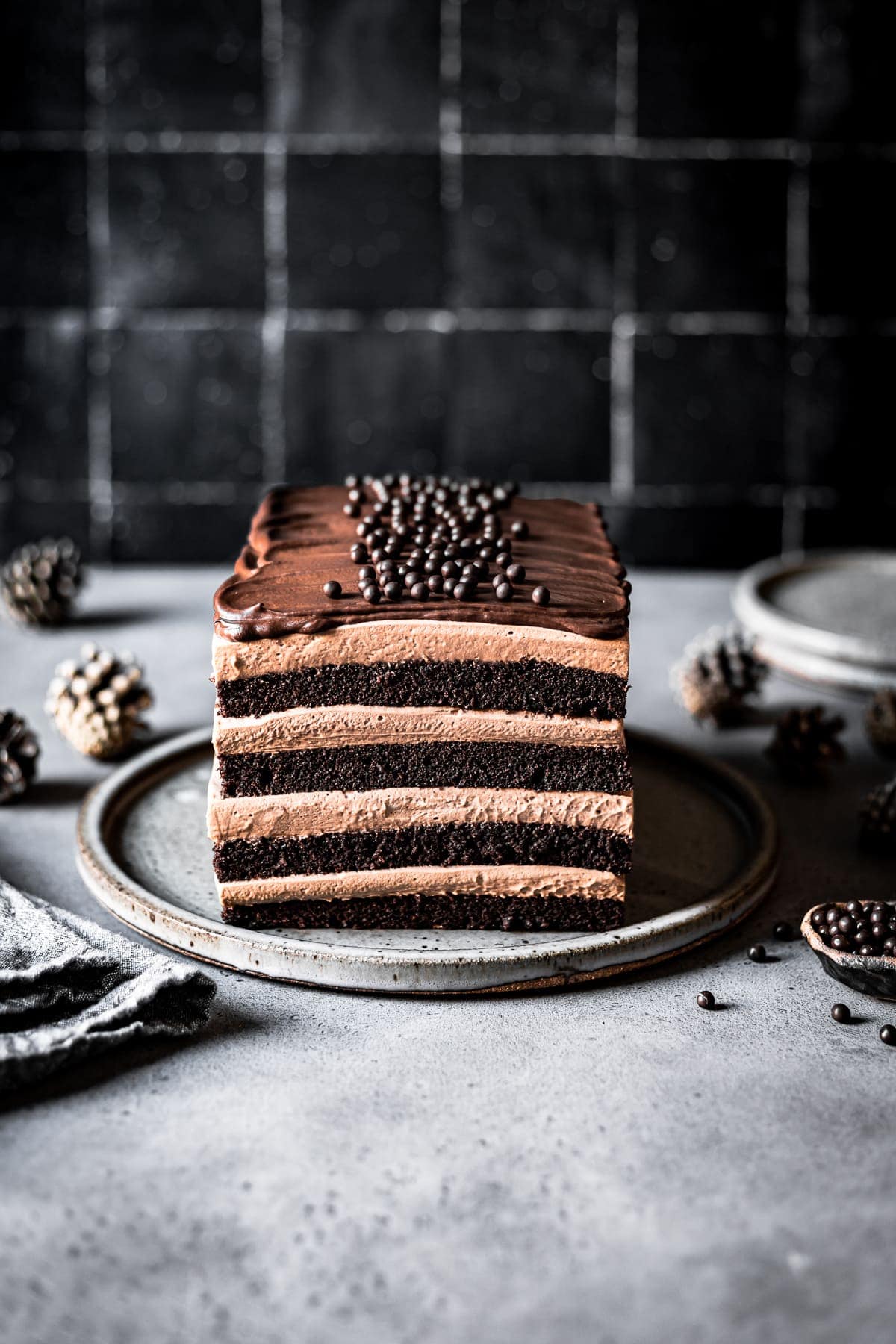 Chocolate cake with chocolate chestnut mousse
The origins of this chestnut chocolate mousse cake recipe go back over 20 years, to when I was a student in college studying abroad for a year in Seville, Spain. It was there I met my Spanish husband. We lived there together for several years before we eventually moved back to the US. I have fond memories of winter holidays in southern Spain.
Come December, we loved to walk the city streets most evenings, window shopping the beautiful storefront displays, admiring the twinkling lights stretched between buildings like banners, people watching, and enjoying the hustle and bustle of activity.
Chestnut roasters would station their carts piled with hot coals and chestnut bags on the street corners. We could see (and smell) them from afar through the wafts of smoke emanating from their fires. We'd buy a newspaper cone of castañas so irresistibly piping hot that we'd curse and blow on our soot smudged fingers while trying to peel the outer shells apart. It's an indelible memory of mine, one that I'll always associate with December in the south of Spain.
With that picture in mind, I began brainstorming chestnut dessert recipes, and landed upon a chestnut chocolate cake combination. I wanted to see if I could adapt my chocolate olive oil bundt cake into a flatter, half sheet pan version that I could cut and layer into a rectangular shape. With some temperature and process tweaks to ensure a uniformly flat cake without doming, I found success.
For the filling, I first tried making a chocolate chestnut buttercream. It spread on like a dream, but after a few hours, was disappointingly dense, like mortar between the layers of moist olive oil chocolate cake. When I went back to the drawing board, I imagined an airy, lighter filling. I ended up using this excellent recipe for chocolate chestnut mousse from Anna Stockwell on Epicurious, minimally adapting it to include smoked sea salt in homage to the roasted chestnuts from the street vendors in Spain.
This chestnut chocolate mousse cake might now be the cake of my dreams. Topped with a smooth dark chocolate ganache, it's beautiful to look at, slices into dramatic layers, and is even more decadent to eat. The dark, fudgy flavor of the cake perfectly compliments the nutty creaminess of the velvety mousse.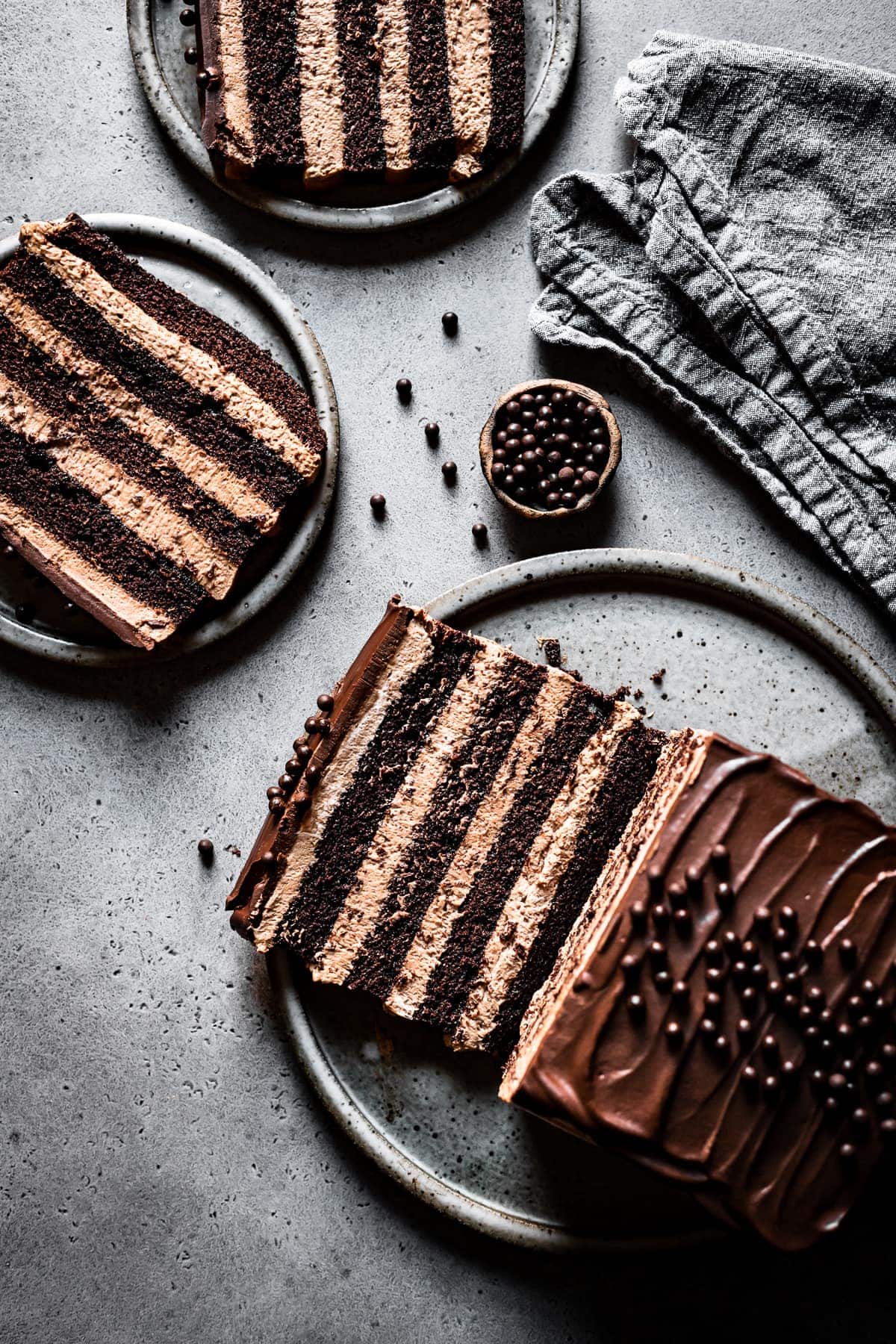 Erath wines and a festive chocolate dessert
In 1969, Dick Erath planted his first Pinot Noir grapes in the mountains of Oregon. Erath wines are an expression of the land that the winery has cultivated since that time, longer than any other winery in the Dundee Hills of Oregon. Erath Wines transforms Pinot grapes into memorable, critically acclaimed wines that are also affordable. Ruby transparency is only the beginning of the quintessential Pinot experience. The nose reveals delicate aromas of orchard cherries, fresh violet, perhaps herbal tea. Silky, soft fruit whets the palate, whispering of freshness, brightness and refined balance. Never bigger or bolder than the food it is destined to accompany, Erath is classic Pinot: light, delicate and fruit-forward.
To pair with this layered chocolate mousse cake with roasted chestnuts, I've selected the 2019 Erath Pinot Noir. Pinot Noir is an incredibly versatile wine that complements a wide variety of foods. The rich flavors of chocolate and sweet nuttiness of roasted chestnuts pair well with red wine. Indeed, Italy Magazine declares chestnuts and wine "a match made in heaven."
2019 Erath Pinot Noir – Mouth watering aromas of summery red cherry, currant and red plum are seasoned with fragrant rose petal, lavender and anise. Characteristic flavors of pomegranate, cranberry, and pie cherry coat the palate with a pleasing weightiness. The fat content in the chocolate chestnut mousse helps deliver the red fruit flavors of this Pinot Noir to the palate.
These other 2019 Erath Wines varietals would also suit this chocolate and chestnut cake well:
2019 Erath Rosé of Pinot Noir is a dry rosé with a burst of acidity and fruit-focused flavors and aromas. It has wafts of wild strawberries and cream, kiwi and tangerine. The Erath Rosé would be an excellent partner to this dark chocolate mousse cake, as the chocolate helps to bring out the fruity, berry notes.
2019 Erath Pinot Gris – Aromatic and fruit-forward, scents of key lime, Anjou pear, juicy melon, anise and a faint pine introduce this Alsatian style Pinot Gris. Melon, honey crisp apple, gooseberry and citrus pith linger on the round, full palate. Clean and quenching on the finish, this Pinot Gris would be a refreshing wine to pair with the nutty, sweet flavor and creamy texture of the chocolate chestnut mousse.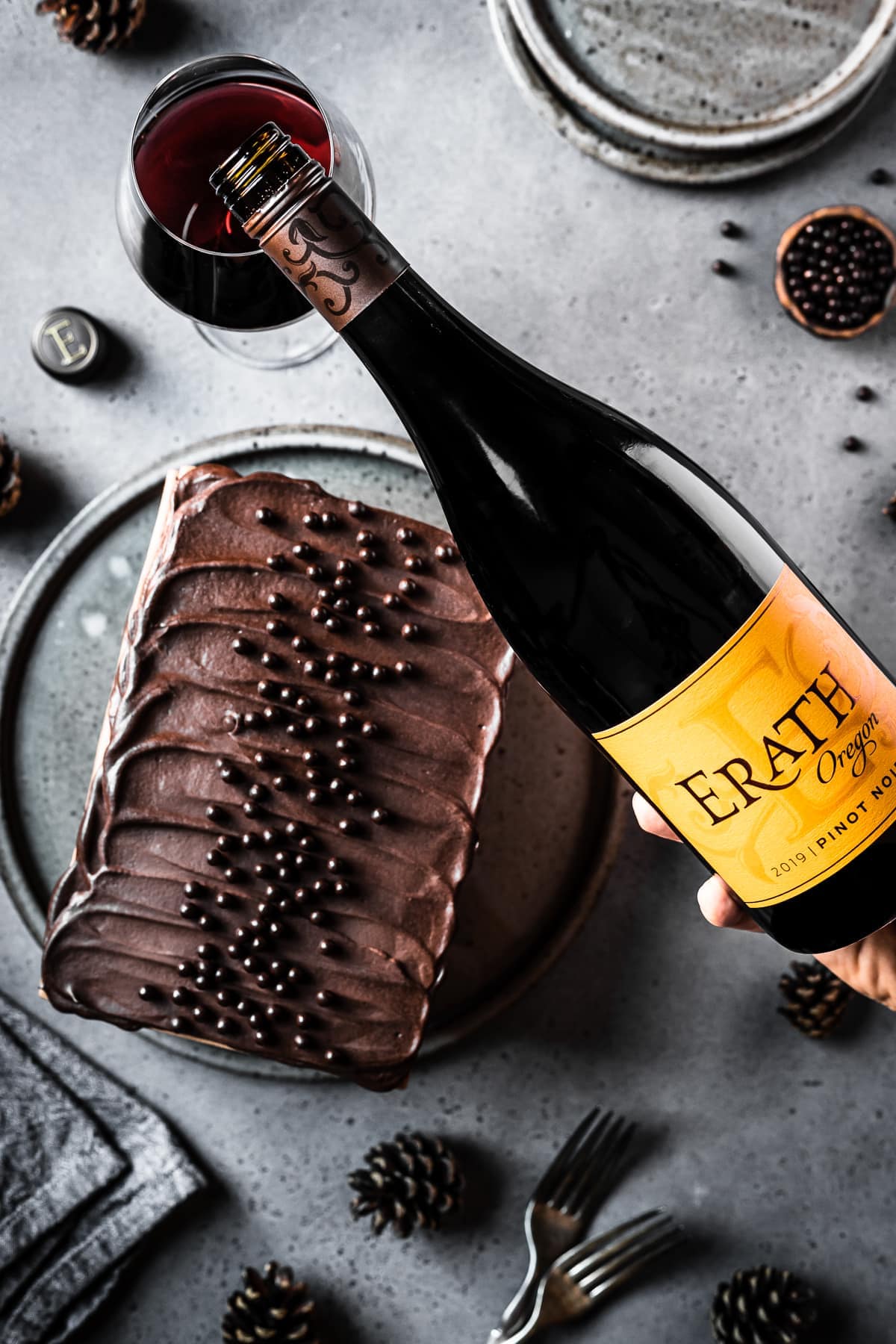 Ingredients, substitutions and recipe notes
For the chocolate cake
All purpose flour - provides structure to the cake. Feel free to substitute with a cup for cup style gluten free flour if desired.
Rye flour - Replacing part of the all purpose flour with rye flour imparts a more complex, nutty flavor to this chocolate cake, which enhances the chestnut notes in the chocolate chestnut mousse. I usually purchase medium rye flour, which has all the delicious taste of rye, without the coarse texture of a darker rye flour. I find this guide on rye flour from King Arthur to be a helpful reference. If you can't access rye flour, you can replace it with the same amount (½ cup; 60g) of all purpose flour, so that the recipe uses a total of 2 cups (240g) all purpose flour and no rye flour.
Baking soda - Baking soda serves as the leavening agent in this cake, reacting with the acidic sour cream to create air bubbles and lift.
Smoked salt - I wanted to add a layer of smokiness to the mousse as a subtle nod to traditional fire-roasted chestnuts. If you can't access smoked salt, feel free to substitute an equal measure of kosher salt.
Olive oil - For this moist chocolate cake recipe with oil, I used a high quality extra virgin olive oil with a bold fruity flavor, as it pairs well with chocolate. You can certainly substitute a mild flavored olive oil, or even a more neutral oil such as grapeseed or canola oil.
Granulated sugar - for sweetness, tenderness and moisture.
Dutch process cocoa powder - This chocolate cake recipe specifically calls for Dutch process cocoa powder. If you don't have any, you can most likely substitute with natural cocoa powder here. There is enough baking soda in this recipe that it should neutralize the added acidity from natural cocoa powder and also provide the needed leavening. That said, since natural cocoa powder is lighter in color and flavor, you may find that the cake is not as dark in color or deeply chocolate in flavor as you'd like. My preference is to stick with the Dutch process variety for this recipe.
Coffee - I used freshly brewed, hot coffee as the liquid in the cake batter. If you prefer not to use coffee, hot water (or hot black tea with a smoky profile, such as lapsang souchong) will work just fine as a substitute. Using a hot liquid is a great trick to help the cocoa powder "bloom". Adding a hot liquid to the cocoa mixture helps to dissolve the cocoa powder and release additional flavor.
Eggs - as a binder to provide structure to the cake, as well as fat and flavor.
Sour cream - Sour cream adds fat, flavor and moisture content. It also provides the acid needed to activate the baking soda.
Vanilla extract - to enhance the cake's chocolate flavor.
For the chestnut chocolate mousse
Chestnuts - Your chestnuts should be roasted, peeled and unsweetened. You can certainly roast and peel them yourself, but I chose to use vacuum-packed chestnuts as I couldn't locate fresh chestnuts at the time. Options include vacuum-packed, steamed or whole roasted jarred chestnuts or canned chestnuts. For this specific recipe, avoid sweetened chestnut spread, chestnuts ground to a paste, or chestnuts packaged in syrup.
Whole milk - The chestnuts are simmered in milk to soften them. In the process, they infuse the milk with more nutty flavor. Whole milk adds richness and helps thin the chestnuts to a creamy consistency when mixed in the blender.
Granulated sugar - A half cup of sugar adds subtle sweetness to the chestnut mousse in addition to the mild sweetness present in the dark chocolate.
Vanilla extract - Vanilla enhances the flavor of the mousse.
Smoked salt - A subtle nod to traditional fire-roasted chestnuts. If you can't access smoked salt, feel free to substitute an equal measure of kosher salt.
Dark chocolate - I used a 72% dark chocolate bar, chopped finely.
Heavy whipping cream - For the mousse, use heavy whipping cream (you'll also need some for the chocolate ganache). Do not substitute with milk, half and half, or other similar consistency non-dairy milks. They do not contain enough fat molecules to hold the air bubbles created from whipping. Using heavy whipping cream in combination with the thickened chocolate chestnut cream allows us to create an eggless mousse. You might have success whipping coconut cream - see here for details. If you do try coconut cream as a substitute, note that you should not add any sweeteners to it.
For the chocolate ganache
Dark chocolate - The ganache glaze is made with good quality dark chocolate, the kind you'd eat plain out of the wrapper while standing in the pantry. I used a 72% dark chocolate bar, which is on the darker end. Depending on your tastes, choose a bar with the cocoa percentage that you'd most enjoy eating. Avoid using chocolate chips, as they often contain fillers intended to prevent them from melting and losing shape., and will impact the texture and consistency. We're going for a silky smooth chocolate ganache, so choosing a nice chocolate bar or high quality baking chocolate / chocolate feves would work.
Heavy whipping cream - For the ganache, use heavy cream or heavy whipping cream (I've listed heavy whipping cream as you'll already need some for the chestnut chocolate mousse). Do not substitute with milk, half and half, or other similar consistency non-dairy milks as they don't have the fat content required to create a rich ganache. It is possible to create non-dairy ganache substituting equal parts full-fat coconut milk in lieu of the heavy cream.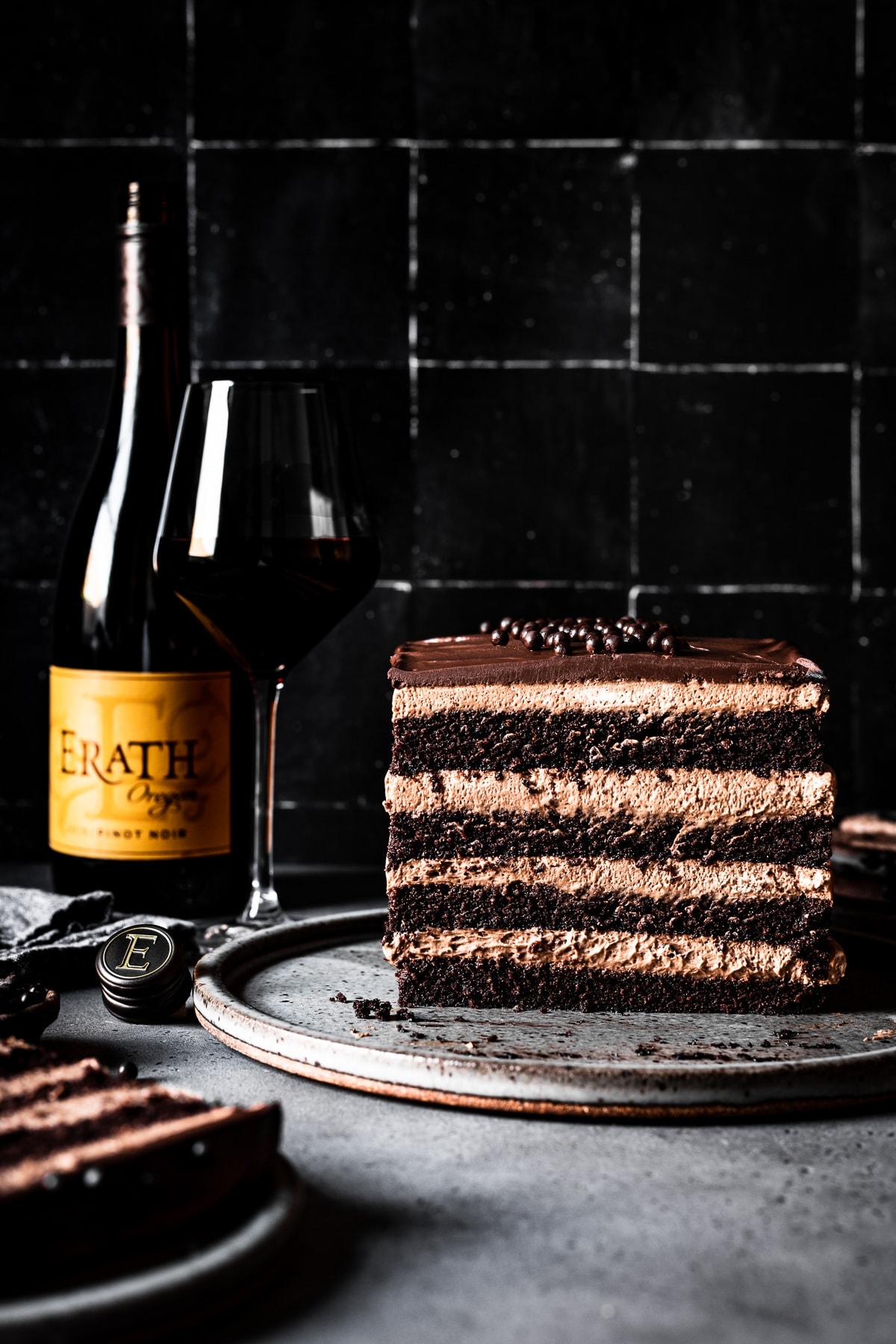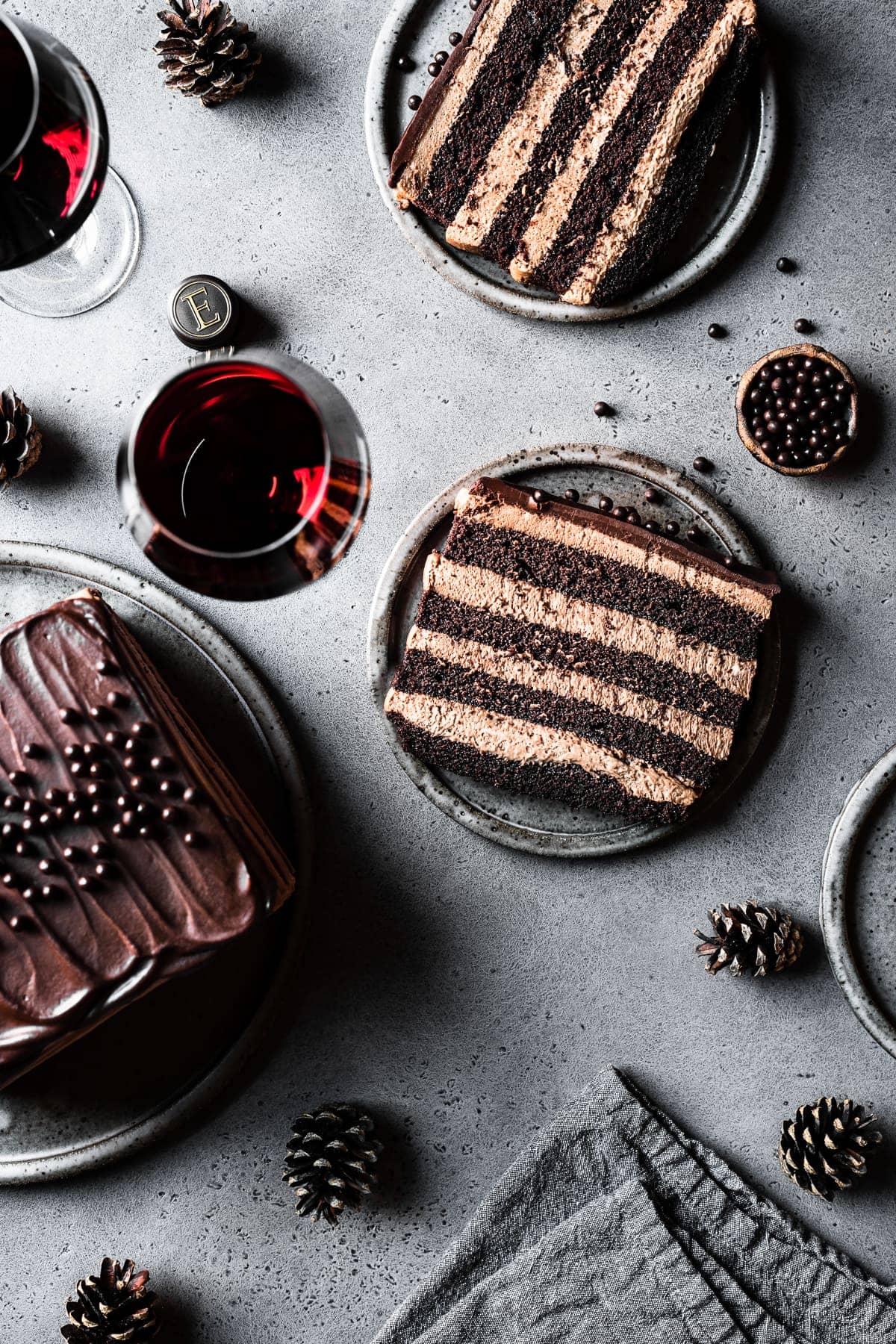 Where can I find chestnuts?
If you're making this recipe in October, November or December in the northern hemisphere, you can likely locate chestnuts as a seasonal item at your local grocery stores. If you have access to an international supermarket, try looking there as well.
You can also purchase vacuum-sealed packages of roasted chestnuts online throughout the year. Those are what I used. Options include vacuum-packed, steamed or whole roasted jarred chestnuts or canned chestnuts. For this specific recipe, avoid sweetened chestnut spread, chestnuts ground to a paste, or chestnuts packaged in syrup.
Can I substitute water chestnuts for the chestnuts?
No - they are not the same thing at all, although people do sometimes confuse them. When I was on the hunt for chestnuts for this recipe, a helpful grocery clerk said they did indeed carry chestnuts, and took me to the shelf stocked with water chestnuts. Though they have a similar name, they are indeed very different and can't be substituted for each other.
Chestnuts
Chestnuts are also known as tree chestnuts, and are commonly found in the US, Asia and Europe. You've probably seen them in their spiky, porcupine like capsules strewn under a chestnut tree, or perhaps you've been lucky enough to eat them roasted over open coals, served piping hot in a little newspaper cone.
Water chestnuts
Water chestnuts, on the other hand, are not even nuts. They are an aquatic vegetable that grows in wet, marshy areas. The plant is native to Asia, portions of Africa, and Oceania. The corm is the small, pale portion of the plant that is commonly eaten. They are called water chestnuts because they have a similar brown exterior and pale center to tree chestnuts.
Can I make this cake in advance?
The entire cake can be made and fully assembled up to one day in advance. You can also bake the cake in advance and freeze it until you are ready to make the mousse and ganache. If frozen, make sure the cake has fully defrosted before you add the mousse. The chestnut chocolate mousse for cake filling and the chocolate ganache for topping can both be made a day in advance and stored in the refrigerator. Gently warm the chocolate ganache over a double boiler or by 15 second increments in the microwave to return it to a just warm enough, pourable consistency.
What are the dimensions of a half sheet baking pan?
A standard half sheet baking pan is 18 inches long by 13 inches wide by 1 inch tall. In centimeters, it measures 457 cm long by 330 cm wide by 25 cm tall. A half sheet pan is a common pan in most kitchens, used frequently for baking cookies, pastries, galettes and jelly roll cakes.
How do I recognize soft peaks in whipped cream?
Gently whipped cream will barely hold its shape when stirred, and is perfect for incorporating into mousse to provide a light and airy feel. The visual cues for soft peaks include an increase in volume, turning from shiny to opaque, and the whisk beginning to leave trails in your cream. If you lift the whisk out of the bowl and turn it upside down, the whipped peak should slump heavily back towards itself and barely retain any shape. Refer to this helpful visual guide so you can make whipped cream with confidence and recognize when it's ready.
Can I make this into a round layer cake instead?
My disclaimer first - I haven't tried converting this into a round layer cake. That said, I do think you can do it. It will clearly end up having a different look than the clean, straight edged version I've made here, but it would be equally delightful in taste.
I've made the cake portion of this recipe in a 10 cup bundt pan and a half sheet baking pan. Each requires about 50 - 54 ounces of batter. That suggests that you could convert this cake into two 9" round cakes which require about 56 ounces of batter, or four 6" round cakes, which require about 48 ounces of batter). Thanks to Stella Parks and her helpful post on how to scale a recipe for cake to fit any pan.
You will also need to adjust the baking time. These are just my best guesses for time, so please keep an eye on your cakes as they bake! I'd start checking the 9" cakes around the 28 minute mark, and for 6" cakes, I would check beginning at 22 minutes. Check out these tips from King Arthur Flour regarding how to tell when a cake is done.
I don't know the volume of the chocolate chestnut mousse, so I can't specifically advise you how it will divide among the round cake layers. However, for both sizes of round cake, the area needing to be covered with mousse is smaller than the total surface area of the large rectangular half sheet cake (assuming 2 mousse layers for the two 9" round cakes, and 4 mousse layers for the 6" round cakes). This suggests you should have plenty of mousse with one batch as written. Please leave a note in the comments if you give this a try!
Can I cut the cake into four pieces first, and then spread the mousse as I stack layers?
If the idea of carefully balancing and delicately stacking mousse-topped rectangles of cake makes your heart beat a little too quickly, there's an alternative assembly method you can try. You won't get the same knife sharp, crisp edges that result from stacking clean slices of cake/mousse on top of each other, but that's OK! A different option is to spread each layer of mousse as you stack cake layers.
When it's time to assemble the cake, trim the edges of the large cake rectangle, then divide it evenly into four smaller rectangles. Stack the first layer onto your serving platter and spread ¼ of the chestnut chocolate mousse on top creating as even a layer as possible. Extend it out to the sides of the cake. Stack the next cake rectangle on top, and repeat with another ¼ of the mousse. Repeat this cake-mousse layering process until you have added all four layers of cake and mousse. Top with the chocolate ganache.
Another, perhaps more visually striking alternative would be to trim the cake into four even rectangles and then place the chestnut chocolate mousse into a large 16" piping bag with a jumbo star tip (I use Ateco 869). Pipe ¼ of the mousse onto the top of the cake in rows of stars. Place the next layer of cake carefully on top, press down gently to ensure it's sturdy, and repeat...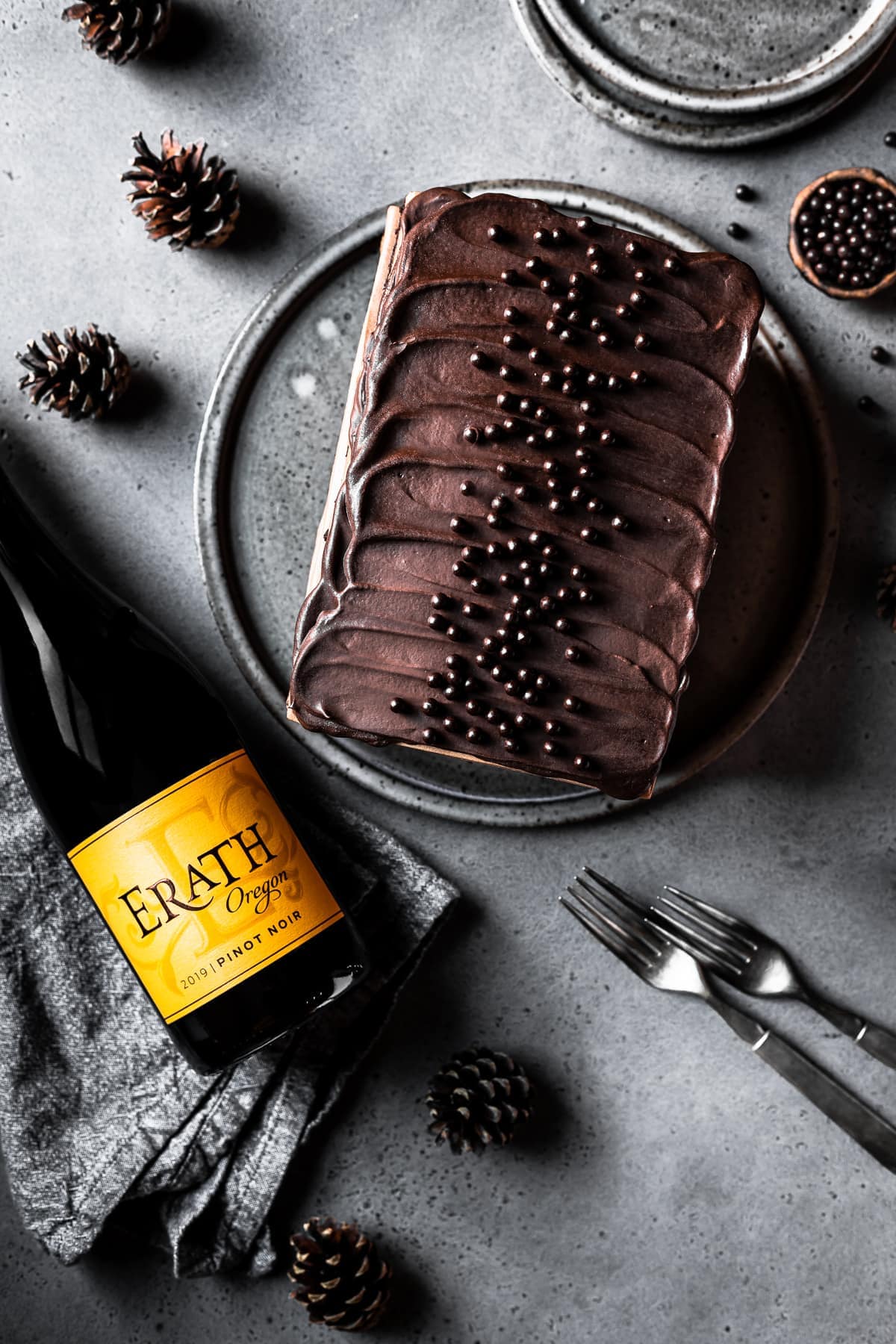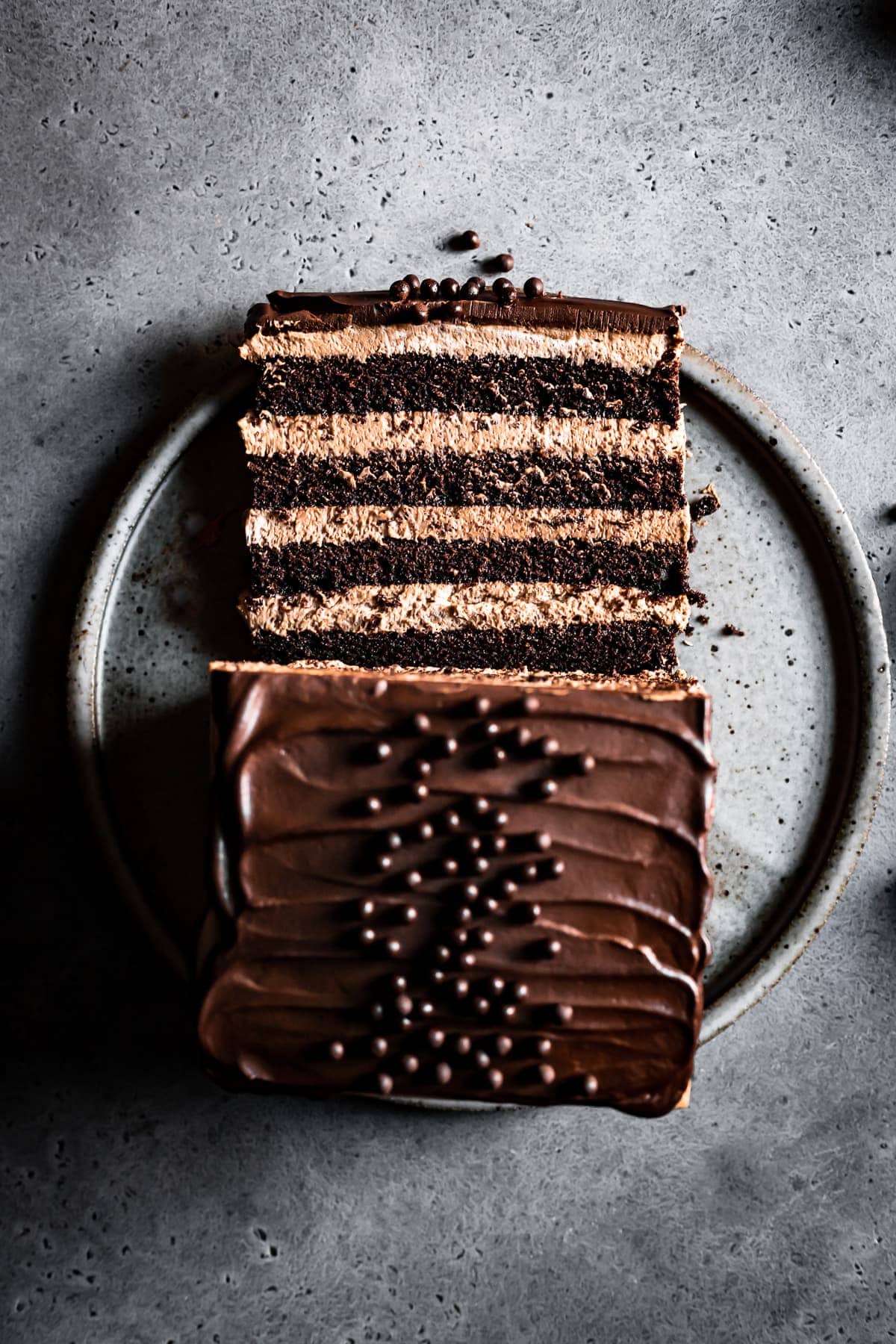 📖 Recipe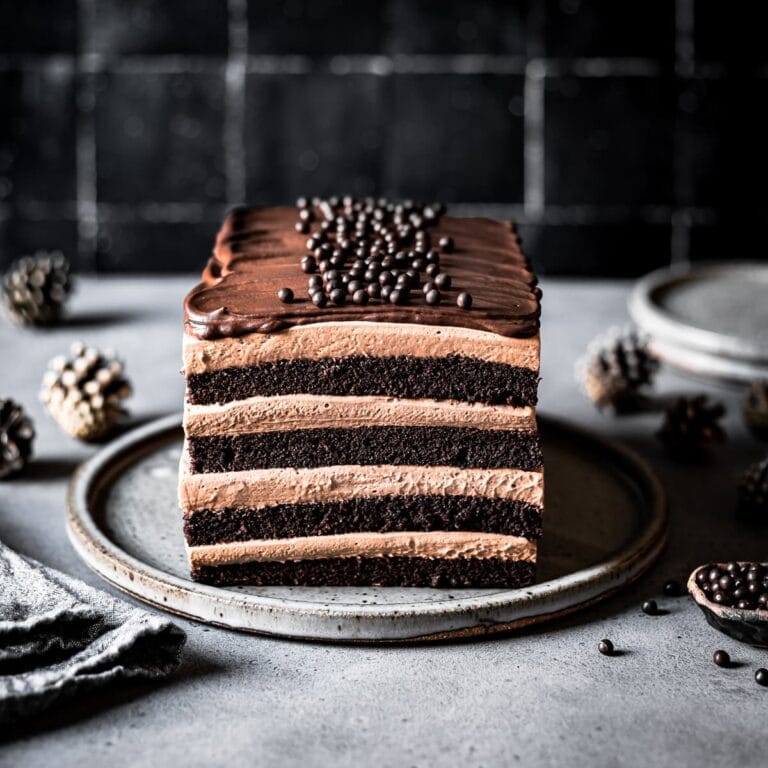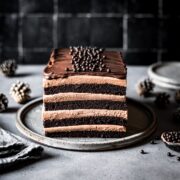 Chocolate Chestnut Cake
Print Recipe
Pin Recipe
A rich and fudgy, moist chocolate cake made with olive oil, with layers of creamy chestnut chocolate mousse. It's topped with a layer of dark chocolate ganache.
INGREDIENTS
CHOCOLATE CAKE
180

grams (1½ cups)

all purpose flour

60

grams (½ cup)

medium rye flour, finely milled (substitute all purpose flour if not available)

1

teaspoon

baking soda

1

teaspoon

smoked salt (substitute kosher salt if not accessible)

177

mL (¾ cup)

extra virgin olive oil

300

grams (1½ cups)

granulated sugar

35

grams (⅓ cup)

Dutch process cocoa powder, sifted

250

mL (1 cup)

hot coffee (or hot water/smoky black tea such as lapsang souchong)

2

large

eggs

120

grams (½ cup)

sour cream, full fat

1½

teaspoons

vanilla extract
CHESTNUT CHOCOLATE MOUSSE
300

grams (10.4 ounces, about 2 cups)

chestnuts, roasted and peeled (vacuum-packed, steamed or whole roasted in jar)

500

mL (2 cups)

whole milk

100

grams (½ cup)

granulated sugar

1

Tablespoon

vanilla extract

½

teaspoon

smoked salt (substitute kosher salt if not accessible)

113

grams (4 ounces, ⅔ cup chopped)

dark chocolate, finely chopped (I used a 72% chocolate bar)

500

mL (2 cups)

heavy whipping cream, chilled
CHOCOLATE GANACHE
113

grams (4 ounces, ⅔ cup chopped)

dark chocolate, finely chopped (I used a 72% chocolate bar)

165

mL (⅔ cup)

heavy whipping cream

chocolate shavings or chocolate baking pearls for garnish
Makes:
6
inch
6
x
8.5
inch
rectangle
INSTRUCTIONS
CHOCOLATE CAKE
Preheat oven to 325 degrees Fahrenheit (165 degrees Celsius, Gas Mark 3). Place oven rack in center of oven. Prepare a half sheet baking pan (18 by 13 by 1 inches; 457 by 330 by 25 centimeters) by covering the entire base of the pan with a piece of parchment paper. DO NOT grease the pan.

In a medium bowl, combine flours, baking soda, and smoked salt. Stir with a whisk to blend well. Set aside.

In a large mixing bowl, whisk together olive oil, sugar, cocoa powder and hot coffee. Add eggs one at a time, whisking well between additions to ensure they are fully incorporated.

Add dry ingredients and whisk again. Scrape the bowl with a spatula to ensure no flour pockets remain. Add sour cream and vanilla, and whisk until completely blended and batter is smooth. Pour batter into prepared half sheet pan. Rap pan firmly on countertop several times to remove air bubbles that may have formed in batter. Place pan in center rack of oven and bake for 15-18 minutes, until a toothpick inserted in the middle comes out clean, and the middle springs back when touched.

Cool cake for 15 minutes on a baking rack, then carefully run a sharp knife around the cake edges to loosen it from the pan. To flip the cake out of the pan, cover the top of the cake with a piece of parchment paper. Gently place another half sheet pan on top of the parchment covered cake and flip it over. Give it a little rap on the counter, and then gently remove the top pan. Peel off the parchment paper and let cake cool completely.
CHESTNUT CHOCOLATE MOUSSE
Using your fingers (or a knife), break up the whole chestnuts into small pieces. Place them in a 3 quart saucepan along with the milk, sugar, vanilla and salt. Bring the mixture to a boil, then reduce the heat to a simmer and cook, stirring from time to time, until chestnuts have softened and liquid is reduced by about a quarter, 15-20 minutes.

Place mixture into the bowl of a blender. Blend at low speed, then increase speed to high and blend until chestnut mixture is silky smooth and fully pureed. Add the finely chopped chocolate and blend again. Scrape down the sides of the blender to incorporate all chocolate. Once chocolate is fully blended in, pour chocolate chestnut puree mixture into a wide bowl to cool to room temperature. Whisk the mixture from time to time to encourage the cooling process. If it begins to thicken or form lumps, whisking should bring it back to a smooth consistency.

In the bowl of a stand mixer fitted with the whisk attachment, beat the heavy cream on high speed until soft peaks form. Fold ⅓ of the whipped cream into the cooled chestnut chocolate mixture. Once incorporated, fold in the remaining whipped cream, being careful not to overmix.
CAKE ASSEMBLY
With a large offset spatula, spread chestnut chocolate mouse onto the cooled sheet cake (which is still resting on a piece of parchment on a baking sheet). Work to make this mousse layer as level as possible. This will be important when you stack the layers later. Extend the mousse to the edges of the cake. Place into fridge to set for at least 3 hours. If you will leave it for more than 3 hours, cover with plastic wrap to keep fresh.

Once mousse is set, remove cake from fridge and slide off of baking pan onto a large cutting board or work surface. Using a large knife, trim about ½ inch (1.27 cm) off of each side to achieve clean, tidy lines and a close-to-perfect rectangle shape. If helpful, use a bit of kitchen twine or dental floss to gently mark a straight line on the top of the mousse before cutting. Wipe the knife clean between each cut to help ensure tidy cake layers.

Mark the center of the cake both lengthwise and width wise. Cut the cake in half lengthwise, then width wise, again cleaning the knife between each cut. You should end up with four equal rectangles.

Run the tip of a paring knife along the cuts to make sure the parchment paper under the cake has also been cut. Place a serving platter nearby. Lift up the first rectangle of cake/mousse and gently peel the parchment paper down and away from one end of the cake. Place that side of the cake on the platter, and pull the rest of the parchment away as you carefully set down the cake rectangle. Keep the cake as flat as possible to avoid cracking.

Repeat the cake transfer and parchment paper removal process with the remaining 3 layers of cake, stacking each onto the next. Make sure the cake is positioned accurately before placing it down onto the layer below it. Once it is placed, it's hard to shift the layers much. Once all four layers have been stacked, place into fridge to cool while you make the chocolate ganache.
CHOCOLATE GANACHE
In a two quart pot, heat cream until almost simmering. Remove from heat and add finely chopped dark chocolate. Let sit for 1 minute, and then gently whisk until all chocolate has melted and no lumps remain.

Pour chocolate ganache onto top of cake. Using a mini offset spatula or the back of a spoon, spread the ganache to the edges of the cake but do not let it drip down the sides. Garnish with chocolate shavings or chocolate baking pearls.

Cake should be refrigerated until served. The cake also slices best when the mousse is firm. Store any extra cake in an airtight container (or wrap in plastic wrap) in the refrigerator.
The Floured Table
Recipe Author: Kathleen Culver
https://www.theflouredtable.com/chocolate-chestnut-cake/
Made this recipe? Please leave a comment and a star review! ★★★★★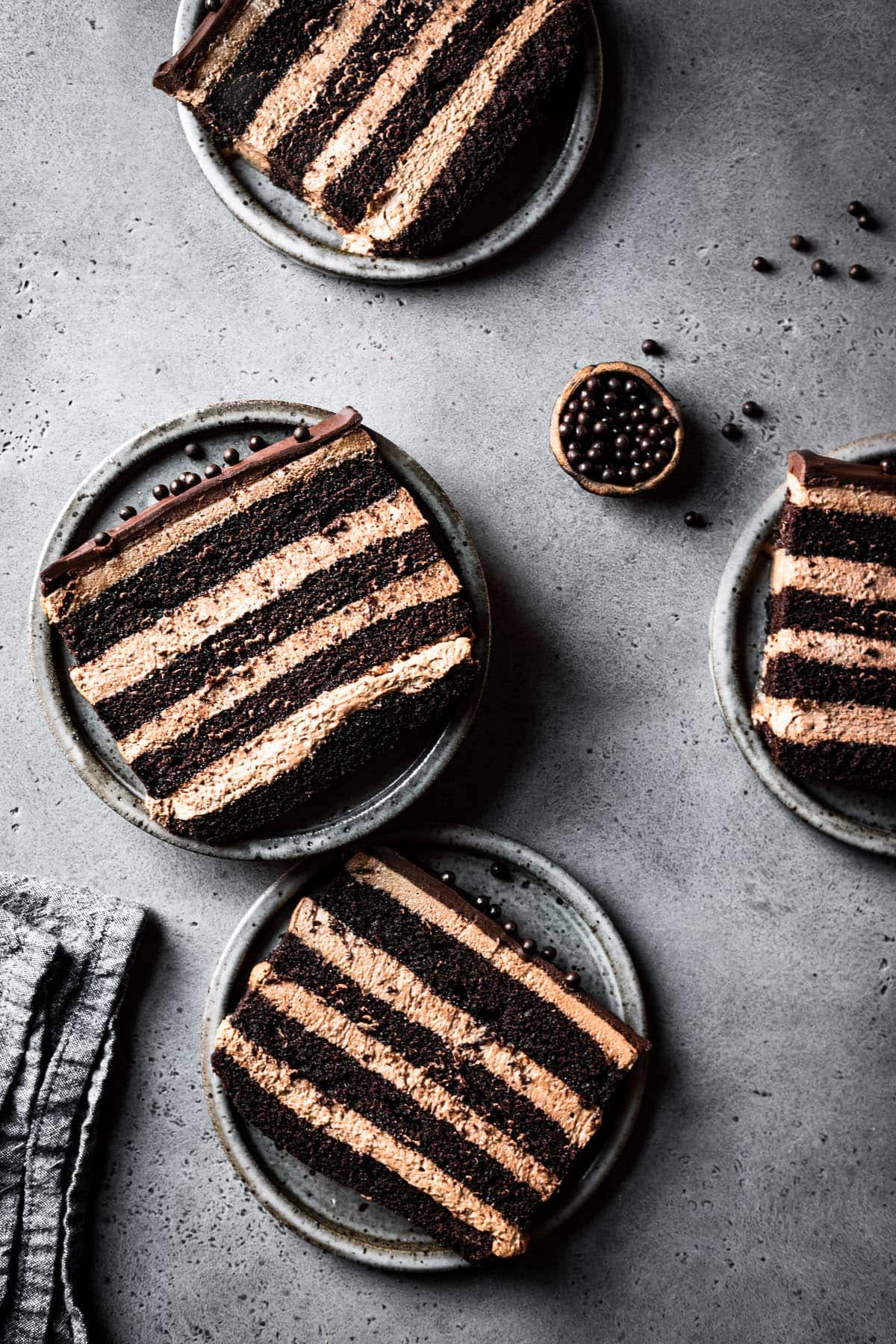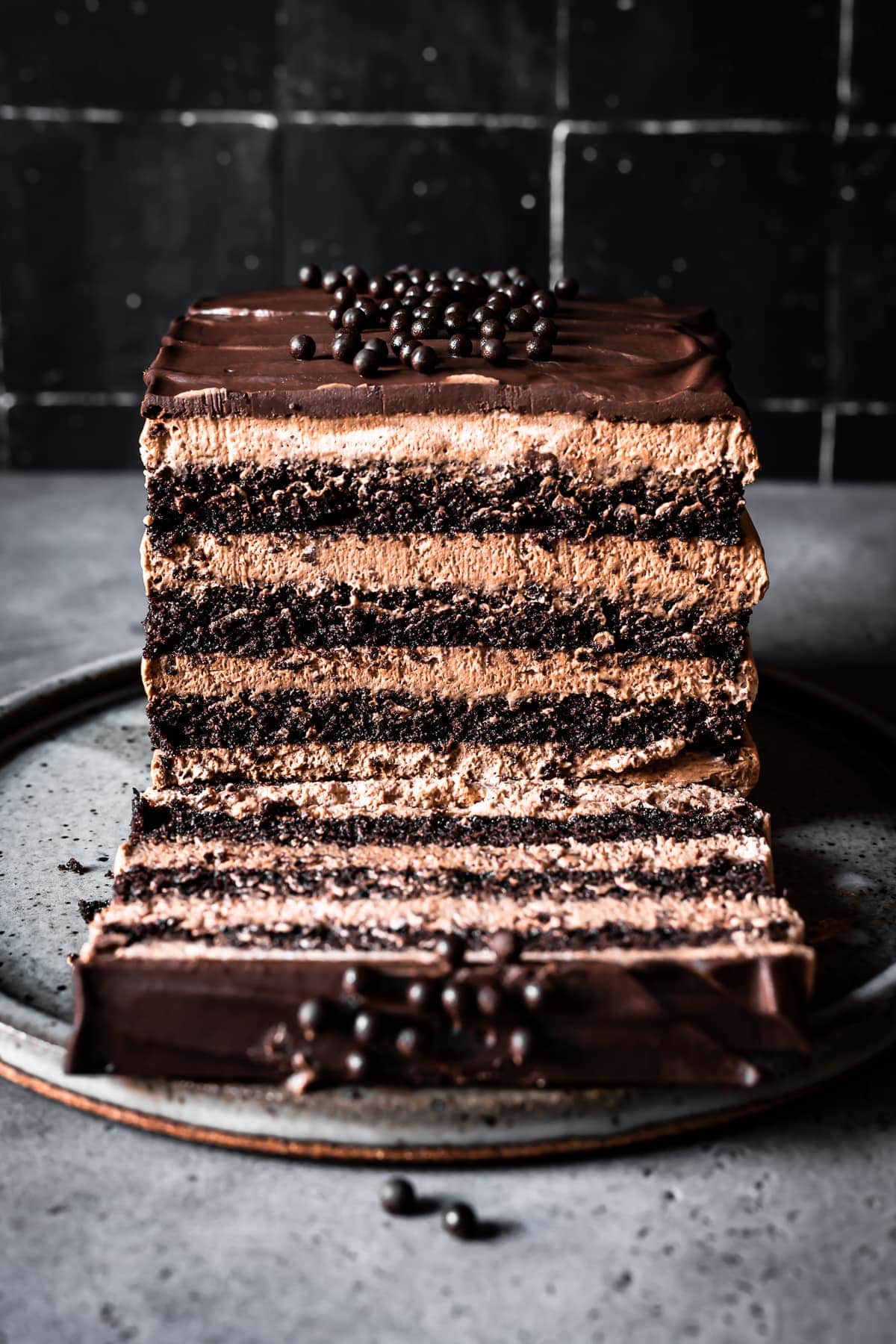 Pair these other chocolate desserts with Erath Pinot Noir
If you liked this chestnut chocolate mousse cake recipe, you might also enjoy these decadent chocolate desserts!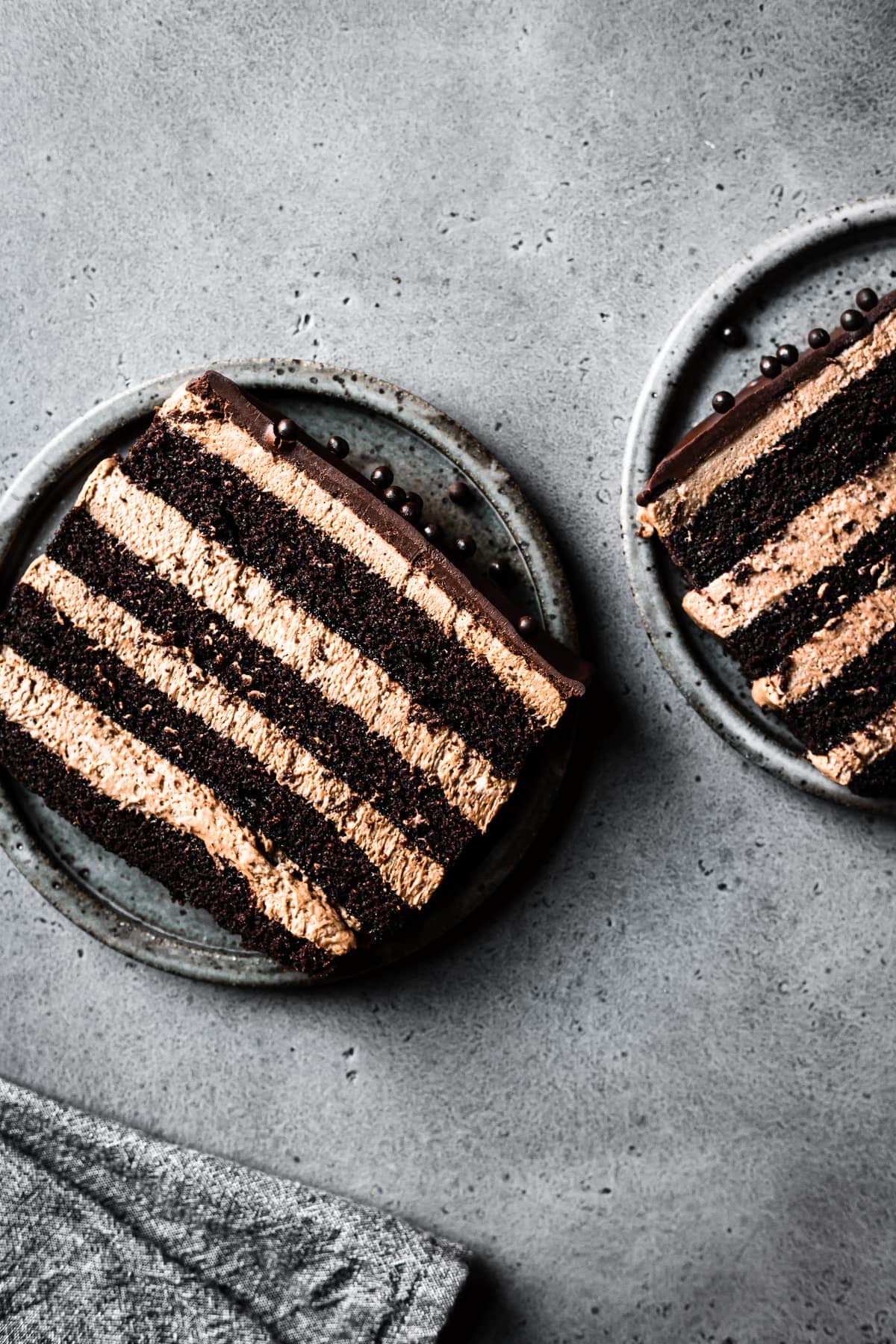 Thank you to my friends at Erath for making this post possible. And to you, my readers: thank you for supporting the great companies I work with. This allows me to continue creating high quality recipes and content for you.