A dark, deliciously moist chocolate olive oil bundt cake drizzled with a silky, rich chocolate ganache. The cake batter is easy to make by hand, and includes olive oil, sour cream, freshly brewed coffee and nutty rye flour. It's not too sweet and packed full of chocolate flavor.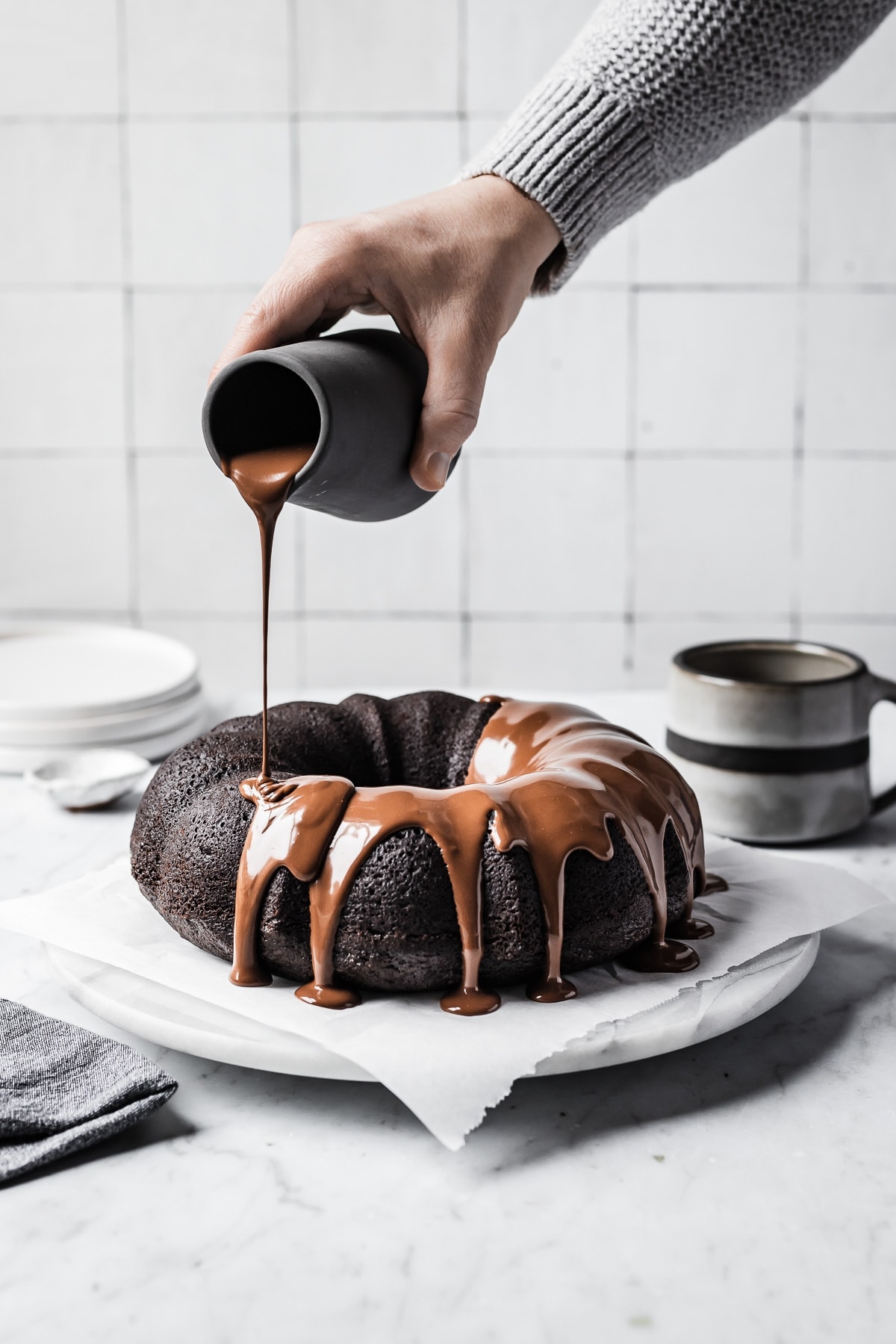 This cake first came about when I was testing recipes for a bundt cake with oil for an olive oil brand. I wanted to explore completely replacing the butter in a cake with olive oil. While I am happy to eat most any homemade cake, I find that cakes made with oil are often my favorites, at least in terms of their texture. My apple bundt cake with vanilla glaze is made with olive oil in the batter, as are these apple ginger mini cakes with salted caramel. The oil lends a certain moisture and lightness of crumb to the cake that butter does not.
Cakes made with oil also tend to stay tender longer, which is an added benefit when making a larger cake like this bundt. The stronger taste of olive oil partners well with the robust flavors of chocolate and rye. Thanks to the olive oil, this is not only a moist chocolate cake, but also an easy chocolate cake recipe. It can easily be made by hand, no mixer required.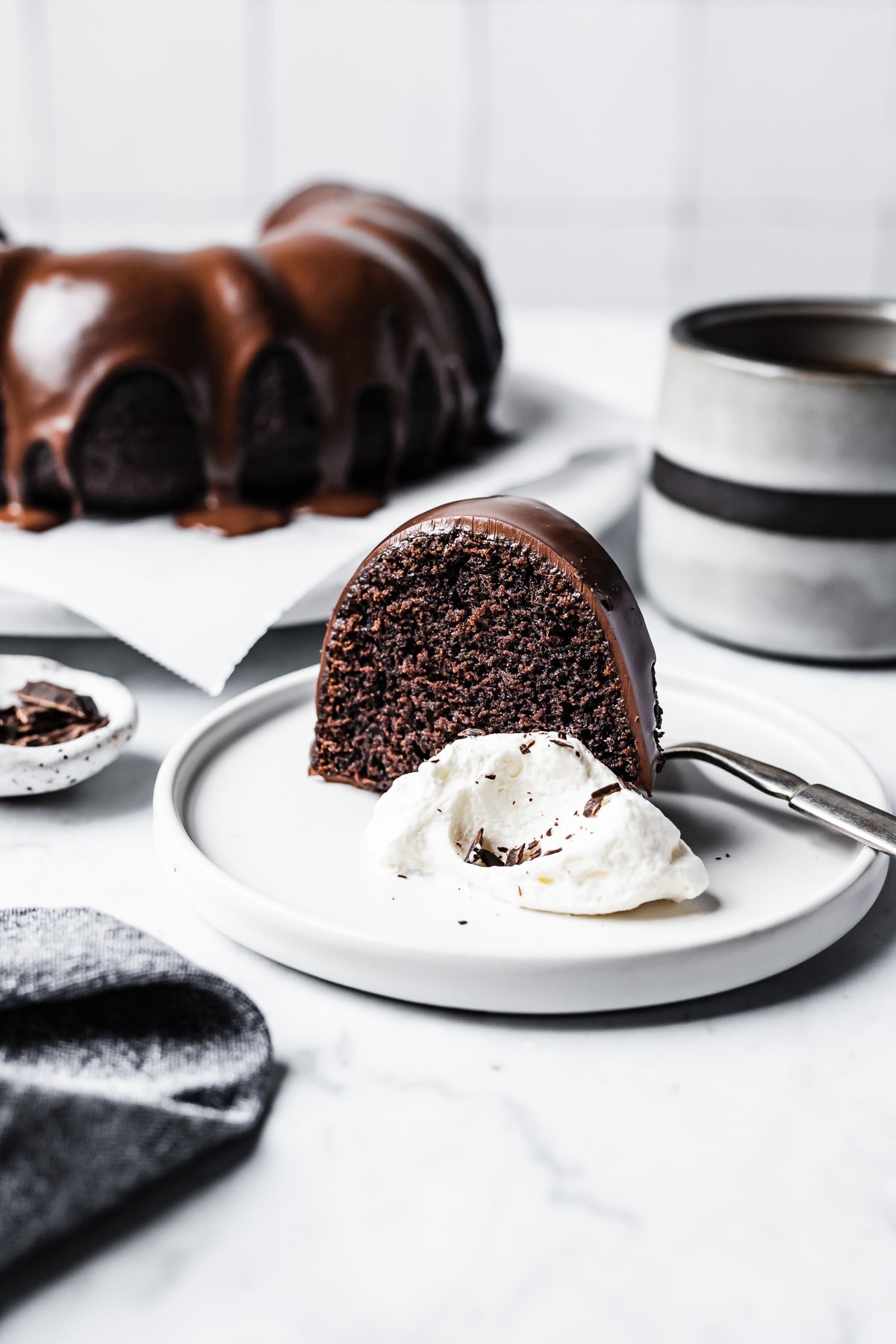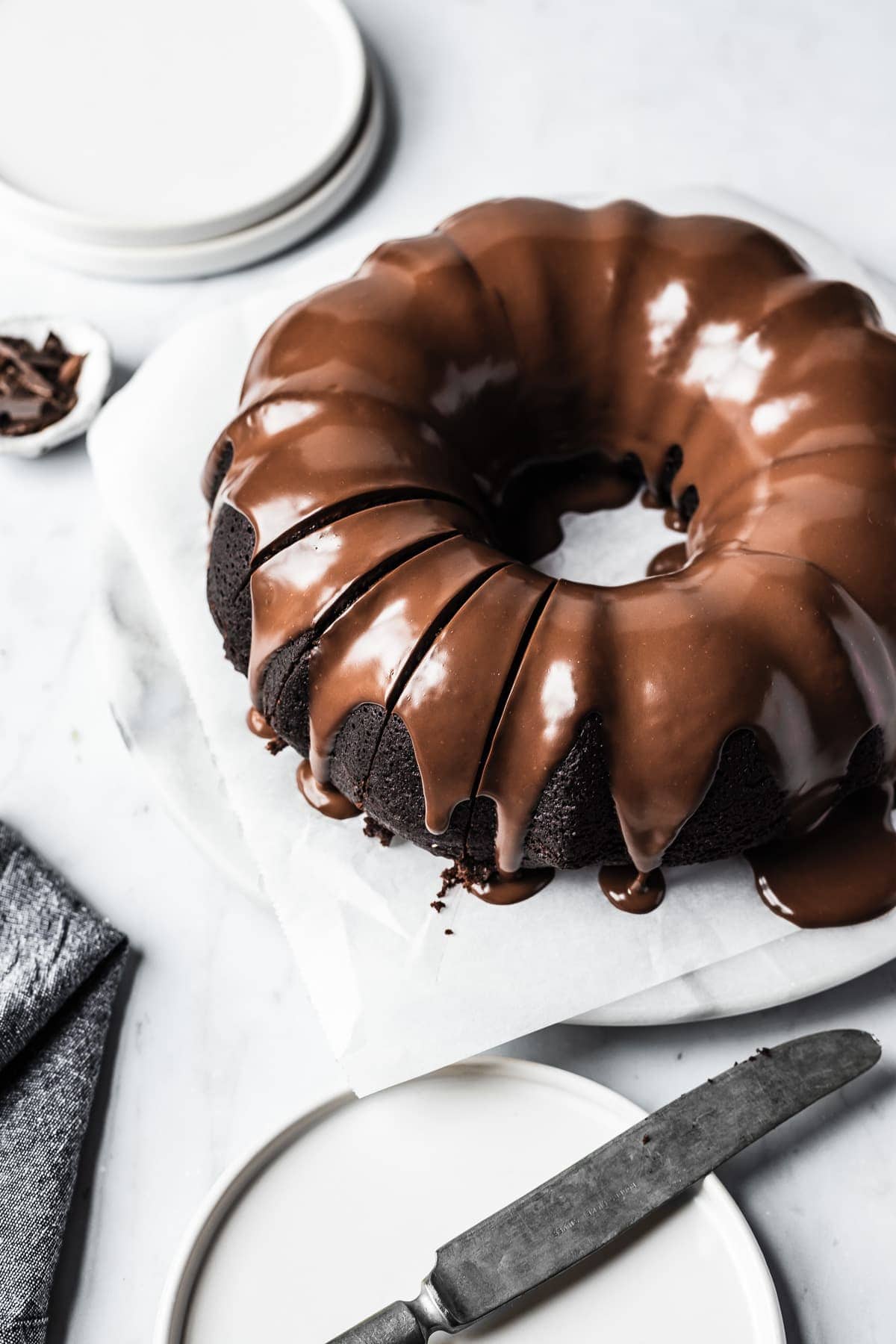 Ingredients and Recipe Notes
Dutch Process Cocoa Powder vs. Natural Cocoa Powder
This dark chocolate olive oil cake recipe specifically calls for dutch process cocoa powder. Don't have any? You can most likely substitute with natural cocoa powder here. There is enough baking soda in this recipe that it should neutralize the added acidity from natural cocoa powder and also provide the needed leavening. That said, since natural cocoa powder is lighter in color and flavor, you may find that the cake is not as dark in color or deeply chocolate in flavor. My preference is to stick with the dutch process variety for this recipe.
Different types of cocoa powder react to other ingredients in different ways. Natural cocoa powder is acidic. Dutch process cocoa powder has gone through a process that neutralizes the acidity. It is sometimes called Dutched or Alkalized cocoa powder.
When an acid combines with an alkaline base, it creates carbon dioxide gas. (Think back on the classic childhood science project that has you make a model volcano erupt by combining vinegar with baking soda - and orange/red food coloring, if you were extra cool.) This gas translates into bubbles in baking, which help provide leavening to your baked goods.
In order to make this dark chocolate bundt cake, this recipe calls for neutral Dutch process cocoa powder for the darker color and more intense chocolate flavor. Thus, the acid needs to come from somewhere else. In this case, it's the sour cream. Sour cream (acid) + baking soda (alkaline) = carbon dioxide gas, and baking lift!
Olive Oil
For this moist chocolate cake recipe with oil, I used a high quality extra virgin olive oil with a bold fruity flavor, as it pairs well with chocolate. You can certainly substitute a mild flavored olive oil, or even a more neutral oil such as grapeseed or canola oil.
Coffee
I used freshly brewed, hot coffee as the liquid in the bundt cake batter. If you prefer not to use coffee, hot water or a hot black tea with a smoky profile, such as lapsang souchong (affiliate link) will work just fine as a substitute. Using a hot liquid is a great trick to help the cocoa powder "bloom". Adding hot liquid to the cocoa mixture helps to dissolve the cocoa powder and release additional flavor.
Rye Flour
Replacing part of the all purpose flour with rye flour imparts a more complex, nutty flavor to this rich chocolate bundt cake. I usually purchase medium rye flour (affiliate link), which has all the delicious taste of rye, without the coarse texture of a darker rye flour. I find this guide on rye flour from King Arthur to be a helpful reference. If you don't have rye flour, you can replace it with the same amount (½ cup; 60g) of all purpose flour, so that the recipe uses a total of 2 cups (240g) all purpose flour and no rye flour.
Dark Chocolate
The ganache glaze is made with good quality dark chocolate, the kind you'd like to eat plain out of the wrapper while standing in the pantry. I used a 72% chocolate bar, which is on the darker end. If you prefer darker chocolate, aim for something in the 60-72% range. As long as it's good chocolate, choose a bar with the cocoa percentage that you'd most enjoy eating. Avoid using chocolate chips, as they often contain fillers intended to prevent them from melting and losing shape. We're going for a silky smooth chocolate ganache, so choosing a good quality chocolate bar, baking chocolate, or chocolate feves would work.
Glazing This Chocolate Bundt Cake
The most important tip when adding the ganache glaze to this cake is to ensure that the cake is fully cooled. If the cake is still warm, the heat will cause the glaze to run off the sides of the cake. You don't want that to happen! Since this is a fairly thick glaze, it needs to be applied while the ganache is warm. It will set as it cools. I like to test the consistency of my glaze by pouring a test drip down the side of an inverted mug. This helps give me a sense of its thickness. Does the drip run down quickly and puddle at the bottom immediately? Is it too thick to drip down the side at all? I can adjust the warmth of the glaze (and thus, the consistency) as appropriate to help make sure the ganache glaze will look great the first time I apply it.
Another note - once you start pouring, try to glaze the whole cake in one go. If you stop and start, it's likely that the second application will not "sink" smoothly into the first and will end up looking like a raised second layer of glaze on top of the first. It only matters if you're concerned about the final look. The taste will be glorious no matter what.
If you are making this cake a day in advance, wait until the day you serve it to add the glaze. Drizzle it on a few hours before presenting/serving to give it time to set. If you glaze it more than a day in advance, the cake will begin to absorb moisture from the glaze, and the glaze will start to crack. If this does happen, all is not lost - it will still taste wonderful.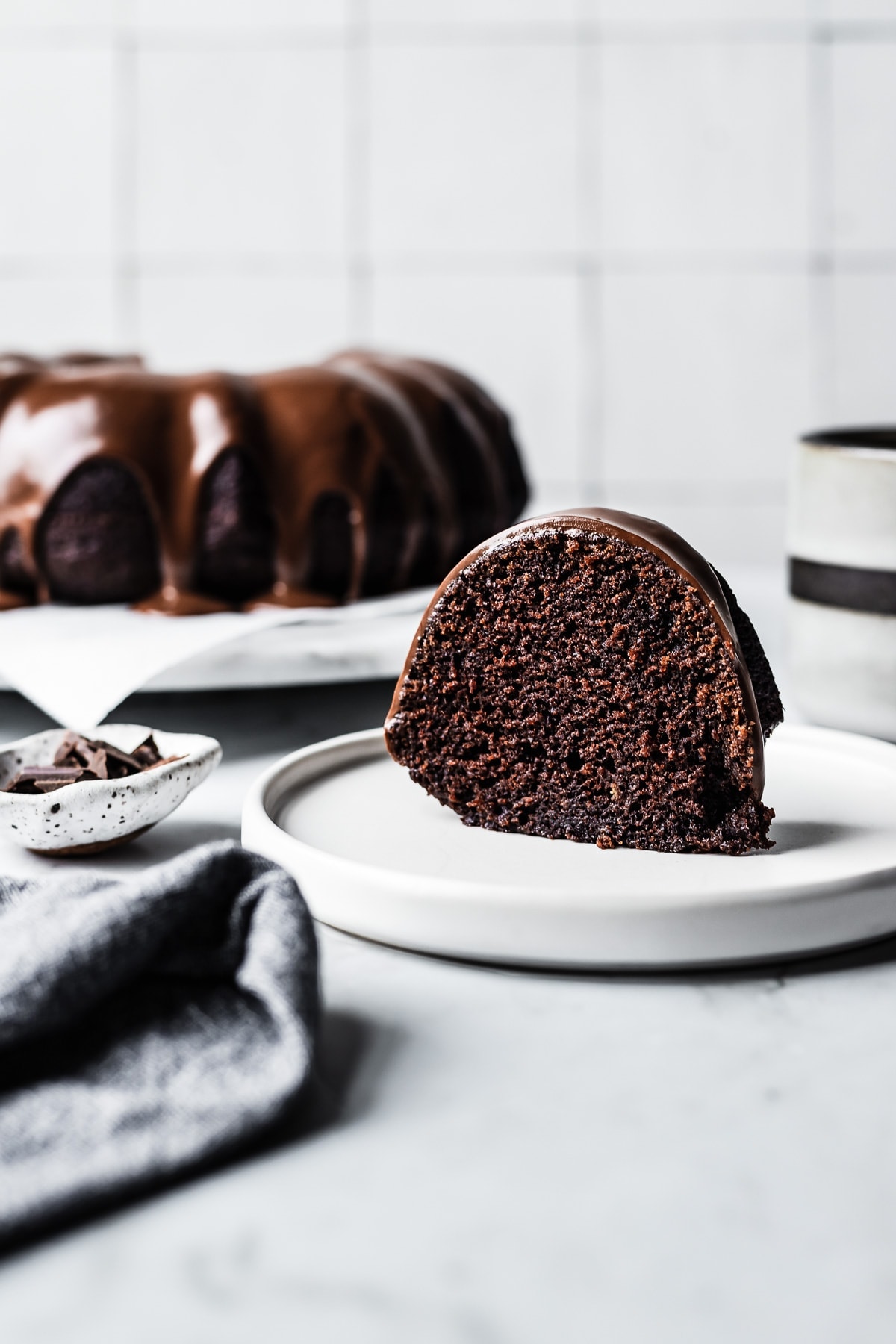 Frequently Asked Questions
How Do I Prepare a Bundt Cake Pan?
Bundt pans are notorious for giving people all kinds of baking grief. A cake that sticks to the pan or comes out in pieces ranks high on the scale of baking disaster. There are all kinds of tips on how to keep a bundt cake from sticking to the pan, from using certain baking sprays to purchasing specific brands of bundt pans. I've had excellent luck thus far using the following method on a variety of pans, both new and vintage. The biggest secret I've found is to simply be very meticulous about the preparation process. You'll be glad you put in the time when your bundt cake comes out in one piece!
Grease the bundt pan. Use a pastry brush to coat the interior of the pan thoroughly with a thin layer of softened butter. The butter should be soft enough to spread easily with the brush, but should not be melted.
Use a natural bristled pastry brush (affiliate link) to apply the butter. The fine bristles are much better at evenly applying the butter than the silicone pastry brush variety. I've tried them both!
Carefully double-check to make sure you've coated every curve and crevice in the pan with butter, including the center tube / chimney of the bundt pan.
Lastly, coat the interior of the pan with cocoa powder. Since this is a chocolate cake batter, cocoa powder will better match the color and flavor. Use a sifter to help distribute the cocoa powder more easily around the bundt interior.
Hold the bundt pan at an angle while carefully turning and tapping it. This helps the cocoa fall into all the crevices of the pan. You may need to do several full turns to ensure all areas are completely coated. I like to do this portion of prep with the bundt pan over the sink. I can easily rinse away any extra cocoa powder that spills outside of the pan, which makes kitchen clean-up faster. You can also do this over a piece of parchment paper if you'd like to save the excess.
Once all buttered areas are coated with cocoa, turn the pan upside down and give it one good whack over the sink to remove any extra cocoa powder.
When to Flip a Bundt Cake?
Wait 10-15 minutes before flipping this bundt cake over. This helps give the cake a chance to become more firm. Before you unmold the cake, use your fingers to gently pull the edges of the cake just slightly away from the pan to loosen it. Wearing an oven mitt, hold the pan in one hand and center a cake stand or cake platter on top. Flip carefully, set plate or stand on a table, and remove the bundt pan carefully.
Can I Convert This Recipe Into Chocolate Mini Bundt Cakes?
Yes! I haven't tried it myself, but one of my readers adjusted it by making a half recipe and using a pan that has 12 mini bundt cavities (approximately 5 cup total capacity). They filled each mini bundt ¾ full and baked at 375 degrees for 22-25 minutes. Please leave a comment if you try this so that we have more input for others who would like to try something similar! Mini bundt pans do differ in shape and size, so I recommend you watch the cakes carefully and test as the bake nears the end of its time.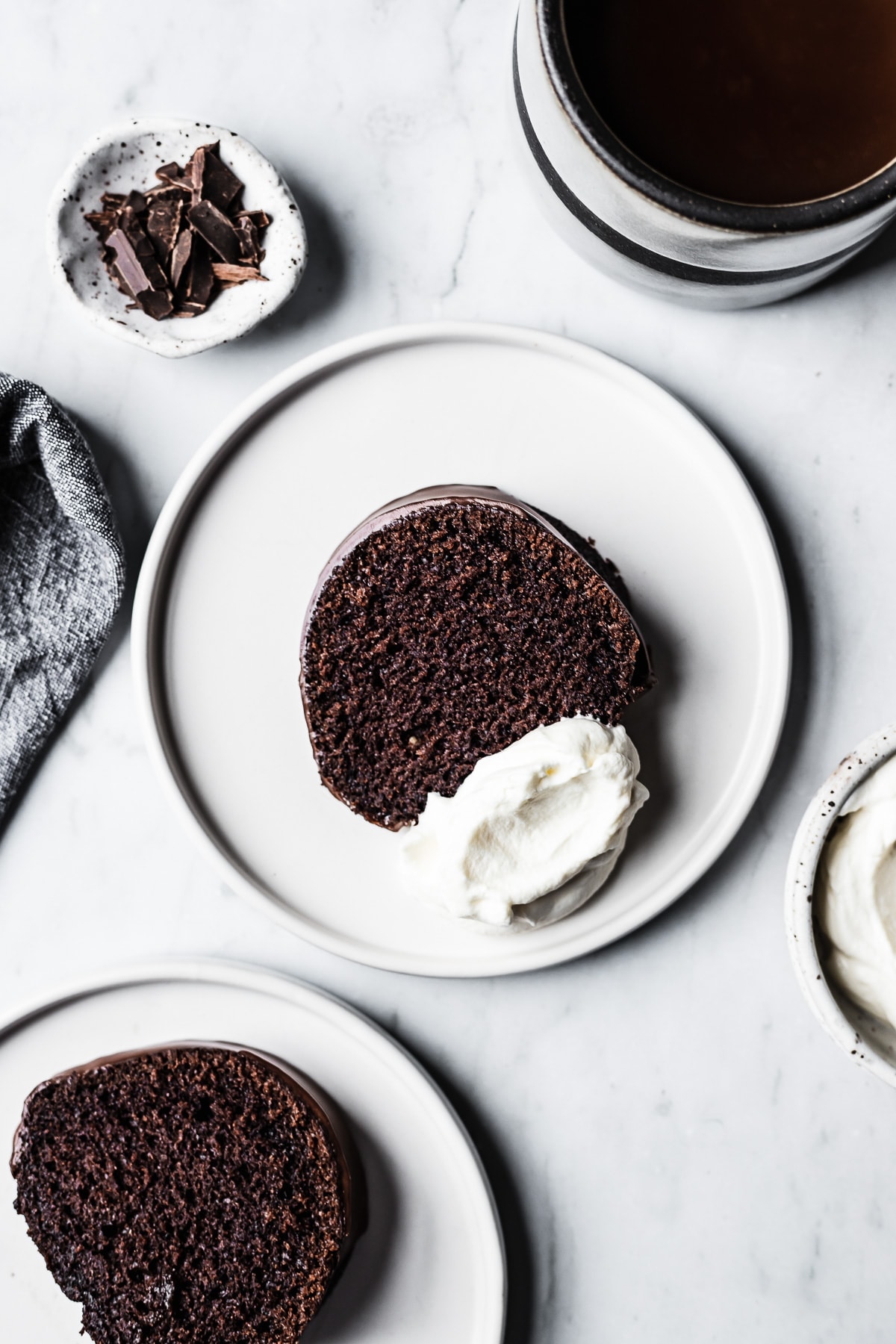 📖 Recipe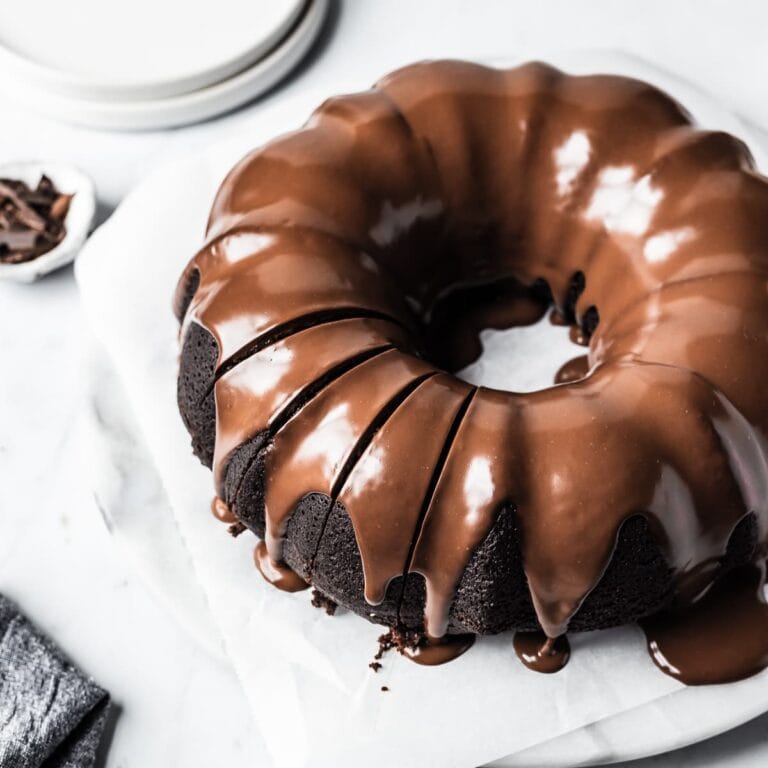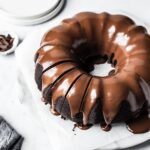 Chocolate Olive Oil Bundt Cake
Print Recipe
Pin Recipe
A dark, moist chocolate bundt cake made with olive oil, covered with a silky, rich chocolate ganache. The cake batter is easy to make, and includes a bit of coffee and nutty rye flour.
Servings
1
10 cup bundt pan; 12-16 servings
INGREDIENTS
CHOCOLATE OLIVE OIL CAKE
1½

cups (180g)

all purpose flour

½

cup (60g)

medium rye flour, finely milled

1

teaspoon

baking soda

1

teaspoon

kosher salt

¾

cup (177mL)

extra virgin olive oil

1½

cups (300g)

granulated sugar

⅓

cup (35g)

Dutch process cocoa powder

1

cup (250mL)

hot coffee (or hot water/black tea)

2

eggs

large

½

cup (120g)

sour cream, full fat

1½

teaspoon

vanilla extract
DARK CHOCOLATE GANACHE GLAZE
¼

cup + 2 tablespoon (90mL)

heavy whipping cream

4

oz (120g)

dark chocolate, finely chopped (I used a 72% chocolate bar)

¼

cup (60g)

sour cream, full fat

1

Tbsp

port wine (or coffee or more cream)

⅛

teaspoon

kosher salt

½

teaspoon

vanilla extract
INSTRUCTIONS
CHOCOLATE OLIVE OIL CAKE
Preheat oven to 350° F (177° C, Gas Mark 4).

Grease a 10 cup bundt pan meticulously with softened butter (I use a small pastry brush) and coat interior (also meticulously – this is a theme with bundt pan preparation) with cocoa powder. It's easiest just to sprinkle in some cocoa powder with a sieve, and then hold the bundt pan at an angle while carefully turning it. This helps the cocoa fall into all the crevices of the pan. I do this over the sink so that I can easily rinse spills away.

In a medium bowl, whisk together flours, baking soda and salt. Set aside.

In a large mixing bowl, whisk together olive oil, sugar and cocoa powder. Mix well and add coffee (or water) and whisk to combine. Add eggs one at a time, whisking well between additions to ensure they are fully incorporated.

Add dry ingredients and whisk again. Scrape the bowl with a spatula to ensure no flour pockets remain. Add sour cream and vanilla, and whisk until completely blended and batter is smooth.

Pour batter into prepared bundt pan. Rap pan firmly on countertop several times to remove air bubbles that may have formed in batter. Place bundt pan on a baking sheet and bake in oven for 40 minutes, until a toothpick inserted in the middle comes out clean.

Cool bundt on a baking rack for 10-15 minutes, then place a cake platter on top of bundt pan and flip over. Let it sit for a minute or two, if you can stand it. Gently, carefully remove the pan. Cake must cool completely before adding glaze.
DARK CHOCOLATE GANACHE GLAZE
In a one quart pot, heat cream until almost simmering. Remove from heat and add finely chopped dark chocolate. Let sit for 1 minute, and then gently whisk until all chocolate has melted and no lumps remain.

Add sour cream, port, salt and vanilla, and whisk again. Mixture should be warm enough to ensure a smooth pour (See recipe notes in post for details and tips). Reheat very minimally over double boiler if needed, stirring frequently.

Once bundt cake has cooled completely on cake platter, drizzle the dark chocolate ganache glaze over the top of the cake. Use a slow side to side motion as you pour to help guide the glaze around the cake evenly. Let glaze set for an hour or two. Serve with whipped cream and chocolate shavings.
Notes
The recipe for this chocolate olive oil bundt cake is loosely adapted from a chocolate bundt cake recipe from Aysegul Sanford of Foolproof Living. 
The ganache is an adaptation of Alanna Taylor-Tobin's from The Bojon Gourmet, using sour cream and port in place of creme fraiche and whiskey. Thanks to both of these talented women for their inspiration.
The Floured Table
Recipe Author: Kathleen Culver
https://www.theflouredtable.com/chocolate-olive-oil-bundt-cake/
Made this recipe? Please leave a comment and a star review! ★★★★★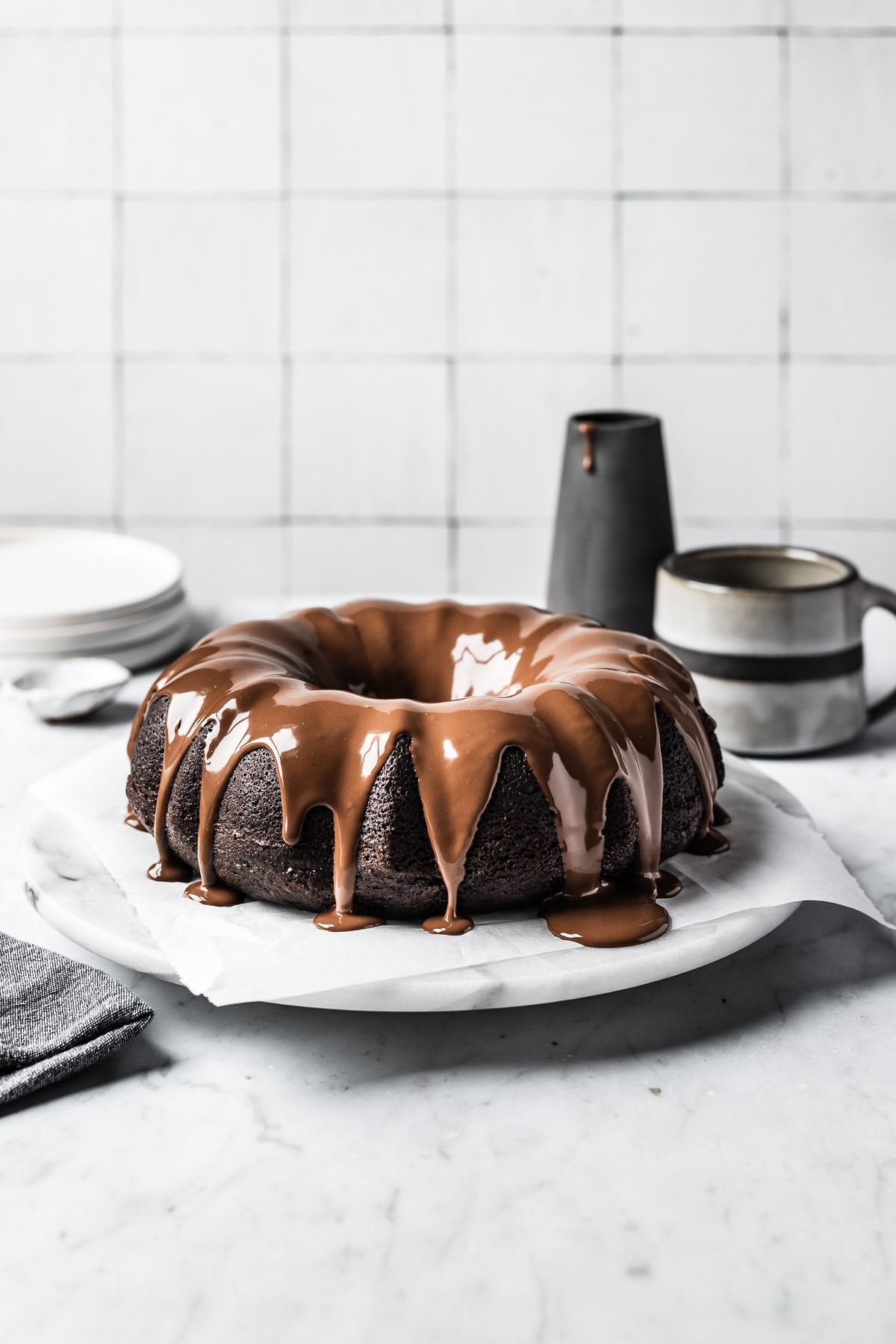 More Cake Recipes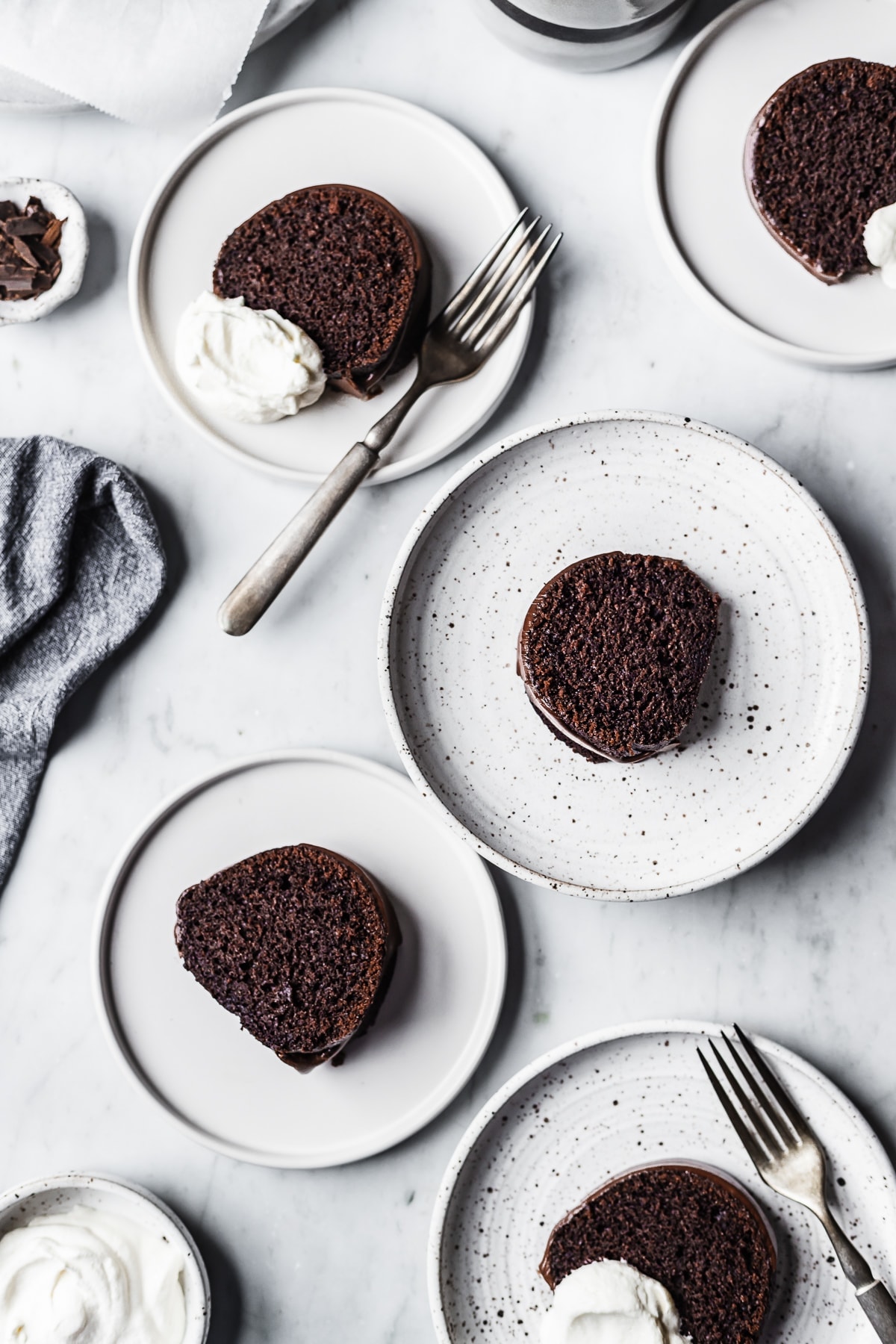 More Chocolate Recipes