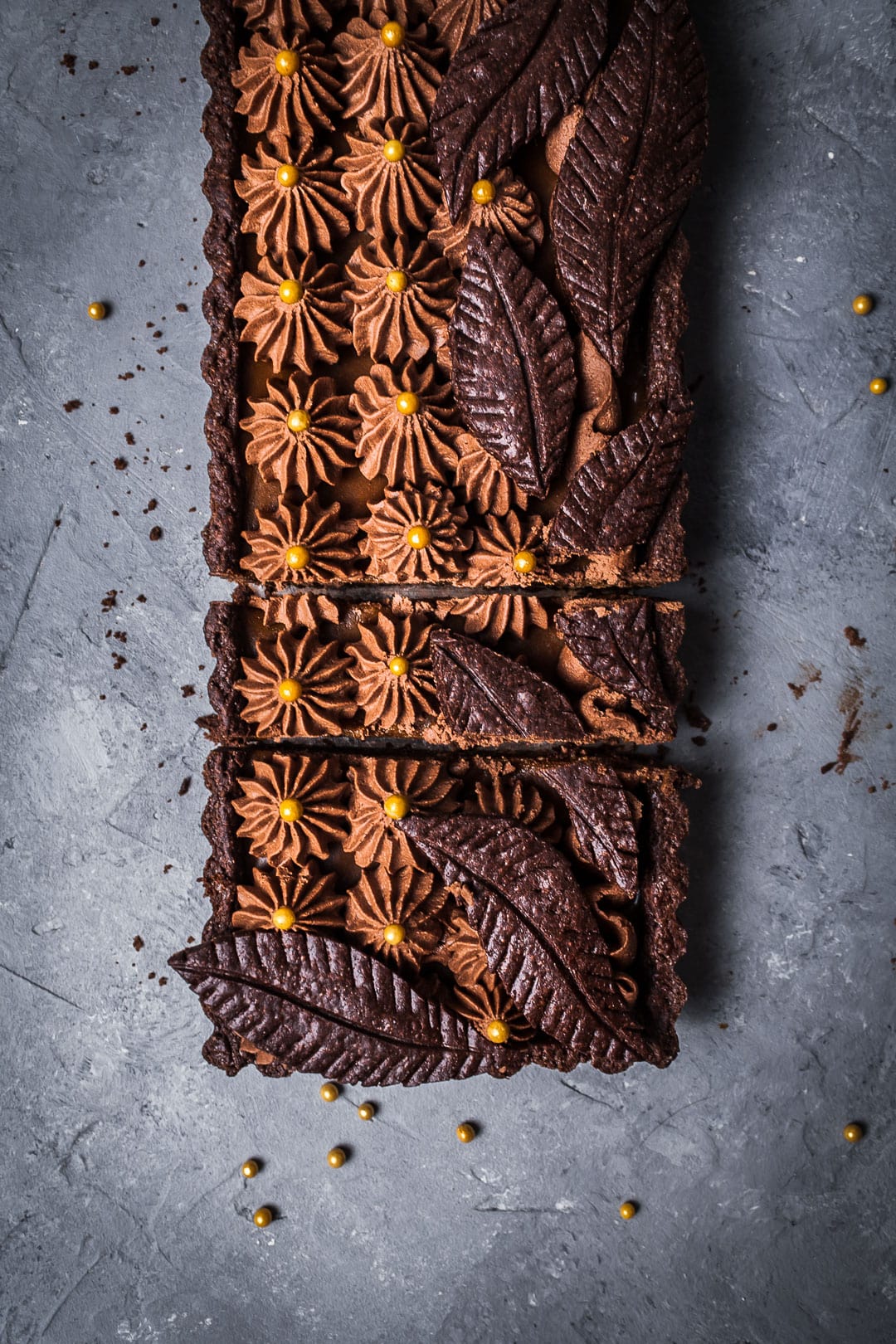 The beauty of classic base recipes such as chocolate sable dough, salted caramel and whipped chocolate ganache is that you can use them as the foundation for an infinite variety of desserts. For example, the chocolate sable dough forms the base of this sour cherry chocolate tart with almond pastry cream. And I've used the salted caramel as a sauce to top these apple ginger mini cakes. In this case, I've chosen to simply stack them all together to create a decadently rich, smooth, salted caramel chocolate tart with sweet and salty notes and an elegant decorative chocolate leaf border.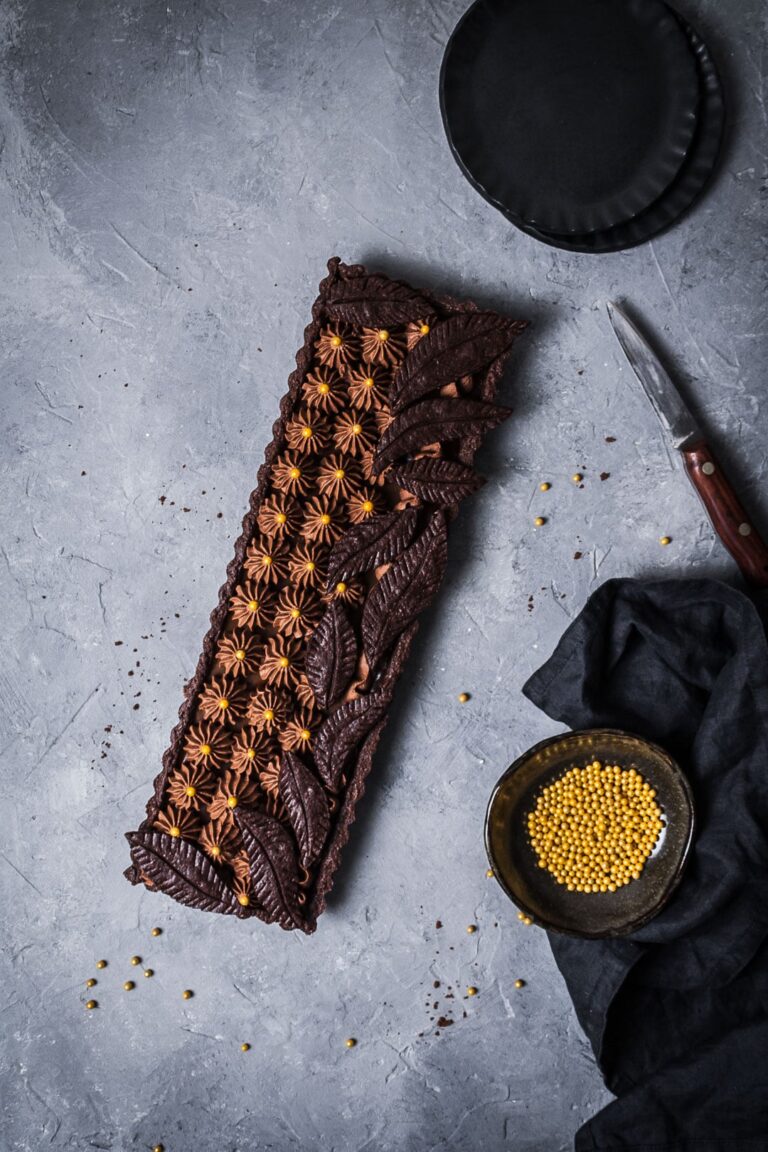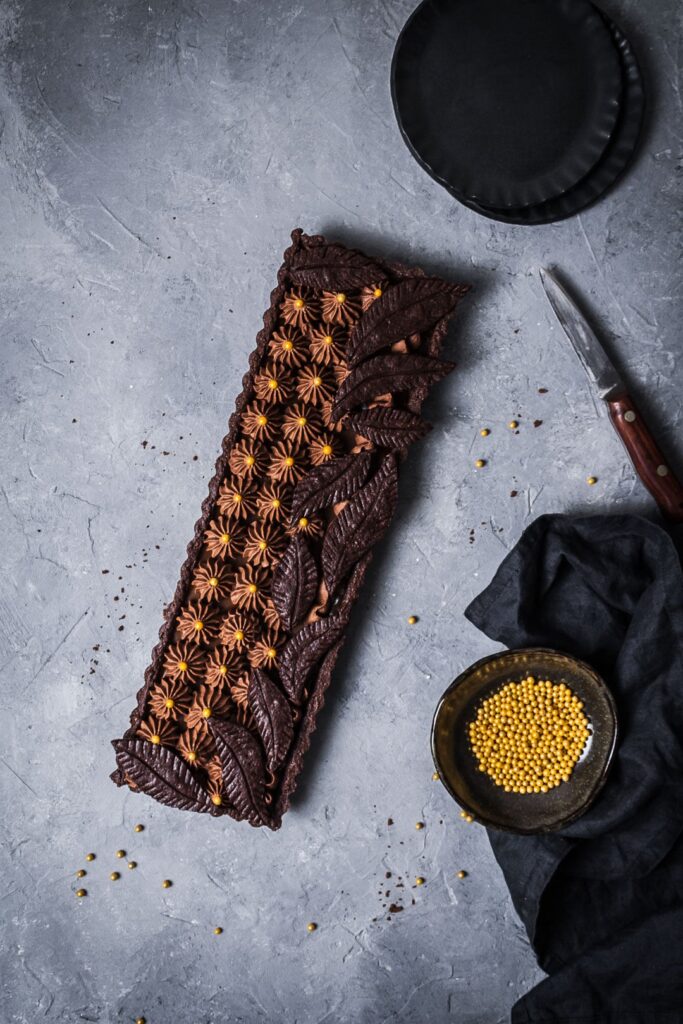 A Tart for Everyone
When I shared a few slices of this tart with our dear friends down the street, they declared it the World Peace of Desserts - one that has something to please everyone, no matter where your dessert affinities lie. The chocolate sable dough is flaky and rich, yet firms up enough to provide a stable base. The silky smooth salted caramel filling - courtesy of David Lebovitz - contrasts with the dark chocolate ganache topping, which is deep in flavor but light in texture after being whisked until it can be piped into lovely shapes.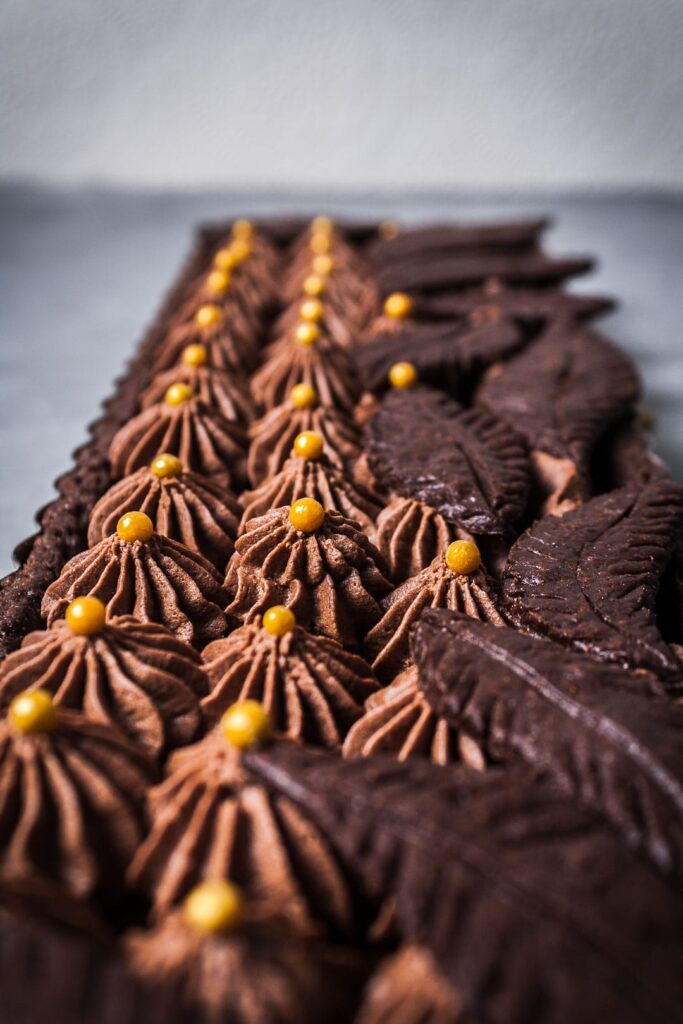 A fluttering of hand-cut chocolate sable dough leaves cascade down one side of the tart, adding a bit of decorative drama (and hiding any less-than-perfect piping).
I don't claim to bake anything with the significance of world peace, but it is a dessert that's worthy of a special event, whether that's the place of honor on your holiday dessert table or at your kitchen counter at 10pm after you've washed, dried, and folded an entire load of laundry. Either way, it's something I hope you enjoy making and eating as much as I do.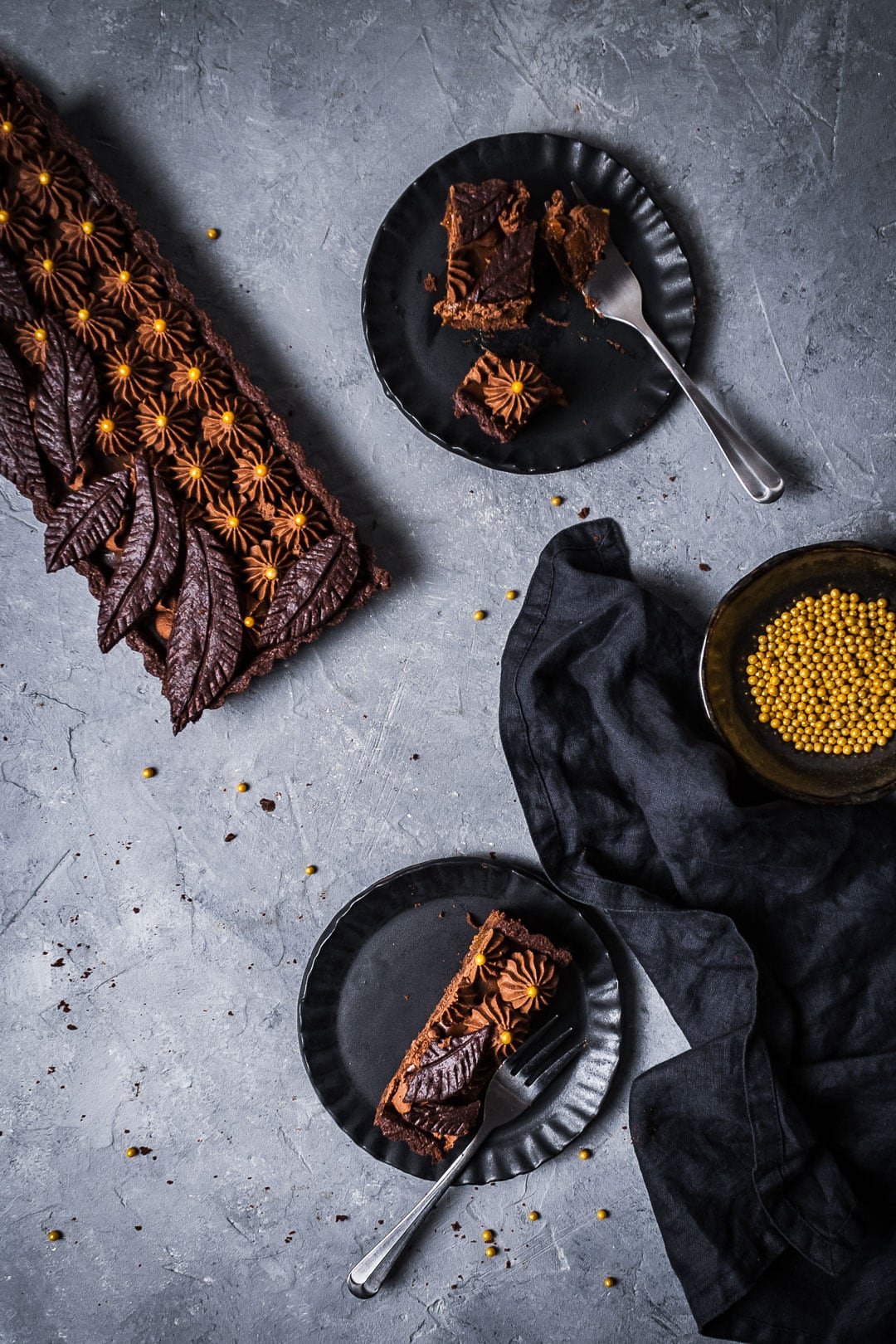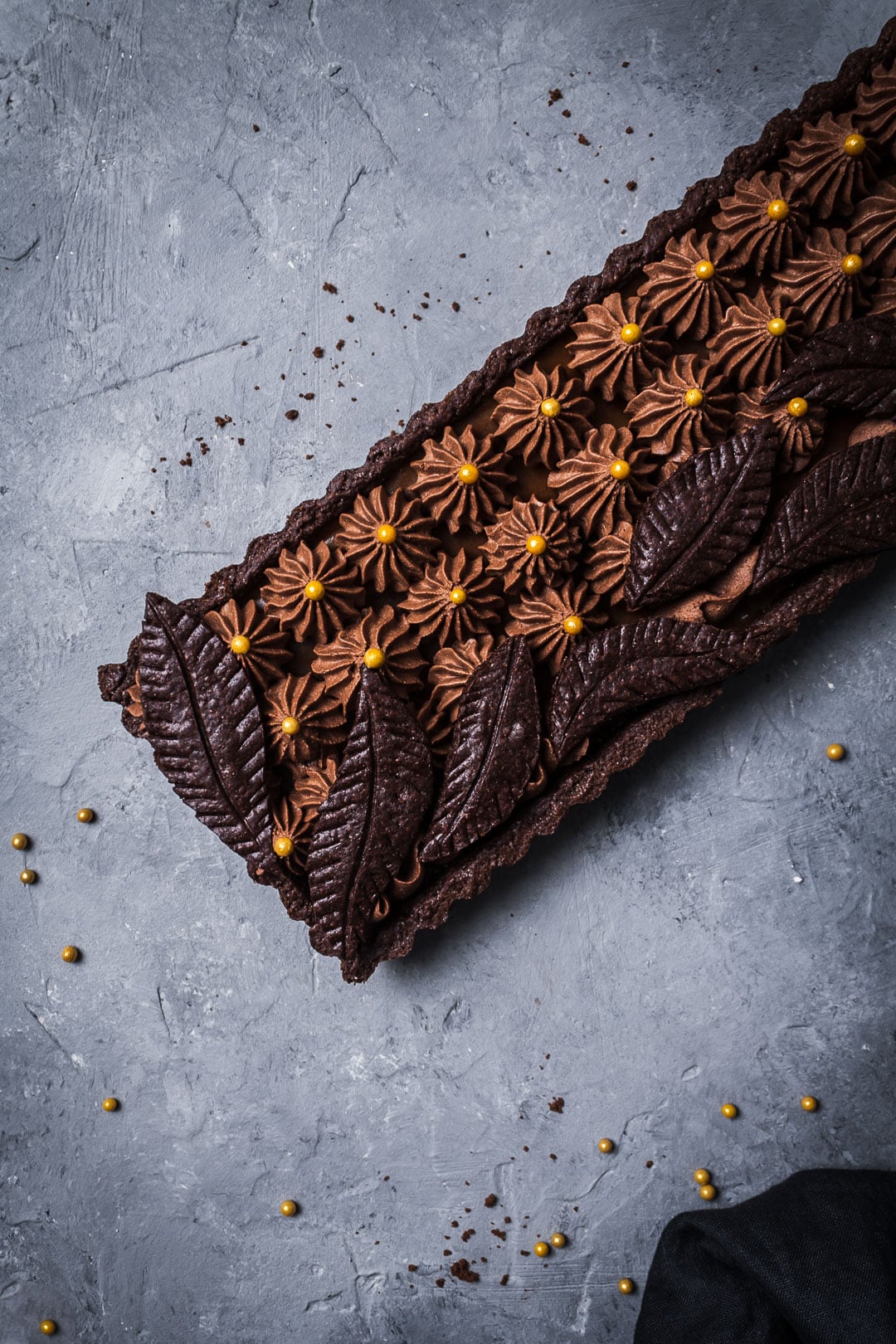 📖 Recipe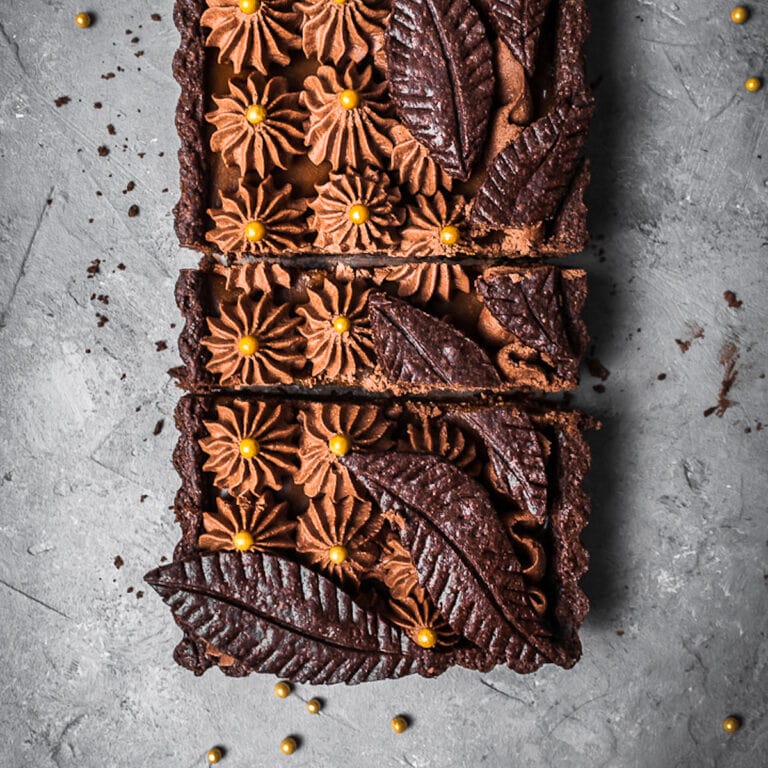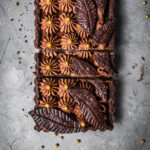 Salted Caramel Chocolate Tart with Whipped Chocolate Ganache
Print Recipe
Pin Recipe
Servings
1
4 x 14 rectangular tart
INGREDIENTS
Chocolate Tart Dough
1 ½

cups

all-purpose flour

½

cup

cocoa powder

½

cup

sugar

⅛

teaspoon

salt

11

tablespoon

butter (at room temperature)

1

egg yolk

1 ½

teaspoon

vanilla

2-3

teaspoon

heavy cream
Salted Caramel
6

tablespoon

salted butter, cut into small pieces

¾

cup

white sugar

1

cup

heavy cream

½

teaspoon

vanilla extract

1

teaspoon

flaky sea salt
Whipped Chocolate Ganache
¾

cup

heavy cream

1

cup

dark chocolate, finely chopped (approx. 6 oz)

sugar pearls - optional, for decoration
INSTRUCTIONS
Chocolate Tart Dough
In the bowl of a stand mixer, combine the flour, cocoa powder, sugar and salt and blend with the paddle attachment until thoroughly mixed.

Add the butter and mix on low speed until completely blended. No pieces of butter should be visible.

Add the egg yolk and vanilla and mix until incorporated.

Add 2 teaspoons of the cream and mix on low until the dough pulls away from the sides of the bowl and forms a ball. Add additional teaspoon of cream if dough seems dry and does not form a cohesive mass.

Flatten dough into a rectangular disc. Using a rolling pin, roll dough out between two sheets of parchment paper, turning the paper as needed to create a rectangle shape. Rectangle should be at least 15 inches in length and 6 inches in width to slightly overlap the tart pan.

Remove top layer of parchment paper and carefully invert tart dough onto the rectangular tart pan. Lift overhanging dough while using your fingers to gently pressing the dough into the base and edges of the pan. This helps ensure there is no air space where the pan edge meets the base.

Trim the excess dough overhanging the pan with a sharp knife. I do this by holding the knife blade parallel to my work surface and running it along the pan to create a flat, clean edge along the top.

Chill tart shell in the fridge for at least 30 minutes.

Gather the excess dough and roll it out between parchment sheets to about ¼ inch thick. Place in freezer 15-30 minutes, then remove and take off top parchment sheet.

Using a sharp paring knife, cut curved leaf shapes from the dough. Mine were a variety of sizes approximately 2-5 inches long. Use the back of the knife to score a line down the middle of the leaf from base to tip. Cut the edges of the leaves with ¼ inch cuts to add more texture to the sides.

Place cutouts back onto parchment covered baking sheet in the freezer to chill. This will help them retain their shape when baked.

Preheat oven to 350 degrees.

Using the tip of a sharp knife or a fork with small tines, poke holes all over the base of the tart shell.

Line the unbaked shell with parchment paper (This is easier if you crumple it first, then smooth it back out) and fill with pie weights. I have a mason jar full of beans that I've sacrificed for this purpose and use over and over again.

Bake tart shell on cookie sheet in a 350 degree oven for 25 minutes.

Remove parchment paper and pie weights/beans and bake for an additional 10-15 minutes, or until bottom of tart shell is dry and no longer shiny.

Cool tart shell in pan on a rack. It will be soft when it is warm - be careful and don't bump it! It will firm up as it cools.

While tart is cooling, remove cookie sheet of chocolate leaf cutouts from the freezer and bake in the 350 degree oven for 8-12 minutes, until firm. Set aside to cool.
Salted Caramel
In a large, heavy saucepan, melt the butter over medium heat.

Add the sugar and whisk until completely incorporated into the butter. Cook over medium heat, stirring frequently, until the color of the sugar mixture is a deep golden brown. I like to keep it on the heat just until it begins to smoke - at which point I quickly remove it.

Whisking constantly, slowly pour the cream into the hot sugar mixture - be careful as it may sizzle and foam at the beginning. Continue to whisk until the cream is completely incorporated and the sauce is smooth. Be patient - this often takes a few minutes.

Add the vanilla and sea salt and stir well to incorporate them.

Let salted caramel cool until just warm to the touch. Pour into cooled tart shell and place in refrigerator for 15-30 minutes to set.
Whipped Chocolate Ganache
Heat cream in a medium sized saucepot on the stove until steaming and bubbles form at the edge of the cream. Do not boil.

Place finely chopped chocolate into a medium bowl. Pour cream over chocolate and let sit for 5 minutes.

Stir with a whisk to ensure that the ganache is smooth and that there are no lumps of chocolate remaining. Set aside to cool at room temperature.

Place the cooled ganache into the bowl of a stand mixer. Using the whisk attachment, whisk the ganache for 1 minute on high, scraping down the bowl several times to make sure the chocolate is evenly whipped.

Whipped ganache should be much lighter in color and fluffy. Do not overmix or ganache will become grainy.

Place whipped ganache into a 16 or 18 inch pastry bag fitted with a large french star tip (I used the Wilton 4B piping tip). Pipe four stars on top of the caramel layer across the narrow side of the tart pan. Repeat another row of four stars directly below the first, continuing until you have completely covered the caramel layer.

If desired, place a candy or chocolate pearl on the tip of each piped star. I used gold sugar pearls.

Arrange chocolate leaves in desired border along the long edge of the tart, pressing gently into the whipped ganache to adhere them.

Serve immediately, or place into refrigerator to store for up to 24 hours. Bring to room temperature prior to serving so that the butter in the caramel has a chance to soften.
The Floured Table
Recipe Author: Kathleen Culver
https://www.theflouredtable.com/salted-caramel-chocolate-tart-with-whipped-chocolate-ganache/