This marzipan layer cake with dark chocolate buttercream is a delicious four layer cake that combines sweet, nutty, floral, and chocolate flavors. Marzipan sweetness is tempered by a rich, dark chocolate Swiss meringue buttercream. Inspired by a truffle from a local chocolate shop, I created this recipe that has proven to be a reader favorite. Make your own marzipan for ultimate freshness of flavor. It's easy!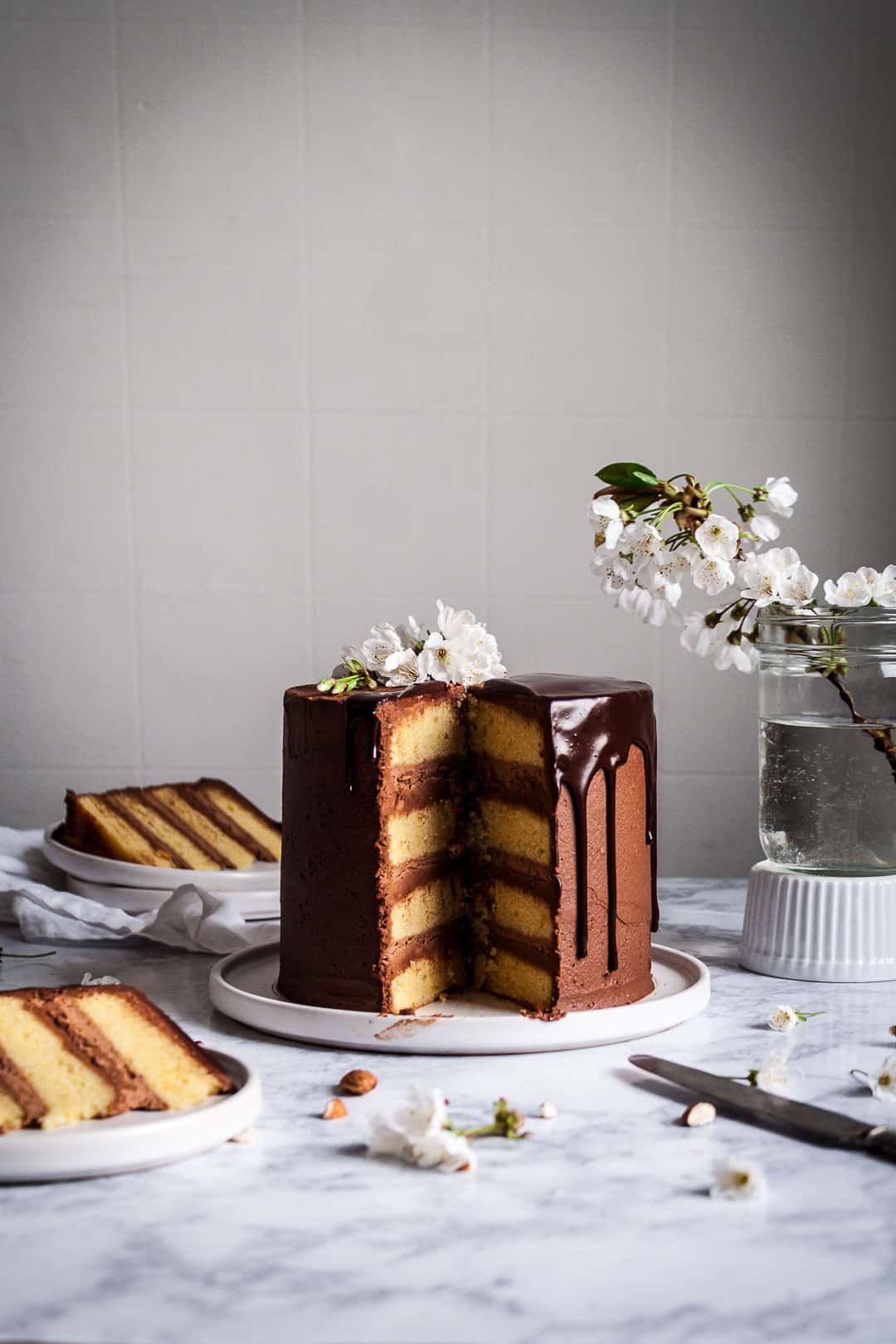 My oldest daughter came in the door from running some errands with my husband and proudly presented me with a small white cardboard box. Inside it were 8 chocolate truffles nestled in paper from one of our long running local chocolate shops, Chocolate Necessities.
I wrote off all the truffles covered in milk chocolate (my family is not as picky and happily ate the castoffs.) Give me the dark stuff, every time. Among those remaining, there were some good ones: dark chocolate cream, praline crunch, vanilla bean. But the one that rose above all the others – the one I became a bit obsessed with – had a marzipan center covered in dark chocolate. It lingered with me long after I'd eaten it. Sweet, nutty, floral, dense, chocolaty. I started trying to figure out how to recreate it.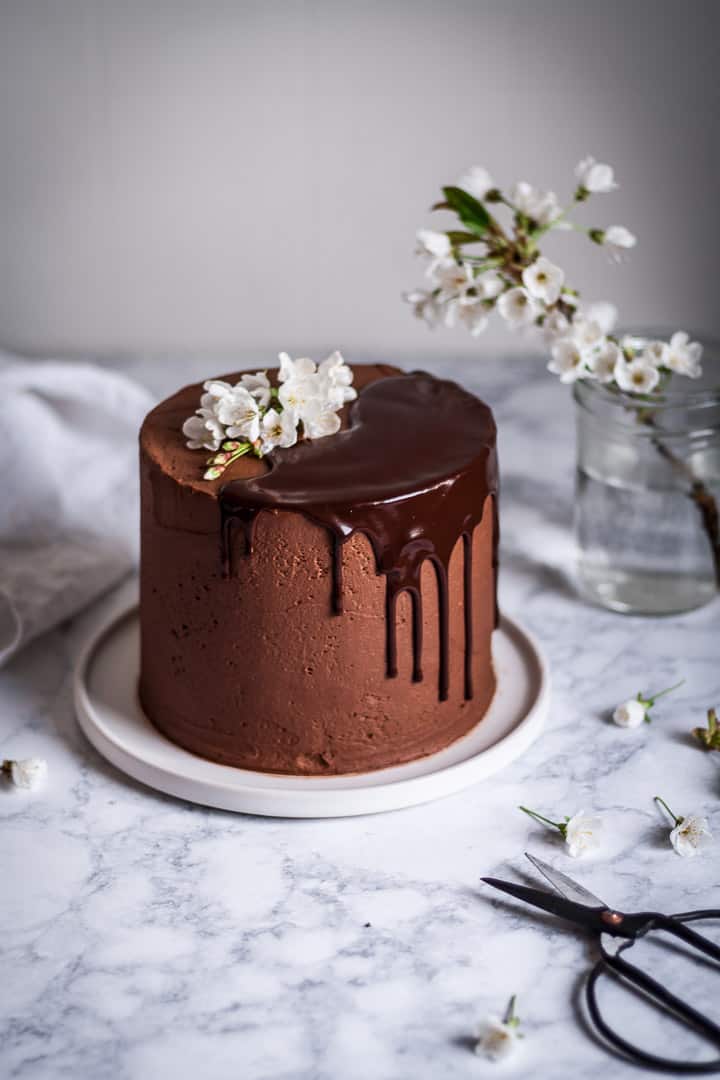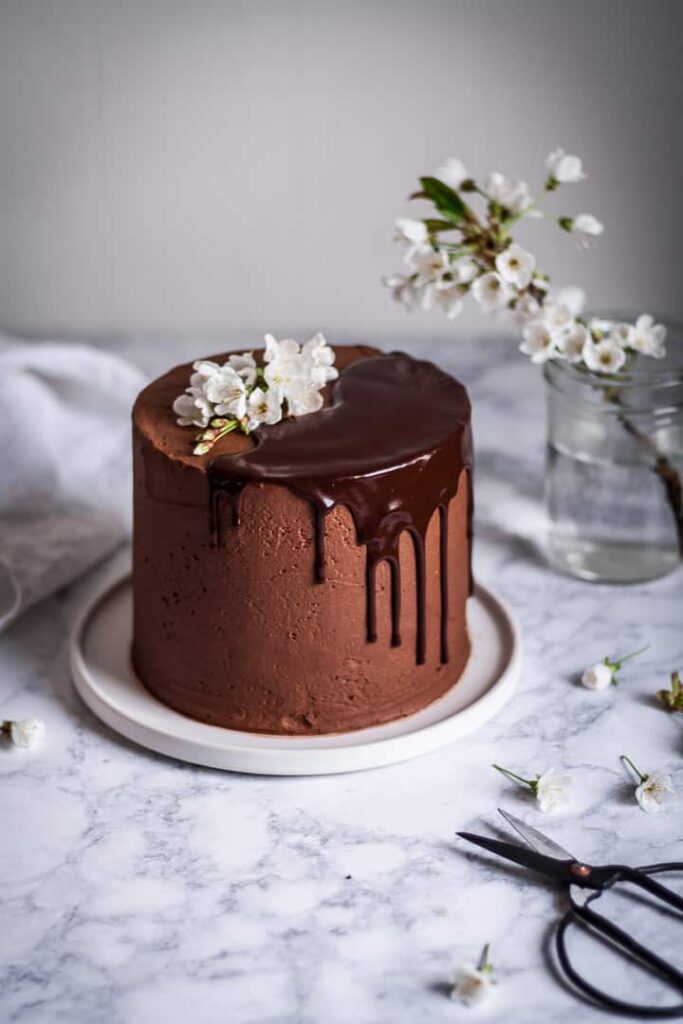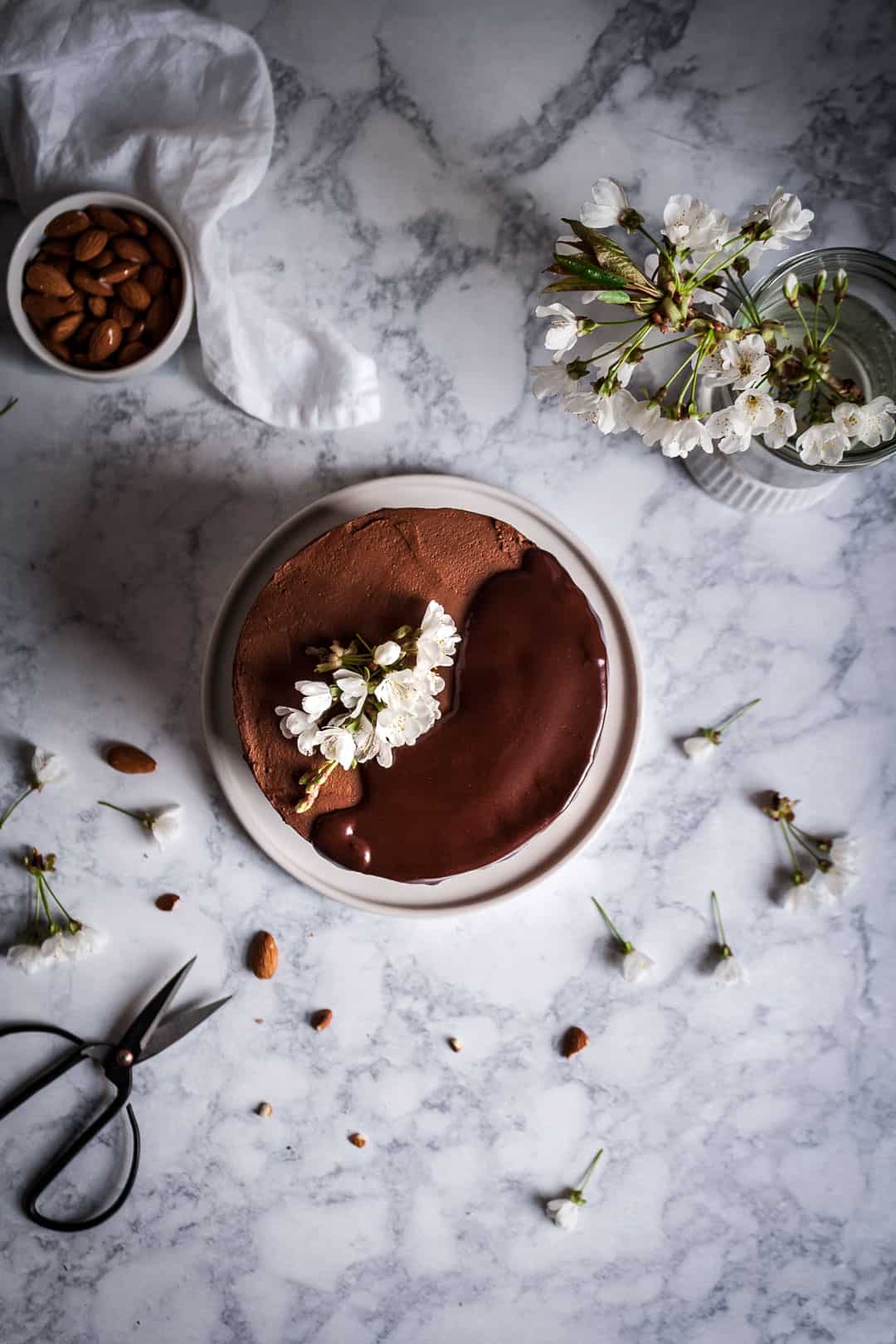 Here it is, the chocolate truffle I couldn't forget, recreated as a marzipan layer cake with dark chocolate Swiss meringue buttercream. It satisfies all those same notes that the truffle hit, now a 4 layer cake that serves at least 12 truffle-hungry eaters. Yes, marzipan can be cloyingly sweet in large amounts, which is why I've used it here sparingly. It's paired it with a smooth, dark chocolate Swiss meringue buttercream. Together, they balance each other perfectly.
I've used the same rich chocolate buttercream frosting recipe for this triple chocolate drip cake, too. It's a wonderful cake if you're looking to satisfy an intense chocolate craving.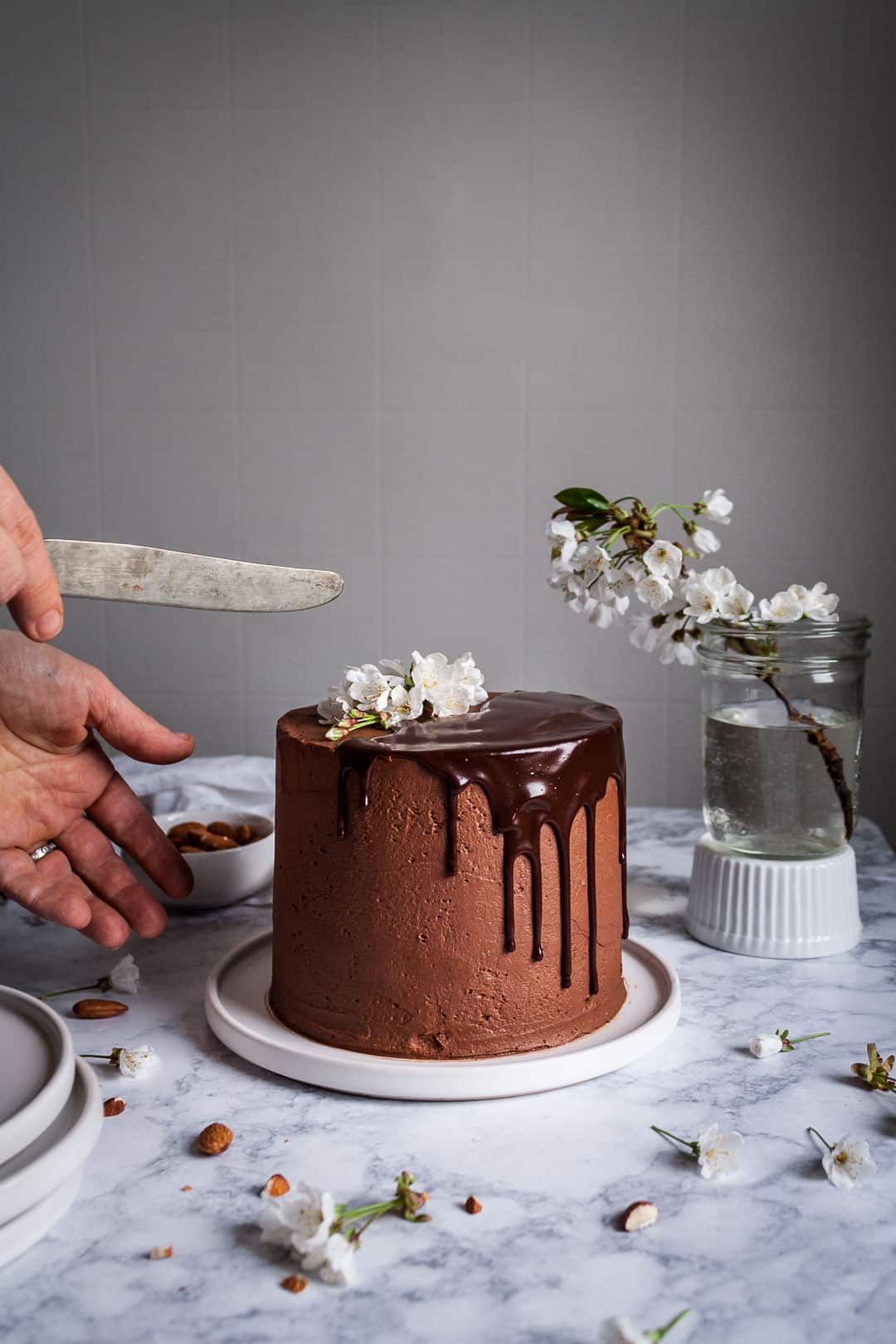 Homemade Marzipan
When I first set out to make this, I bought a tube of marzipan paste at the store. After belatedly realizing it had cost me $7, I set it aside to return at a later date. I soon discovered how easy it is to make homemade marzipan with just a few simple ingredients. If, like me, your pantry houses almond flour, powdered sugar, rose water, and orange blossom water, marzipan heaven is close at hand. However, if you're not eager to build up your pantry with admittedly esoteric ingredients like rose and orange blossom waters, then you might just go for the tube. I do encourage you to try your hand at making it at least once, though. As you might expect, freshly made marzipan far outweighs the store-bought variety. You may never buy it again.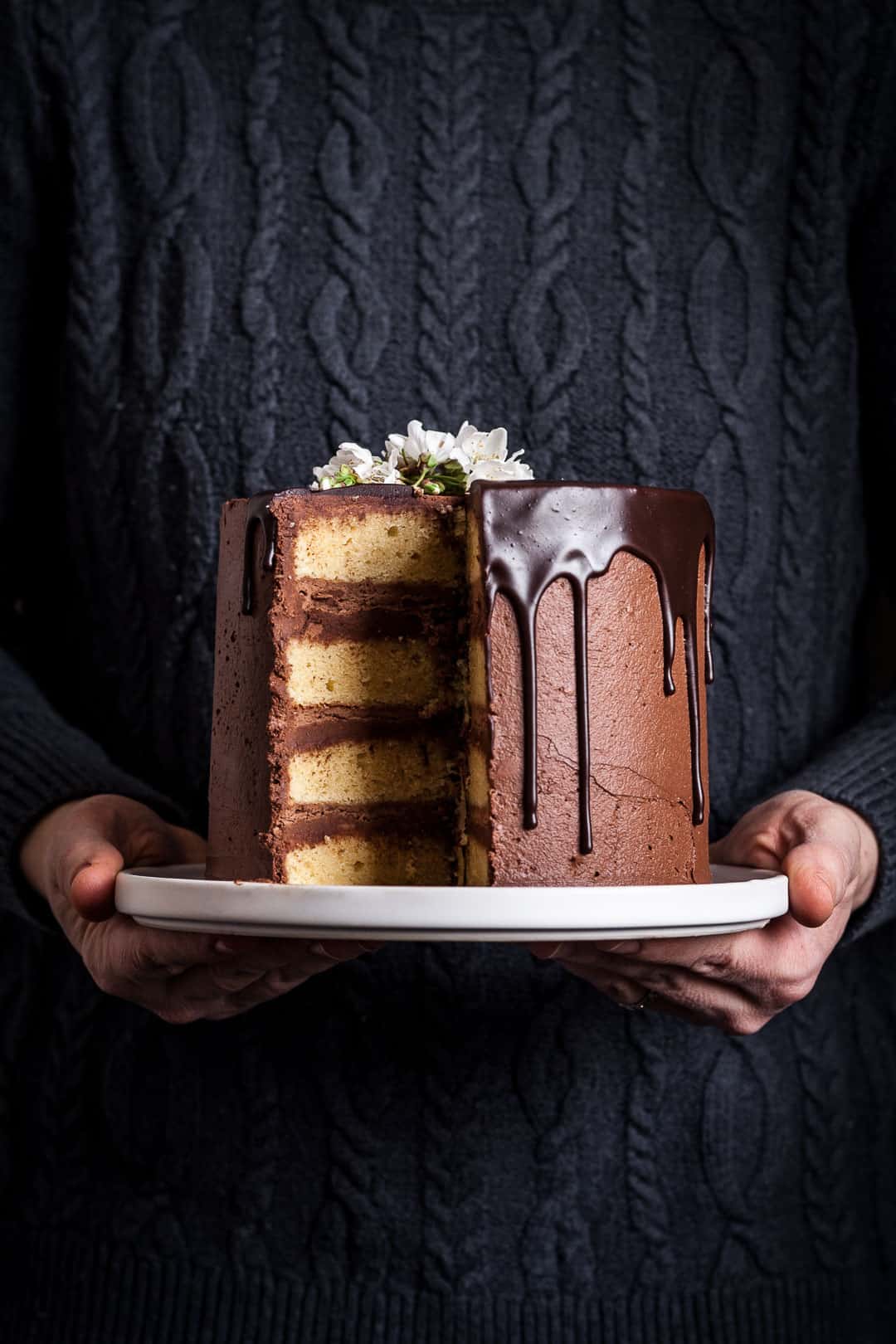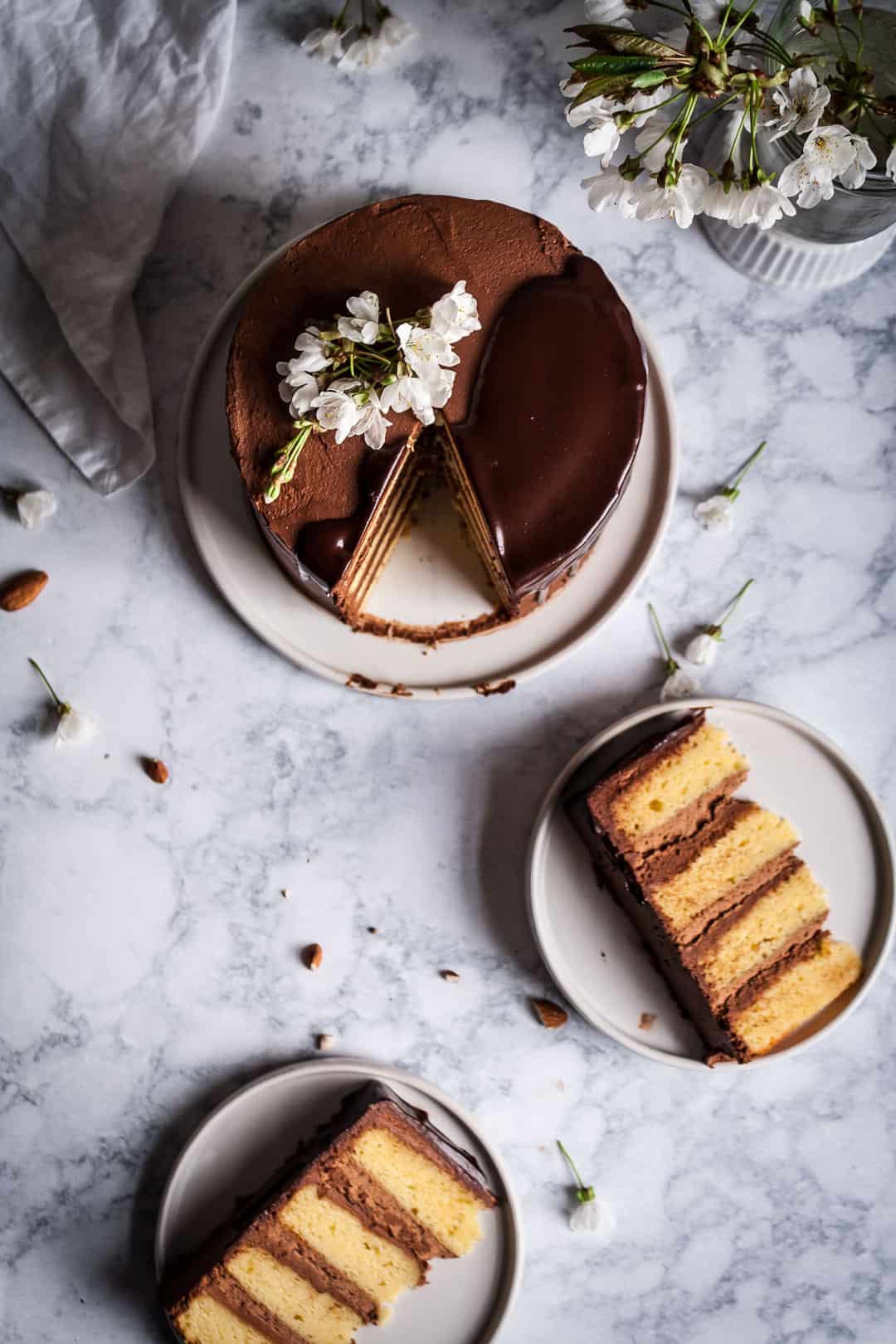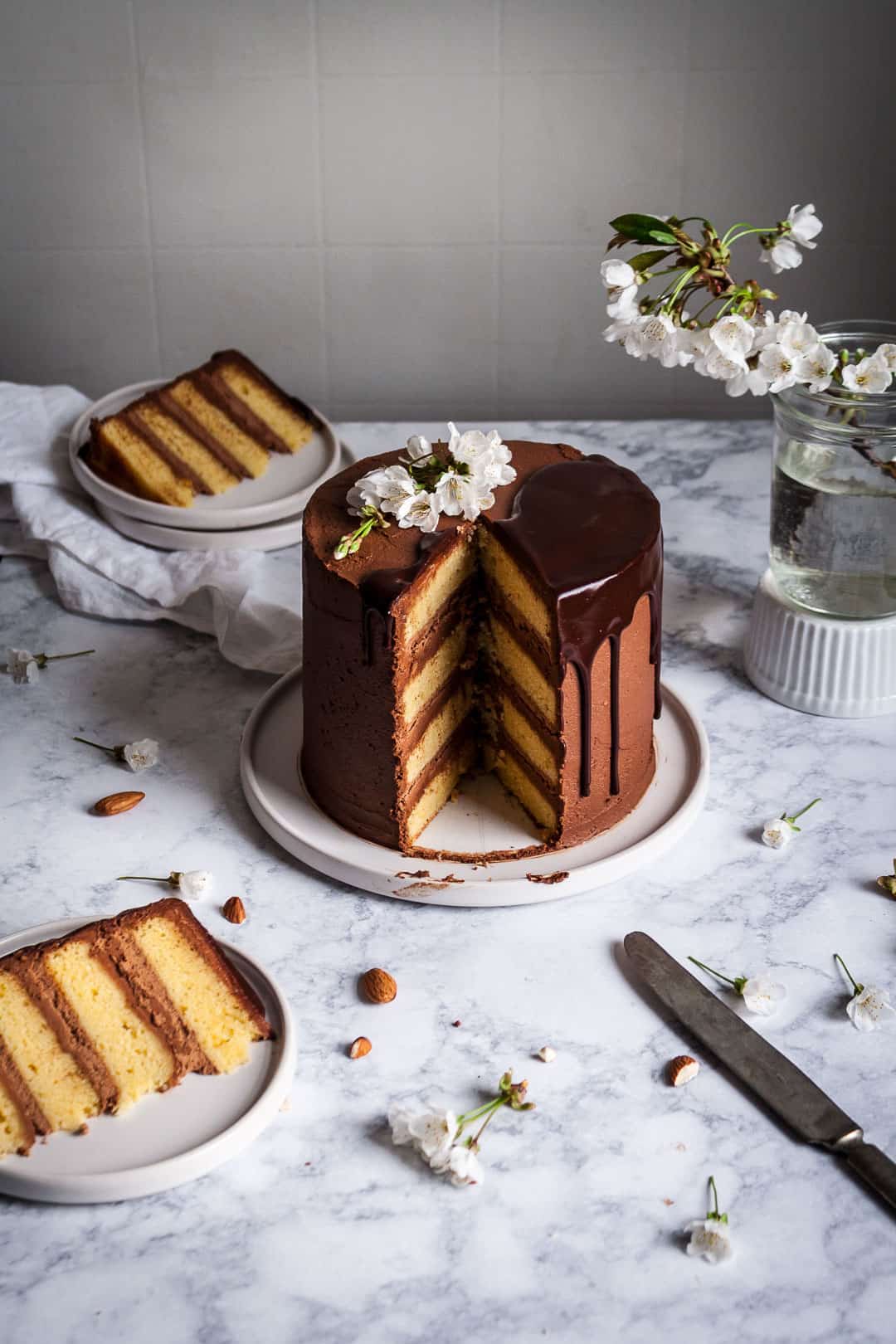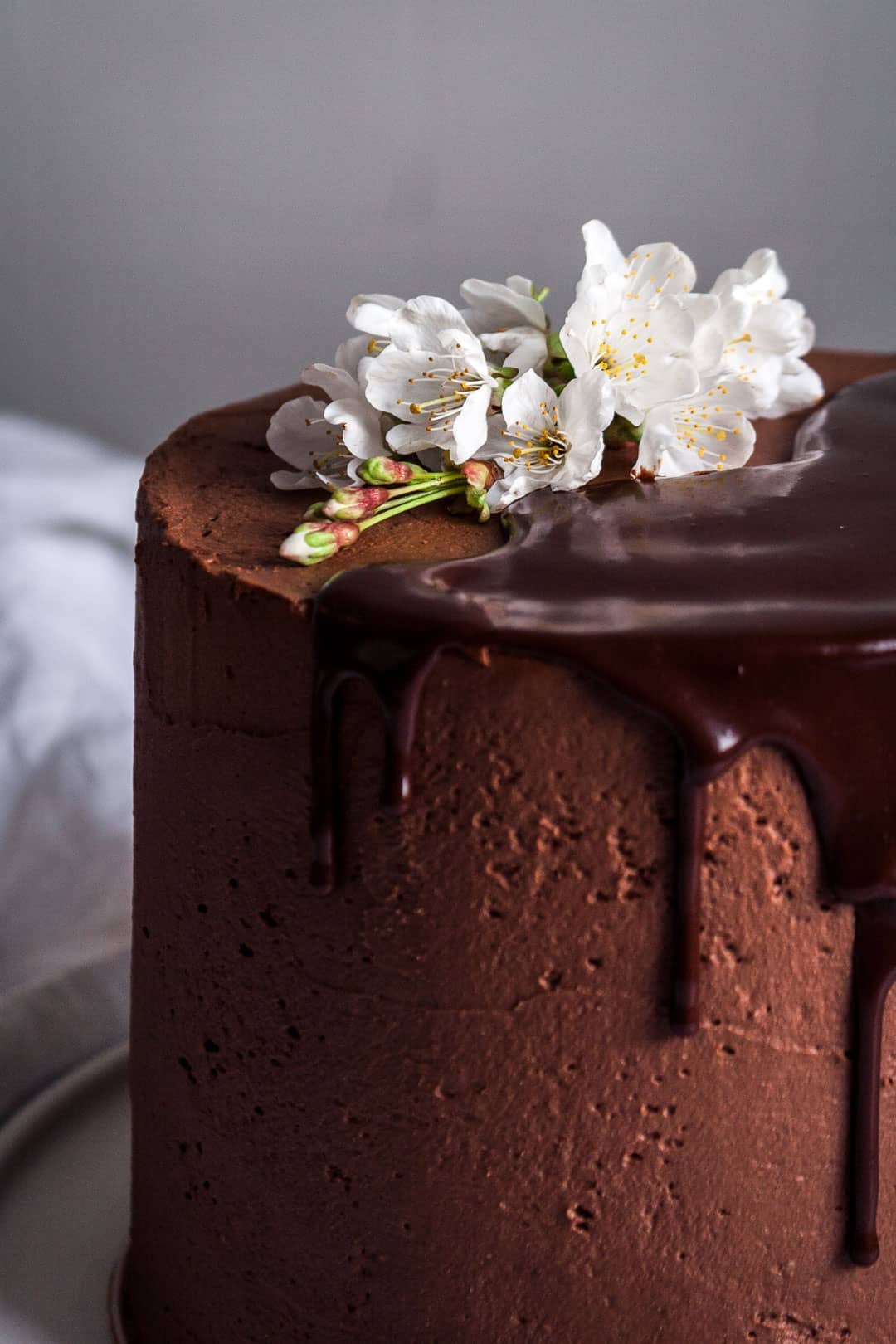 📖 Recipe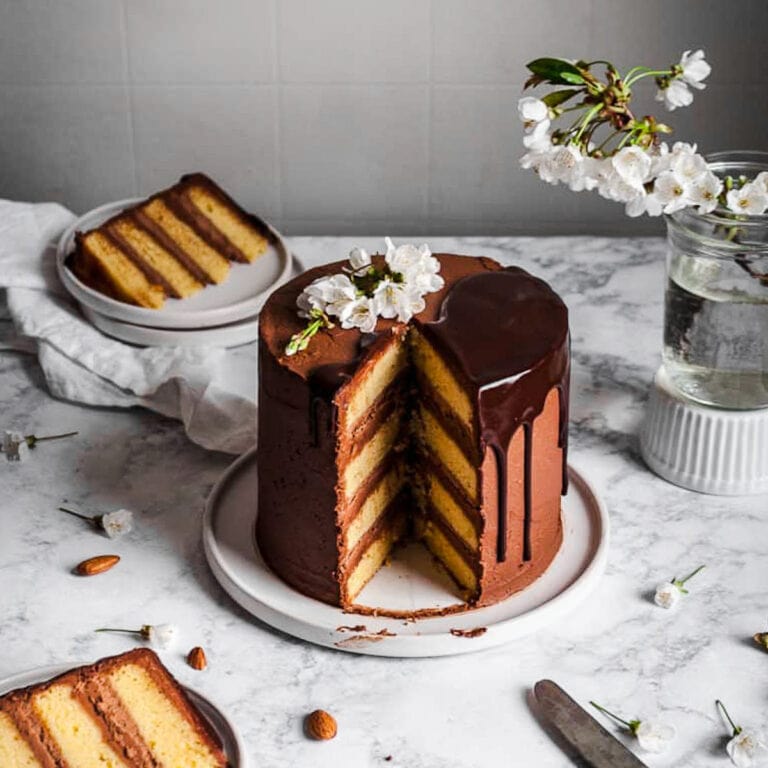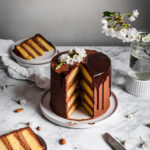 Marzipan Cake with Dark Chocolate Buttercream
Print Recipe
Pin Recipe
This recipe was inspired by a marzipan filled dark chocolate truffle I ate recently. Here it is, reinvented as a layer cake. It satisfies all those same notes that the truffle hit: sweet, nutty, floral, chocolaty. That sweet marzipan flavor balances perfectly when paired with a dark chocolate Swiss meringue buttercream.
INGREDIENTS
MARZIPAN CAKE
¾

cup

all purpose flour

¾

cup

almond flour

1½

teaspoons

baking powder

¼

teaspoon

salt

¾

cup

granulated sugar

7

ounces

marzipan

* See link in marzipan instructions for recipe

1

cup (226g, 8 oz)

unsalted butter

4

large

eggs

1

teaspoon

vanilla extract

1

teaspoon

almond extract

½

cup

sour cream
DARK CHOCOLATE SWISS MERINGUE BUTTERCREAM
10

ounces (1 ⅔ cups)

dark chocolate, finely chopped - I used 72%

5

egg whites

1⅓

cups

brown sugar

¼

teaspoon

cream of tartar

1¾

cups (14 ounces)

unsalted butter - cut into small cubes and at room temperature

2

teaspoons

vanilla extract
CHOCOLATE GANACHE DRIP
¼

cup

cream

2

ounces (⅓ cup)

dark chocolate, finely chopped
INSTRUCTIONS
MARZIPAN
I used this recipe to make the marzipan. You will need the full amount (approximately 12 oz) - 7 oz for the cake batter, and the remainder to roll out and add in two 6" circles between the cake layers. If you prefer not to consume raw egg white or wish to make the marzipan vegan, omit the egg white and replace with a few tablespoons of corn syrup to bind the ingredients.
MARZIPAN CAKE
Preheat the oven to 350 degrees Fahrenheit.

Grease four 6" cake pans and cut circles of parchment paper to place in the bottom of each pan. Grease the paper.

In a medium bowl, blend the flour, almond flour, baking powder and salt with a whisk. Make sure that the almond flour does not contain lumps.

Place the marzipan and granulated sugar into the bowl of a food processor and pulse until well blended.

Transfer the marzipan mixture to the bowl of a mixer. Add the butter and continue to blend until pale and fluffy. Scrape down the sides of the bowl several times.

Add the eggs one at a time and mix well between each addition. Add the vanilla and almond extracts.

Add half of the flour, mixing until just incorporated. Remove bowl from mixer.

Fold in the sour cream and the remaining flour.

Pour the cake batter evenly between the four pans. I use my kitchen scale to ensure that the layers are similar in weight.

Bake until a tester comes out clean when you pierce the center of the cake – 30-35 minutes. Cool in pans for 10 minutes and then flip onto a metal cooling rack and remove the parchment paper.
DARK CHOCOLATE SWISS MERINGUE BUTTERCREAM
Melt dark chocolate in a microwave safe bowl for one minute. Stir, and then continue microwaving and stirring in 20 second intervals until fully melted. Set aside to cool.

Place the egg whites, cream of tartar and brown sugar into a pot on the stove over medium low heat. Stirring constantly, warm to a temperature of approximately 160 degrees Fahrenheit, or until sugar has dissolved completely. 

Remove pot from stove and strain through a fine metal sieve into the bowl of a stand mixer.

Beat egg white and sugar mixture on high speed with whisk attachment until glossy, stiff, pillowy meringue peaks form and bowl is cool to the touch - this will most likely take 5 to 10 minutes.

Swap out the whisk attachment for the paddle on your stand mixer. On medium speed, begin adding the butter a few squares at a time, beating until fully incorporated. Continue with this process until all butter has been added.

If the buttercream seems to curdle or turn soupy, just keep beating! This is common with ingredients of different temperatures and should right itself if you're patient.

Add vanilla extract and melted chocolate, and beat until completely blended together. Scrape the bowl several times to make sure the chocolate is entirely incorporated into the buttercream.
CAKE ASSEMBLY
On parchment paper, roll out the remaining marzipan paste that was leftover from making the cake. Using the bottom of a 6" cake pan, trace two circles and gently cut them out. Set aside.

On your serving platter, place the first layer of marzipan cake. Gently place one 6" marzipan paste circle on top and smooth onto the cake layer below. Spread with a generous portion of chocolate buttercream using an offset spatula or a knife.

TIP: If you have a cake turntable or even a lazy Susan, placing the platter on top of it and spinning it as you spread with your spatula will make the application of buttercream much easier. I often use a wet washcloth between the turntable and the platter to make sure the platter doesn't slip as I'm rotating it.

Place the second layer of marzipan cake on top of the buttercream. Spread with another portion of chocolate buttercream.

Place the third layer of marzipan cake on top of the buttercream. Gently place the second 6" marzipan paste circle on top and again, smooth onto the cake layer below. Spread with chocolate buttercream.

Add the final layer of marzipan cake on top. Using your offset spatula or knife, apply a thin coat of buttercream to the sides of the cake. If you have a bench scraper, you can use it now to smooth the sides and remove excess buttercream as you rotate the turntable.

Add a generous portion of chocolate buttercream to the top of the cake, and smooth it out to meet the sides.

If you like the look of a thinly frosted, semi-naked cake, you can stop here. Alternatively, you can place the cake in the fridge for approximately 20 minutes to firm up the buttercream crumb coat, and then apply the remaining buttercream to the sides and top for a thicker frosting layer, like I did here.
CHOCOLATE GANACHE DRIP
To apply the chocolate ganache drip to your frosted cake, chill the cake for at least 30 minutes. Meanwhile, heat the cream in a microwave safe dish for approximately 30 seconds or until steaming and just beginning to form bubbles around the sides.


Place the finely chopped chocolate into a small bowl (so that all the chocolate will be submerged) and pour the cream over the top. Gently whisk until completely smooth.

Let the ganache mixture cool for about 5-10 minutes, and then use a spoon to gently drizzle small amounts of the ganache over the edges of the cake to form drips. Once you have the drips as you like them, spoon additional ganache into the center of the cake and spread just to the edges to fill in.

I did a half-drip on this cake, only covering a portion - but this makes enough to go around the entire cake with drips and fill in the top.
Notes
MARZIPAN CAKE NOTES
I adapted this recipe from a marzipan layer cake posted on Kitchn by Emily Petrick.
If you prefer, you can make this cake as a two layer 8" cake. Your baking time may need to be adjusted slightly to accommodate the different sized pans. Start checking the cake at 30 minutes and every 5 minutes thereafter.
DARK CHOCOLATE SWISS MERINGUE BUTTERCREAM NOTES
I came up with this buttercream recipe after studying several recipes, including one by Stella Parks on Serious Eats and another from Joe Pastry, who I wish was still blogging.
It's very important with Swiss meringue buttercream that your butter be at room temperature. It should be soft to the touch. Cutting the butter into small squares will hasten the warming process somewhat.
The Floured Table
Recipe Author: Kathleen Culver
https://www.theflouredtable.com/marzipan-cake-with-dark-chocolate-buttercream/
Made this recipe? Please leave a comment and a star review! ★★★★★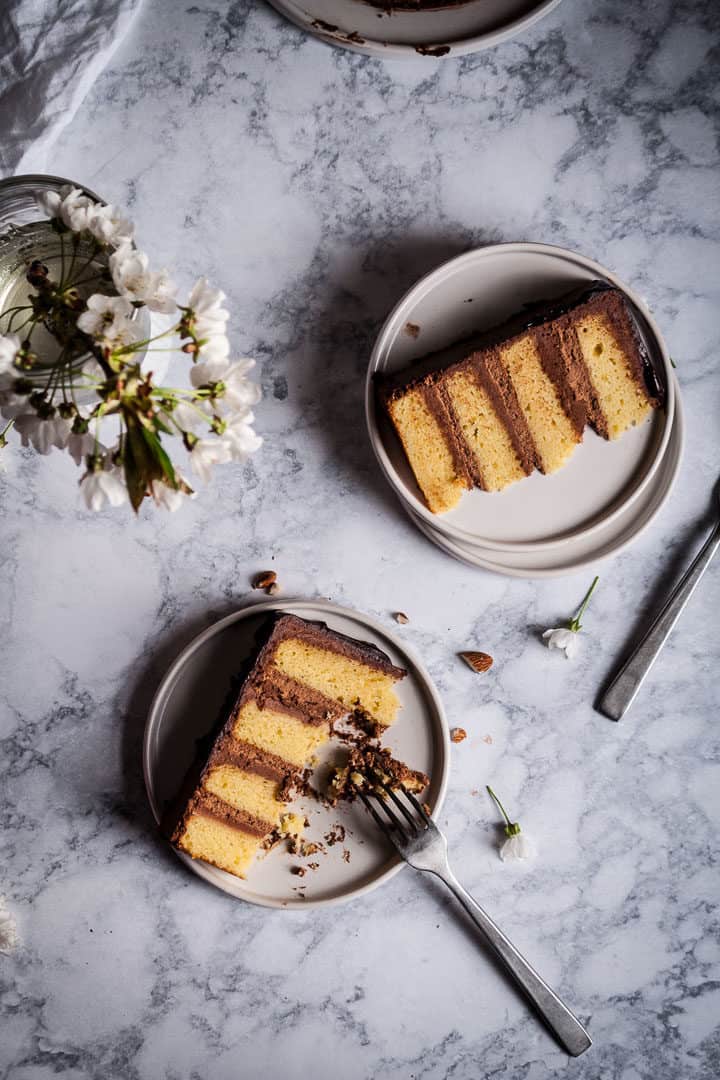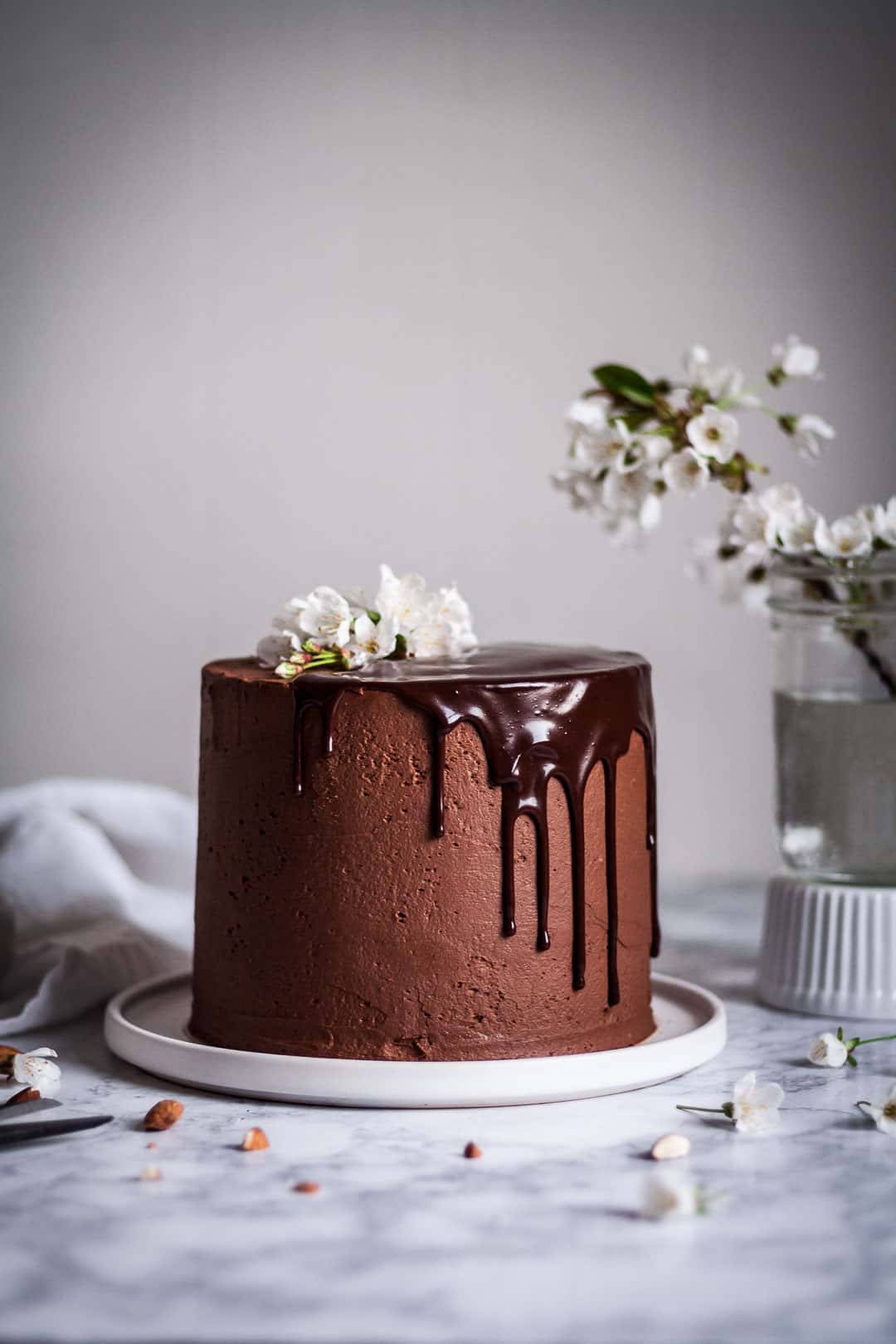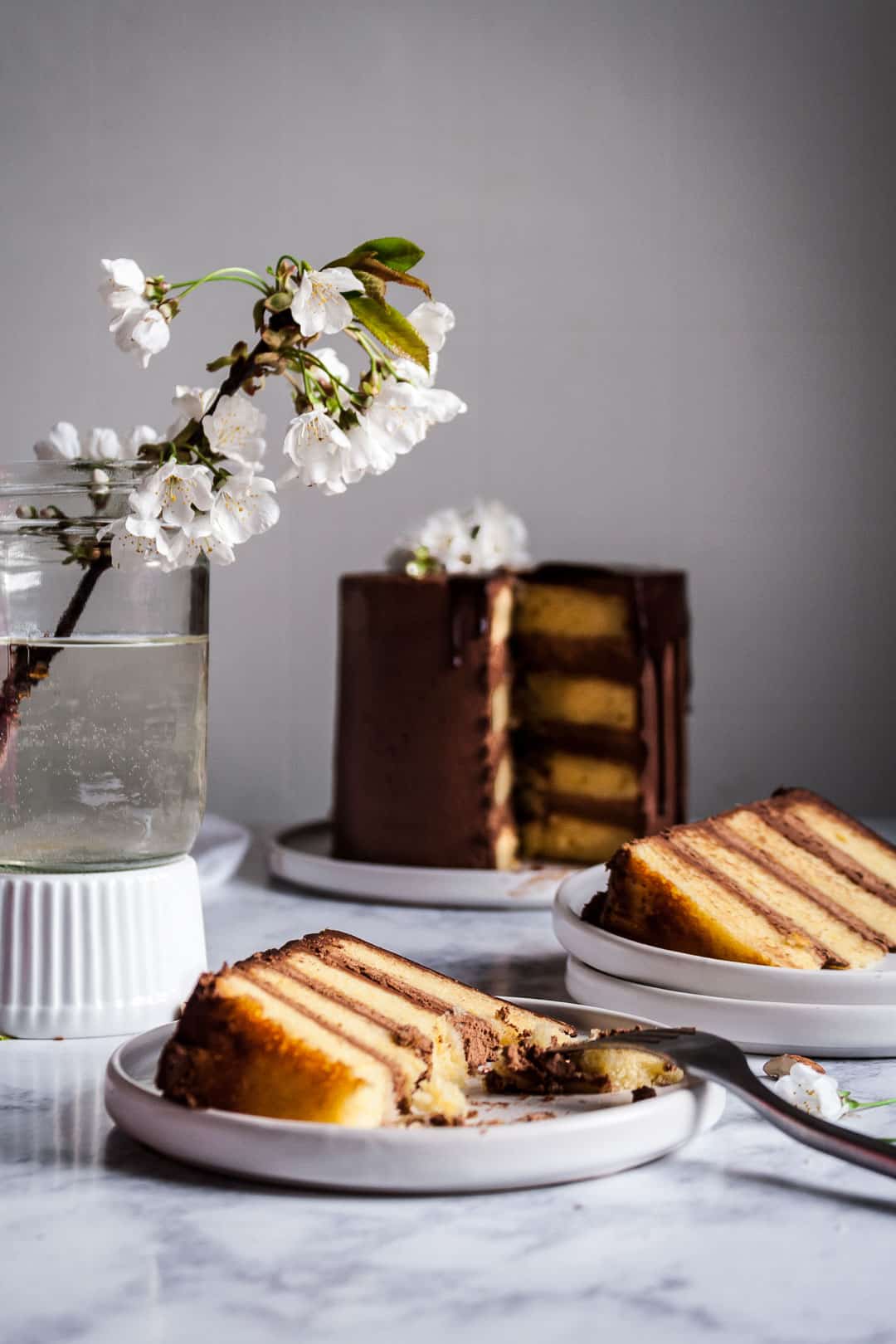 More Cake
If you liked this dark chocolate marzipan cake, you might also like these recipes!