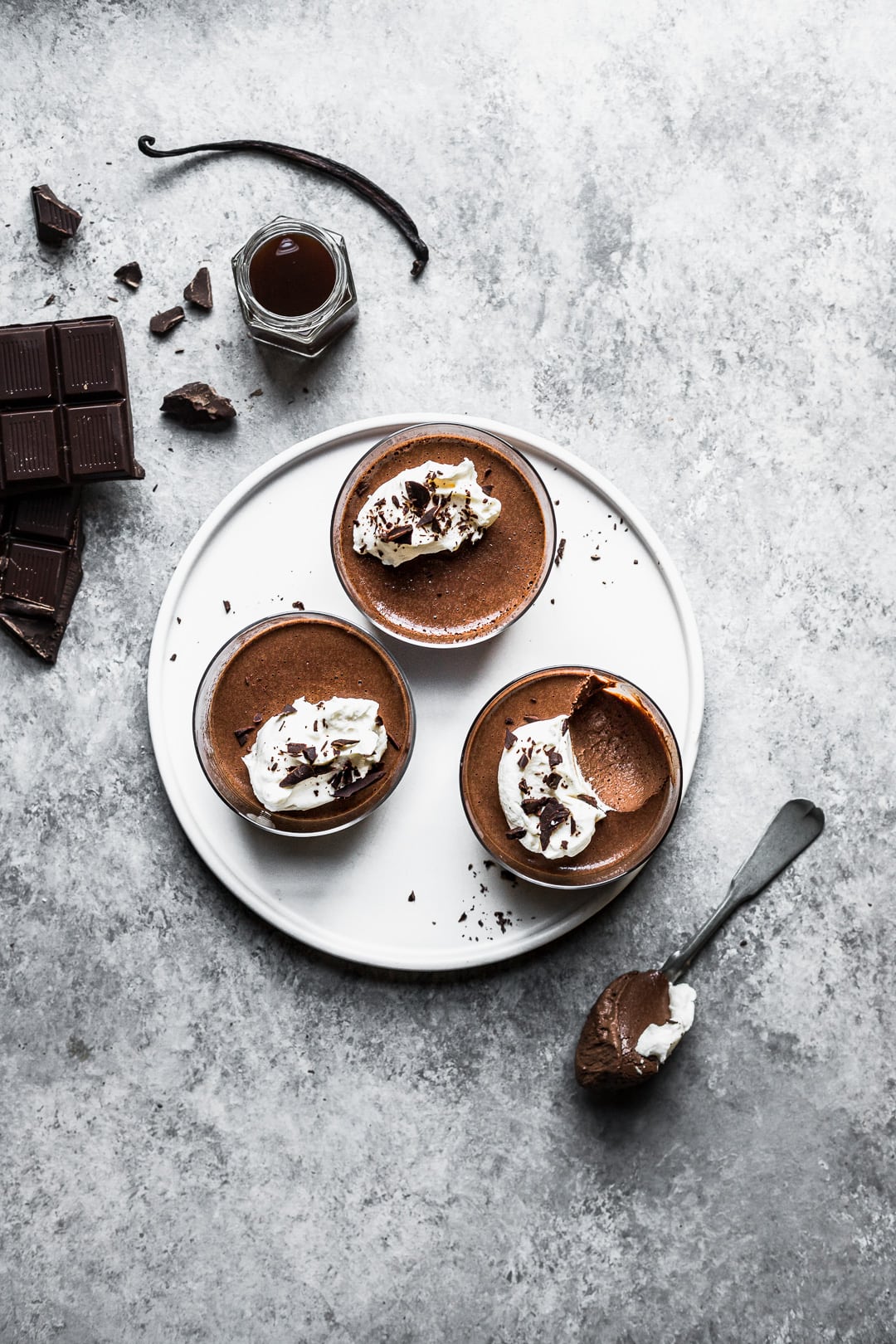 These little chocolate balsamic pots de creme are one of my favorite desserts. They come together in less than five minutes and I make them in the blender - easy! The chocolate is similar in texture to a mousse, without the fuss of whipping egg whites or making a custard. It's rich, smooth, and creamy. The addition of balsamic vinegar lends a wonderfully sweet and acidic flavor.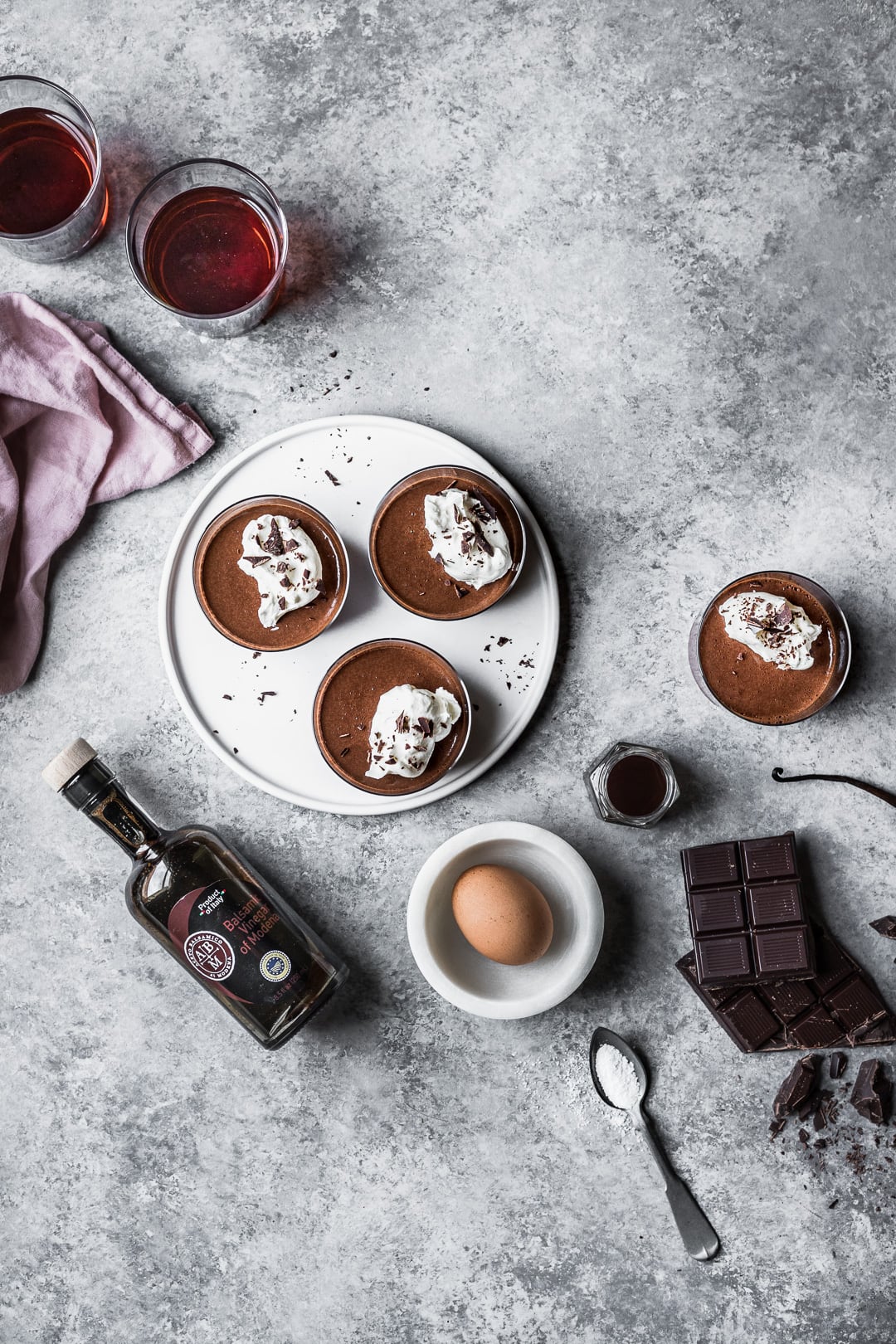 A traditional pot de creme - which translates to "pot of cream" in English, is a French custard dessert. It's often served in small porcelain cups that are specifically made for the purpose. Here, I opted for a simplified version that eliminates the need to separate eggs, use the stovetop to thicken a custard, or turn the oven on to bake the final dish. The recipe only has a few ingredients, and minus one, they all go into the blender together.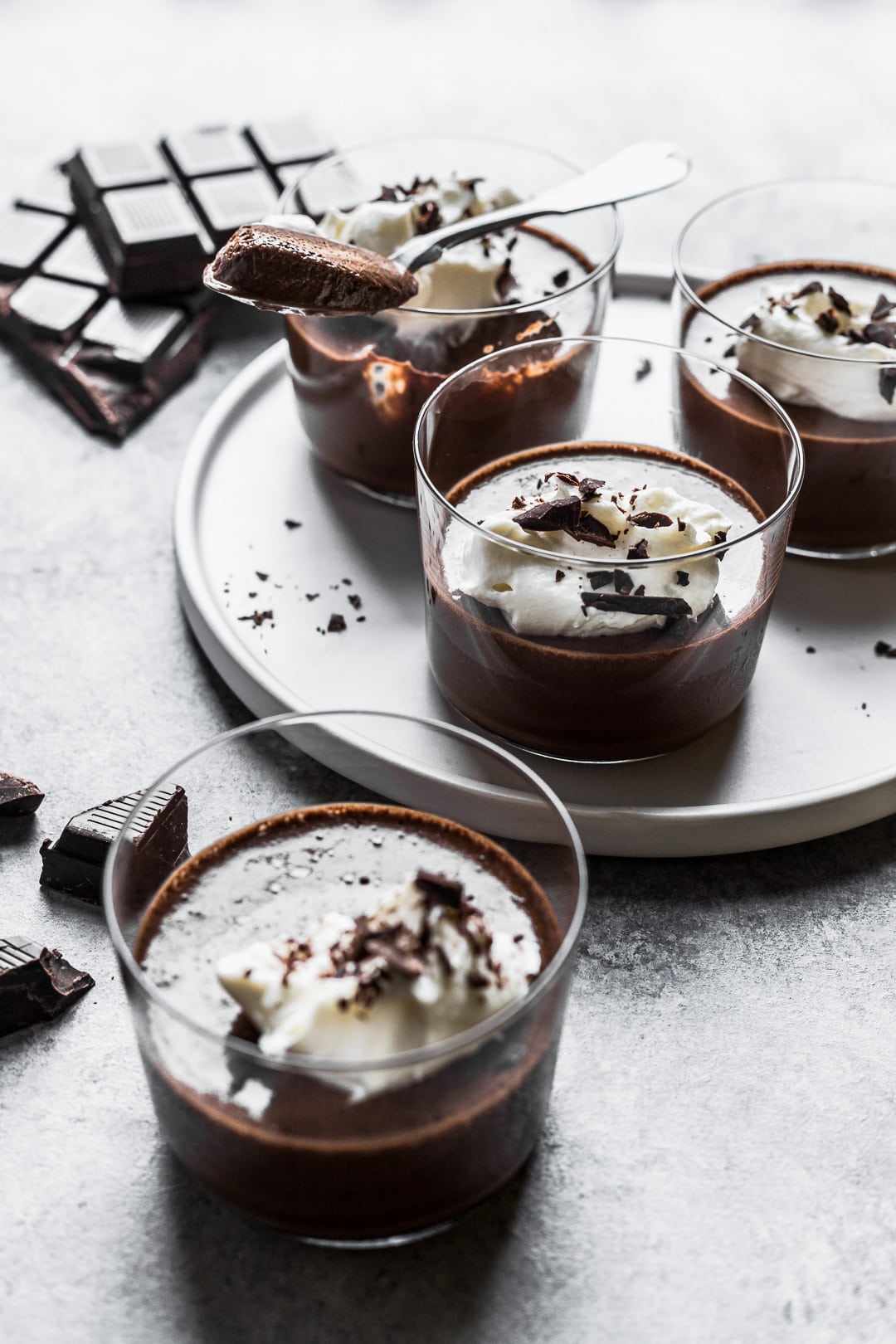 Growing up, my mom often made a rendition of this dessert (without the balsamic) that she calls Liquid Chocolate. It's quick enough for a casual meal, yet fancy enough to serve at a formal party. It's a family staple that we turn to again and again. I've requested it for my birthday on numerous occasions.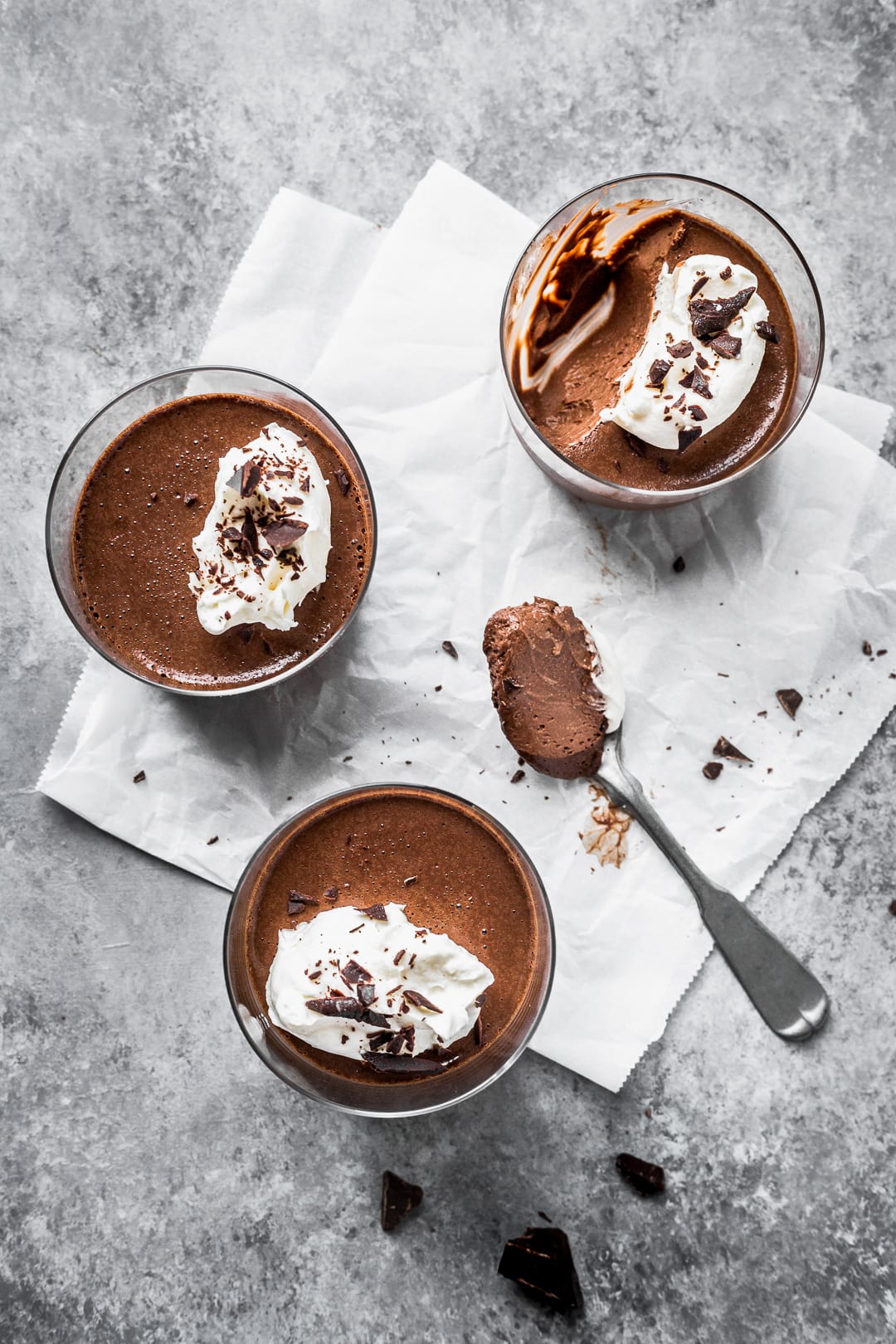 RECIPE TESTING
With this version, I had fun tinkering with the quantities of cream and the amount and cacao percentage of the chocolate until I found just the right balance. Too much cream, and it became too firm and lost its airy mousse-like quality. Too dark of a chocolate (I started with a 72% cacao bar) and it was too strong, overpowering the flavor of the balsamic vinegar. The chocolate and balsamic are central to the flavor of this dish, so I really recommend using high quality ingredients. This was a recipe that was a joy for me to taste over and over until it was just right!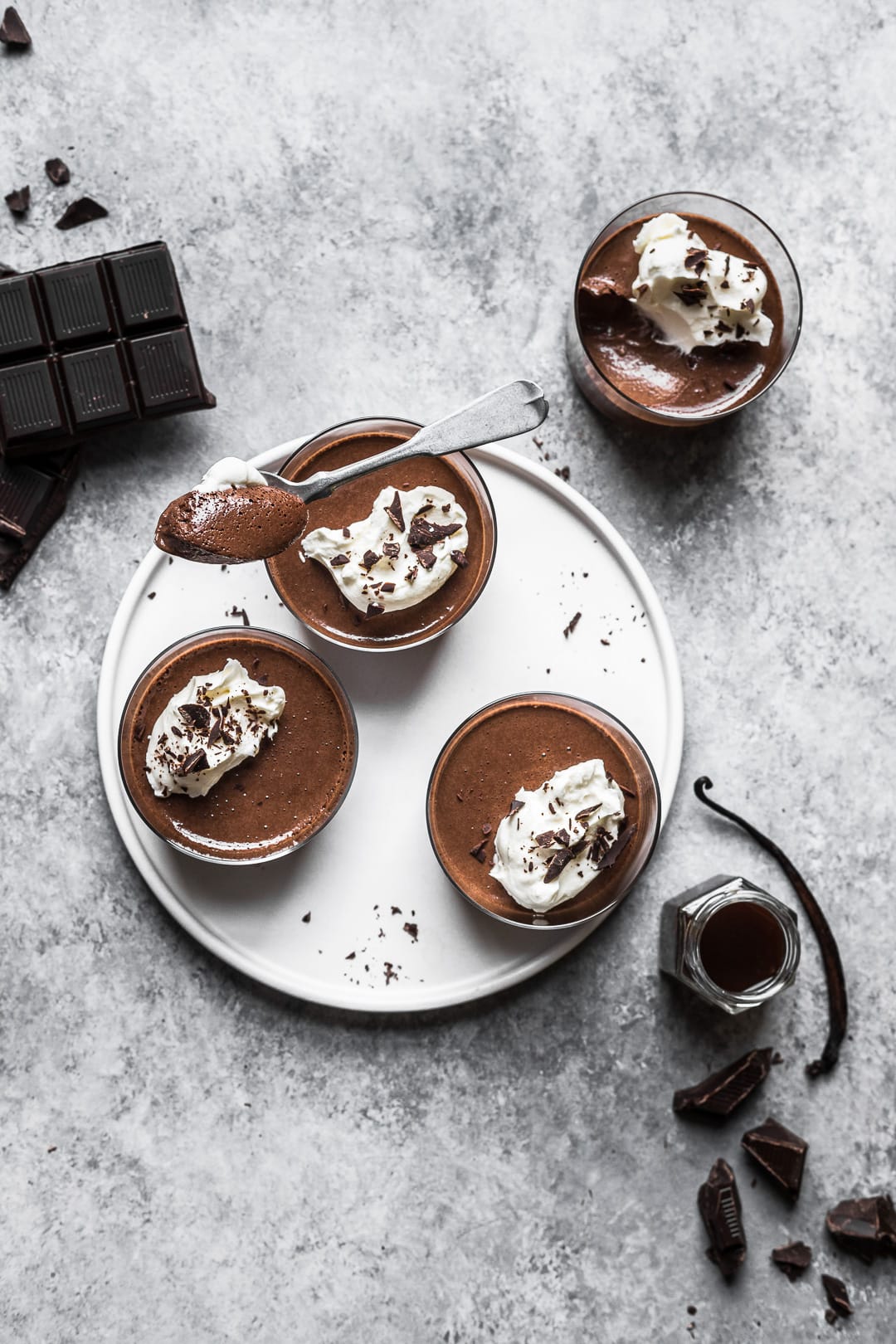 This blog post is not sponsored in any way. However, I was honored to receive a beautiful bottle of Balsamic Vinegar of Modena PGI from the Original Balsamic Vinegar of Modena when I participated in a recent recipe contest that they hosted. That bottle put all the other balsamics I've ever tasted to shame. It's thick, wonderfully dark, and has an amazing flavor with both sweet and acidic notes.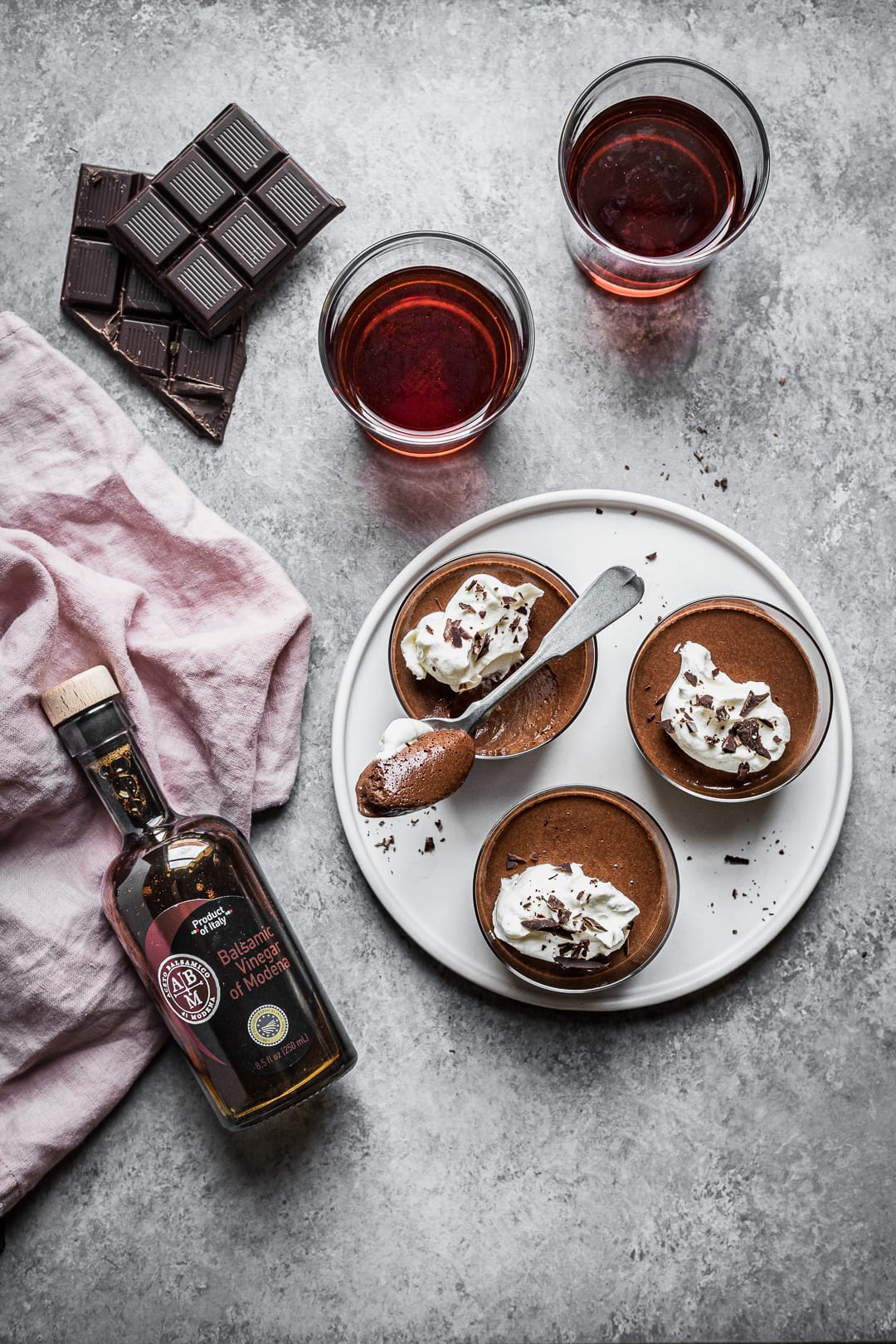 I'd never thought to compare balsamic to a good wine - but indeed, this special bottle made me realize the potential of a good terroir and careful attention to traditional processes. If you want to make sure you are getting the best high quality, authentic balsamic vinegar, look for a blue and gold seal on the bottle with the words "protected geographical indication." This assures that you are getting a certified balsamic that has been produced in the Italian provinces of Modena and Reggio Emilia. You won't be sorry.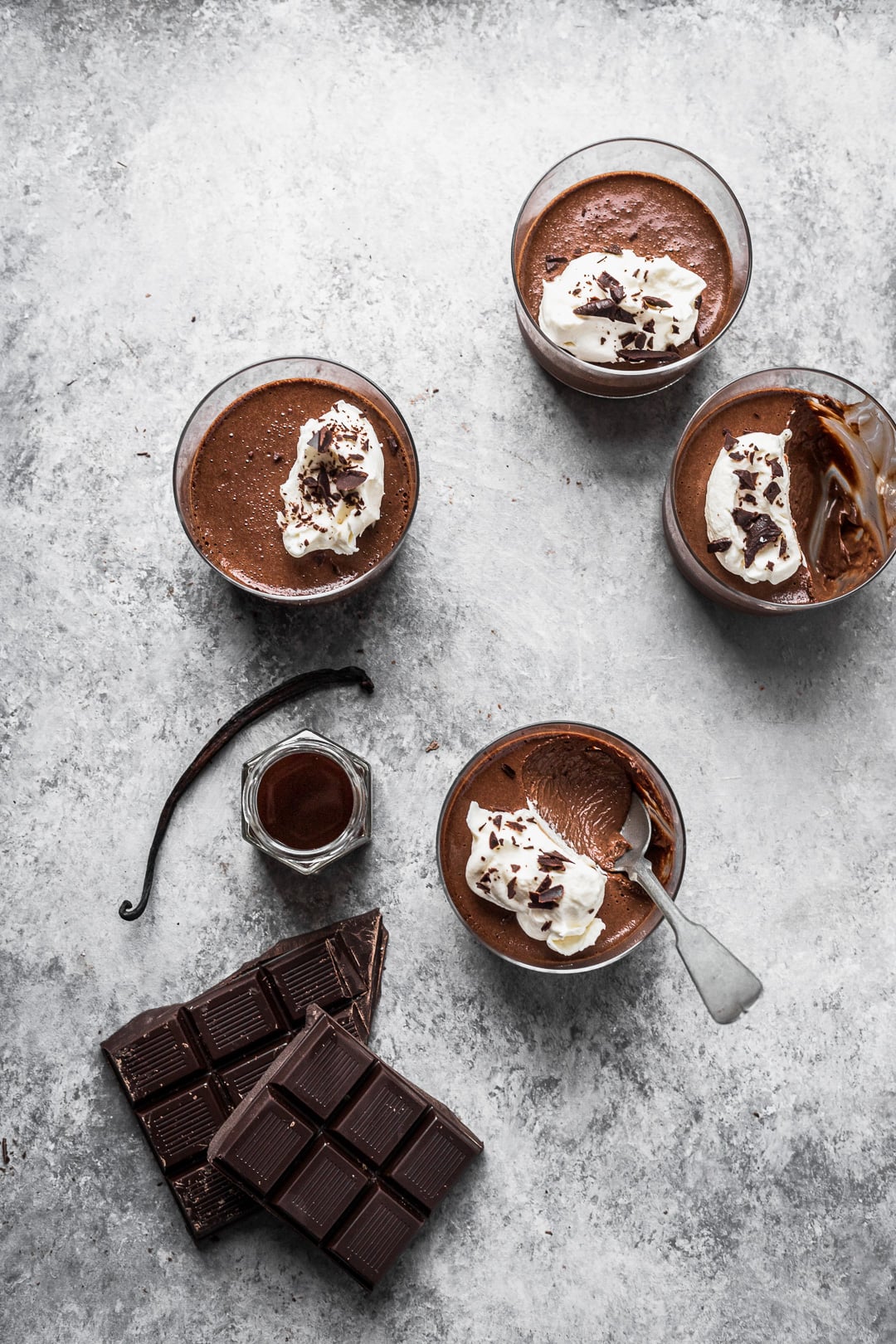 RECIPE NOTES
Cream + Milk - In this recipe, I use equal parts of heavy cream and whole milk. If you have access to a high quality half and half (with no additives) you could substitute half and half for each, for a total of 1 cup (8 oz) half and half.
Chocolate - After several tests, I really liked the results of this recipe using a chocolate bar with 54% cacao. You can certainly experiment with something with more or less cacao. My mom used to make them using semi-sweet chocolate chips, which tend to fall in the 50-58% chocolate range. My reason for avoiding chocolate chips is that they often contain stabilizers that help them retain their chip shape when baked. Definitely choose a quality chocolate that you would also enjoy eating plain.
Pots de creme - The name of the recipe is pronounced "POE du KREM" - in both singular and plural.
Mascarpone garnish - while the mascarpone garnish is completely optional (you could omit it completely, or go with lightly sweetened whipped cream instead), I find it adds an extra depth of richness and flavor to the final product.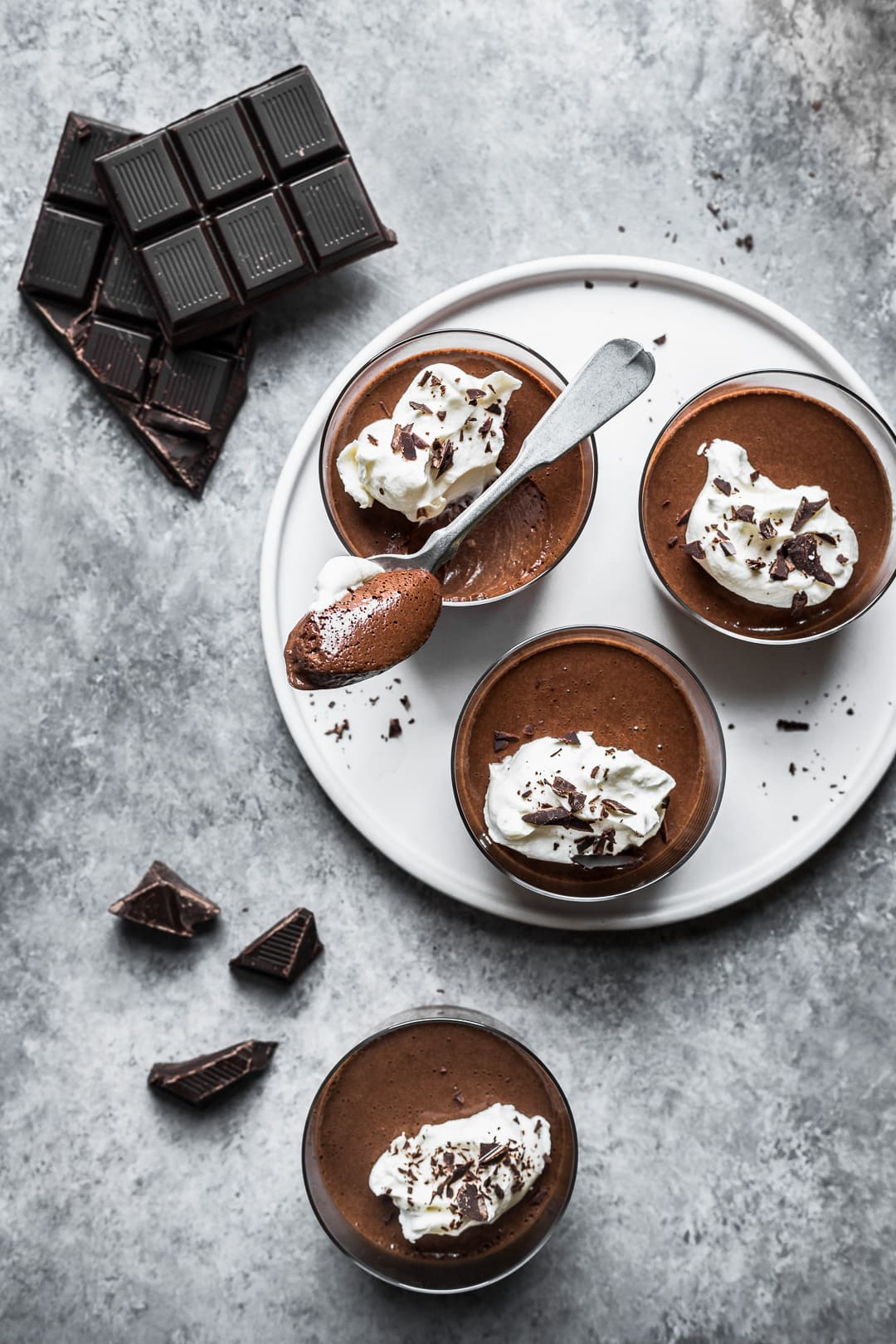 📖 Recipe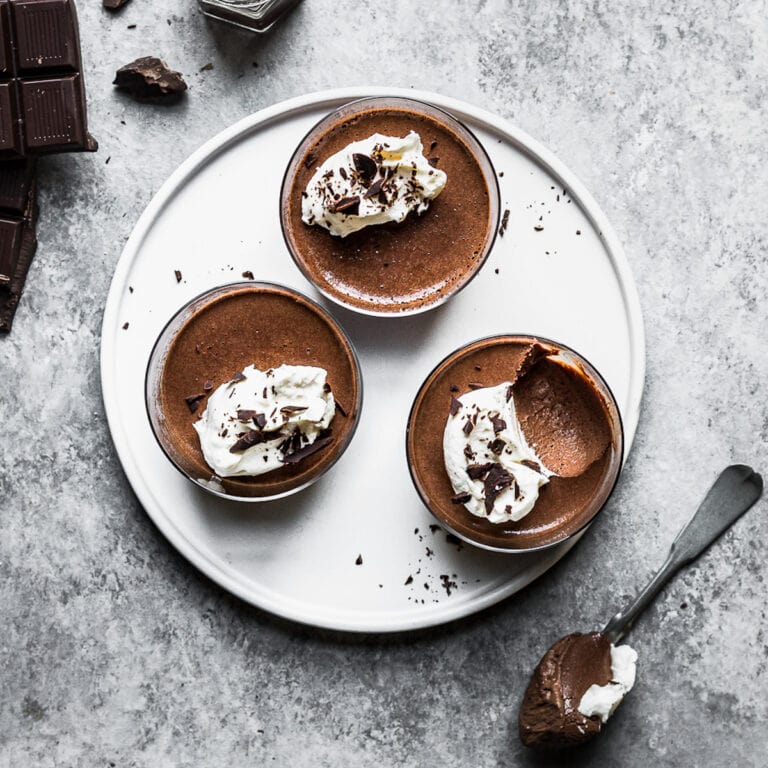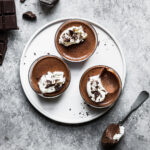 Chocolate Balsamic Pots De Creme
Print Recipe
Pin Recipe
Rich and chocolatey, these little pots de creme are one of my favorite go-to chocolate recipes as they come together in 5 minutes in the blender. They're creamy and smooth and will satisfy your chocolate cravings with little effort (apart from the patience required for them to set.)
INGREDIENTS
Pots De Creme
6

oz (180g)

semi-sweet chocolate, finely chopped (I used a bar with 54% cacao)

¼

teaspoon

kosher salt

2

tablespoon

balsamic vinegar of Modena (try to find one with a PGI designation)

1

teaspoon

vanilla

1

large

egg

½

cup (4 oz)

whole milk

½

cup (4 oz)

heavy cream
Mascarpone Topping and Garnish
½

cup (4 oz, 115 g)

mascarpone cheese

½

cup (4 oz)

heavy cream

2

teaspoon

granulated sugar

1

oz (30g)

dark chocolate, very finely chopped
INSTRUCTIONS
Pots De Creme
Set aside four 8 oz glasses or ramekins.

Into the container of a blender, place the chopped dark chocolate, salt, balsamic vinegar, vanilla and egg. Cover with lid and process on low speed for 5 to 10 seconds, until ingredients are somewhat mixed together. Using a spatula, scrape down the sides of the blender.

In a microwave safe container, combine the whole milk and heavy cream. Microwave on high power for 60 seconds, and then in 15 second increment as needed, until small bubbles form around the edge of the liquid and it is steaming hot. Do not boil.

Place the lid on the blender and remove the center plug to access the pour spout. Turn the blender on low and slowly pour in the hot milk/cream mixture. Replace plug and increase blender speed to medium. Blend for 60 seconds. If needed, scrape down sides of blender with spatula to ensure all chocolate is fully incorporated.

Pour the chocolate mixture into the four ramekins. Set aside on counter to cool, and then cover with plastic wrap and place in refrigerator to set for 6 hours.
Mascarpone Topping and Garnish
Immediately before serving, place the mascarpone, heavy cream and granulated sugar into the bowl of a stand mixture fitted with the whisk attachment. Whisk on low speed until mascarpone is fully blended into the cream. Scrape down the sides and bottom of the bowl several times. Increase speed to medium and beat until soft peaks form.

Place a generous spoonful of the mascarpone mixture on top of each chocolate dessert. Sprinkle with finely chopped chocolate and serve.
The Floured Table
Recipe Author: Kathleen Culver
https://www.theflouredtable.com/chocolate-balsamic-pots-de-creme/
Made this recipe? Please leave a comment and a star review! ★★★★★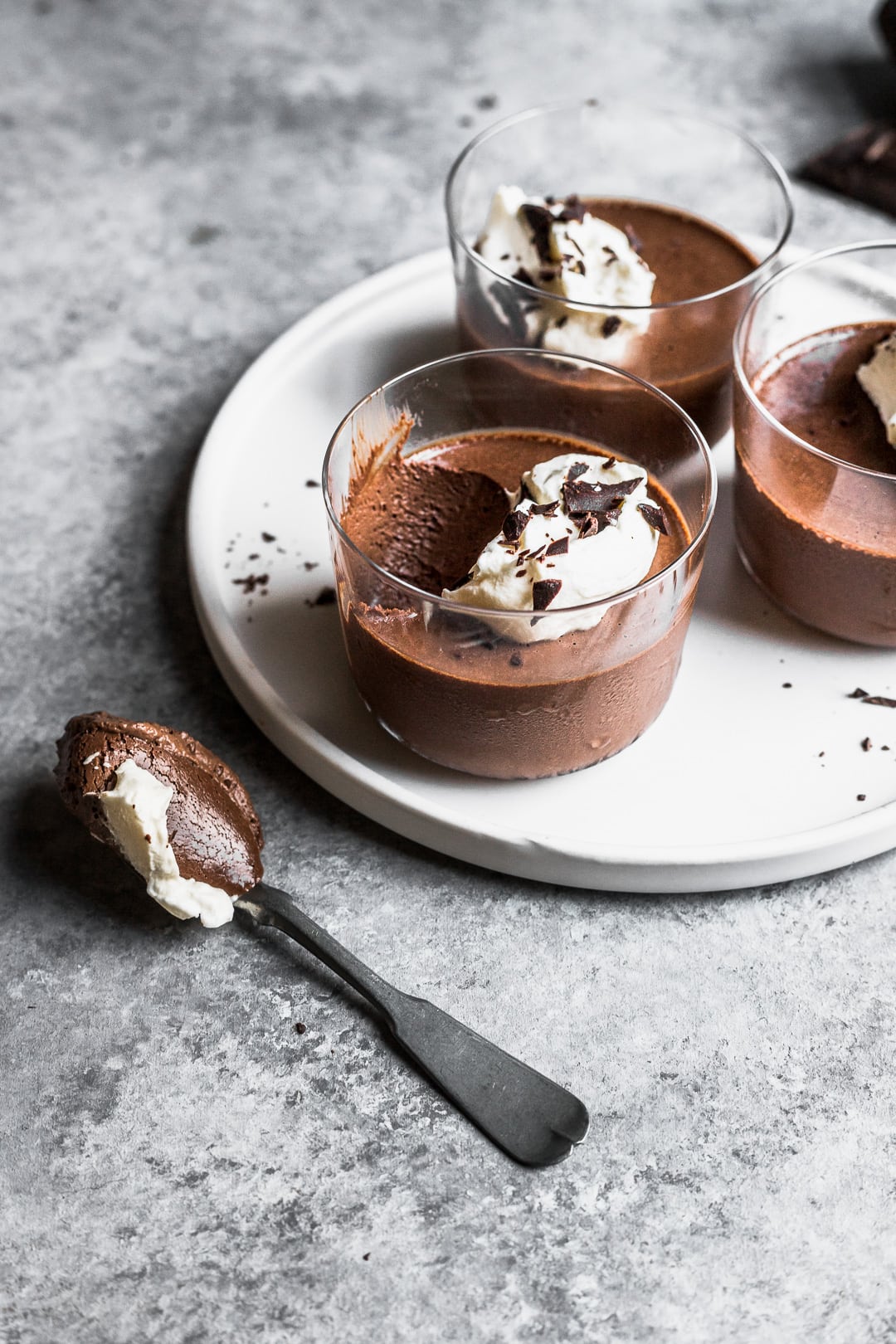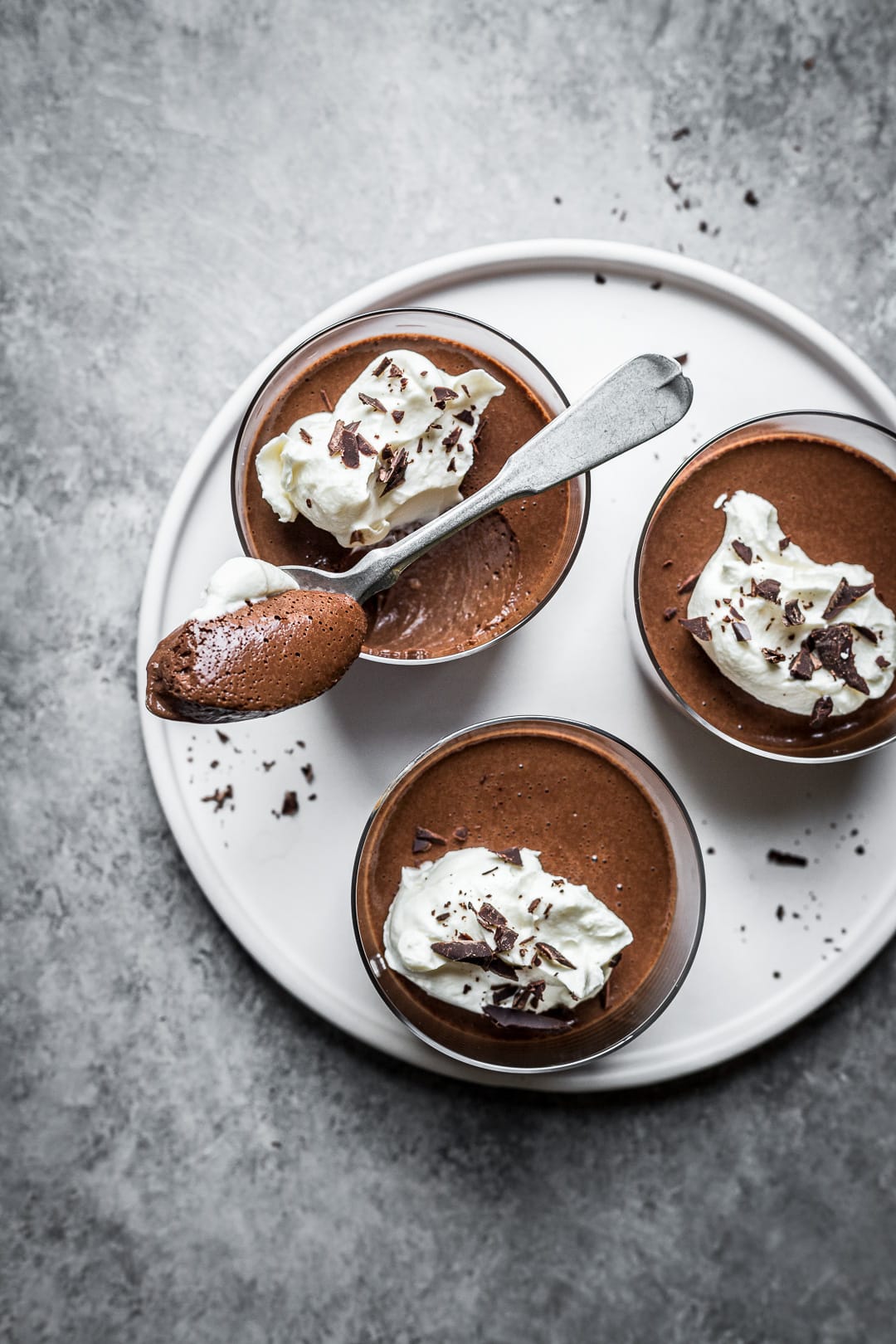 If you liked these chocolate balsamic pots de creme, you might also enjoy:
Salted Caramel Chocolate Tart with Whipped Chocolate Ganache
Brownies with Port Wine Soaked Cherries