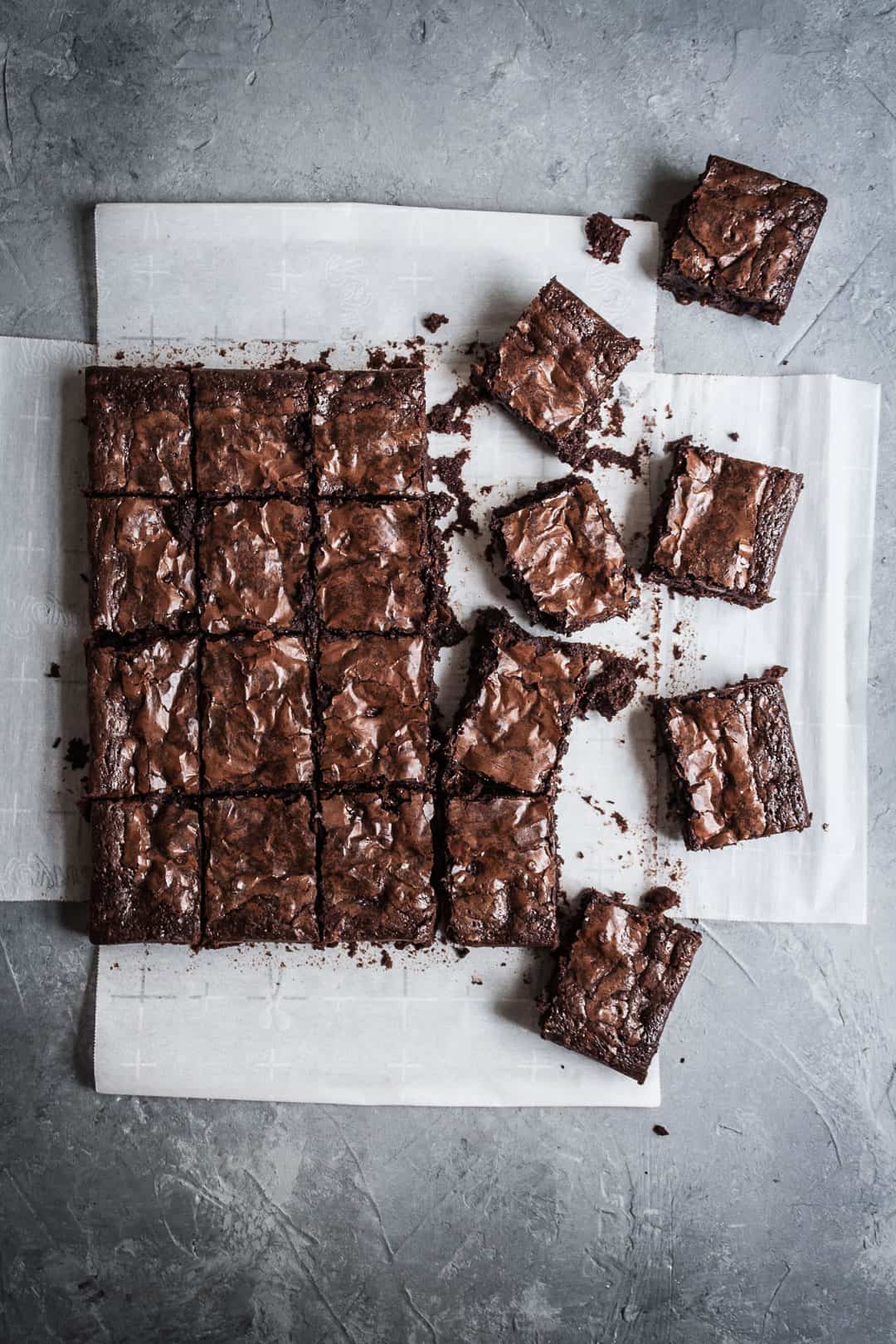 I say this for your benefit: get the dried cherries and Port wine out right now and combine them in a lidded glass jar - that way when the urge strikes to make these chocolate cherry brownies (which it most certainly will), you'll be ready.
I had a pint mason jar of these Port soaked cherries sitting on the counter for two weeks before I finally had time to make this recipe the first time. Late in the evening, when the kids were trying my patience, I definitely swiped a few. And a few more. You should try them too. The wine will preserve the cherries, and they'll be plump and steeped in flavor. But there's no need to wait two weeks. You really shouldn't. Two days would certainly do it.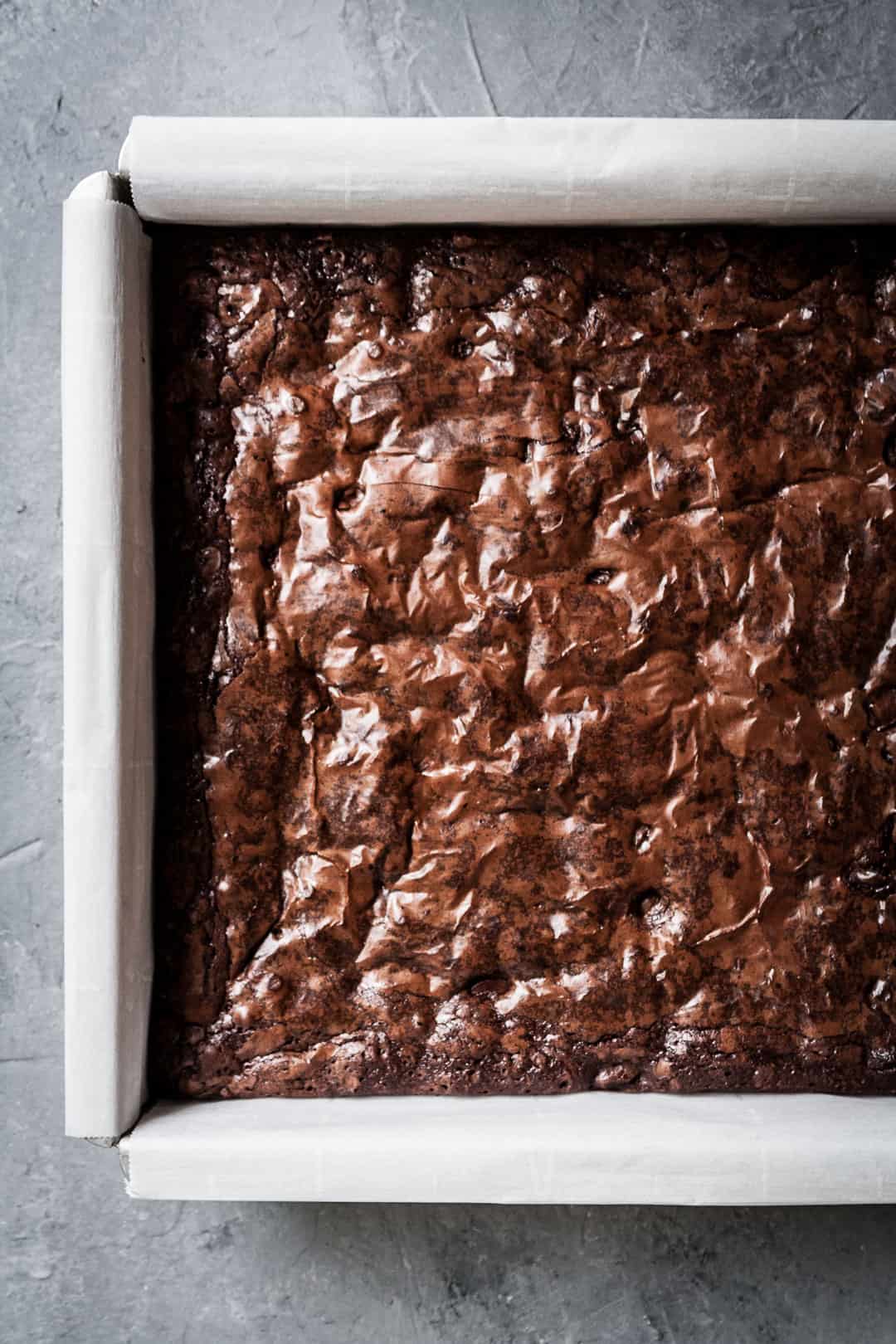 The final result is a pan of slightly underbaked, gooey, fudgy, dense and intensely chocolate brownies, studded with bright explosions of sweet wine soaked cherries. You must try them - as Thalia makes them, and in this adapted rendition below. The combination of dark chocolate and fruity cherries is one I love; if you do too, along with these brownies with cherries, you should definitely try this sour cherry chocolate tart. If you like a brownie recipe with a twist, you might also enjoy these brownie blondies.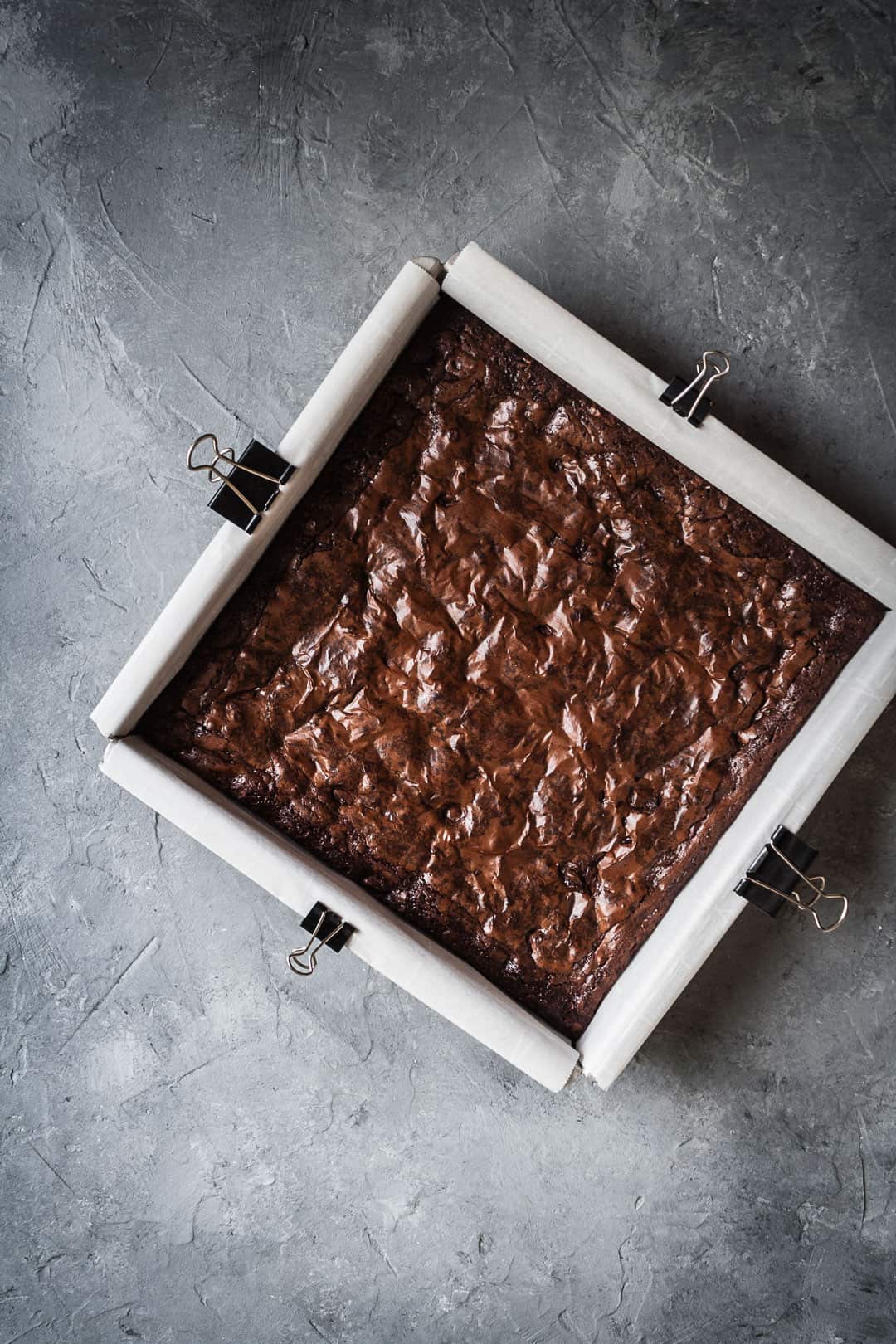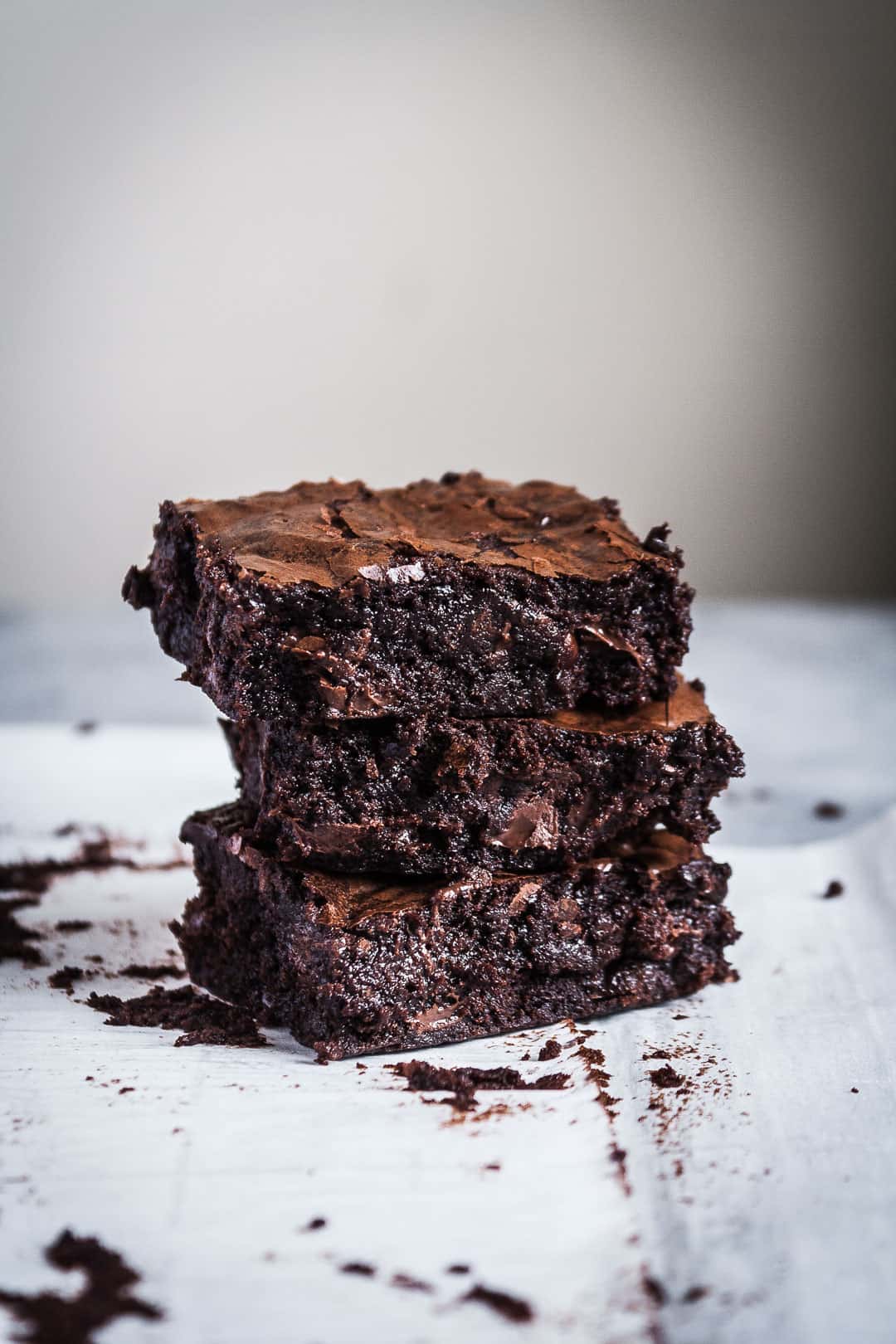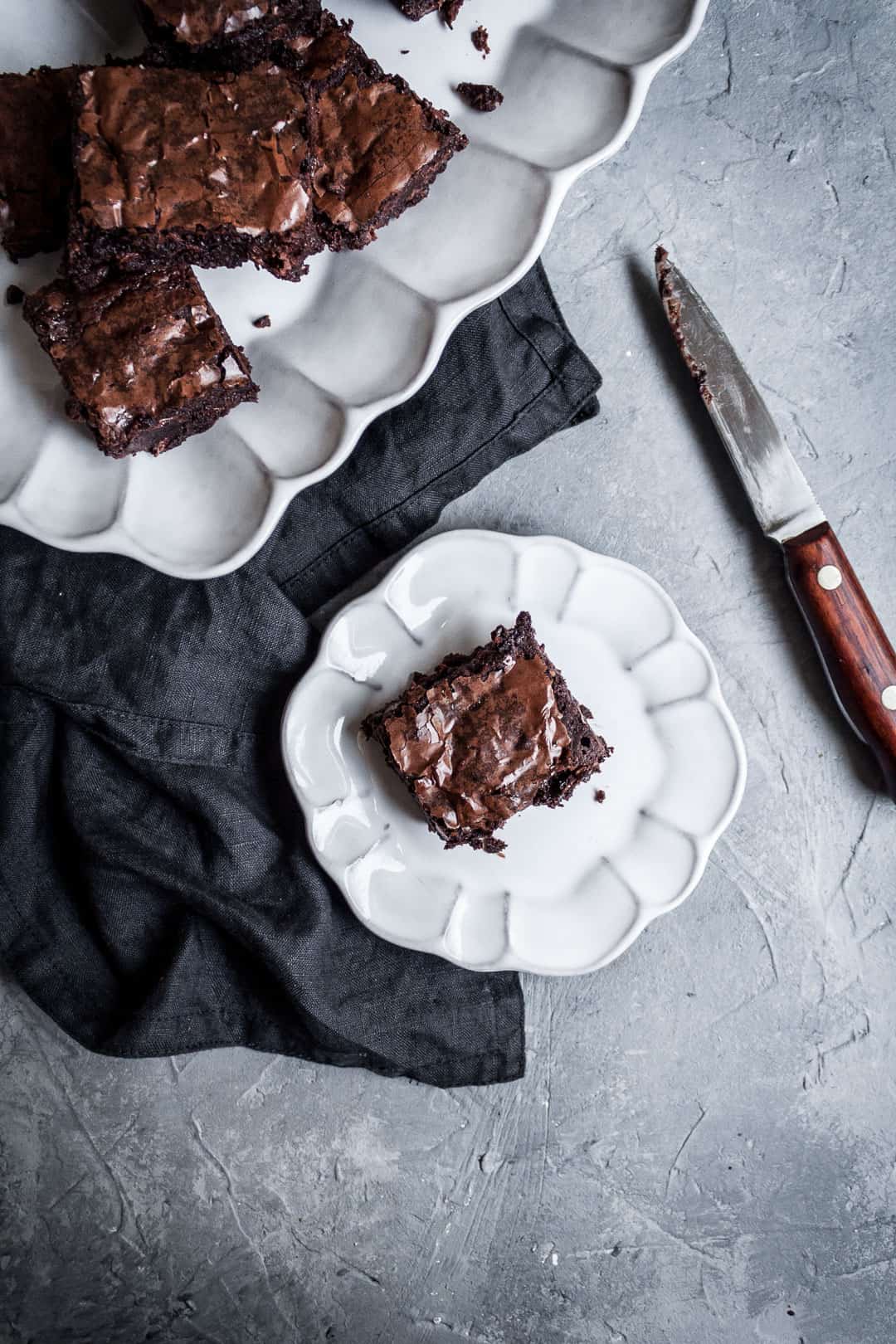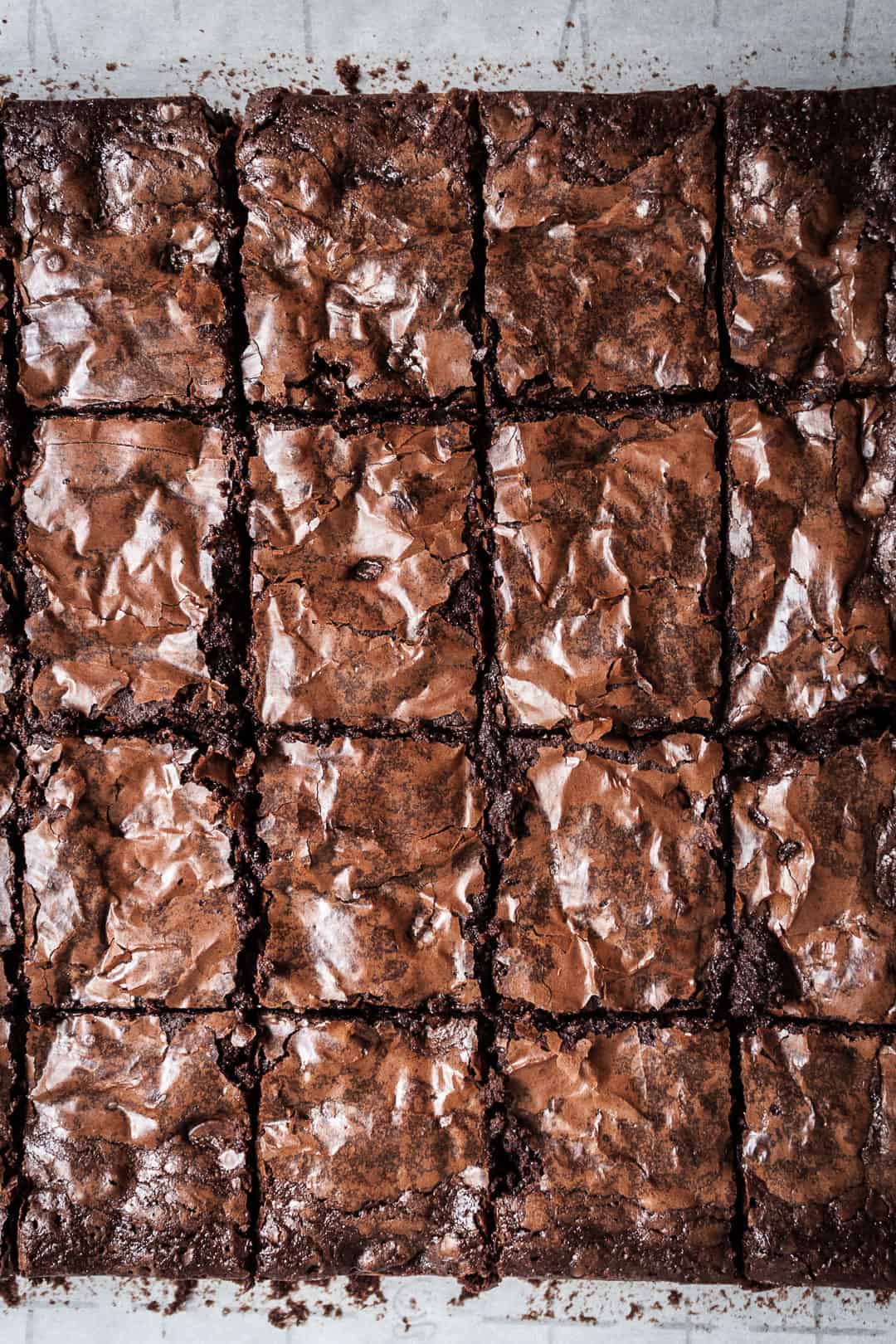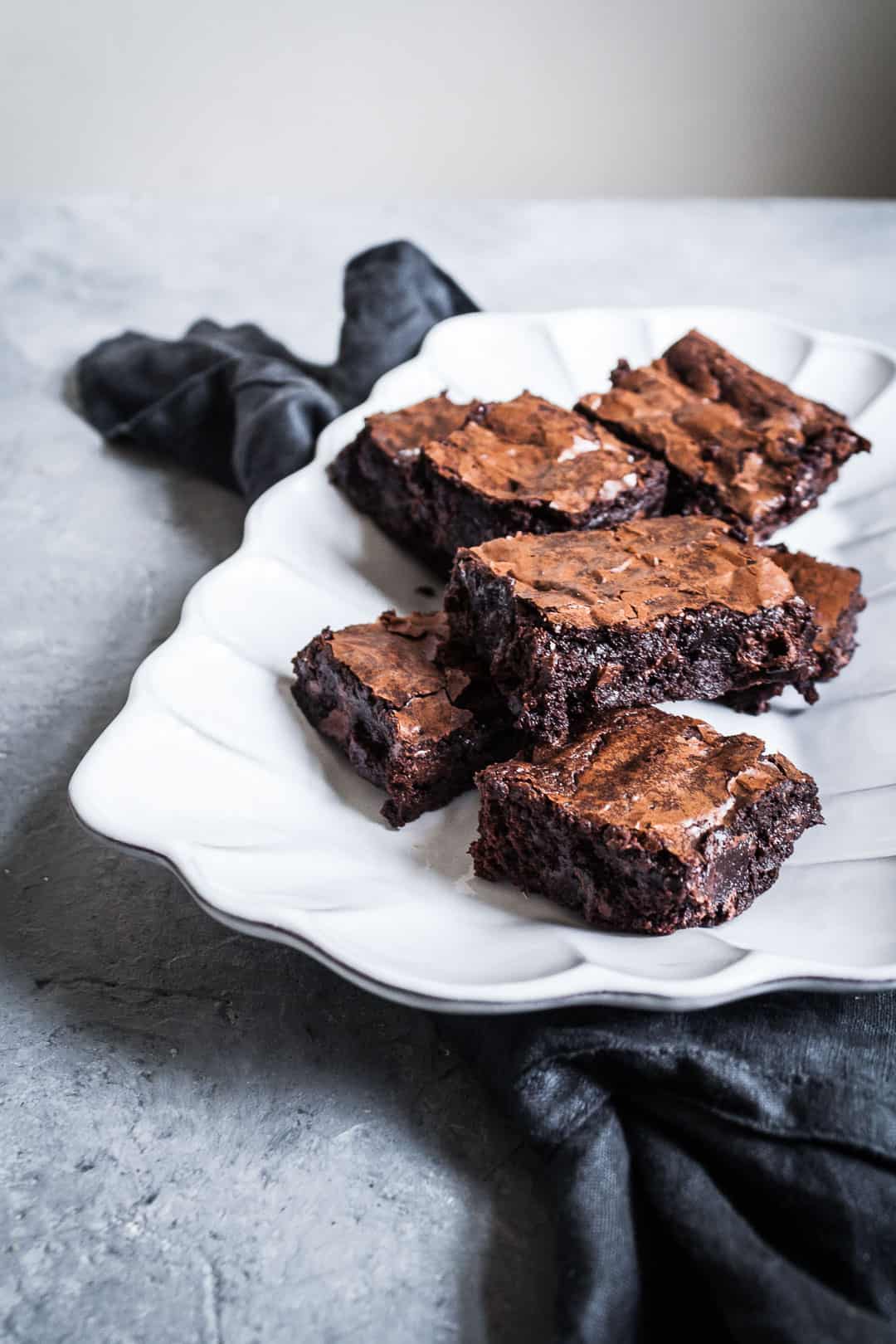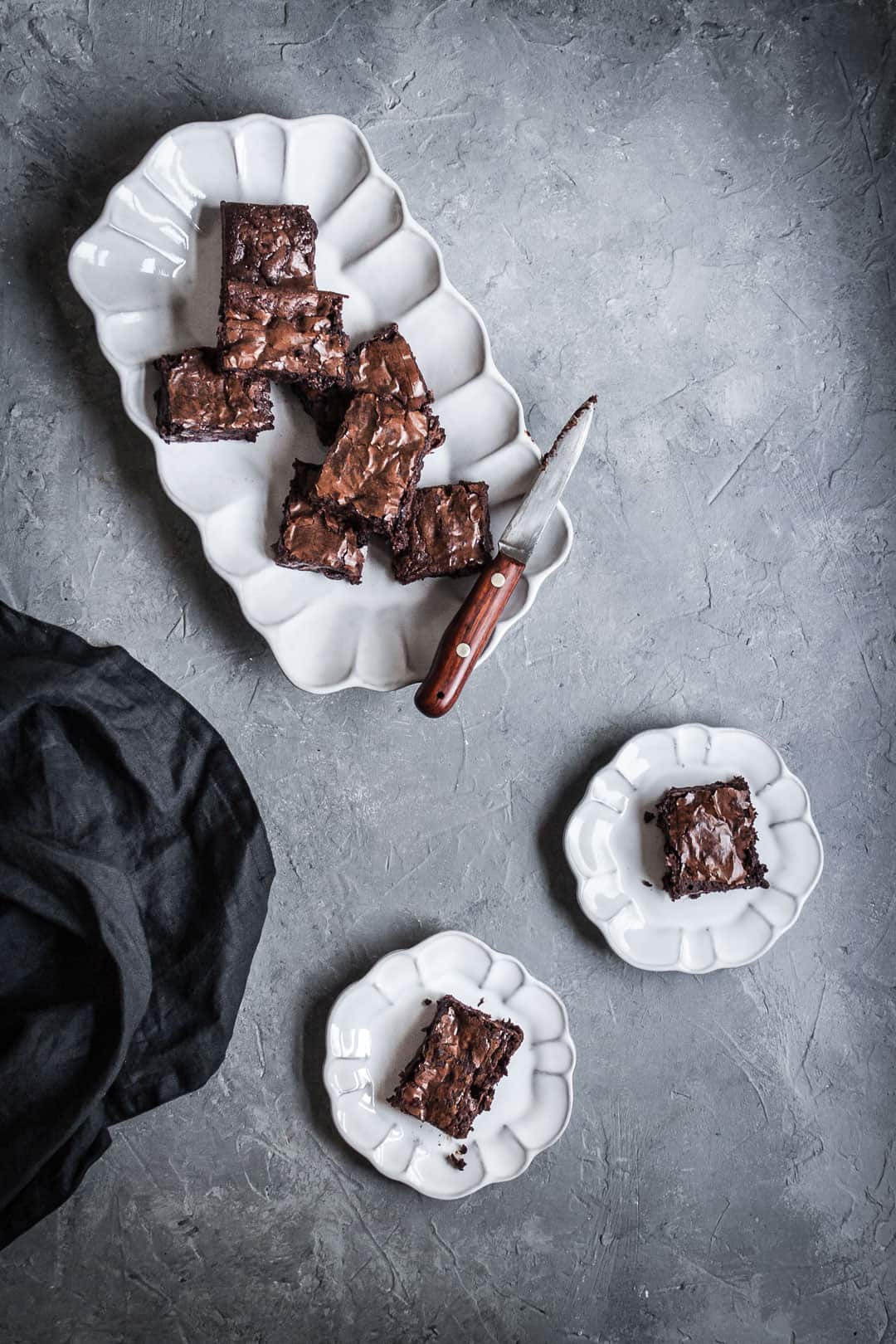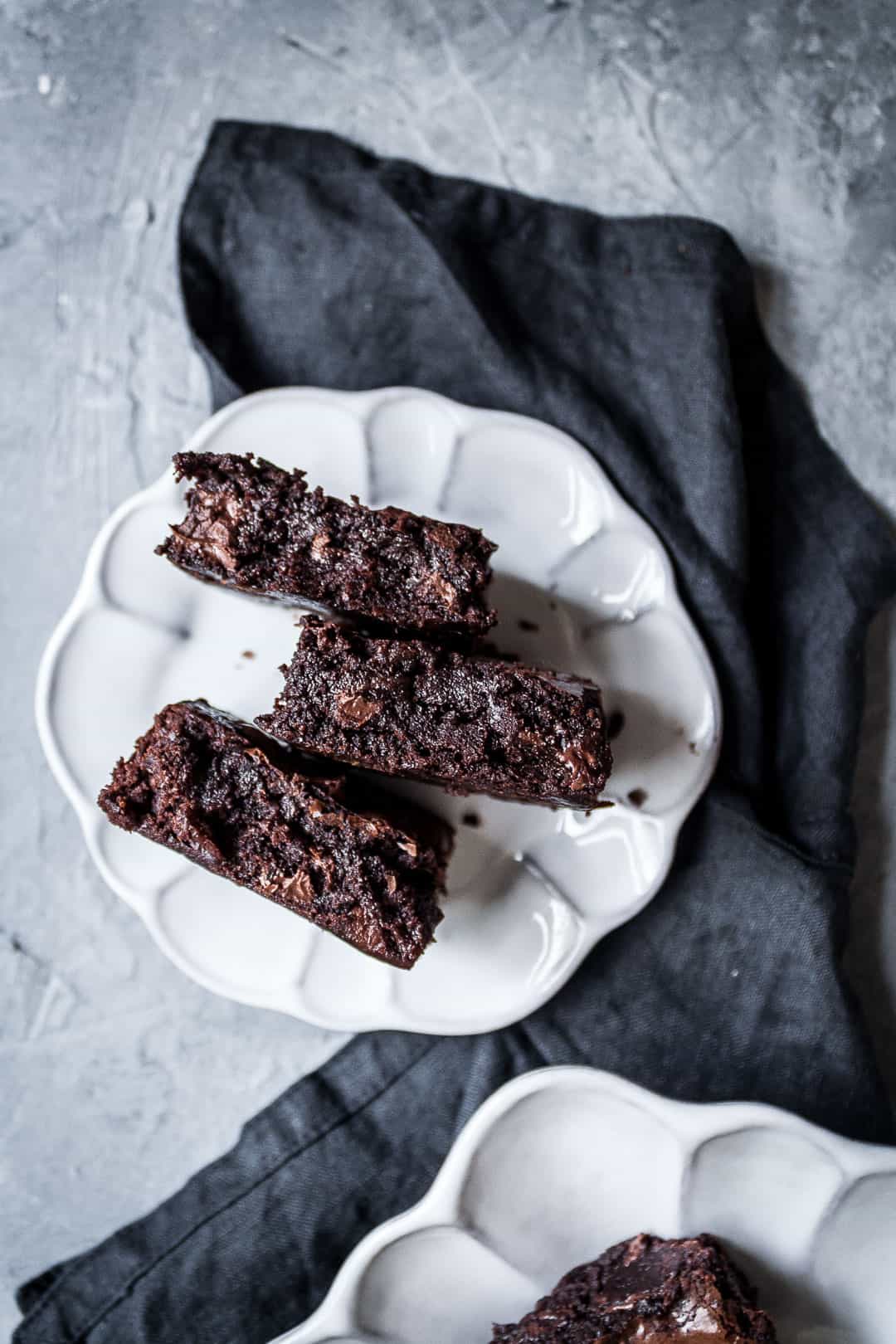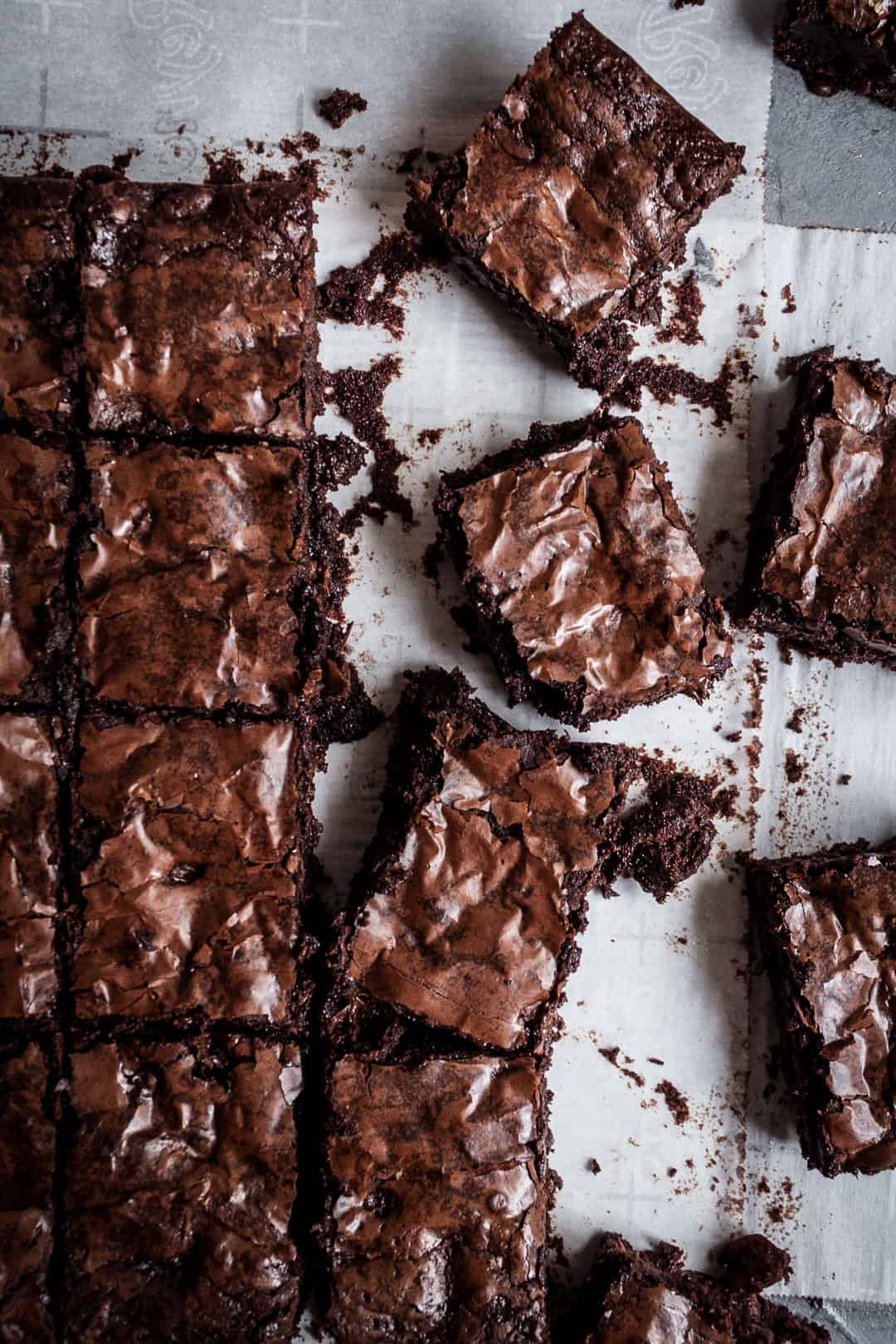 Recipe Notes
Dried cherries - Make sure to allow a day or two to soak the dried cherries in the Port. It takes some time for the cherries to absorb the liquid.
Brownie pan size - I used a 9 x 9 square metal pan, as that's what I have at home. If you have an 8 x 8 pan, your brownies will be slightly thicker and will most likely need the extra 5 minutes (25 minutes total) of baking time. Nevertheless, start checking them at 20 minutes as ovens and pan materials vary.
📖 Recipe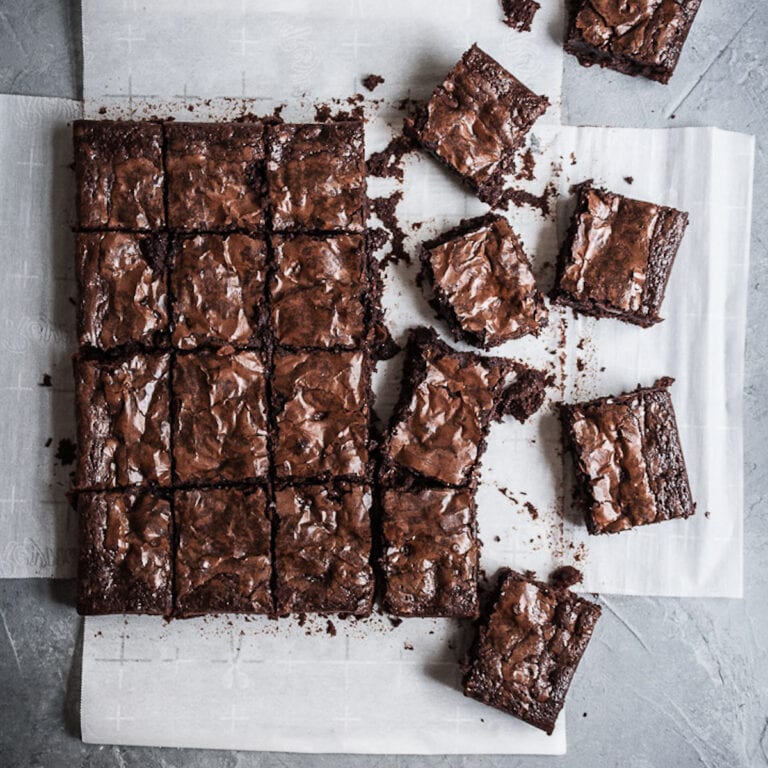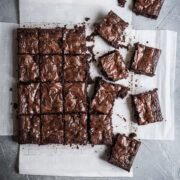 Brownies with Port Wine Soaked Cherries
Print Recipe
Pin Recipe
Gooey, fudgy, dense and intensely chocolate brownies, studded with bright explosions of sweet port wine soaked cherries.
INGREDIENTS
1

cup

dried cherries

1

cup

Port wine - or enough to cover cherries

½

cup plus 2 Tbsp

all purpose flour

½

teaspoon

baking powder

½

teaspoon

salt

12

tablespoon

butter (6 oz), cut into pieces

1 ¼

cups

granulated sugar

3

large

eggs

¾

cup

cocoa powder

1

T

pure vanilla extract

1

cup

chocolate chips
INSTRUCTIONS
The night before, or ideally, several days before: Put the dried cherries in a pint mason jar and cover with the Port wine. Cover the jar with a lid and leave to sit overnight at a minimum, turning the jar from time to time to ensure all cherries are exposed. The cherries need time to soak up as much liquid as possible.

Preheat oven to 360 degrees.

Prepare a 9 x 9 inch pan by greasing and covering the base and sides with two pieces of parchment paper. Allow the paper to overhang the sides as "handles" to lift out the baked brownies.

Strain the cherries (Save the Port for future recipes or for a little glass to accompany the brownies! It's now deepened in flavor with the addition of cherry essence).

In a small bowl, whisk together flour, baking powder and salt and set aside.

In a medium size heavy saucepan, melt the butter and sugar on medium low heat, whisking frequently, until the sugar has dissolved and the mixture has a sheen and is smooth. Avoid letting the mixture simmer or foam. Thalia's instructions note that the perfect temperature to reach here is 122 degrees F - if you have a candy thermometer, feel free to use it here. (I did not, and still got great results).

In a stand mixer, whisk the eggs, cocoa and vanilla together with the whisk attachment until well blended and smooth, for two to three minutes. Scrape down the sides of the bowl several times.

With the mixer running on low, carefully pour in the butter-sugar mixture. Continue to mix until completely incorporated, again scraping down the sides of the mixing bowl with the spatula.

Add the dry ingredients all at once, and whisk one last time, just until incorporated.

With a spatula, fold in the chocolate chips and the strained dried cherries.

Pour into the prepared pan and smooth the top with an offset metal spatula.

Bake for 20-25 minutes, until just set in the middle. You don't want these to be over-baked. Start checking at the earlier time.

Remove from the oven and cool in the pan. When cool, use the parchment paper handles to carefully lift out the brownies. Cut them into squares, wiping the knife clean between slices.
Notes
This recipe is adapted from the incredible Salted Espresso Fudge Brownie recipe by Thalia Ho. I reduced the sugar and omitted the espresso powder and frosting in order to let the flavor of the Port soaked cherries shine.
The Floured Table
Recipe Author: Kathleen Culver
https://www.theflouredtable.com/brownies-with-port-wine-soaked-cherries/
Made this recipe? Please leave a comment and a star review! ★★★★★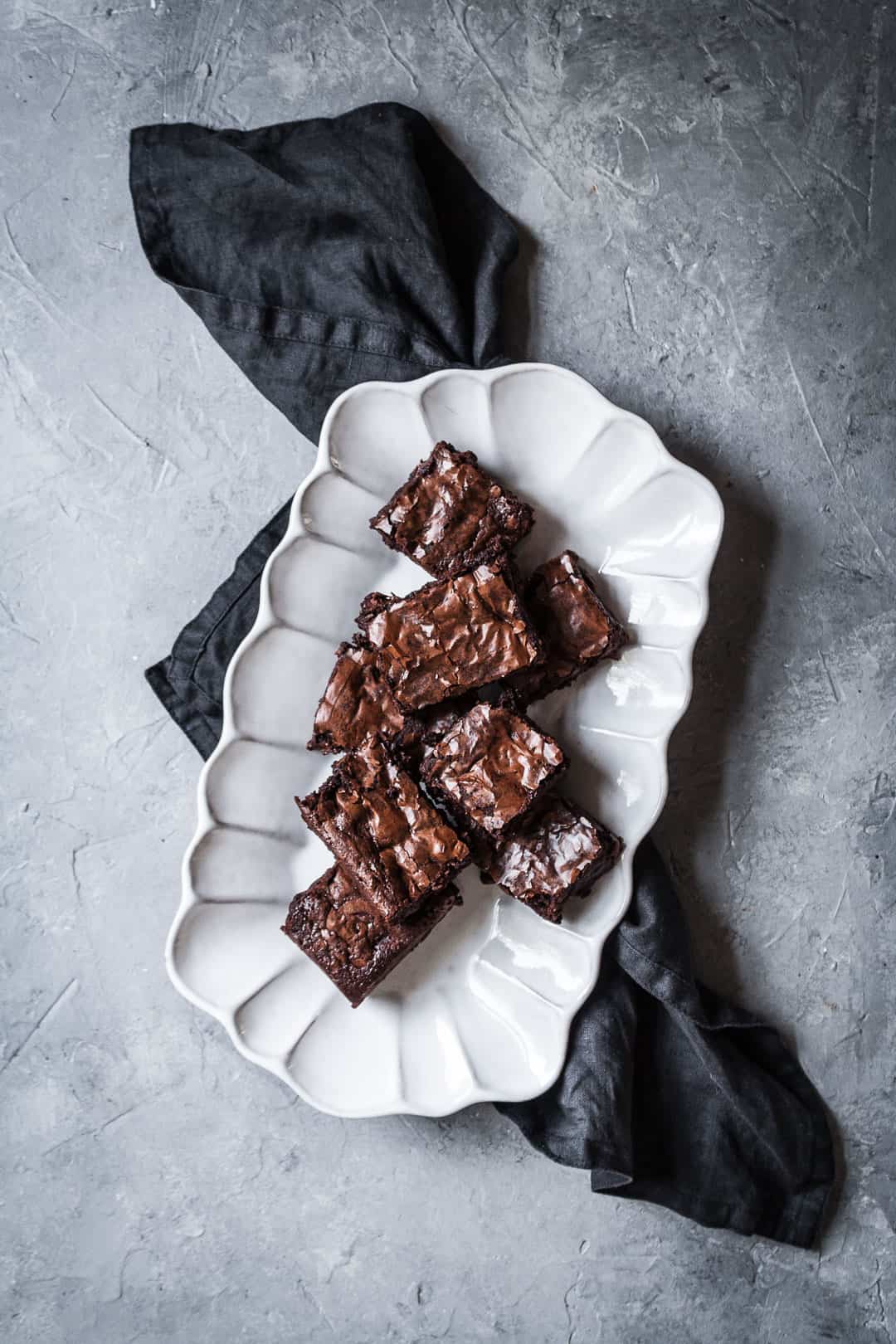 If you liked these Port wine cherry chocolate brownies, you might also enjoy these recipes!