These mint matcha chocolate thumbprint cookies are dense, chewy and dark. They have a crunchy, sparkling exterior and bright, minty matcha green tea buttercream filling piped in a delicate star shape. They make a deliciously festive cookie.
Cookies for a special occasion
These are special occasion cookies. Coated in sparkling sugar, they dazzle like a sequined dress under a disco ball. I minimally adapted the recipe from my new favorite book of cookies, aptly titled The Cookie Book, by Rebecca Firth, aka Displaced Housewife.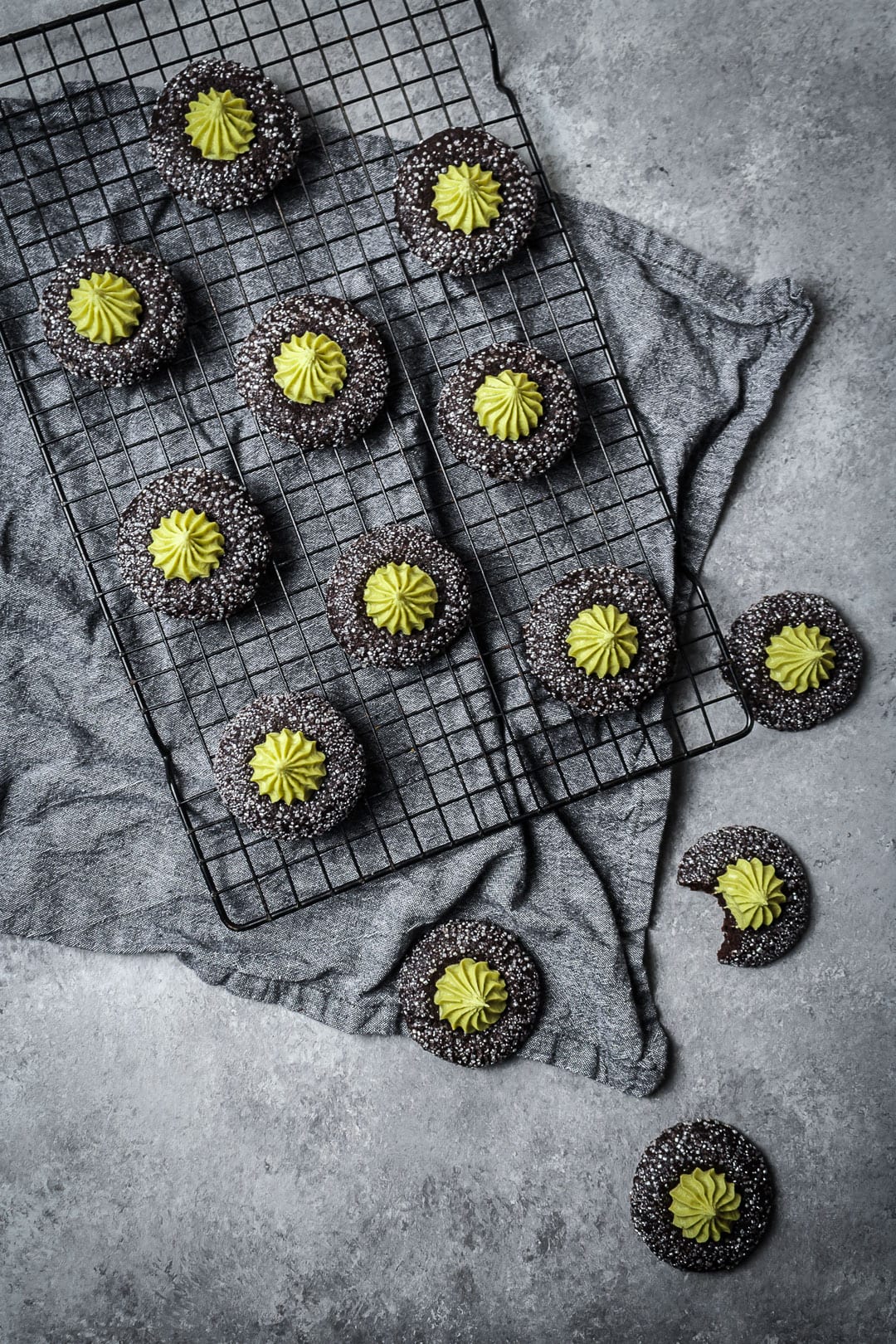 Rebecca was kind enough to let me share the recipe here. I've used the cookie dough as written in her book, with my own twist for the filling. I bought myself the book for a birthday present in November, and I've already tried four different cookies, with plenty more in the works. It's the first cookie book I've encountered in a long time that has more than a handful of recipes I want to try. Most of the cookie books I've purchased have basically become heavy, expensive recipe cards; one or two recipes worth repeating, the rest not tempting enough to even try. NOT the case here. Not only are the pictures beautifully enticing, but the recipes also have me eager to turn the oven on daily.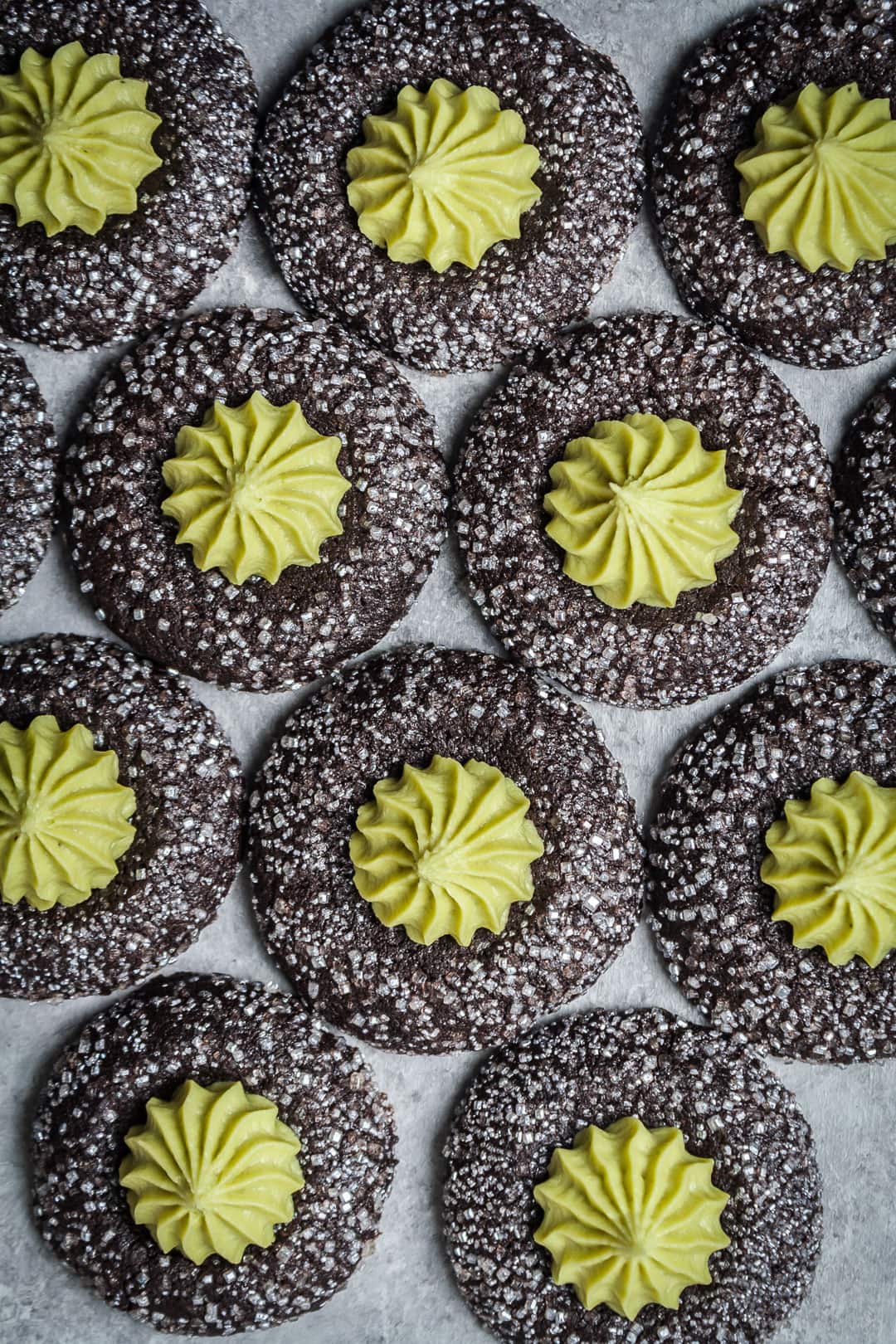 I realize that post-Christmas, you may be feeling a bit of cookie overload. I assure you, this one deserves your attention. Mint and chocolate hold a special place of honor in my preferred flavor combinations. The addition of matcha provides a bright, leafy green color and a slightly grassy flavor that tempers the sweetness of the mint buttercream.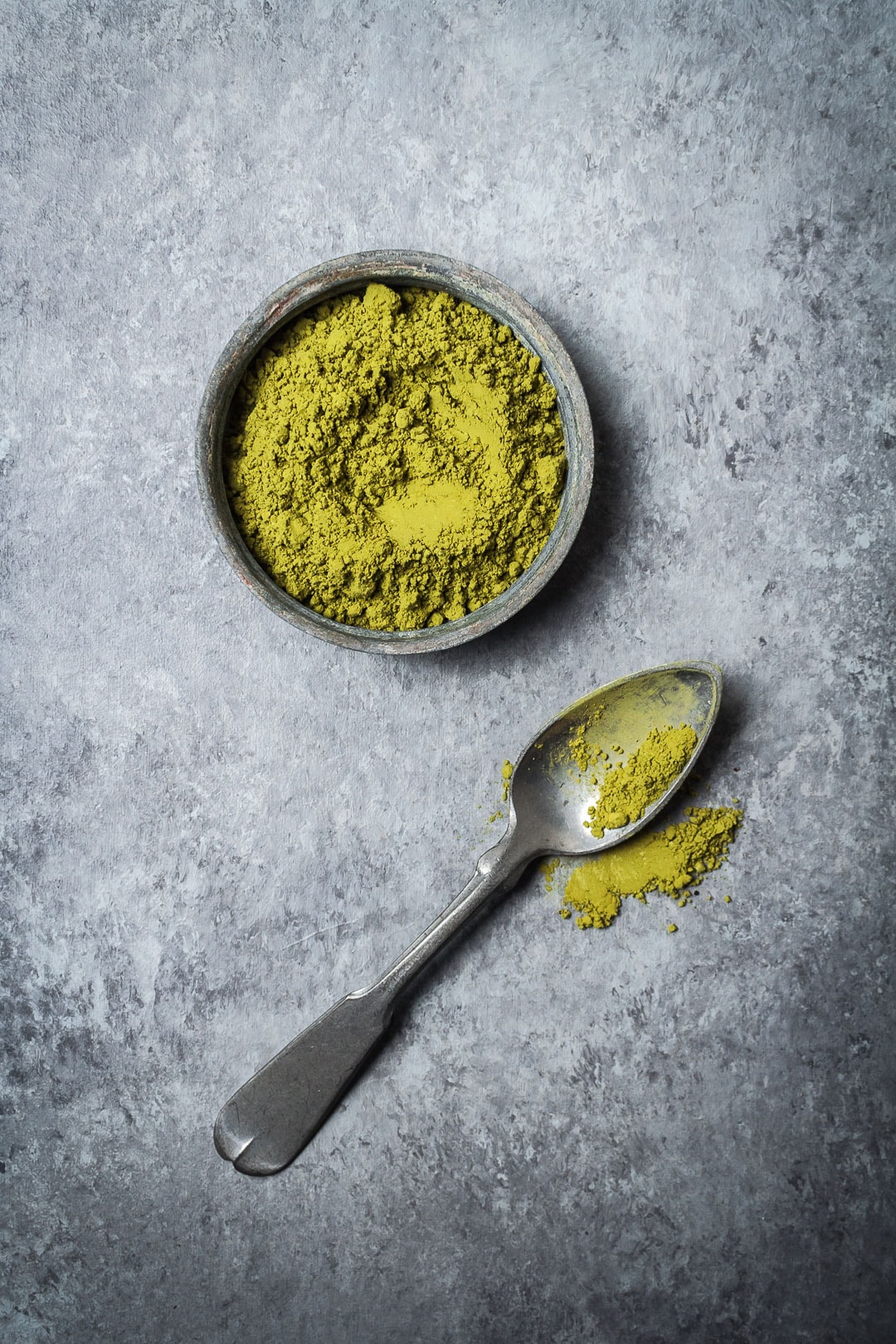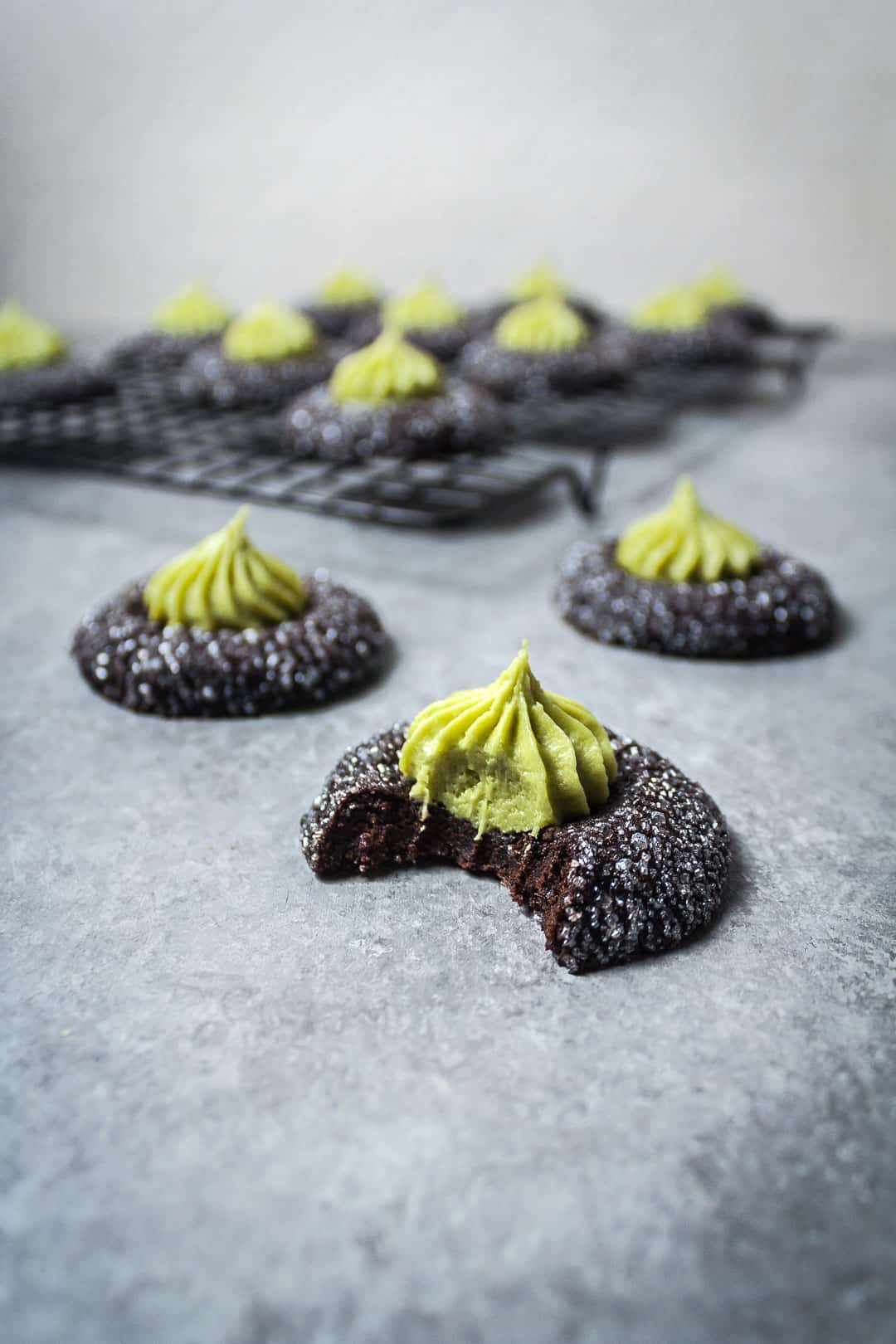 Using a piping tip (in this case, the Wilton 4B French star tip) for the mint matcha buttercream gives these cookies an extra bit of elegance. It also satisfies my perfectionist tendencies to have everything look tidy and uniform.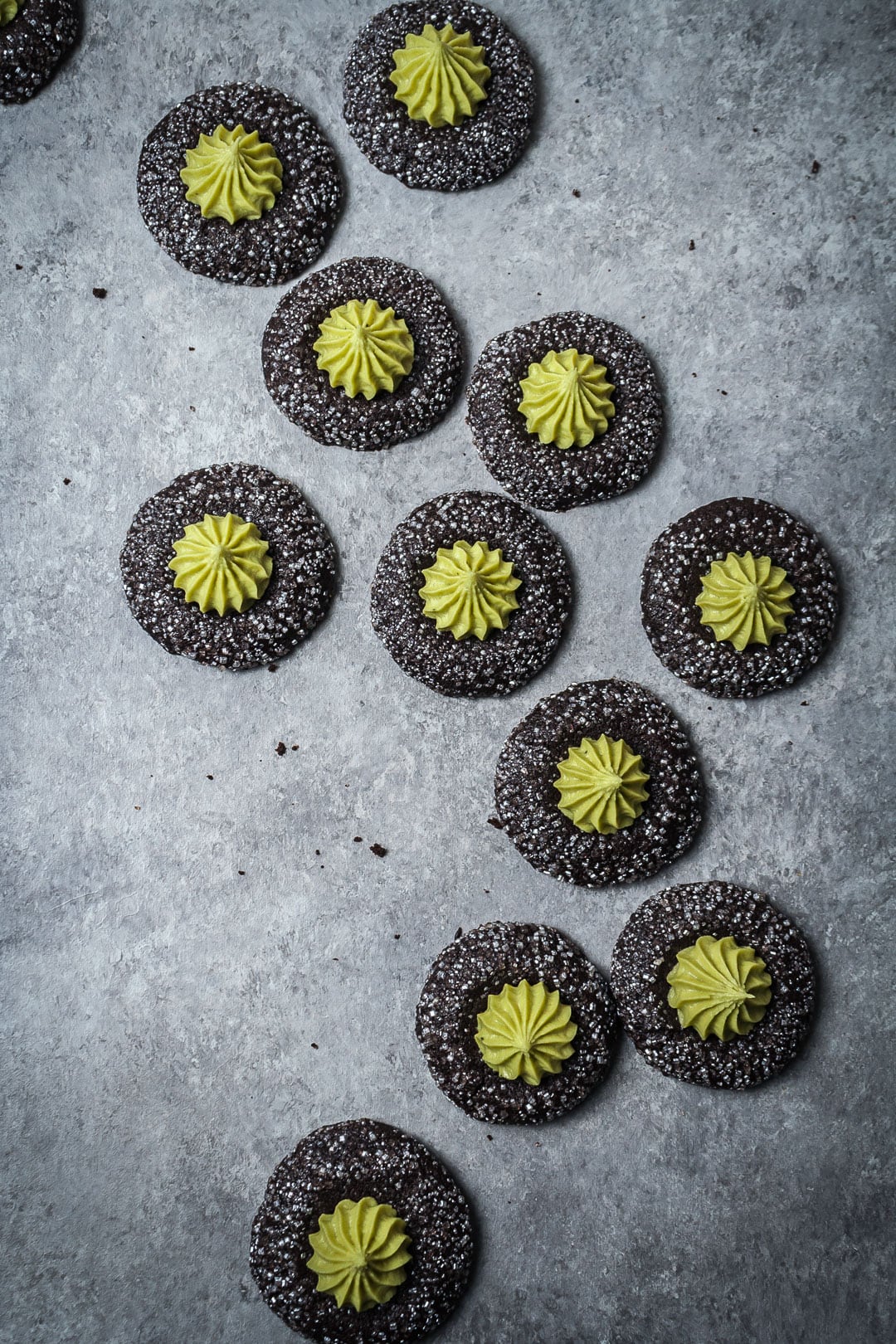 And, I highly recommend the sparkling sugar. Its grain is significantly larger than regular sugar, and provides a glittery look and crunchy exterior that pushes this cookie into fancy category. I used the white variety in order to provide contrast with the dark chocolate dough.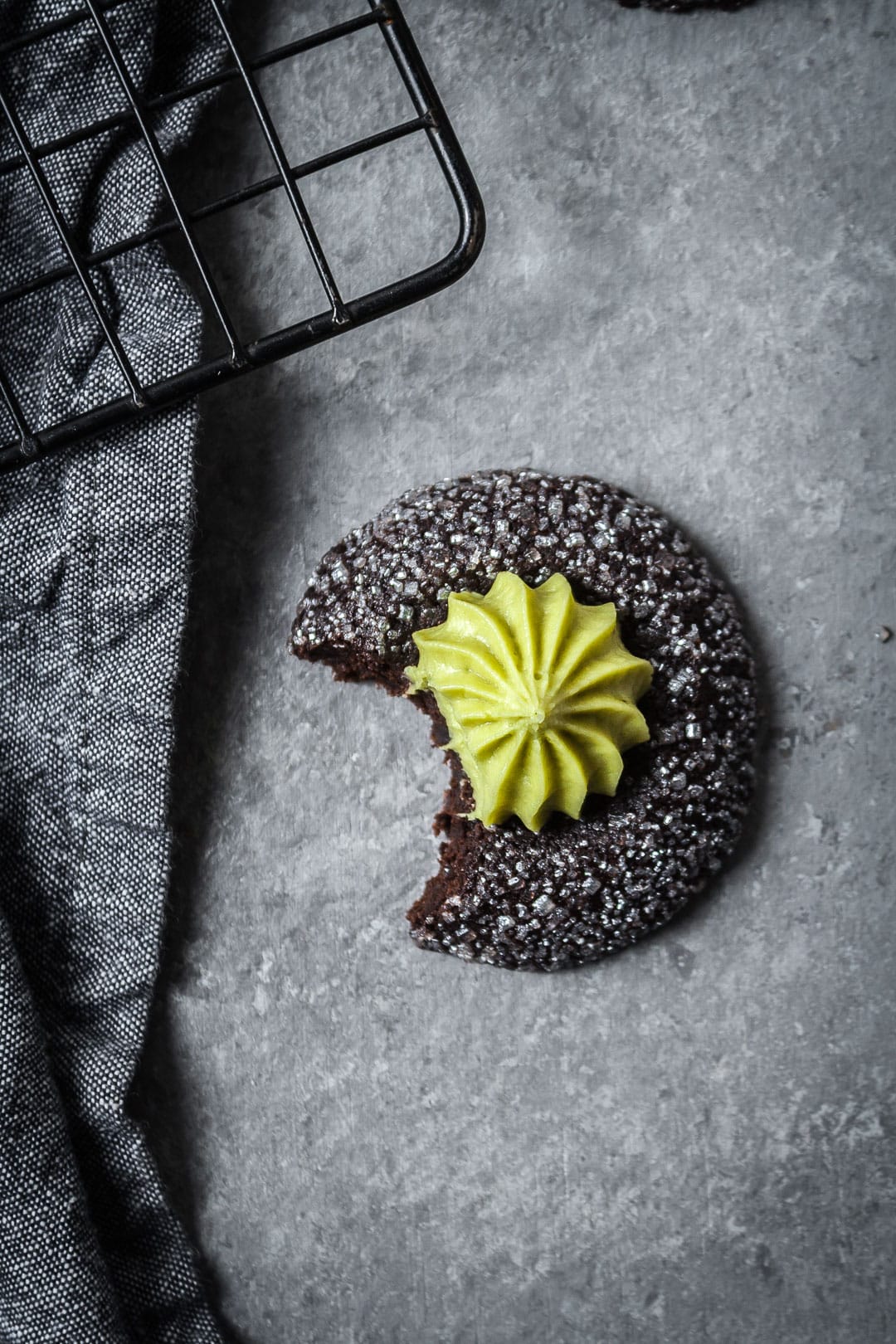 Of note, in her recipe, Rebecca says that these are best on the first day. I found them just as incredible two, three and four days afterwards. I thought they held really well, and lost none of their chewy softness.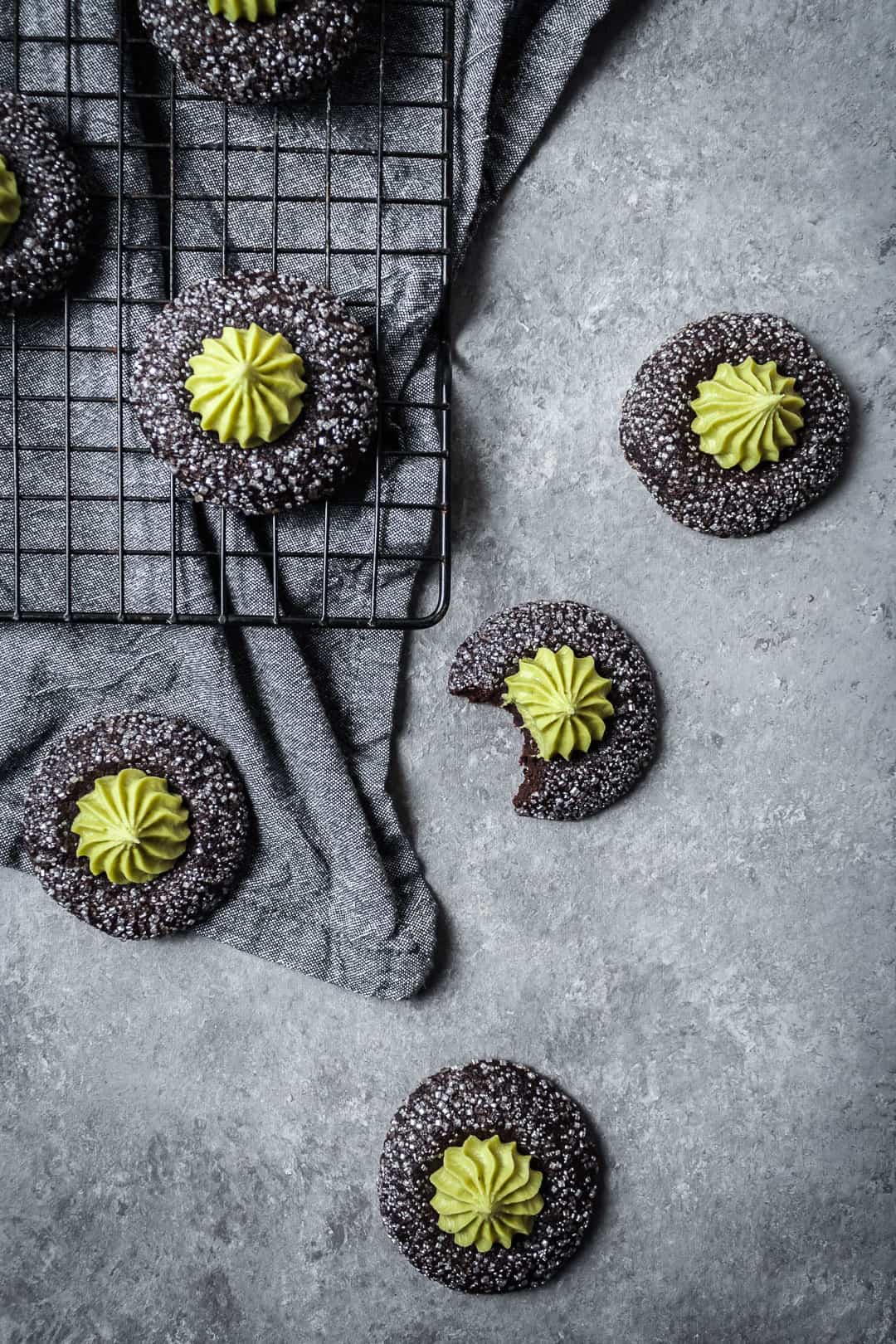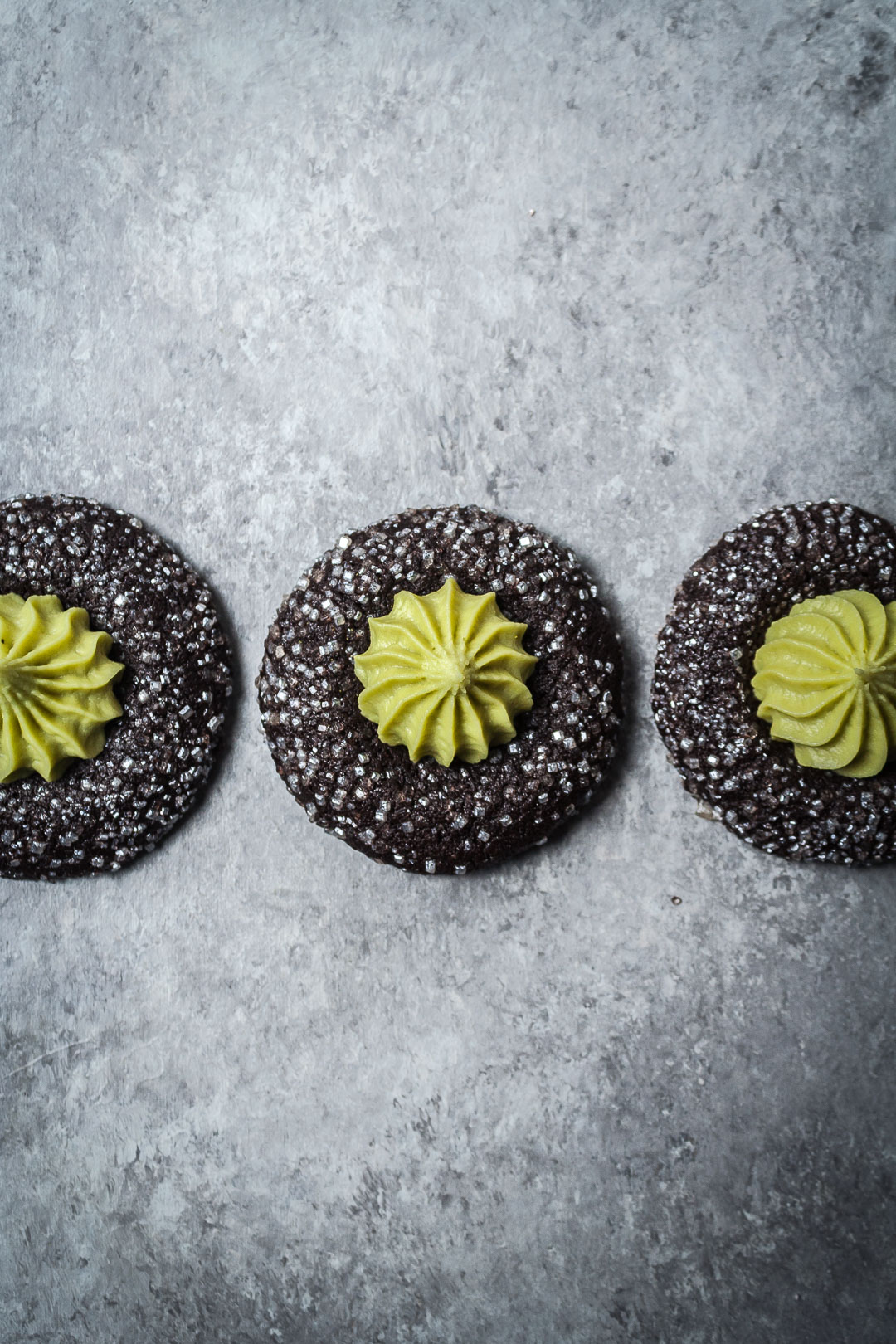 Variations
You can definitely vary these chocolate thumbprint cookies by filling the center with something different. Consider these options:
Equipment
Items below are affiliate links.
Cookie scoop - I use this medium cookie scoop which measures out 1 ½ Tablespoons - it's a size 40 - to portion out these cookies. I love using a cookie scoop for drop cookies. It keeps them uniform in size, which also helps them to bake evenly.
Round cookie cutters - Use a round cookie cutter or the rim of an upside down glass to push the cookies back into a round shape as soon as they are removed from the oven and still hot and pliable. This also helps to create uniform, round cookies. Place the cutter or glass over the top of the cookie and carefully scoot it in gentle circles so the cookie edges become round again. I've had this set of round cookie cutters for years, and I use it all the time.
📖 Recipe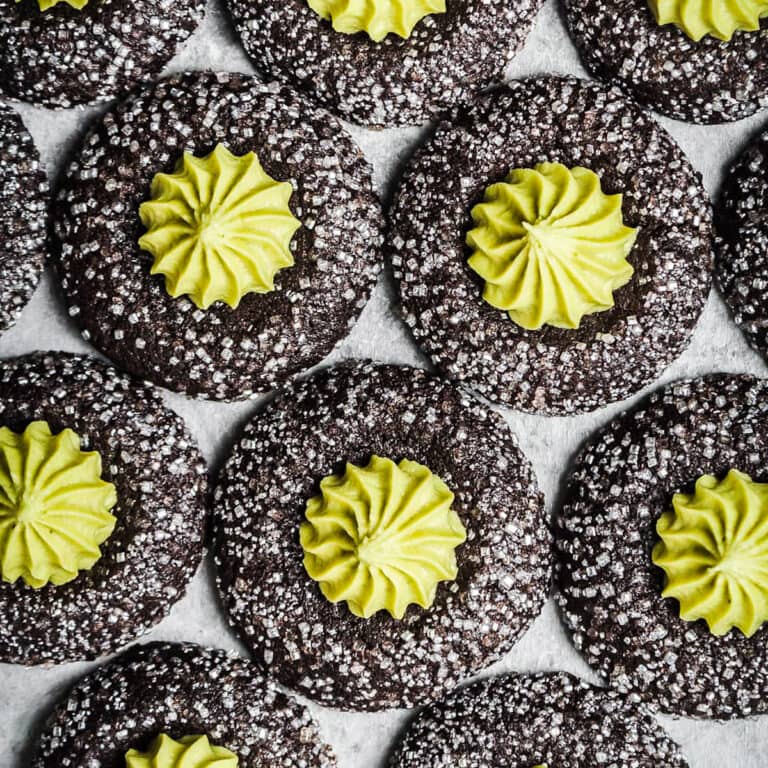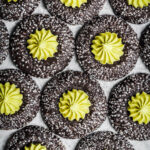 Mint Matcha Chocolate Thumbprint Cookies
Print Recipe
Pin Recipe
Dense, chewy, dark chocolate cookies with a crunchy, sparkling exterior and bright, minty matcha green tea buttercream filling. A deliciously festive cookie.
INGREDIENTS
Chocolate Thumbprint Cookies
¾

cup

dark chocolate, finely chopped (90 grams)

16

tablespoon

unsalted butter (8 oz), cut into small squares, at room temperature

1 ½

cups

granulated sugar

2

large

eggs, room temperature

1 ½

teaspoon

vanilla extract

1 ⅔

cups

all-purpose flour

⅔

cup

dark cocoa powder

½

teaspoon

sea salt

½

teaspoon

baking powder

½

cup

sparkling sugar
Mint Matcha Buttercream Frosting
8

tablespoon

butter (4 oz), cut into small pieces, room temperature

2 ½

cups

powdered sugar, sifted

2

tablespoon

milk

½

teaspoon

peppermint extract

1

teaspoon

matcha (green tea powder)
INSTRUCTIONS
Chocolate Thumbprint Cookies
Place chocolate into a microwave safe container (such as a Pyrex measuring cup). Microwave for 1 minute. Stir. Return to microwave in 15 second intervals, stirring carefully between each, until chocolate is fully melted. Set aside.

In the bowl of a stand mixer with the paddle attachment, cream the butter and sugar together on high speed until light and fluffy. This will take several minutes. Scrape the sides of the bowl down a few times to ensure even mixing.

At low speed, add the eggs one at a time, incorporating the first completely before adding the next. Add the melted chocolate and the vanilla and mix well. Scrape down the sides of the bowl and mix another minute on low.

In a separate bowl, whisk together the flour, cocoa powder, salt and baking powder. Add to the butter-chocolate mixture and beat until the dry ingredients are completely incorporated and no pockets of unmixed flour or butter remain.

Cover the dough well and place it in the fridge for an hour (or longer) to chill.

Place a rack in the center of the oven and preheat to 350 degrees. Cover cookie sheets with parchment paper.

Place sparkling sugar into a small bowl. Portion dough into rough 1 ½ tablespoon balls and roll between your hands to smooth them out. Roll each of them into the sparkling sugar until well coated, and space 2 inches apart on the prepared cookie sheet. Using a round object such as the end of a spoon, gently and slowly press a circular shape into the middle of each dough ball. (I found the slower I did this, the less likely the edges were to crack.) Chill for 20 minutes in the freezer.

Bake in the middle rack for 13 minutes. After removing the cookies from the oven, use the same round object to gently re-form the depressions in the cookie again. Cool on the pan for 10 minutes and then transfer to a cooling rack. Repeat with remaining dough.
Mint Matcha Buttercream Filling
In the bowl of a stand mixer with the paddle attachment, beat the butter on medium-high for several minutes until light. Scrape down the sides of the bowl. Beat for another minute.

Add powdered sugar, milk, peppermint extract and matcha. Beat on low until powdered sugar is incorporated. Scrape bowl to ensure thorough blending of all ingredients. Beat at medium speed for several minutes.

Place buttercream into a pastry bag fitted with a large french tip (I used a Wilton 4B). Holding the piping bag about an inch above the thumbprint, pipe a generous star shape onto each cookie, lifting the bag straight up and away after releasing pressure.
Notes
Adapted from a chocolate thumbprint recipe in The Cookie Book by Rebecca Firth, with appreciation.
The Floured Table
Recipe Author: Kathleen Culver
https://www.theflouredtable.com/mint-matcha-chocolate-thumbprint-cookies/
Made this recipe? Please leave a comment and a star review! ★★★★★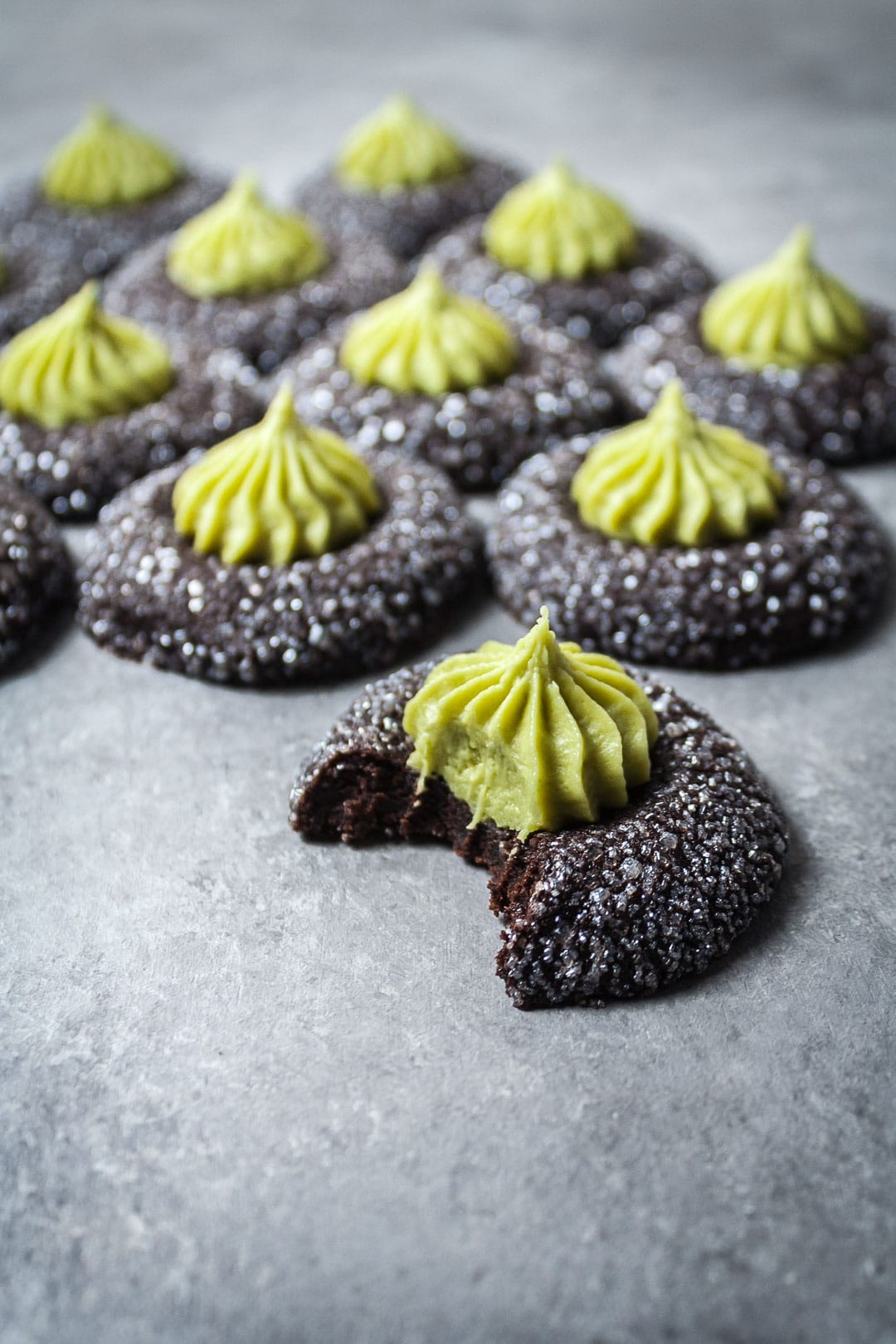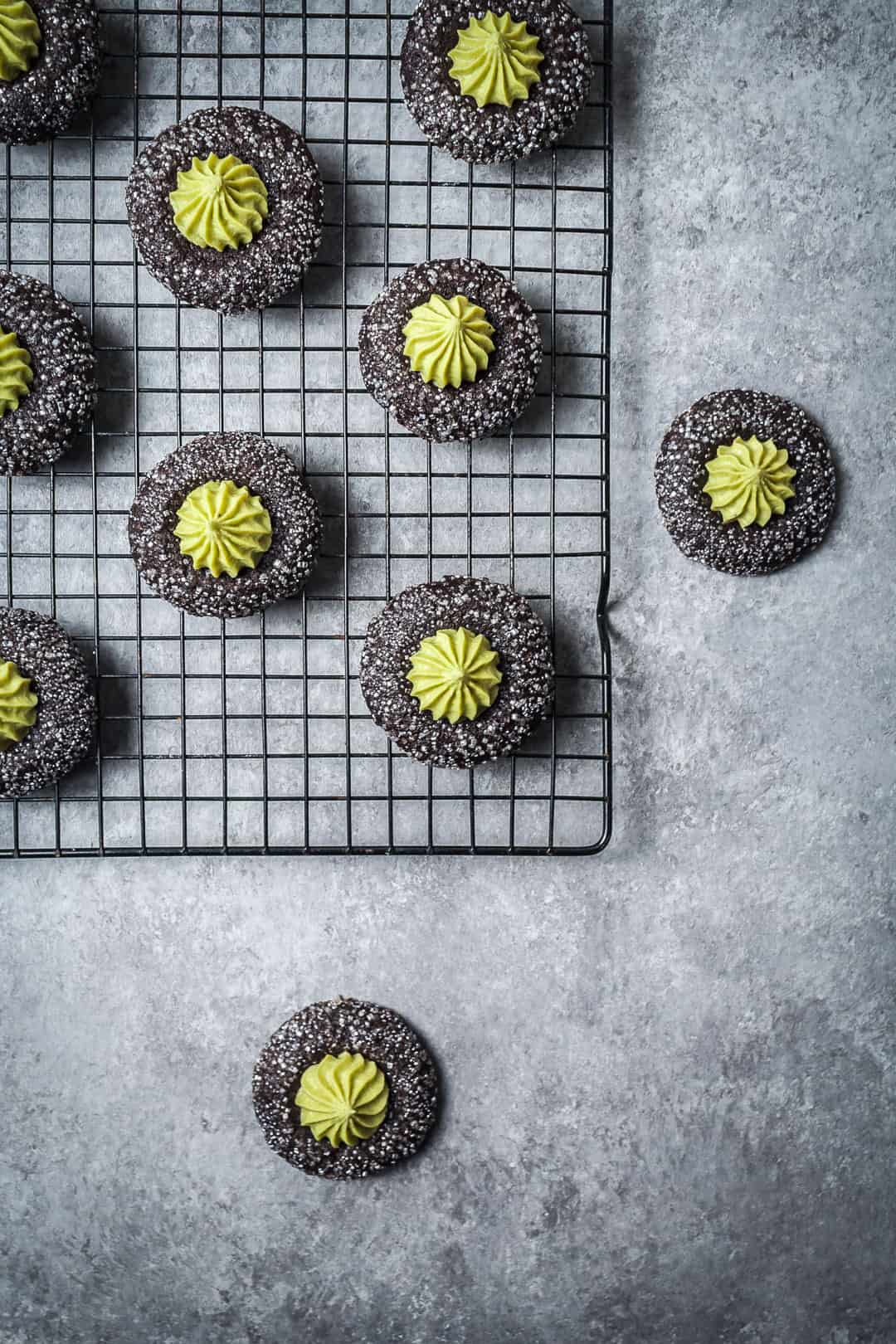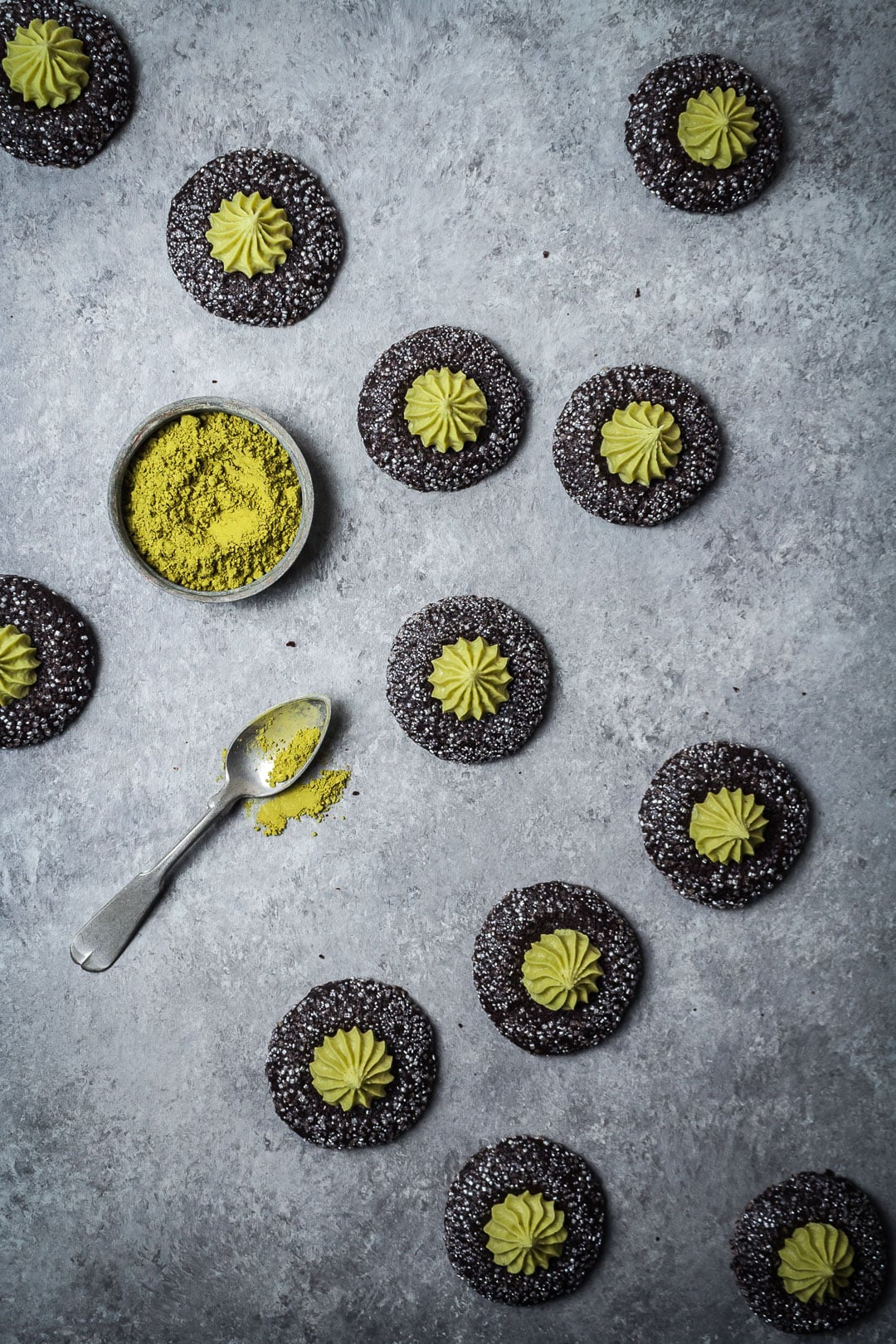 If you enjoyed these mint matcha thumbprint cookies with icing, you might also like these recipes!