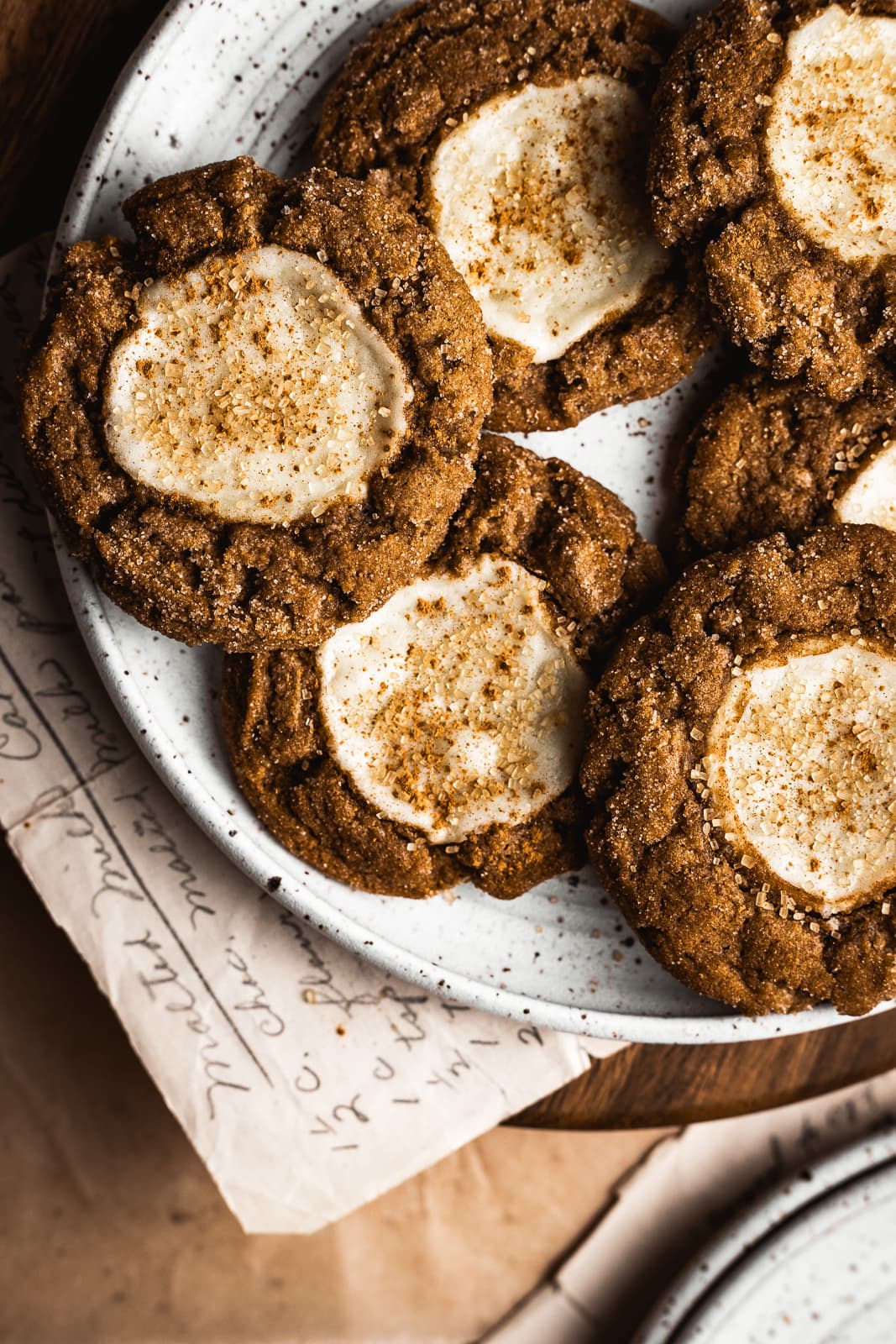 The fall days are winding to a close. The shortest day of the year is almost upon us. I've been enjoying these pumpkin cream cheese thumbprint cookies all season, and wanted to share them with you before year's end. If you fall into the camp of "no pumpkin after Thanksgiving," you can bookmark this recipe for next season. However, I encourage you to give it a try before then – it really shouldn't be relegated to just one or two months of the year.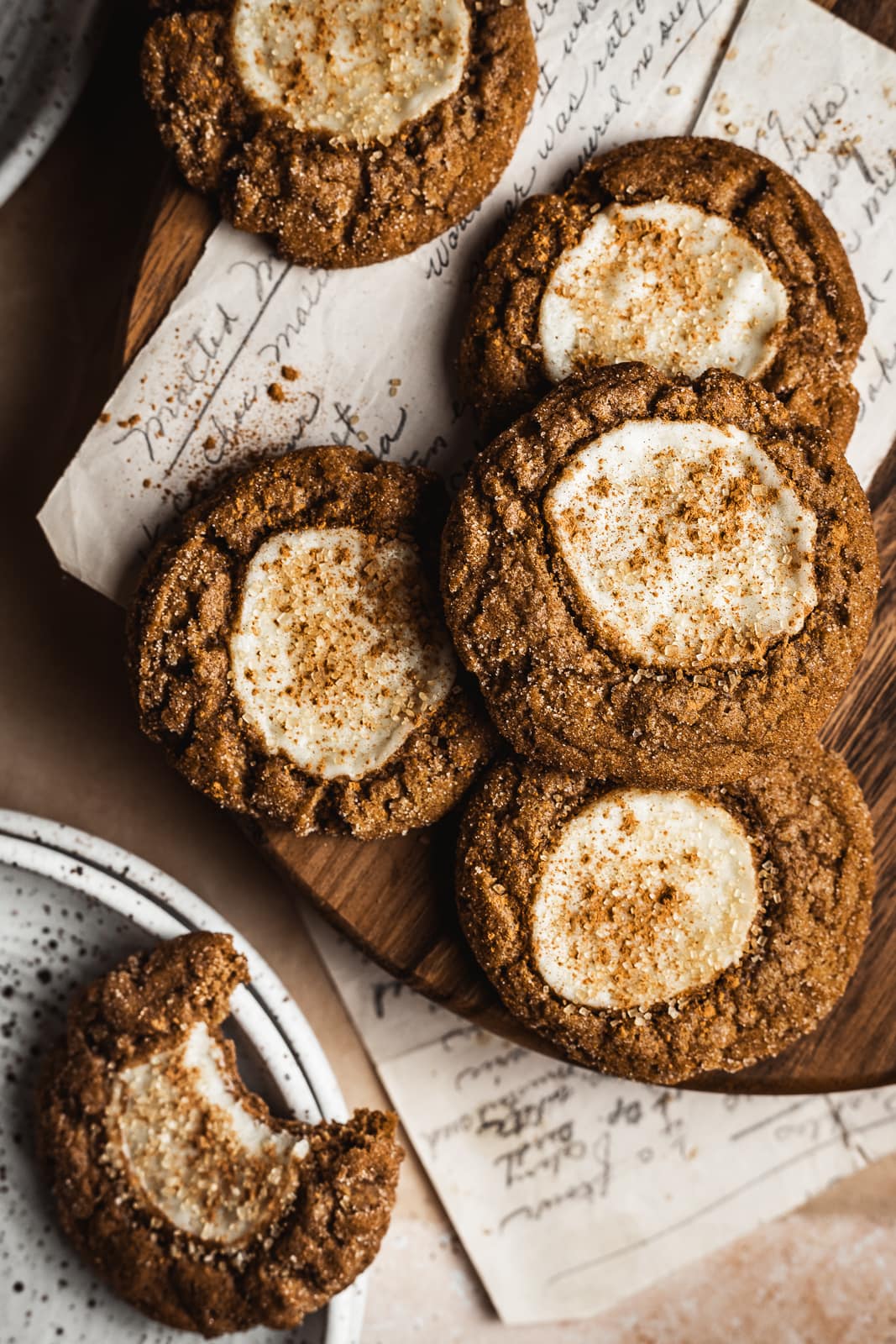 These are moist, chewy pumpkin cookies with a crunchy outside and creamy center. The juxtaposition of smooth cream cheese and coarse Turbinado sanding sugar adds a lovely textural element, and the warming spices – cinnamon, nutmeg, cloves, ginger – make this a great cookie to reach for on colder days.
In testing these several times, I had a fair amount of cookies on my hands. We ate them for over a week, and they remained moist throughout that time. Never did they dry out or tend towards that unpleasantly crystallized sugar texture that cookies can get as the days go by. These would be excellent for mailing – if that's even done anymore – or for gifting in a cookie box to someone that might be eating them over the span of a few days.
When I first had the idea to make these, I was thinking of how much I love the cream cheese filling in black bottom cupcakes. These use a very similar method. While the filling is entirely optional, and can certainly be omitted if you prefer your pumpkin cookies plain (I'm sure they'd be delicious on their own), I enjoyed the contrasting element of flavor that the cream cheese added.
RECIPE NOTES
BROWN BUTTER – Browning the butter might seem over the top, but it's definitely worth the extra effort. Brown butter has a rich, nutty roasted flavor. It smells heavenly, and gives these cookies a nice caramel note. You can find how-to posts and videos most everywhere online – here's one from the Kitchn for reference. I used brown butter in the Butterscotch Dark Chocolate Bars that I shared a few years back. Once you start making brown butter, you'll want to try it in everything!
SHAPING THUMBPRINT COOKIES – Form the dough into balls right after mixing it, while it's still soft. It's easier to shape and won't threaten to break your cookie scoop, if you use one. I also found that the cinnamon sugar coating sticks more easily to room temperature dough. Make the thumbprint indentations before you chill the dough, so it's more pliable and won't crack as much.
CHILLING THE DOUGH – Do I really need to chill the cookie dough? I haven't tested these without the chilling process; they might be fine. However, there is good reason to chill the dough for at least an hour or two. This article from Bon Appetit goes into the details. In short, chilling dough allows the flour to absorb more moisture, resulting in a more evenly baked cookie – and potentially more concentrated flavor. I'll take it.
CREAM CHEESE FILLING – Make sure your cream cheese is at room temperature, or slightly warmer. This will help ensure the the cream cheese filling blends smoothly and without lumps. For the same reason, sift the powdered sugar very well prior to adding. Don't add the egg until the cream cheese – sugar mixture is very smooth first. If you choose to make the filling in advance, make sure it's at room temperature prior to baking. In my test batches, room temperature filling allows the cookie dough underneath to fully bake. When the filling went on cold directly from the fridge, the cookies came out slightly underbaked.
TURBINADO SUGAR – When I was taking photos of these cookies, I thought they needed a little extra visual depth, so I sprinkled them (after baking) with cinnamon and Turbinado sugar. Turbinado cane sugar (sugar in the raw – in the little brown sugar packets at restaurants) has a beautiful golden color and is quite coarse. It's not necessary, but it adds an amazing textural crunch.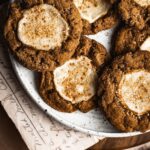 Pumpkin Cream Cheese Thumbprint Cookies
Print Recipe
Pin Recipe
INGREDIENTS
Pumpkin Cookie Dough
1/2

cup (113g, 4 oz)

butter, browned (I used salted here)

1/3

cup (68g)

granulated sugar

2/3

cup (148g)

brown sugar

1

egg yolk

1/3

cup (81g)

pumpkin puree

1

tsp

vanilla extract

1 1/2

cups (180g)

all-purpose flour

1/2

tsp

baking soda

1/2

tsp

salt

1 1/2

tsp

cinnamon, ground

1/2

tsp

nutmeg, ground

1/2

tsp

cloves, ground

1/2

tsp

ginger, ground
Cinnamon Sugar for Rolling
1/2

cup

granulated sugar

1

tsp

cinnamon, ground
Cream Cheese Filling
8

oz

cream cheese, room temperature

1/3

cup (42g)

powdered sugar, sifted well

1

egg

1

tsp

vanilla
Post-bake Sugar Topping
1/4

cup (50g)

coarse turbinado sugar (sugar in the raw)

1

tsp

cinnamon
INSTRUCTIONS
In a heavy-bottomed pot, melt the butter on medium heat. Continue heating while butter begins to foam. Whisk frequently and watch carefully for the change of color from pale yellow to golden brown as the solids separate down to the bottom and the butter begins to brown. Remove from heat promptly and set aside to cool.

To the bowl of a stand mixer fitted with the paddle attachment, add granulated and brown sugars, egg yolk, pumpkin puree, and vanilla. Add the cooled brown butter and mix on medium-low speed until well combined. Scrape down sides of bowl.

In a separate bowl, whisk together flour, baking soda, salt and spices. Once well mixed, add dry ingredients to the wet mixture and mix on low just until no dry ingredient streaks are visible. Remove bowl from mixer and mix a few strokes with a spatula to ensure the flour mixture is fully incorporated.

Using a 1 1/2 Tablespoon cookie scoop (#40), portion out scoops onto a cookie sheet. Roll each cookie in cinnamon sugar mixture. Use your thumb or the end of a wooden spoon (I used the butt end of a citrus reamer) to make an indent in the center of each cookie to hold the cream cheese mixture. Don't add the filling yet. Place into fridge to chill for at least 1-2 hours, or overnight.

Preheat oven to 350 degrees.

To make the cream cheese filling, make sure your cream cheese is at room temperature, or slightly warmer. Add the cream cheese and sifted powdered sugar to the bowl of a stand mixer fitted with the paddle attachment. Beat on medium speed for several minutes, stopping a few times to scrape the mixture down from the sides.

Once cream cheese and sugar mixture is smooth and without lumps, add the egg and vanilla and mix well.

Place 8 cookie dough shapes on a parchment lined cookie sheet at one time (two rows of three, plus one row of two cookies in the middle.) Using a teaspoon, measure out 2 teaspoons of cream cheese filling into the center indent of each cookie. They will be heaped full, but the filling shouldn't run when baked.

Bake one cookie sheet at a time for 13-15 minutes, until edges are beginning to firm up and crack slightly. Cool on sheet for 10 minutes and then transfer to a cooling rack.

For added visual interest, flavor, and an excellent textural crunch, sprinkle each baked cookie with turbinado sugar and a dash of cinnamon.

Made this recipe?
Please leave a comment and a review! Share it on Instagram with
@theflouredtable and #theflouredtable.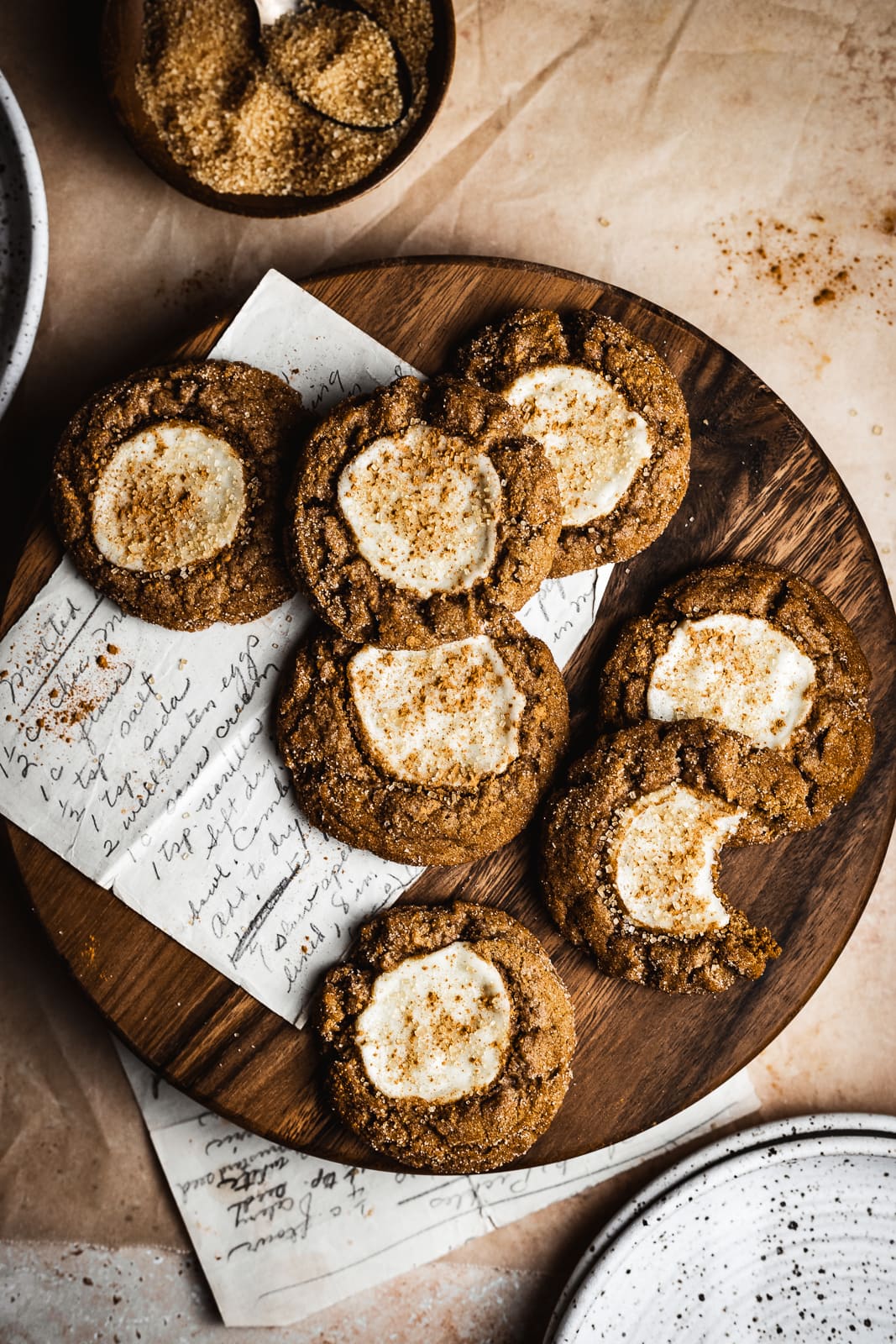 If you liked these pumpkin cream cheese thumbprint cookies, you might also enjoy:
Mint Matcha Chocolate Thumbprint Cookies
Triple Ginger Molasses Cookies