These pumpkin banana muffins are quick and easy to mix up in one bowl. They boast a tender, springy consistency and bake up to have a slightly sweet crust on the top. They're subtly flavored with pumpkin pie spices that still allow the main ingredients to shine. Adding ripe banana helps cut down on the total required sugar and adds an extra layer of flavor and moisture to the muffins. The optional mini chocolate chips are a delightful (and recommended) addition. When eaten warm, the chips form tiny pools of melted chocolate that make each bite an extra treat. Bonus - these muffins stay fresh for days!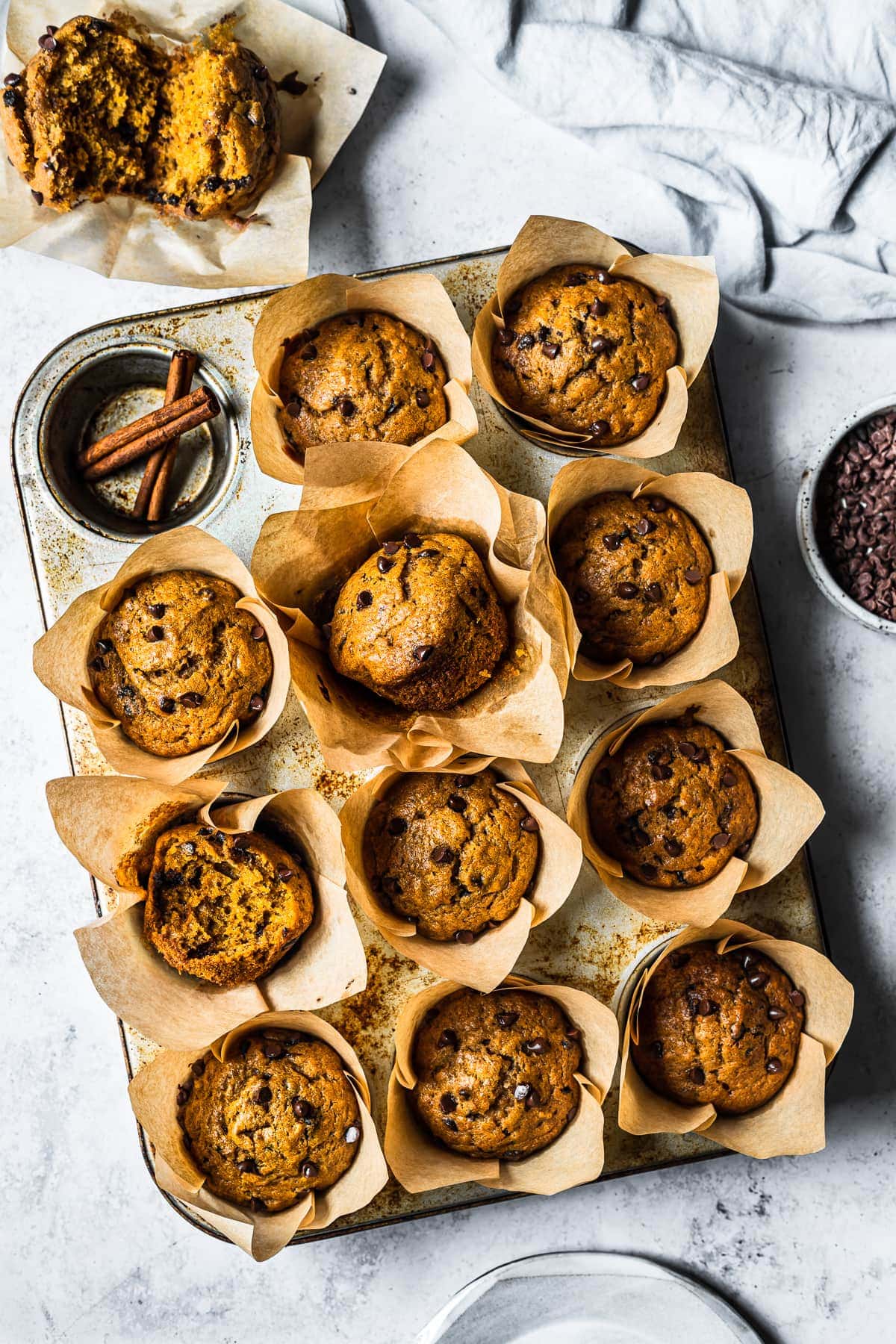 I'm a compulsive banana buyer. I add them to almost every grocery order we make, even though I never really have an end game in mind (besides my kids eating them plain). This means that I always have at least 3 or 4 black bananas in the fridge just waiting to be used. They drive my husband crazy. But he doesn't eat banana bread (sigh), so I guess that explains his lack of appreciation for them.
Last week I had the black bananas, and also had a partial can of pumpkin puree left over from recipe testing. I decided to put them together to make these delicious muffins. When combined with some pumpkin spice, they balance each other out nicely.
If you find banana bread too strong on the banana flavor, the addition of pumpkin here helps temper it. And the same with pumpkin; the banana and spices add an extra touch of sweetness and help the pumpkin lean more towards pie, and away from squash.
For another muffin recipe, also check out these streusel topped cinnamon muffins.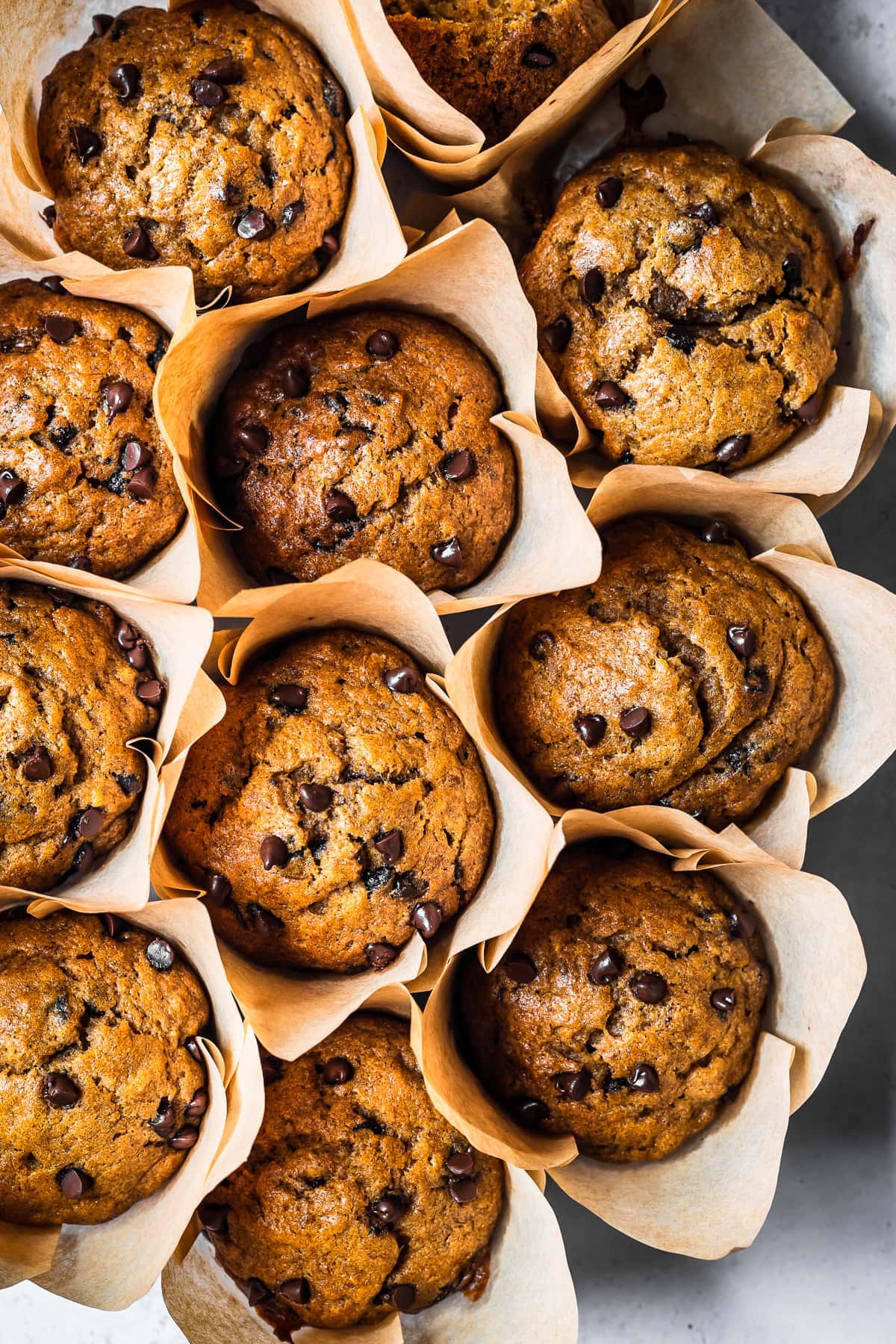 Why you'll love these muffins:
There's no mixer required! Since the butter is melted for this recipe, the ingredients can all be stirred together by hand. No need to cream the butter with the sugar.
It's a one bowl recipe. So straightforward!
This recipe makes 12 full-sized muffins. They hold up very well to being stored in an airtight container for a few days, and can easily be frozen for later.
This recipe uses common pantry ingredients (as long as you have pumpkin puree) so you can make them at a moment's notice.
The smell of these muffins warm from the oven is delightful. I brought some recently baked muffins with me when I picked up the girls from school, and the whole car smelled like a bakery. They ate them as a snack for four days in a row with no complaint. That's high praise coming from kids who usually insist on variety.
Recipe notes, ingredients and substitutions
Unsalted butter - Using unsalted butter allows you to control the total quantity of salt in the recipe. Salt content in salted butter varies from brand to brand. The butter is melted. If you want to go over the top, feel free to brown the butter first! I recommend starting with an extra tablespoon (an extra 14 grams) of butter if browning, as it will reduce during cooking. If you want to remove the dairy, you can use a vegan butter, or try substituting about 6 Tablespoons of vegetable oil for the butter. While I haven't tested butter alternatives in this recipe, you can generally substitute oil for part of the melted butter in muffins and quick breads without issue.
Brown sugar - Brown sugar adds a nice rich color and caramel flavor, and helps keep the baked muffins moist.
Bananas - You want to use really ripe bananas for this recipe. Dark brown or black bananas are great. Don't feel the need to mash them to a completely even consistency. Some small lumps will be fine, as they'll continue to break down as you mix the batter further. No brown bananas on hand? For a fun read about how to ripen bananas, check out this article from Epicurious.
Pumpkin - Be sure to use 100% pure pumpkin puree here, and not a sweetened canned pumpkin pie filling. The only ingredient listed on the can should be pumpkin. You can also use your own pumpkin puree. Make sure it has a similar consistency to canned pumpkin.
All purpose flour - Feel free to substitute a cup for cup style gluten free flour if you'd like to convert this to a gluten free pumpkin banana muffin recipe.
Cinnamon, ginger, nutmeg - Traditional pumpkin pie spices add a warming element and an extra layer of flavor to these muffins. If you have your own preferred pumpkin pie spice blend at home, feel free to substitute it in equal measurements for the spices listed.
Mini chocolate chips (optional) - I tossed some mini chocolate chips into part of a test batch on a whim. After trying them, I decided they needed to become a permanent part of my recipe. Feel free to omit them if you'd like to try a straightforward pumpkin banana version without the chocolate.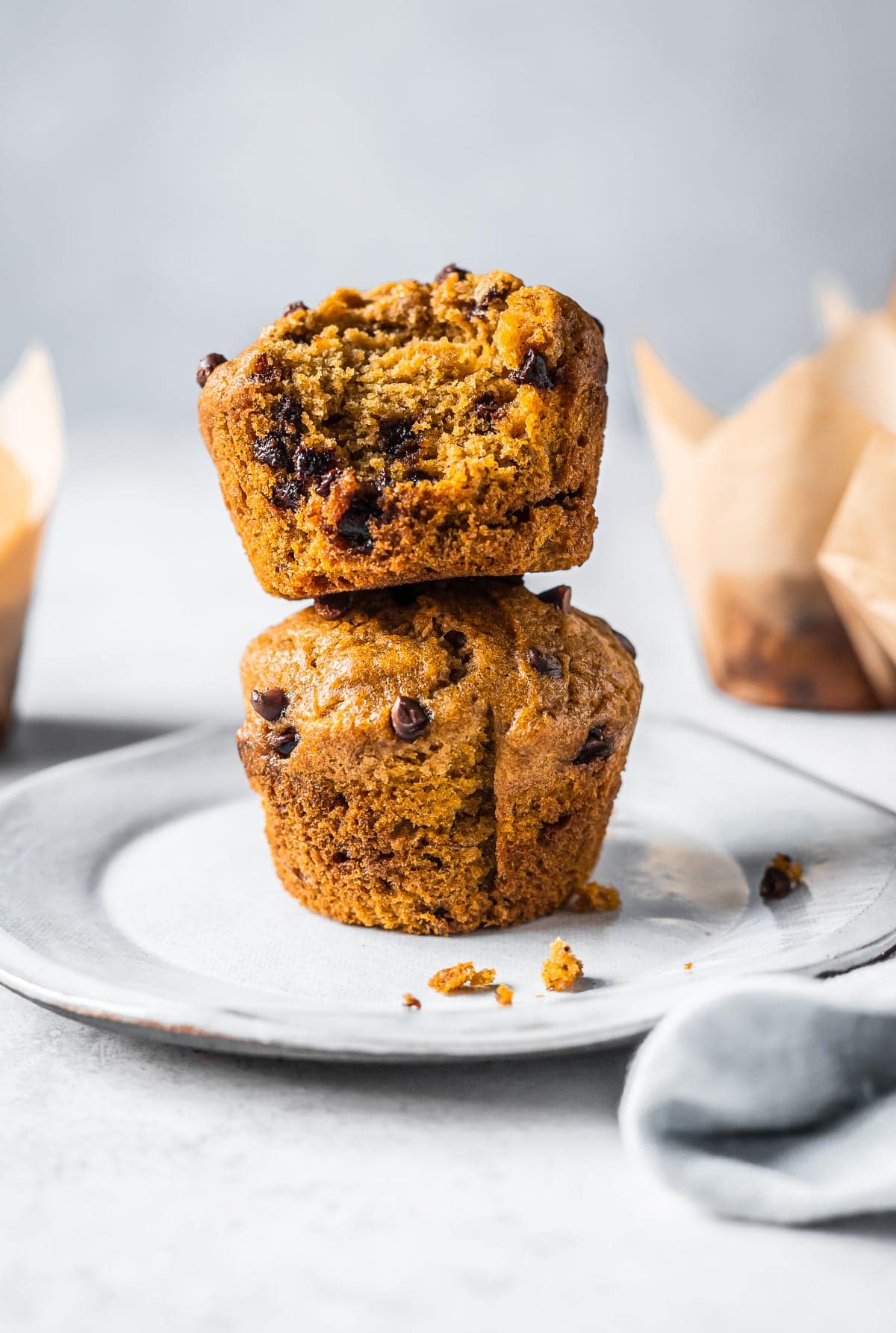 Can I use homemade pumpkin puree in these muffins?
Yes! You can definitely use your own pumpkin puree. Make sure it has a similar smooth texture and consistency to canned pumpkin. Pureed butternut squash would also work nicely.
Can I substitute a pumpkin spice blend for the spices listed here?
Absolutely. If you have a favorite pumpkin spice blend in your pantry, simply use it in lieu of the spices listed here. Pumpkin spice blends often consist of cinnamon, ginger and nutmeg, as I've listed here. Some blends also include cloves, allspice, and even mace. Use 1 ½ teaspoons of your preferred pumpkin spice blend.
Can I omit the chocolate chips?
The chocolate chips are completely optional. Leave them in for a little bit of decadence, or feel free to omit them completely. You could also substitute a similar amount of other add-ins such as raisins, dried cranberries, or chopped nuts such as pecans or walnuts. Make them however you wish! Be sure to sprinkle a bit of the add-ins, whether mini chocolate chips or something else, over the top of each muffin prior to baking to give the muffins some extra visual punch.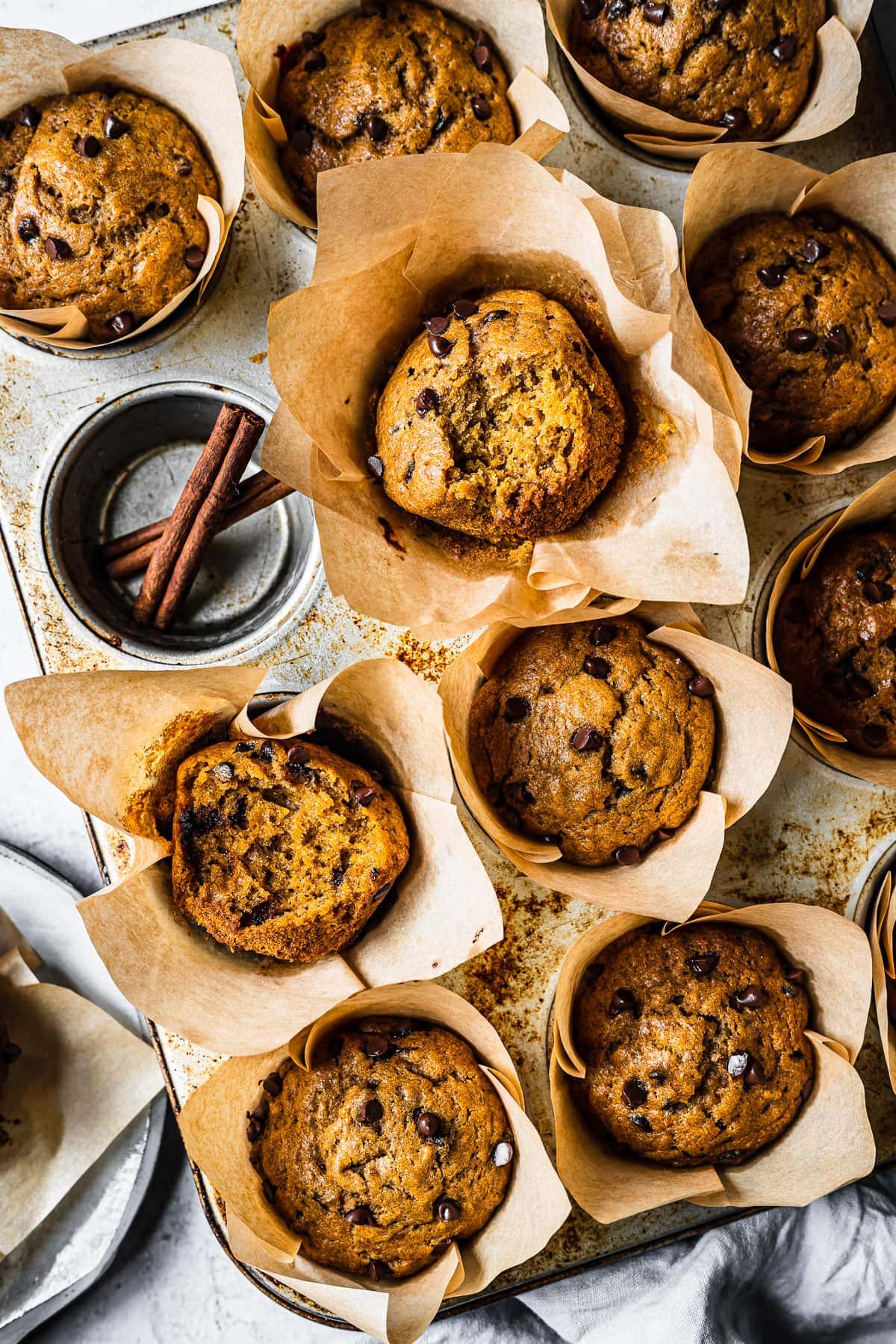 How to make pumpkin banana muffins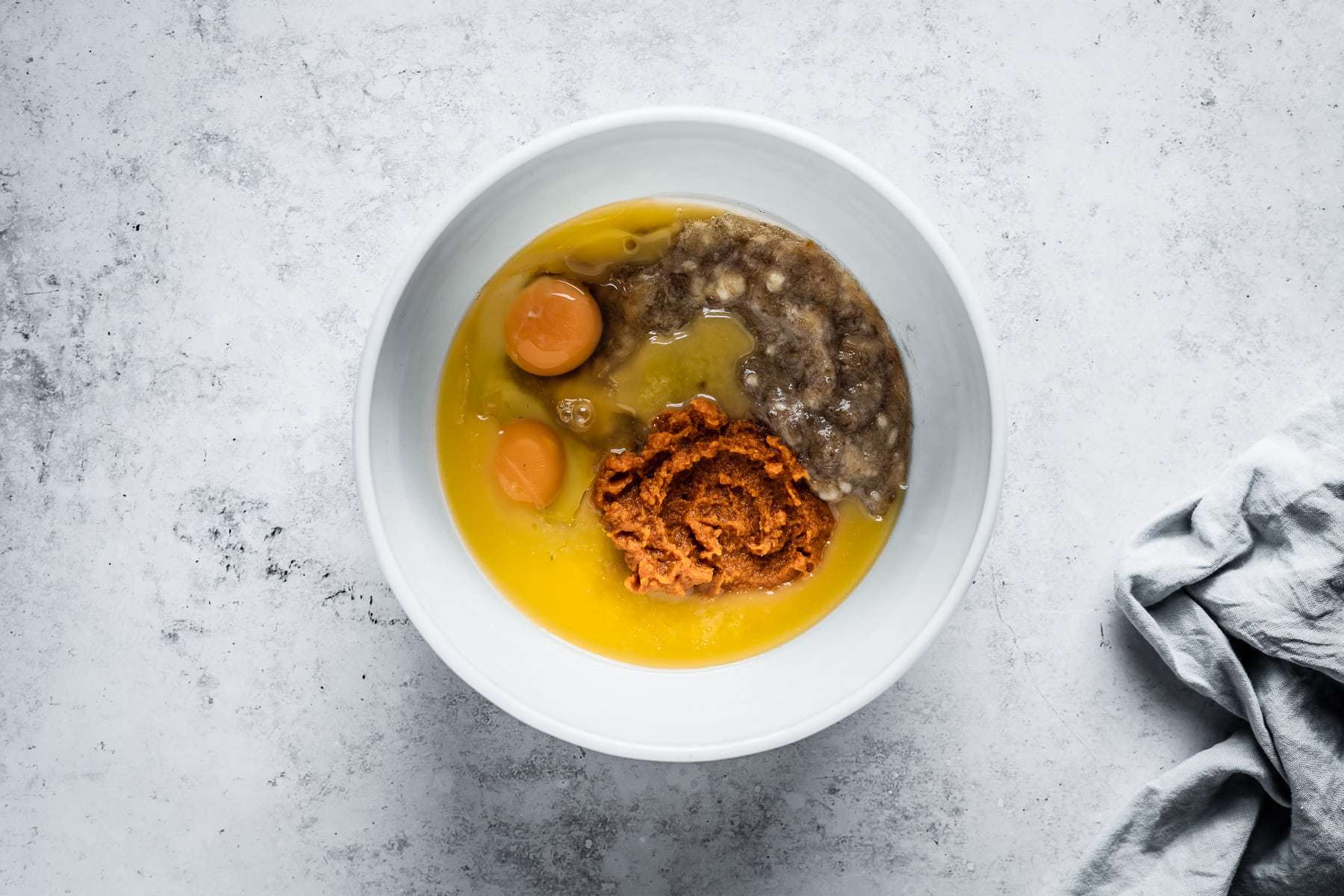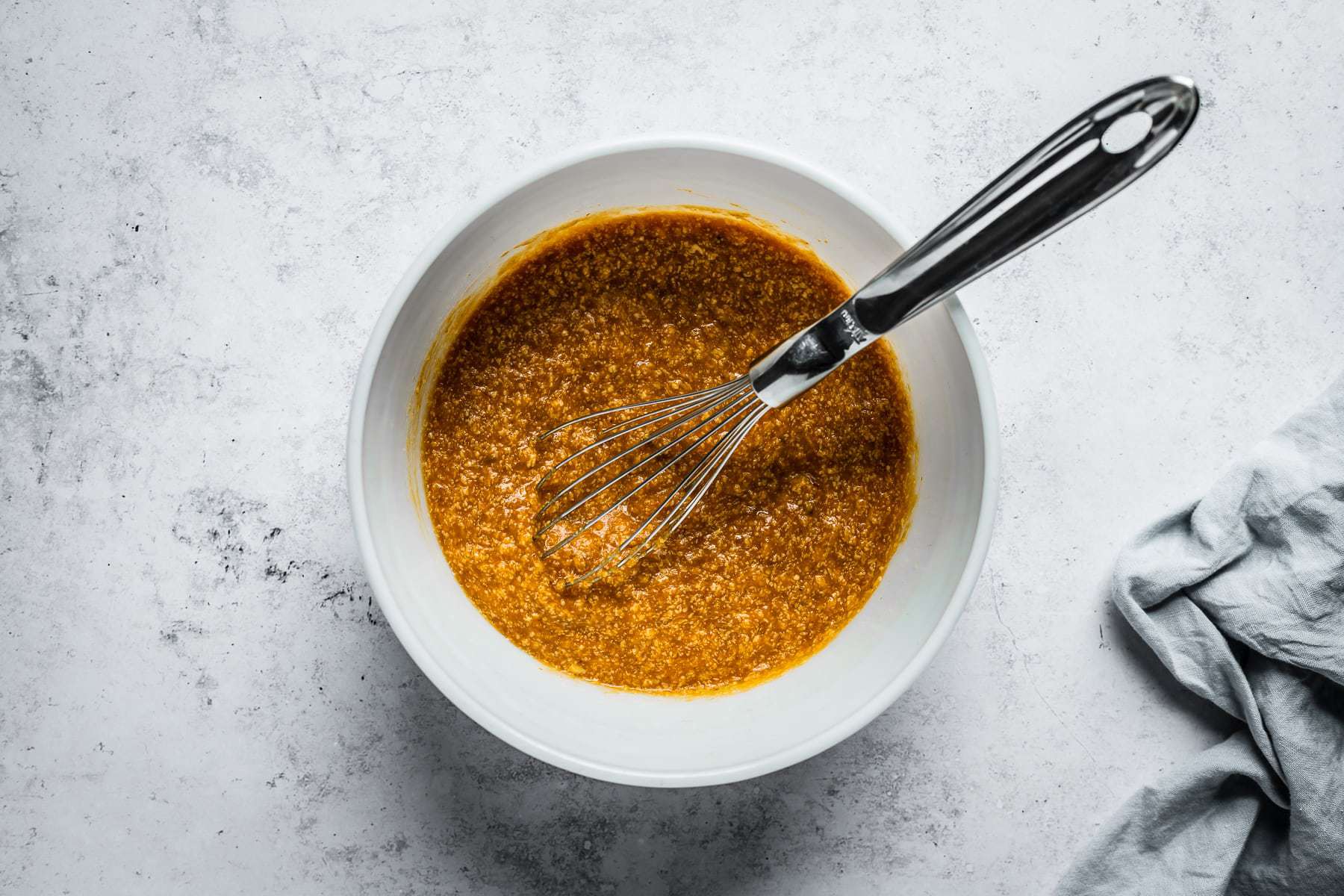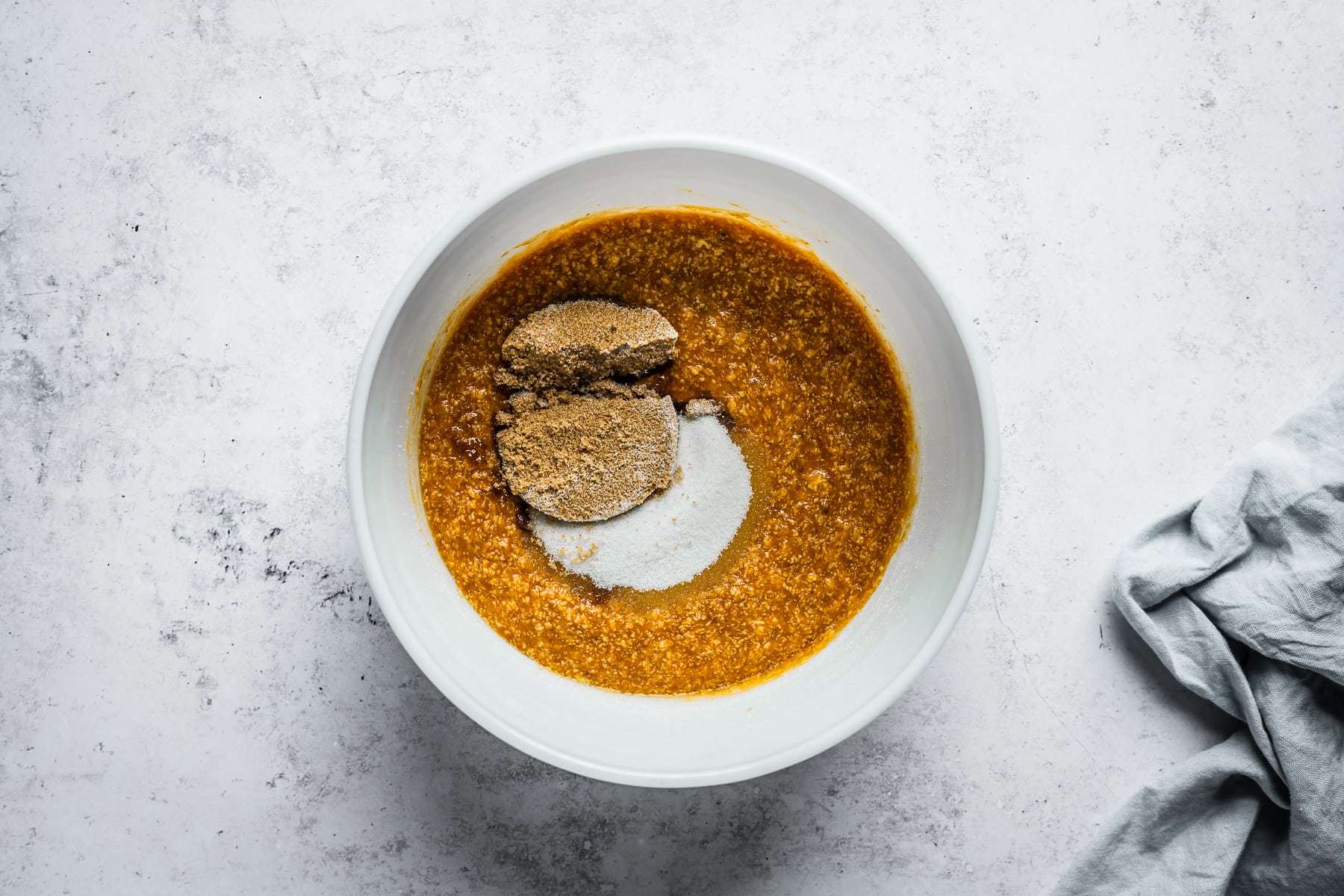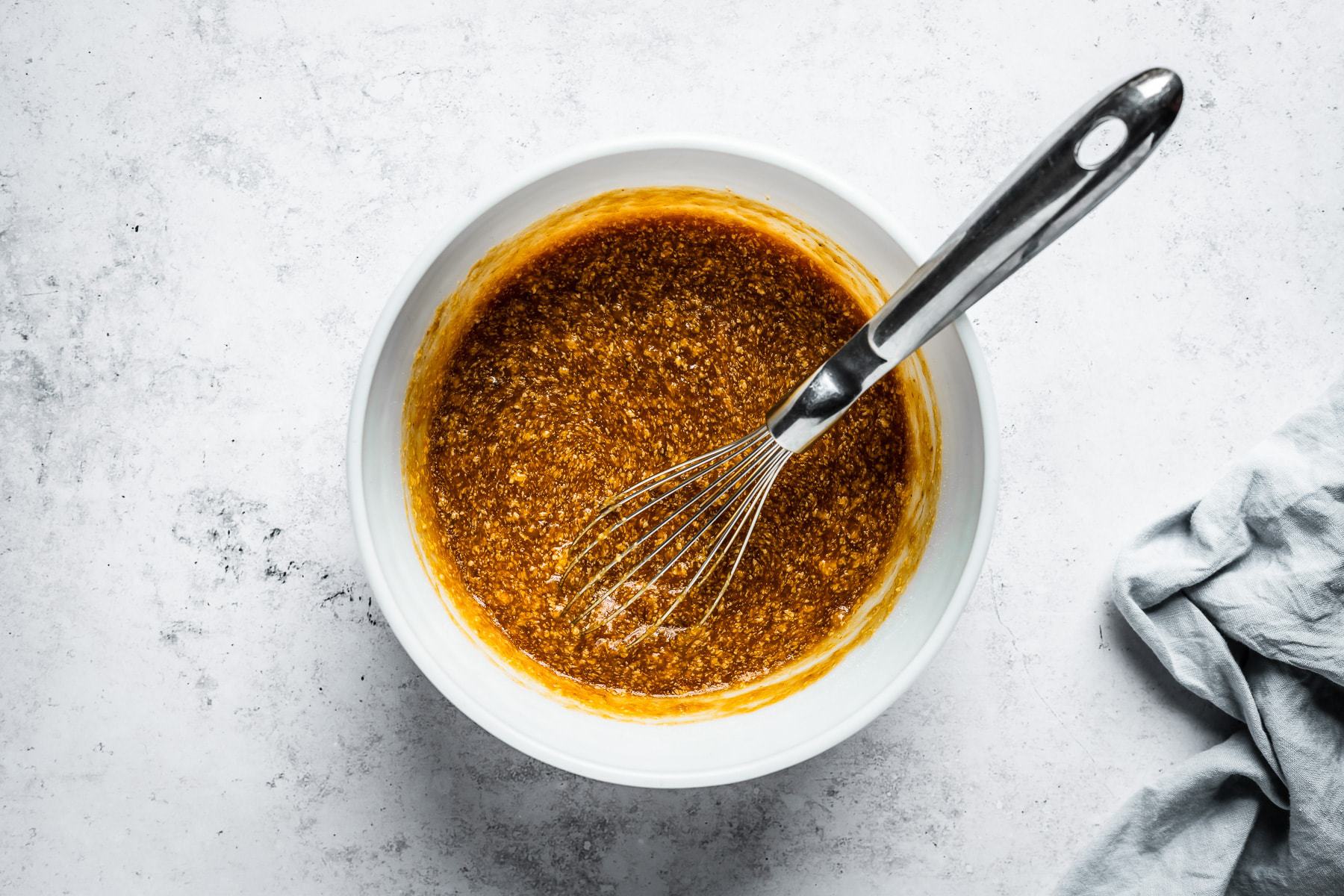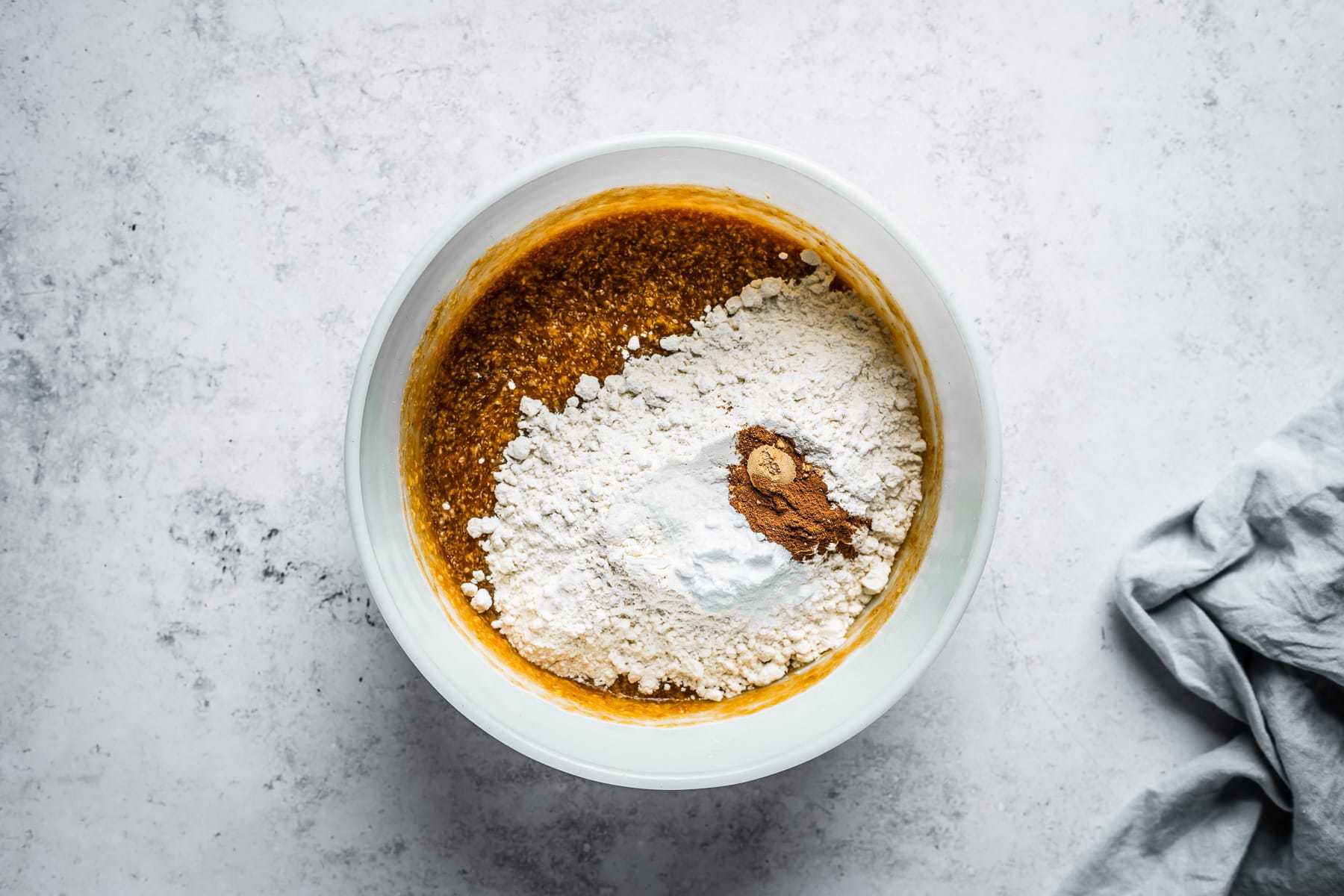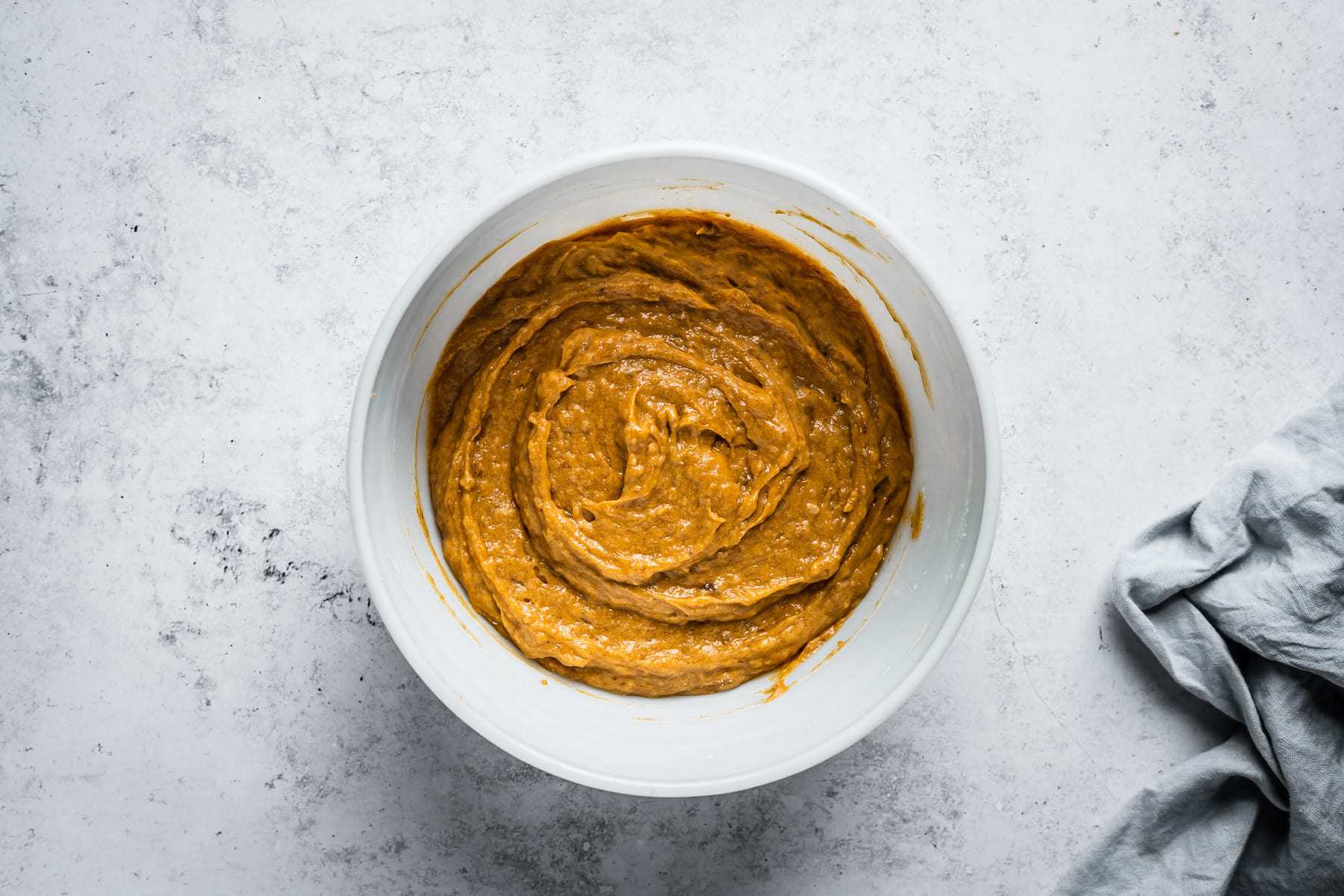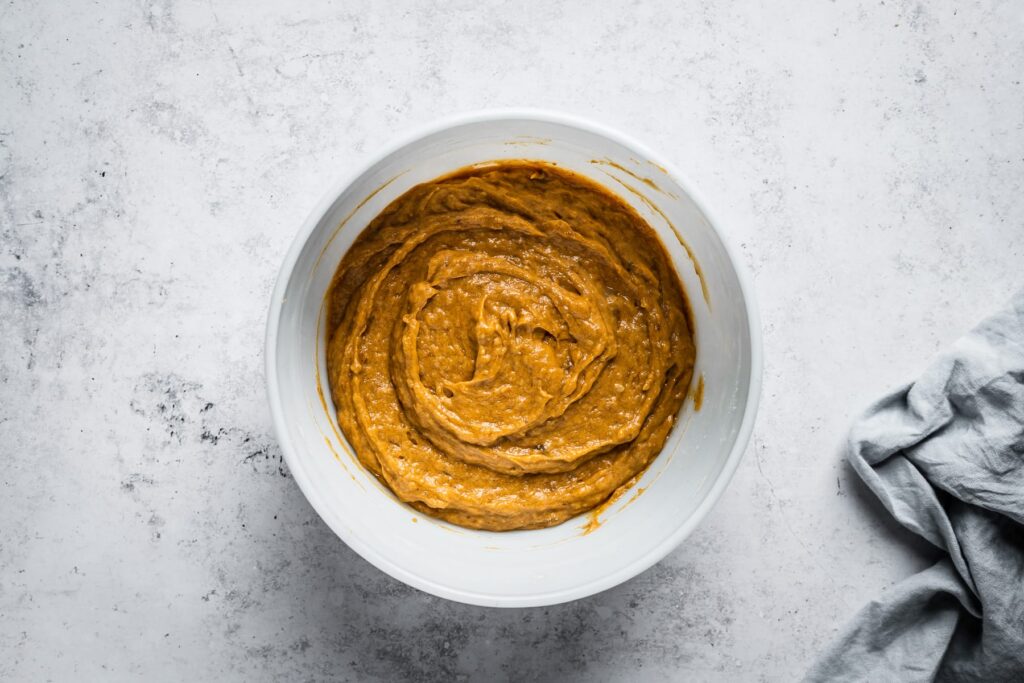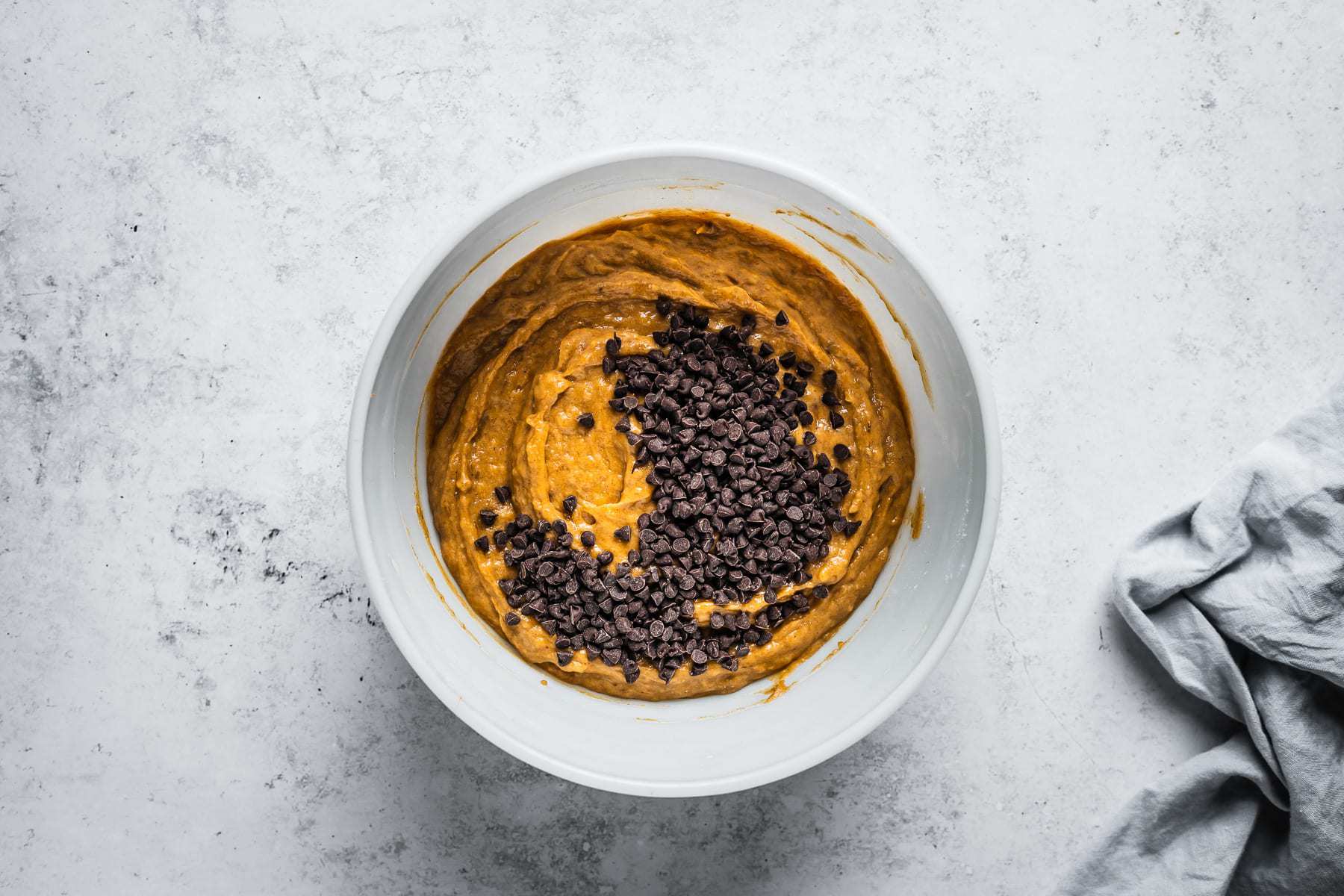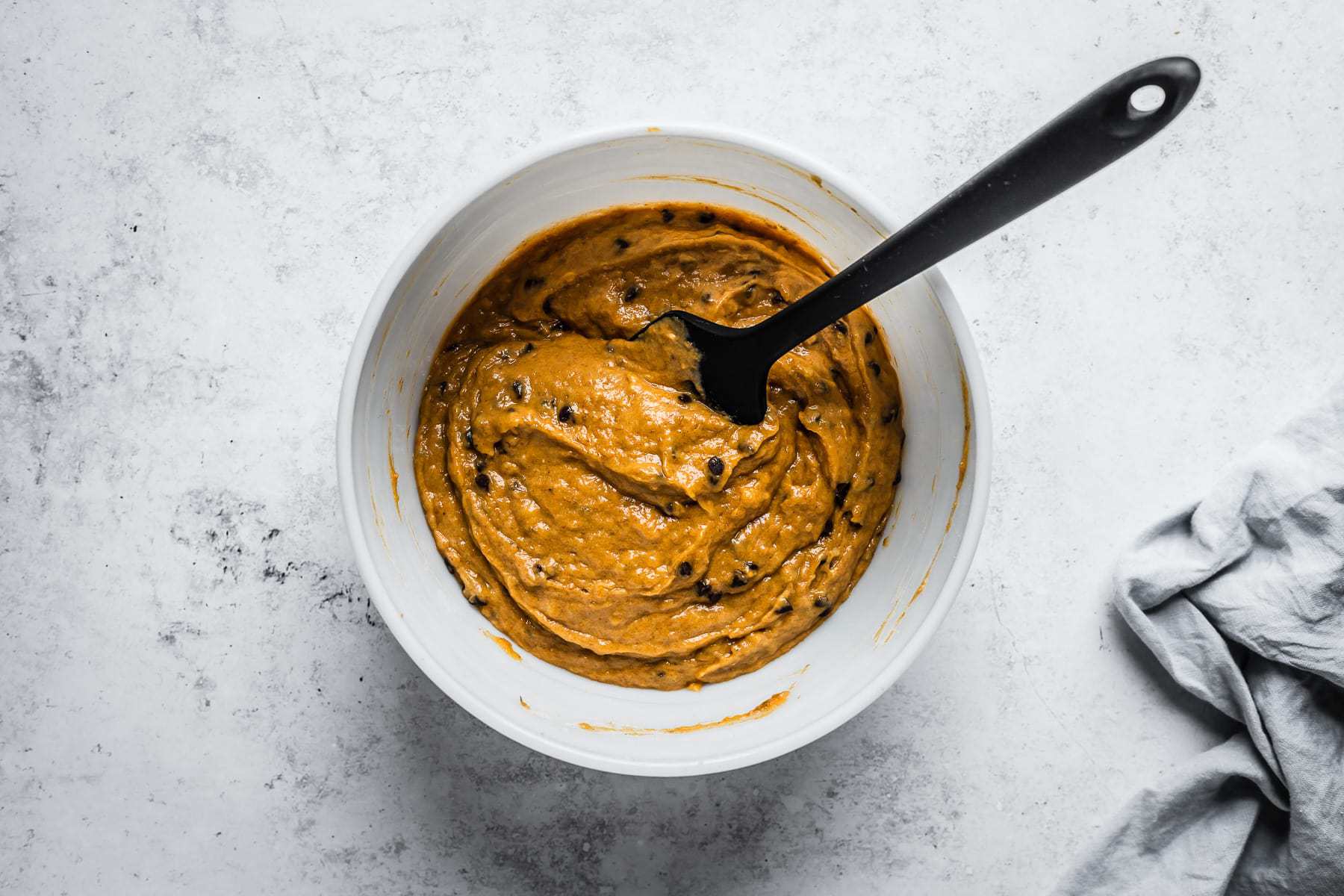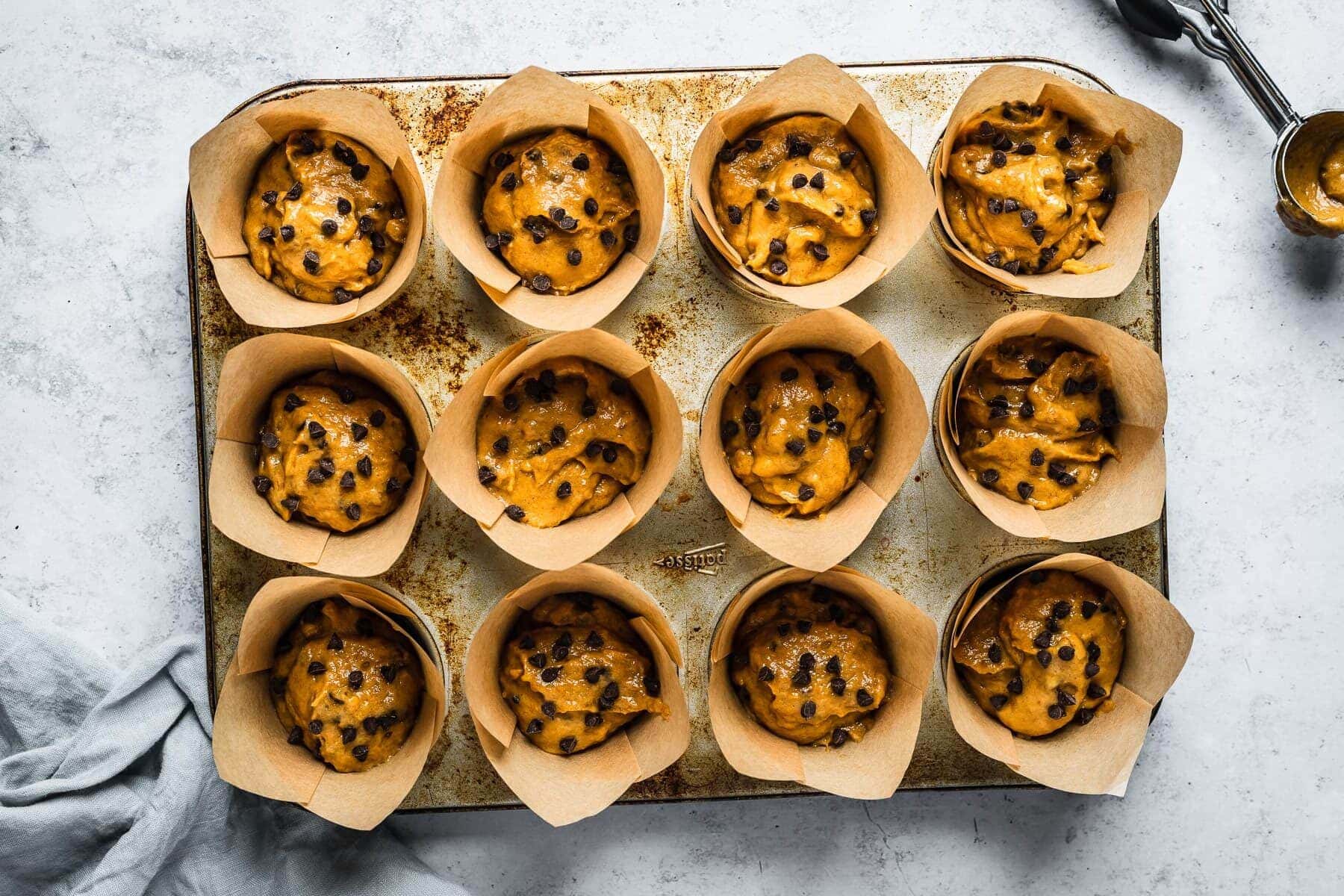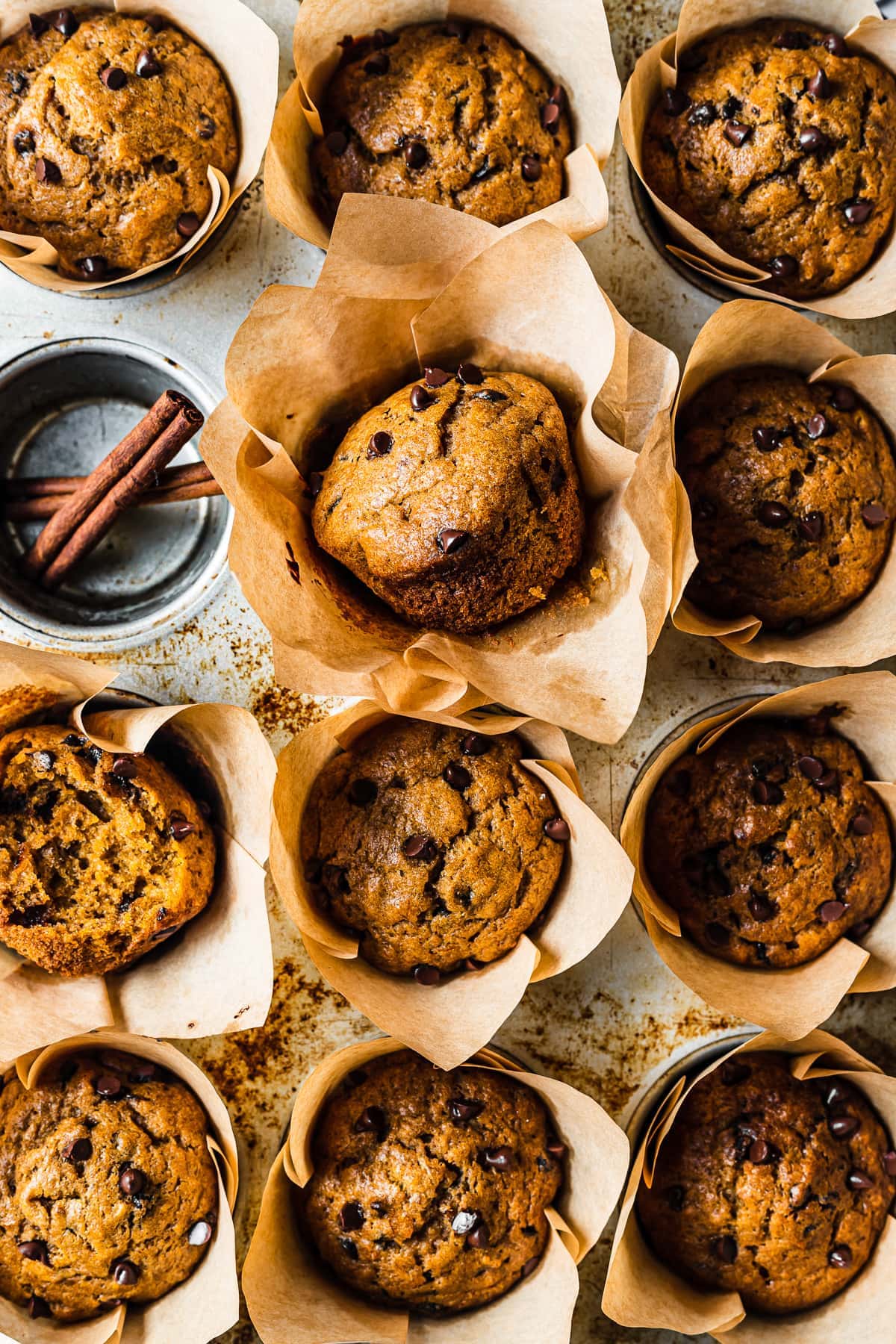 📖 Recipe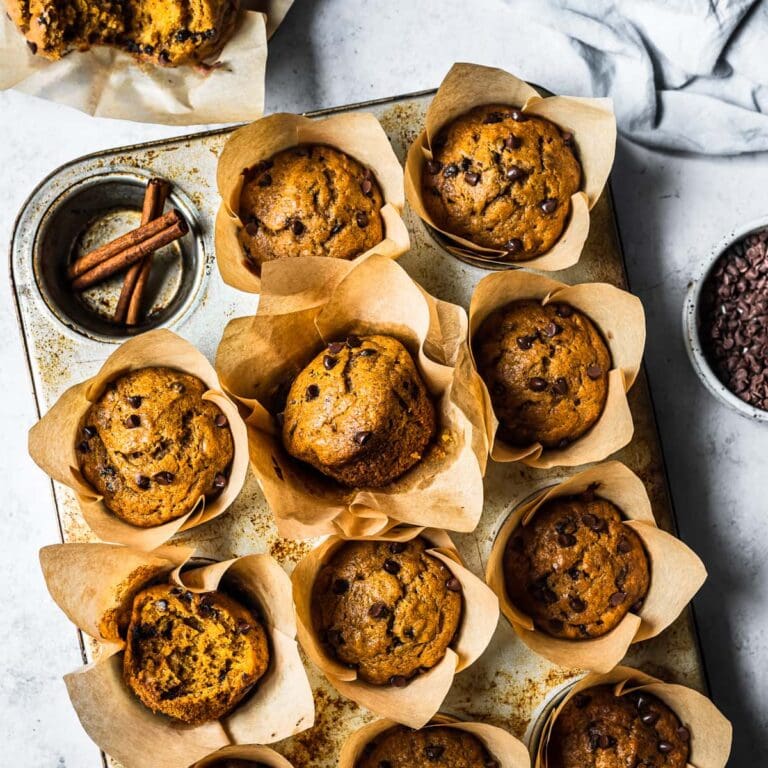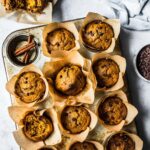 Pumpkin Banana Muffins
Print Recipe
Pin Recipe
This easy, one bowl pumpkin banana muffin recipe comes together quickly. These muffins boast a tender, springy consistency and bake up to have a slightly sweet crust on the top. They're subtly flavored with pumpkin pie spices, and the optional mini chocolate chips add nice melty pools of chocolate when eaten warm.
Servings
12
standard muffins
INGREDIENTS
113

grams (½ cup, 4 ounces)

unsalted butter, melted

175

grams (¾ cup)

banana, mashed

183

grams (¾ cup)

pumpkin puree

2

large

eggs, room temperature

1

teaspoon

vanilla extract

100

grams (½ cup)

brown sugar

50

grams (¼ cup)

granulated sugar

210

grams (1¾ cups)

all purpose flour

¼

teaspoon

kosher salt

1

teaspoon

baking soda

1

teaspoon

ground cinnamon

¼

teaspoon

ground ginger

⅛

teaspoon

ground nutmeg

56

grams (¼ cup)

mini chocolate chips, plus extra for sprinkling on top
INSTRUCTIONS
Preheat oven to 375 degrees Fahrenheit (190 Celsius, Gas Mark 5). Line a standard 12 cup muffin pan with paper liners.

In a large mixing bowl, combine melted butter, mashed banana, pumpkin puree, eggs and vanilla. Whisk well to fully incorporate. Scrape down sides of bowl. Add sugars and mix again.

Add flour, baking soda, cinnamon, ginger, and nutmeg. Mix together until just barely combined and dry ingredients are no longer visible. Do not overmix. If adding mini chocolate chips, gently stir in now. Sprinkle some additional mini chocolate chips onto the top of each muffin.

Using an ice cream or cookie scoop, fill each muffin liner about ¾ full, dividing the batter between the 12 muffin liners. Bake for 22-24 minutes, until tops spring back when touched, and a toothpick comes out with just a crumb or two attached (no wet batter). Cool in pan for 5 minutes, and then transfer to a wire cooling rack to finish cooling.
The Floured Table
Recipe Author: Kathleen Culver
https://www.theflouredtable.com/pumpkin-banana-muffins/
Made this recipe? Please leave a comment and a star review! ★★★★★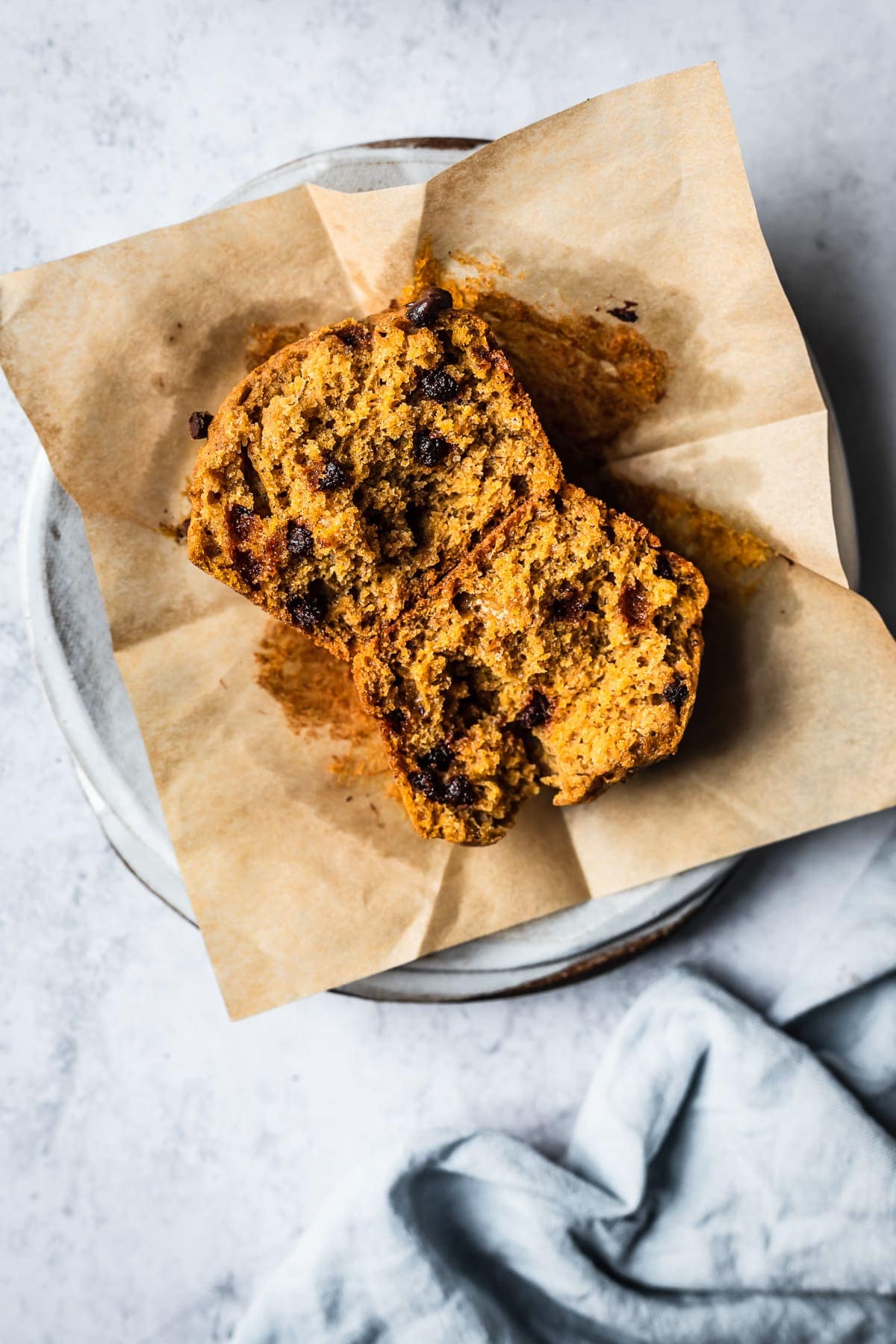 More fall recipes
If you liked these banana pumpkin muffins, you might also enjoy these other fall recipes: