This autumnal bundt cake is a wonderful way to take advantage of the abundance that a fall apple harvest brings. The batter includes olive oil, cinnamon spice, applesauce and a generous amount of finely diced apples. The resulting cake has a tender, moist crumb and a crunchy, cinnamon-sugar coated exterior. A simple vanilla glaze, brought together with a bit of heavy cream, gives the cake a beautiful contrasting decoration and a further bit of sweetness.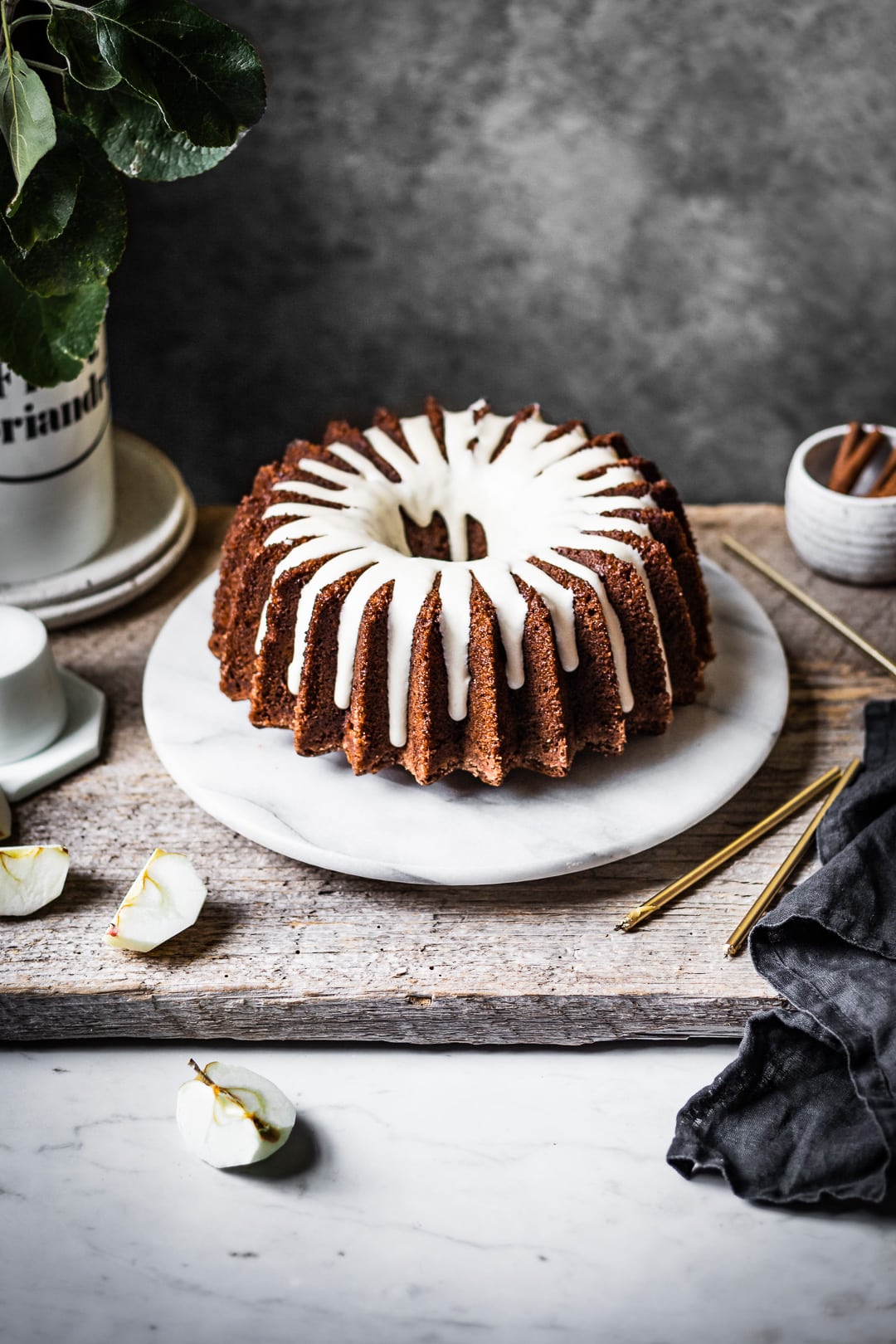 I first made this apple bundt cake last fall, which now seems like several lifetimes ago rather than a mere 12 months. Late last September as I cored and sliced apples one by one out of a cardboard box, I stood looking out the kitchen window, marveling at the change of seasons. This year, I am taking comfort in the slight hints nature drops as she shifts towards autumn: a dampness in the morning air, a golden glow in the late afternoon sun, spiderwebs dancing in the dew. With so much feeling out of control, the predictable arrival of fall, just as every year before it, is reassuring. Nature putting one foot in front of the other despite everything, plodding along.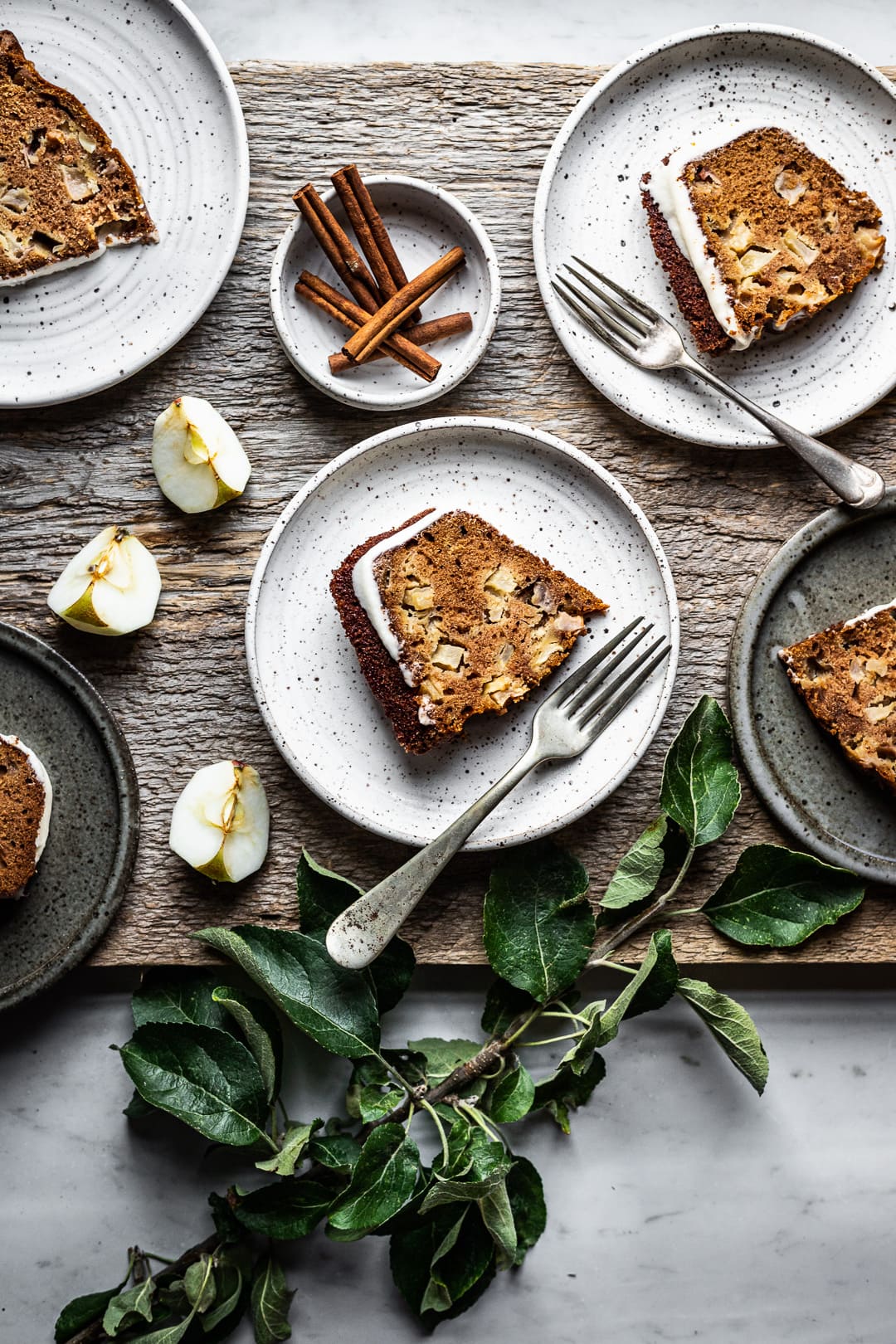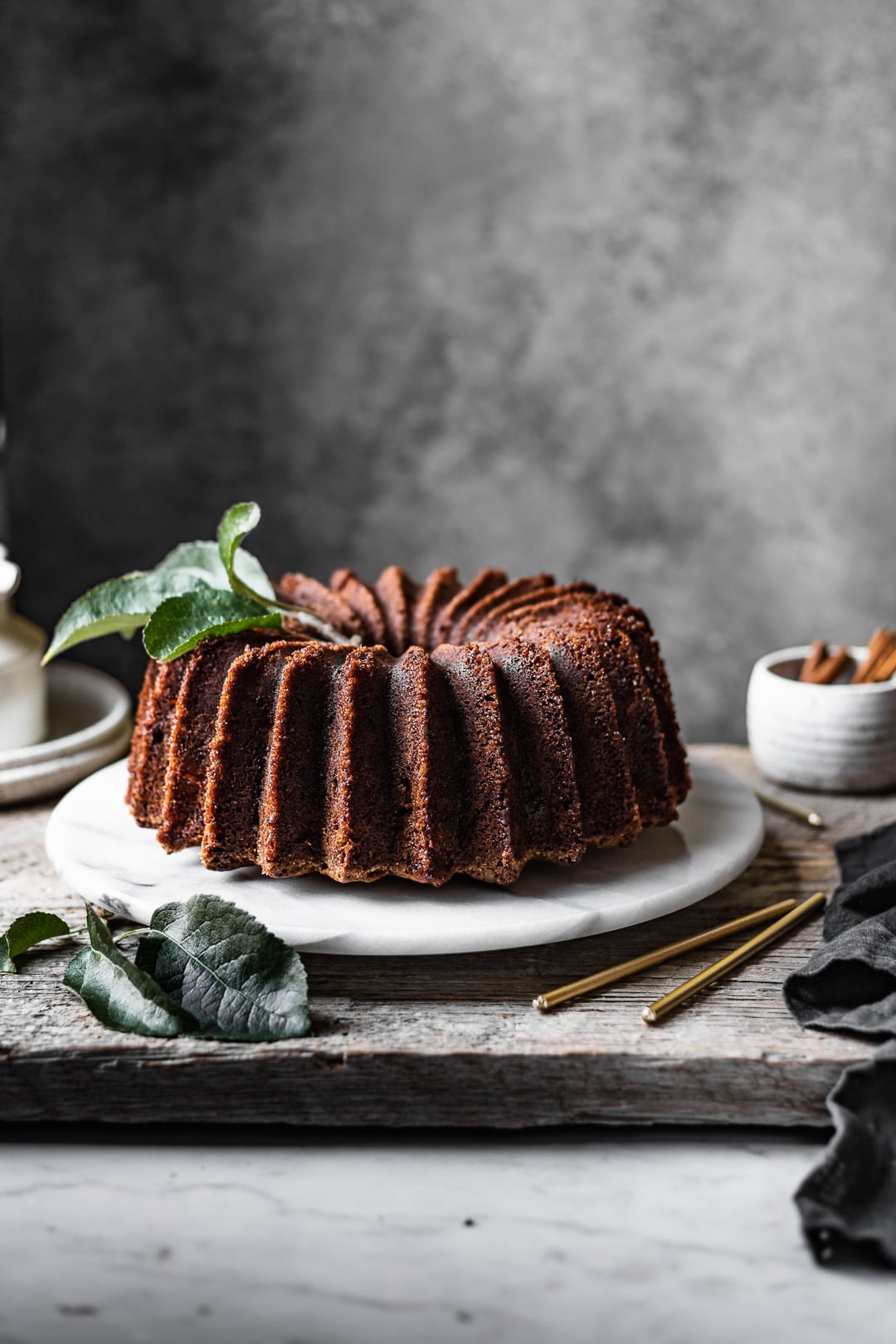 This is not an overly sweet cake. I'd consider it more of a snacking cake - a cake you could easily eat for breakfast. I ate it with a heaping spoonful of Greek yogurt several mornings and paired it with a pillowy scoop of lightly sweetened whipped cream and a cup of coffee one afternoon. Both renditions are delicious. It's flexible and can be dressed up or down depending on your fancy. Either way, it captures the simple comforts of fall.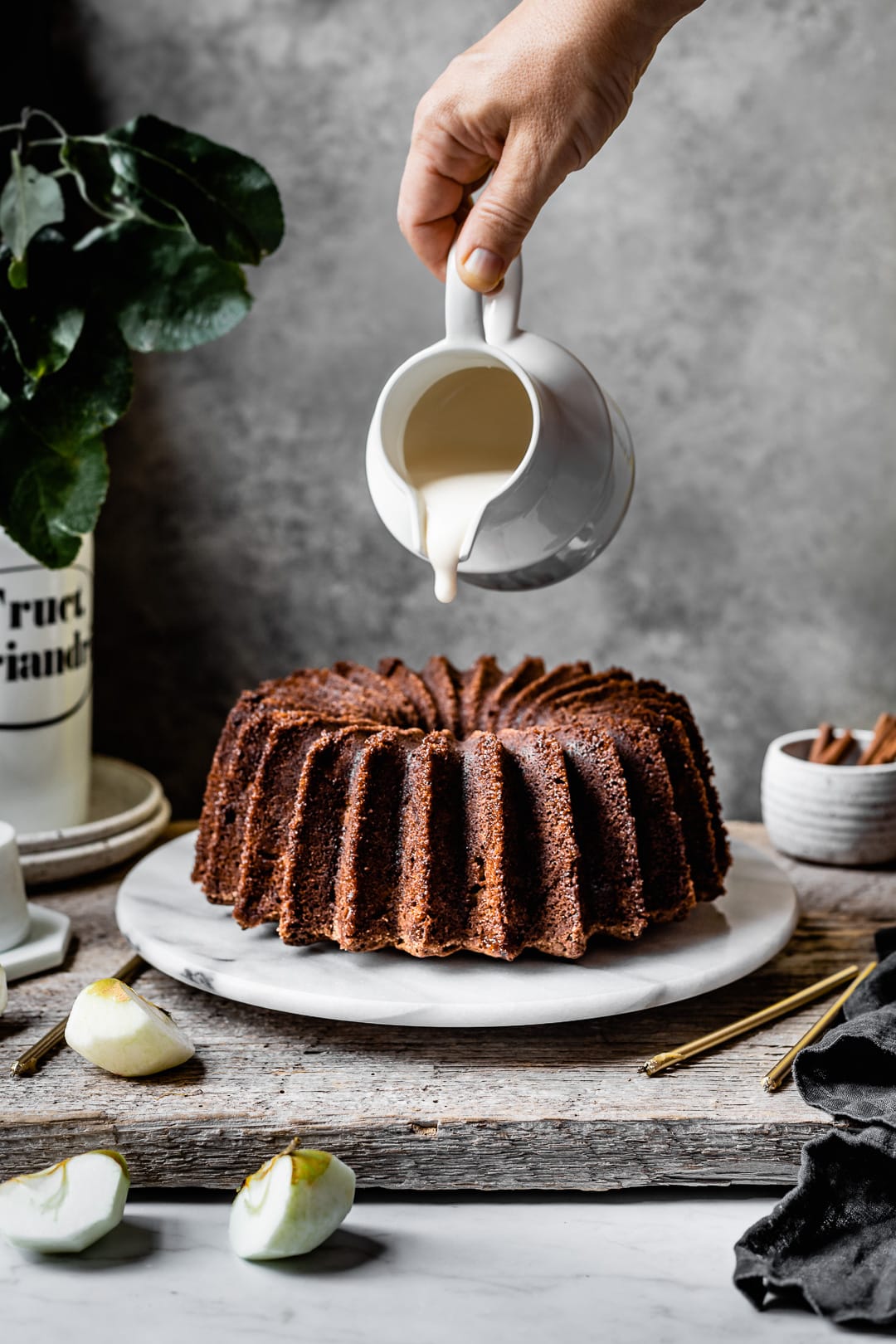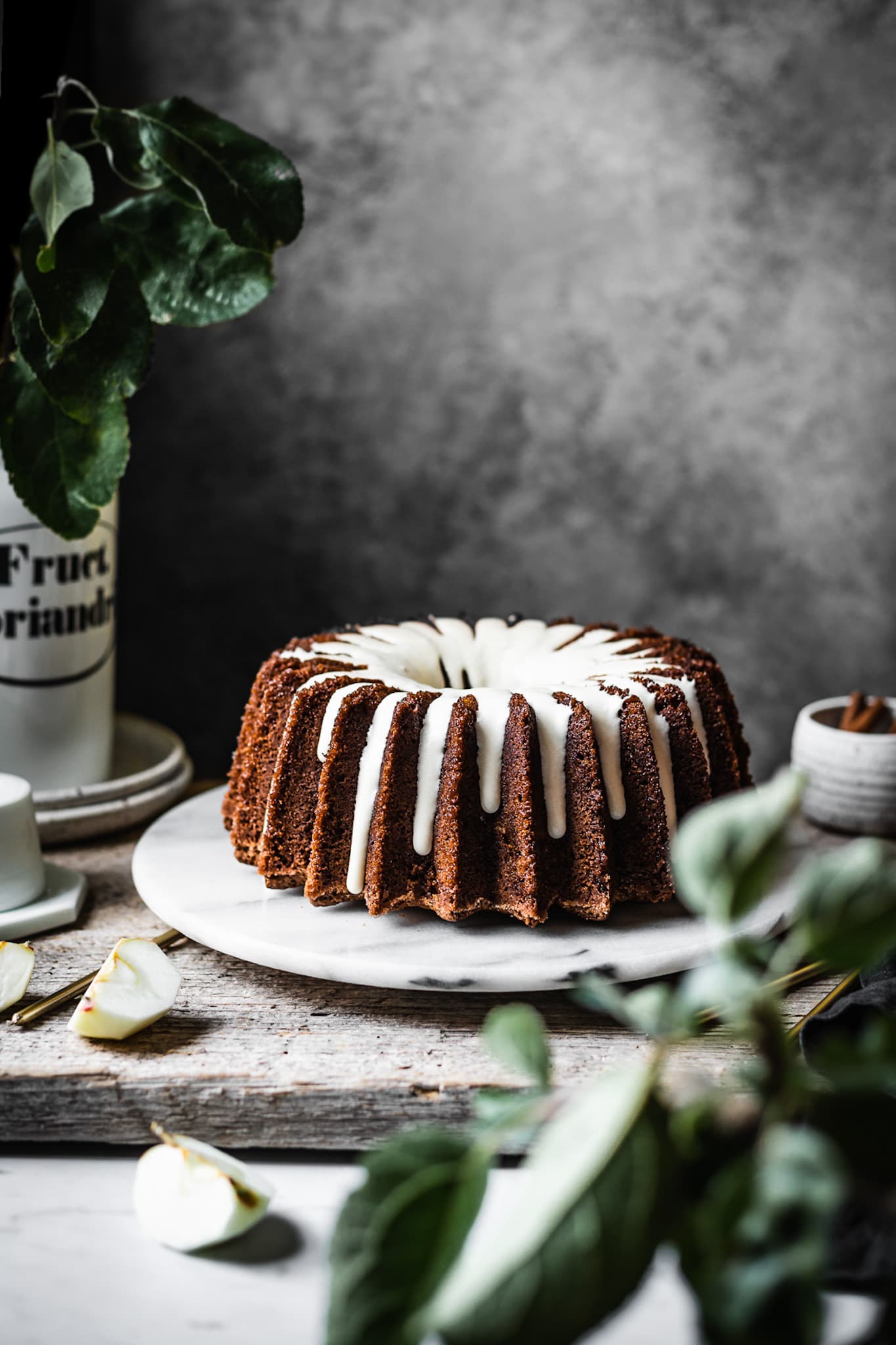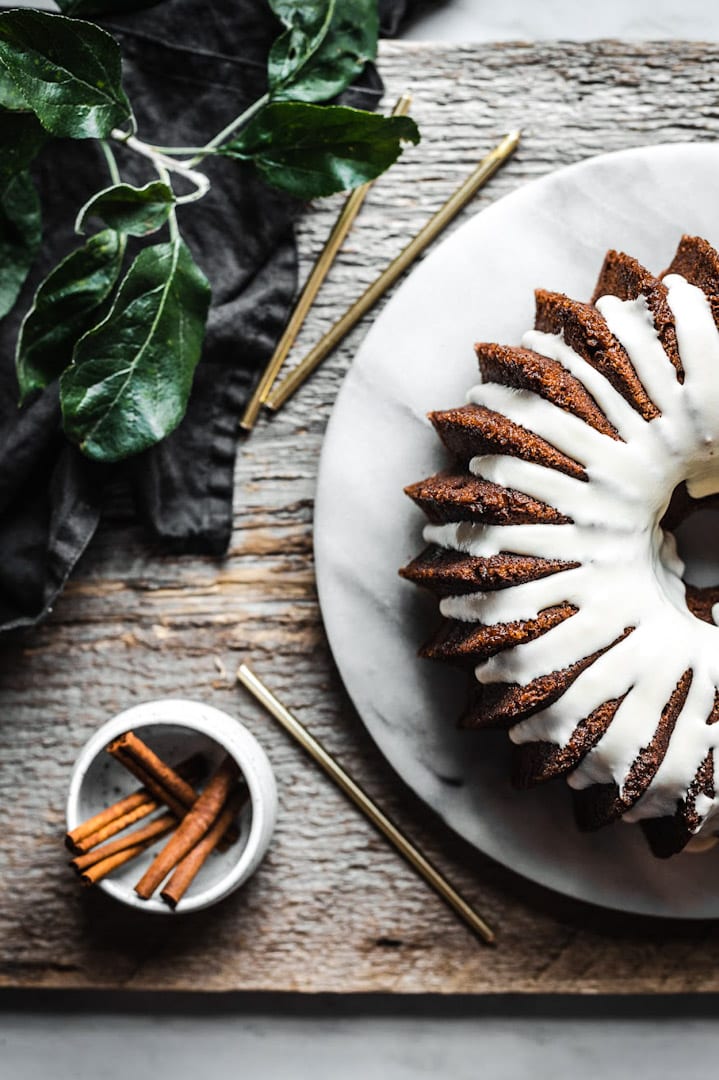 Recipe notes
BUNDT PANS - The bundt pan you see in the photographs here is the 10 cup Brilliance Pan by Nordicware. It's a lovely, heavy duty bundt pan. I have never had a cake stick (knocking on wood right now). As each bundt pan shape is unique, the amount of cinnamon sugar you need to coat the interior may vary. This is a more intricate bundt design and has a fair amount of surface area with all the ridges. If you have a bit extra cinnamon sugar, that's OK - just shake out the excess. Equally, if you run short, simply mix up a bit more and continue.
APPLES - For this cake, I chose not to peel the apples I used, as they came fresh (and unsprayed) off a tree in our own front yard. The peel wasn't noticeable in the cooked cake. I do dice them quite finely. While I don't know the specific variety (the previous owners planted the tree), I would describe them as firm, crisp, and medium sweet, good for both baking and eating out of hand.
DAIRY FREE (ALMOST) - While not intentional, the batter in this apple bundt cake is dairy free, thanks to the olive oil and applesauce providing the fat and moisture. To go completely dairy free, use a plant-based butter to prepare the bundt pan and substitute a dairy free alternative milk for the cream in the glaze. As these milks are usually thinner than heavy cream, add the liquid one tablespoon at a time until you reach the desired glaze consistency. While I haven't tried this myself, I think it would work well. If you do try these adaptations, please let me know your results!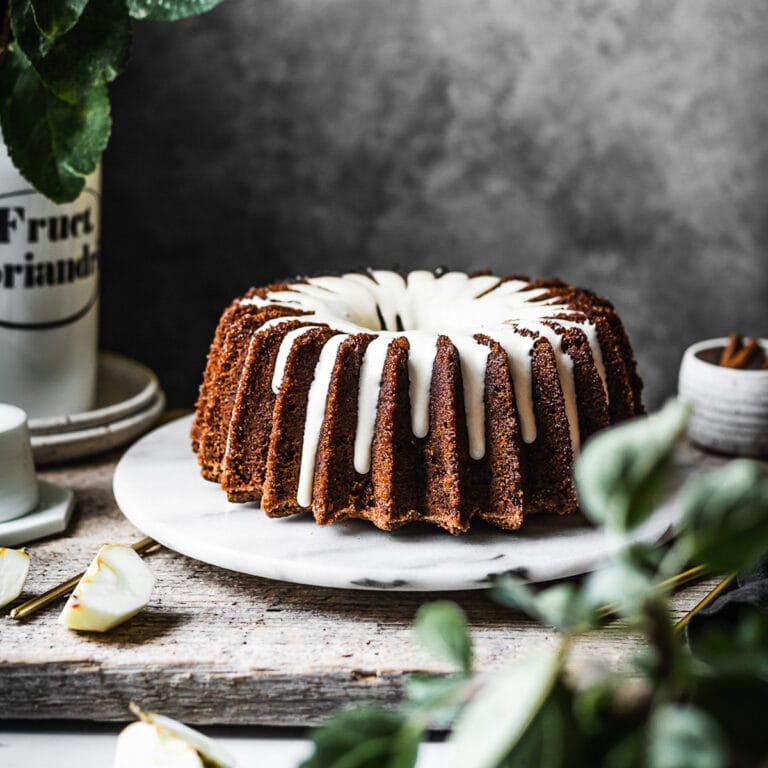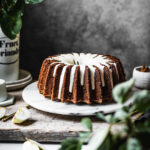 Apple Olive Oil Bundt Cake with Vanilla Glaze
Print Recipe
Pin Recipe
Servings
10
cup bundt pan - about 16-24 slices
INGREDIENTS
Bundt Pan Preparation
3

Tbsp (43g)

butter, softened

⅓

cup (68g)

granulated sugar

1 ½

teaspoon

cinnamon
Apple Bundt Cake
¾

cup (159g)

olive oil (I used organic extra virgin)

¾

cup (183g)

applesauce (smooth puree, not chunky)

3

large

eggs, room temperature

½

cup (100g)

granulated sugar

½

cup (110g)

brown sugar, packed

3

cups (360g)

all purpose flour

1 ½

teaspoon

baking soda

1

teaspoon

vanilla

1

teaspoon

salt

1 ½

teaspoon

cinnamon

4

large (1 lb, 16 oz, 455g)

apples, cored and finely diced (weight is after preparation, not before)

Peeling apples prior to coring is optional.
Vanilla Glaze
2

cups (240g)

powdered sugar, sifted

4

Tbsp (¼ c)

whipping cream

1

teaspoon

vanilla extract
INSTRUCTIONS
Preparing the Bundt Pan
Grease a 10 cup bundt pan meticulously with softened butter (I use a small pastry brush) and coat interior (also meticulously - this is a theme with bundt pan preparation) with cinnamon-sugar mixture. It's easiest just to pour in the sugar mixture and then hold the bundt pan at an angle while carefully turning it to let the sugar fall into all the crevices of the pan. I do this over the sink so that I can easily rinse any spills away.
Apple Bundt Cake
Preheat oven to 350 degrees F (177 C, Gas Mark 4)

In a large bowl, add olive oil, applesauce, eggs, and vanilla. Whisk to combine.

In a separate large bowl, combine flour, both sugars, baking soda, salt, and cinnamon. Whisk to blend all ingredients together.

Add dry ingredients to wet ingredients. Mix with a spoon or spatula until all dry ingredients are fully incorporated. Give the bottom of the bowl a few scrapes to make sure there are no pockets of dry ingredients remaining.

Add the finely diced apples and fold in until they are evenly distributed in the batter.

Pour into prepared bundt pan and rap pan onto counter firmly several times to remove bubbles and encourage batter to settle into the crevices of the bundt pan. (You can do this on a folded kitchen towel to protect the counter and minimize the noise).

Bake for 55-60 minutes. The top should be golden brown, the cake should be pulling away from edges of pan slightly, and a tester inserted into the middle of the cake should come out with no crumbs attached.

Cool cake in pan for 10 minutes and then invert onto a cooling rack. Gently move the bundt pan back and forth ever so slightly to loosen it, and then carefully lift it off the cake. Cool completely before adding glaze.
Vanilla Glaze
In a four cup liquid measuring cup (or similar, ideally with pour spout) add the powdered sugar, cream and vanilla. Whisk together until no lumps remain. It should be very thick but pourable. If necessary, add one teaspoon additional cream. Pour glaze onto top of cooled bundt cake and let set before serving.
Made this recipe?
Please leave a comment and a star review! Share it on Instagram with
@theflouredtable and #theflouredtable.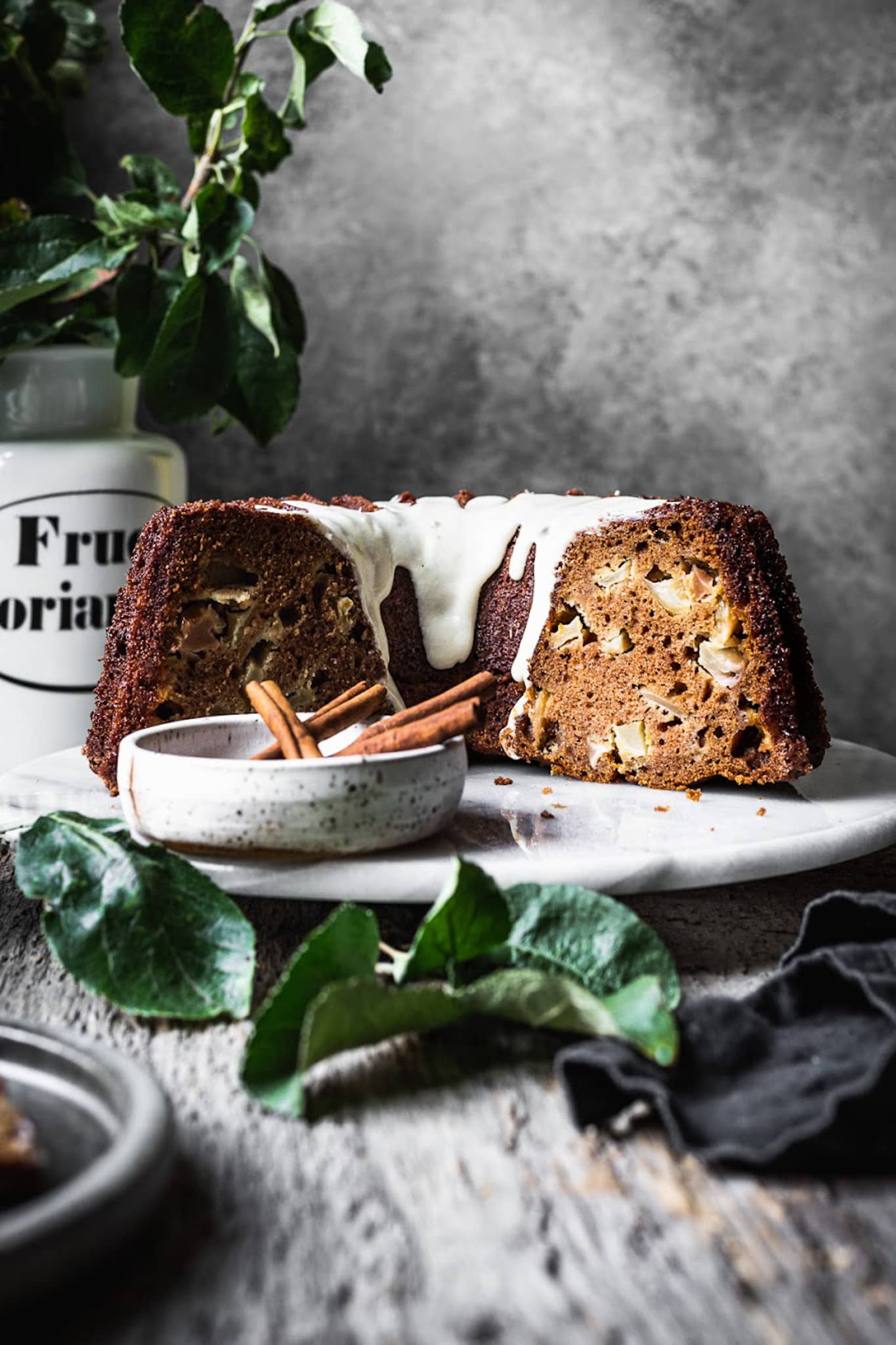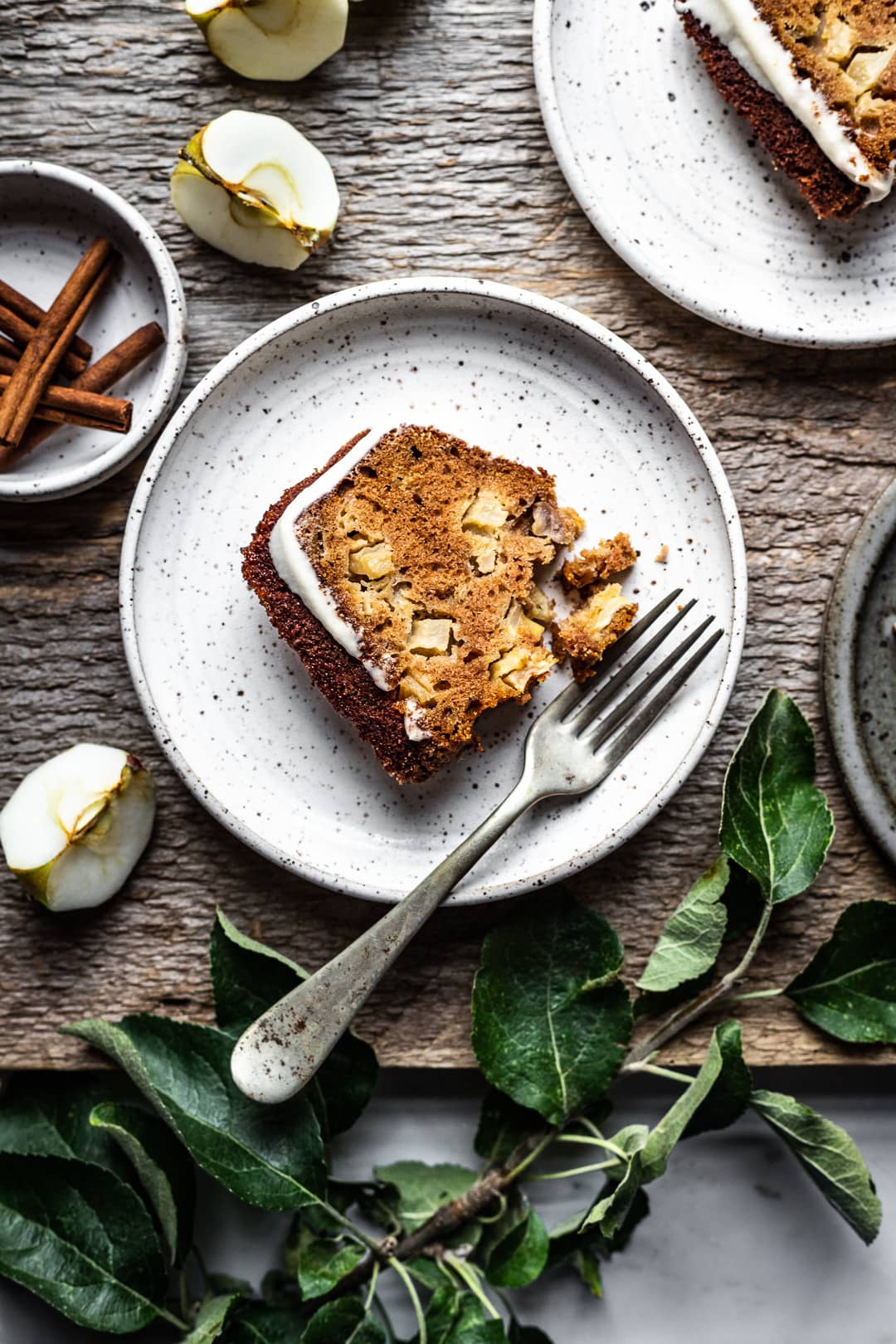 More recipes
If you like this apple and olive oil cake, you might also enjoy these recipes!