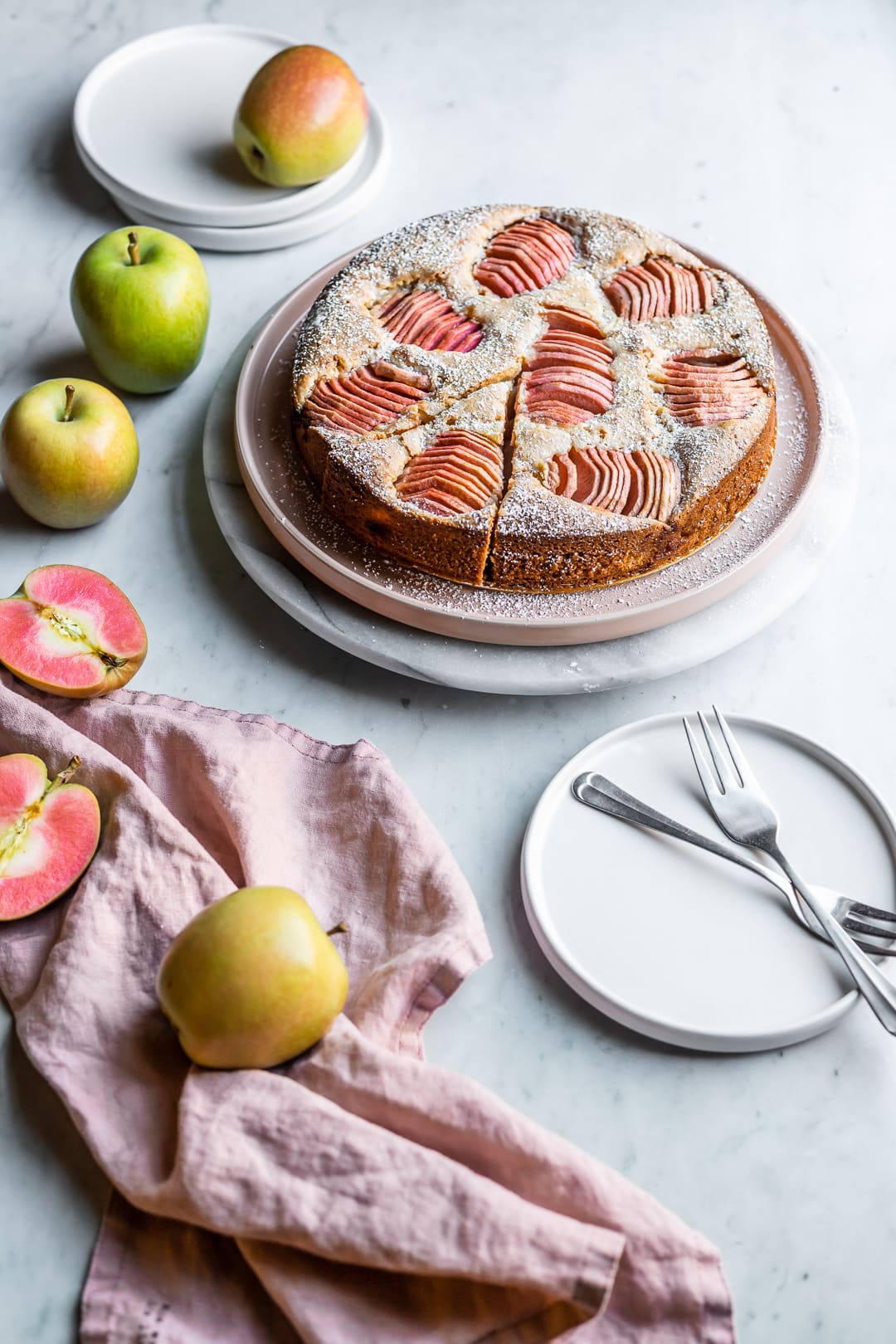 AN EASY ALMOND CAKE
This almond cake is one of those recipes that seemingly everyone (on the internet) has shared at some point, and with good reason. It's such a simple, classic, straightforward cake to put together from scratch. Alice Medrich is truly a baking wonder. I've never made a recipe of hers that I didn't like (an aside: if you haven't tried her brownies, I highly recommend them). It's a delightfully easy snacking cake that comes out of the oven with a bit of crunch and chewiness (think frangipane texture) on the top and edges where the batter meets the pan. As time passes, it becomes more moist and slightly custardy. I love it still warm with some tooth, but either way is heavenly. I eagerly ate slices on both ends of the spectrum.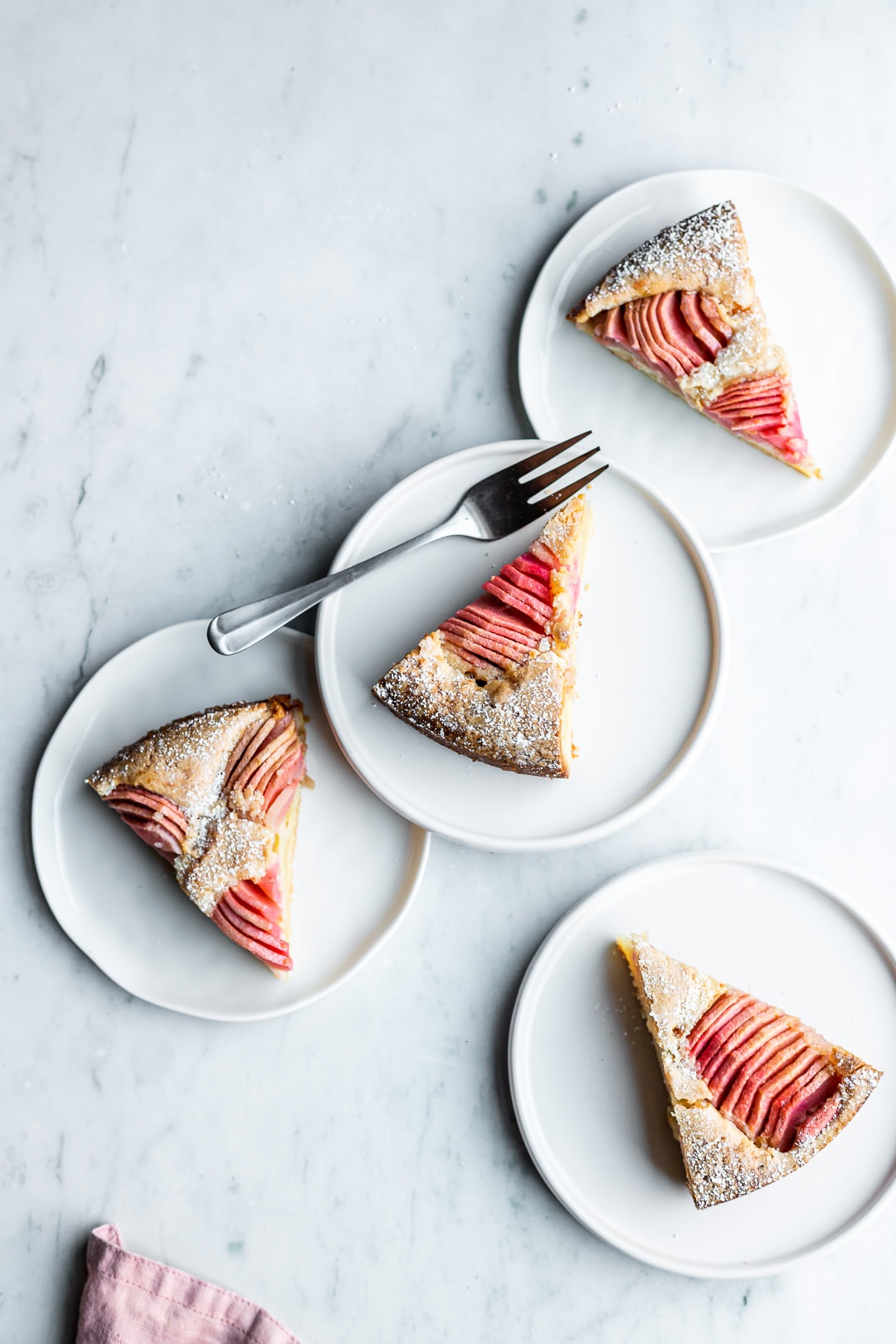 When I found these pink apples at the Saturday farmer's market in town, I originally envisioned them peeled, sliced thinly, and nestled into a frangipane tart. Since I'd already posted something similar with rhubarb this spring, I shifted to thinking about cake. Specifically, the plum cake that another kitchen wizard, Marian Burros, created that was (in)famously shared in the New York Times for years. Hers is a magically simple cake that uses only the most basic of ingredients. It transforms into a moist, slightly custardy, plum hugging, crispy edged delicacy that only improves with age from the moment it's removed from the oven.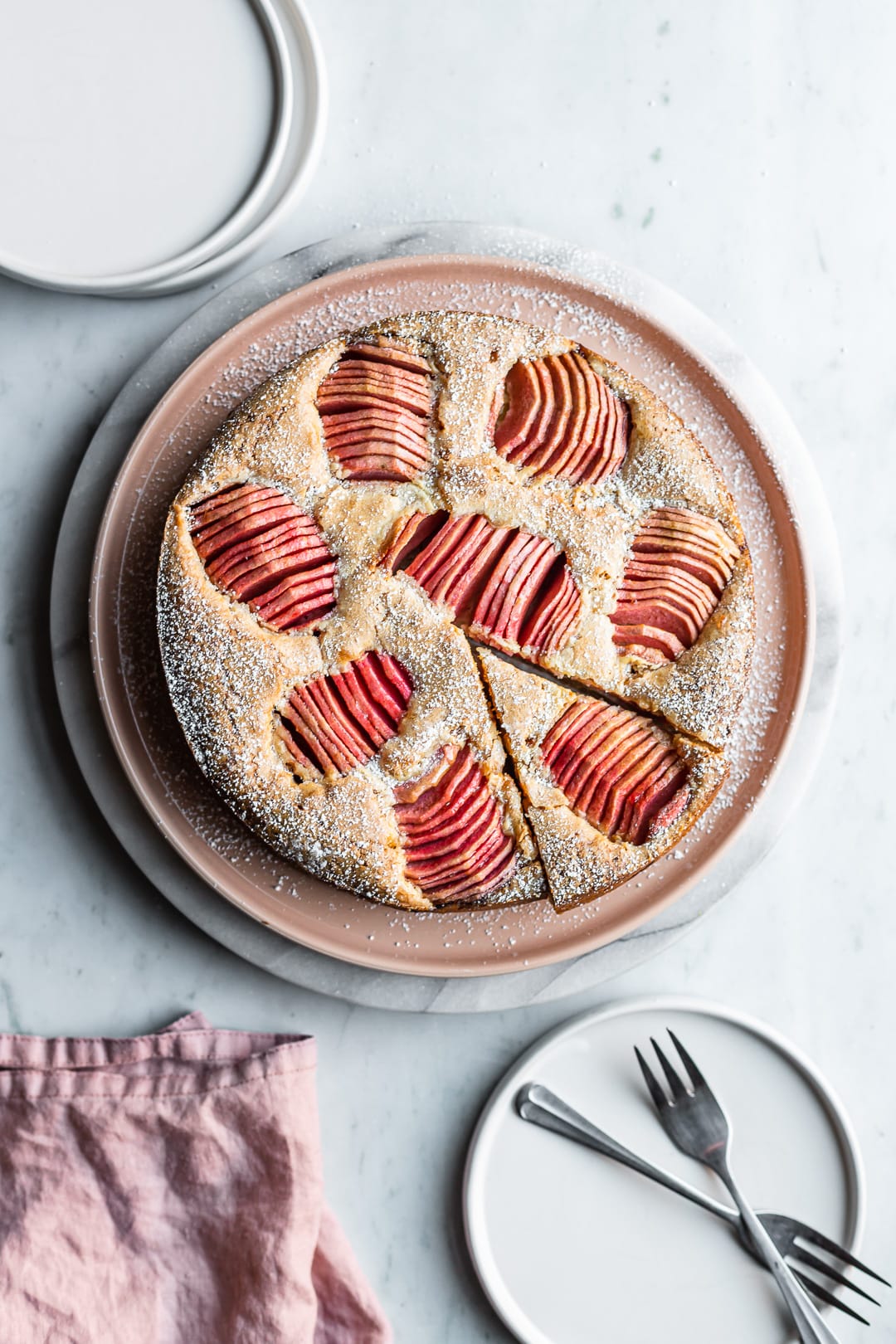 With that in mind, I determined I could combine the flavors of an almond frangipane with a cake similar to the fabled plum cake. And then I realized that Alice Medrich's cake does that very thing. I just needed to add the fruit. So I adapted her recipe ever so slightly to reduce the sugar, increase the almond extract a bit, and add these beautiful pink apples. Aren't they a pretty sight?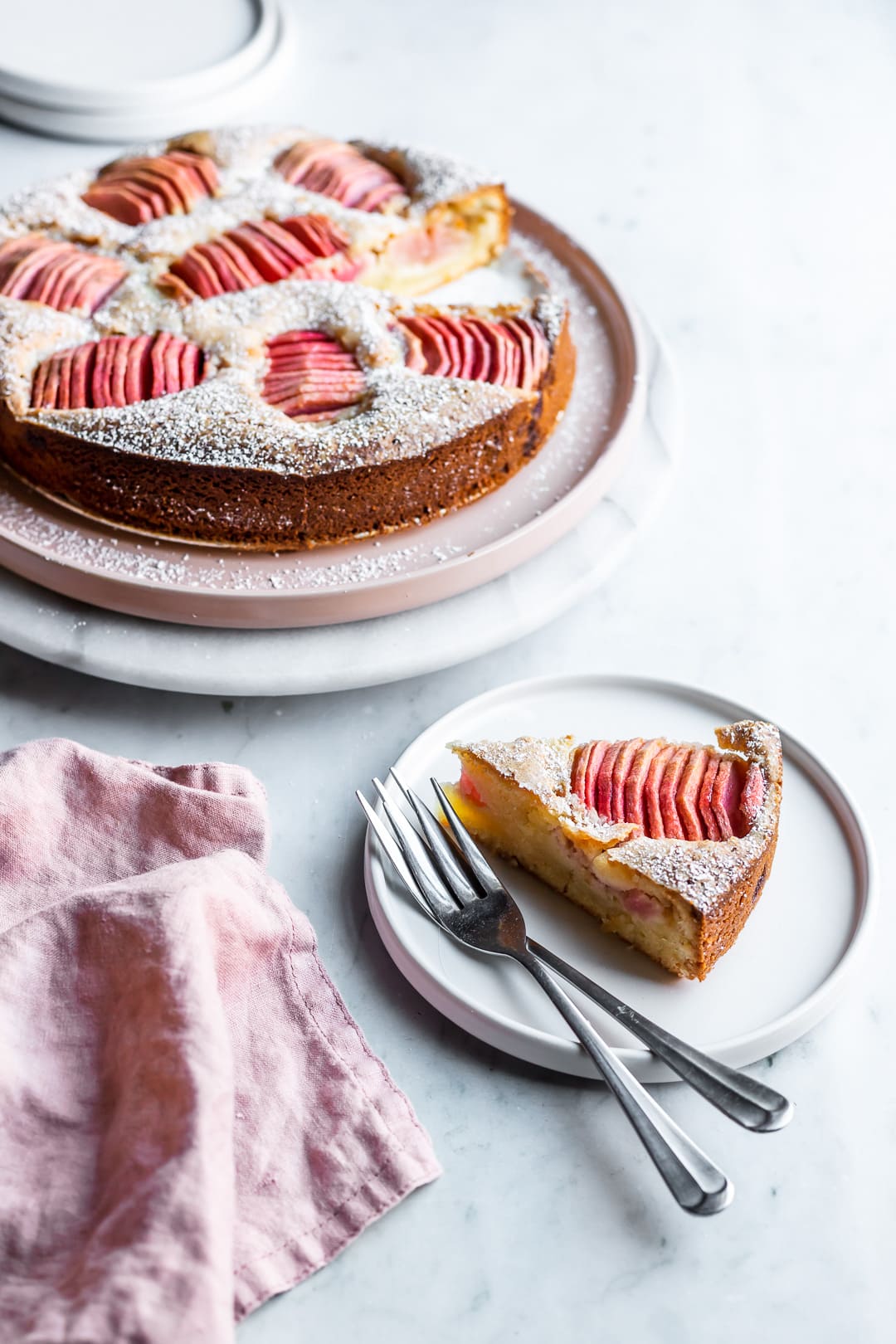 WHAT ARE PINK APPLES?
These particular pink apples, one of several varieties that exist, are called Mountain Rose. Others that I've seen include Hidden Rose and Pink Pearl. I happily discovered that one of my local orchards, Bellewood Farms, now grows these heirloom variety. They're a vibrant green on the outside, with just a hint of blush to tease the bright pink flesh inside. They can be used for baking and are very well suited for it. The flavor is slightly tart, the flesh is firm (Bellewood compares the texture to a Gravenstein) and the pink interior resists turning brown once peeled. If an apple pie didn't traditionally have a top crust that hides the filling, these pink apples would make good pies! When I found them last year, I used them in a tart with a cream cheese filling.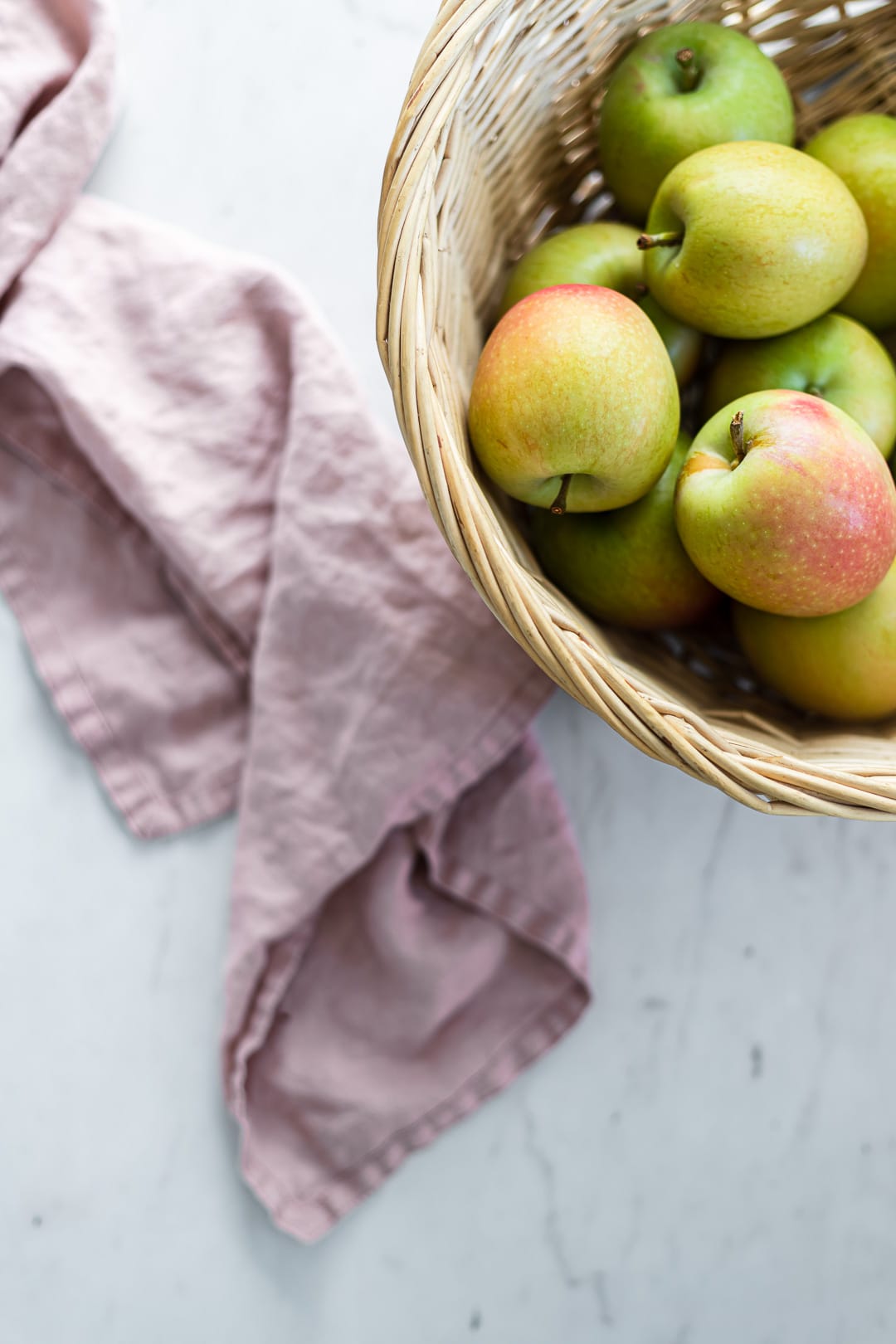 RECIPE NOTES
Extracts – How much almond extract to add? The original recipe calls for ½ teaspoon almond extract. I wanted it to stand out a bit more, so I increased it to ¾ tsp. Since this cake doesn't have any almond flour to flavor the batter, the additional bit is warranted. I also included 1 teaspoon vanilla extract as I didn't have any kirsch liqueur on hand per the original recipe.
Baking time – Yes, it's a long bake. The original recipe does not include any fruit, so baking time in the pan is significantly shorter. When we add large groupings of apples that are not separated, it increases the baking time significantly. If you've ever cooked blueberry pancakes, you'll understand. The batter surrounding the fruit is slower to bake. Feel free to test the cake a few times as you approach the end of the baking time. Make sure that a tester poked near one of the apples (but into the batter) comes out clean.
Springform pan – The original recipe calls for an 8 x 2 inch round pan. I prefer using a springform pan in order to avoid having to turn the cake upside down and right side up again when plating it. With a springform pan, I can easily remove the sides without disturbing the cake at all. I usually place the base onto a platter to serve the cake.
Apples - If you can source pink apples, their rosy color provides a nice contrast to the cake. But any good, tart apple would be a fine replacement. You might try Gravensteins, Fujis, or any other variety that you would consider a delicious eating or baking apple.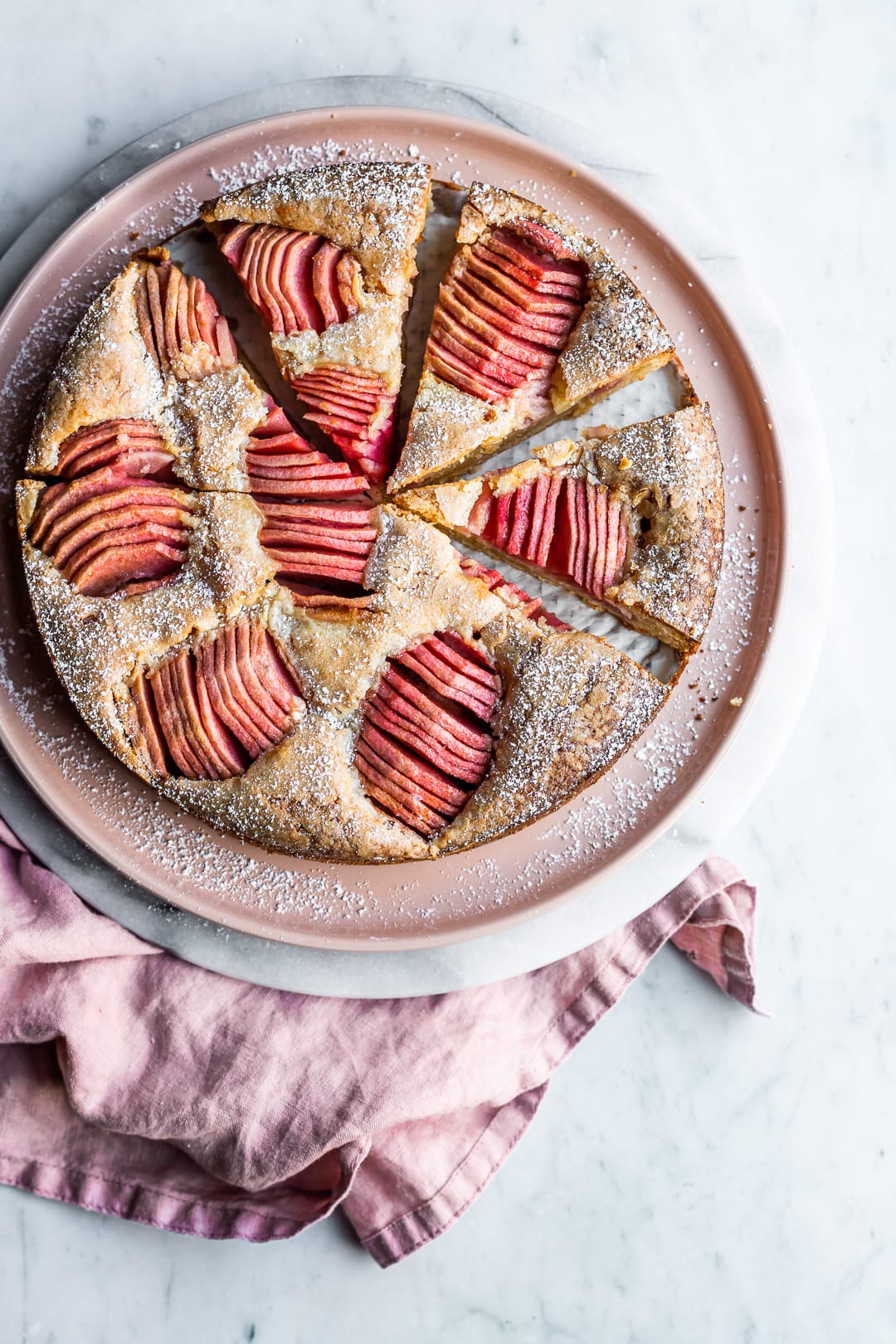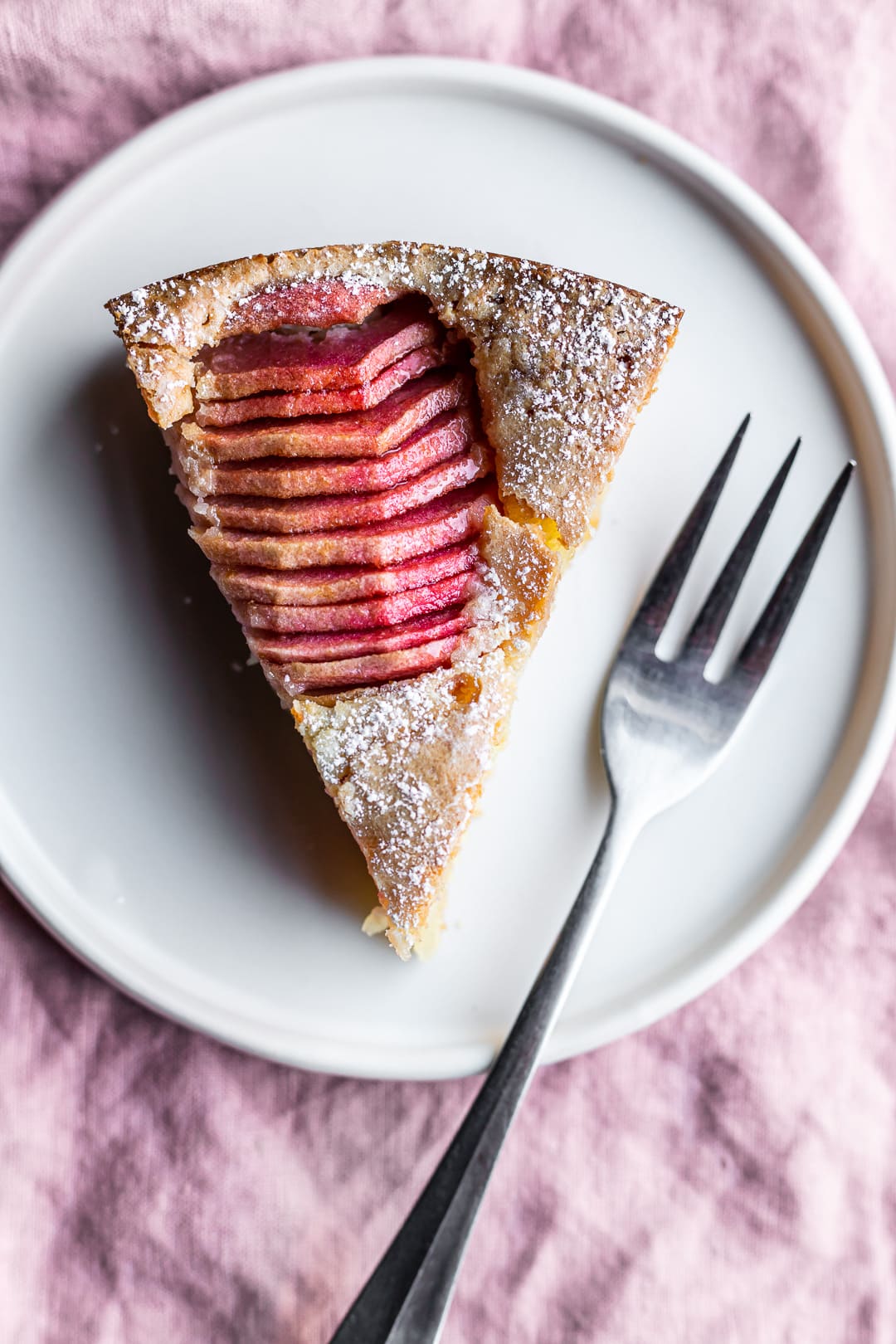 📖 Recipe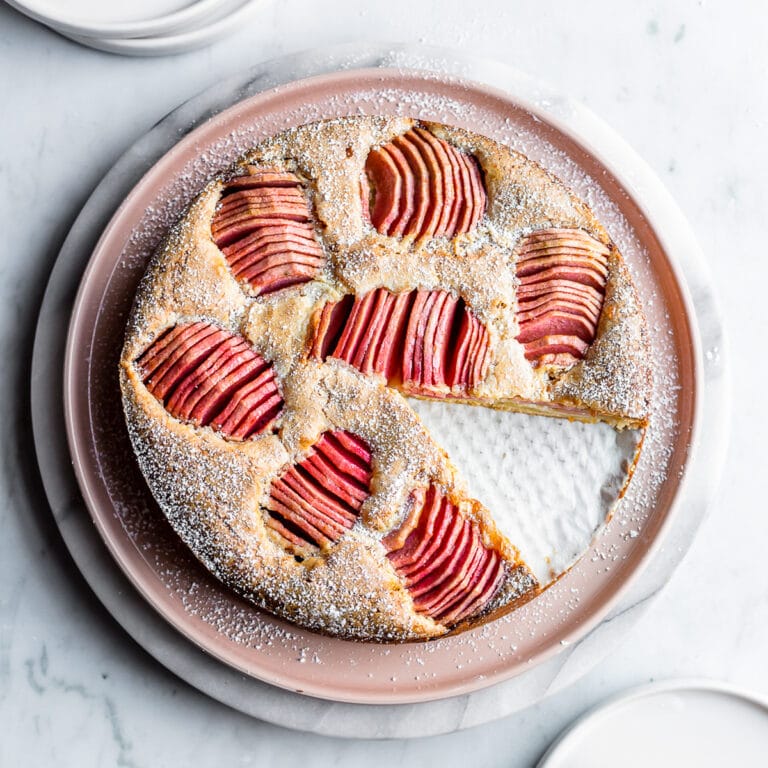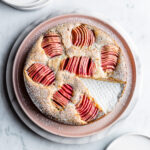 Almond Cake with Pink Apples
Print Recipe
Pin Recipe
A delightfully easy snacking cake that comes out of the oven with a bit of crunch and chewiness (think frangipane texture) on the top and edges where the batter meets the pan. As time passes, it becomes more moist and slightly custardy. Fans of thinly sliced blush pink apples add color and flavor.
Servings
1
9 inch springform pan
INGREDIENTS
1 ⅓

cups (125g)

almond flour

1

cup (200g)

granulated sugar, plus an additional 1 tablespoon to sprinkle over the top before baking

¼

teaspoon

kosher salt

¾

teaspoon

almond extract

1

teaspoon

vanilla extract

8

Tbsp (113g, 4 oz)

unsalted butter, room temperature, cubed

3

large eggs

⅓

cup (42g, 1.5 oz)

all purpose flour

¼

teaspoon

baking powder

4

medium apples (I used the pink Mountain Rose variety)

¼

cup (31g)

powdered sugar, for dusting on baked cake
INSTRUCTIONS
Place a rack in the center of the oven. Preaheat the oven to 350 degrees F (180 c, Gas Number 4).

Line the bottom of a 9 inch (23 cm) springform pan with a circle of parchment paper. Grease the sides of the pan with butter.

In the bowl of a food processor fitted with the S-blade, add the almond flour, 1 cup of granulated sugar, salt, almond extract, and vanilla extract. Pulse until completely combined. Scrape down the sides if the extract causes any clumping.

Add the butter and eggs, and process until smooth and no butter pieces are visible.

Add the flour and baking powder, and process minimally - just until flour mixture is incorporated. Feel free to use a spatula to fold in any last flour bits at the end in order to avoid overmixing. Pour batter into prepared springform pan and smooth flat.

Peel and core the apples. Slice each apple in half from top to bottom. Place each half flat side down (core side against the countertop) and cut thin slices crosswise, keeping the half together after slicing. Note: if you slice top to bottom, the center slices will collapse where the core has been removed and your apples will display unevenly.

Keeping each sliced half together, place a half apple onto the batter. I arranged one in the center and spaced the other seven evenly around it.

Sprinkle the tablespoon of granulated sugar over the top of the batter and apples. Bake on the center rack for 80-85 minutes - until the top is golden brown and a toothpick inserted into the batter near the center apple comes out without crumbs. (Yes, you read that baking time right. This is an incredibly moist cake to begin with, and the addition of raw apples slows the baking time). If you are at all nervous, start testing the cake every 10 minutes when you hit the hour mark.

Cool on a rack. Place powdered sugar into a sieve and dust top of cake with desired amount for decoration.
The Floured Table
Recipe Author: Kathleen Culver
https://www.theflouredtable.com/almond-cake-with-pink-apples/
Made this recipe? Please leave a comment and a star review! ★★★★★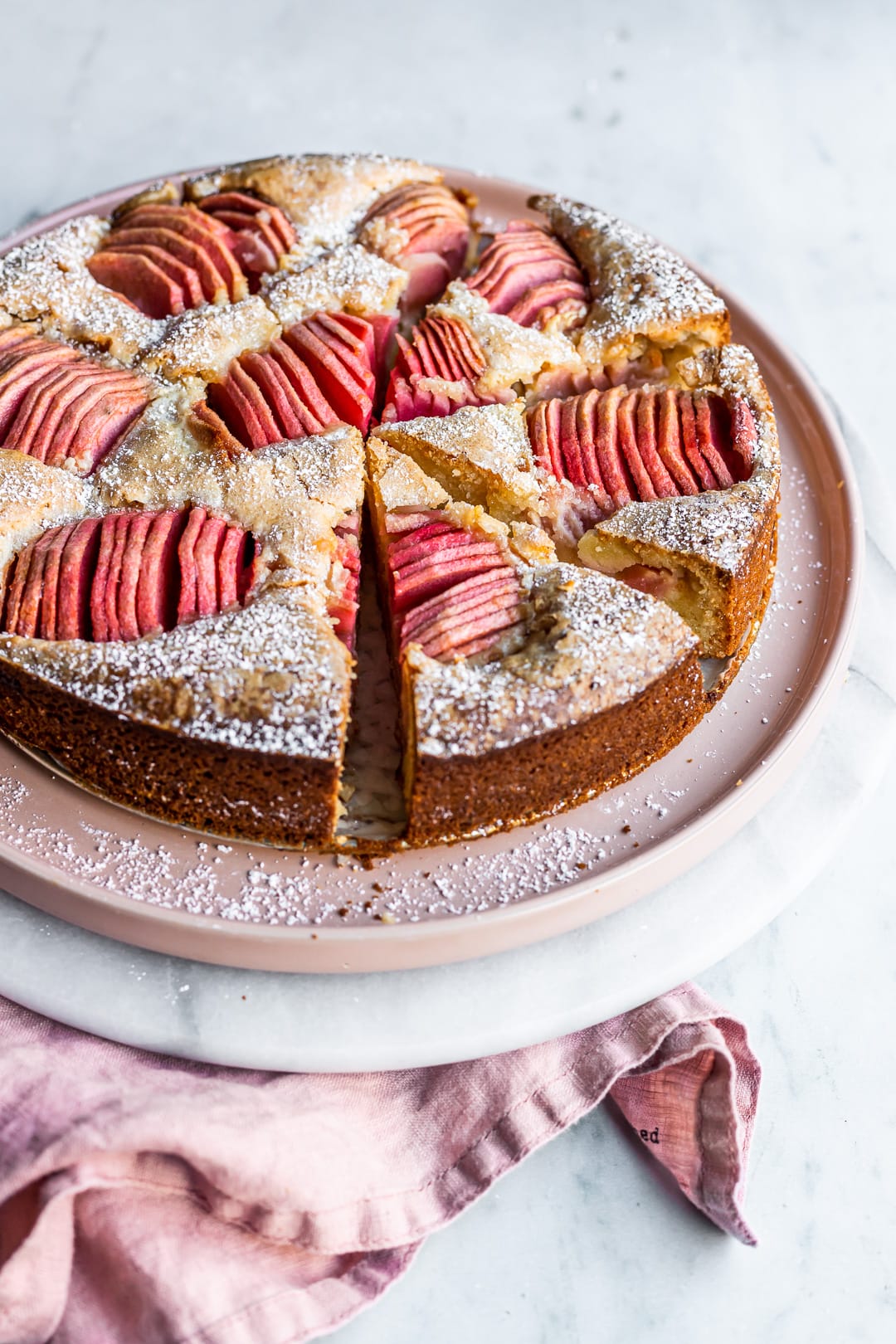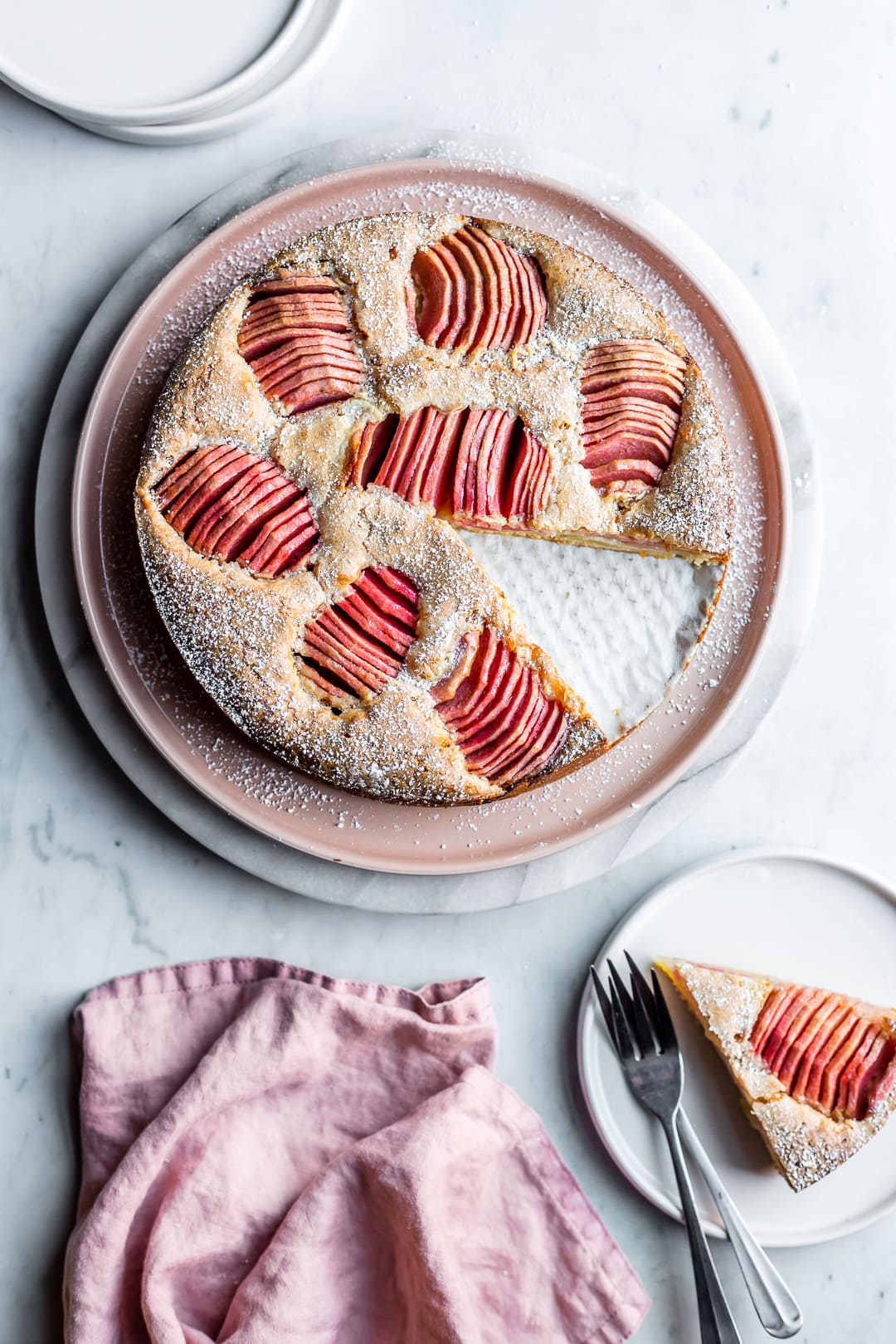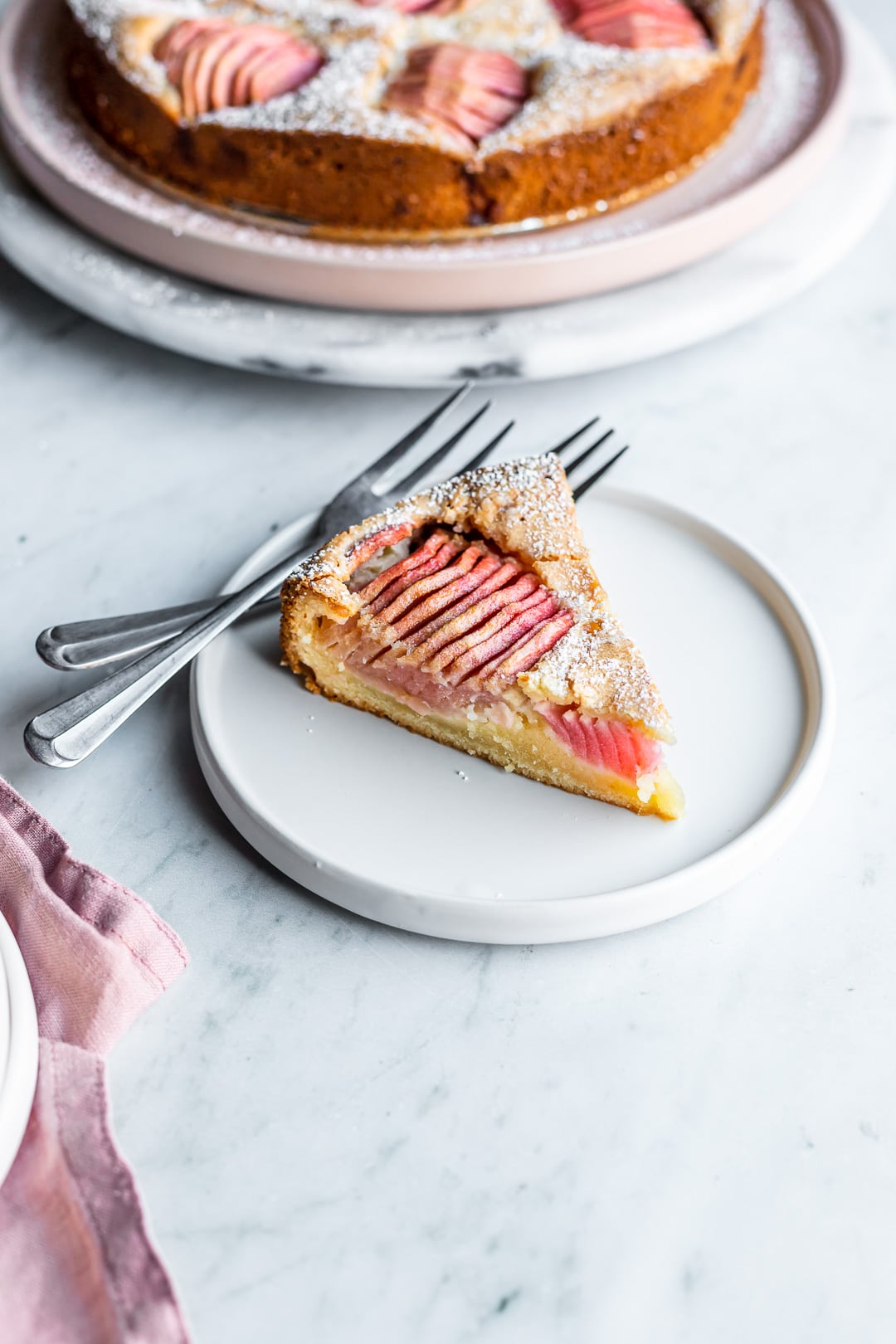 If you like this almond cake with pink apples, you might also enjoy:
Apple Ginger Mini Cakes with Salted Caramel Sauce
Brown Sugar Cake with Rhubarb Compote and Creme Fraiche Buttercream