A delicately flavored, silky smooth strawberry panna cotta nestles inside a buttery shortbread crust. Topped with vibrantly pink poached rhubarb cooked in a syrup with vanilla, cardamom and black pepper, this strawberry rhubarb panna cotta tart is a showstopper dessert to highlight the all-too-brief rhubarb season.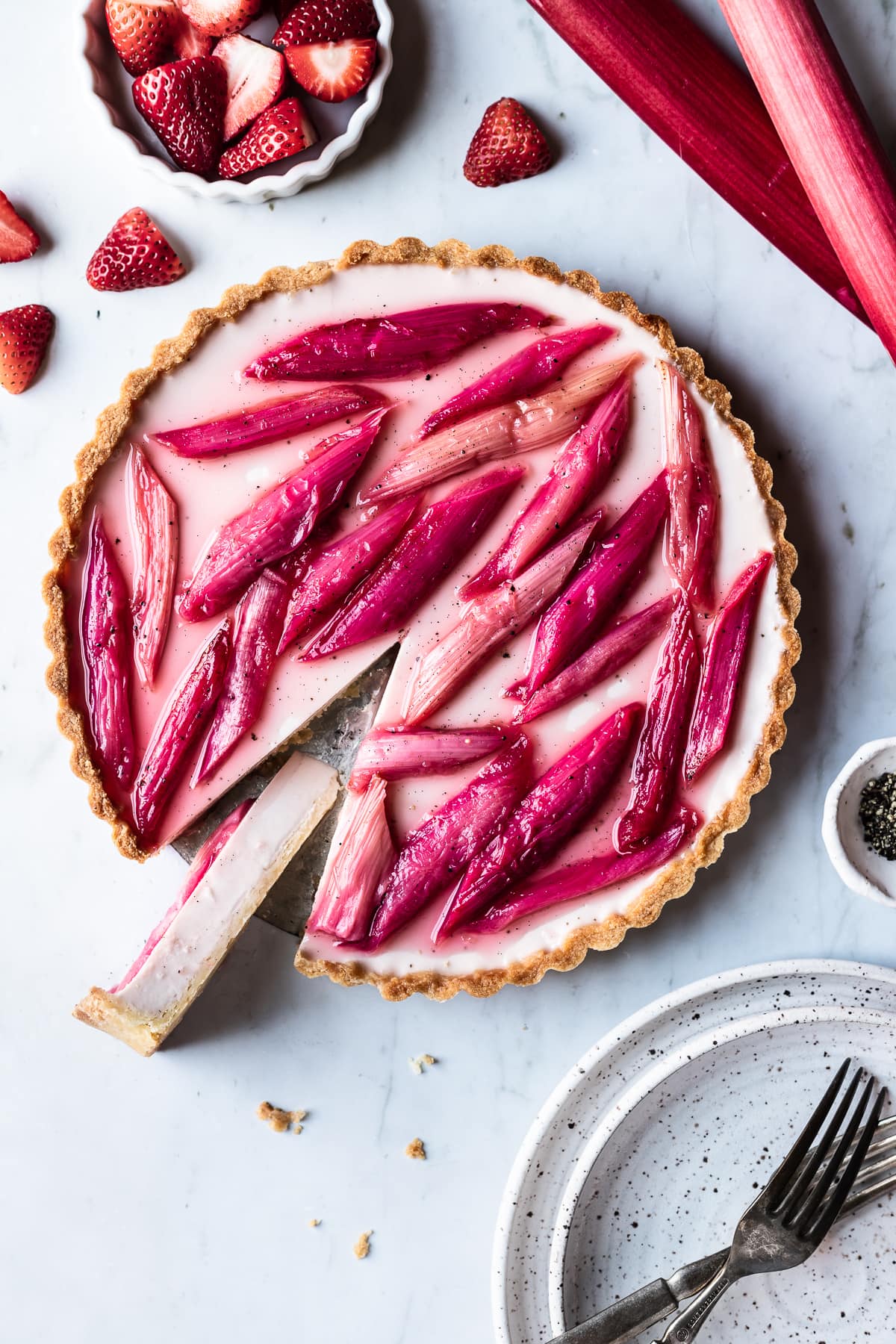 STRAWBERRY PANNA COTTA TART WITH POACHED RHUBARB
Every spring, I see images online of gently poached pink rubarb stalks in a sugary syrup. I've always been a big fan of rhubarb, and have made it into many desserts, including this rhubarb frangipane tart and most recently, these flavor-packed lemon rhubarb bars. I'd never tried poached rhubarb until now, and now that I've made it I can't wait to make more of it to put on all sorts of things: ricotta toast, crepes, ice cream...there are so many delicious possibilities. With this strawberry rhubarb recipe, I've paired the strikingly pink poached rhubarb with a rich, smooth, subtly strawberry panna cotta in a buttery shortbread crust. This is a dessert to celebrate rhubarb season in all its brief and brightly hued glory.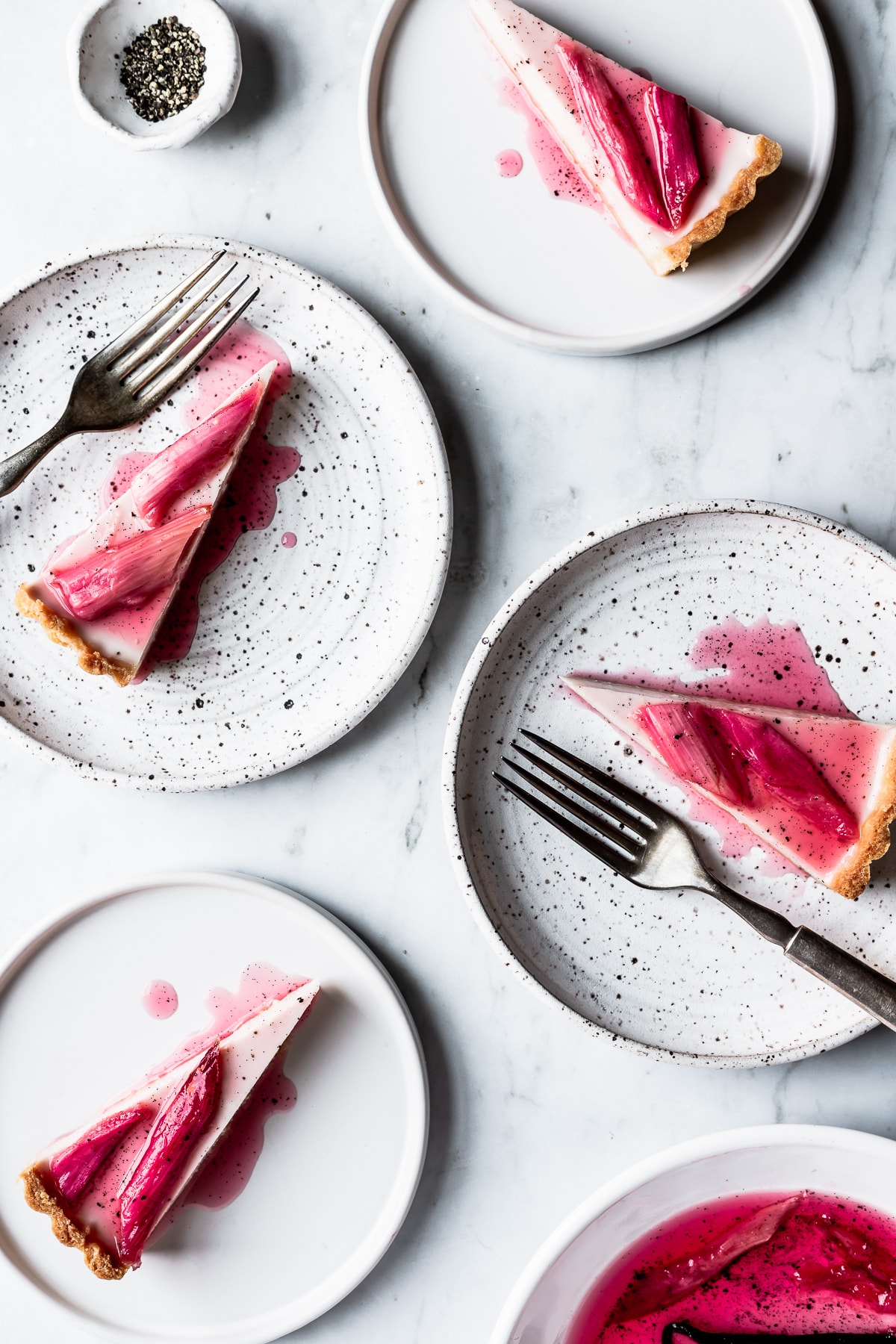 INGREDIENTS, SUBSTITUTIONS AND RECIPE NOTES
GELATIN
Gelatin comes in different forms, and your location often determines what's available to you. Powdered gelatin (Knox gelatin is a common brand) is typical in the US. It is packaged in small paper envelopes, or in bulk containers. I used powdered gelatin in bulk because it's the type that I can purchase at my local restaurant store - and the little envelopes go quickly when you're recipe testing. An envelope of gelatin contains approximately 2 ½ teaspoons of powdered gelatin. For this recipe, you'll need to open 2 packets of gelatin and measure out 1 tablespoon total.
If you can only locate leaf gelatin (sheet gelatin), substituting for powdered gelatin is possible, but slightly complex. Sheet gelatin comes in different dimensions and bloom strengths. David Lebovitz has an excellent summary page on different types of gelatin. He recommends 3 ½ sheets (measuring 3 x 5 inches) for each envelope of powdered gelatin. Since this recipe uses slightly more than an envelope of gelatin, 4 sheets seems like a good estimate. Please let me know if you try this recipe with sheet gelatin and I will add to the notes!
Do not try to substitute flavored gelatin mix (such as Jell-O brand gelatin.) It usually comes packaged with food dyes and added sugar that would throw off the proportions of this recipe and affect the final outcome.
For a fascinating walk through gelatin's history, read this Gastro Obscura article.
STRAWBERRIES
Since we are entering strawberry season, I chose to use fresh strawberries in this recipe. You can substitute frozen strawberries. Just defrost them, drain the extra liquid, measure the quantity and proceed with the recipe as written.
GROUND BLACK PEPPER
Black pepper adds a nice kick to the poached rhubarb. If you have an adjustable pepper grinder, place it on a fine setting before grinding. If your grinder only has one setting, grind more than you will need, and pass it through a fine mesh sieve to obtain the amount you need for the recipe. A mortar and pestle would also work to grind peppercorns if you don't have a pepper grinder.
GROUND CARDAMOM
Cardamom is an incredibly pungent and aromatic spice, so I have intentionally added a very small amount to the poached rhubarb in order to not overpower the other flavors. If you find cardamom to be too strong, feel free to omit it here. I personally love the taste and find it pairs very nicely with both strawberry and rhubarb.
FILLING THE PANNA COTTA TART
After baking the tart shell, I like to leave it in the tart pan until after I've added the panna cotta mixture and it has set in the refrigerator. The pan provides some extra protection and helps ensure that the tart shell will stay intact with all the extra handling. If you're especially cautious like me, and have enough space in the fridge prepared, you can place the unfilled tart shell (still in the tart pan) on top of a baking sheet prior to adding the panna cotta tart filling. This way when it's time to transfer the filled tart to the fridge, you move the baking sheet and completely avoid handling the delicate tart crust and liquid mixture altogether.
SERVING THE PANNA COTTA TART
When it's time to serve the tart, remove the tart from the metal tart pan and place onto a serving platter. Before slicing, push the rhubarb aside with a knife or fork to expose the panna cotta underneath. It's practically impossible to cut through the rhubarb as it sits on the panna cotta. After plating a slice, use a serving tool to add several pieces of rhubarb to the top. If desired, spoon extra rhubarb syrup onto each slice.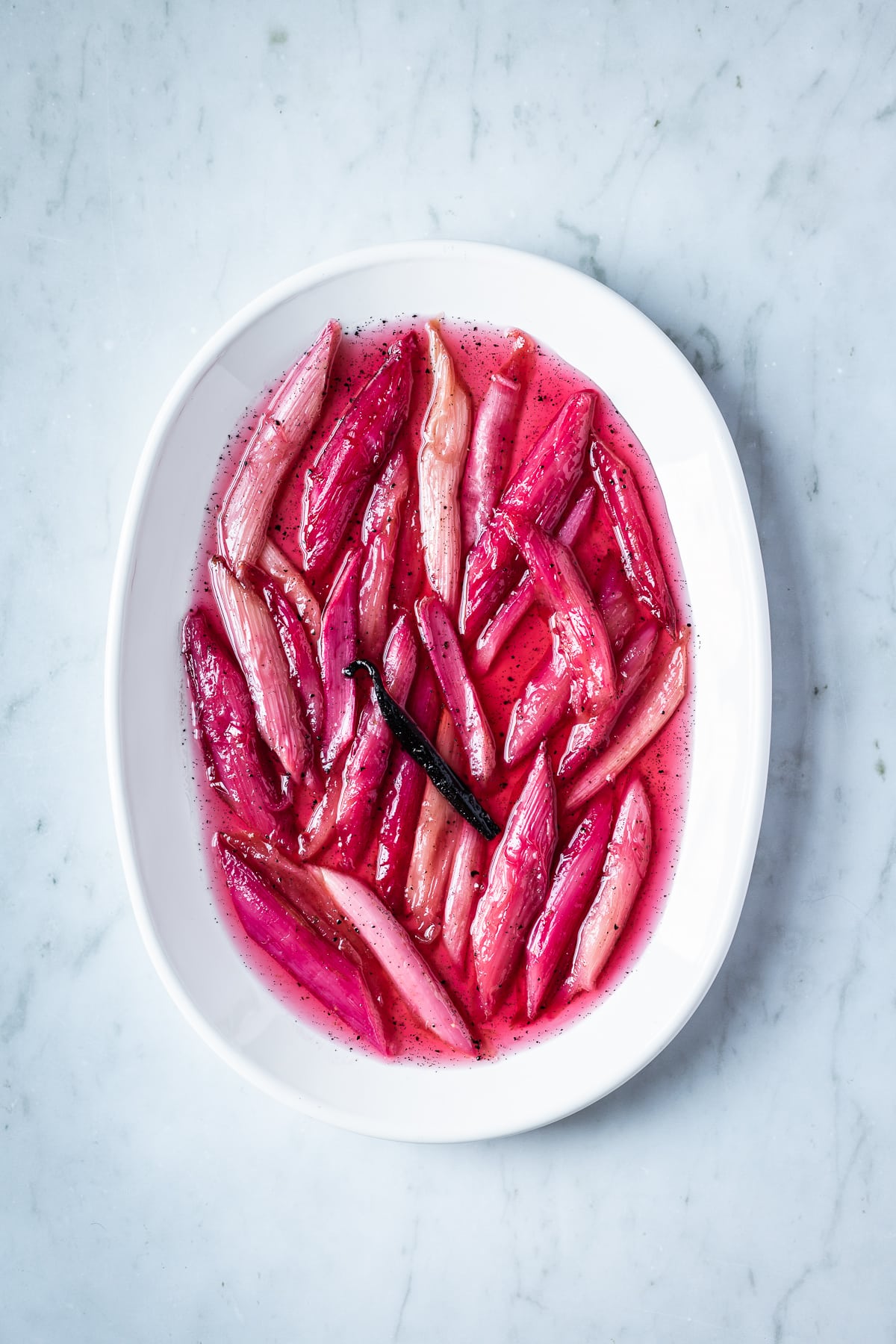 FREQUENTLY ASKED QUESTIONS
WHAT IS PANNA COTTA?
Panna cotta is a molded, chilled Italian dessert made with very simple ingredients: optional flavorings, cream, sugar and gelatin. It translates to "cooked cream." Although the liquid is heated on the stovetop in order to dissolve the gelatin, panna cotta is not cooked in the oven and is a delicious no-bake dessert. In this panna cotta recipe, we add a baked shortbread tart crust to hold the panna cotta filling, and top it with sliced rhubarb poached in a spiced sugar syrup.
CAN I MAKE THIS PANNA COTTA TART IN ADVANCE?
You can definitely make the tart dough in advance, and freeze it just prior to the baking stage. You may bake the tart shell in advance as well, but you should wrap it in plastic wrap afterwards to maintain freshness (and freeze if more than a day in advance). Caution: baked tart shells can be somewhat fragile, especially the edge. You run the risk of cracking it if you make it in advance due to the additional handling. When I need to fully bake a tart shell in advance, I usually keep the baked tart in the tart pan for added protection and carefully wrap the whole thing in plastic wrap.
You must prepare the panna cotta filling after you bake the tart shell; you'll need to pour the filling into the shell immediately before it begins to set. Once filled (and before adding any toppings), you can store the panna cotta tart in the fridge for up to 24 hours before serving. Gently smooth a layer of plastic wrap onto the surface of the panna cotta to keep it fresh and avoid having the surface dry out. You can make the poached rhubarb a few days in advance and store it in an airtight container in the fridge. Add the poached rhubarb topping to the strawberry panna cotta tart immediately before serving.
HOW LONG WILL PANNA COTTA TART STAY FRESH IN THE FRIDGE?
Panna cotta made in containers will stay fresh in the fridge, tightly wrapped, for up to 10 days. However, since we are making this panna cotta in a tart shell, moisture from the panna cotta will begin to soften the base of the tart shell after a few days. This strawberry rhubarb panna cotta tart is freshest when served on the same day it is made, although it still tastes delicious and holds up very well several days afterwards. The tart bottom will simply be a bit softer, and moisture from the poached rhubarb may soak into the crust. Also note that foods prepared with gelatin will continue to stiffen the longer they sit, so plan to eat the panna cotta within a day or two of making it for best results.
WHY IS MY PANNA COTTA GRAINY?
Grainy panna cotta results when you don't dissolve the gelatin fully. Blooming the gelatin (sprinkling the powdered gelatin onto a bit of liquid, stirring briefly, and letting the granules absorb the liquid) will help you avoid grainy panna cotta. Stir the bloomed gelatin thoroughly once you add it to the warm cream mixture to ensure it fully dissolves.
HOW LONG DOES IT TAKE FOR PANNA COTTA TO SET?
The panna cotta will set in 4 hours. Allow enough time for the panna cotta to chill in the fridge and fully set before you serve it.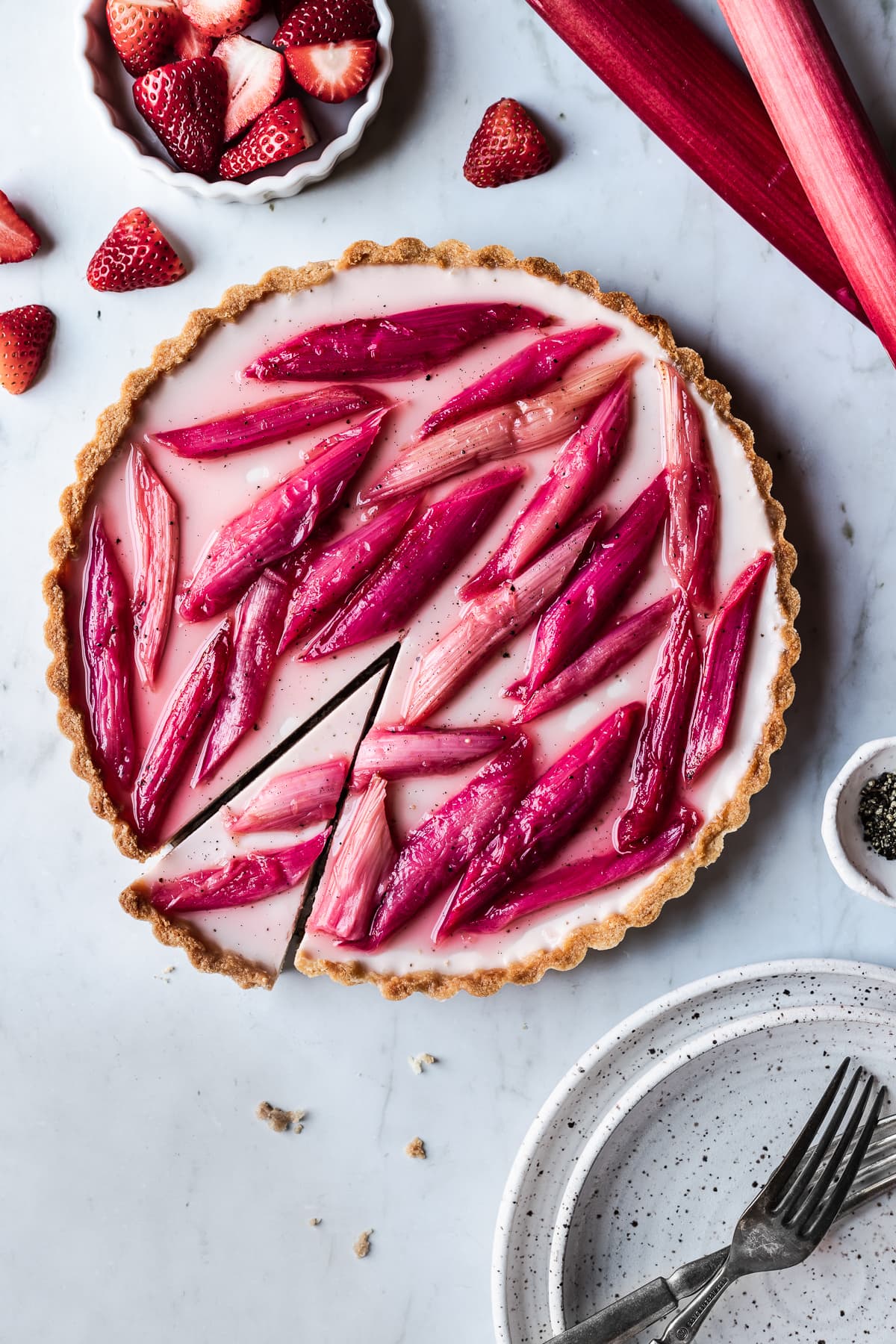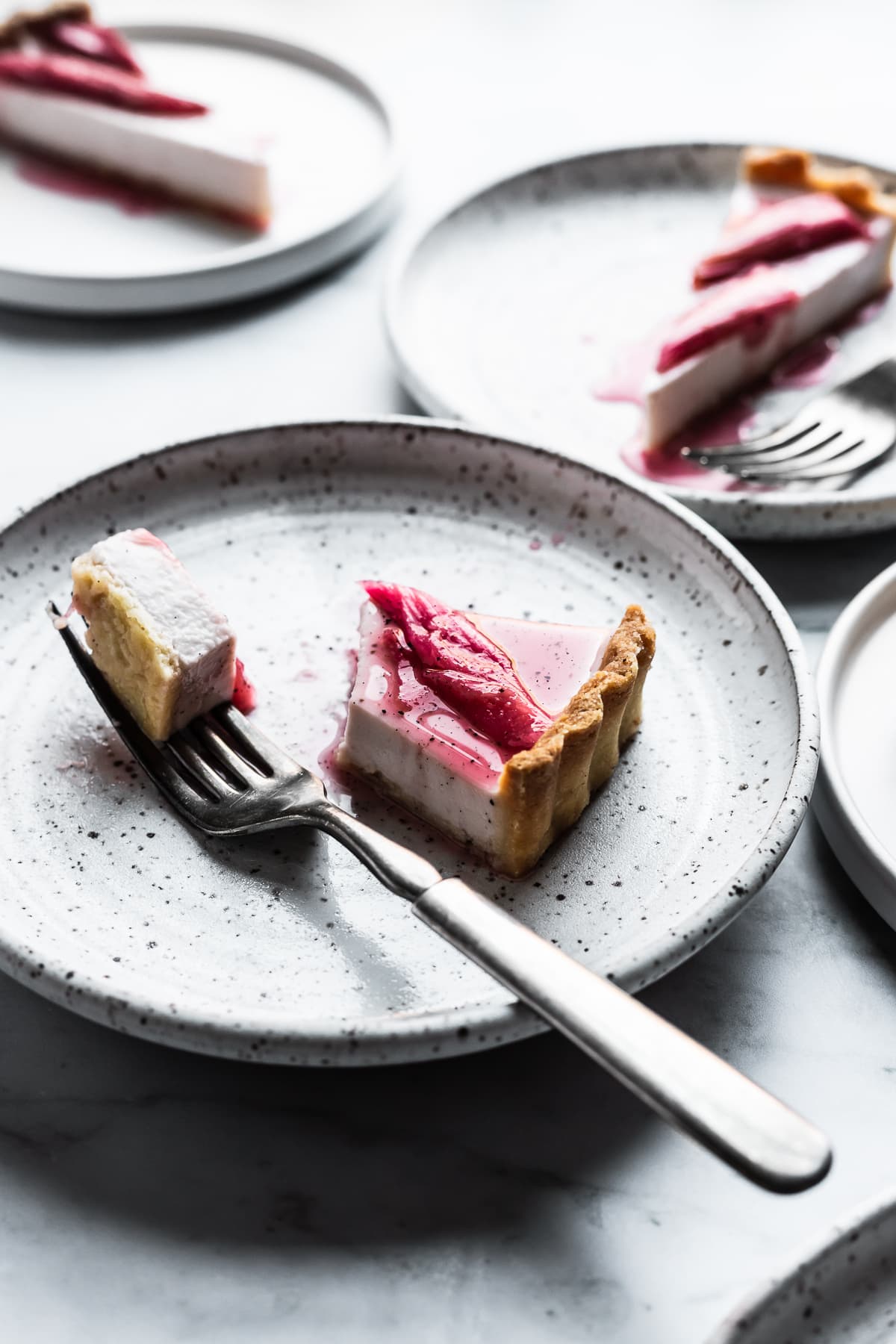 📖 Recipe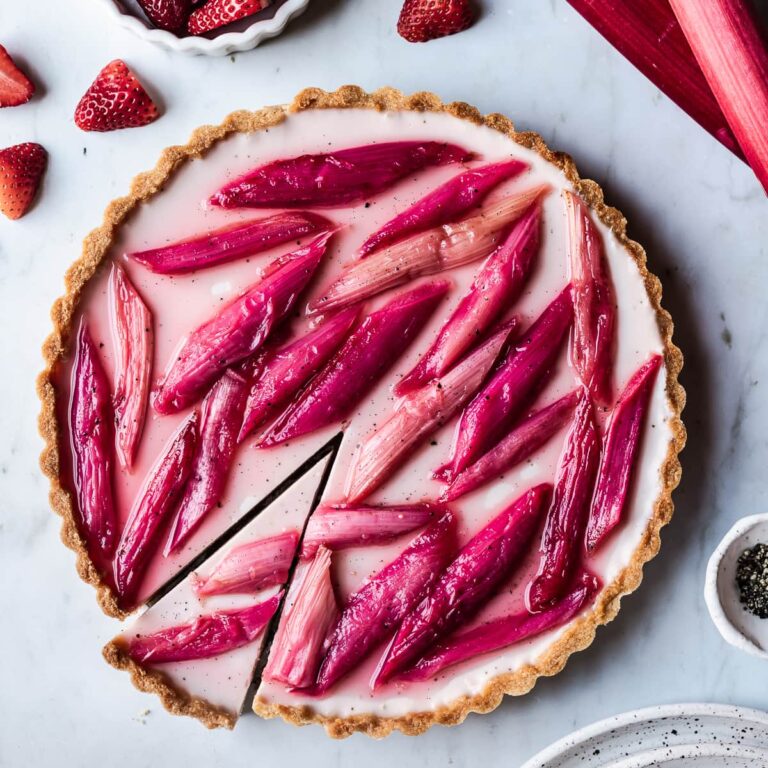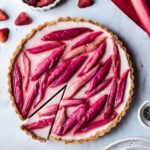 Strawberry Rhubarb Panna Cotta Tart
Print Recipe
Pin Recipe
A beautifully pink hued tart featuring a creamy and delicately flavored strawberry panna cotta in a rich shortbread crust. Topped with rhubarb poached in a syrup of vanilla, cardamom and black pepper for a striking and flavorful spring dessert.
Servings
12
servings (makes a 9" tart)
INGREDIENTS
PATE SUCREE
½

cup (113g, 4oz)

unsalted butter, at room temperature

¼

cup (50g)

granulated sugar

½

teaspoon

kosher salt

1

cup (120g)

all purpose flour

1

egg yolk
STRAWBERRY PANNA COTTA FILLING
1

tablespoon

unflavored gelatin, powdered (see ingredient notes for sheet gelatin)

2

tablespoon

cold water

½

lb (226g)

strawberries, hulled and chopped

½

cup (125mL)

whole milk

2

cups (500mL)

heavy cream

⅓

cup (67g)

granulated sugar

1

teaspoon

vanilla extract
POACHED RHUBARB
1

lb (453g)

rhubarb, cut on the diagonal into 2 to 3 inch pieces

½

cup (100g)

granulated sugar

½

cup (125mL)

water

½

vanilla bean pod, split in half lengthwise

⅛

teaspoon

cardamom, ground

⅛

teaspoon

freshly ground black pepper
INSTRUCTIONS
PATE SUCREE
Into the bowl of a stand mixer fitted with the paddle attachment, add the butter, sugar and salt. Mix well to combine, and continue beating on medium high until mixture is pale and fluffy, about two minutes. Scrape down the sides of the bowl.

Add the flour and mix until just combined. Mixture will be coarse and grainy.

Add the egg yolk and mix for about 30 seconds. The dough should start to pull together into a ball.

Flatten the dough into a disc shape and wrap well with plastic wrap. Refrigerate for at least an hour.

Remove dough from refrigerator and let sit for 20-30 minutes to soften slightly. On a lightly floured surface, roll the dough out to a 10 inch diameter circle, making sure that it does not stick. Sprinkle a bit of flour on top of the dough and work surface as needed.

Carefully transfer dough to the 9 inch tart pan by rolling it over the rolling pin then lifting and unrolling it over the tin. Gently press the dough down into the pan while lifting up the sides, ensuring that no empty space remains between the dough and the pan. If any cracks or tears occur, patch with extra dough scraps. Trim the excess dough with a knife held parallel to your work surface, cutting from the inside out to ensure the tart shell has a clean edge. Cover tart pan with plastic wrap and place in freezer to chill for 30+ minutes. (You can also stop at this stage if you need to break the steps up into multiple days - just make sure the tart is well wrapped and sealed if you plan to leave it in the freezer for a while).

Preheat oven to 350 degrees F (177 C, Gas number 4). Remove tart pan from freezer and cover the dough with a piece of parchment paper that you've crumpled up and then flattened back out. Fill with pie weights or dried beans (I use and reuse the latter) to keep the dough from bubbling up. Bake for 20 minutes and then carefully lift the weight-filled parchment from the pan, paying extra care to not bump the outer tart crust. Return to the oven to bake an additional 10-15 minutes, until golden brown. Place on a baking rack to cool.
STRAWBERRY PANNA COTTA FILLING
In a small bowl, sprinkle gelatin over water and mix to incorporate. Set aside to bloom for 3-5 minutes.

Using a blender, stick blender or food processor, blend the berries and milk until the strawberries are pureed. Strain mixture through a very fine strainer into a bowl. If needed, press on the mixture in the strainer with the back of a spoon to release as much liquid as possible. Set aside.

Add the sugar and cream to a heavy 3 qt saucepan and bring to a simmer over medium heat, stirring frequently. Remove from heat, add the strawberry mixture, vanilla extract and bloomed gelatin, and whisk over an ice bath (or some very cold water in your sink) until gelatin has completely dissolved and no graininess remains. Be careful not to introduce any water from the ice bath into your panna cotta! You can test to see if the gelatin is dissolved by rubbing a bit of the liquid between your fingers, much as you would with a swiss meringue. It should feel smooth with no graininess. Cool to room temperature, stirring frequently to ensure mixture remains homogeneous.

Pour panna cotta mixture into the prepared tart shell. It should fill the tart most of the way, but not quite reach the top. Carefully transfer the tart to the fridge for 4+ hours to set.
POACHED RHUBARB
In a large saucepan over medium heat, add water, sugar, vanilla pod, cardamom, and black pepper. Stir to combine, and add rhubarb slices. Bring to a boil and then reduce heat to a low simmer, carefully turning the rhubarb so that it cooks evenly. Cook for 5-7 minutes, watching to make sure it doesn't get too soft. Overcooked rhubarb can become mushy. A knife should go through the rhubarb easily, but it should retain its shape. Err on the side of slightly underdone - it will continue to cook in the pan with the retained heat.

When cool, use an offset spatula or pancake flipper to transfer rhubarb (piece by piece) to the top of the chilled tart. Work carefully - the poached rhubarb is delicate. Save the additional rhubarb syrup to spoon onto individual slices of the tart, or to add to drinks.

Cut into slices and serve.
The Floured Table
Recipe Author: Kathleen Culver
https://www.theflouredtable.com/strawberry-rhubarb-panna-cotta-tart/
Made this recipe? Please leave a comment and a star review! ★★★★★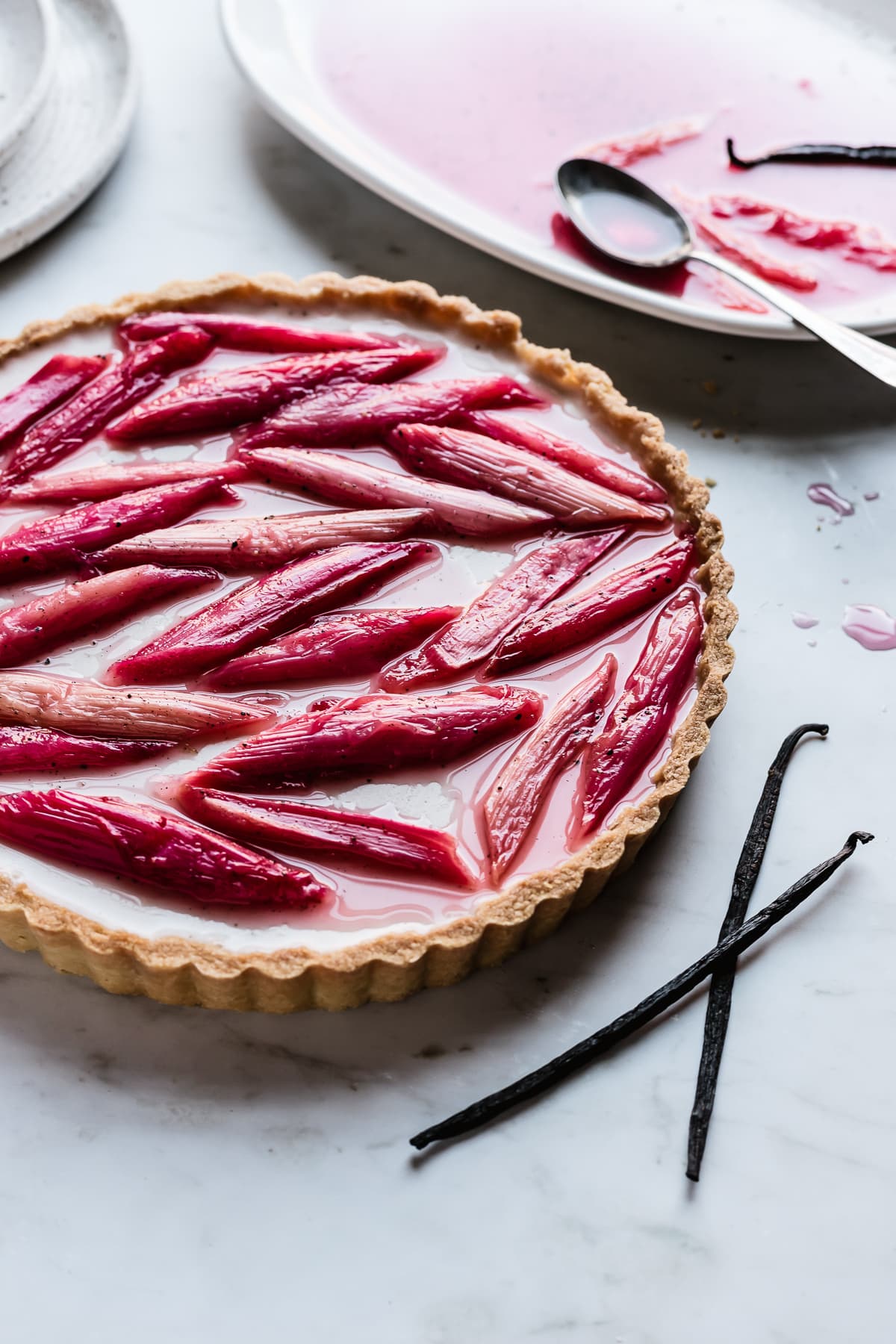 MORE RHUBARB RECIPES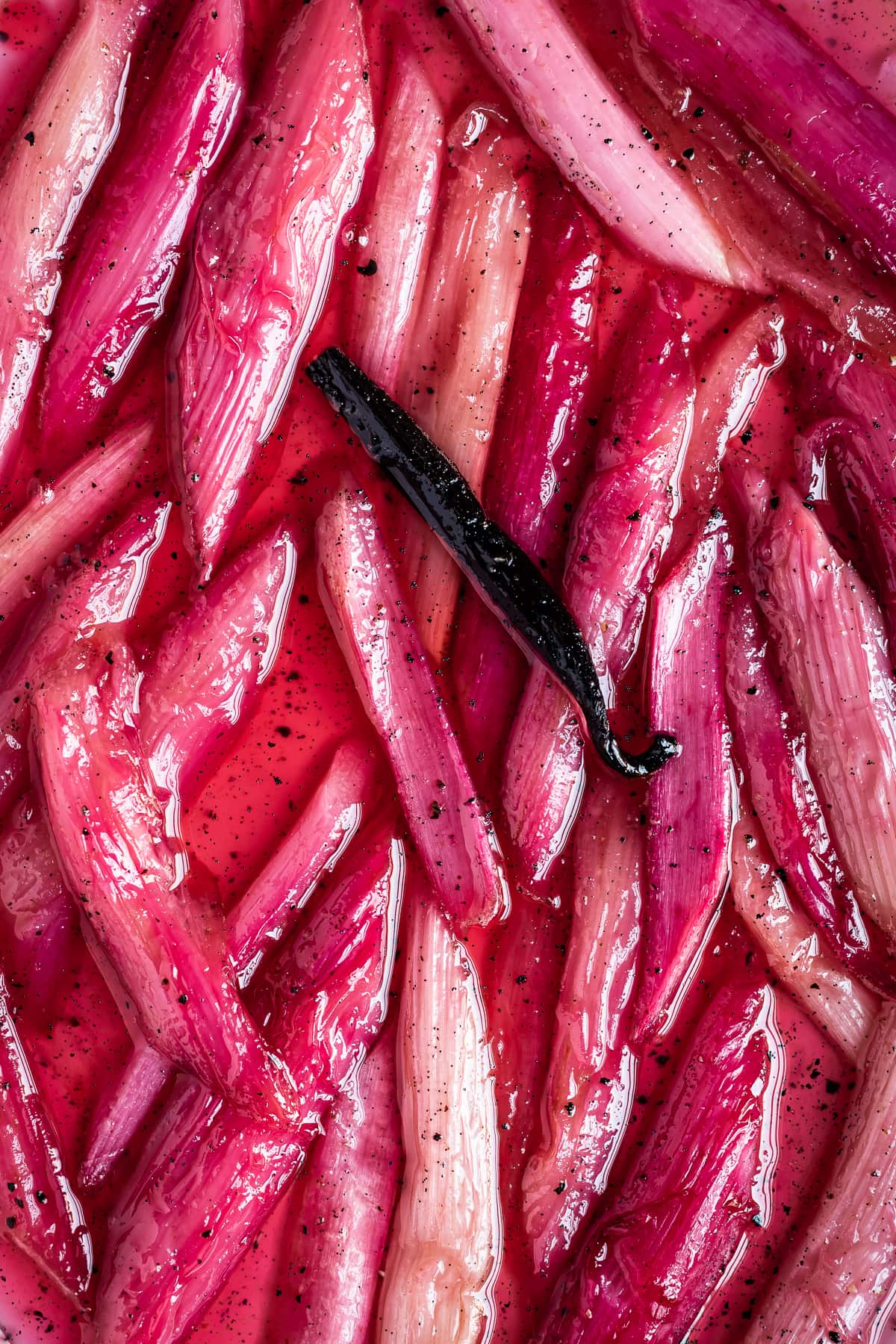 MORE TART RECIPES