This streusel packed plum coffee cake recipe combines juicy plums with the warming spices of cinnamon, cardamom and black pepper. Sour cream helps provide a tender, moist crumb to the cake, and an easy streusel recipe gets double duty as both filling and topping for extra crunch and brown sugar flavor. This plum cake boasts a full pound of diced plums strewn over the top of the batter before being blanketed with the streusel topping. It bakes up into a delicious cake that can be served just as easily for breakfast as at coffee or tea!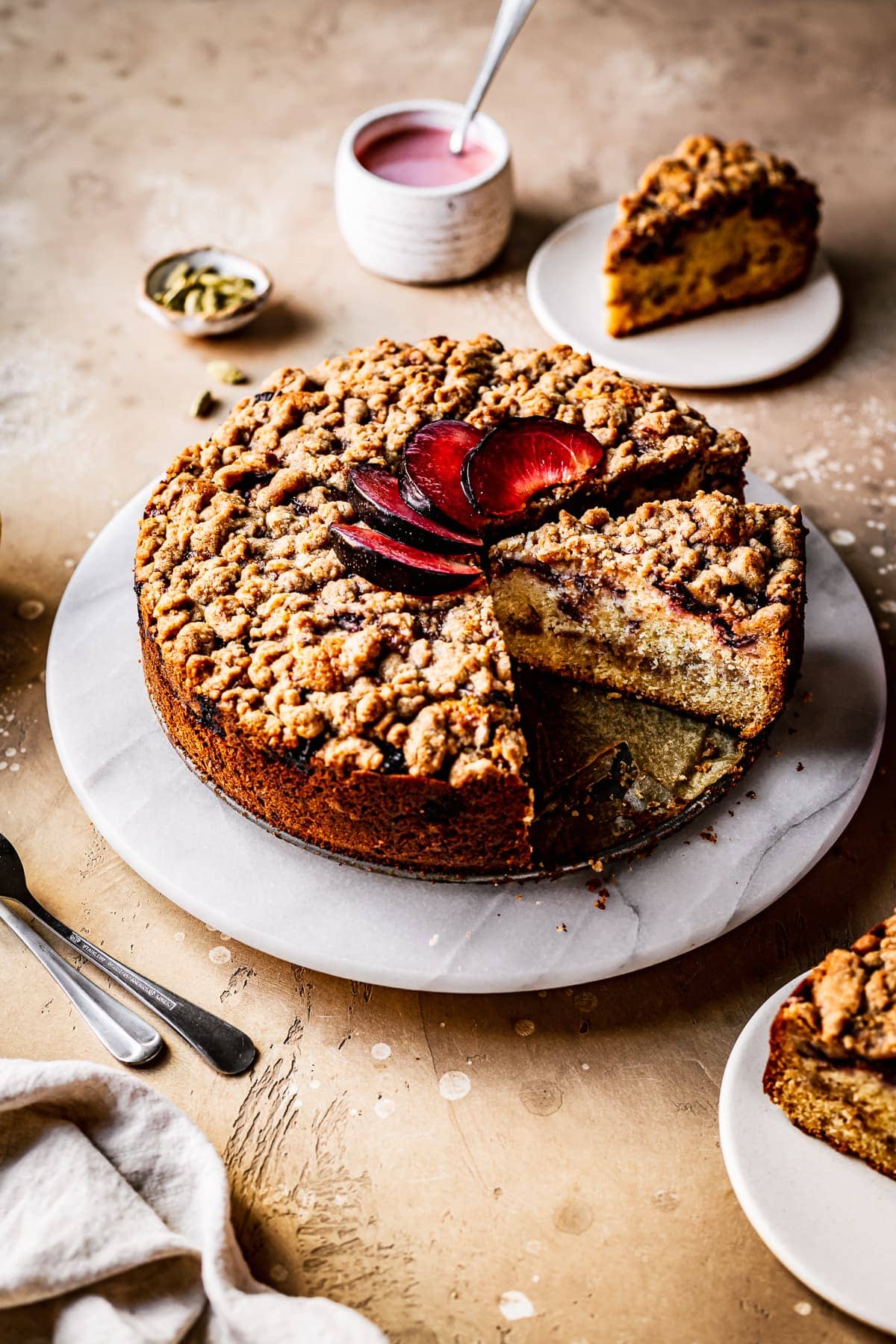 PLUM COFFEE CAKE WITH STREUSEL TOPPING
I first worked on this recipe for plum cake with streusel last fall. My parents gave me a glut of Italian prune plums from the tree in their yard. It was already getting colder outside, and I was looking for something satisfyingly cozy that would warm my kitchen with the smell of spices. And for something to help me use up the plums overflowing the bowl on my counter.
A simple plum cake recipe seemed fitting, so I put together this coffee cake. I added cardamom and black pepper to enhance the floral nature of the plums. The spices also provide an extra layer of flavor to the classic cinnamon coffee cake. I minimally altered this streusel recipe from What's Gaby Cooking, reducing the salt and adding cardamom to echo the spices in the cake.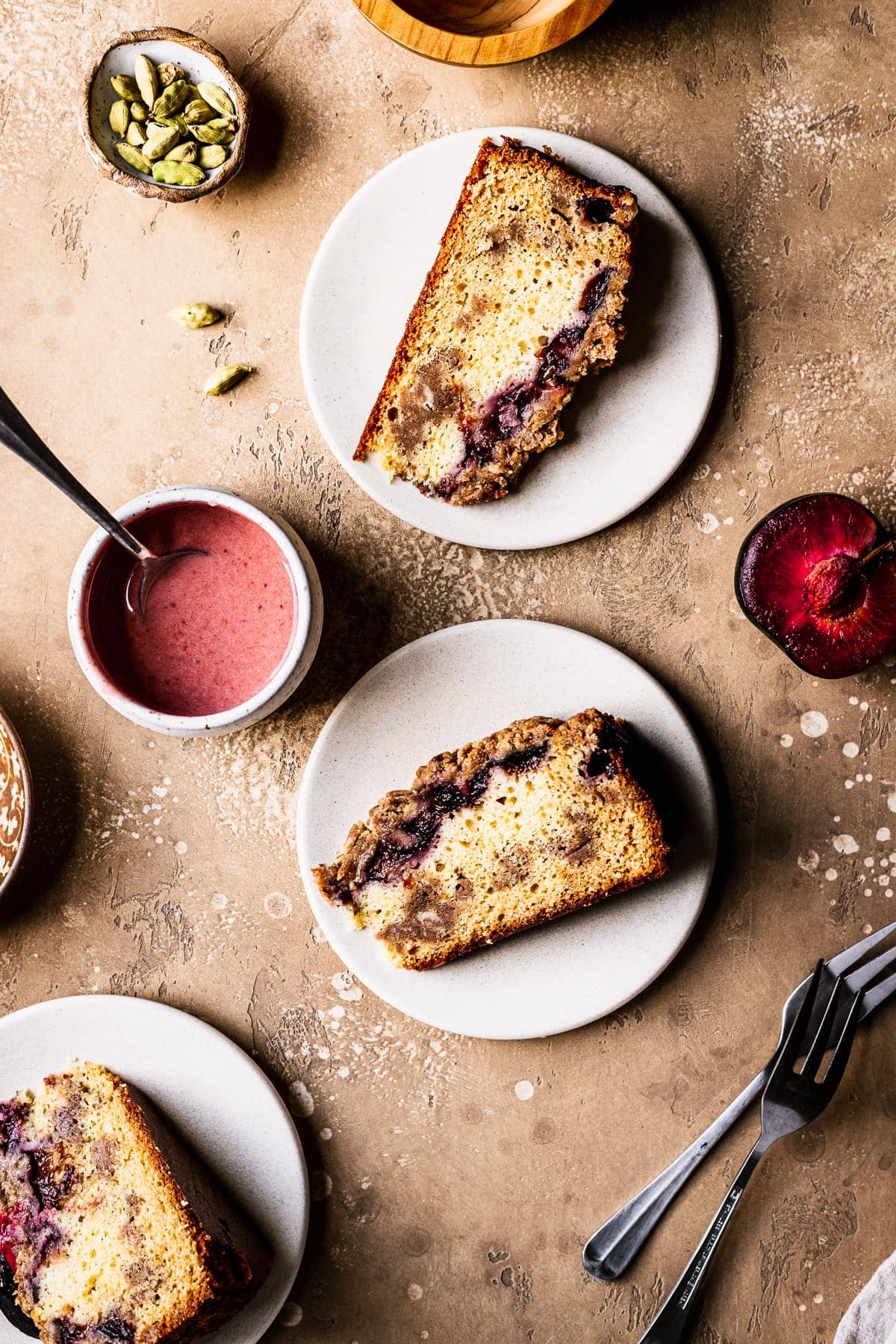 RECIPE NOTES, INGREDIENTS AND SUBSTITUTIONS
FOR THE STREUSEL
Unsalted butter - Melted butter makes it so easy to put this streusel topping recipe together. I like to use unsalted butter to ensure that I can control the total amount of salt in my recipe. If you choose to use salted butter, omit the additional salt.
Brown sugar - Brown sugar adds a nice caramel flavor.
All purpose flour - Flour binds the streusel together. Feel free to substitute a cup for cup style gluten free flour if you'd like to convert this to a gluten free coffee cake.
Salt, cinnamon and cardamom - Salt and cinnamon are traditional, and cardamom provides a nice warming, floral element that pairs well with the plums.
FOR THE PLUM COFFEE CAKE
Unsalted butter - Using unsalted butter allows you to control the total quantity of salt in the recipe. Salt content in salted butter varies from brand to brand. The butter should be cubed and at room temperature.
Kosher salt and vanilla extract
Baking soda and baking powder - Baking soda and baking powder serve as leavening agents. The soda reacts with the sour cream and brown sugar, and the baking powder provides the additional lift needed.
All purpose flour - Feel free to substitute a cup for cup style gluten free flour if you'd like to make this coffee cake gluten free.
Ground cardamom, ground cinnamon and black pepper combine to form the warming flavors that hint at chai spice. (Chai spice blends vary, but often include ginger, fennel, cloves, coriander and star anise as well). If you have whole green cardamom pods, you can crush the black seeds in a mortar and pestle or put them through a spice blender. For the pepper, use freshly ground black pepper. It is 100 times more flavorful and fragrant than pre-ground pepper from a container.
Sour cream - I use full fat sour cream in this recipe. It's possible to substitute full fat Greek yogurt, but it may impact the richness of the final bake. It helps add tenderness and flavor to the recipe.
Whole milk - Whole milk helps improve the texture and moisture content of the coffee cake crumb. You can substitute with other milks, including non-dairy milk, as needed.
Italian plums - I used Italian prune plums, which are also called Empress plums, in this recipe. They tend to be quite sweet on their own. (Yes, those are black plums in the photos. I had used up my stash of fresh Italian plums and wasn't able to find more!) You can substitute any type of plum for this recipe. If your plums are tart, after dicing (right before adding them to the top of the batter) toss them with a few teaspoons of sugar to taste. Don't toss with sugar too soon or they will begin to release too much juice. I tested this recipe with both frozen and fresh plums with good success. If using frozen plums, simply dice the plums and place in a sieve in the sink to defrost while you make the remainder of the recipe.
Streusel - Rather than mixing up a separate filling recipe, I've chosen to use half of the streusel mixture as the filling. Easy! It adds a nice little ribbon of sweetness and brown sugar spice flavor through the cake. Once the coffee cake batter is ready, pour half of it into the prepared springform pan. Crumble half of the streusel on top, distributing it evenly around the pan. Top with the remainder of the batter and gently spread it to cover the streusel. Spread the diced plums over the batter and sprinkle with the remaining streusel.
FOR THE PLUM GLAZE
Italian plums - Just like in the cake, feel free to use any variety of plums. Fresh or frozen work here too. If frozen, defrost the plums completely before blending them.
Powdered sugar - to thicken and sweeten the glaze. Depending on the juiciness of your plums, you might need to adjust the amount of powdered sugar slightly to achieve a pourable glaze consistency.
Lemon juice - lemon juice adds a bit of brightness to the glaze flavor.
Cardamom - Cardamom is a fairly robust spice with a strong floral scent. If you find it overpowering, feel free to reduce the quantity to a pinch, or omit it completely.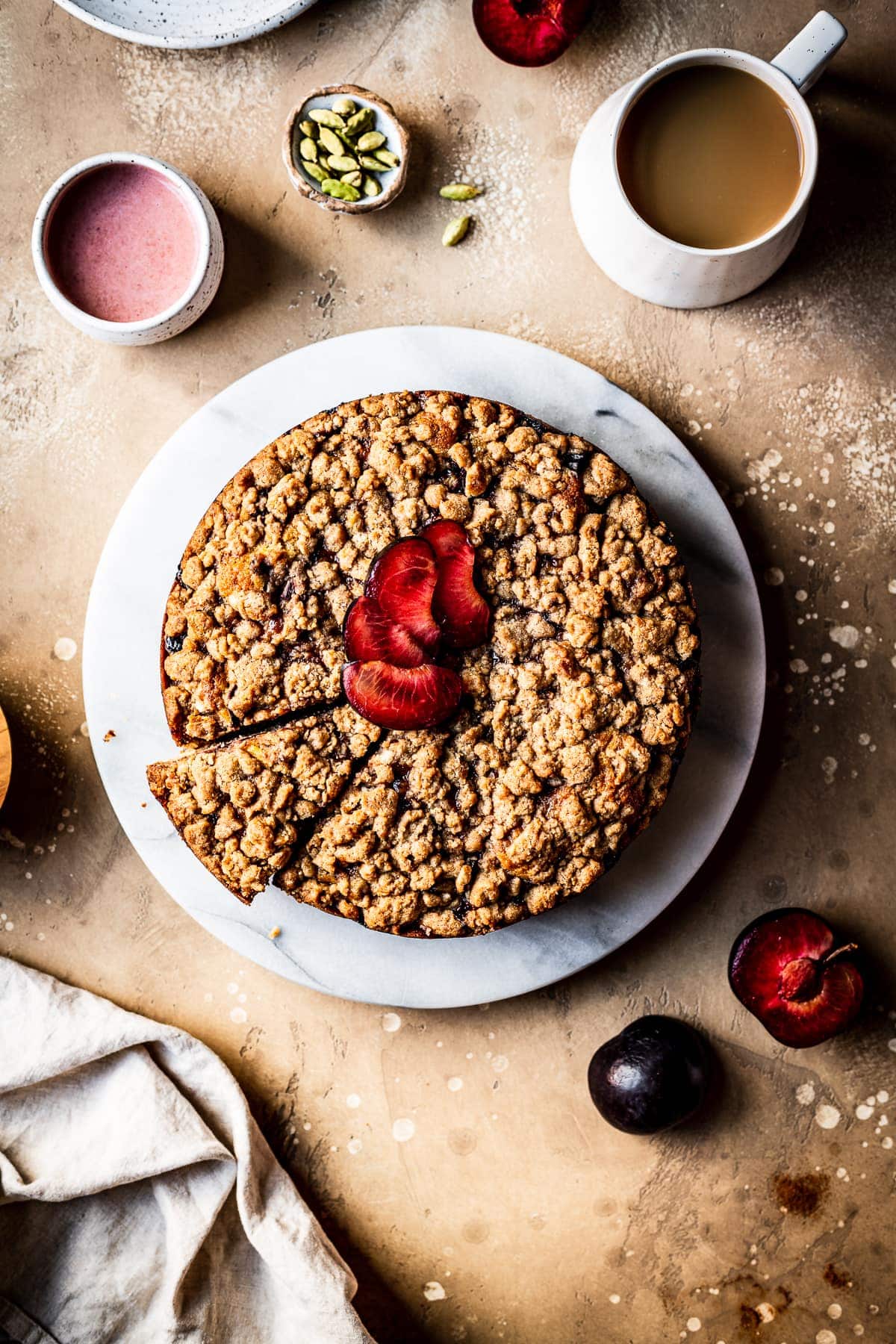 FREQUENTLY ASKED QUESTIONS
WHAT IS COFFEE CAKE? AND WHERE IS THE COFFEE?
Coffee cake is typically a buttery, tender cake that falls between a vanilla cake and a pound cake in terms of taste and texture. It is often made with sour cream, and often contains a ribbon of cinnamon sugar filling in the middle. Coffee cake is usually lightly sweet and generally has a streusel topping that is made from a mixture of butter, flour, and sugar. Many coffee cakes incorporate fruit into the batter, and other variations add nuts and additional spices. It is often served plain, or with an icing glaze. There is generally no coffee in the cake recipe itself. Rather, it is meant to be served alongside coffee or tea.
American coffee cake (kaffee kuchen in German) traces its roots - and its name - to the traditions of northern Europeans, who gathered to socialize in the afternoon with food and drink in a custom they called kaffe und kuchen (coffee and cake).
CAN I USE FROZEN PLUMS IN THIS PLUM COFFEE CAKE?
Yes, you can use frozen plums in this plum cake. I tested this recipe using both frozen and fresh plums with good success. If using frozen plums, simply dice the plums and place in a sieve in the sink to defrost while you make the remainder of the recipe.
IS STREUSEL TOPPING THE SAME AS CRUMB TOPPING?
Streusel cakes and crumb cakes are definitely related. Although many people seem to use the terms interchangeably, the difference between the two comes down to ratios, and quantity. According to The Spruce Eats, traditional German streusel is often equal parts sugar and butter, with double the weight in flour for a ratio of 1:1:2. American crumb cakes tend to have a higher ratio of sugar to butter, with less flour, with common ratios of 3:1:2 sugar/butter/flour for a sandy, sugary effect, or 3:3:1 sugar/butter/flour for a crunchy, melt into the cake top effect. This plum cake has more classic German style streusel.
In terms of quantity, coffee cakes with streusel topping are mostly cake with a layer of topping. Crumb cakes often have a much thicker, more generous amount of topping - sometimes in equal proportions to the cake below!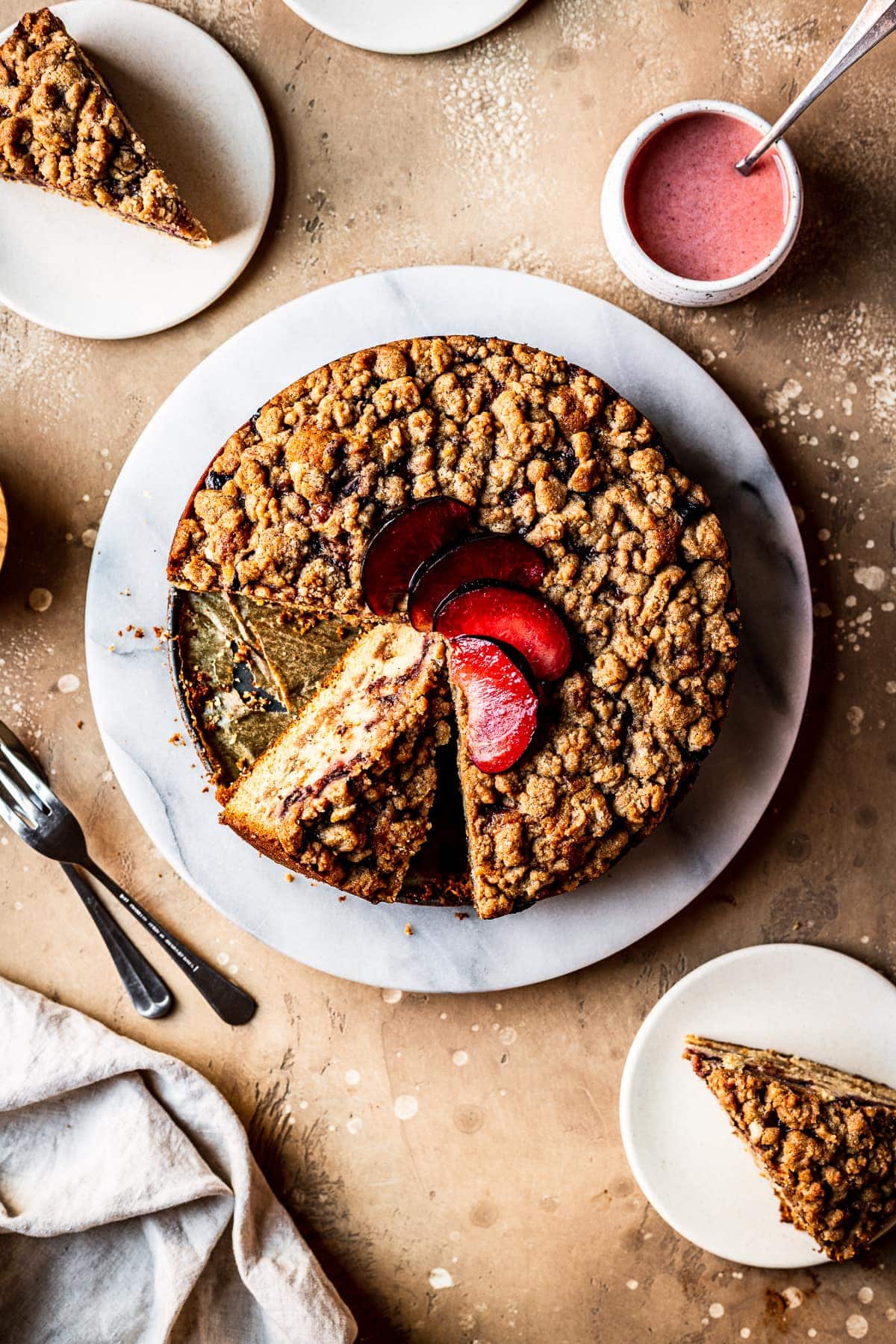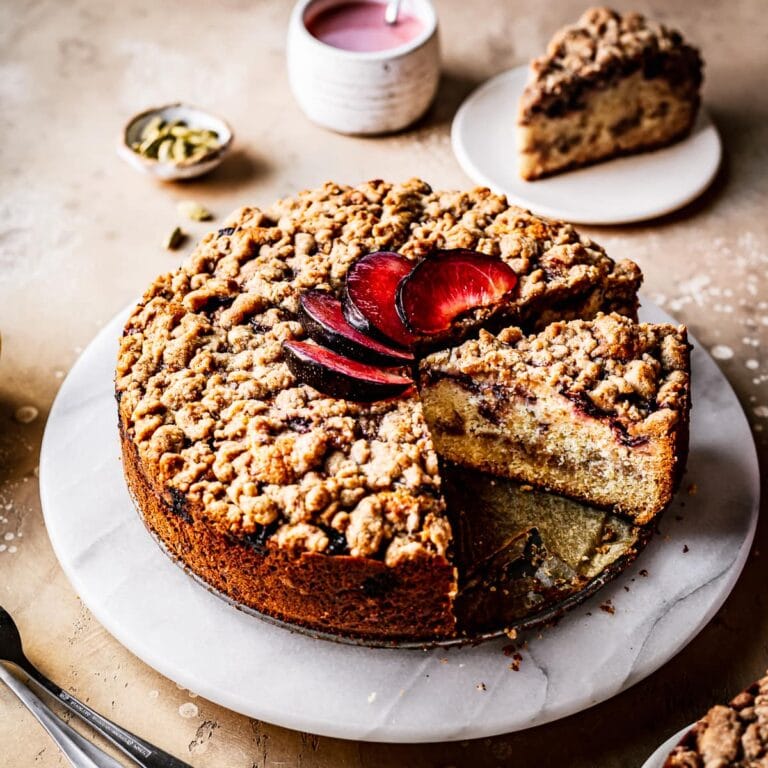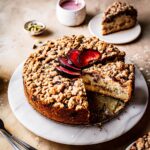 Plum Coffee Cake
Print Recipe
Pin Recipe
Servings
12
large slices (1 9" springform pan)
INGREDIENTS
STREUSEL TOPPING (AND FILLING)
168

grams (12 Tablespoons, 6 ounces, 1½ sticks)

unsalted butter, melted

165

grams (¾ cup)

brown sugar

210

grams (1¾ cups)

all purpose flour

½

teaspoon

kosher salt

1

teaspoon

ground cinnamon

¼

teaspoon

ground cardamom
PLUM COFFEE CAKE
84

grams (6 Tablespoons, 3 ounces)

unsalted butter

55

grams (¼ cup)

brown sugar

133

grams (⅔ cup)

granulated sugar

1

teaspoon

kosher salt

½

teaspoon

baking soda

1

teaspoon

baking powder

1

teaspoon

vanilla extract

2

large

eggs, room temperature

240

grams (2 cups)

all purpose flour

½

teaspoon

ground cardamom

1

teaspoon

ground cinnamon

½

teaspoon

black pepper, freshly ground

120

grams (½ cup)

sour cream, full fat

125

mL (½ cup)

whole milk

453

grams (2 cups packed, 1 pound)

Italian plums, diced

streusel recipe, from above
PLUM GLAZE
125

grams (½ cup chopped and packed, a bit over ¼ pound)

Italian plums, pitted

300

grams (2½ cups)

powdered sugar, sifted

1

teaspoon

lemon juice

⅛

teaspoon

cardamom

¼

teaspoon

cinnamon
INSTRUCTIONS
STREUSEL TOPPING (AND FILLING)
How to make streusel: in a medium bowl, stir together all streusel ingredients. There should be no dry flour remaining. Set aside to cool and firm up slightly while making the cake.
PLUM COFFEE CAKE
Preheat oven to 350° Fahrenheit (177° Celsius, Gas mark 4) with a rack in the center of the oven.

Prepare a 9" (23cm) springform pan by placing a circle of parchment paper in the base and greasing the sides.

In a medium bowl, whisk together the flour, cardamom, cinnamon and black pepper. Set aside.

In a small bowl, whisk together the sour cream and the milk. Set aside.

In the bowl of a stand mixer fitted with the paddle attachment, cream the butter and sugar together until light and fluffy, approximately 4-5 minutes. Scrape down the bowl. Add salt, baking soda and baking powder and mix until combined. Add eggs one at a time, mixing well to incorporate each. Mix in vanilla extract.

Scrape the sides of the bowl well and add half of the flour mixture. Mix at low speed until blended. Add sour cream mixture, and mix to combine. Add remaining flour and mix just until blended. Scrape the bowl with a spatula to ensure all flour has been incorporated.

Pour half of the batter into the prepared springform pan and smooth to the edges with a mini offset spatula or the back of a spoon. Distribute half of the prepared streusel evenly on top of the batter, breaking it up with your fingers into a mixture of pea, blueberry, and sandy crumb sized amounts. Add the remaining batter and spread carefully over the streusel to cover it completely. Ensure the batter extends to the edges of the pan.

Distribute the diced plums in an even layer on top of the cake batter. Add remainder of streusel to the top of the cake. Bake for 50-55 minutes, until golden brown, a toothpick inserted into the center comes out clean, and the top springs back lightly when touched.

Cool on a baking rack. Once cooled, run a knife around the border of the springform pan and then release the pan. Place onto a serving platter.
PLUM GLAZE
Place all plum glaze ingredients into the bowl of a blender and process on low until incorporated. Scrape down the sides of the blender and process on high until pureed. For a smooth glaze, pass through a strainer to remove leftover plum skins.

Drizzle glaze onto cooled plum coffee cake before slicing (it will harden to a firm glaze), or serve in a small pitcher alongside the cake to be poured onto individual slices. If the glaze is made in advance, it will crust over. Keep the surface covered with a piece of plastic wrap until serving, and stir before using.
Made this recipe?
Please leave a comment and a star review! Share it on Instagram with
@theflouredtable and #theflouredtable.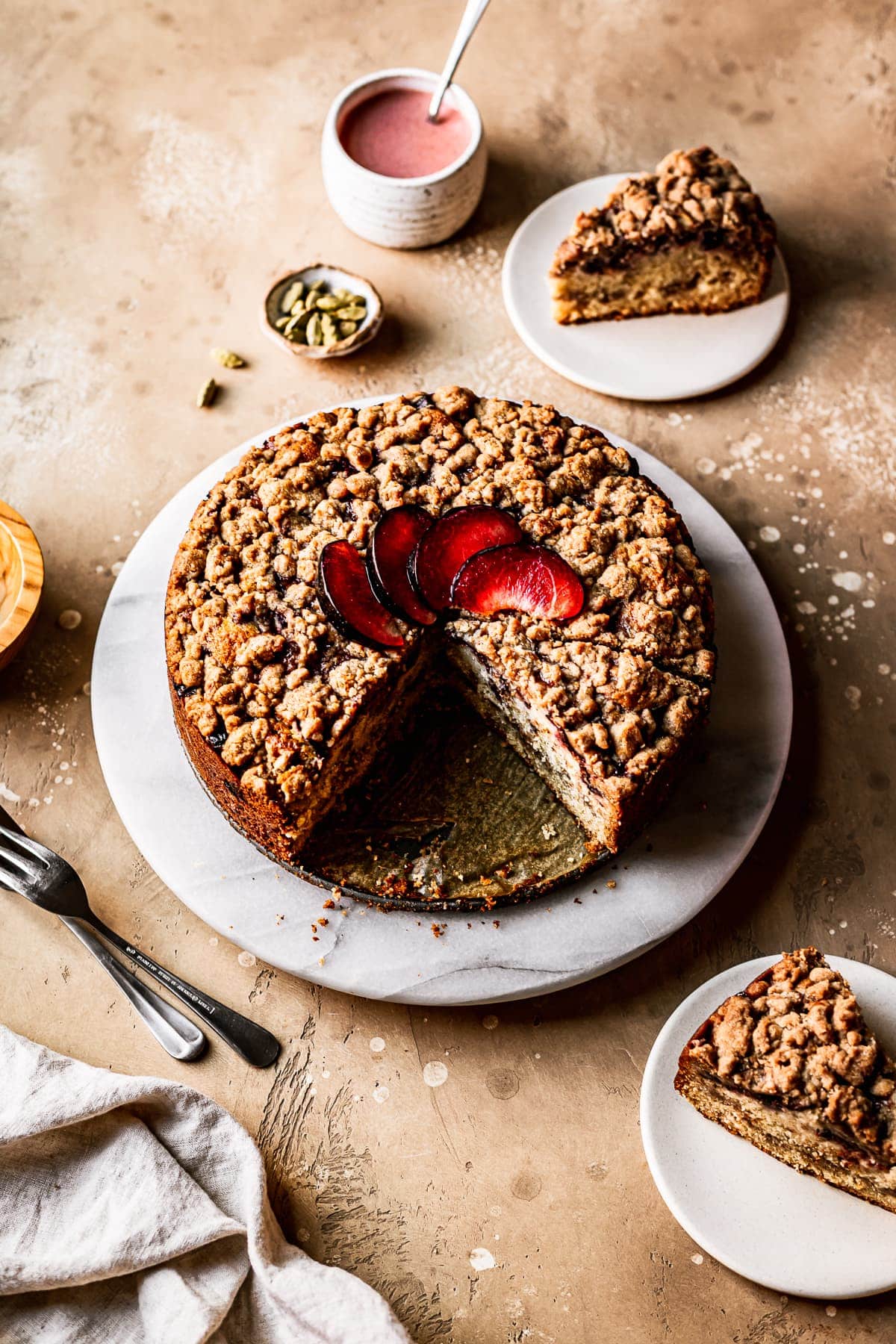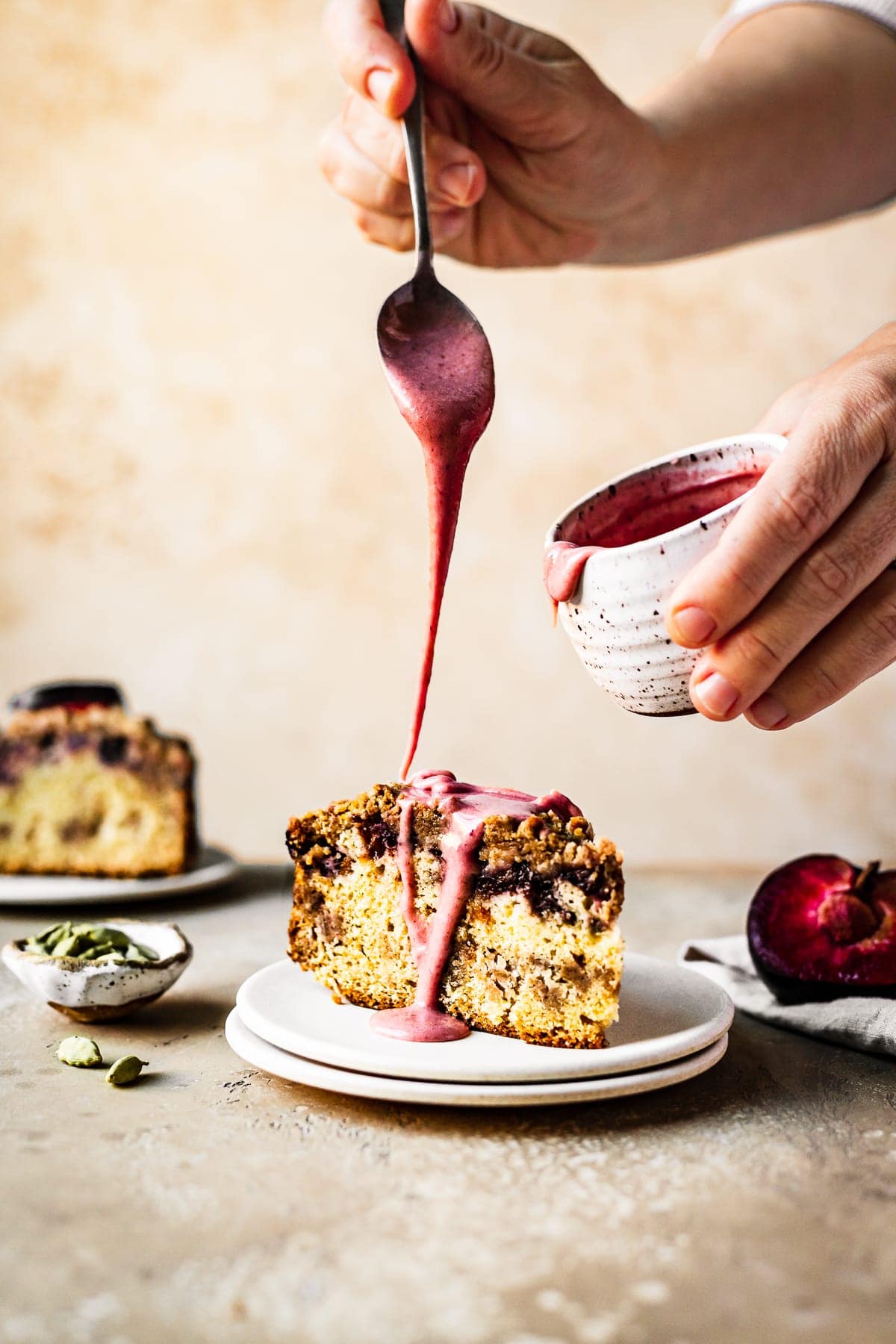 MORE CAKE RECIPES
If you liked this plum spice coffee cake, you might also enjoy these other single layer cake recipes I've baked up!