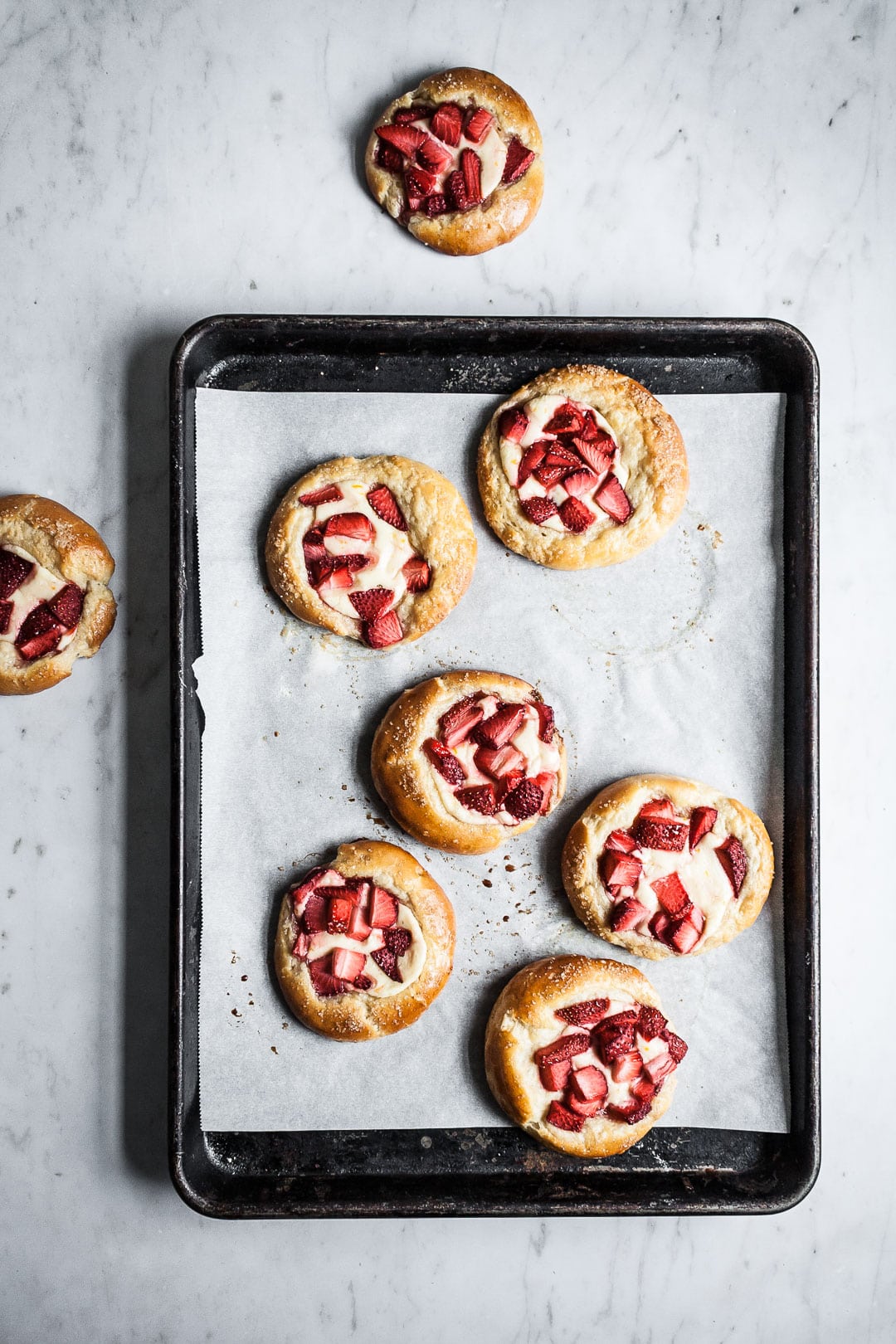 I've had a three pound container of cream cheese sitting in my fridge for a week, waiting for inspiration to strike. I bought it on our last trip to Costco and have been looking for ways to dispense of it ever since. When little boxes of ruby hued strawberries appeared at the local store, I figured they'd pair nicely together on top of brioche danishes.
Cream cheese is such a wonderful ingredient for baking. It has limitless variations, and I aim to find as many of them as I can! I've made pumpkin cream cheese thumbprint cookies, which taste a bit like pumpkin cheesecake in cookie form. I've created a strawberry eton mess cheesecake, as well as a rich and dark chocolate orange cheesecake. And there's also the Puerto Rican cream cheese pastries - quesitos - made with flaky puff pastry, lightly sweetened cream cheese, and pineapple jam.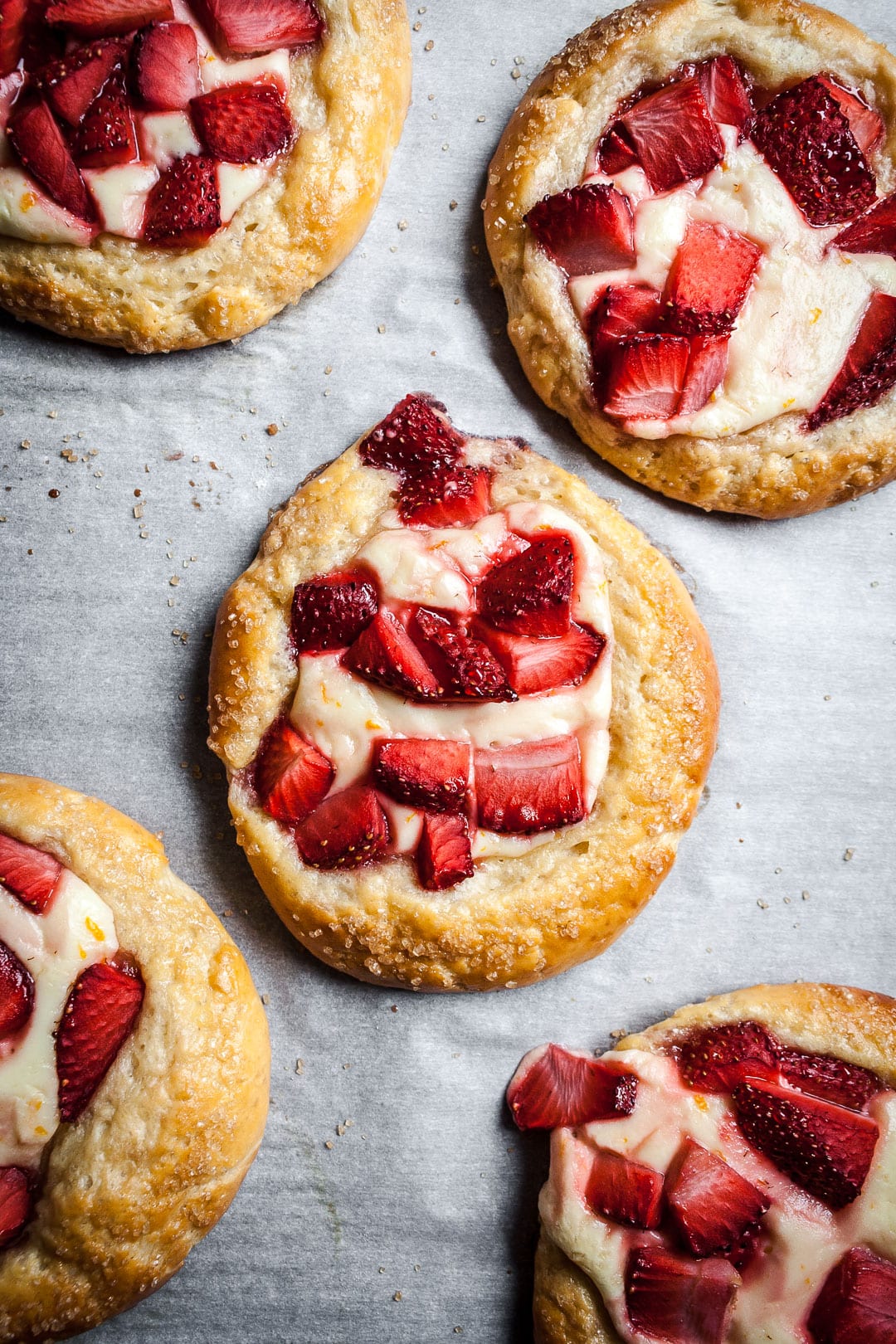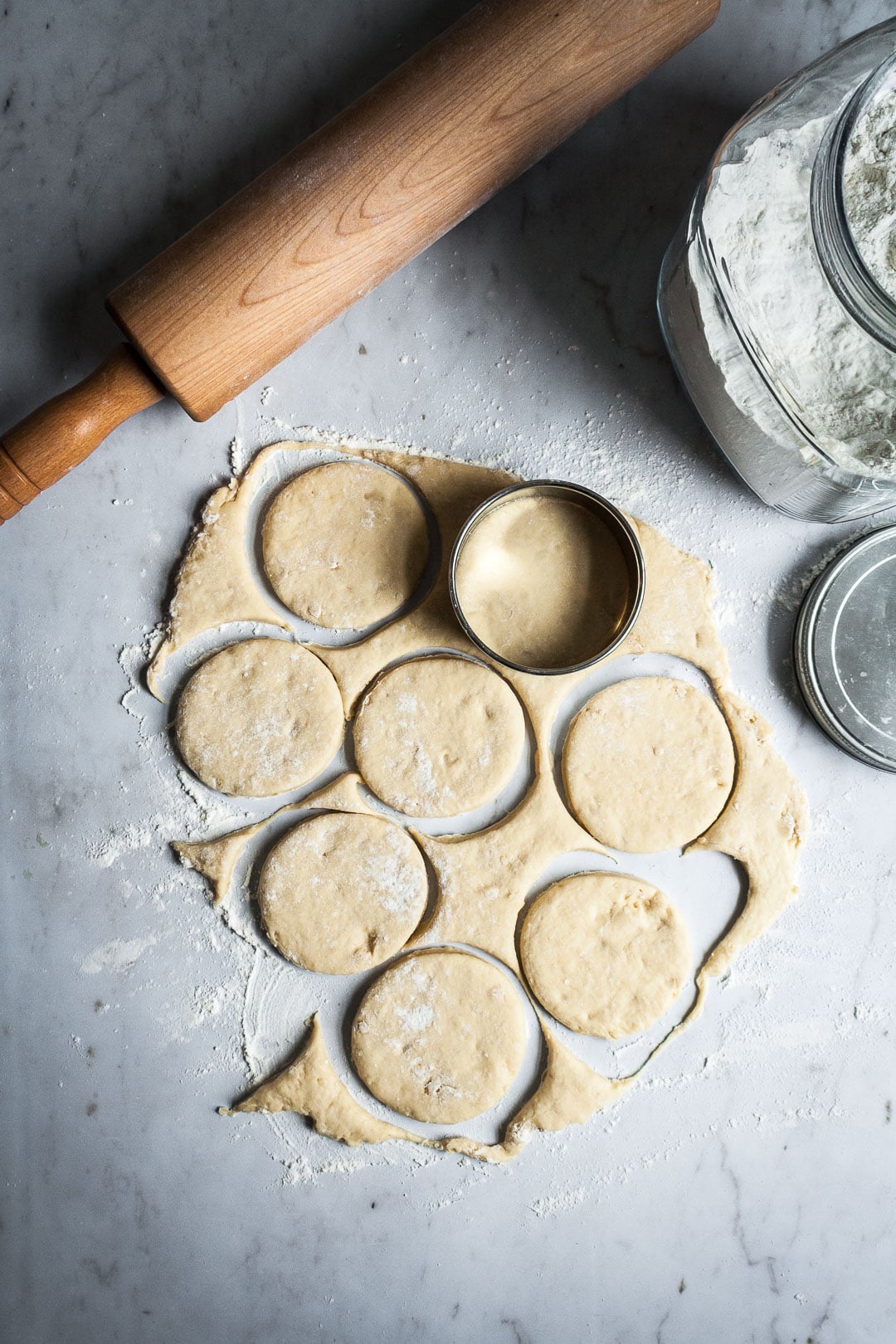 Flor de Azahar
Did you know that my husband is from Spain? We met when I was a college student studying abroad in Sevilla, the capital city of the southern province of Andalucia. Although we've since moved back to my hometown in the US, we spent four years living in that magical city. My husband's family is all still there, and we try to return as often as we can. Now that we have two (full airfare paying) kids, travel is more difficult, so we're doing our best to make sure the girls have exposure to Spanish culture, foods and language whenever we can.
If you visit Sevilla at this time of year, you can't help but notice the intoxicating scent of flor de azahar, orange blossom. The thousands of bitter Seville orange trees that line the streets of Sevilla are laden with the delicate white blossoms. The flowers are commonly used to create perfumes and are also distilled into orange blossom water, which is frequently used in baking.
Perhaps it's the white blossoms of the ornamental cherry tree in our back yard that have me thinking of Spain, or simply the time of year, close to the Spanish holy week, that brings back memories of when my husband and I first met. Either way, I wanted to create something that reminded me of this magical season.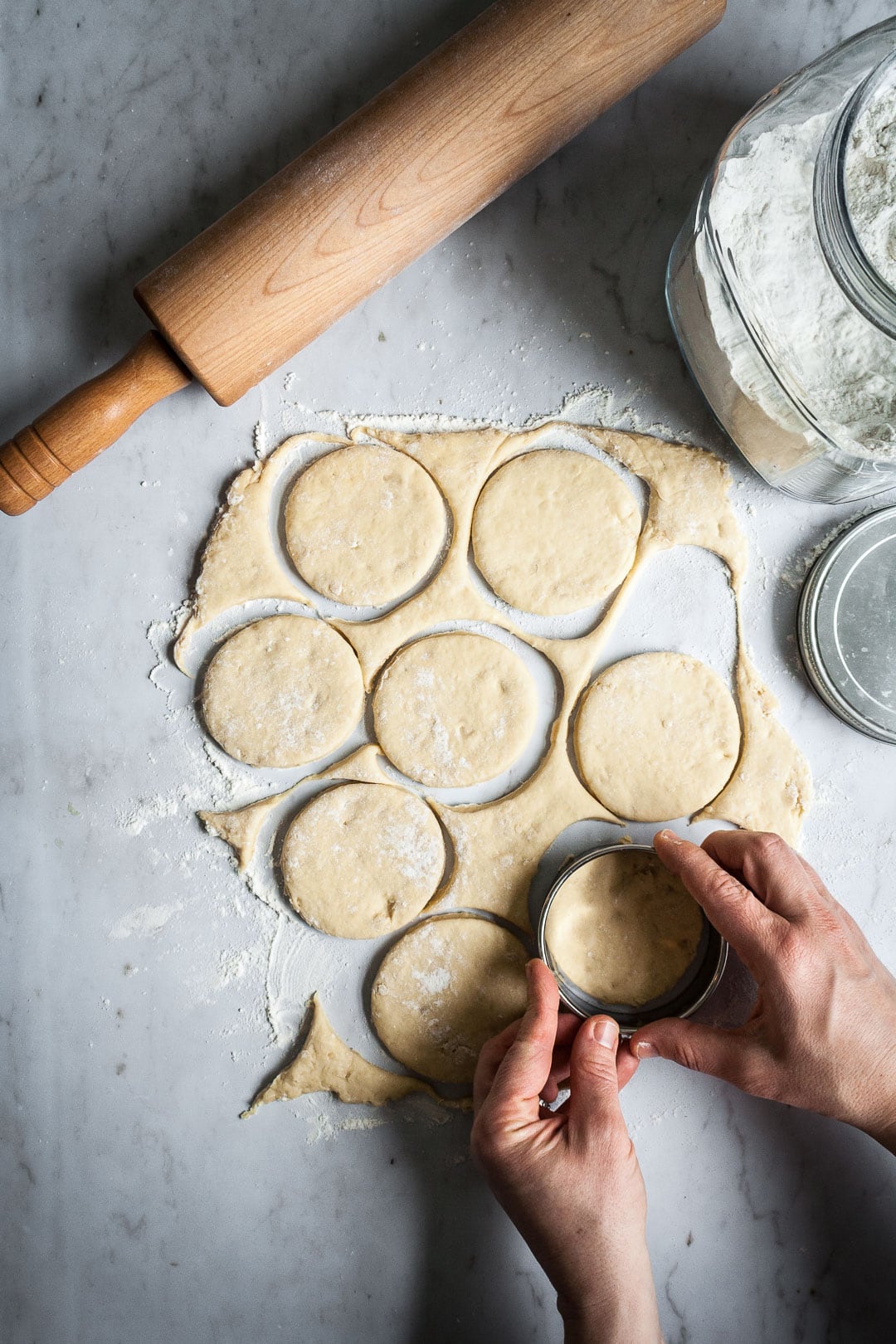 Brioche Pastries
For these strawberry cream cheese brioche pastries, I used Zoe Francois and Jeff Hertzberg's brioche dough from their Artisan Bread in Five website. It's a very user-friendly no knead version that opens up the possibility of brioche baking to most anyone. There's no stand mixer required, and you don't have to worry about the temperature or consistency of the butter since it's melted for addition to the other dough ingredients.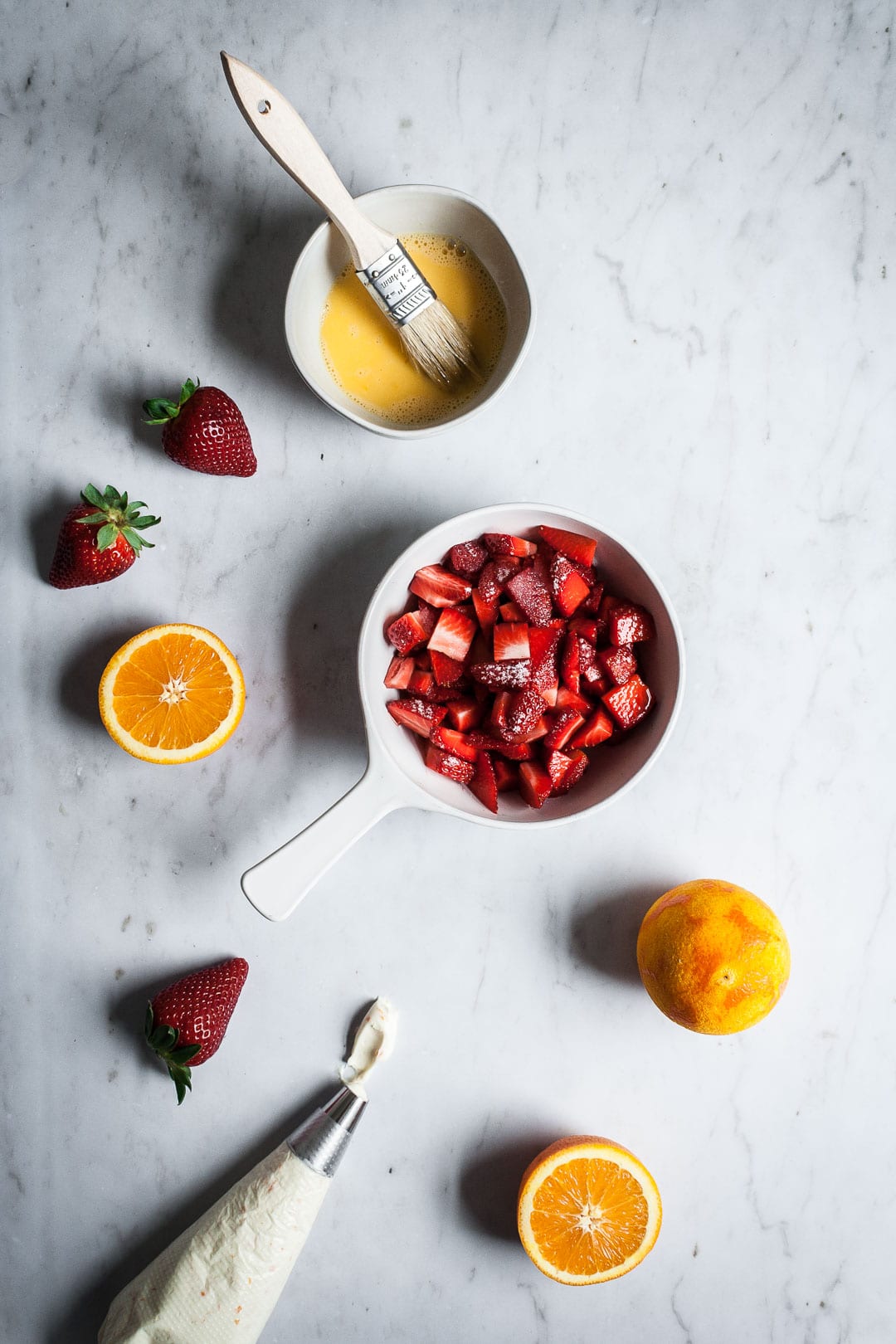 The rich dough, laden with egg and butter, serves as a pillowy base that cradles a filling of sweetened cream cheese. I added orange zest and orange blossom water to give a vibrant, floral taste to the creamy centers. The brioche are then topped with a generous amount of lightly sweetened fresh strawberries and coarse Turbinado sugar and baked in the oven until golden brown.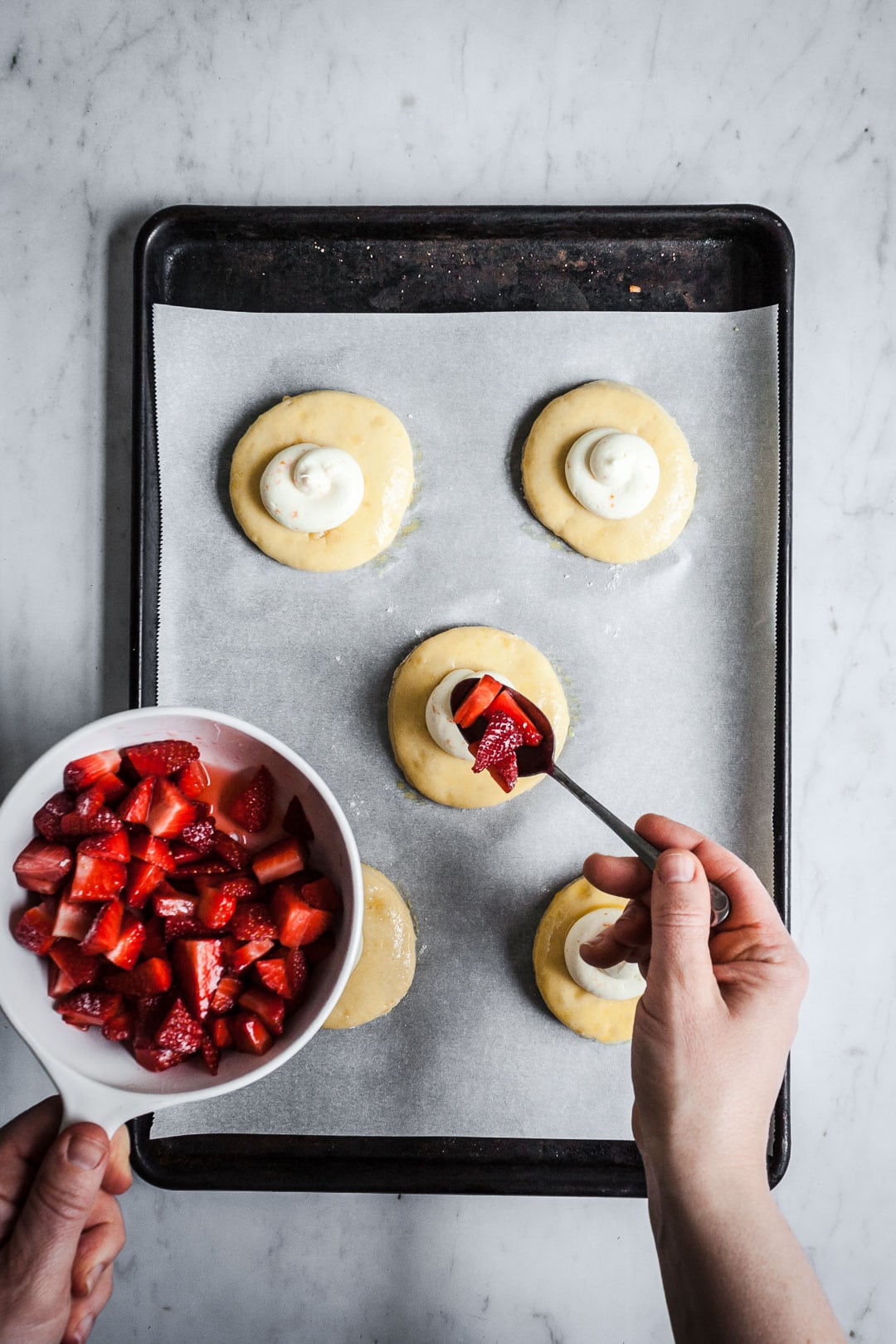 When my husband came home to a whole pan of these pastries cooling on the rack, he tried one and immediately his eyes lit up. "Esto es la masa de un bollito de leche!" he said as he smiled and ate his way through one, and then another. "This dough tastes just like the sweet milk bread that I used to eat as a kid." While orange, orange blossom and strawberry might not be a traditional pairing with the brioche dough, they're all ingredients you frequently see in Spain, and they work well together. I close my eyes as I bite into one of the pastries. It tastes like spring in Sevilla.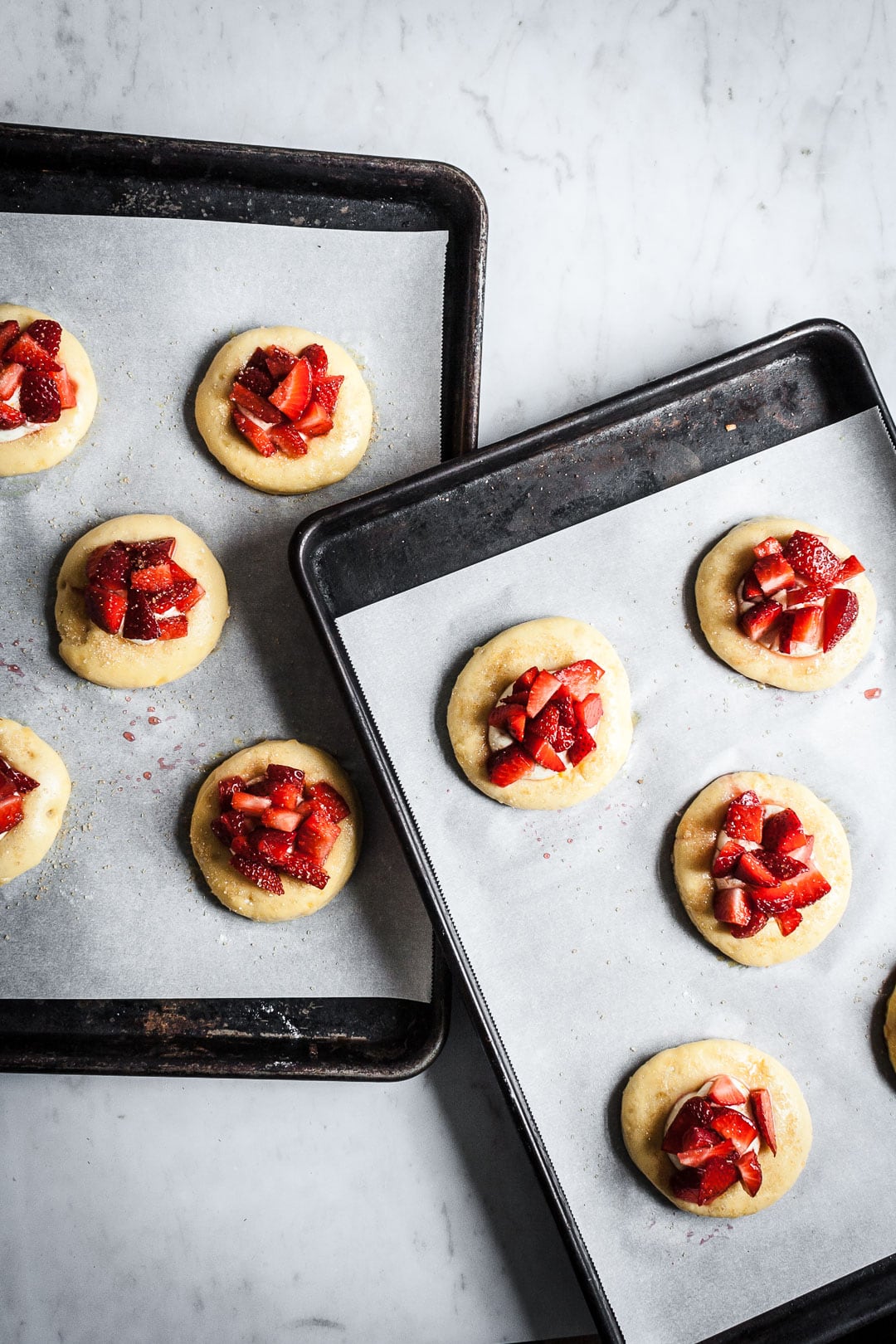 Recipe Notes
Dough quantity - The original Artisan Bread in 5 brioche recipe makes four pounds of dough, which is 4 times what you'd need to make the brioche pastries seen here. I've scaled down the recipe in order to make 10 pastries. If you want to make extra pastries (big family brunch!) or are interested in having additional brioche dough on hand, feel free to double or even quadruple the recipe.
Orange blossom water - I'm lucky to have a store in town that specializes in incredible Mediterranean foods, so I was able to find a bottle of orange blossom water locally. You can also purchase it here (affiliate link). It's certainly possible to omit it from the recipe, but it does add a wonderful floral layer that you can't get from orange zest alone.
Shaping the pastries - To cut the dough into circles, I used a 3 ¼ inch cookie cutter from my set of concentric circle cutters (affiliate link). You could also use a drinking glass or the ring from a wide mouth mason jar in a pinch.
Turbinado sugar - Turbinado, or raw sugar, is a coarse golden-brown sugar that you might know from the little tan "sugar in the raw" packets at restaurants and coffee shops in the US. The grains are big enough to provide a nice crunch and sparkle to the top of sweet breads such as these. You can often find it in the baking aisle at your grocery store. You can also source it here (affiliate link).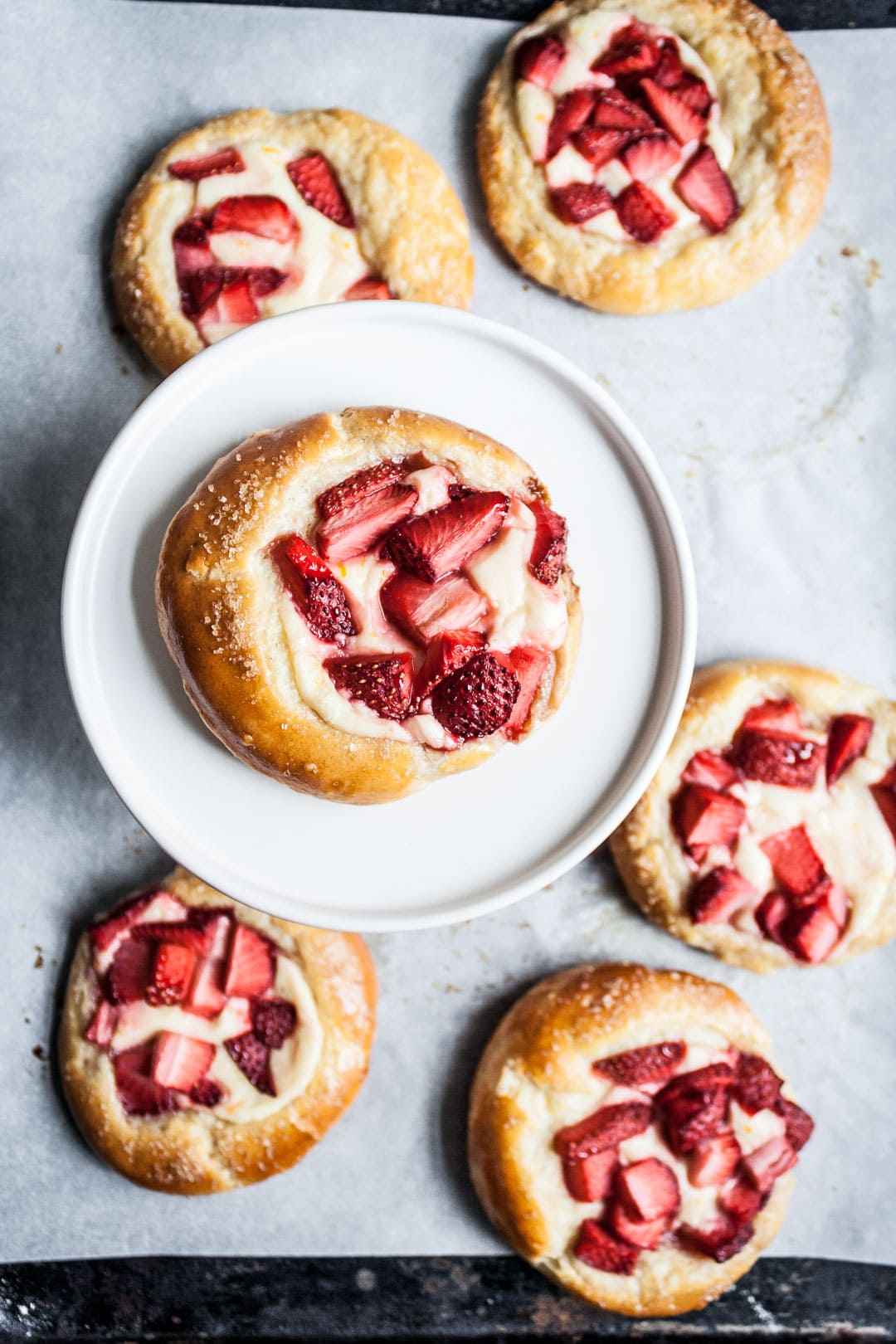 📖 Recipe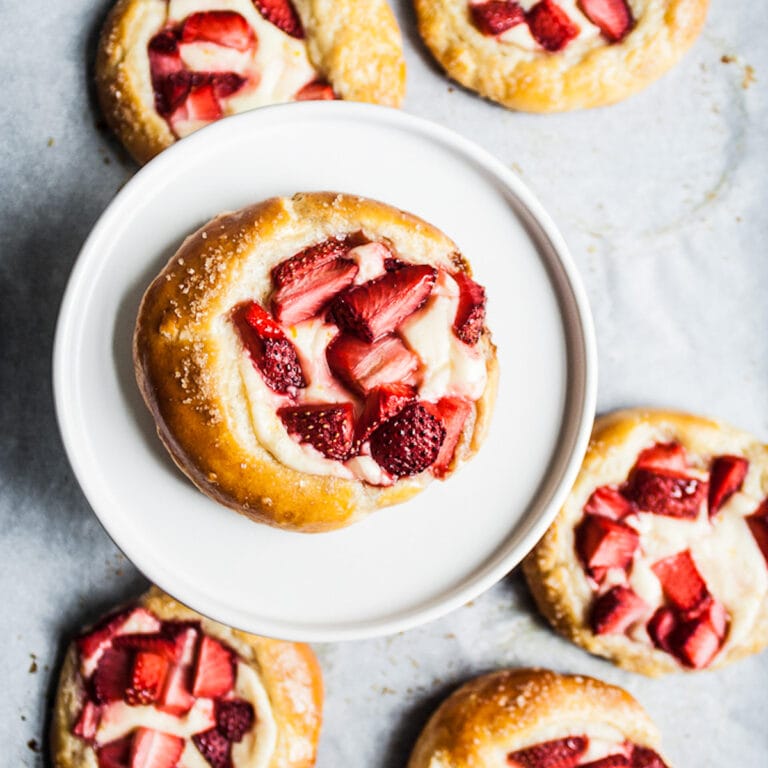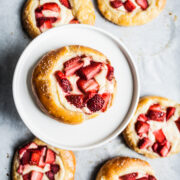 Strawberry Cream Cheese Brioche Pastries with Orange Blossom Water
Print Recipe
Pin Recipe
Rich, golden brioche cradle sweetened cream cheese flavored with the vibrant, floral taste of orange zest and orange blossom water. The brioche are topped with a generous amount of lightly sweetened fresh strawberries and a sprinkling of coarse Turbinado sugar.
Servings
10
brioche pastries
INGREDIENTS
Brioche Dough
6

Tbsp (90 mL)

warm water

¾

teaspoon

active dry yeast

2

Tbsp (30 mL, 42g)

honey

¾

teaspoon

kosher salt

2

large

eggs (at room temperature), lightly beaten

6

Tbsp (3 oz; 85g)

unsalted butter, melted

1 ¾

cups + 2 tablespoon (234g)

all purpose flour
Cream Cheese Filling
1

cup (8 oz; 225g)

cream cheese

¼

cup (50g)

granulated sugar

1 ½

teaspoon

orange blossom water

zest of 1 medium navel orange

1

teaspoon

vanilla
Topping
1

lb (453g)

strawberries, cut into small pieces

1

teaspoon

granulated sugar

1

egg

beaten, for egg wash

¼

cup (48g)

Turbinado sugar (sugar in the raw)
INSTRUCTIONS
Brioche Dough
In a large bowl, mix together the warm water, yeast and honey. Let sit for 5-10 minutes to proof the yeast, and then add the salt, eggs and melted butter. Stir in the flour with a spoon until completely incorporated. The dough will be very moist and sticky. Cover bowl with a plate or plastic wrap and place in a warm area for 2 hours. (I like to put it in an unheated oven with the oven light on to warm it slightly)

Place dough in the refrigerator to chill; 6 hours or overnight. Without chilling, the dough will be too sticky and difficult to work.

Remove dough from fridge and place onto a well floured surface. Gently shape into a rough rectangle and fold into thirds along the long side of the rectangle, like folding a letter. Roll out dough to a thickness of ¼ inch.

Using a 3 ¼ inch round cookie cutter, cut out as many circles as will fit. Fold together the scraps and gently roll out again, sprinkling work surface with additional flour if necessary. Cut out the remaining circles. You should have 10 circles total.


Transfer dough circles to parchment lined baking sheets - I placed 5 on each baking sheet. Set aside to rise for 40-60 minutes while preparing filling and topping.
Cream Cheese Filling
In a stand mixer with the whisk attachment, beat cream cheese until smooth. Add sugar, vanilla, orange zest and orange blossom water. Blend on medium speed until well incorporated and cream cheese has a spreadable consistency similar to unbaked cheesecake batter.
Strawberry Topping
Place cut strawberries into a shallow bowl and sprinkle with 1 tablespoon granulated sugar. Toss gently and set aside.
Assembly and Baking
Preheat oven to 350 degrees F (180 C) and position oven racks on the top and bottom third of the oven.

Using a pastry brush, brush beaten egg onto the top and sides of each brioche circle.

Place the cream cheese mixture into a piping bag fitted with a large round pastry tip and pipe a generous amount (approximately 2-3 Tbsp) of the filling into the middle of the brioche circles, leaving about an inch bare around the border. Alternatively, use a large spoon to scoop the filling onto the middle of each circle.

Using a spoon and your fingers, place strawberry slices on top of cream cheese dollops, pressing them into the cream cheese gently to secure them. Pile them up a bit - they will spread as they bake.

Sprinkle Turbinado sugar on top of each brioche, covering both the strawberry cream cheese centers and the egg-washed brioche dough. (The sugar on the dough will create a sparkly golden layer of sweet crunch).

Bake both pans in the oven for 22-24 minutes, rotating pans from top to bottom rack halfway through baking. Brioches will be puffy and golden brown on the edges. Cool for at least 10 minutes on baking sheet, and then transfer to cooling rack, or eat immediately! Brioche are best the same day they are baked.
The Floured Table
Recipe Author: Kathleen Culver
https://www.theflouredtable.com/strawberry-cream-cheese-brioche-pastries-with-orange-blossom-water/
Made this recipe? Please leave a comment and a star review! ★★★★★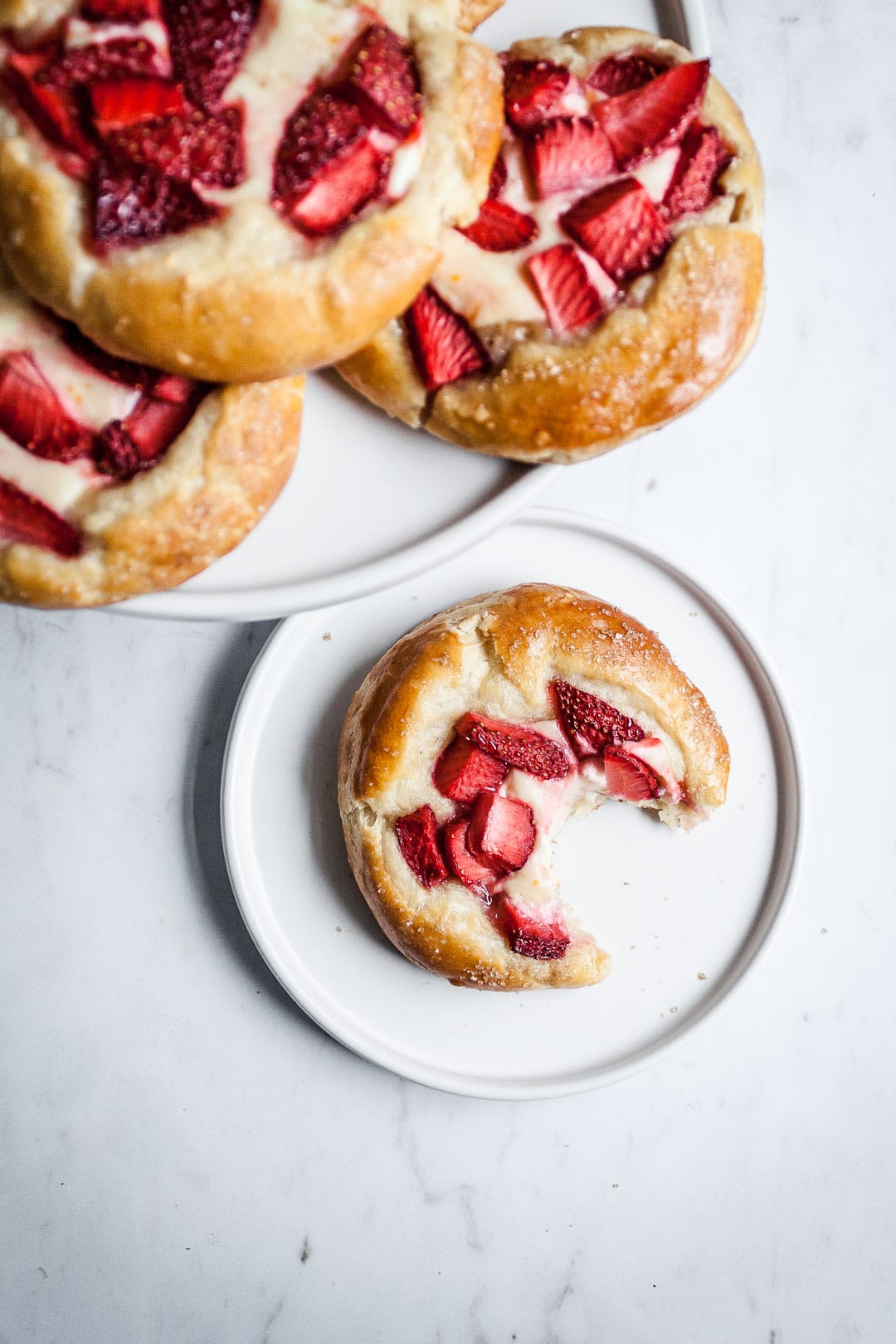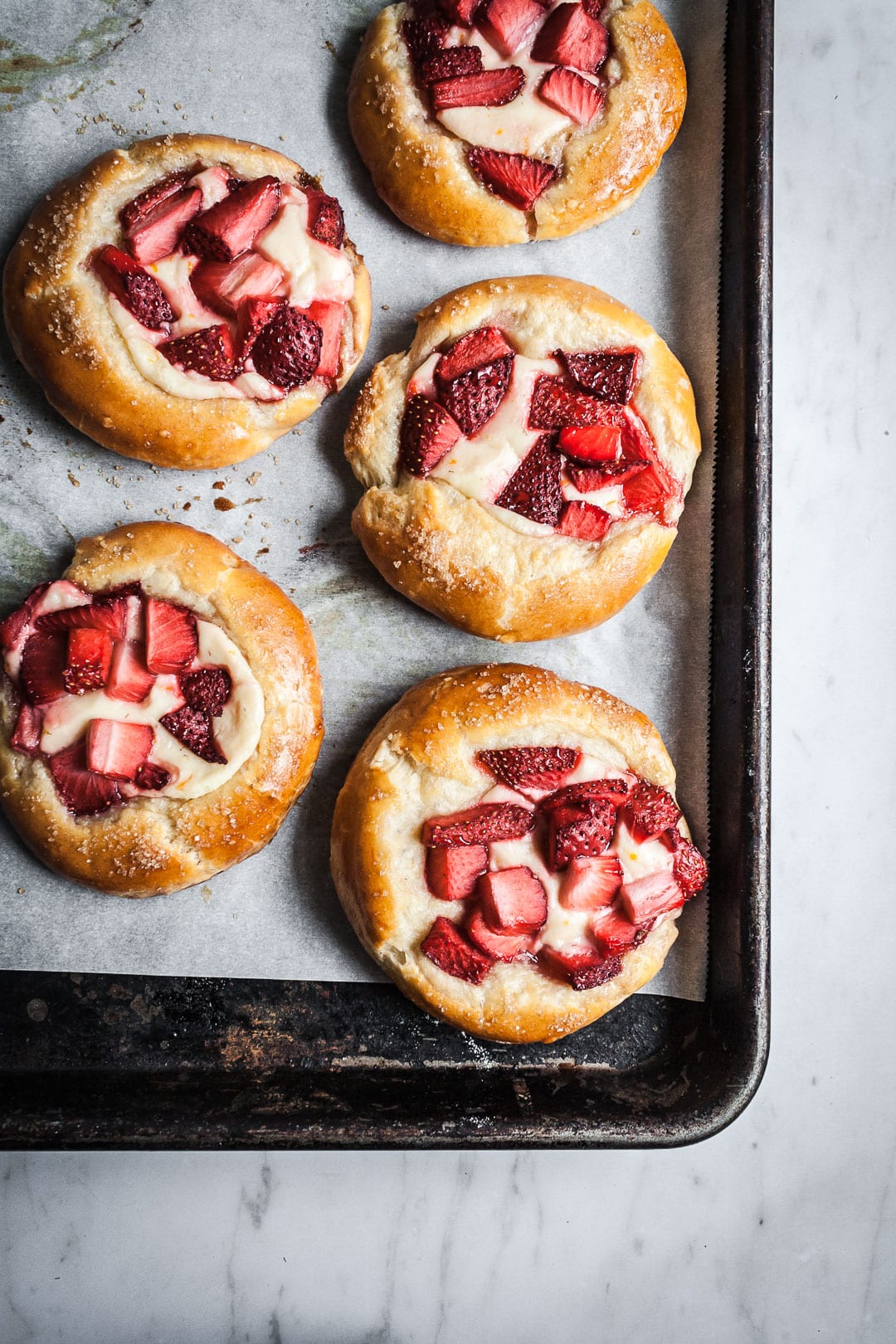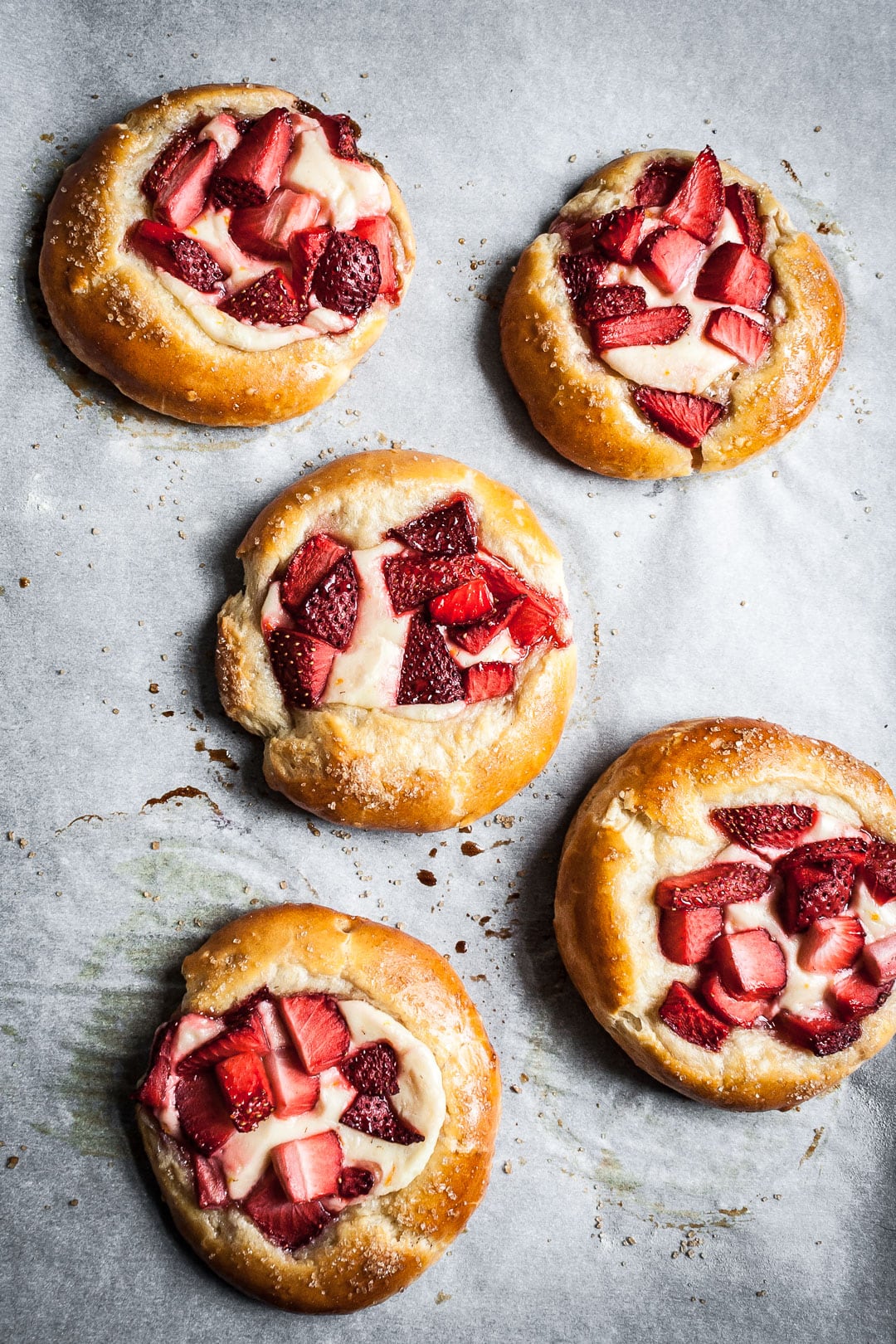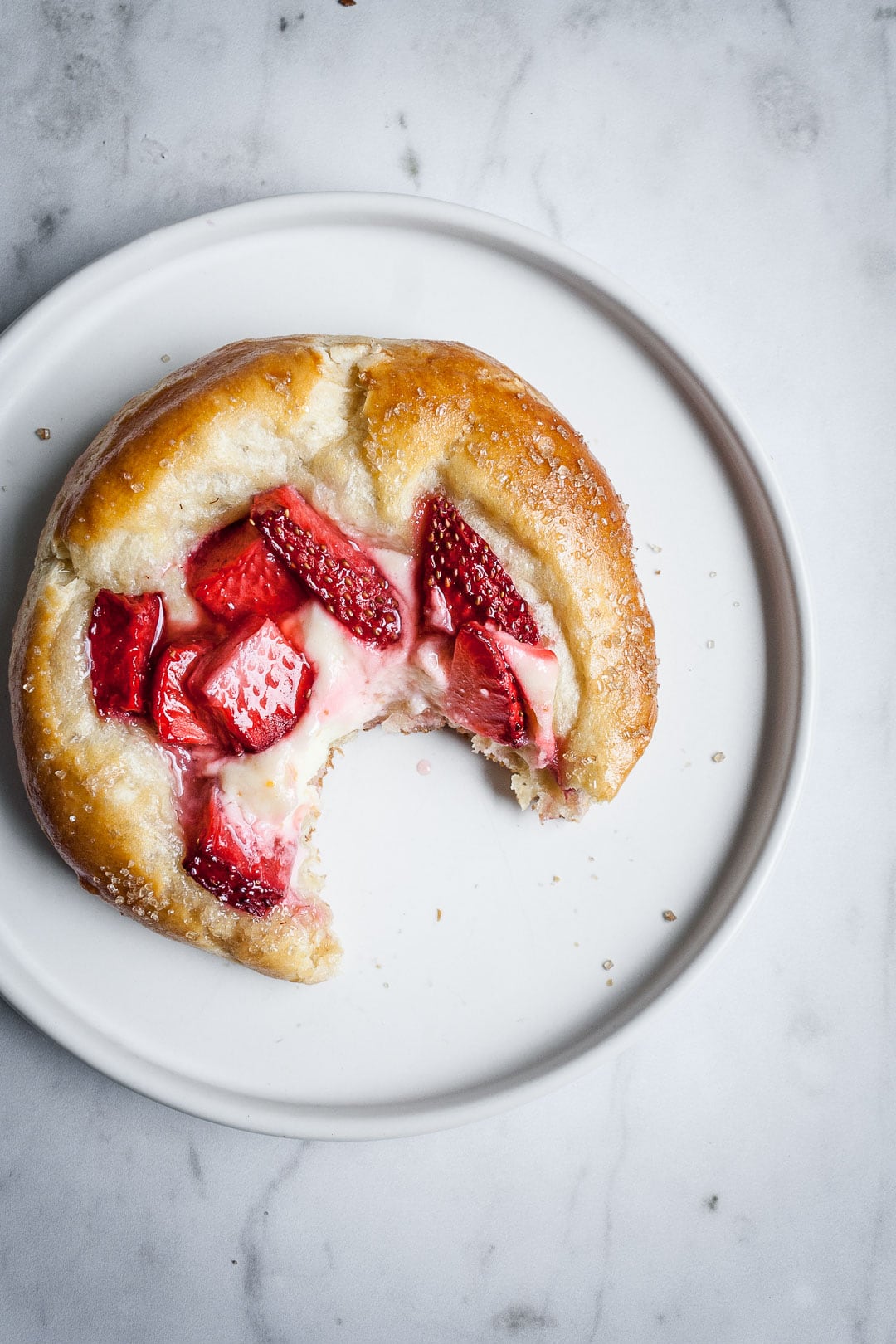 If you like these strawberry cream cheese brioche pastries, you might also enjoy these recipes: