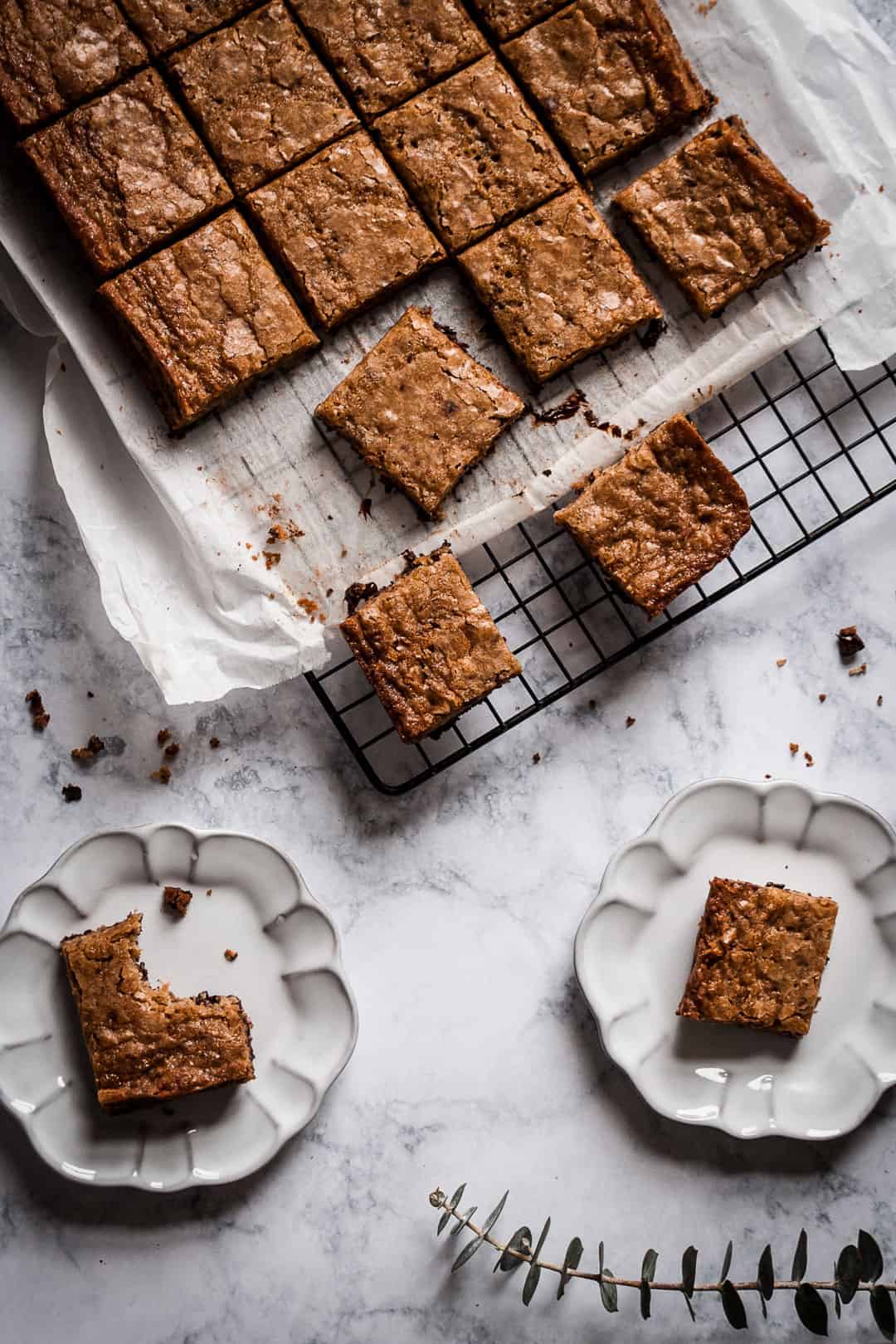 Caramelized edges, molten, gooey middle. Crispy, crinkly top. Oozy, soft dark chocolate. Sugary golden brown butter poured and molded into bar form. That's what I first wrote when I tried these butterscotch dark chocolate bars.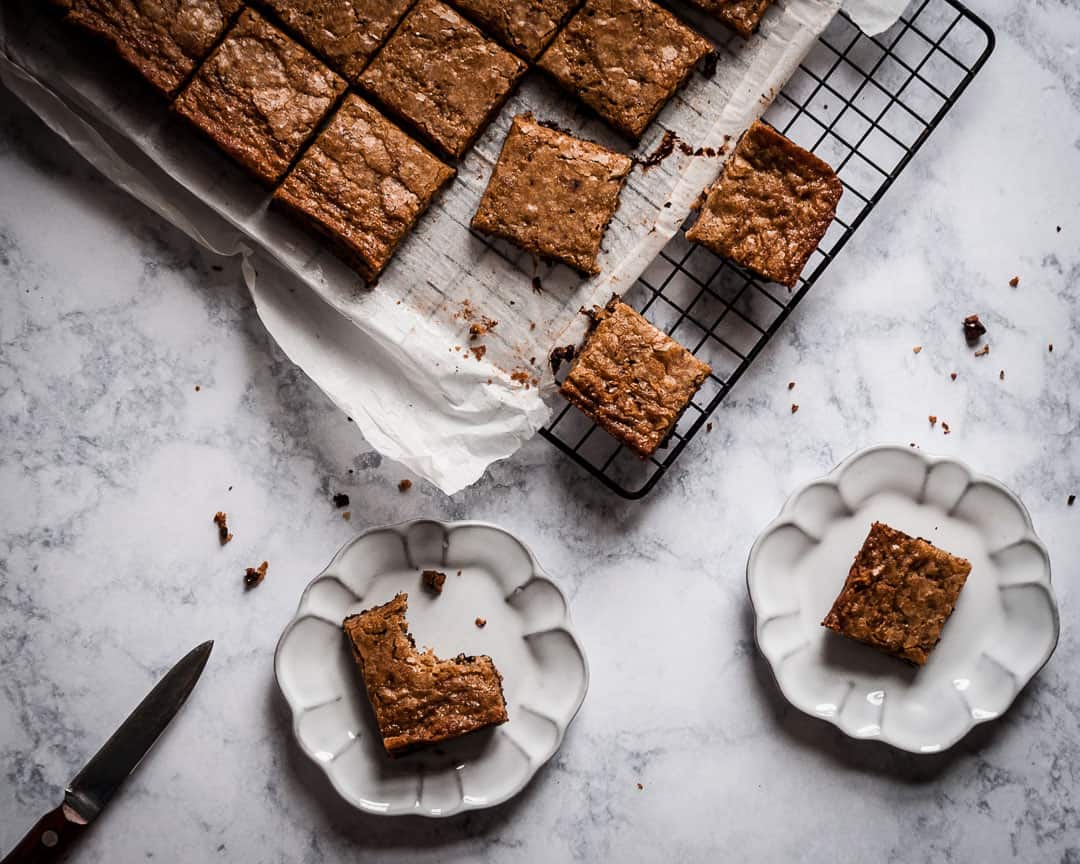 We'll get to them in a moment - and if you're in a rush to read the recipe, by all means, scroll down to the bottom of the page, where you'll find it waiting for you. But do come back - I thought I'd dust off my hands and share a few things about me. After all, here you are standing in my kitchen, and I haven't even introduced myself properly.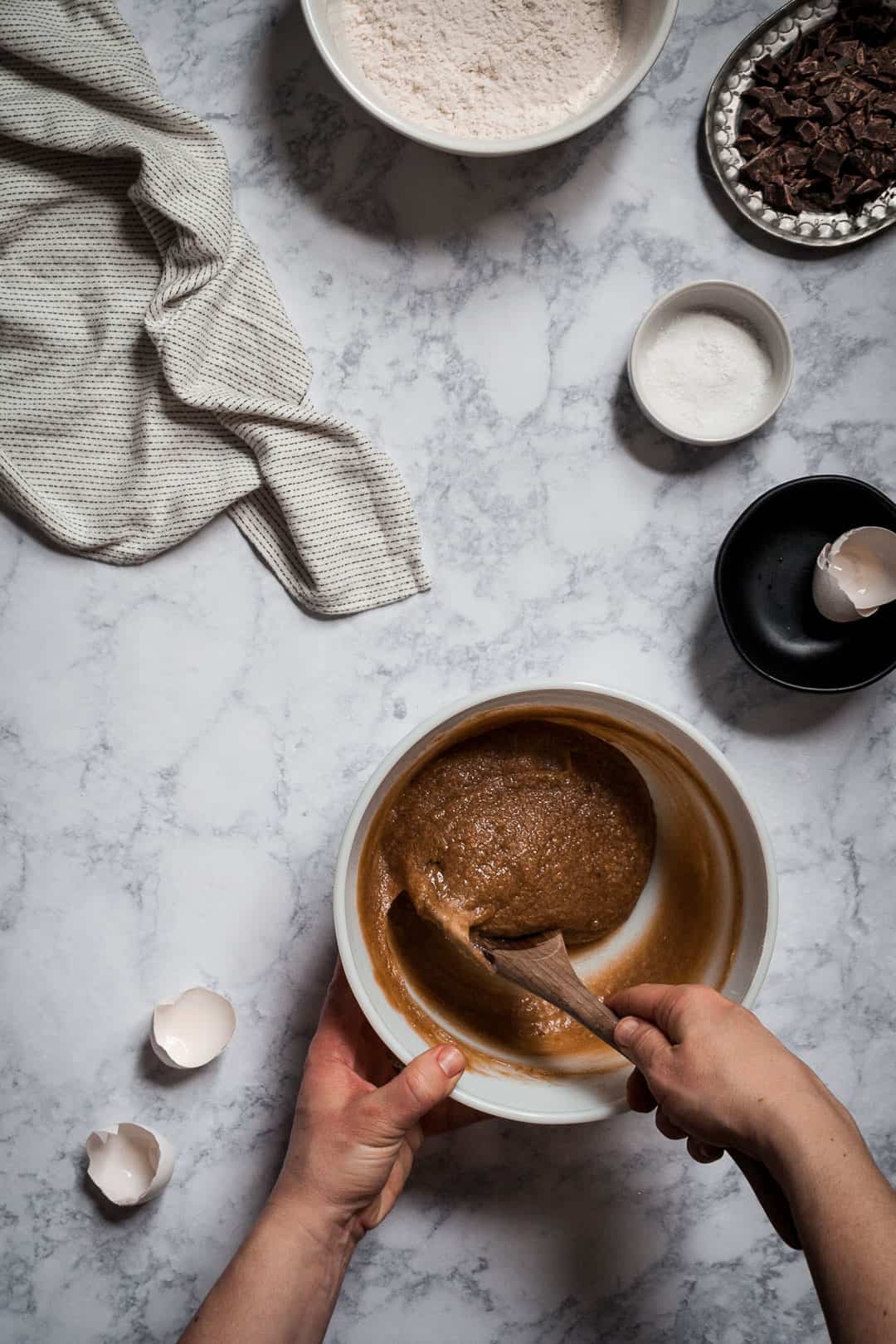 You can always visit my ABOUT page - but that's sort of like handing you a formal printed bio of me while I'm standing right there next to you. Toss that aside and let me share a few things you wouldn't necessarily know instead.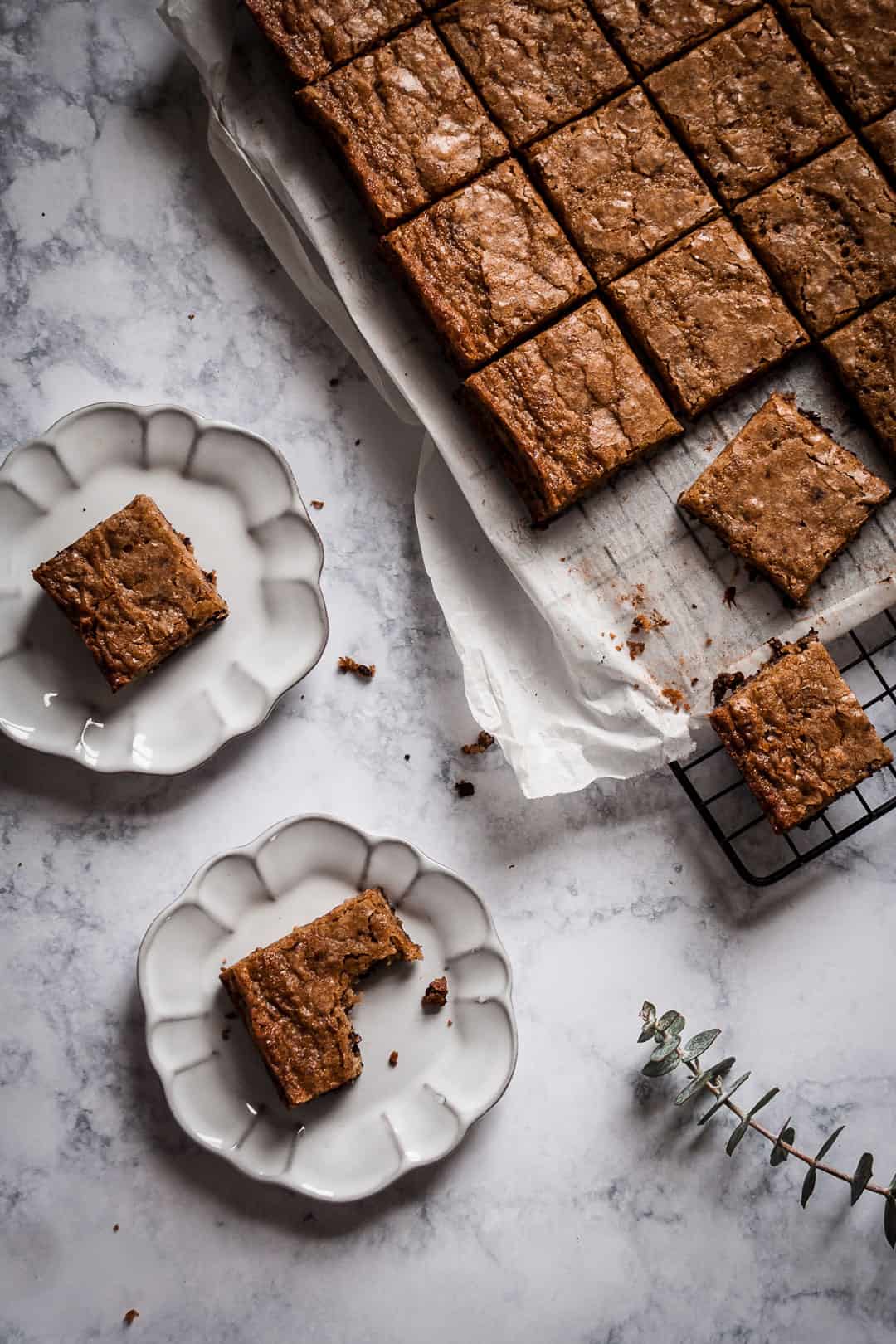 I've always loved books. When my first grade teacher Mrs. Fleetwood cried while reading a particularly emotional section of Charlotte's Web out loud to the class, I stood up and told her I'd be happy to finish it for her (she politely declined). Most afternoons growing up, I'd come home after school, pour myself a bowl of Kix or Rice Chex cereal, pull up a chair at our kitchen table and disappear into the pages for hours. As a recent college graduate, when a nannying job left me isolated for days on end, the family's expansive bookshelf became my lifeline and escape. And recently, when the due date for my younger daughter came and went, books helped ease the wait. I read nine in the eleven days before she was born. When I'm reading, I'm all consumed by the words on the page. You could dance a jig in front of me and I probably wouldn't notice. My current favorite genre is historical fiction, and I still love a good fantasy story, just like when I was little. And there are always cookbooks...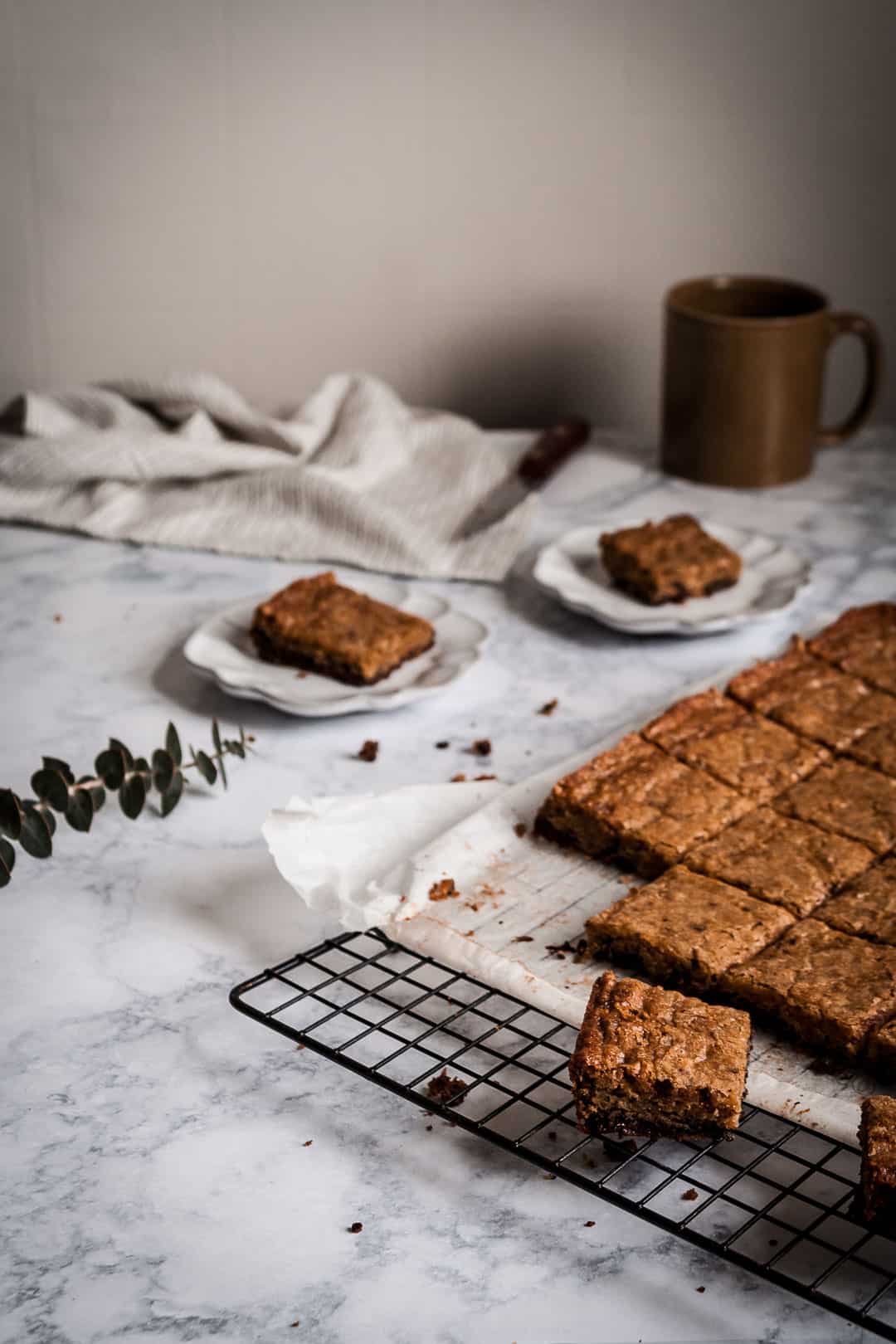 My paternal grandparents ran a fishing resort in the 1930s and 40s. The property, located in a magical archipelago of islands off the northwest coast of Washington State, is still in our family today. The resort closed down in the 50s, but the vestiges of its prior identity remain. The bottom floor of the resort was converted into a boathouse - but now the (rather dirty) guests are barn swallows and otters. If you walk a few hundred yards back from the water's edge into the woods, you'll discover a dilapidated outhouse, complete with crescent moon cutout.
I spent all of my childhood summers with my brother and mom at the island. My dad would work in town during the week and drive the hour by boat to spend the weekends with us. On Friday evenings, my brother and I would take turns peering through the binoculars to see who would catch the first glimpse of the boat. Then we'd race to hang big primary colored bath towels on the porch railing as signal flags to let him know we'd seen him.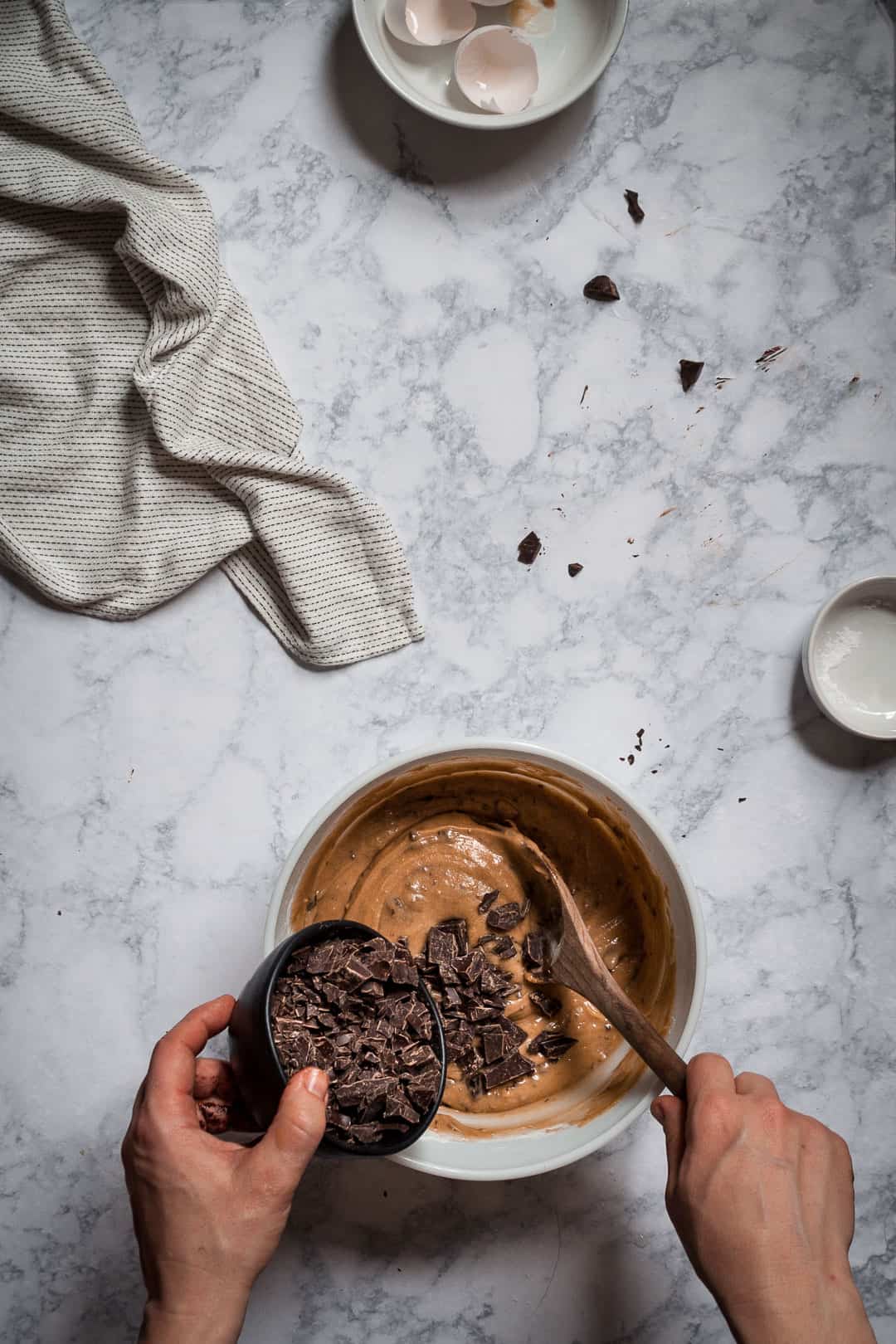 We have an 80 pound black lab mix named Enzo. My husband and I adopted him after we bought our house. He was 15 months old, still puppyish in demeanor, yet fully grown. He's got a heart of gold, but barks like a maniac at the mailman and any other animals in sight. He's a massive shedder; clumps sail around the house like desert tumbleweeds. When Enzo was first settling in, he did a lot of stress chewing. One week he ripped to shreds several coffee table books, a full bag of tomatoes, and the box of colored pencils that left him with a guilty rainbow grin.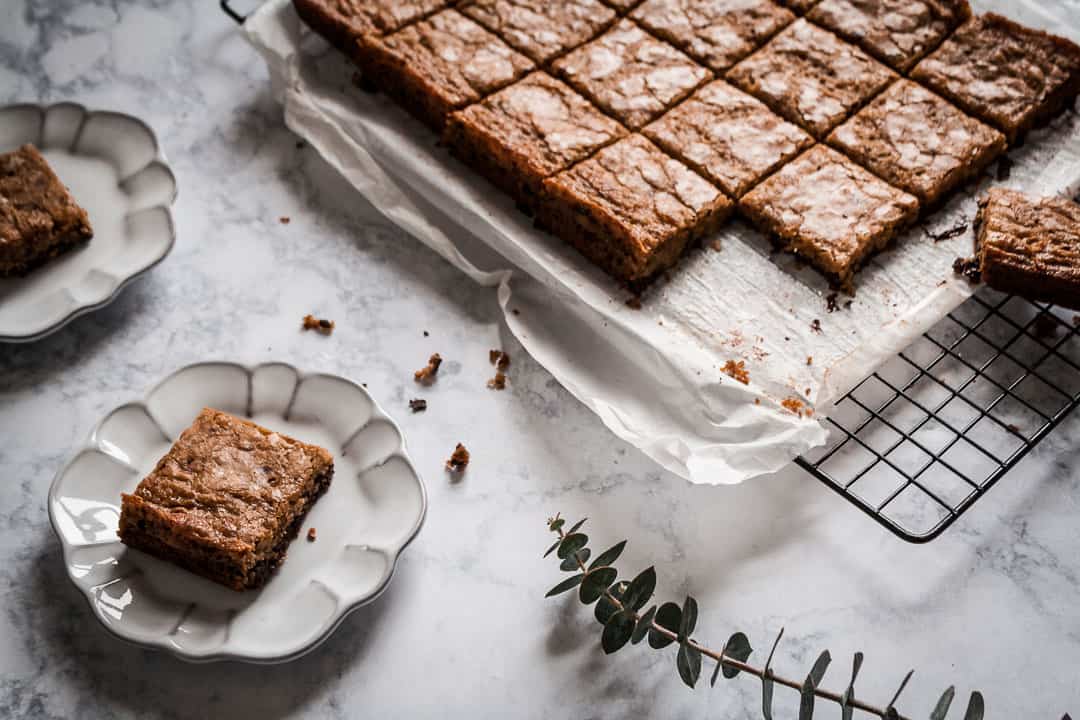 This baking, writing and photographing isn't my full time job. I work as an assistant and project manager at the state university in my town. The campus is gorgeous - we have a highly acclaimed outdoor sculpture collection, a view of the water, and grounds that are green and vibrant. This blog is a balance to the more rigid work structure and a welcome outlet for my creativity, which was feeling neglected until recently.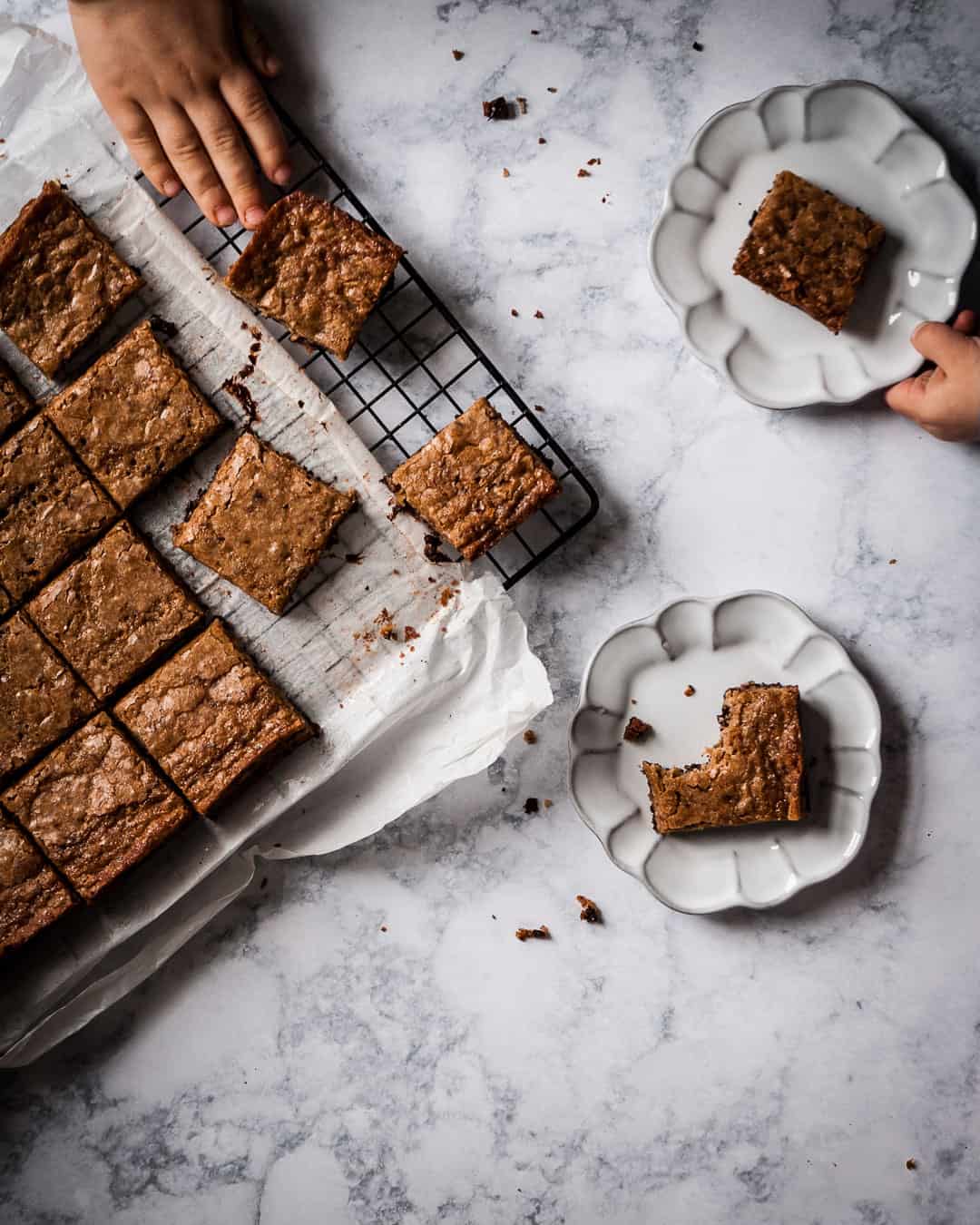 I could go on, since there's probably so much about me you don't know. Let's consider it a start, and we'll go from there.
Feel free to ask me a question in the comments. But now - the butterscotch dark chocolate bars.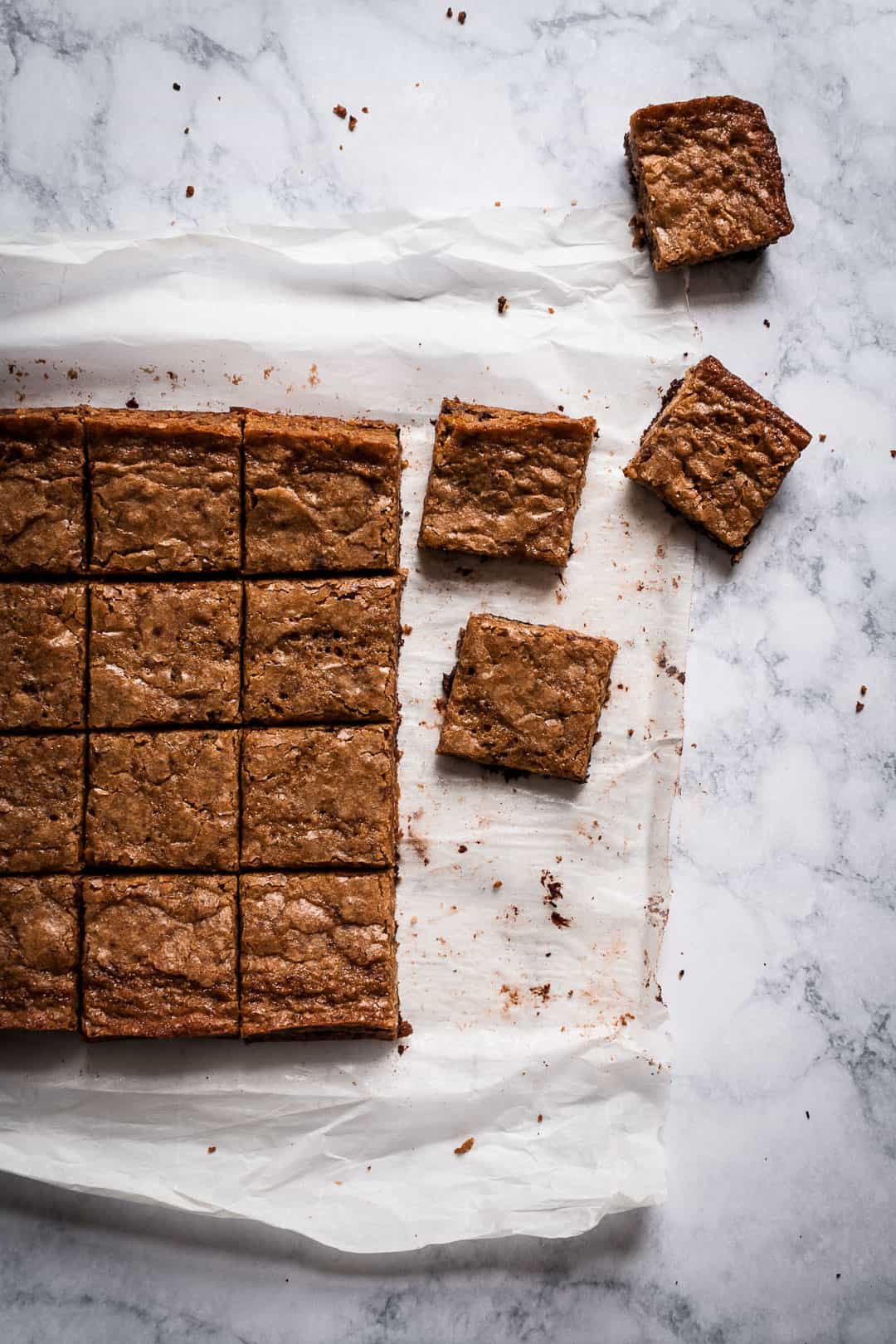 📖 Recipe
Butterscotch Dark Chocolate Bars
Print Recipe
Pin Recipe
Caramelized edges, molten, gooey middle. Crispy, crinkly top. Oozy, soft dark chocolate. Sugary golden brown butter poured and molded into bar form. Slightly adapted from Marcel Desaulniers' Double Chunk Butterscotch Bars in his book
Death by Chocolate Cookie
s
- I decreased the sugar somewhat, and swapped in dark chocolate for his suggested white and semisweet.
INGREDIENTS
1

cup

flour

1 ½

teaspoon

baking powder

½

teaspoon

salt

½

pound

unsalted butter

melted

1 ¼

cups

brown sugar

2

large

eggs

1

teaspoon

vanilla

8

oz

dark chocolate chunks
INSTRUCTIONS
Preheat oven to 350 degrees F.


Grease a 9 x 13 pan. Cut a piece of parchment paper to cover the base, including enough extra to overlap two opposing sides and form handles with which you can lift the cooled bars out.


In a medium bowl, whisk the flour, baking powder and salt together. Set aside.


In a large bowl, whisk the melted butter and brown sugar together until blended.


Add the eggs one at a time, mixing well between additions. Add the vanilla and stir to blend.


Add the flour mixture and stir with a spoon or spatula until just blended. Fold in the chocolate chunks.

Pour the batter into the prepared pan and bake on the middle rack of the oven for 25 minutes, or until set in the middle. My preference leans towards under-baked, so I tend to start checking on these 5 minutes early.


Let the bars cool in the pan (if you have the will) and then transfer to a cutting board to cut into squares. If you want them neat and tidy, wipe the knife clean between slices.

The Floured Table
Recipe Author: Kathleen Culver
https://www.theflouredtable.com/butterscotch-dark-chocolate-bars/